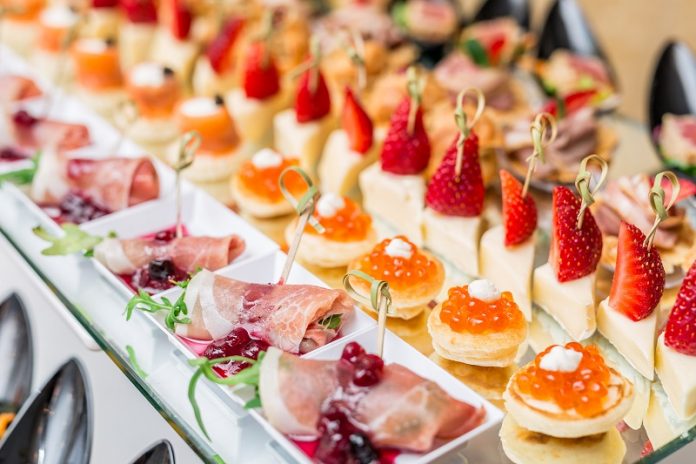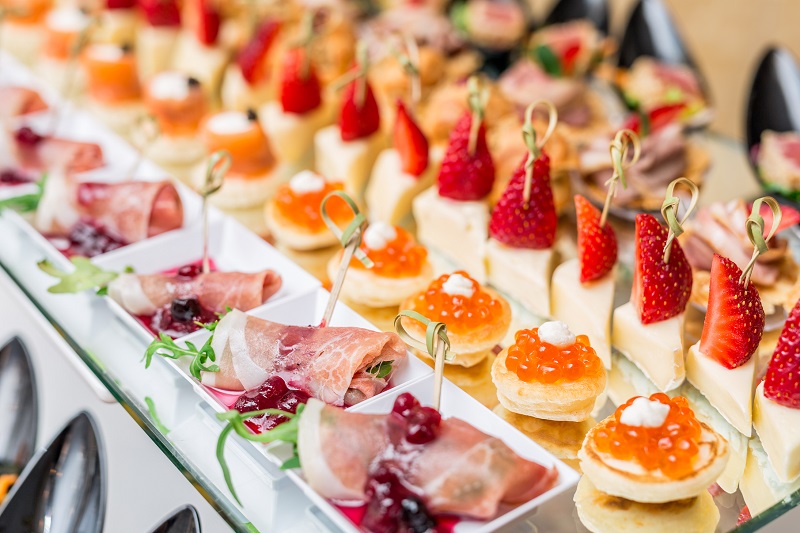 Have you decided on what items you want on the wedding menu? Yes, the main course is essential and so are the desserts, but hey, if you'll be having guests for a couple of hours, then a single mail course is just not going to cut it. And that is where reception snacks come in. Which dishes are the most delicious to crunch on amidst the dances, music and celebrations? And which ones fill the air with delightful aromas?
Talk to your reception catering service, and they'll present you with a number of options. None of them have to be elaborate, but hey, they should be tasty. And ideally, they should include a mix of spicy, sour and sweet tastes, all blended together in one great dish.  Cookies, chicken cheese strips, fries, donuts and chocolates are all popular snack items, but let's twist them around a bit to make them unique and more interesting.
Read on to find out the best wedding reception snacks that you can adorn the table or the bar with.
1.Beer and Waffle Chips
Planning a summer wedding? Waffle chips served with beer are more than perfect, especially when chilled. Definitely a great break away from the vibrant dance floor!
2.Popsicles
Hey… is the environment too hot and sizzling? Cool things down with a popsicle! At least have two to three different flavors. Orange, lime and strawberry are by far our favorite.
3.Popcorns
Popcorns are love even when you aren't watching the movies. Serve them hot after topping them with caramel sauce for a unique flavor. And by the way, some catering services do offer flavored popcorn as well which are prepared right on the spot.
4.Pumpkin Bread
Pumpkin bread is a simple dish, but it tastes amazing!
5.Deviled Eggs
No, eggs don't always have to be served at breakfast. They make a great snack item whether your wedding is during the day or night. However, don't go for a plain boiled version. Instead, top the eggs with bacon, olives, cheese and potatoes for an unexpected yet amazing taste.
6.Strawberry Bruschetta
Strawberries are a great snack even on their own, but let's make them unique for your wedding. Instead of serving them with cream, serve them with tomatoes and cheese for a juicy, citrus flavor that your guests will remember for long.
7.Mini Quiches
Mini quiches are another simple food, but your guests will love them. One because they taste delicious, and two, because they can satisfy their appetite!
8.Parmesan Toast
Parmesan toast is another basic dish, but it is a good snack for the hungry guests, and even the bride and groom. Yes, it's your day, and you may not want to eat, but don't forget you need energy to last through the night. And parmesan toast can reenergize you pretty quickly and take all the tiredness or fatigue away.
9.Stuffed Celery
Veggies don't always have to be boring, and this stuffed version of celery is far from it. Even if your guests are vegan, they will still love this treat. Like the parmesan toast, stuffed celery can quickly crave appetite and make your guests feel full.
10.Shrimp Cocktails
Planning a modern wedding? Don't miss out on shrimp cocktails then! The taste is wonderful especially when you serve them with hot pepper sauce and lime juice.
11.Vegetable Shooters
Vegetable shooters is a nutritious dish, adding a decorative element to the reception table. Slicked carrots, cucumbers, celery and pepper look so beautiful when fitted in a small shot glass. And hey, they look amazing in the pictures.
12.Mousse in a Martini Glass
This one isn't a traditional dish, but the taste is sugary sweet. Chocolate mousse, when served in martini glasses, is easy to eat. And definitely a nice break away from the heavy wedding cake.
13.Rock Candy
Wedding rock candy can be prepared in a wide range of colors and shades. Select multiple hues that go along with your wedding theme. Rock candy makes a great snack and adds to the décor.
14.Artisan Chocolates
Who doesn't love chocolates? Serve them at the reception table or present a box to your guests as a parting gift. Choose chocolates such that hazelnuts, cream and fudge treats are all on the menu.
15.S'mores
S'mores are a highly preferable snack item for outdoor weddings. Pair them up with cookies and biscuits for a more delicious taste.
16.Candy Floss
A traditional snack item, candy floss is enjoyed by kids and adults alike at modern weddings. And like rock candy, it is available in an array of colors, so make sure they go with the theme.
And When Choosing the Snacks
Select a budget; the single, most important consideration factor for your wedding menu.
If you're planning a buffet wedding, you'll want a variety, but don't offer every dish. Also, don't offer different versions of the same dish.
When is your wedding? The best wedding snack menus can differ depending on what time of the year is it.
Trust your catering service! Don't worry; they'll do a great job!
So which snacks do you like the most? Talk to your reception catering service and see if they are available. Generally, they will have all the options, but if they don't, they should present you with something similar and just as tasty.
When you are choosing a menu, keep a close tab on your expenses and budgets. Yes, you should add snack items but without straining your pockets. After all, it isn't just catering – a wedding is filled with so many other expenses as well.
So watch out the 'outflows' and enjoy the delicious food served by your reception catering service on your big day!
Author Bio:
Lauren is Sales Manager at Personal Touch Dining, an award-winning wedding catering company, supplies all levels of Bar Service in San Diego. The Personal Touch Dining team has gained widespread recognition for their creative and diverse menus, with seasonal ingredients for every occasion. Lauren enjoys blogging about tips and trends in the wedding and event industry and sharing ideas and tips with those planning for an upcoming event.