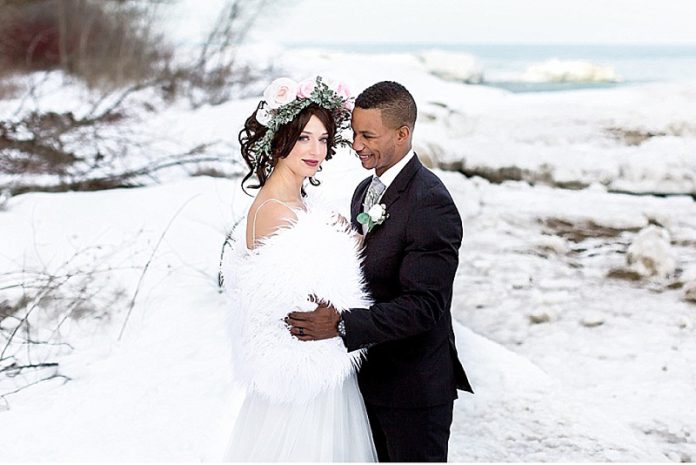 Roowedding.com – Have you tried to set on a winter wedding? Winter wedding ideas can be so magical and romantic. However, there are also a few issues when you hold a nuptial during the darker and colder month. Even if all the problems are really small and easy to avoidable, you have to always make perfect preparations and plans. Don't panic if you held your wedding receptions during wintertime! We'll assist you to get a beautiful and elegant winter wedding idea through this article.
While you won't have to deal with makeup melting down your face or bouquets wilting in the summertime, winter weddings come with their own potential problems. From wedding fashion to decorations, you need to take consider more about how to plan for elegant winter wedding ideas perfectly. Even though the colder weather can be a challenge, winter weddings can offer unique opportunities such as dreamy, snow-filled photoshoots, holiday-themed decorations, and Christmas eve details. With all of that, you'll get beautiful memories in your life with your half.
But the question is, how do you take knots during a cold season? That's why today we've gathered 21 things to consider for planning elegant winter wedding ideas to get you inspired for your own big day. Keep reading for tips on how to make your dream winter wedding a reality.
Use Barn for Warm Wedding Venue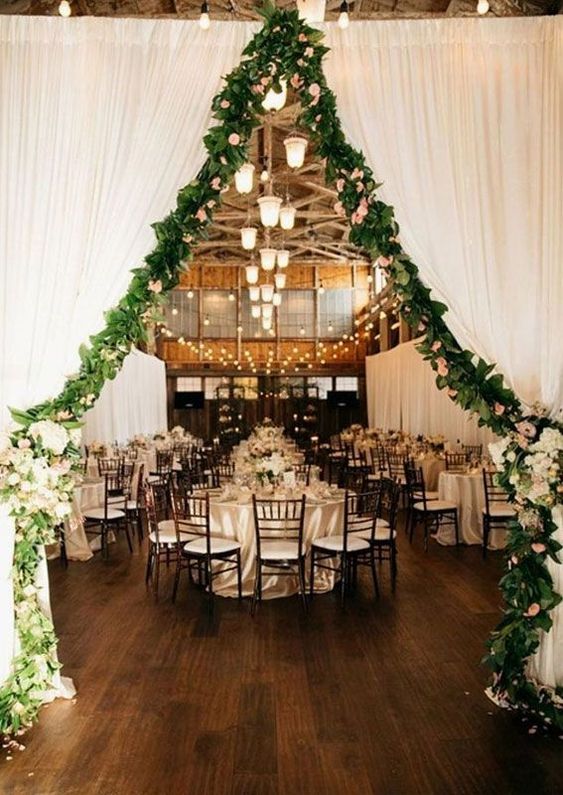 When picking up a winter wedding venue, make sure to find one that would fit your wedding theme. If possible hold your wedding ceremony and receptions in one place. There are numerous options for winter wedding venue ideas, but make sure to select an indoor venue. As an example, a barn can be used as a rustic and warm wedding venue. In there, you can experiment with more decorations and come up with unique and romantic themes for elegant winter wedding ideas.
Pine Tree and Snowflakes in Wedding Invite Design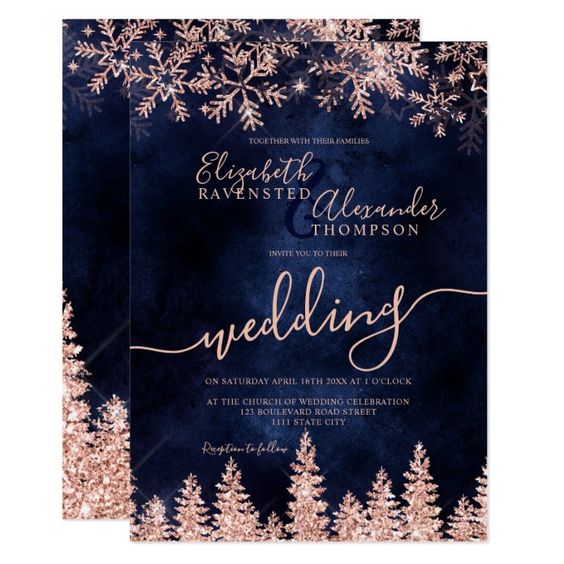 Add a touch of the winter season to your invitation design to ensure that it matches your wedding theme perfectly. When you're ready to announce your wedding, select an invitation suite that captures the spirit of the season. For example, add snowflakes and pine tree illustrations, opt for jewel tones for the stunning invitation, or use a classic snow background with greenery prints. Like the picture above, a dark blue RSVP that has a touch of sparkle snowflakes and pine trees for an elegant winter wedding idea.
Extravagant Fur Cape for Bridal Look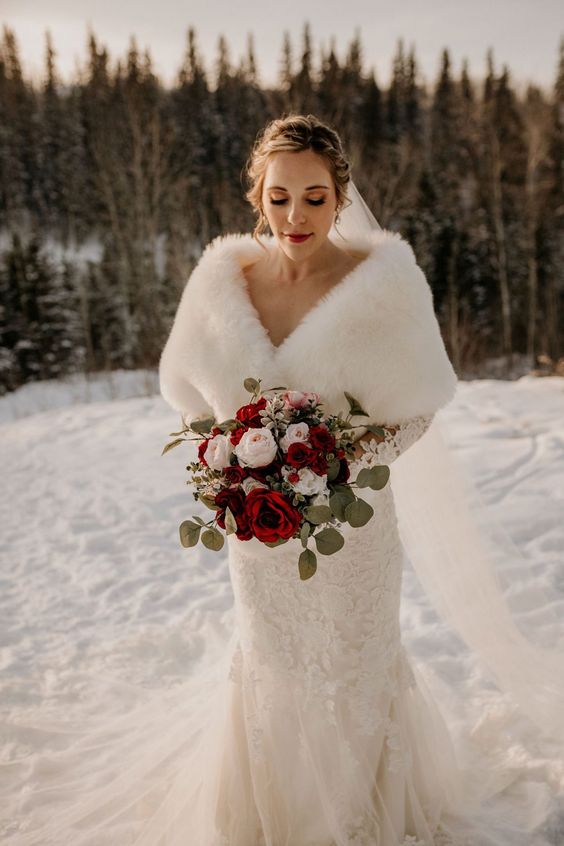 Because you hold a wedding in cold weather, it is a bad time for the airy and delicate wedding dresses that you've always dreamed of. However, winter also is the best time to experiment with wedding fashion. Such as adding accessories will be important to keep you stay warm and stylish during receptions. Luxurious fabrics and pretty winter accessories such as wool shawls, faux fur coats, or even knitwear would be great option. A faux fur cape in your strapless wedding gown would look amazing and stunning for your elegant winter wedding idea. Anything you wear on your wedding day, just make sure it can keep you warm and comfortable.
Turtleneck and Plaid Suits for Groom Style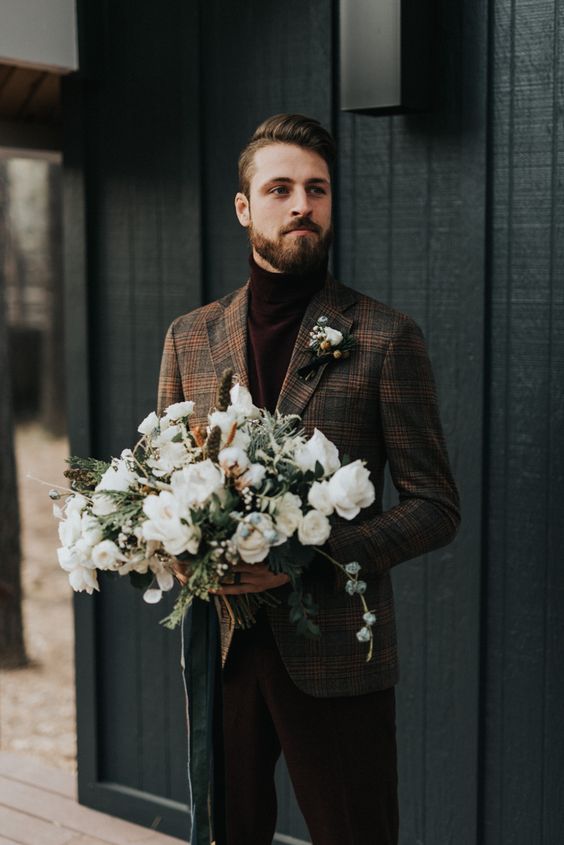 It's important to set a more comfortable and warm dress code for grooms and groomsmen attire in colder climates. Getting layers would be the best idea. For the groomswear you can pick a turtleneck and plaid suits that give an elegant winter wedding look. Besides that, jewel tones (burgundy, emerald, and navy) velvet suits would be the perfect blend for warmth and style in winter weddings. You can also stay on theme for an elegant winter wedding idea with the ultimate buttonhole with mistletoe in it to be reflected the winter season.
Choose Fancy Bridesmaid Dress with Faux Fur Shrug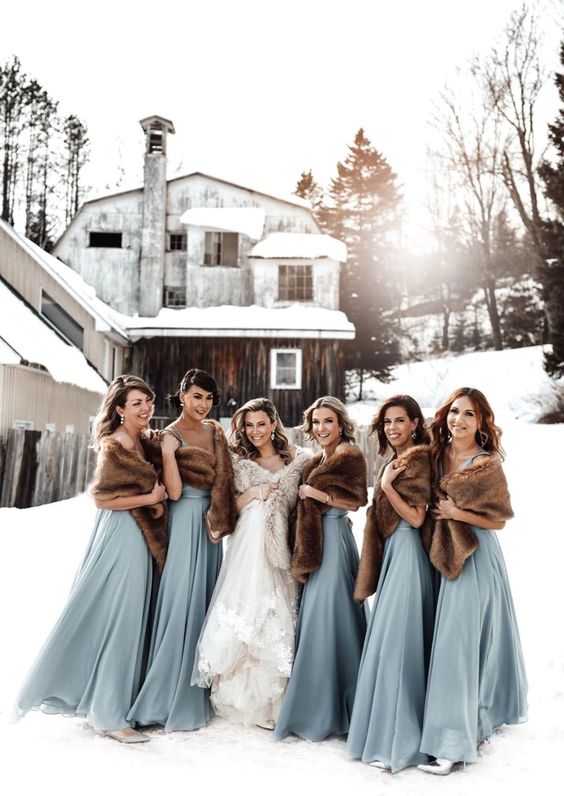 Matching outfits for bridesmaids it's also important. For fancy bridesmaid dress ideas, you can opt for dusty blue satin gowns and then rock on faux fur shrugs for warm and stylish accessories. They'll look stunning while also keeping your friends warm during your wedding ceremony. Actually, this bridesmaid dress would be appropriate for your elegant winter wedding idea.
Elegant Branches and Crystal for Table Centerpiece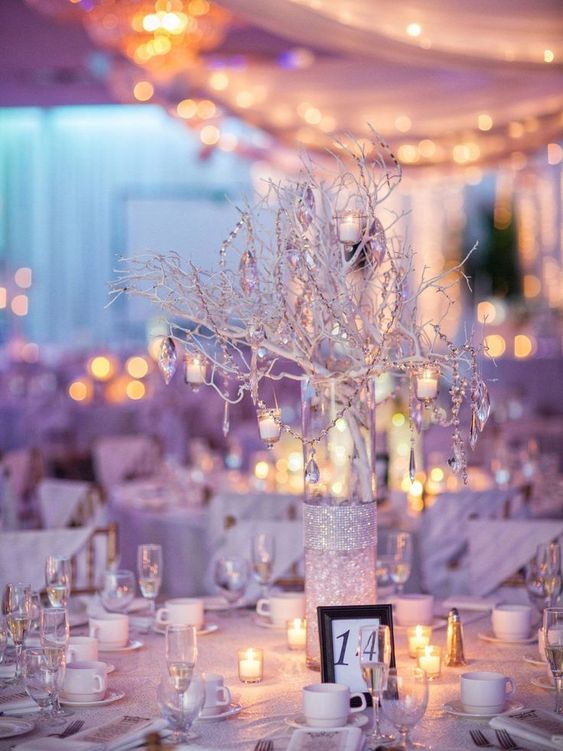 The easiest way to create an elegant ambiance in your wedding venue, bring an all-white ceremony and reception room looks with crystal decorations. You can put crystal branches like ice trees for table centerpieces that look so good in a winter wonderland theme. Besides this decorations would also present elegant winter wedding ideas at your reception.
Christmas Wedding Arch and Backdrop Design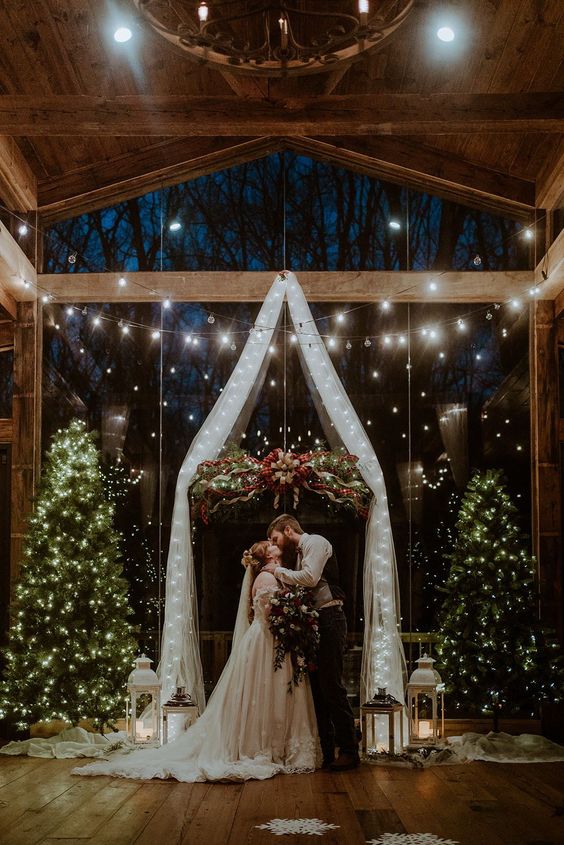 If you want to hold a wedding in December near Christmas eve, you can get inspiration for your wedding decor ideas. Like this wedding arch and backdrop design above that blend with the Christmas atmosphere. You can build a romantic wedding arch with a white lightweight fabric that you hang over a greenery hoop for the center. Also, decorate with a Christmas tree on both sides with fairy string lights around it. Furthermore, you can also add some vintage lanterns that would give you an elegant winter wedding altar to take a vow with your other half.
Use Pine Cone for Escort Card and Table Number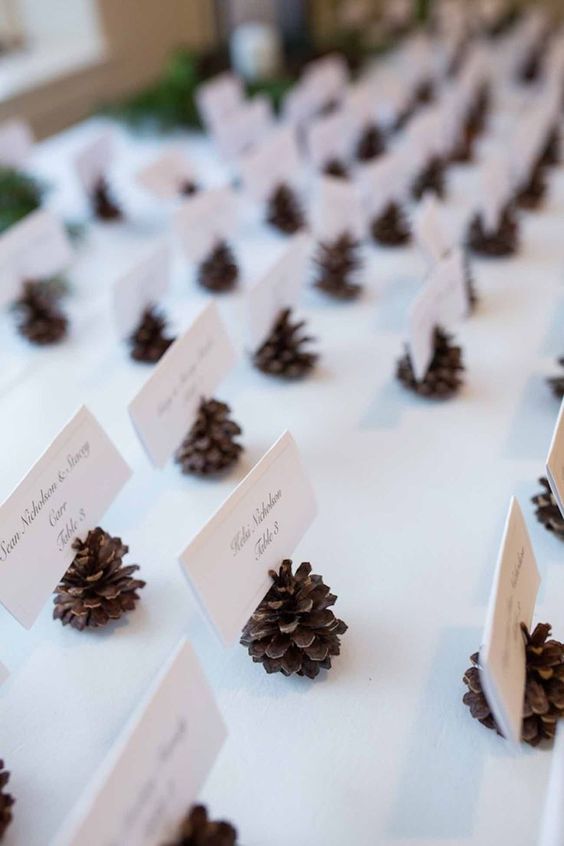 When you want to present a winter wedding idea in your decoration, pine cones are easy to get for this. You can use pine cones in many ways such as cute table centerpieces, to hold table numbers, or use them for holding flat escort cards. Besides, their natural color would make an elegant and rustic look for winter wedding decor. And you can also spray it with silver and gold to add chicer decorations.
Christmas Tree for Table Centerpiece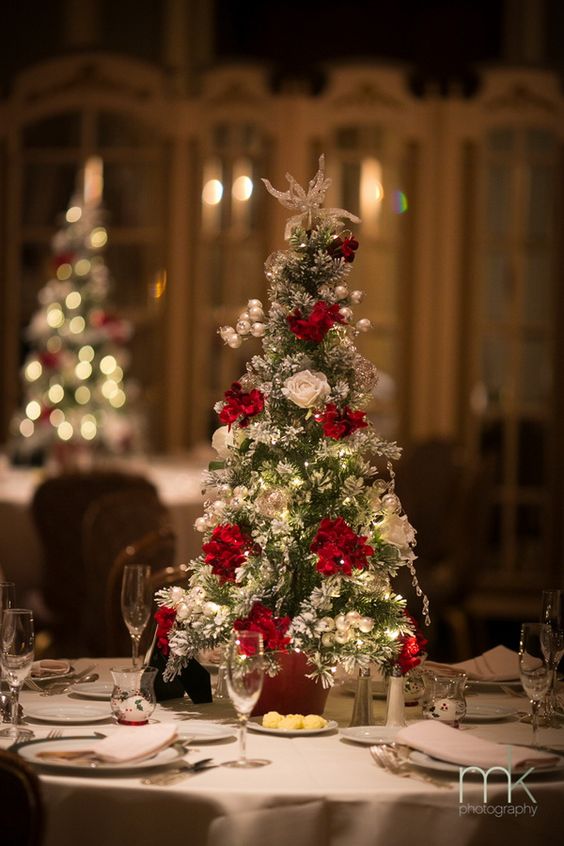 If holidays are your favorite time to get married, embrace the festivities through your wedding decorations. For example, you can design your table centerpiece with mini Christmas trees that are also full of Christmas ornaments. Another way to add a festive and something that looks elegant for your winter wedding, you can put some beautiful red flowers and pearls on your Christmas trees.
Greenery Table Runner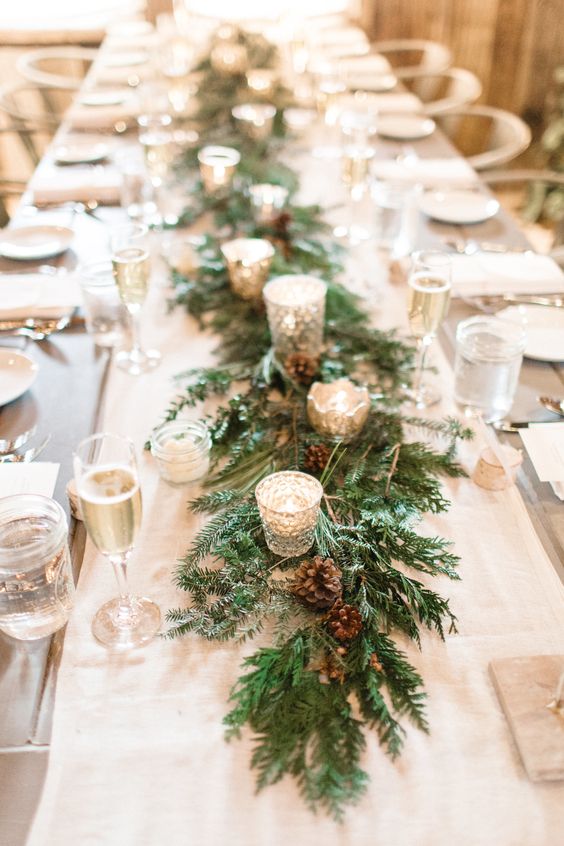 Look further to embrace greeneries as your table setting for creating elegant winter wedding ideas. You can use wintery greeneries and blooms to become a table runner design. Like in the picture above, you can use white tablecloths and then add olive branches, pine needles, and pinecones in the middle of your table which can represent a wintery wedding perfectly. Besides that, it can also bring a rustic accent that feels fresh like in springtime.
Candles For Romantic Lighting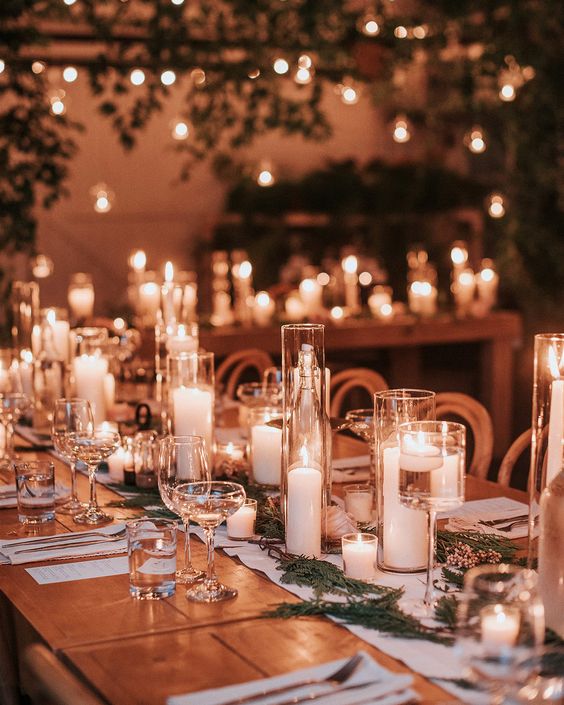 Another trick that you can apply to make elegant winter wedding ideas is using lighting. This is an important finishing touch that can turn your wedding venue into a winter wonderland. Candles, with their soft flickering light, are a great option for decorating an intimate space. Furthermore, candles play an important role in creating a romantic atmosphere as well as an aesthetic experience. Even if the weather outside is colder, just with this you can welcome your guests with warmth and an intimate feel in your wedding venue.
Winter Wedding Tablescape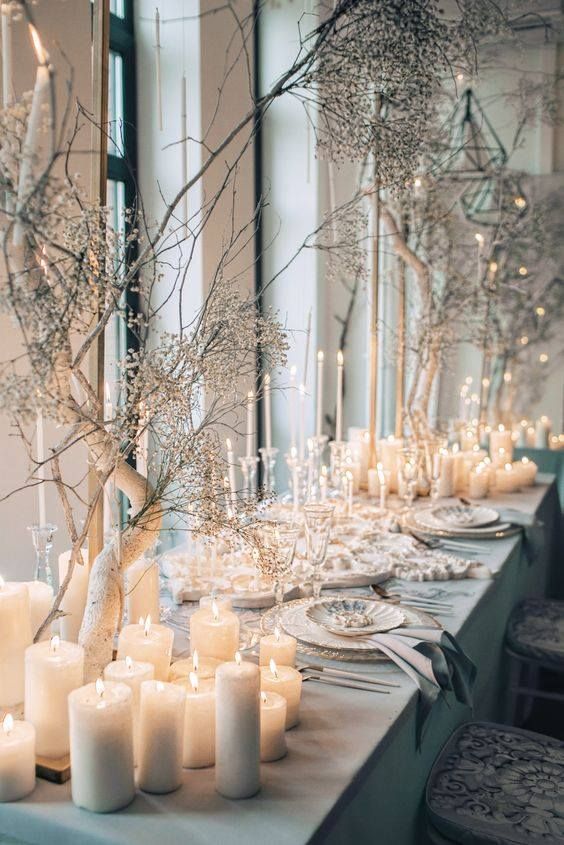 Since you want to draw elegant winter wedding ideas, maybe you can try to build a wintry tablescape. For this, you can apply it to your table dinner design by using all-white color schemes. Besides, to make it more dramatic you can add branch decorations, dried baby's breath flowers, and candles. Furthermore, to make it sophisticated you can use some hanging decorations like snowflake crystals, chandeliers, or terrariums.
Christmas Accent in Tableware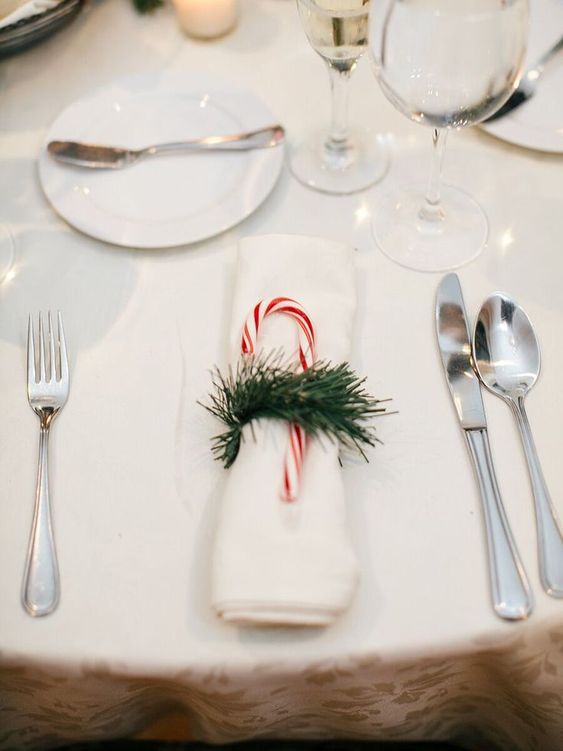 One of the most exciting aspects of your wedding planning is selecting decorations. Whether you want an elegant winter wedding idea or one with a Christmassy theme, make sure the decorations complement your wedding concept. For the easy way, you can give Christmassy touch to your tableware. You can put a cane candy in a white napkin and then tie it with pine needle leaves as the iconic element.
Disco Ball for Hanging Decoration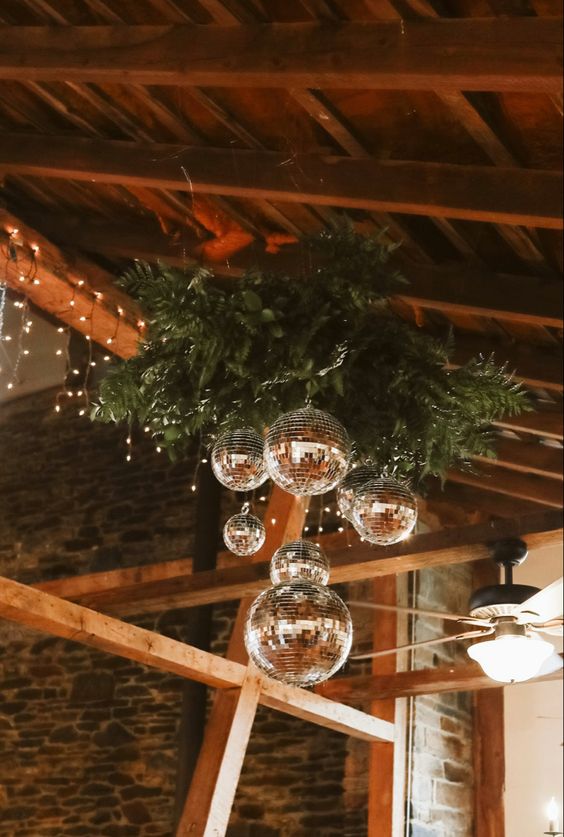 If you want to add a personal touch to your decorations, consider using mini disco balls as hanging decoration ideas. That is one of our favorite wedding decor trends that would add something unique and lively to your reception. You can place them with some greeneries and hang them in the center of your wedding venue.
Simple Wooden Welcome Sign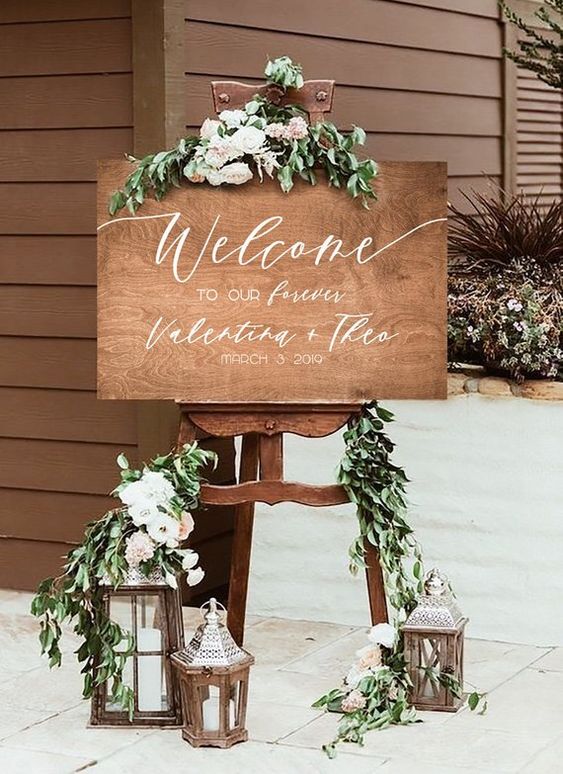 The first thing you can use as a marker to direct your guests to your wedding venue is a welcome sign. There are various types and designs of welcome signs that you can use from acrylic to wooden boards. Since you prefer elegant winter wedding signs, you can use a simple wooden board with aesthetic stationery that you adorn with greeneries and flowers. Also, you can add another element for decorations such as wooden lantern Christmas trees.
White and Sage Green Wedding Bouquets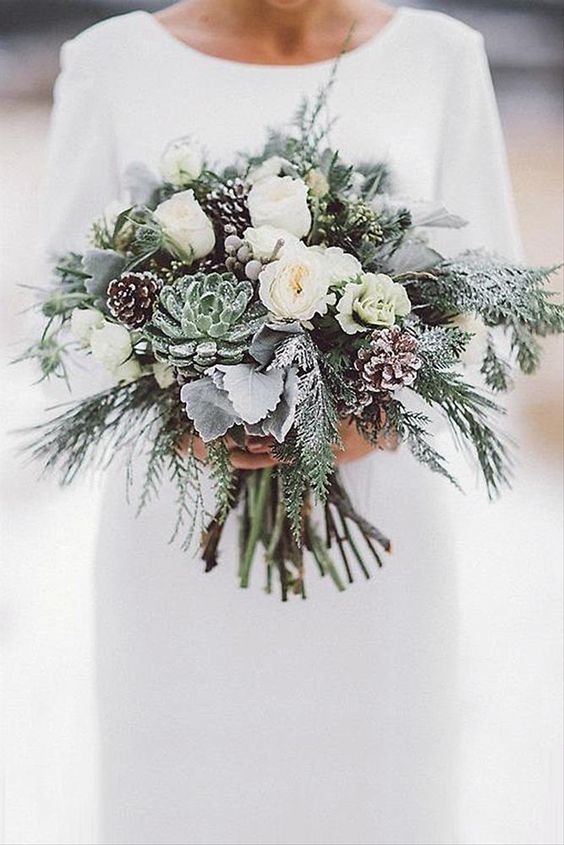 Tropical blooms are out-of-season flowers for your wintery wedding bouquet idea. It would be best if you can embrace seasonal flowers for your wedding bouquet. You can also stick to classic white and sage green flower arrangements by adding pinecones, pine needles, white roses, succulents, lamb ear leaves, and more. Choosing in-season flowers can make your winter wedding as lush and beautiful as springtime.
Simple Elegant Wedding Cake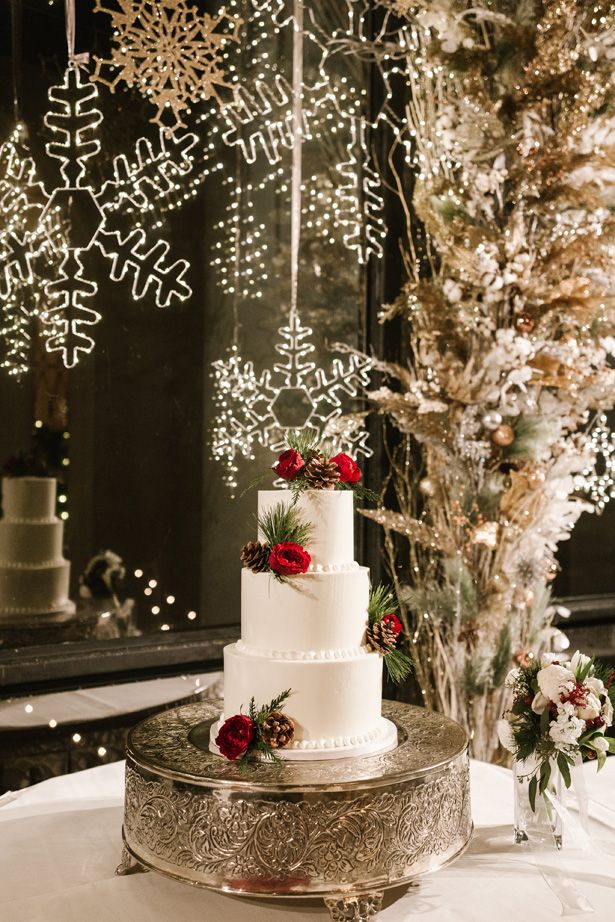 There is something you should think about when it comes to decorations for sweet delights that can also bring festive on your wedding day. Discover what theme you can incorporate into your winter wedding cake design. From glam and festive to a moody celestial theme or a simple elegant winter wedding idea, there is something for everyone. Christmas is another theme that works well for a winter wedding. You can decorate your traditional white wedding cake with pine cones, pine needles, and red flowers. Furthermore, using cherries or berries will make you think of Christmas.
Blanket Wedding Signage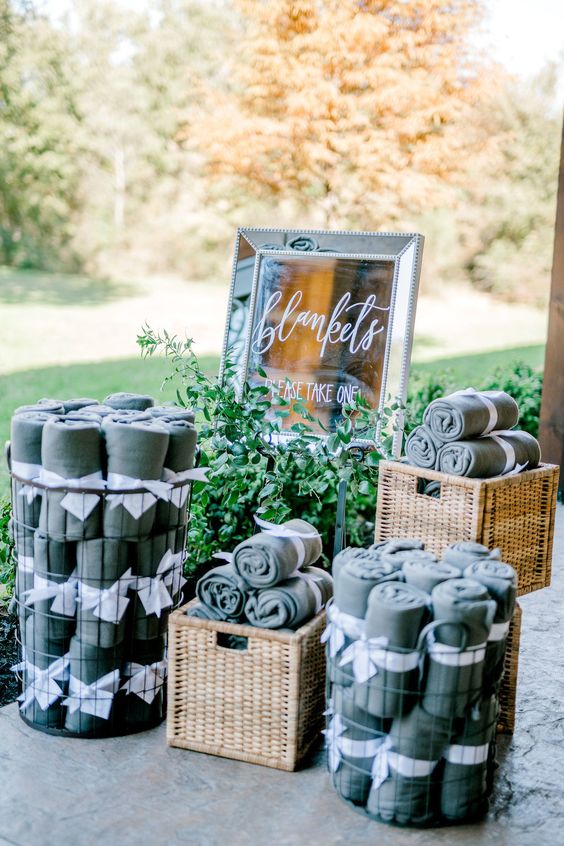 Make sure to make your guest keep warm, especially if you hold an outdoor wedding. You have to offer some element of warmth by providing shawls, pashmina, or blankets for wedding signage. You can roll up several blankets neatly and place them in one spot with a signboard. Besides, you can also provide heaters or light a bonfire that not only bring extra warmth but also give you a romantic and elegant winter wedding idea.
Biodegradable Wedding Favors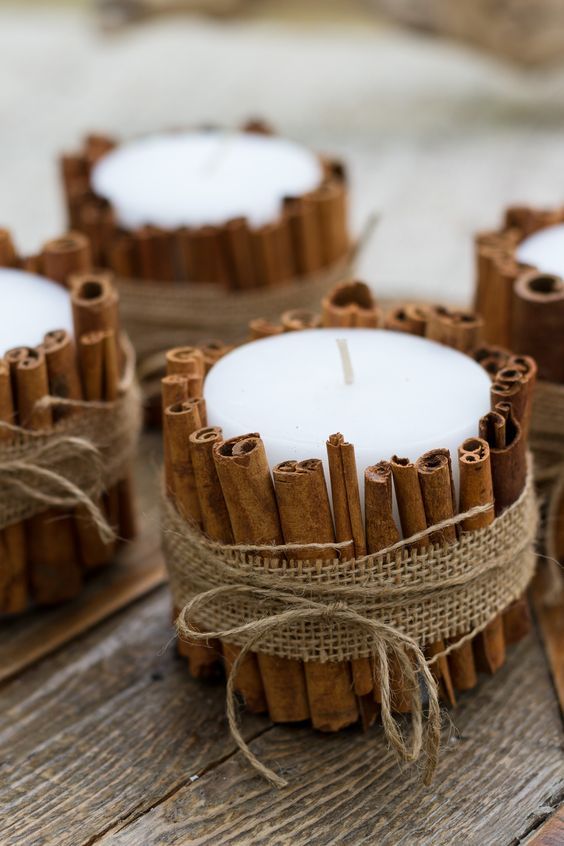 You can give personalized gifts to your guests. There are numerous wedding favors from handmade crafts to delicate snacks or you can also give eco-friendly wedding favors. Delicious gifts such as hot chocolate, maccaron, peppermint candies, or roasted chestnuts are perfect gifts for your wedding guests. If you want more memorable presents you can give a handmade craft such as blankets, pashminas, or aromatic candles.
Hot Chocolate Mini Bar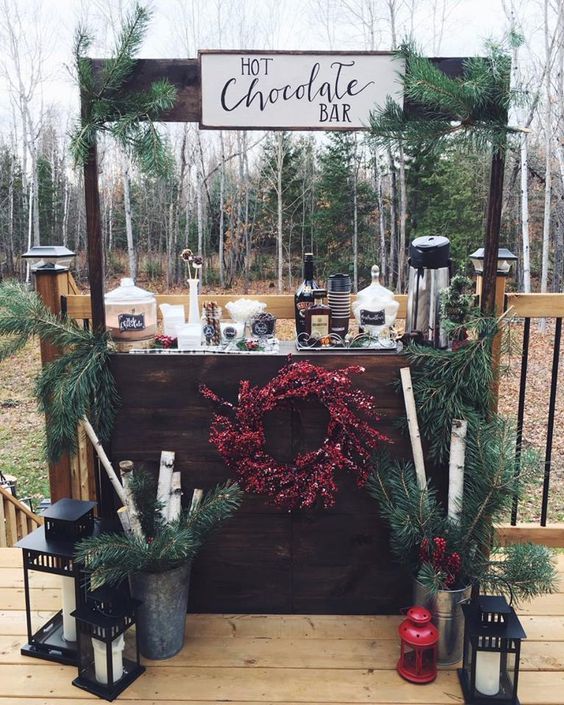 People naturally turn to warm foods for comfort when the weather gets colder. Instead of light nibbles, a wedding buffet should focus on hearty foods. You can consider butternut squash ravioli, roast dinner, chicken potpie, or stuffed mushrooms or bell peppers as your wedding main courses. Not only food, but you also need to prepare some warm drinks such as hot chocolate. Don't forget to prepare eye-catching displays like a Christmas mini bar to please your guest visually. You can adorn your mini-bar with iconic wintery and Christmas elements such as winter wreath hoops, pine needles, pine cones, and classic lanterns that would give you an elegant winter wedding idea.
Imagine entering your wedding venue and hearing your friends and family conversing in a friendly and welcoming tone. Everyone is happy and excited to celebrate your marriage this winter. While there are benefits to planning a winter wedding, the holidays are typically a busy travel period. So, make sure to send out your invitations far in advance if you want to hold your wedding during a major holiday. Aside from that, winter weddings are higher-risk events due to potential weather issues. As a result, there is a lot to do and many things to think about, so having help from family and friends is a huge blessing. Let's create an experience by planning your elegant winter wedding idea that you will never forget and treasure for the rest of your lives!