So, you've popped the question, and now you're engaged! With so many milestones from now until the altar, there will be many photo opportunities. Your first major milestone in the wedding-planning process is your engagement photos.
Not only will these photos serve as keepsakes for one of the most memorable moments of your life, but they may also have other uses. These special pictures can be used for save-the-date mailers, bridal shower decor and beyond. So, if you have a spring engagement photo session coming up, make sure you're dressed your best. Check out these camera-ready looks for the occasion.
Outfit 1: Dress Shirt and Jeans
Even if your style is more laid back and dressed down, you still want your engagement pictures to reflect the momentousness of the occasion. If you're a guy who feels his best in a pair of jeans, consider a more casual look for your photos. However, you can dress up your favorite pair of men's jeans by coordinating them with a dress shirt. Pairing a dress shirt with jeans is a classic look that takes your laid-back style up a notch in terms of sophistication.
Because you're planning a spring photo session, lighten things up a bit in terms of color. Choose a light- or medium-washed pair of jeans over the cool tones of darker jeans. Add a soft color or fun print with your shirt for a pop of personality. Pastels, such as lavender and powder blue, are trending this spring, and both look great with denim. To accomplish a sleek and sophisticated look no matter how casual your outfit is, always go for the more tailored look of a slim-fit, tapered shirt over a loose-fitting style.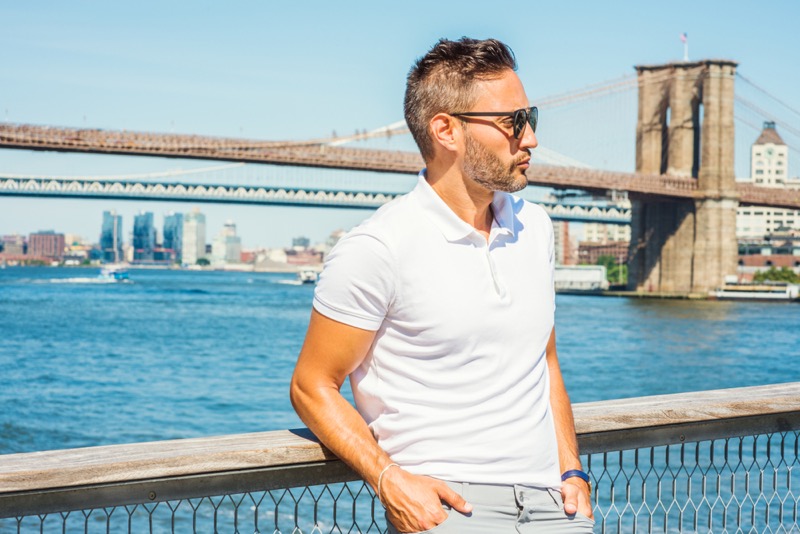 Source: Alexander Image/Shutterstock.com
Outfit 2: Casual Pants and a Polo
Another spring-appropriate engagement photo outfit is casual pants paired with the classic polo shirt. Some great men's casual pants options include chinos, khakis and linen pants. Each of these pants types combines the perfect blend of style and class. A bit more dressed-up than jeans, chinos and khakis look great with a polo shirt, among other shirt types. Neutral tones like tan, white, navy and light gray always photograph well. Best of all, these colors will make it a breeze for your fiancée to coordinate.
If you're doing a lakeside or beach photo shoot, linen pants create a breezy aesthetic perfect for the setting. A light-colored polo shirt, short-sleeved button-down or slim-fit tee are great pairs for the light look of linen pants. Whether you opt for the barefoot effect or add smart loafers or tennis shoes, the casual pants are a well-suited option for spring engagement photos.
Outfit 3: Shorts and a Dress Shirt
Capture the spirit of spring's warming weather with a look that reflects the season. Pairing shorts with a dress shirt is a stylish combination of casual and sophistication. Dress shirts are one of the most versatile garments in a man's closet. They look great with jeans and slacks as well as shorts. Slim Bermuda shorts or breezy linen shorts pair well with a dress shirt. What's more, both long-sleeved and short-sleeved shirts go great with shorts, depending on the weather and vibe. Long-sleeved is the way to go if it's a bit cooler or if you're going for a dressier look.
For a polished, camera-ready look, choose a well-fitting, tailored shirt. Your dress shirt should be crisply pressed and can be worn tucked or untucked. Another dress shirt consideration is whether to button the top button or leave it unbuttoned. Both looks are in style, and it comes down to preference. Essentially, the buttoned-up look gives a more distinguished look, while an unbuttoned look is more relaxed. Either way, shorts and a dress shirt are a stylish warm-weather ensemble that will translate perfectly to your spring engagement photos.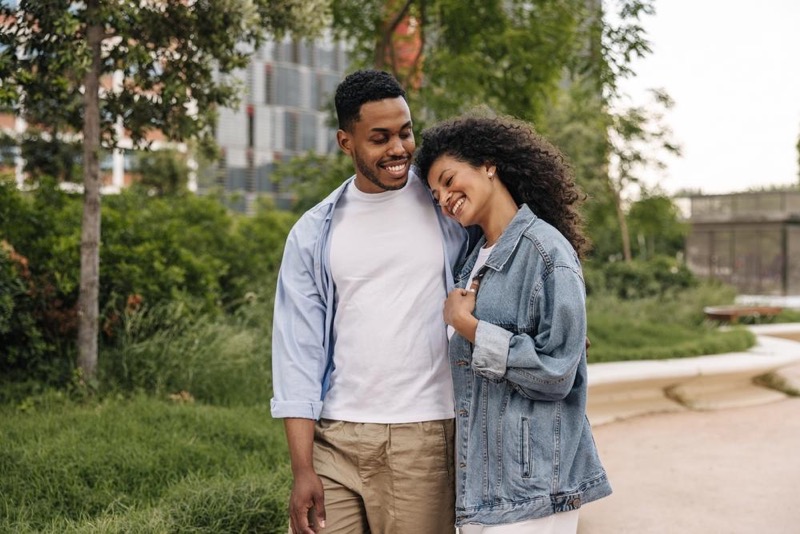 Source: Look Studio/Shutterstock.com
Outfit 4: T-shirt and Casual Pants
Don't underestimate the power of a well-fitting T-shirt. Not only are T-shirts incredibly comfortable, but with the right fit, they look great too. Whether you're hoping to dress your look up or down, a T-shirt can work in either instance. A new slim-fit or V-neck tee paired with a straight-fit or loose, modern-fit chino is a timeless aesthetic. It will look amazing in your pictures today or when you look back on them 20 years later.
T-shirts look best in solid prints but might vary in color from classic white to muted tones such as light blue, olive, gray or pink. An iconic crew neck, V-neck, or short-sleeved Henley T-shirt will look edgy yet sophisticated when paired with casual pants. Picture your fiancée's engagement ring as they rest their hand upon your chest, creating a sleek profile. No matter the pose, you'll look and feel your best in a classic T-shirt and chino.
Say Cheese
Spring weather is a time when you begin to shed the bulky layers and welcome lighter garments and softer colors. Reflect on your unique style as you prepare for your upcoming engagement photos. You can play it up for a polished profile that will look great in these momentous photos. Whether you go for the more casual appearance of jeans, dress it up with chinos and a polo, or go for a breezier look with shorts, the most important thing you'll wear in your engagement photos is your smile. So, say cheese!