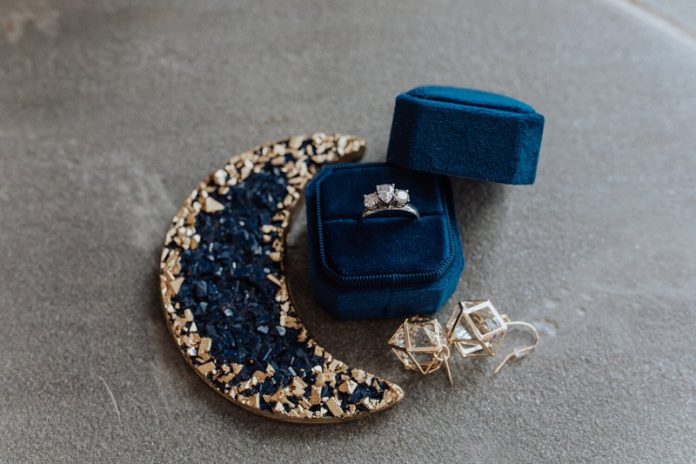 Roowedding.com – When you are planning a wedding, there are so many things to consider. From decorations to wedding attire and accessories, you just want everything to be perfect. And wedding rings are an important consideration. Because your engagement ring is more than just a piece of jewelry you'll wear on your wedding day, your wedding band should be special and unique as well. So, for the celestial wedding you're dreaming out, an outstanding galaxy-themed ring should be placed on your ring finger.
Think out of the box when looking for a unique celestial wedding ring. Something like galaxy-themed rings would be suitable for outstanding engagement bands. You can use unique metals, favorite gemstones, and style options to create a beautiful ring to celebrate your personal love story that's really meaningful. After all, while the engagement ring represents a promise, the wedding ring truly seals the deal. To live as newlyweds, you'll need a ring to perfect your unity ceremony.
There are several designs that can truly differentiate your celestial wedding ring. Here are a few to think about to have outstanding galaxy-themed wedding rings:
Metals with brushed or two-tone finishes
Shapes that are unique
Etchings and engravings
Unique gemstones.
Continue reading to find the best unique and outstanding wedding rings for every style and budget.
Alexandrite Wedding Ring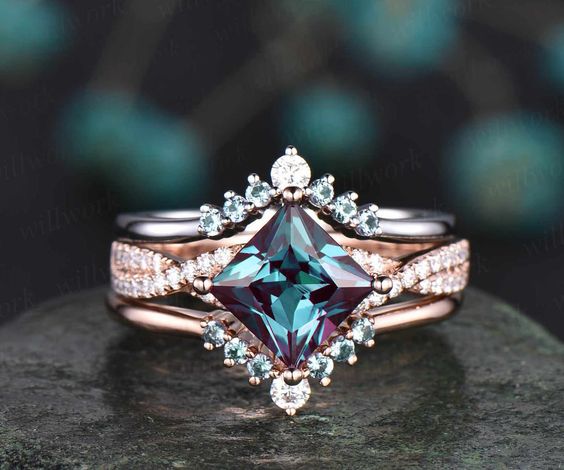 This alexandrite wedding ring is inspired by the galaxy and has a lovely appearance to complement your celestial wedding theme. With a stunning shine and a rare color-change variety of the mineral chrysoberyl, you would have truly outstanding galaxy-themed rings on your big day. Besides Alexandrite stone not only look beautiful but also gives a positive emotional impact. This wedding ring reminds you to enjoy life and share your love with those around you.
Black Diamond Engagement Ring Set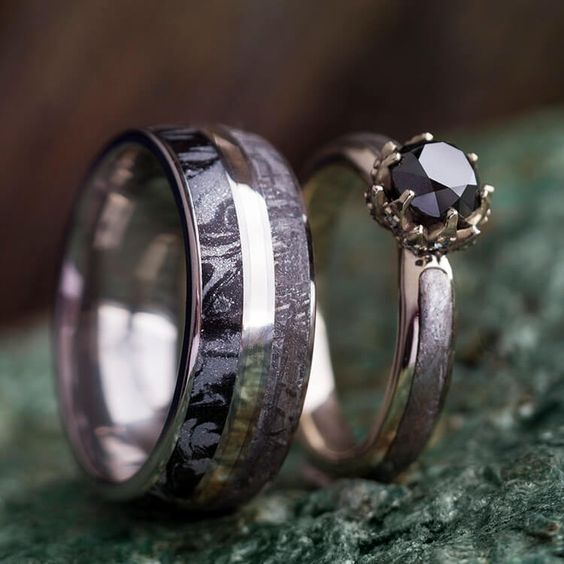 This beautiful design is obsessed with the placement of black diamonds. Furthermore, the band is made of strong white gold and silver and is an outstanding galaxy-themed ring to seal your mate. This unique wedding ring also gives a gothic vibe that not only fits for a celestial wedding but also for your Halloween wedding inspiration.
Blue Sandstone Wedding Ring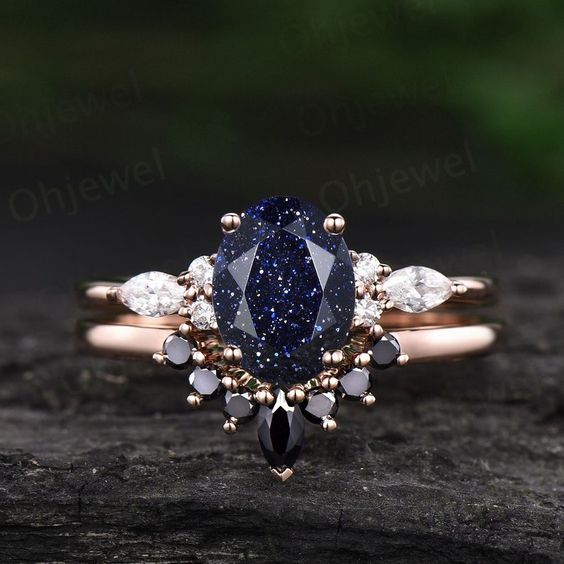 The dainty blue sandstone ring comes in a delicate jewelry box and is an excellent choice for an engagement ring. In the light, the blue sandstone resembles glittering stars in a dark night sky, providing you and the person you love with an outstanding galaxy-themed ring. This can be your option if you search for an aesthetic celestial wedding ring.
Cosmos Wedding Ring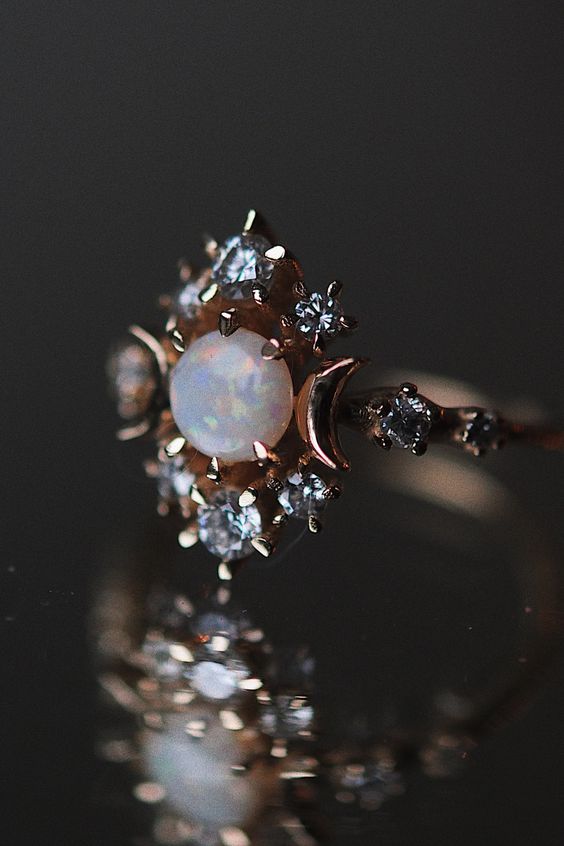 Huge sparkles may not be for you if you prefer a more understated look. That's why this cosmos wedding band is another level of beauty for a galaxy-themed ring for your marriage. Opt for a thin band with a stacked center and pearl as decoration. Besides, adding some tiny diamonds around it gives you additional sparkling.
Blue Saphire Engagement Ring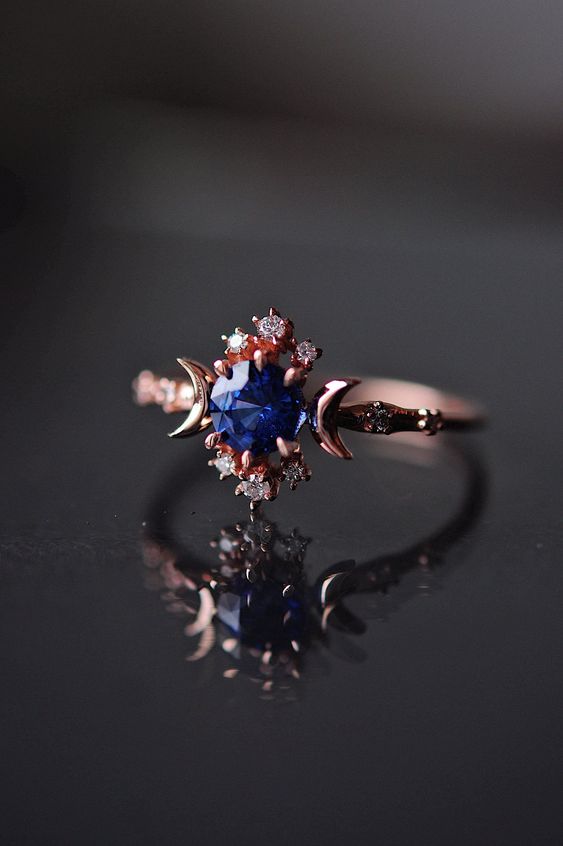 This time, we're featuring blue sapphire in a galaxy-themed ring set. The most elegant statement ring for a celestial wedding idea is this blue sapphire ring. The color blue sapphire in your wedding accessories truly represents the night sky. It looks great with your galaxy-themed wedding gown as you walk down the aisle.
Crescent Moon Wedding Ring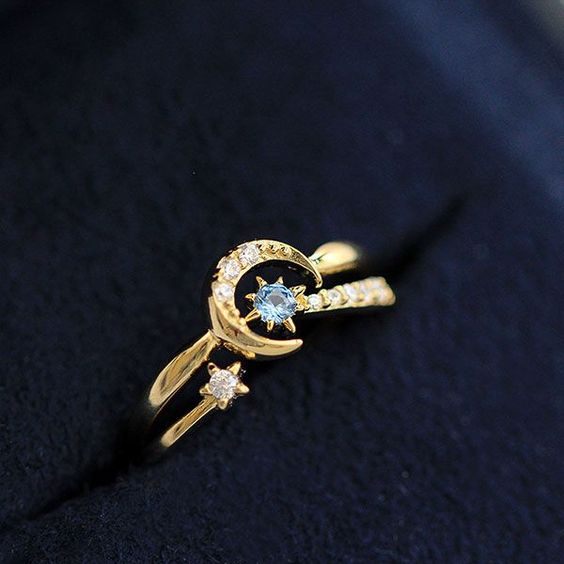 Make a thoughtful and meaningful galaxy-themed ring set with this crescent moon wedding band. The design is very cute and adorable, with a tiny gemstone and diamond, it would give you subtle sparkle. Besides, this beautiful ring is also perfect for everyday wear and elevates your appearance on any occasion.
London Blue Topaz Galaxy Ring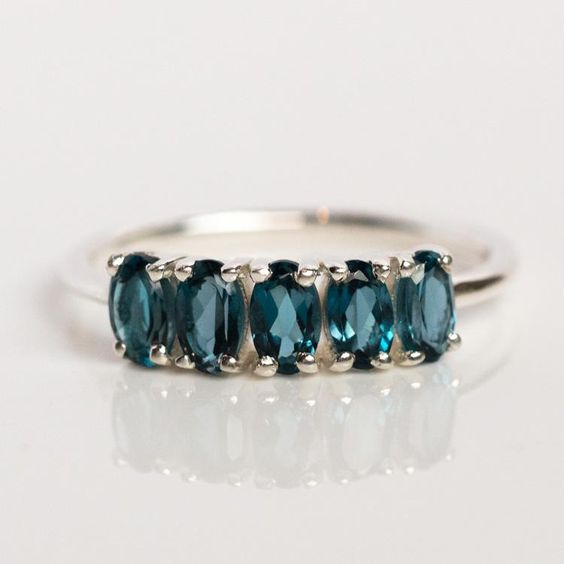 When you are thinking of alternative gemstones and diamonds to give you an outstanding galaxy-themed ring, this London blue topaz is a great choice. The classic deep blue hue is elegant, making it an ideal choice for those who want to deviate from the wedding tradition. And you can have the best celestial wedding ring with this option, which features some clear London blue topazes in the center of your wedding band.
Galaxy Ring Set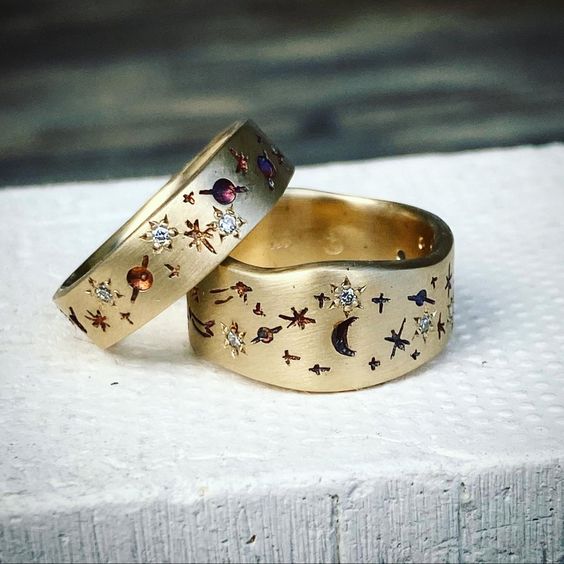 Carving a galaxy in your gold wedding ring set is kind of unique idea that will give you an outstanding galaxy-themed ring for marriage. This is also an alternative way when you and your mate don't like wearing something sparkling and want to stand with the wedding tradition.
Green Meteorit Ring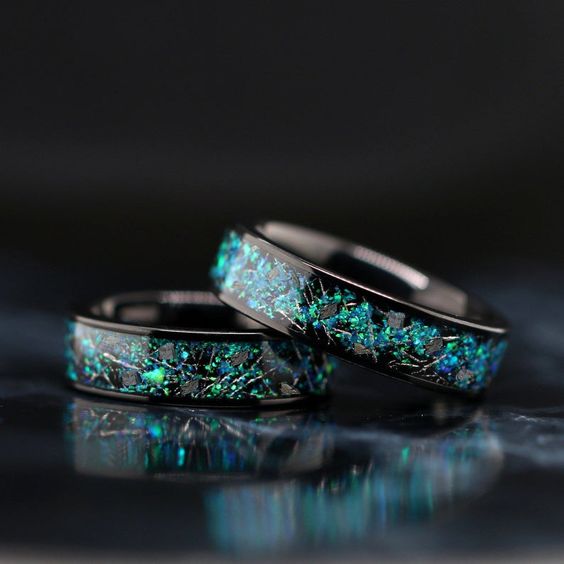 You'll have a sweet reminder engraved on your finger that would make you always think of your mates. Besides, choosing this green meteorite wedding band is give you something outstanding for galaxy themed wedding ring set. The green colors from the gemstone just look like a meteorite from space.
Moon Phase Engagement Band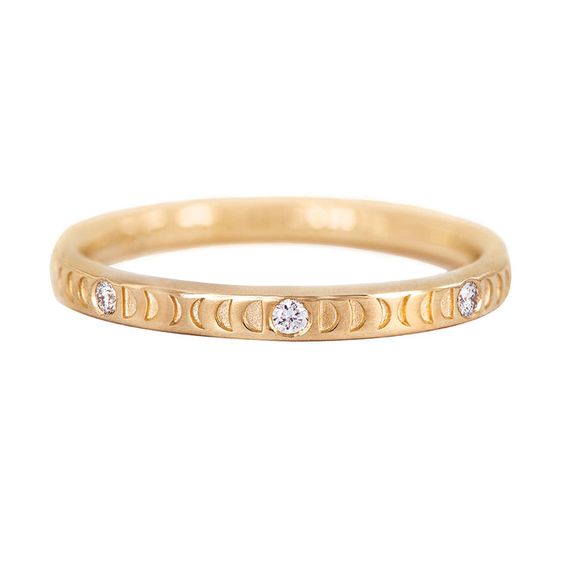 If you want a simple yet lovely wedding ring set for your wedding ceremony, this moon phase engagement band is what you have to shop for. Made of high-quality gold and studded with tiny diamonds, it would sparkle in the light. Fit all of the moon's phases onto a single delicate band that creates an outstanding galaxy-themed ring. This minimalist ring is the celestial wedding ring you've been looking for.
Halo Diamond Wedding Ring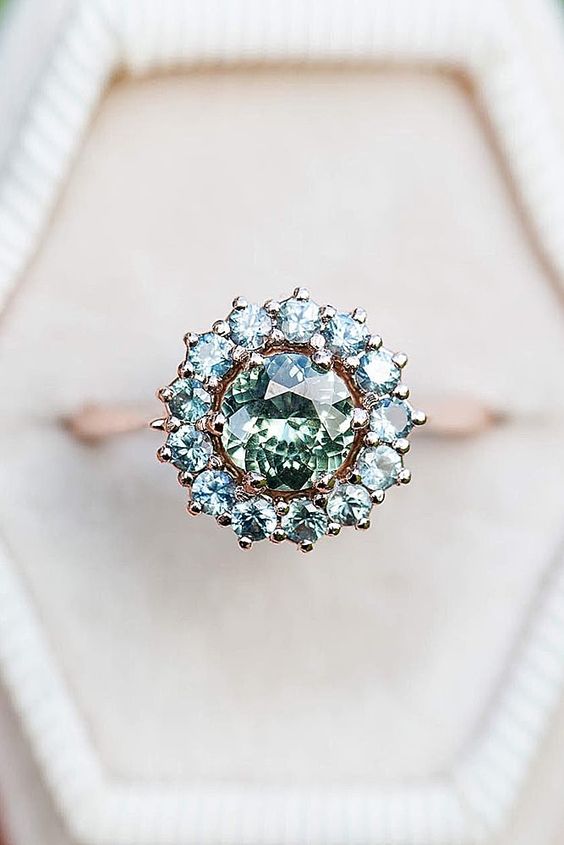 If you like something that looks magnificent to be stuck on your finger during your marriage time, this halo diamond ring is what you look for. Some tiny diamonds stuck around the big one look like a flower. Besides, the sparkling diamonds look perfect as your galaxy-themed ring for a celestial wedding.
Moonstone Ring Set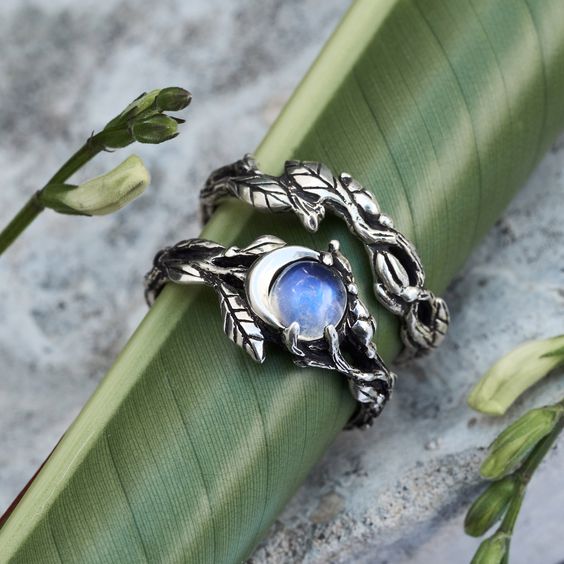 This outstanding galaxy-themed ring offers you a perfect matching band for the celestial wedding concept. The wedding ring set is carefully handcrafted with a natural rainbow moonstone in the center. The silver material and give oxidized finishing give this engagement ring set a more vintage appearance. Furthermore, it is adorned with beautiful flowers and tiny leaves carved around the band, making it also ideal for your bohemian wedding ideas.
Constellation Wedding Band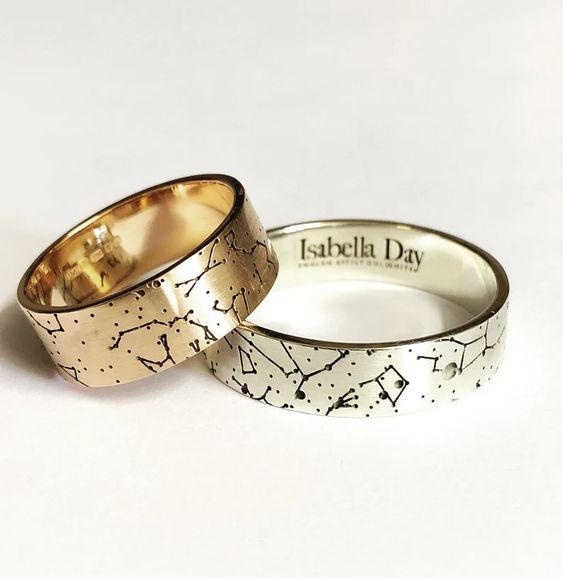 If you want something unique without having a diamond or gemstone in your wedding ring, we have a star map and a constellation wedding band. This outstanding galaxy-themed ring portrays the stars in the sky at your precise moment in time. If you want, you can add extra personal touches to your rings such as internal engraving of your initial, marriage date, or name. With this, you'll have a unique engagement ring set that no one else will ever have.
Nebula Blue Sandstone Ring Set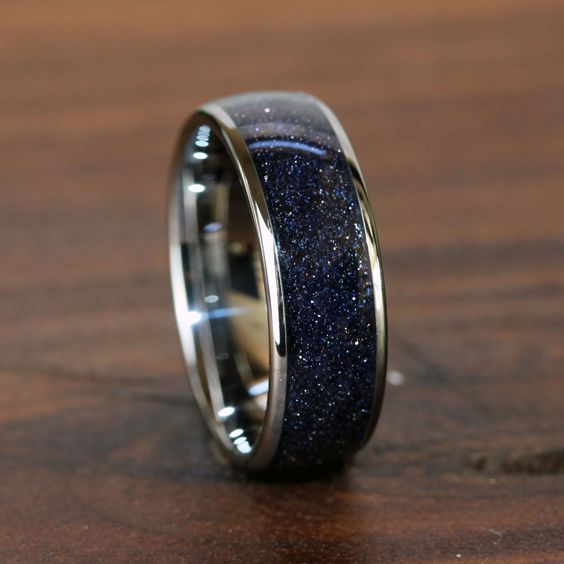 This wedding ring is ideal for someone who enjoys gazing up at the night sky. The crushed blue sandstones on this ring will catch the light and emit a sparkly deep blue color, similar to the nebula in the galaxy. I believe this piece captures starry night atmospheres that look beautiful. This is an outstanding galaxy-themed ring it's super smooth!
Sparkling Purple Diamond Star and Moon Wedding Band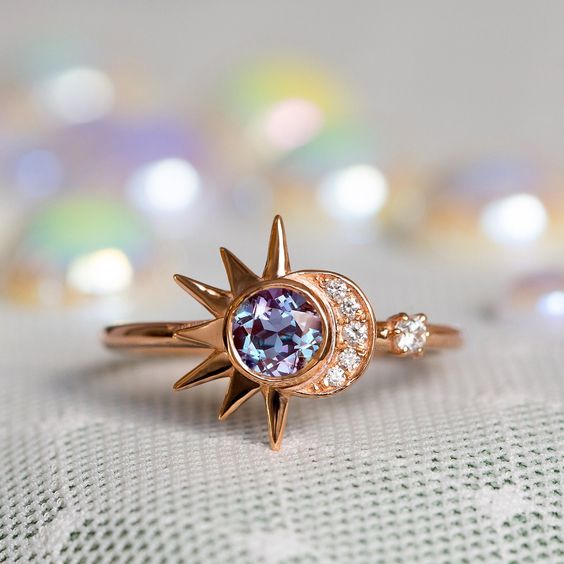 This ring is amazing!! Simply try out different shapes, colors, and stones. Purple Alexandrine comes in a variety of colors that are constantly changing and look stunning on your wedding band. Aside from that, the star and moon frame, as well as the gemstone, make it an outstanding galaxy-themed ring.
Moon and Sun Wedding Ring Set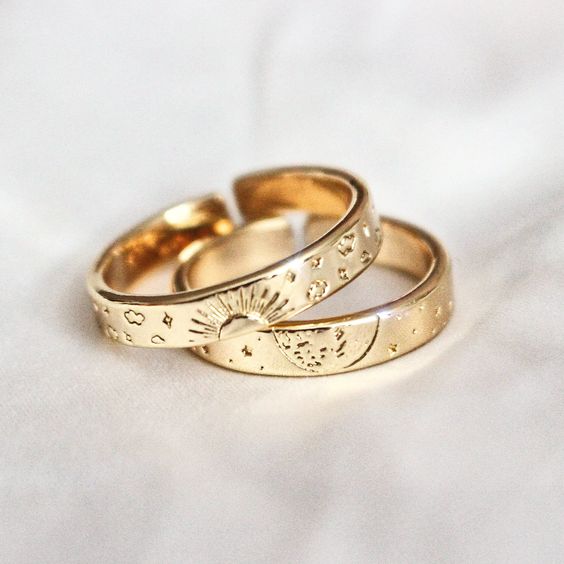 Want a traditional wedding band? Simply opt yellow-gold ring set! Furthermore, you can do anything with this traditional band such as carving it with the moon and sun pattern. An outstanding galaxy-themed ring for you and your mate! Furthermore, the Sun and Moon were engraved in a puzzle-like shape on these rings so that they would fit together even if both of you were separated by distance.
Tungsten and Moonstone Wedding Band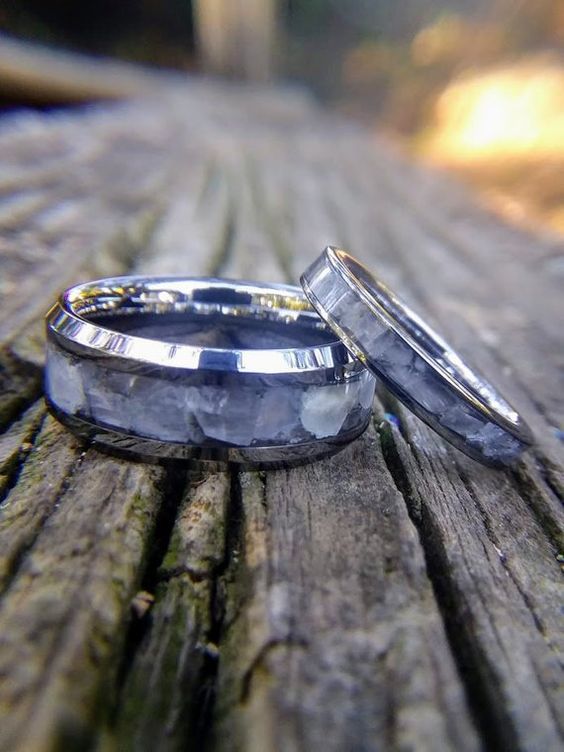 This moonstone ring really caught our eye when looking for galaxy themed ring for a celestial wedding idea. Maybe you're too! Moonstone is a natural gemstone that can vary in color and sometimes moonstones have black spots inside. Besides that, the moonstone would look better when it was crushed, but it can lose most of its appearance. Because of that, the crushed moonstone should be put in the ring. And tungsten is the highest material that gives you the perfect wedding ring set.
Get the best deal for your wedding band that would help you not only be beautiful but also meaningful. Whether diamonds, gemstones, crescent shapes, or starbursts, your galaxy-themed ring choice are endless. After you check out the collection above, we hope you find inspiration for what to wear as your wedding band that can elevate your appearance. Happy Wedding!