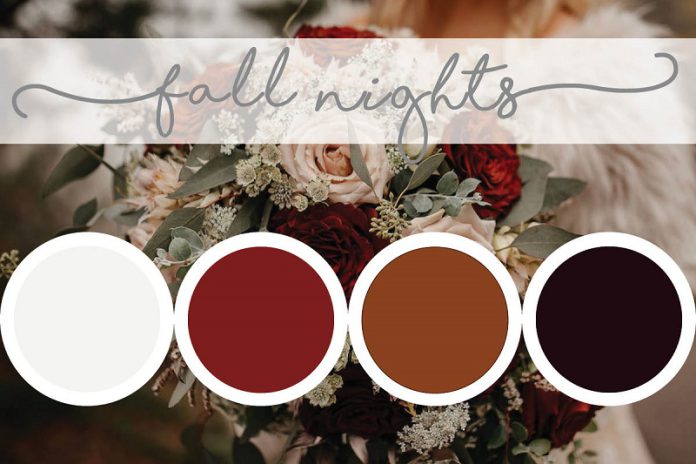 Rowedding.com – When fall comes with a beautiful color palette, it's the best time to take vows with your mate. You can't just skip the crisp air, vibrant foliage, and golden sunsets to become your autumn wedding background. That is all something lovely created by nature and quite valuable to remember in your marriage. Therefore, to get your fall wedding plan started, just begin with the color schemes. You can put together your favorite colors with seasonal hues to create fall wedding color schemes. Now, you have plenty of alternative wedding color ideas to perfect your autumn nuptial concept.
Fall color palettes are typical with warm colors such as orange shade, brown, terracotta, and earth tones. However, fall wedding color schemes can also go with jewel tones, deep hues, neutral tones, and pastel colors. These color ideas can be used in wedding decorations, invitation designs, and other aspects of your autumn nuptials. This is where you get stuck because you don't know what colors to use. Don't worry, guys, we're here to help!
Regarding your wedding theme, this post has something for you about lovely fall wedding color schemes to apply. We've gathered some of the most stunning fall wedding color schemes to help you choose the right colors for your wedding venue. Without further ado, here are some of our favorite fall wedding colors!
Chic Orange Shade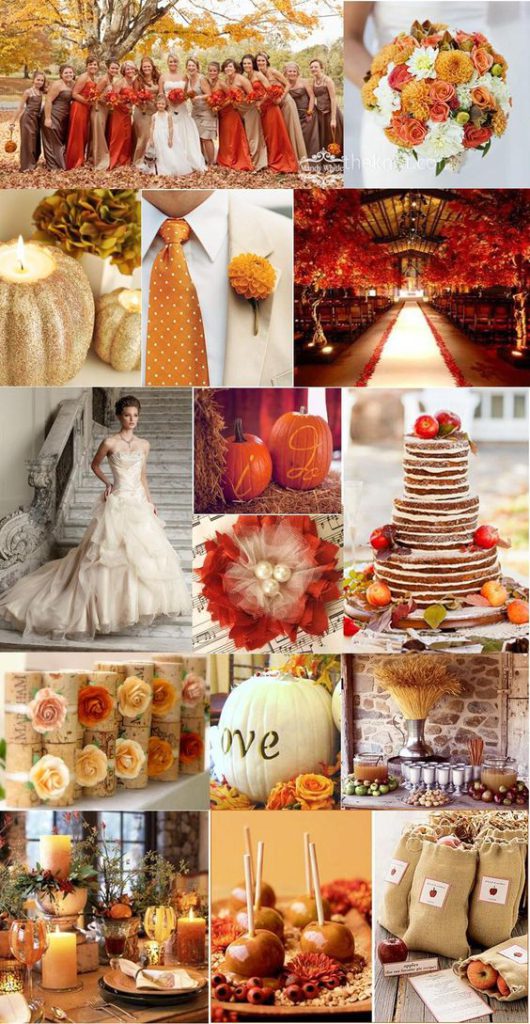 If you want to plan a fall wedding, make a statement with vibrant colors like these chic orange shades. You can combine it with a neutral palette like beige, white, or brown. With this orange shade, you can have limitless possibilities to incorporate it into your wedding decoration. Furthermore, this fall wedding color scheme brings your wedding to life. Like when you use pumpkin orange to decorate your wedding hall, table centerpiece, or aisle decor. And also use marigolds for fall wedding bouquets and aisle decorations. All of that is perfect to create your chic fall wedding receptions.
Blue and Deep Red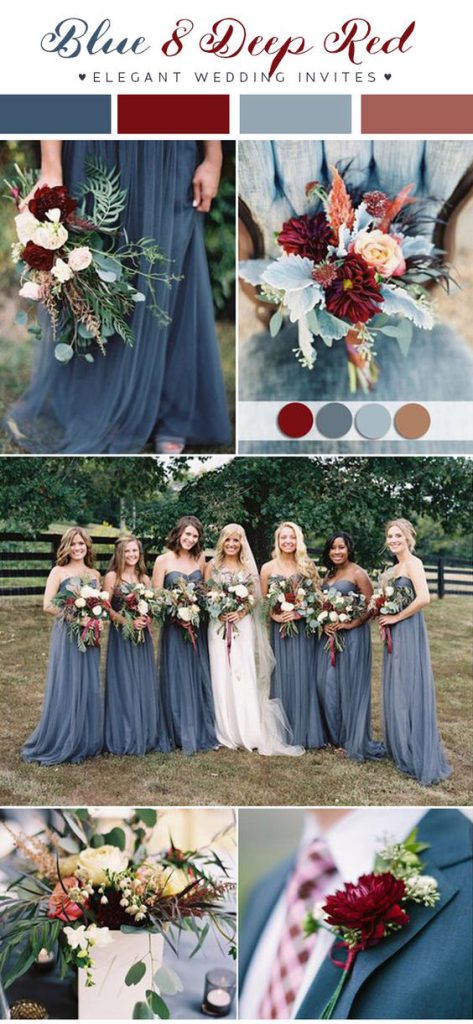 Bring this blue and deep red combination as your elegant fall wedding color scheme. You can pick a dusty blue hue to incorporate into your bridesmaid dress idea, groom tuxes, and decoration ideas. Then, pick a deep red color palette for your wedding bouquet arrangement, boutonnieres, and table centerpiece. The color combo can cross over into any wedding theme, even on your winery and vineyard wedding theme.
Orange and Burgundy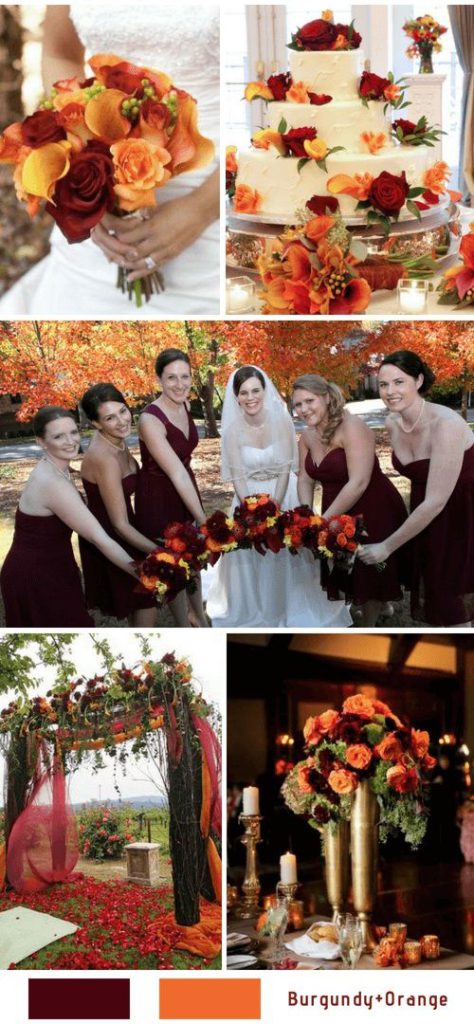 Burgundy complemented with bright orange is a great idea for an outdoor fall wedding color scheme. This would help you get the real autumn vibe in your wedding venue. You can opt maroon/burgundy dress for your bridesmaids with an orange and burgundy bouquet. For your venue decoration idea, you can choose orange and red lightweight fabric to adorn your arch that decorates with red roses. Get gold metallic vases that would look perfect with your burgundy and orange flower for a table centerpiece. You can also use candles for the lighting to add a more romantic ambiance.
Elegant with Dark Color Scheme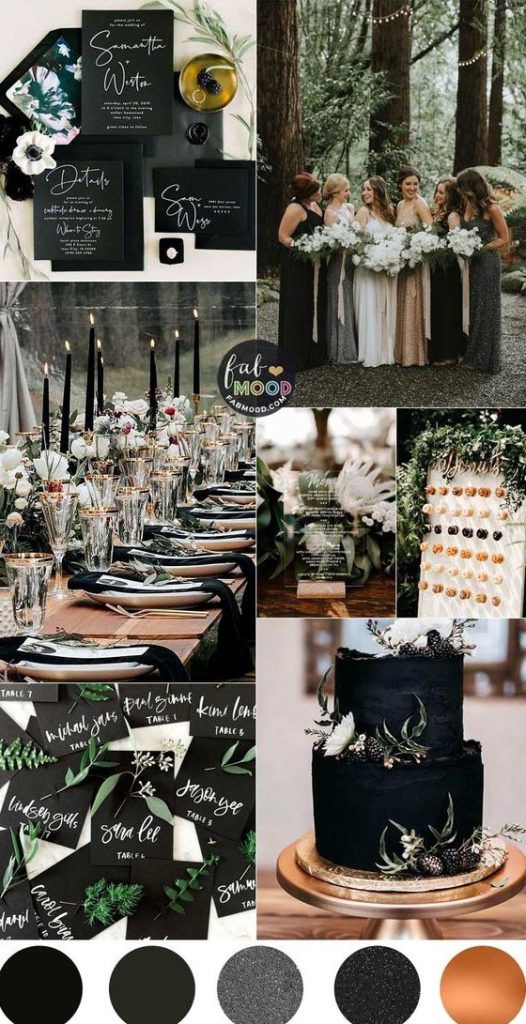 If you prefer a Halloween wedding theme, maybe black is the best fall wedding color scheme for the concept. You can use most black decorations and designs like in your wedding invitation, table clothes, and your bridesmaid gown. You can give another color hint like silver, white, or beige to bring a little classy and elegant feel to your wedding day. For this, you can opt white and greenery wedding bouquet, silver tableware, or use a gold cake stand for decoration detail.
Champagne and Wine Color Palette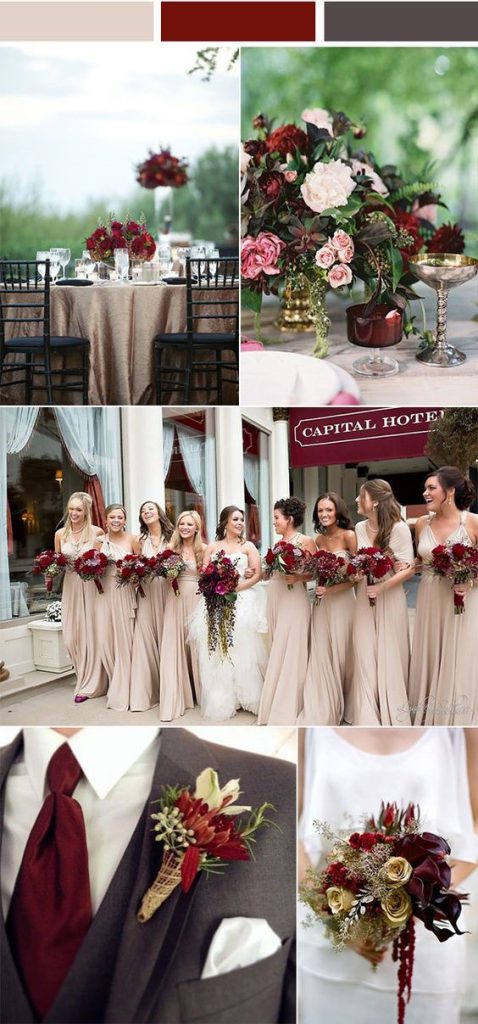 Champagne and wine is another color palette for a chic and classy elegant fall wedding color scheme. Whether you use it for a fall wedding or just to create a theme, this color combination will transform your venue into something sweet and romantic. For inspiration, you can create a basic color with champagne to decorate most of the venues like using champagne table clothes, use this color for a bridesmaid dress, and your wedding altar. Then, give a wine hint to the decoration by using deep red in your wedding bouquets, boutonnieres, and your groom's tie. Also, give another color like dark charcoal to elevate your fall wedding by incorporating this color into your groom's tuxedo.
Dark Teal Shade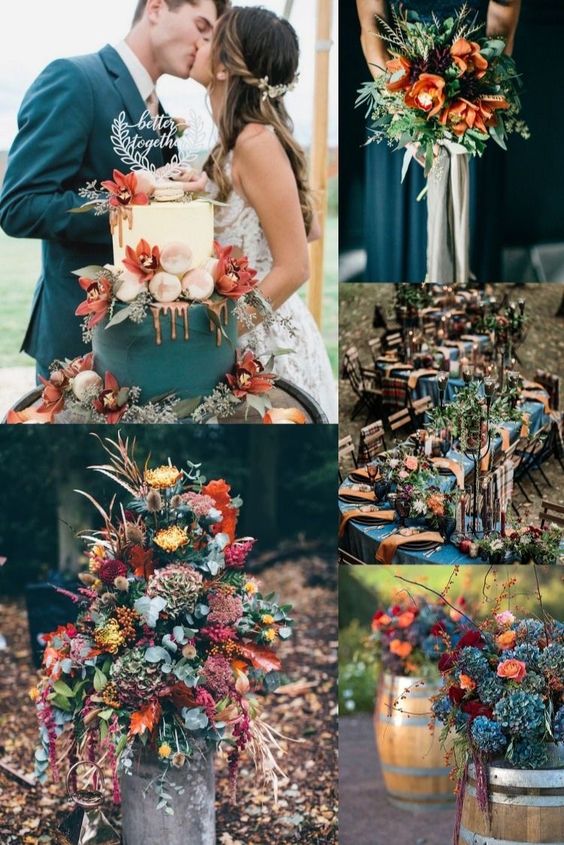 If you want something that feels classic, vintage, and fresh, use dark teal to become your fall wedding color scheme. You can make it the basic color of your decoration idea. From groom's attire to wedding cake design, you can contain this color perfectly. To live up to your venue, you can add another colorful detail like opting for an orange and greenery lush bouquet arrangement, giving a rustic accent with dried flowers for the centerpiece, and more.
Romantic Pastel in Lilac Wedding Palette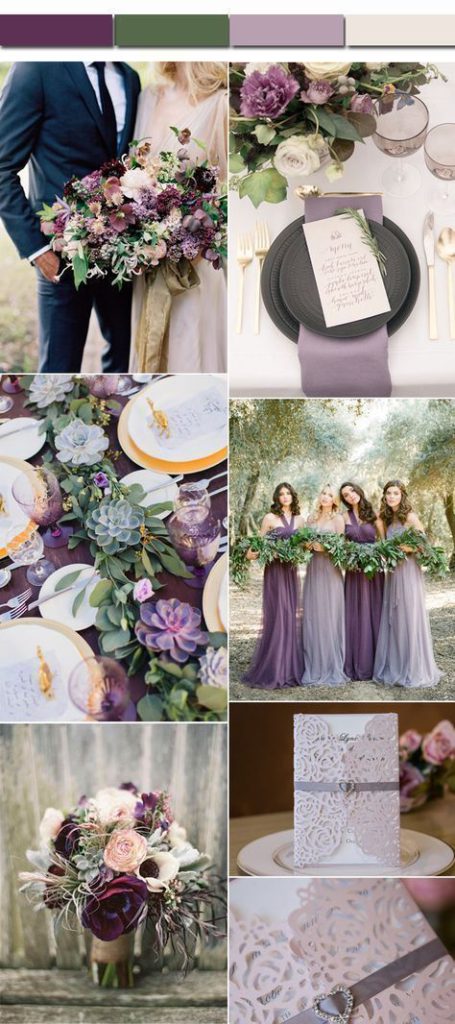 Looking for a romantic fall wedding color scheme that looks pretty? You don't have to choose orange or yellow shades. Instead, just try a soft and delicate palette like a lilac and pastel combination. We truly love this lilac on a bridesmaid dress, table clothes, and your invitation design. This is a type of fall wedding color idea which brimming with beautiful concepts for your moment. Besides, using this kind of color scheme is proof that fall wedding colors shouldn't be monotone just with seasonal shades. Besides, you can apply a bit of pastel combination like beige and dusty green elements that you apply in your alternative wedding dress, table setting, and also altar decoration.
Earth Tones Wedding Color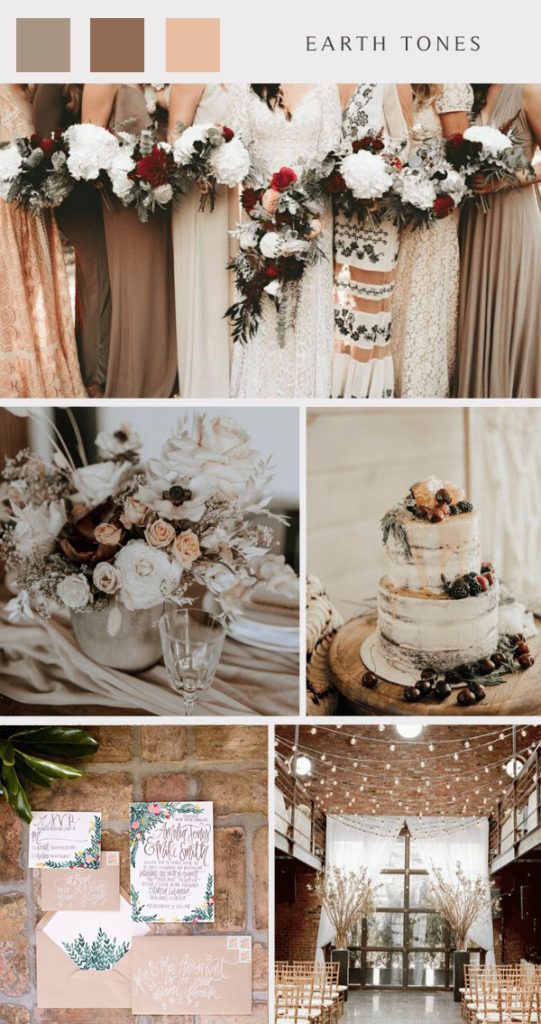 The easiest color palette to apply to any wedding is earthy tones. Even in your fall wedding color scheme, you can use this kind of color to elevate and decorate your wedding venue. For this, you can apply natural colors like ivory, beige, and brown in all your decoration. The softness and nature of those colors would give a rustic vibe to your wedding ambiance. This wedding color could also be perfect to incorporate into a bohemian wedding concept or industrial wedding theme.
Forest Green and Wood Color Combo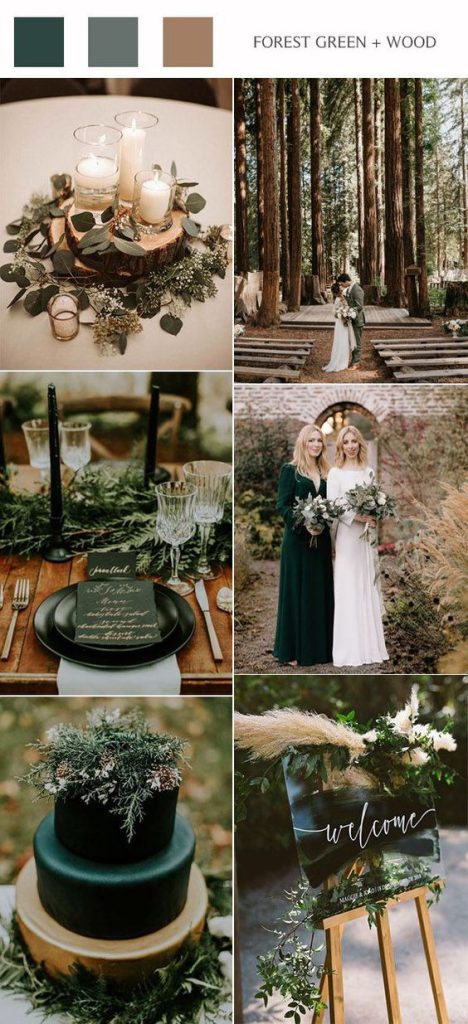 Another popular color combination for fall wedding color schemes is dark forest green and wood. This is perfect if you hold a forest outdoor wedding reception. You can incorporate a more dark green palette in your decoration like in your bridesmaid dress, wedding cake, invitation, and table setting. Besides that, if you want also create an eco-friendly wedding here you can opt wood accent for decorating. Opt for wooden tables, use slice logs for a table centerpiece, and get more wooden accents in your wedding decoration ideas.
Plum and Orange Shade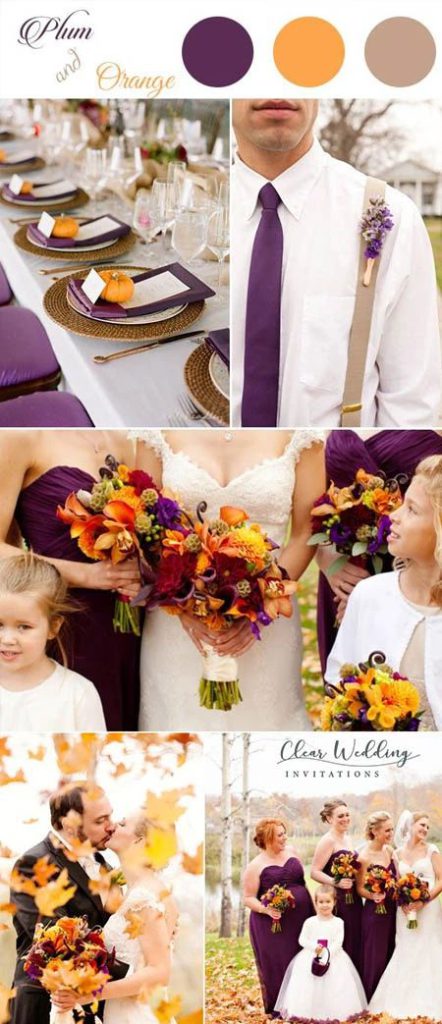 Another moody but fun color to use on your fall wedding plan is purple and orange. The shade of purple is a bit tricky to use on your wedding decoration, but plum might be an ideal option to get a fun Halloween theme in your autumn wedding. To keep your fall wedding color scheme not too dark and moody, you can offset it with vibrant colors like orange. When you want to put these colors together, you can start with plum shade in your bridesmaid dress, groom accessories, and table setting while also surrounded with orange shade in the flower arrangement and wedding bouquets.
Modern Wedding with Taupe, White, and Grey Shade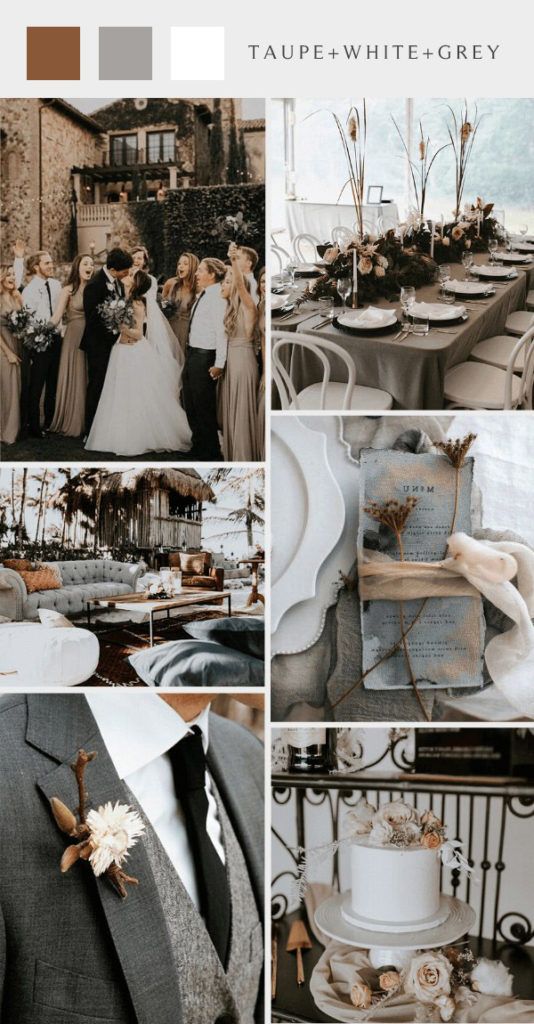 Create your modern wedding with a combination of taupe, white, and grey palette on your wedding venue decoration. This fall wedding color scheme has a cooler performance that would make your big day feel more special. You can use taupe and grey on your invitation design, groom's attire, bridesmaid dress, and wedding hall decoration. Besides, make a pop-up with a white palette that you can add to your wedding dress, wedding bouquets, and wedding cake design. The best part about this color scheme is can be adjusted whether for an industrial wedding or romantic indoor wedding reception.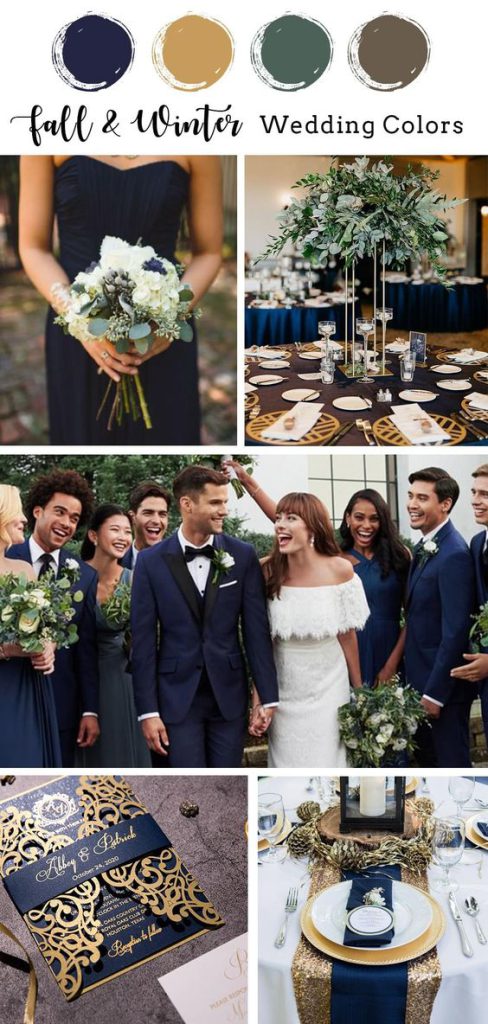 Navy blue and gold, those two colors are really perfect for an elegant celestial-inspired wedding. While navy blue draw all your wedding concept, you can make a statement using gold to speak a more classy and sophisticated style. We truly love this fall wedding color scheme to present your luxury wedding reception at a hotel or restaurant. You can maximize navy blue to get elegant suits and bridesmaid attire. Another way choose elegant navy table clothes and get golden tableware to set up your table setting sophisticated and elegantly. You can also use those two color combos to create a classy elegant invitation design. If you want a pop-up style, you can use additional white and greenery palettes for your wedding bouquets and flower arrangement.
Dusty Orange and Sage Green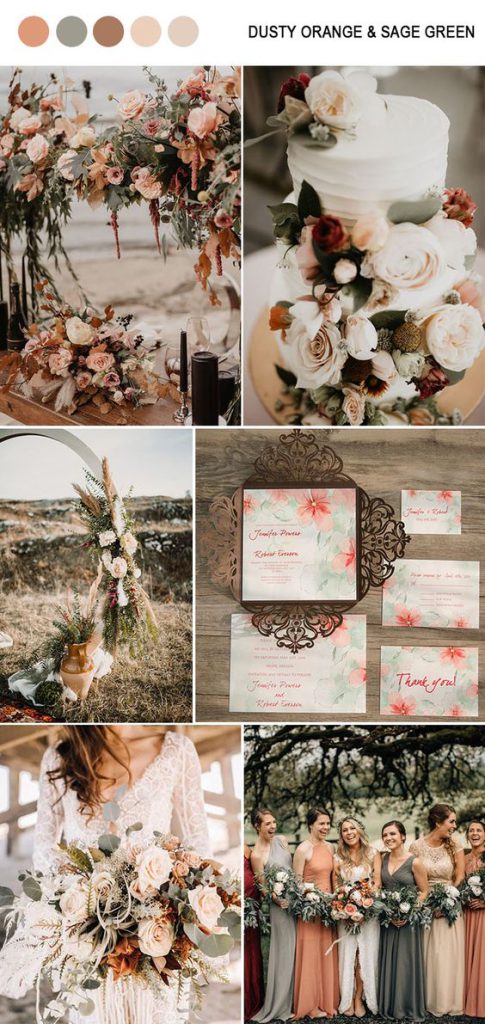 One of the most versatile color options to include in your wedding is dusty orange because it can be adjusted for any seasonal wedding. When you want to present a romantic and sweet fall wedding, you can combine this color with sage green. You can utilize some dusty orange roses here to become your wedding aisle decor, bouquets, and centerpiece. Besides, you can also incorporate it as your bohemian wedding cake design. Furthermore, use sage green to create an elegant bridesmaid gown, a rustic and lush feel in your wedding decor. Those colors can also be paired with neutral and even deep and bold color schemes.
Bold in Dark Green and Burgundy for the Wedding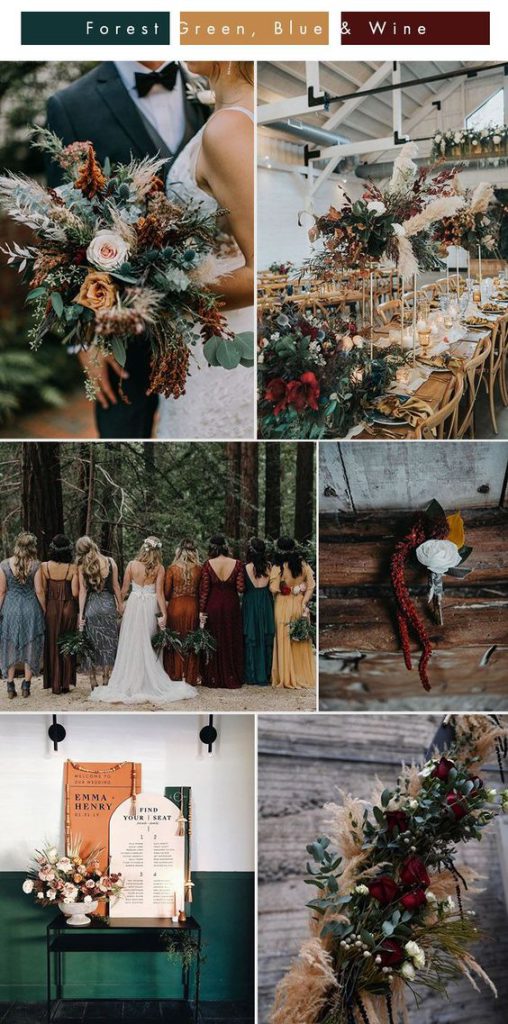 When you hold your wedding at the end of the fall season, you can start to incorporate a winter color palette like this bold dark green and burgundy. These rich, deep tones would give you moody wedding reception, especially for the outdoor rustic wedding concept. Even if burgundy and dark green make their own point, it still looks appealing. Your fall wedding color scheme would look eager and smoldering with bridesmaids wearing burgundy and dark green gowns. While supporting the entire gathering with coziness, your grooms and groomsmen can wear dark green suits and tuxes. Also, you can decorate your wedding venue and table dinner with this fall wedding color scheme by using greeneries and bold-colored flowers.
Contemporary wedding with a Neutral Color Scheme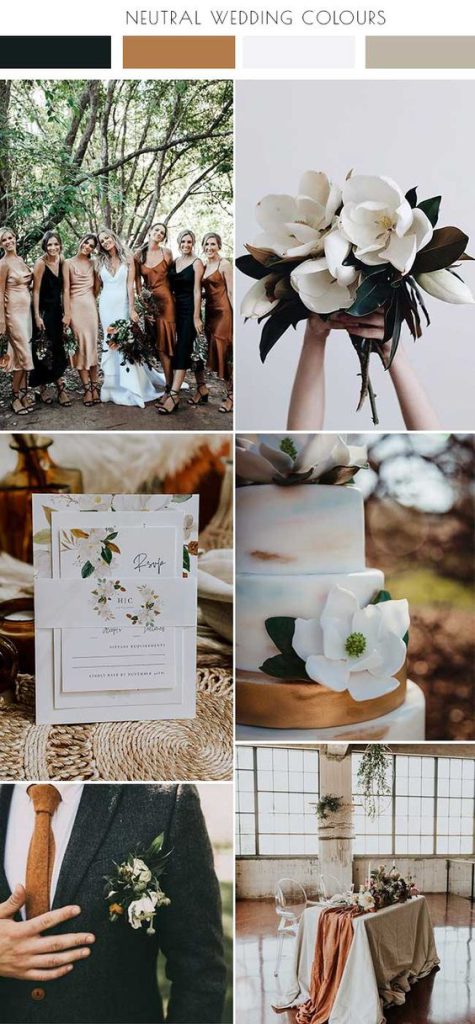 A neutral color palette is timeless and really versatile. Anything can go perfectly in this color, even so for your fall wedding color scheme. You can incorporate two or three neutral colors such as cream, grey, white, and brown into your wedding decoration. You can pair shades of white in your wedding gown, bouquet, invitation, and cake design. Then, use cream, black and brown to create your bridesmaid dress. While your grooms and groomsmen can choose grey suits with brown ties to elevate your contemporary fall wedding.
Jewel-Toned Wedding Scheme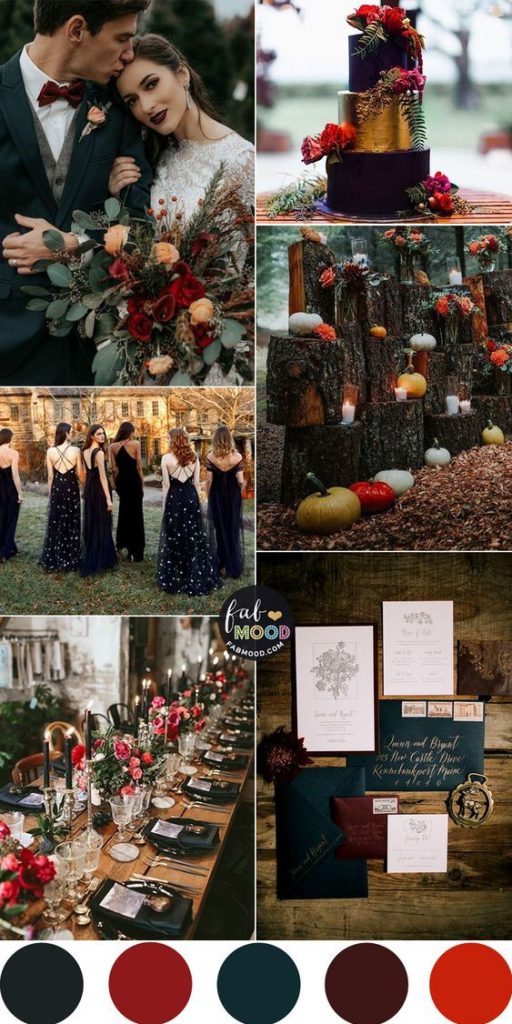 You can get a goth romantic ambiance with this jewel-toned fall wedding color scheme. Jewel tones like red ruby, emerald green, plum, or wine can be adjusted together to bring a whimsical and sophisticated wedding theme. Like when you do a goth Halloween wedding, these colors blend perfectly with the concept. You can choose emerald and red ruby to elevate your wedding invitation. Use an emerald color for table clothes with burgundy flowers for table centerpieces. Emerald also can be used to become your groom's attire or your nontraditional colored wedding dress idea. Then ask your bridesmaid to pick a dress with one of those colors, mostly they'll pick burgundy or plum. But if you want, you can adjust black and white gowns for your bridesmaid to look more gothic vibe.
Black and Blush Hues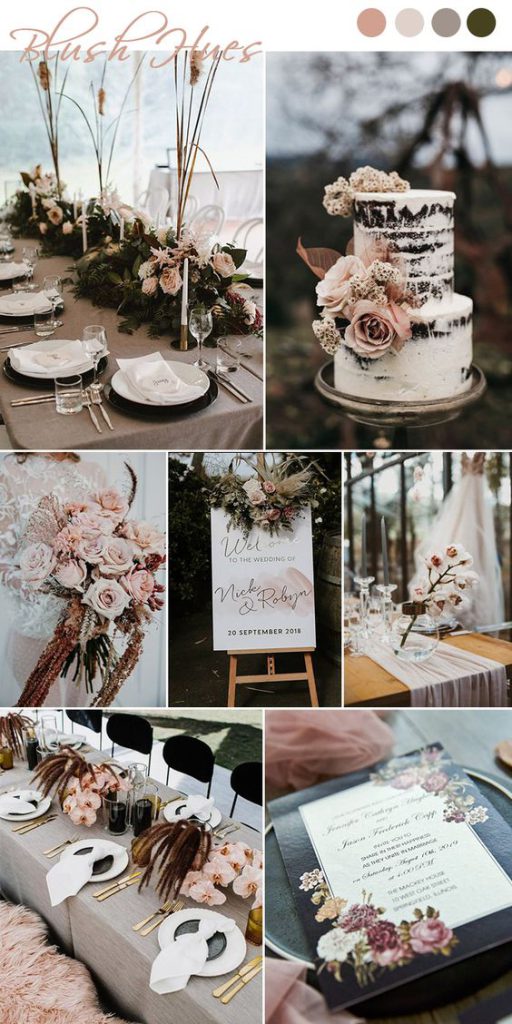 This contrasting color combo is another level for a romantic fall wedding color scheme. Black and blush hues! While blush gives you a sweet and pretty ambiance, black could give you a cool vibe. You can incorporate this combo into a sweet invitation design in a blush pink color with a black frame and stationery. Besides, you can also use blush table clothes and use black chairs for table setting. Give black candles for lighting and centerpiece. Then, use some blush flowers for the wedding bouquet and flower arrangement on your wedding table and altar.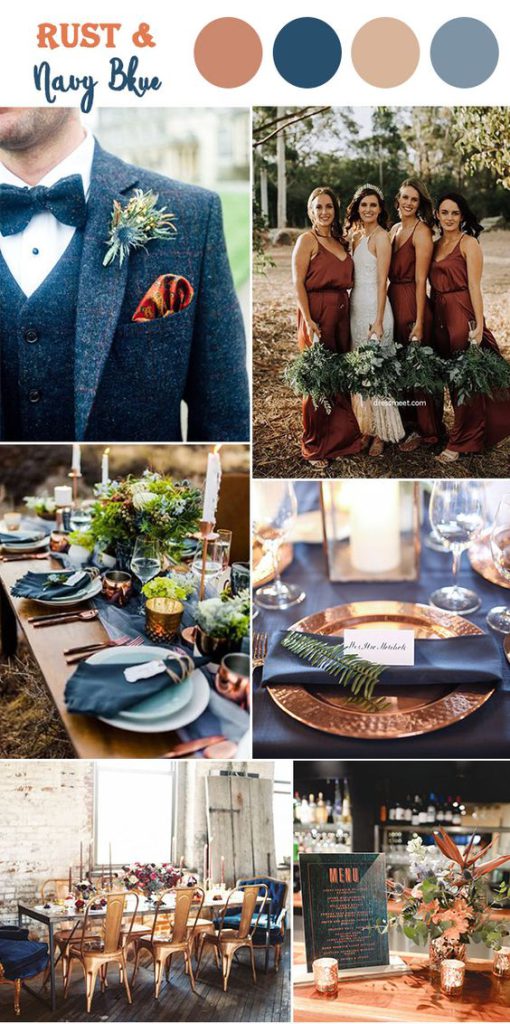 For the last inspiration, we give you navy blue and rust hues to become your fall wedding color scheme. What's better to create a fall wedding rather than a rustic accent using rusty hues? This color would make you feel closer to nature and give you a rustic barn wedding style. Get balanced with navy blue to give you an elegant and classy vibe. You can get men in navy blue suits with rust ties and boutonnières. Match this with a rusty bridesmaid dress and wedding bouquet. For the table setting, you can use navy table clothes with rusty hue tableware and chairs. You can also complement it with a table runner from greenery and blush flowers.
While a wedding concept isn't absolutely necessary, choosing a color palette to become your wedding color scheme will be important. It would be present in all aspects of your wedding preparations, from decoration to wedding bouquet, invitation design, and wedding cake. So, you need to consider the palette of your wedding properly. If your wedding is in the fall, you can use those 18 fall wedding color schemes to create the perfect atmosphere in which to exchange vows with your mate. Then, what's your favorite one? I wish you can get inspiration from this article. Happy Wedding!