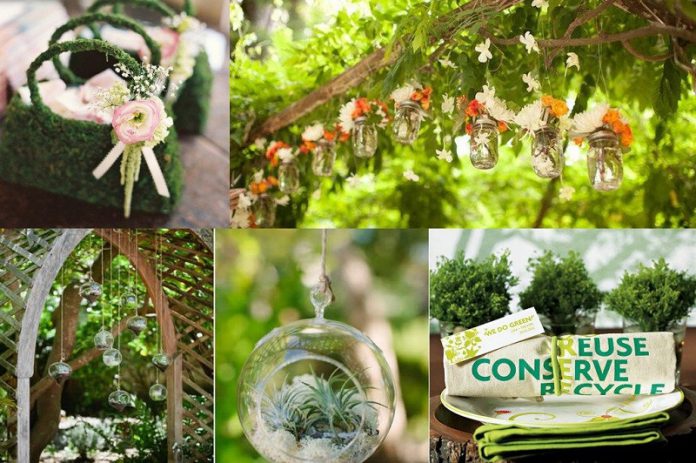 Rowedding.com – Nowadays, people are trying to integrate nature into their wedding plans. They incorporate natural elements into the decor, hold outdoor and nature weddings, or find a way to reduce wedding leftovers and waste. There's nothing wrong with eco-friendly wedding ideas. What's more, using this concept would allow you to save money while also protecting the environment and give you a sustainable wedding.
Eco-friendly wedding ideas have recently grown in popularity and have become a trend. It's so simple to host an eco-friendly idea in a minimalist wedding. Especially with new technologies and many innovations, it should be more manageable to apply the concept to your wedding planning. As if using biodegradable materials and reusable or recycled decor to help your wedding become waste free. While you can also use your yard to become a wedding venue, serves vegan foods for a buffet, or prefer candles for lighting to reduce electricity and fuel usage.
Managing to keep things in your sustainable wedding plan more ecologically responsible is a must. However, we understand that deciding where to start can be challenging. That's why we're here to guide you through the tips of eco-friendly and sustainable wedding planning. We'll help you to plan a greenery wedding that's environmentally conscious and free of waste.
Eco-Friendly Wedding Invitation Design
Begin with the design of the wedding invitations. There are numerous ways to plan eco-friendly wedding card designs. For example, use seed paper invitations that the guest can plant in the pot. To reduce waste, focus on one card design or use handmade paper invitations made from recycled paper. And, as technology and the digital world advance, most brides are transitioning from traditional wedding invitations to electronic invitation designs. Aside from being environmentally friendly, this type of invitation can also help you save money.
We suggest you use paperless wedding invitations and change to electronic ones. This can be the best way to keep things sustainable on your wedding plan. But when you think you also need an actual invitation, you can try a simple invitation by using recycled paper and giving a barcode scan for extra information like directions instead of using an additional paper.
Eco-Friendly Wedding Dress
Your wedding will undoubtedly be the most memorable day of your life. So you want to keep everything perfect, including your wedding gown. But did you know that planning the ideal wedding dress can also be one of the most wasteful? Therefore, there are so many options for the wedding dress to choose from that support eco-friendly wedding ideas.
For eco-friendly wedding dresses, you can try to ask your friend to make a wedding dress that's not like too bridal meaning and can be re-wear. Ask for a simple wedding dress, not many accents, and can you use it again for daily occasions. Besides that, employing a local designer also helps you to save money. Another option, remodeling an old wedding dress from your mom can also give you a new dress in vintage style. Then, consider buying a pre-loved or second-hand wedding dress rather than new ones. Or when you want to buy new ones, better to resell, donate, or recycle your wedding gown after the big day.
Eco-Friendly Wedding Venues
Looking for wedding venues for eco-friendly wedding ideas is a bit tricky and challenging. For this, try to choose a venue that offers catering too. Make sure they also use reusable materials, do not use plastics, and are environmentally friendly. This would be saving your time and money. Also, consider using outdoor venues such as wineries and vineyards or your family yard. This type of venue would be easier to decorate and give you extravagant natural scenery. What's better than lush nature to become a backdrop of your wedding place.
You can opt for local venues to become the best place for knotting vows. A place with its own beauty and requires less decor. Another idea, choose a venue where most of your guests are based on. With this, you'll reduce the amount of fuel to go to your wedding reception. Even though you can host marriage wherever you want, still take a look at a place that requires guests the fewest travel use planes or cars.
Eco-Friendly Decorations Ideas with Natural Elements
As we often said before, eco-friendly wedding ideas are using natural elements that are reusable materials. Whether it's for decorations, table setting, ornaments, wedding aisle, and more it must environmentally friendly. So, rather than bring balloons, sky lanterns, and more, better you get sustainable decorations such as dried flowers, ribbons, glassware, and recycled items.
For your inspiration about eco-friendly wedding decor, you can opt dried flowers to adorn either for your table centerpieces, wedding arch, and backdrops, or your wedding bouquets. Use potted plants from your garden and greenhouse to decorate your wedding venue. Aside from that, why don't you consider renting vintage ornaments? Like vintage candle sticks, tableware, chandelier, and more. Another option? Change your lighting with non-toxic candles, ask your florist to use local flowers, and use biodegradable confetti, like using leaves and flowers confetti. Make sure to focus on recyclable and reusable decorations to plan your sustainable wedding perfectly.
Eco-Friendly Wedding Rings
Your wedding needs something sentimental like a couple of rings to become a symbol of your marriage. When you need rings for eco-friendly wedding ideas, just bring on conflict-free, ethical, and vintage rings that are cheaper and sustainable. The most popular wedding rings recently are lab-grown diamonds, recycled metal, and family rings.
If you want either eco-friendly or free-conflict wedding rings, lab-grown diamonds can be your option. It's not rare again to create diamonds in a lab that have good quality even if it's not as good as a real diamond that's naturally created. Besides that, you don't have to worry about harming the earth because of diamond mining. The interesting part of going eco-friendly wedding ring is using a family heirloom. Sometimes parents keep their wedding rings to give you when you get married. With a little effort and money, you can remodel the ring or fit it in your and your partner's size. This is actually more sentimental and romantic rather than you buying a new wedding ring.
Eco-Friendly Wedding Buffets and Caterings
Speaking of your wedding buffet and catering, when carrying eco-friendly wedding ideas you may prefer a single plated dinner rather than a buffet. This way would ensure you have enough food just for guests on the list and reduce leftovers. Besides that, avoid single-use plates and utensils that can harm the environment even if it's easy to use. Better to rent tableware, not only more environmentally friendly it can also add an extra glam touch to your wedding atmosphere.
Choose vegetarian options for the menu. This may cause some controversy, but plant-based foods consume fewer resources than animal products. For instance, you can opt coconuts to become fresh drinking in your wedding service. Consider local food, besides it's the most consumed by people that you invite, it also wouldn't be wasting foods. When deciding on your wedding menu, better to have a conversation with your caterer about what will be good to serve in the buffet. Also, think about donating leftovers to bank foods.
Eco-Friendly Wedding Favor Ideas
How many times have you attended a wedding and left with wedding favors? This kind of a way to thank guests who celebrate the wedding together. Sometimes you find that wedding favors just let off without getting touched again to become wedding waste. So, you have to find a way on selecting functional wedding favors especially can be environmentally friendly. When it comes to eco-friendly wedding favors, choose something reusable and useful. For this, just opt tasty edible gifts or use plant growing for guest gifts.
For eco-friendly wedding ideas, you need to use natural elements for every component of your wedding even for wedding favors. Recently people begin to aware of this issue. Rather than give guests something cute for favors, sustainable things such as glass jars with plant seeds are likely more useful. Thinks of edible gifts, such as honey in the jar, olive oils, and other is also an option. However, when you want a fresh gift you can bring on succulents in pots, or herb plants for wedding favors.
Eco-Friendly Gifts
Sometimes it's a habit to give someone who assists with your wedding a gift. Find a gift for your bridesmaids and groomsmen that has a low environmental effect or that helps them be more eco-friendly in their life. You can plat to give them something that's more useful and sustainable things such as a razor for guys, a piece of jewelry that are made from recycled materials, refill water bottles, sunglasses, toiletries, and aromatic candles. Anything you give to them for gifts, just show up your gratitude.
Eco-Friendly Wedding Cake Design
For cake design, if you want something that is suitable for eco-friendly wedding ideas opt greenery wedding cake ideas. You have to bring natural elements to garnish your wedding cake. You can bring edible flowers, greenery, and fruits, that look tasty and beautiful for ornaments in your cake design.
Anything that's going to eco-friendly and sustainable wedding plans, should be earth-conscious. Simply, you have to use natural elements, reduce waste, and require recycled things for wedding decoration ideas. We hope this eco-friendly wedding idea would help to change your mind about your wedding dream to be more environmentally. Use a few of these tips to plan your sustainable wedding perfectly. If you want an idea about natural concepts, maybe a greenery wedding concept would help you.

Infographic provided by Grown Brilliance