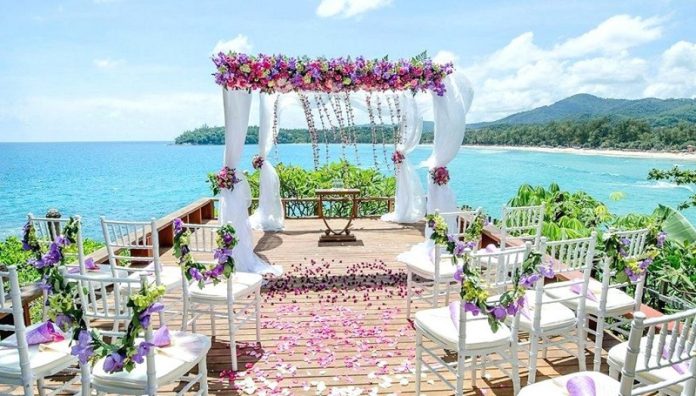 Roowedding.com – The first thing to plan for your wedding is selecting wedding venues. This is crucial because venues would bring ambiance and concept to your wedding. When you choose the venue for a wedding, better you think about the location, size, style, and budget. The good news is, that numerous affordable venue options give unique concepts to your wedding theme ideas.
Selecting a wedding venue could be a daunting task because when you wrong choose the place, it will ruin all the planning. So, make sure to know what you should keep in mind the things before choosing wedding venues. The location of ceremonies and receptions would create a mood in the whole event. Depending on the atmosphere you want to create, you will get several outstanding wedding venue ideas. We'll try to outline 17 unique and unforgettable wedding venues to help you get inspiration.
The Most Popular and Unique Wedding Venue Ideas for Unforgettable Wedding Receptions
Private Beach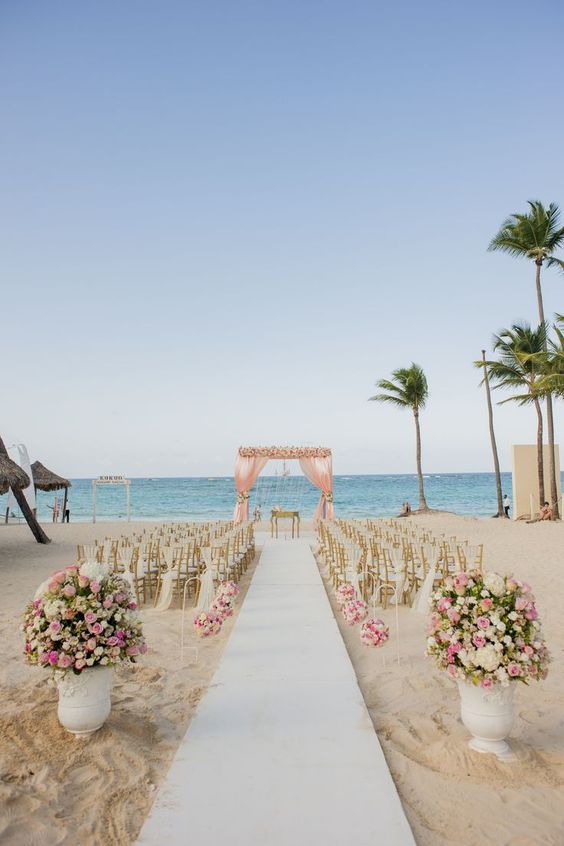 Want a natural outdoor wedding theme, nicely you choose the beach for the wedding venue. This place is also affordable to rent rather than a hotel or restaurant. If you have more guest lists, this venue is great for a big crowd without feeling stuffy. It's also good for brides who want simple wedding receptions without wearing high heels.
When you hold a ceremony on the beach, think about the location. Better to pick a westward side of the beach if you want to get amazing sunset views. Besides that, you also need to get permission for any beach wedding because it public place. Also, think about the accessibility for your guests at the time. You can ask for information from the beach permitting office while you take care of permitting letter. If you want something that is more privy, you can try to use a private beach. But for this, you need to serve more budget.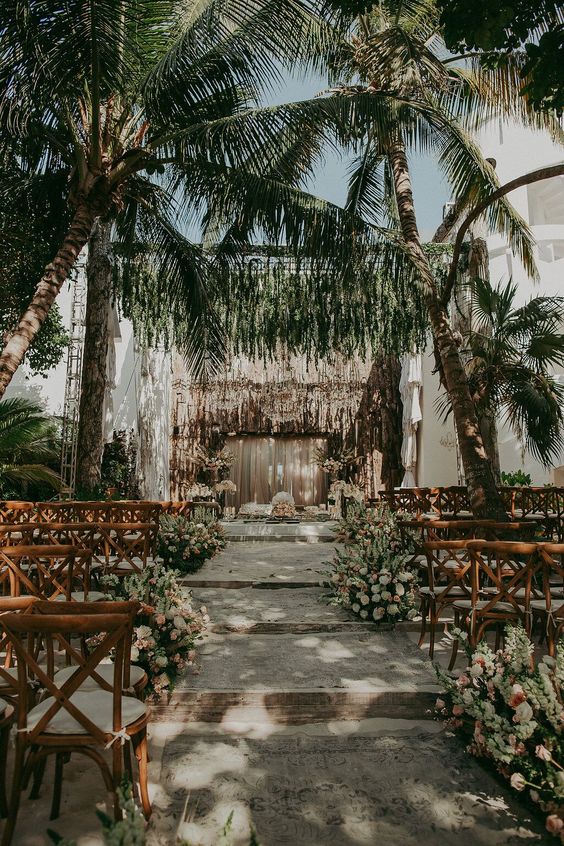 Like another outdoor event or receptions, you should have " plan B" because the weather would be a factor that makes your plan work nicely or not. Suppose you need to search for a pavilion near the wedding venue. For a backup plan, you can have a sturdy canopy or tent just in case of bad weather. Having the natural beauty of the beach would bring romantic and unique wedding venues for your vows. You can adorn it with bohemian wedding ideas like getting palm fronds and flowers for aisle run decoration, wooden chairs, and light linens. For the evening receptions, you can get string lighting for the romantic vibrant.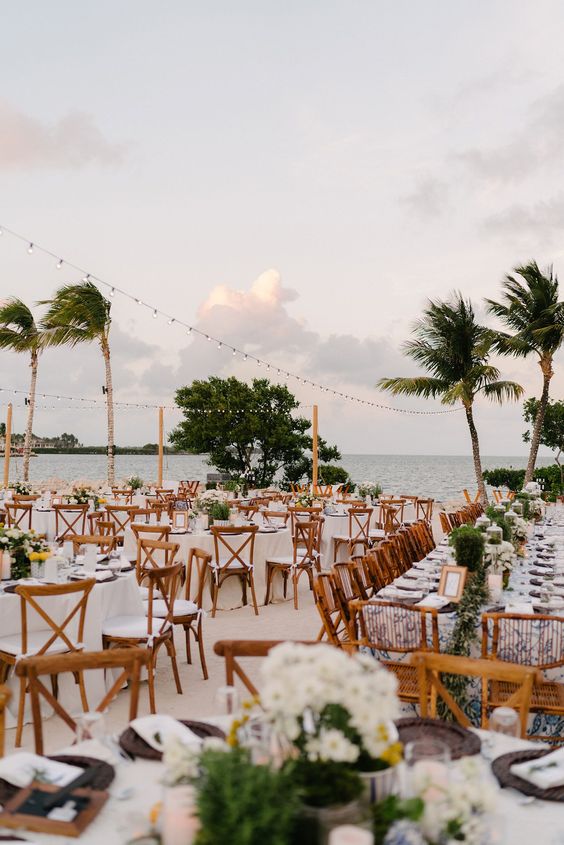 Barn and Farmhouse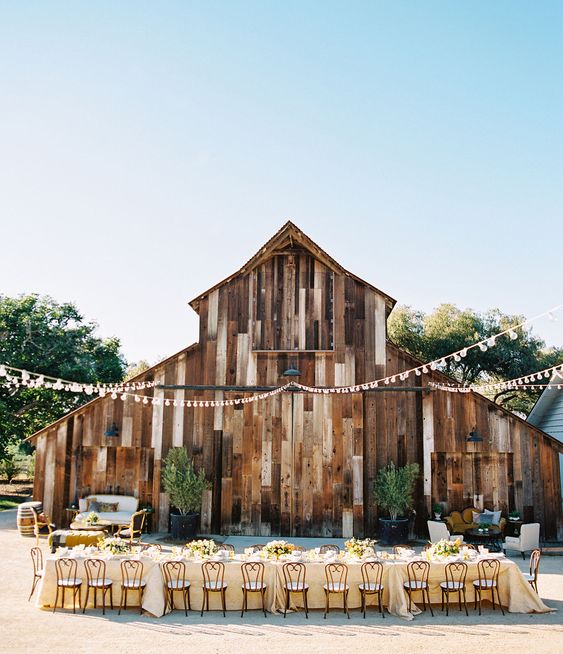 When you are dreaming of a rustic wedding concept, get a barn or farmhouse as your wedding venue. These places offer you natural rustic charm. It's suitable for any season, either indoor or outdoor ceremony with a beautiful background for photography.
Nowadays, most couples have been taking the option of an intimate and smaller wedding reception. The barn is a unique wedding venue that become a trend for years and will give you a dream wedding. Besides that, the authentic barn in the farmhouse gives brides the flexibility to decorate wedding venues according to what they want.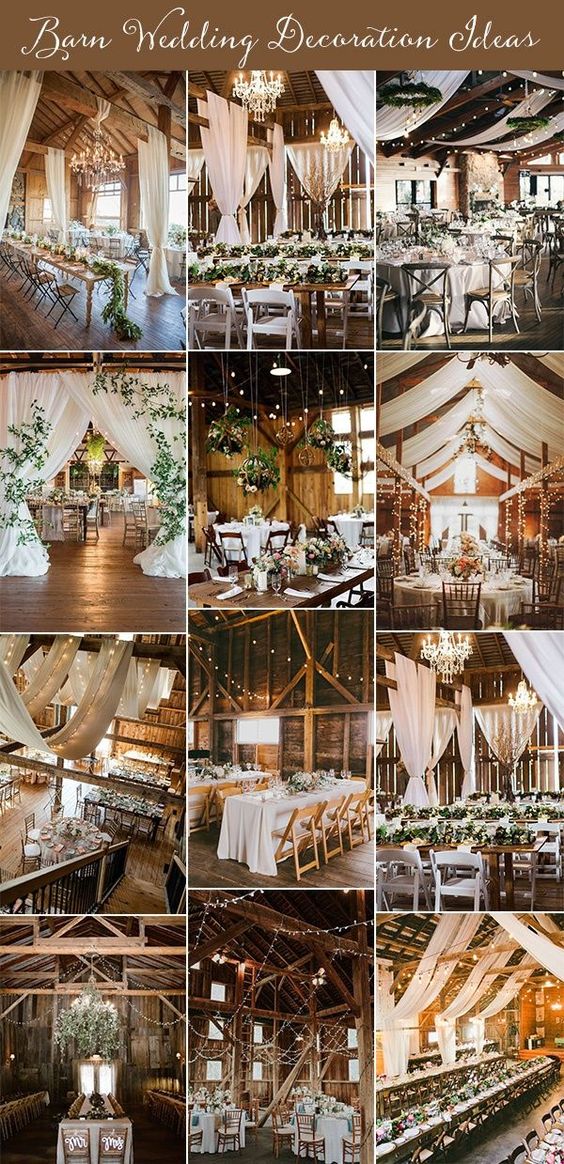 If you aim to get an industrial wedding idea in the barn venues, you can start to adorn it with white curtains, chandeliers, and some hanging decorations. Get beautifully decorations with some outstanding greenery and flowers table centerpieces. As an option, you can also get string lighting to decorate your barn nicely. Setting your table dinner is also important. If you want something more intimate, you can set it just one table long. But if you want to give a bit of comfort to the guest, make table numbers for each guest group. Make sure you group them with someone they know well. You can also set the wedding venue not only to use the inside part of the barn but also to the outside part.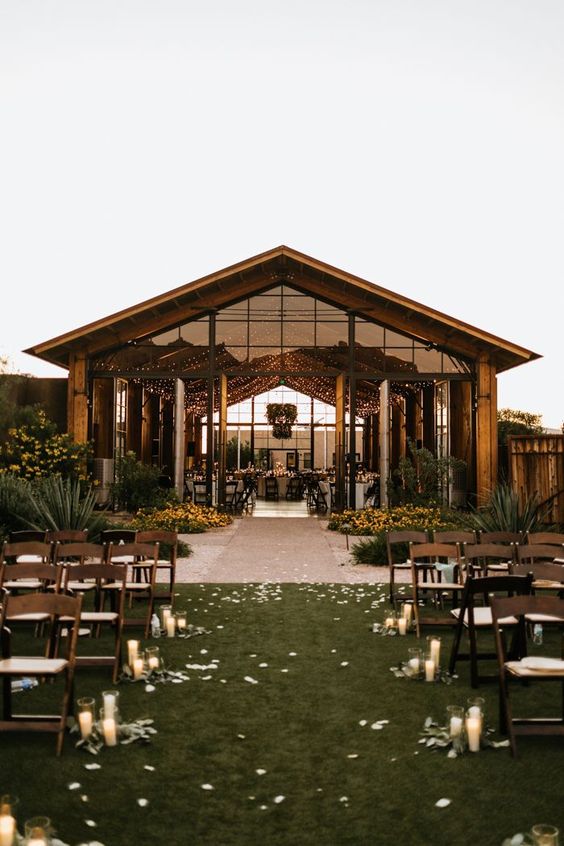 Botanical Garden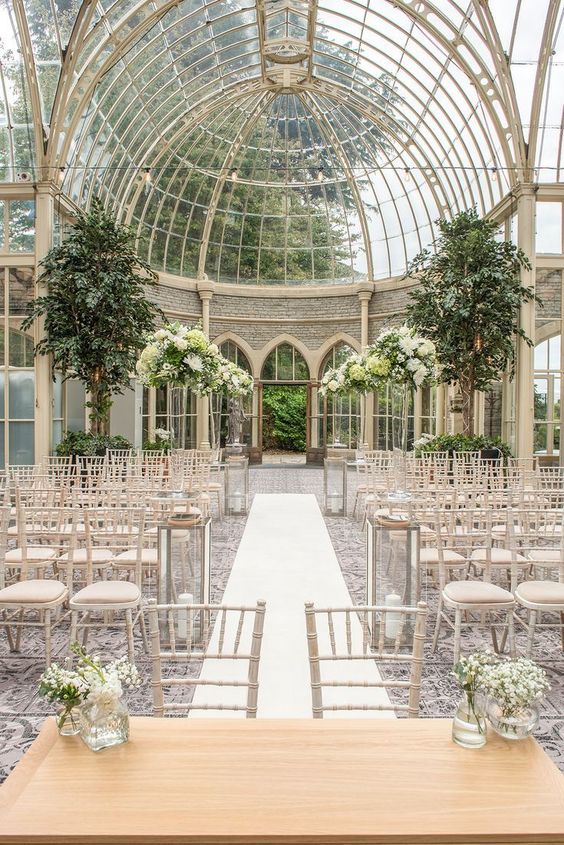 Host your reception in a unique wedding venue like a greenhouse which feels worlds away. You will get many beautiful spots to capture in the photo. The botanical garden and greenhouse provide plenty of beautiful florals that can be your wedding background. Aside from it, by choosing this kind of venue, you will get a benefit where you wouldn't be worried about the weather. You still get beautiful scenery and a warm venue even in the winter because you can adjust the temperature inside your greenhouse venue. For the warm season, you even feel fresh with some beautiful blooms around your wedding venue that's make the place colorful.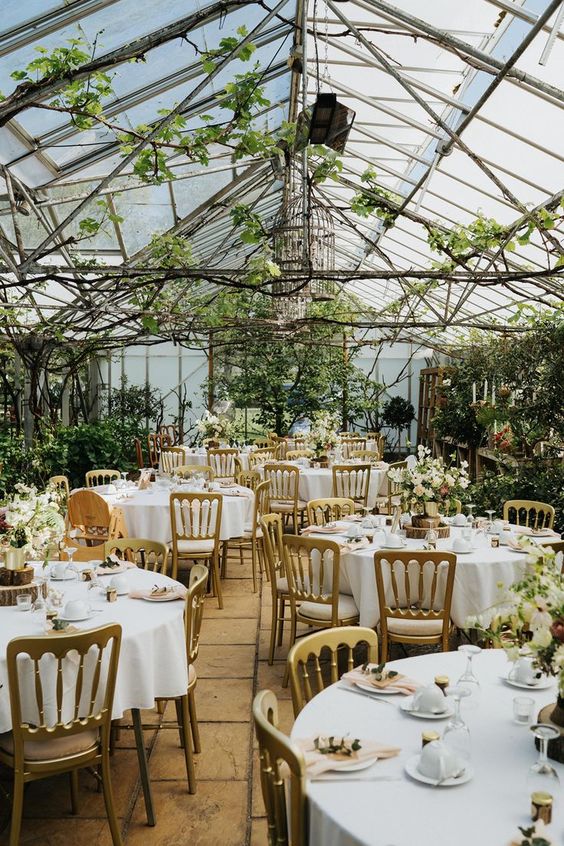 The bright greenery wedding venue with a big skylight gives you unforgettable moments. This also delivers you a gateway for a short breath from the busy street in the city. Hold your wedding in the center of the greenhouse by giving some hanging decorations on the venue. Getting a chandelier and some greenery or floral hanging ornaments also would produce unforgettable wedding venue ideas. You will be surrounded by beautiful florals while you exchange vows. For the rustic romantic vibe, obtain some lanterns and candles for your decoration ideas. The botanical garden would be the one that can bring an intimate atmosphere to a wedding reception or ceremony.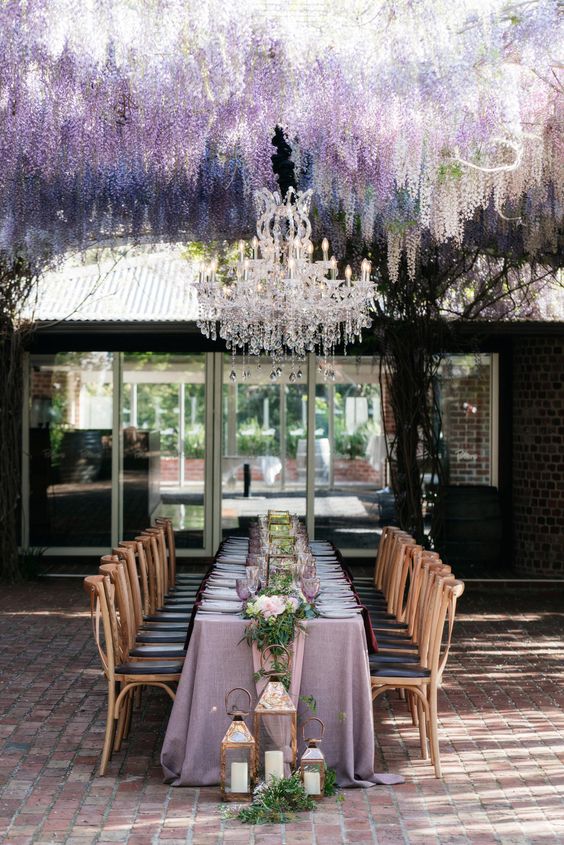 Aquarium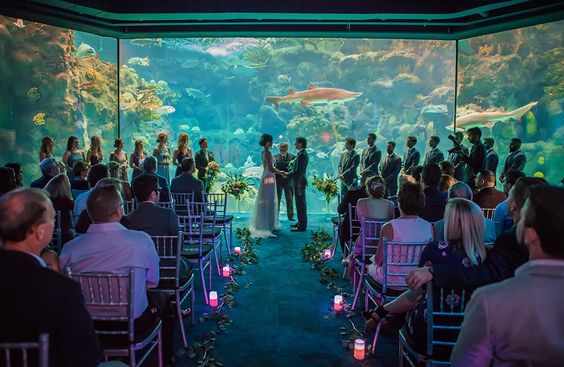 Another unique and unforgettable wedding venue to hold your reception is Aquarium. The definition of the alternative underwater wedding ceremony with beautiful coral and fish view. Imagine taking your vow with your soulmate next to a large glass tank full of sea life. It's amazing, right?
With some minimum decoration, you still get beautiful backdrops to create an outstanding altar in the aquarium. The view gives you a feel of the deep ocean that's romantic like a fairy tale. The colorful blue marine environment and the beautiful creatures in it would be perfect for your big moment.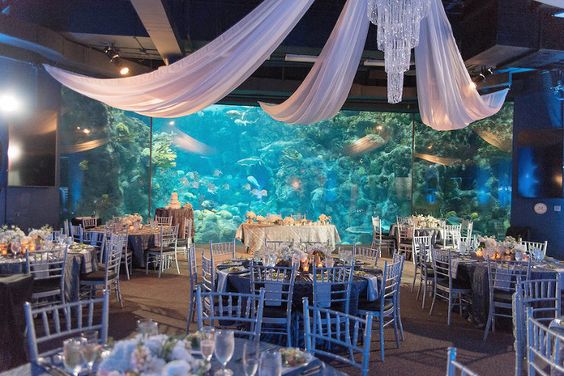 For this venue, you can adjust the decoration with light linens on the ceiling of the aquarium. White is good to combine with the blue of the water that's reflected from the glass tank. It will give romantic and intimate vibrant to your wedding venue. Besides that, if you want to provide additional lighting, just choose a crystal chandelier to make it look more glamorous and classy. Have two high floral stands in front of the big aquarium to make an altar. For the aisle runner and marker, you can adorn them with candles and flowers. That's enough to give you a beautiful wedding venue to take a promise of loyalty with your partner.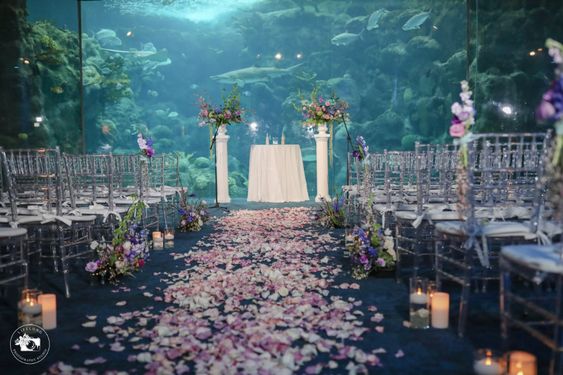 Personal Backyard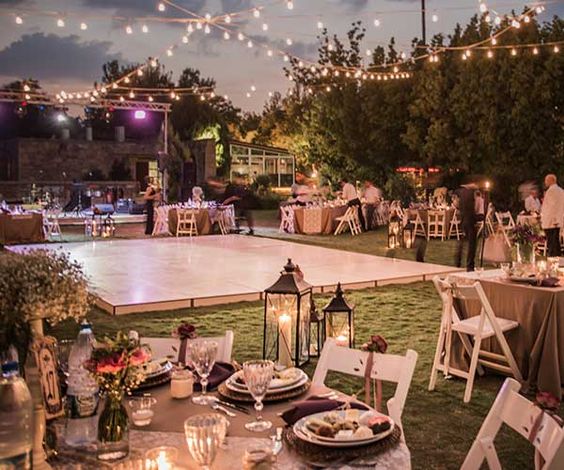 For " I do" couples, they usually need a place to support their festive. One unique wedding venue for unforgettable moments in their life. Rather than pick a hotel or restaurant, create a moment that becomes more special by hosting a wedding party in your partner's childhood home. What's coming from this thought is a personal backyard for your wedding venue idea.
Hosting a wedding ceremony or party in your or your partner's backyard could bring immediate intimacy and comfort to your guests. This is because the feeling of being homey represents this wedding venue. As for a personal place, you will get a free charge of rent and cut off your budget effectively. Just need to give special decorations to turn the place different and memorable.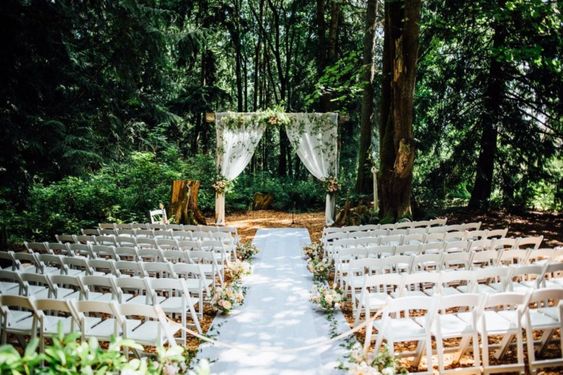 Because of that your place, you can decorate it freely. If you have a natural backyard with forest scenery, it would be better if you create a wedding aisle there for a bohemian or rustic wedding theme. Or you can also set up a big tent to deal with harsh weather. Adorn the venue beautifully with light linens, rustic hanging lantern decorations, and a table setting. For the natural look, you add some greenery or floral decorations too.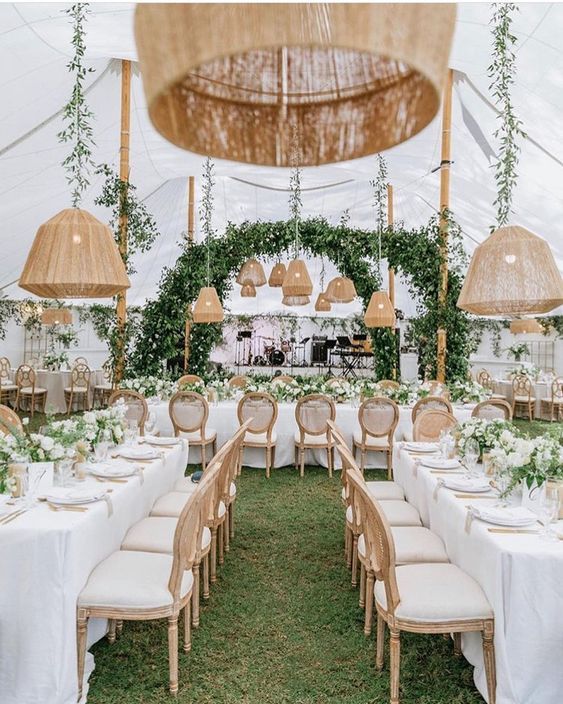 Church or Capel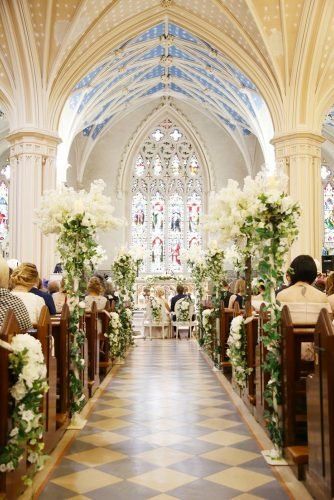 For a solemn wedding ceremony, you can hold it in church or caple. For most people, a wedding is a success in finding someone that becomes their fate with the help of God. So, it's common if you want to host a wedding ceremony at church. When you choose this venue, it would reflect your faith.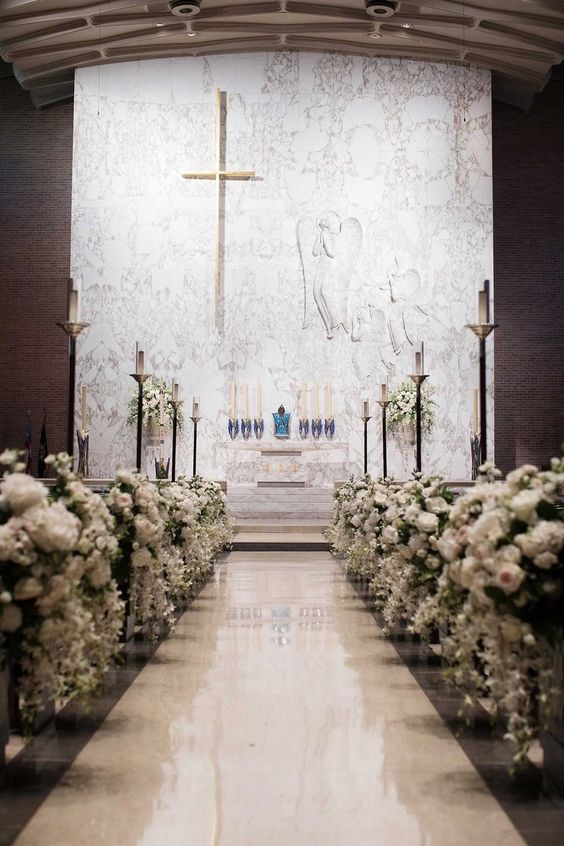 Some of the churches have unique architecture and designs. That's why you can get this for your unforgettable wedding venue idea. Find a church near your home or the one that gives more memories to you to hold your ideal wedding ceremony there. Then, ask permission from the church administrator. After that, you can start to decorate it to become your beautiful wedding venue.
As for a suggestion, most people usually adorn the church with white or pastel flowers and greeneries. If you like a minimalist and simple wedding ceremony, capel is an ideal place to hold it. It also would create an intimate wedding ceremony and reception, just for your couples, family members, and your close friends.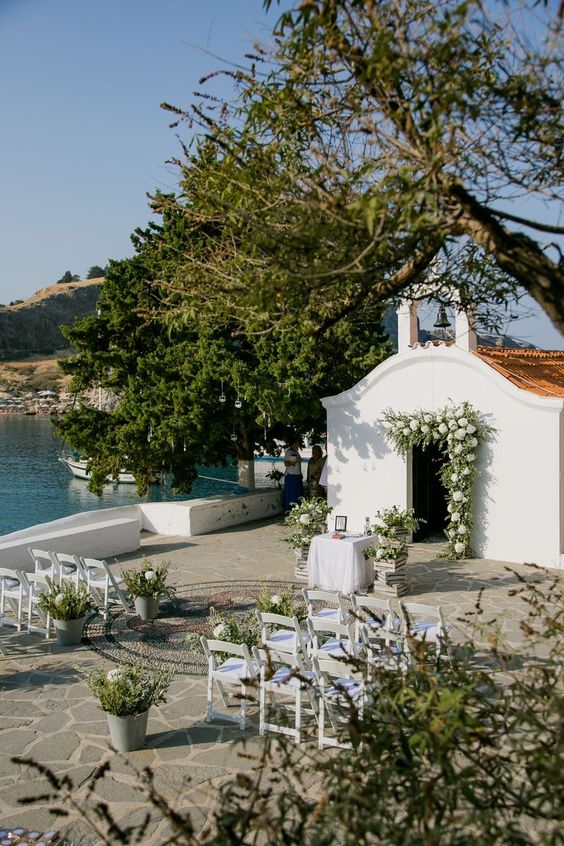 Luxury Hotel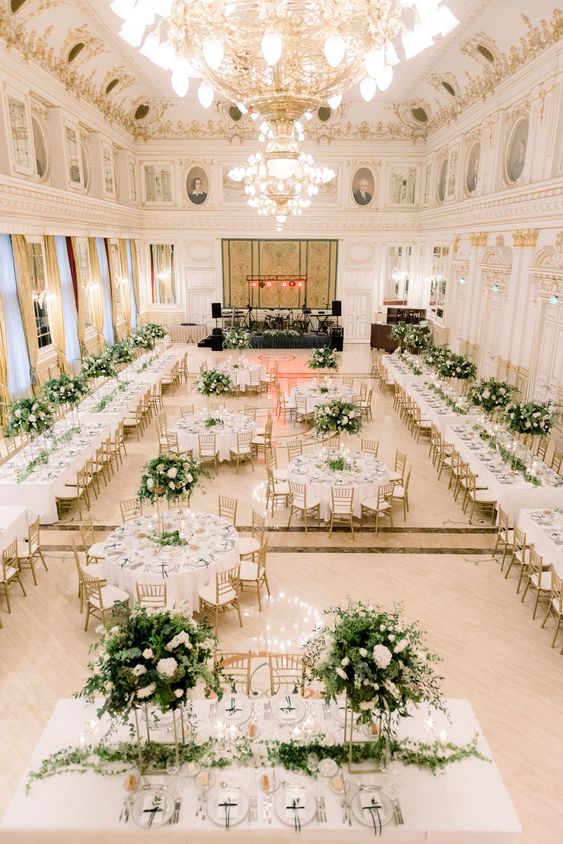 Many hotels provide lovely places both indoor and outdoor for wedding reception venues. Luxury hotels usually have a big hall and ballroom to host the wedding ceremony. Besides that, they also have their perks for the wedding from the rooms to catering.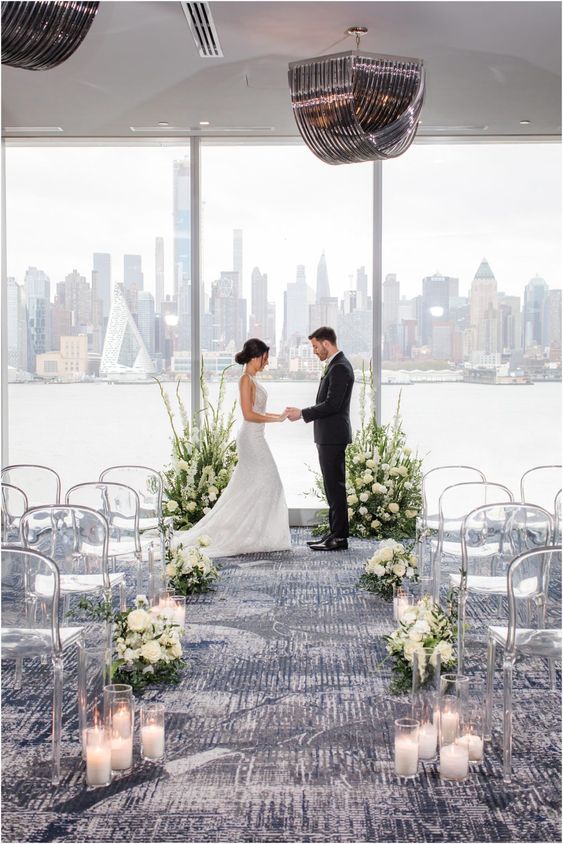 For a unique and forgettable wedding venue idea, you can try to pick hotels that have beautiful views like a sunset on the beach, lakes, and gardens. Likewise, for a different ambiance, you can try to hold a wedding ceremony with a skyscrapers backdrop in the hotel. Find hotels that have immediate scenery to the city. You can also discuss it with your wedding planner. If you want something that elegant, classy, and glamorous you can try to rent a ballroom hotel for your wedding reception. It also fits for big crowded with more guests at your party. Contrarily, if you want something that is more private you can book a luxury suite that fits the smallest crowd.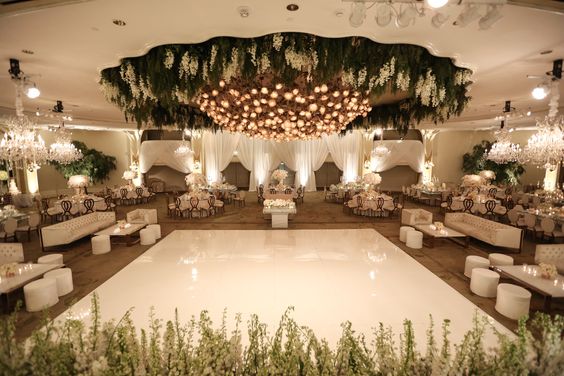 Museum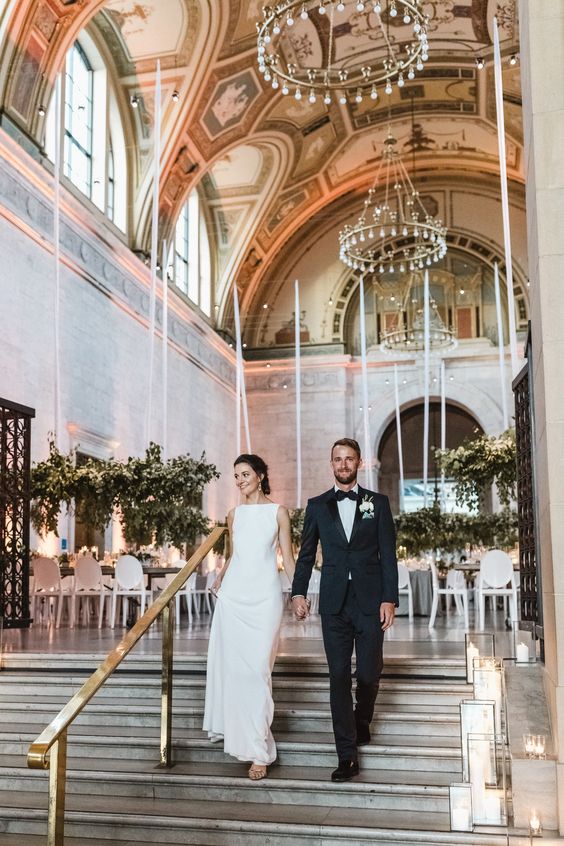 Celebrating your wedding in a place that looks outstanding like a museum, that's a great taught. Not only give a unique wedding venue, but this also would make you and your guest can enjoy some historical masterpieces like paintings, sculptures, and more. This would be a spectacular area to give you classic vintage wedding ideas which unforgettable.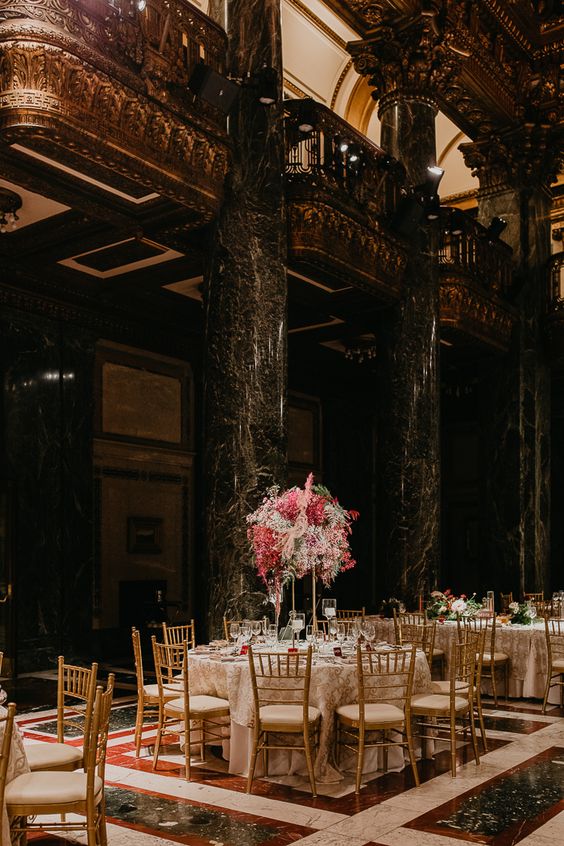 Museum has a unique design and architecture that look amazing like a victorian castle. The museum building is usually built in the past time, that's why it has look aesthetic in vintage and classic style. There are also many ornaments that adorn the wall, it would be suited for you that want a simple but fascinated.
There are also many kinds of museums from modern arts, natural history, and music museums that can be your unique wedding venue options. When it comes to decorating the venue, the museum his own beautiful design. So, just make it simple and don't overshadow the area. You can follow the museum color scheme and bring a focal point with your favorite exhibit.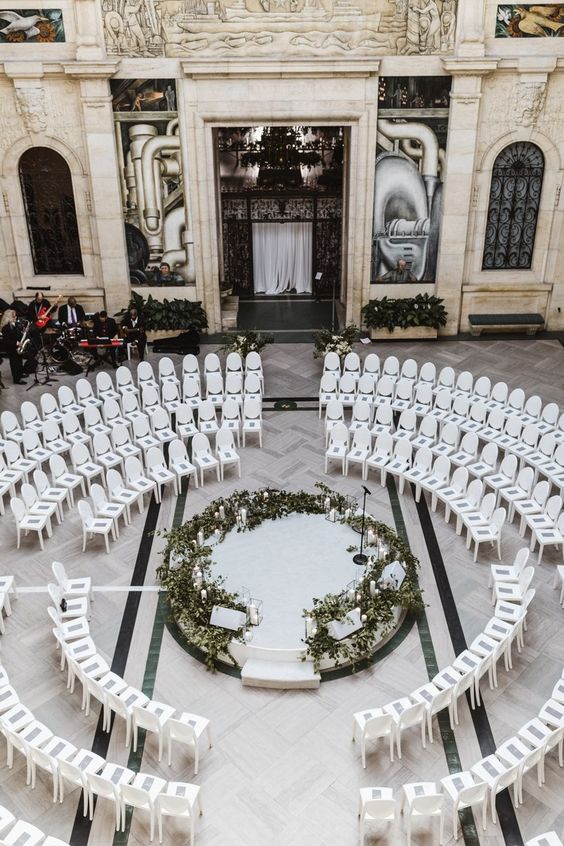 Restoran and Cafe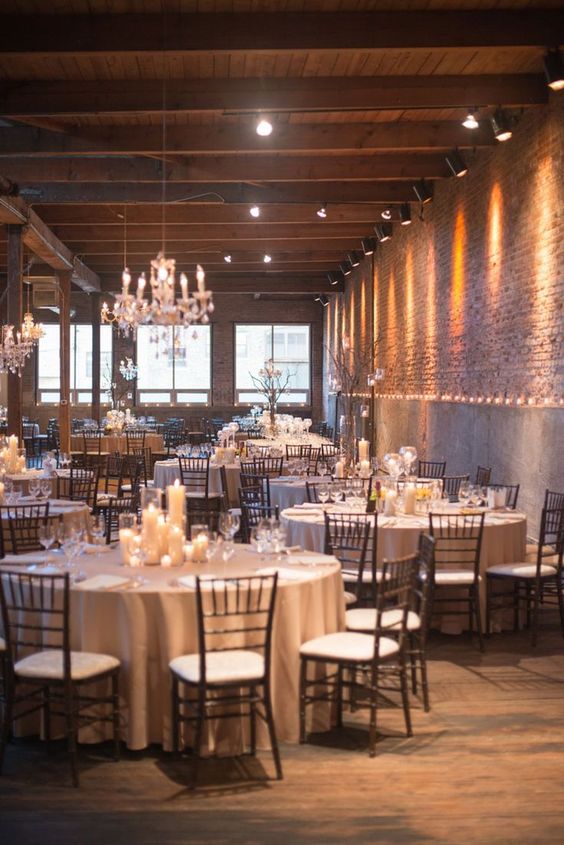 If you and your couple dreamed to hold a wedding in a restaurant, where you can get a place that feels like home with a warm feeling around your adores people. Or if you like culinary, you can focus on the restaurant venue that offers wedding facilities.
Besides that, some restaurants and cafes are built in a unique design. They will give you chance to get unforgettable wedding venue ideas. Not only the food but also the views are really fascinating could be a plus point. This can help you to save time looking for places and catering for wedding receptions.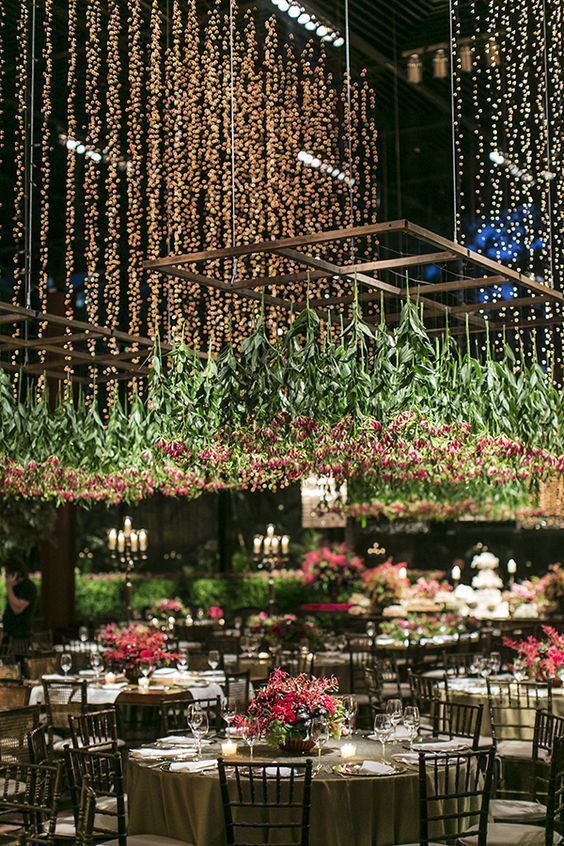 For you that have planned with the smaller groups, just including your family members better choose a restaurant or cafe that provides private rooms. This will give you an intimate gathering. when you want a beautiful ocean view at your wedding venue, suggest using a beach restaurant that looks Hawaiian or you can host a wedding ceremony on a boat restaurant. Or getting another option by booking a luxury restaurant in the city for a classy elegant wedding. For the urban style, industrial cafes could be suited for you.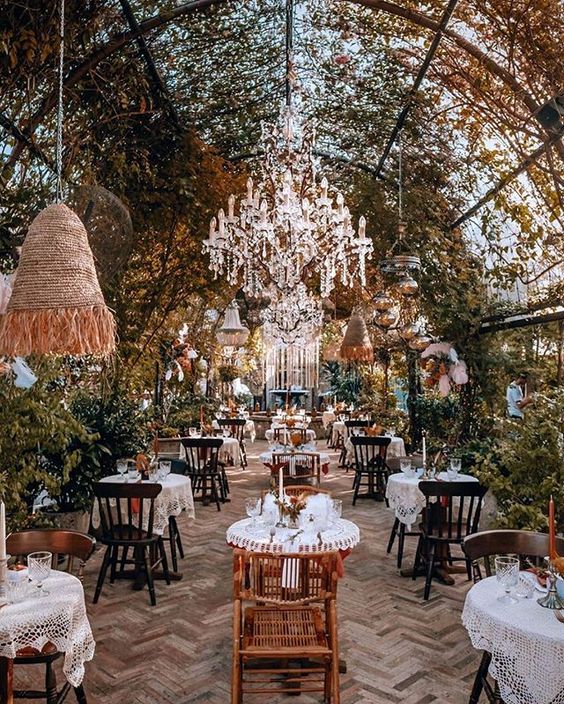 Treehouse Point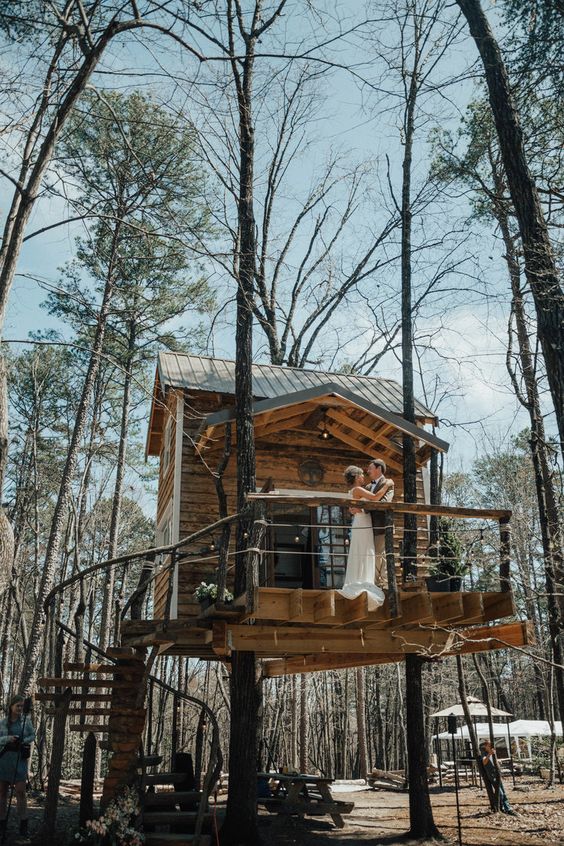 Think out of the box when you plan to choose a place for unique wedding venue ideas. Match with your wedding concept, your guests, and what you want to adorn your special moment. Try to use the woodland wedding concept by using a treehouse as your unforgettable wedding venue. That area is great for brides that love nature sights and intimate weddings with the smallest guests.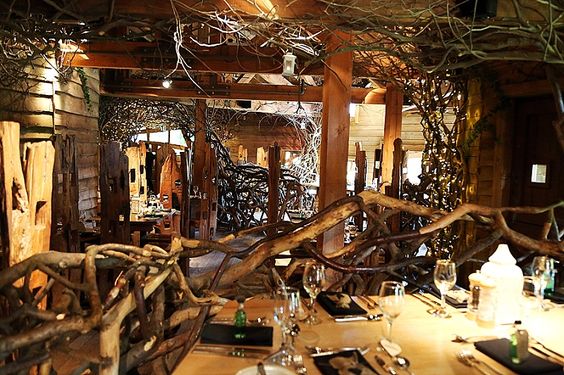 This is different from other natural or forest weddings. You can choose either for traditional or modern treehouse as your wedding venue. For brides that like rustic concepts, they would select a traditional treehouse with a wooden accent all along in the construction. If you want stunning and luxury designs, better to pick modern ones. Likewise, for you that have acrophobia and can't stand in the high place, you can use the outdoor lounge or pick that lower place, not on the treetop.
About the decoration ideas, you can let the wooden look better with simple decorations. Some fairy lights, flower arrangements, and table centerpieces could be used to adorn your treehouse wedding venue. Still, don't overshadow the venue with many decorations. Because the wooden accent is enough to make your venue look outstanding and give you an unforgettable moment that is also connected with your childhood memories.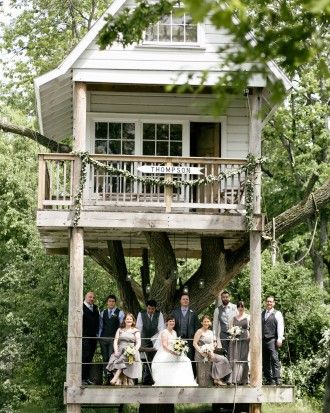 Family Vineyard or Wineries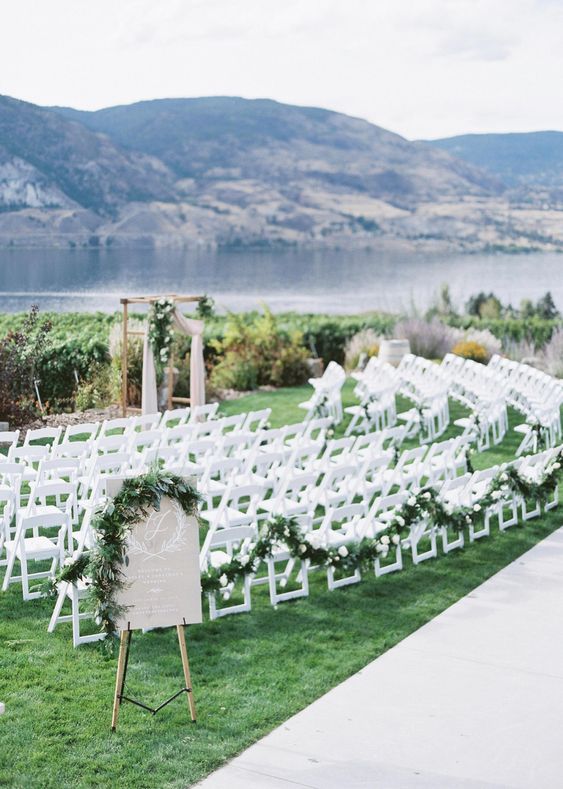 Thinking of a unique and affordable outdoor wedding venue, your family vineyards and wineries could be chosen. Those places can be the best to create a rustic or bohemian wedding concept. But for you that have no own wineries, there are still many vineyards and wineries that offer a unique wedding venue for brides. Imagine how you exchange vows and tie the knot there, it's such an amazing event. It would also be an aesthetic place that's wonderful to capture your best moments in photos.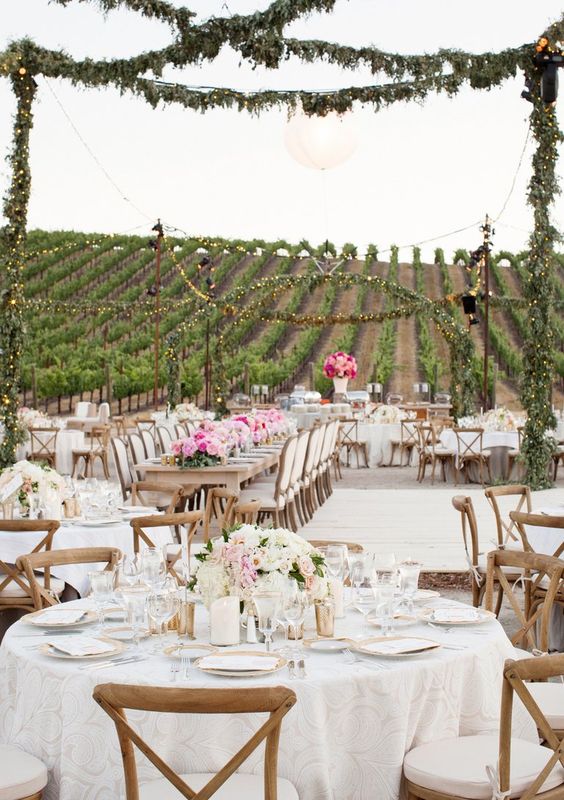 For wine lovers, vineyards and wineries is a great option. Beautiful scenery with wide vines as your wedding background that's breathtaking. Consider having a wedding in wine famous region. That would give you many options for outstanding wedding venue ideas.
After you choose a beautiful vineyard or winery for your wedding venue, now let's plan the details and design to decorate it. When you choose this venue, you will get beautiful scenery that brings a romantic vibe. Just take advantage of the landscape, and you also can use property buildings on that vineyard. Better you choose decoration ideas that can enhance the natural beauty of vineyards. For example, you can consider burgundy color schemes as a winery wedding theme. Lush flower and greenery arrangements would help to pull your venue decorations more fascinating. Then, think about soft white fabrics for adorning table runners that would give a perfect touch to your wedding ceremony and reception.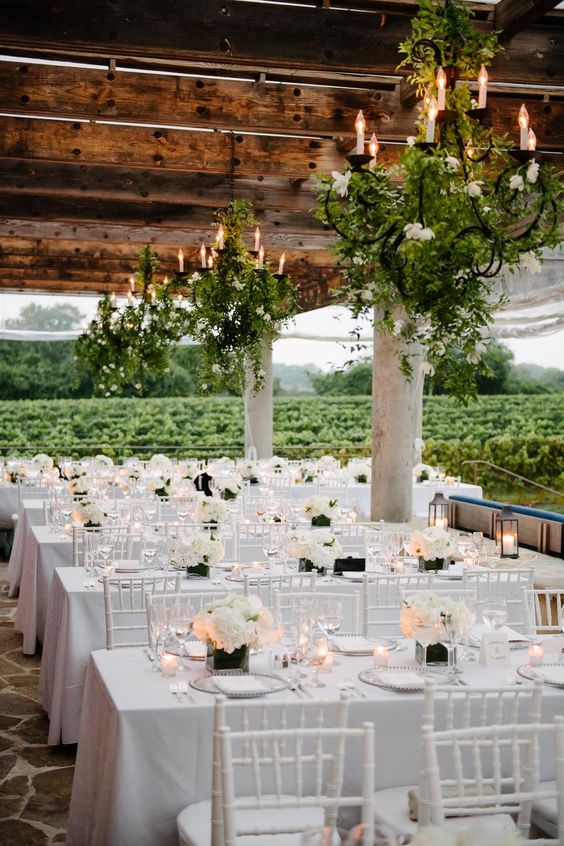 Boats and Yachts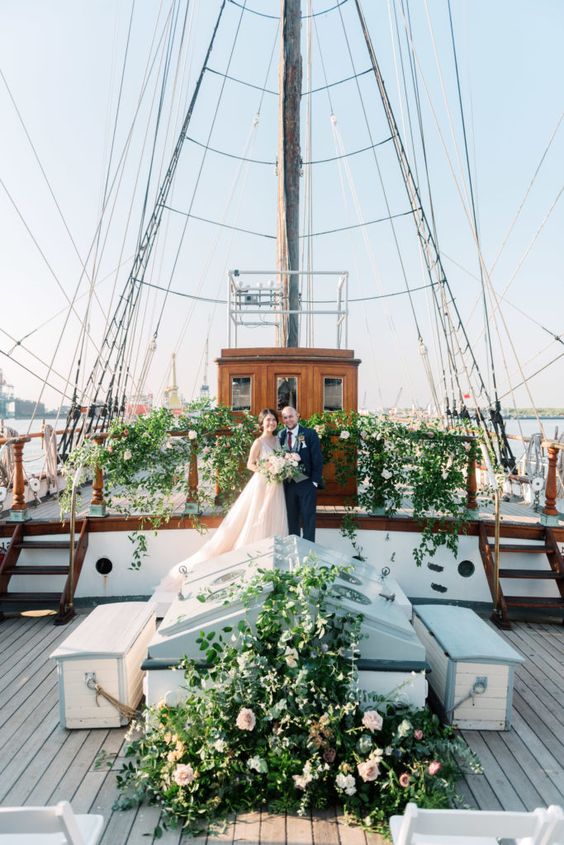 Looking for a unique wedding venue that gives unforgettable moments for you, yachts, boats or cruises are the answer. Picturing holding a wedding ceremony and saying vows on luxury boats with beautiful scenic, it's a kind of dream. Standing on an open-air deck with breezing air through your hair, water splashing under the boat, and beautiful sunset makes your photographer has many pictures to capture.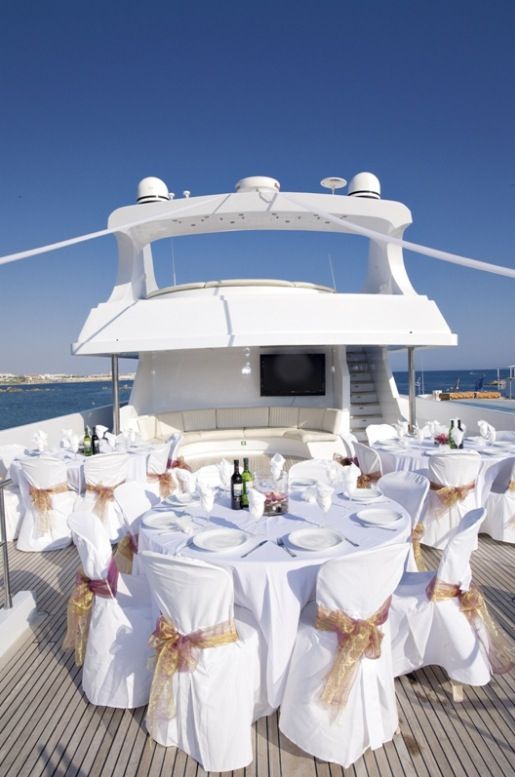 Getting married on the open water in the ocean either using yachts, boats, or cruises would give you a fascinating experience in your lifetime. Setting up your wedding reception and ceremony there, you don't need to do anything else, except choose the meals. From the decorations, table setting, and others it's all set up ready for you on the yacht. They usually use a nautical theme by inserting white and navy blue color schemes on the decorations. For the rest, you just need to hand it on to workers, then enjoy the festivities with your partner and guests.
Using yachts and boats as a wedding venue also needs to think carefully. This is because you couldn't decorate as you want, so make sure you like their decoration and furniture before onboarding to the open sea. Also, think about the possibility of someone from your guests would be getting seasick.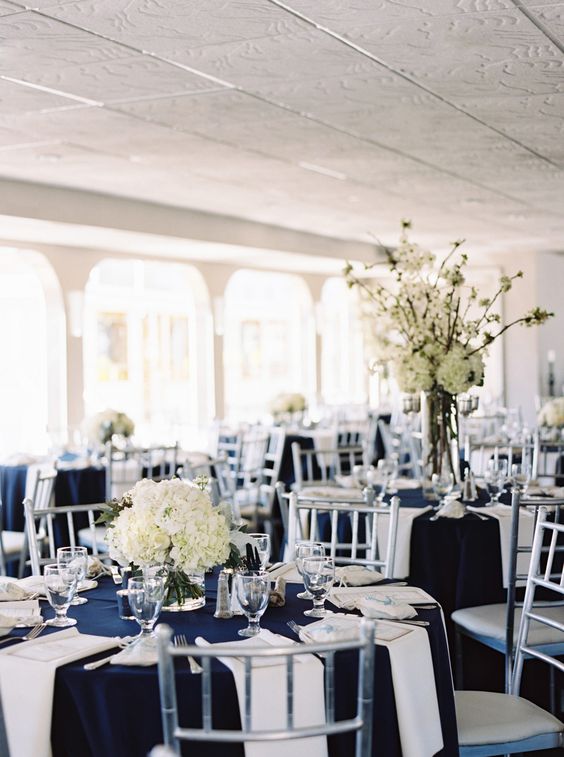 National Parks and Mountain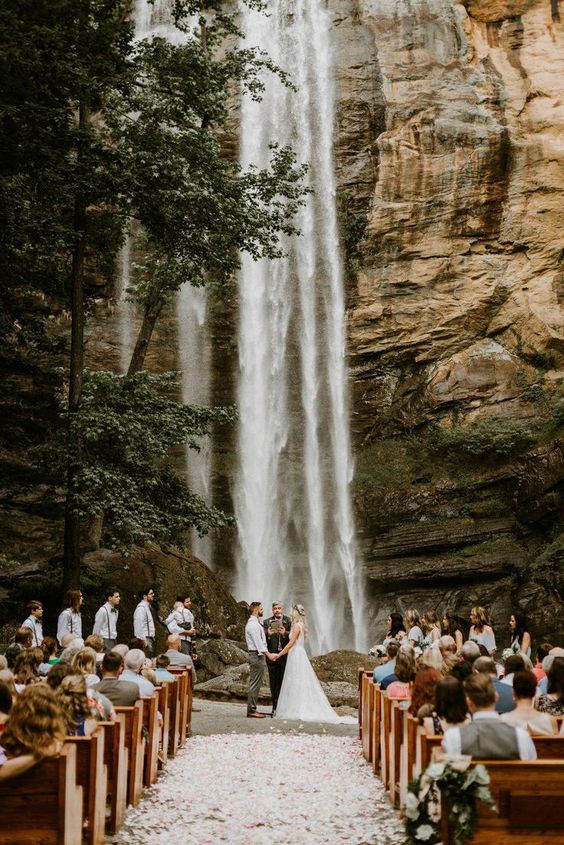 A wedding venue is not just a place to host a ceremony or reception. Sometimes, a wedding venue represents a place that is really memorable for couples like the first place they meet each other. Other affordable and unique wedding venue ideas that are worthy to try on are a national park and mountain. That's would be perfect for you and your partner who like hiking and enjoy the natural scenery.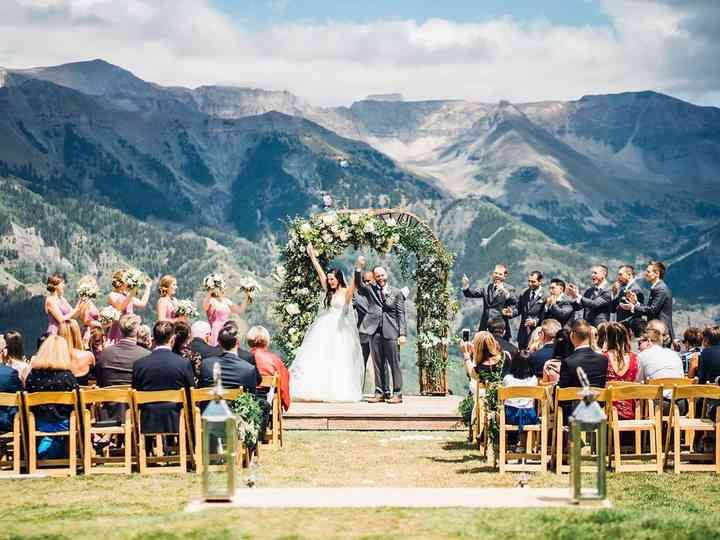 Consider something that's breathtaking and unusual for your wedding concept with adventure places like mountains and national parks. This would be ideal for taking your vows together with your partner in a dramatic background with natural landscapes. You can set your minimalist wedding ceremony in front of a waterfall, mountain scenery, or canyon. To get unforgettable moments in photos, you can ask for a local photographer to help pinpoint the perfect time and place.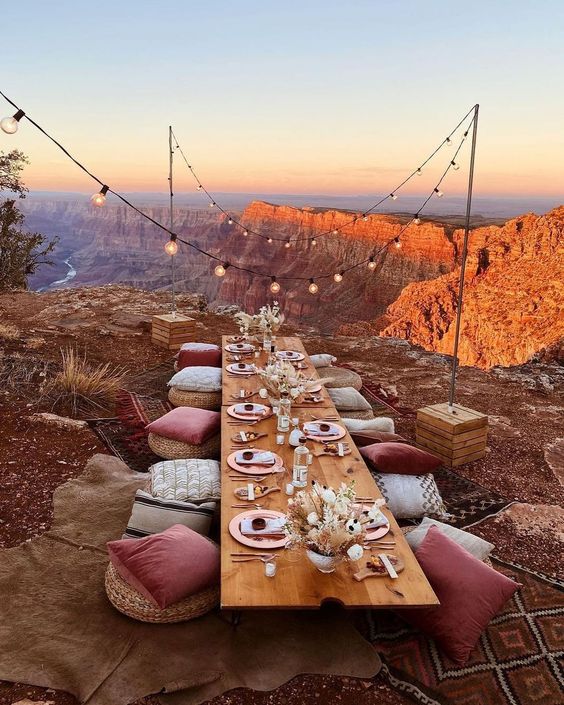 School and Library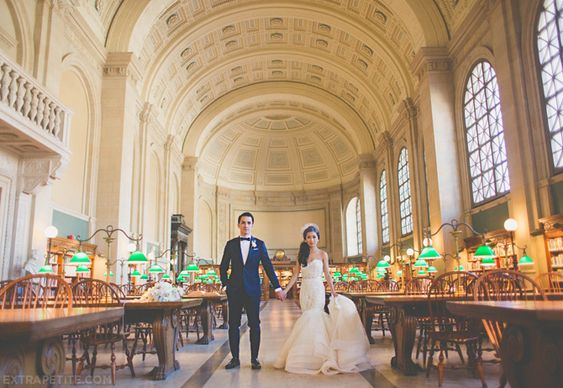 Some couples get unusual wedding venues to hold their ceremony and receptions. The place with important meaning to them like where they meet for the first time. A few couples maybe meet at school or the library when they have been studying.
The good news is some private schools or universities facilitate wedding venues for their alma mater. You can recreate some old memories with your partner there. Besides that, colleges have full of impressive buildings with incredible interiors and architecture such as libraries. Use it to get a unique wedding venue idea.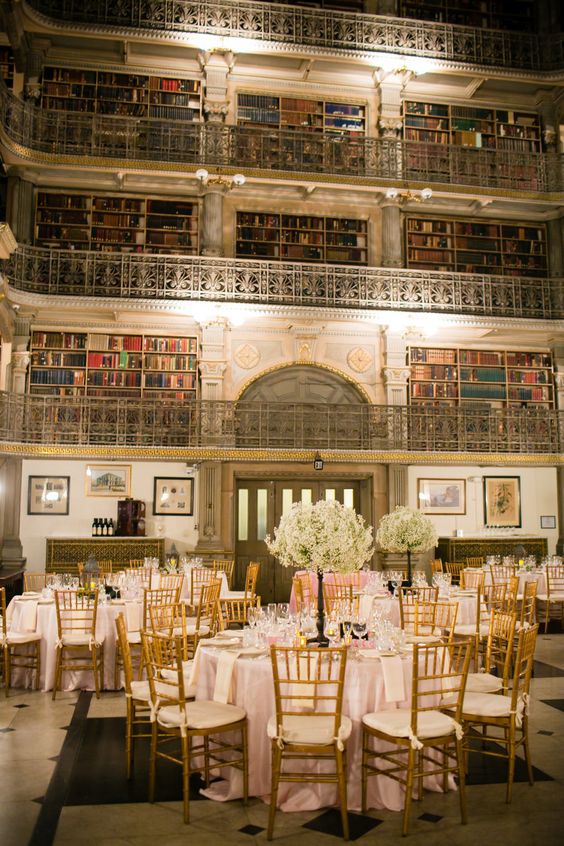 Get a permit from the administration, and begin to decorate the place you choose. Strat from table setting, decorations, wedding arch, and backdrops. Make sure you discuss this with your wedding planner. Choose a time, particularly when students have a break like in summer. But if you can't take that time, for another option you can choose a public library that offers for wedding venue facility.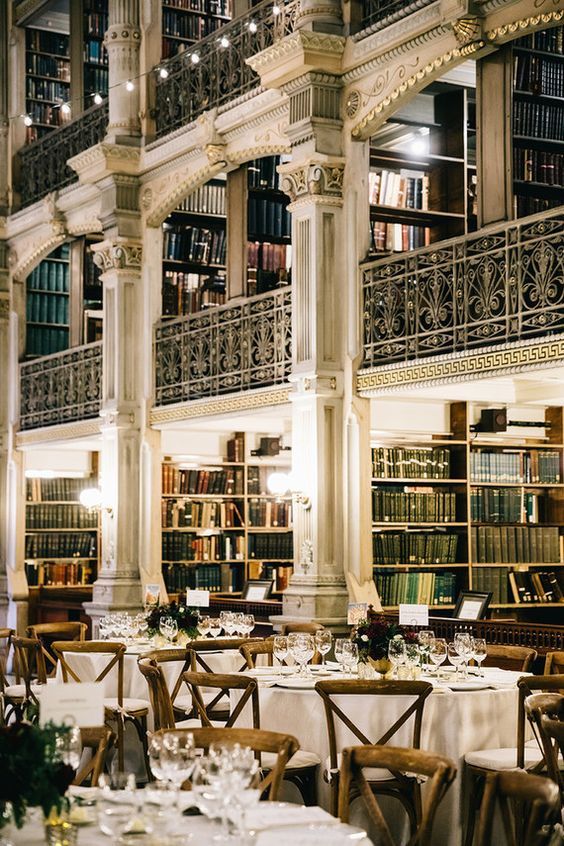 Rooftop wedding Venue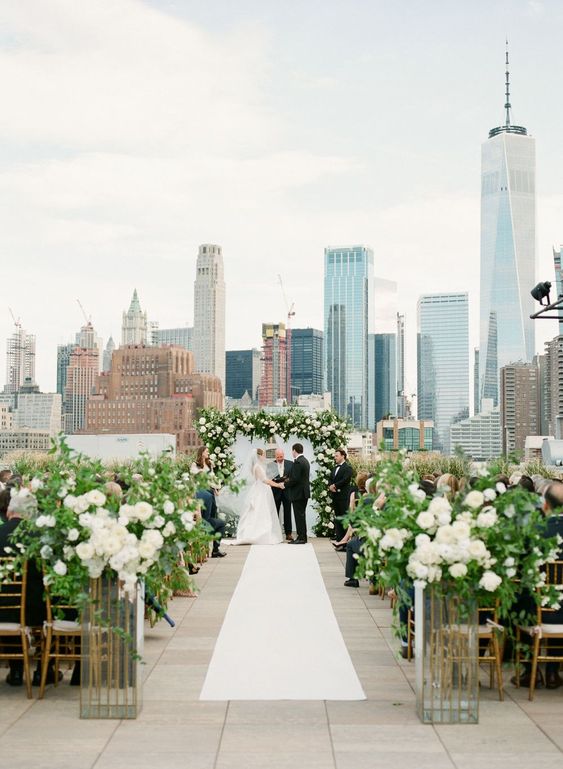 The wedding venue that's unique and unforgettable for your ceremony is a rooftop in a building. This gives you glamour and chic backdrops for your wedding. Just imagine hosting your wedding reception with a view of the city skyline and skyscrapers. It looks amazing and really beautiful, right?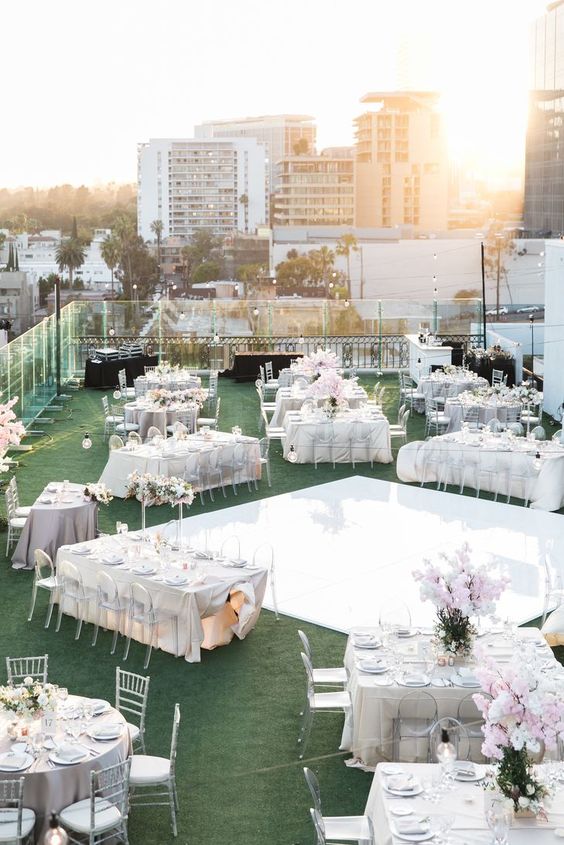 When you want to make your guests amazed with a classy view in your rooftop wedding, you can adorn the venue with white basic color schemes. Then, set a mini dancefloor in the center of the venue. Give additional decorations like string lights to make it simple and highlight more the scenery. Have your time with your loved ones in the beautiful sunset that passes through the cracks of the building on the skyscraper's rooftop.
For other options, you can try to find a place that has a garden rooftop to add romantic charm to your wedding. The greenery and skylight panoramic would make your wedding venue feel like another world. Maybe some hotels offer a wedding venue on the rooftop. Make sure to prepare more budget if you want a bit of luxury style.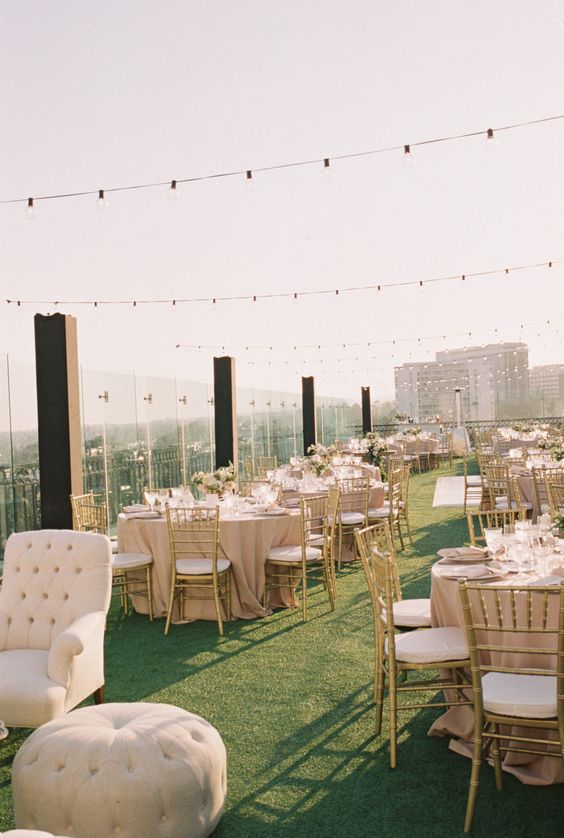 Disneyland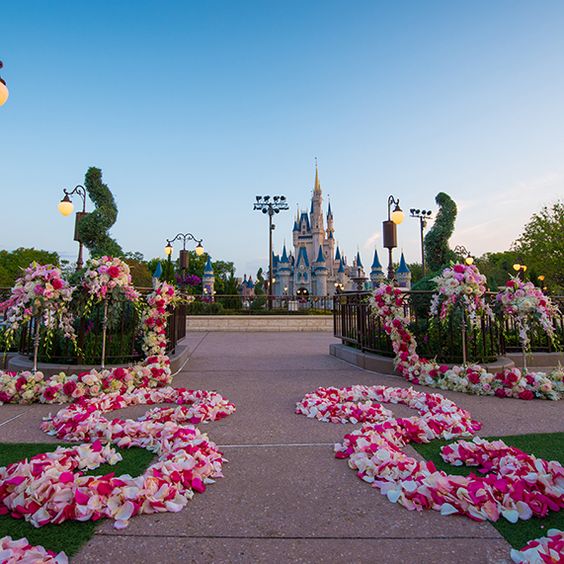 If you like a fairy tale, turn your dream come true through your wedding concept. For this, pick Disney world as like unique and unforgettable wedding venue idea. The place would make you feel like your favorite main character in a fairy tale. That is also a great time for your guest to enjoy Disney World like a throwback to childhood.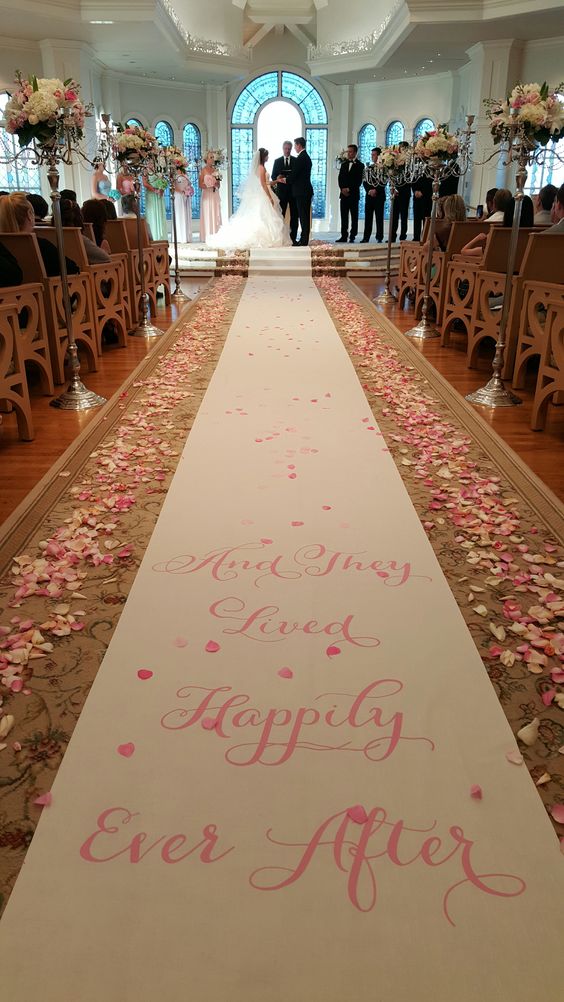 You have been watching Disney over time and find out more weddings in Disney which have various beautiful styles, especially the decorations. The concept would give extra touches to your wedding ceremony to look outstanding. Like when you choose a castle as a wedding venue, it would make you feel like a princess. There are also so many Disney stories with the depiction of beautiful places adorning the storyline such as castles, desert palaces, beaches, and others. You can choose one that you really like as your wedding theme ideas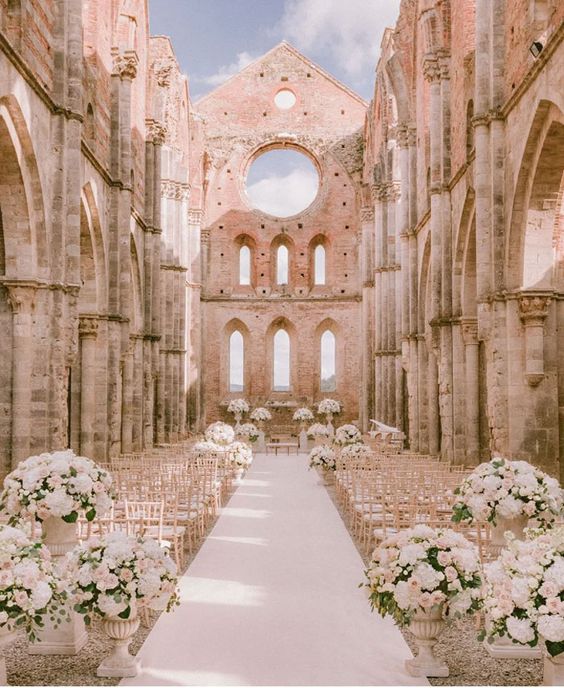 Conclusion 
Those are plenty of unique wedding venue ideas that you can try to have a nice atmosphere. Choosing the venue is important and it sometimes spends half of your budget. That's why you need to really consider the place you use to hold your wedding ceremony and receptions. Some couples dream about their wedding venue that's inspired by their life story, hobby, or just adjusting the budget. Everything you choose later, you just should make sure to know what to look for in the wedding venue. That would give you a way to get unforgettable wedding venues to hold your wedding dream. Good Luk!