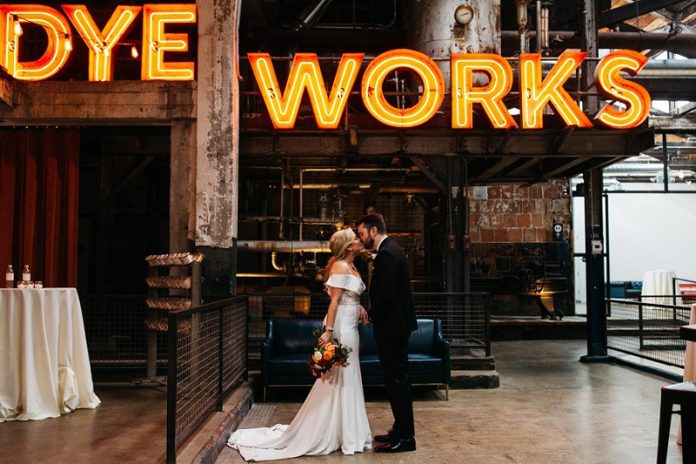 Roowedding.com – Talking about wedding decoration trends, industrial ideas become hype now. It's a kind of wedding concept that takes vibes from abandoned and neglected places. The decoration theme has full of unfinished things, shabby looks, peeling paint, or exposed breaks that looked beautiful.
Get some beautiful moments with sophisticated decoration ideas in an industrial wedding theme that's modern and romantic. You can play with many things like rough bricks walls, visible pipe overhead, and then wooden furniture to decorate your venues. You can also give some rustic style by adding greenery and flowers to the decoration ideas.
The industrial wedding theme is suited for those who want to have a minimalist modern wedding reception. The shabby look in the industrial venue would give a romantic historic vibe to your wedding reception. If you are planning to adopt it for your wedding concept, check out below to get a bit of inspiration for a sophisticated wedding decoration idea.
Industrial Wedding Ceremony Decorations
The wedding ceremony is an important moment when you get married to your brides. This event is the purpose to declare you are a couple officially and legally. And if you want to live up to your wedding ceremony, make sure to decorate with such an industrial theme. There are some certain decorations you can try to apply.
Wedding Arch and Backdrops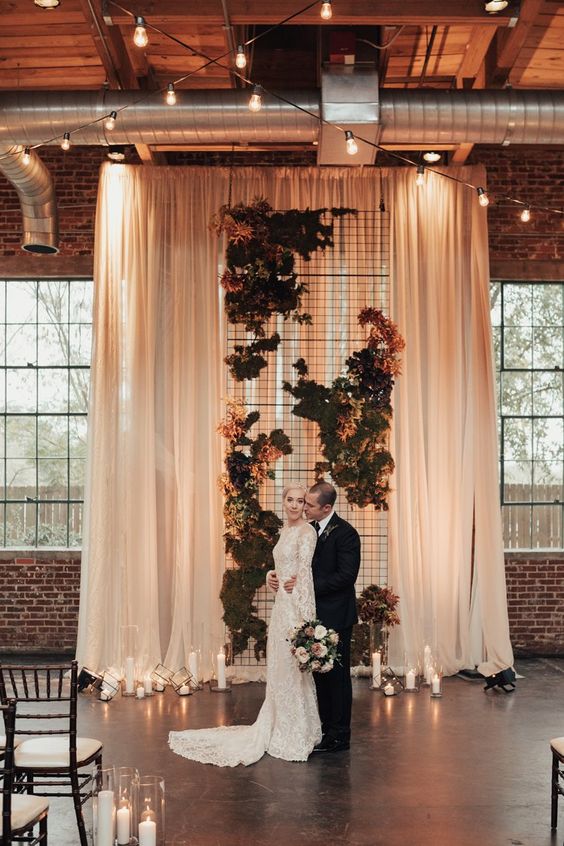 The ceremony arch and backdrops are the one important thing to consider first after the brides and grooms. In the industrial wedding theme, you can get the soft linen style then adorn it with metal terrariums, flowers, and candles. Choose a white and black as color scheme to give contrast with the brick wall.
Ceremony Welcome Sign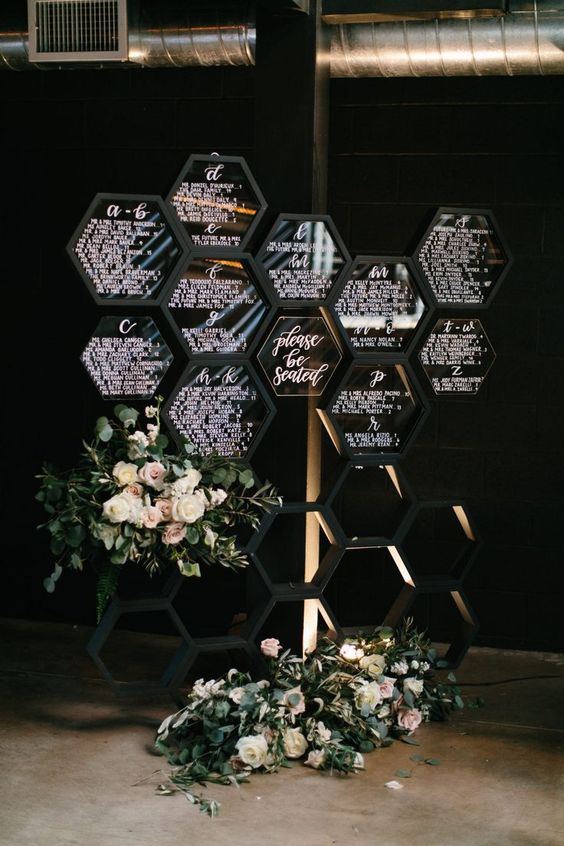 The frontline of your wedding ceremony is a welcome sign. So, if you want to create an industrial decoration theme you can start with the wedding sign. For this, there are many designs to adopt. You can get geometric concepts like a honeycomb for sophisticated wedding signs.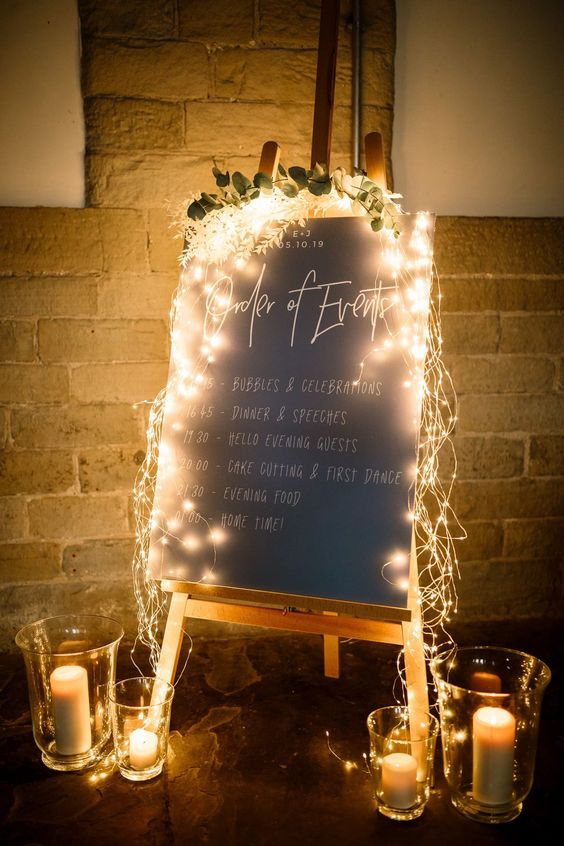 Besides that, to make it look outstanding you can create the ceremony sign with a board that's adorned by string light, greenery, and some candles.
Aisle Decoration Idea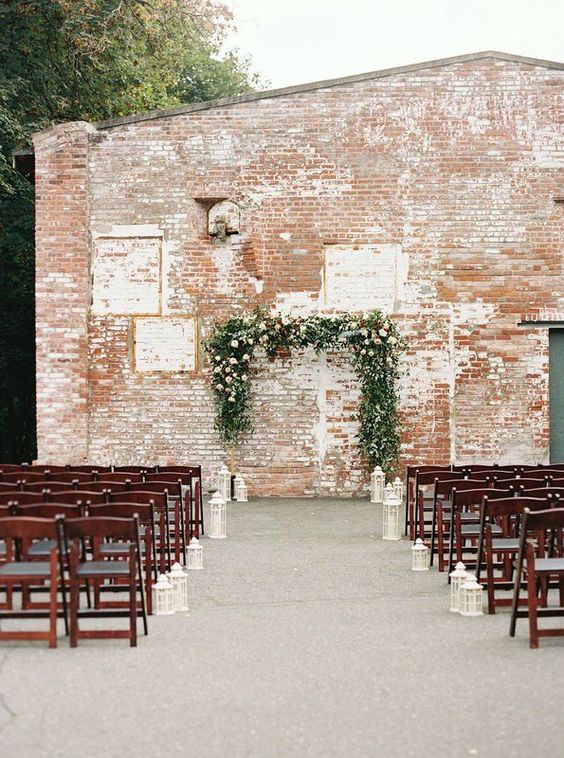 In the wedding ceremony, you need to decorate the aisle and runner altar. Get a simple look by having a greenery arch aisle for an outdoor ceremony. It would be suited with the backdrops of uncovered bricks wall for the industrial theme. Also, you can bring white antique lanterns throughout the aisle marker. This decoration would create a classic and rustic vibe for your industrial wedding ceremony.
Industrial Wedding Table Dinner Decorations
After you finish in wedding ceremony adornments, now we should move to the dinner table decoration. Because it's a place where your guest would be enjoyed the party, that's why it's important to decorate it beautifully. For a bit of inspiration, I give you some industrial table diner decoration ideas below.
Geometric Terrariums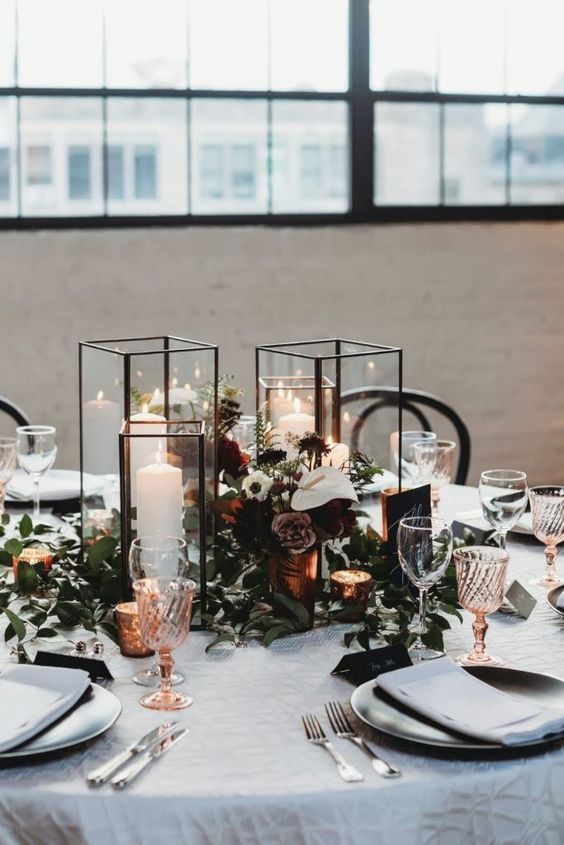 Having terrariums lanterns as for table centerpiece would be a great idea. It would give a romantic atmosphere and a modern look to your table dinner. Get some greenery and flowers among the terrariums to bring fresh and pretty decorations.
Placemats and Tableware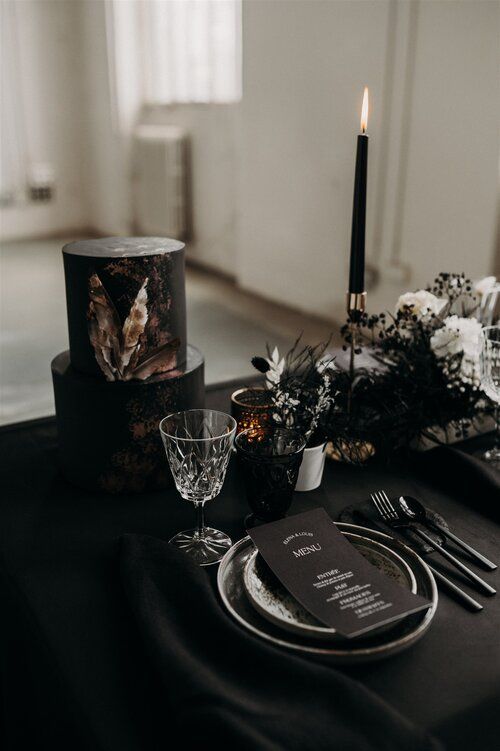 Other table decorations that you need to consider are placemats and tableware design. A black color scheme would give you an edgy and elegant look on your wedding table. For the industrial theme ideas, bring gold metal for candle stands in the center. The black placemats and tableware are also good to adjust to the Halloween wedding concept.
Table Number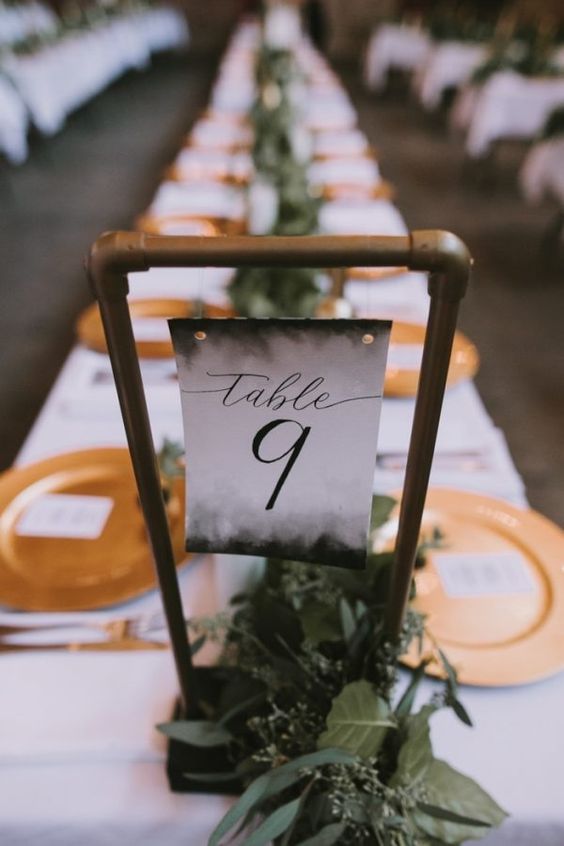 Decorate your dinner table with industrial copper pipe table numbers to give sophisticated decoration ideas. If you want something unique, pick a light bulb for the table number decorations.
Table Runner Ideas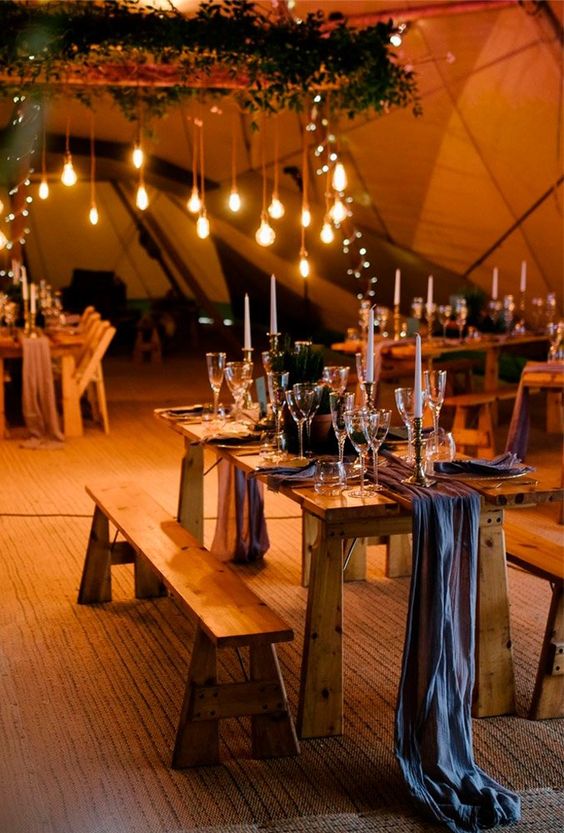 The table runner is the kind of decoration table that you can bring up for table centerpieces ideas. So, when you want to place it for the table setting, just remember several things. For the outdoor industrial wedding theme, better to get earthy tones like white or pastels. If you want something elegant, a silky table runner in darker shades would be great in indoor receptions.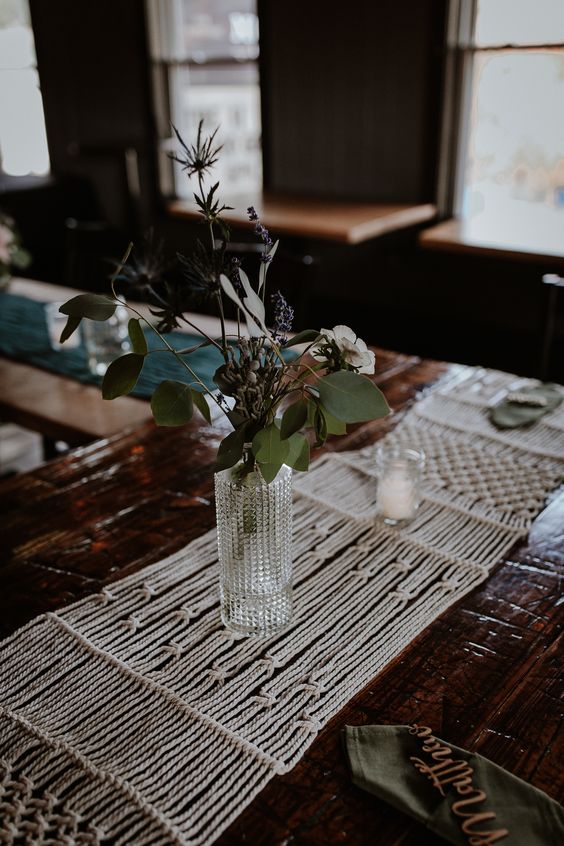 Besides that, you can bring the bohemian ideas in industrial wedding decoration with the macrame table runner. Get it ready to adorn your table dinner look aesthetic. Amaze your guest with something that cool and beautiful in sophisticated decoration.
Classic Lantern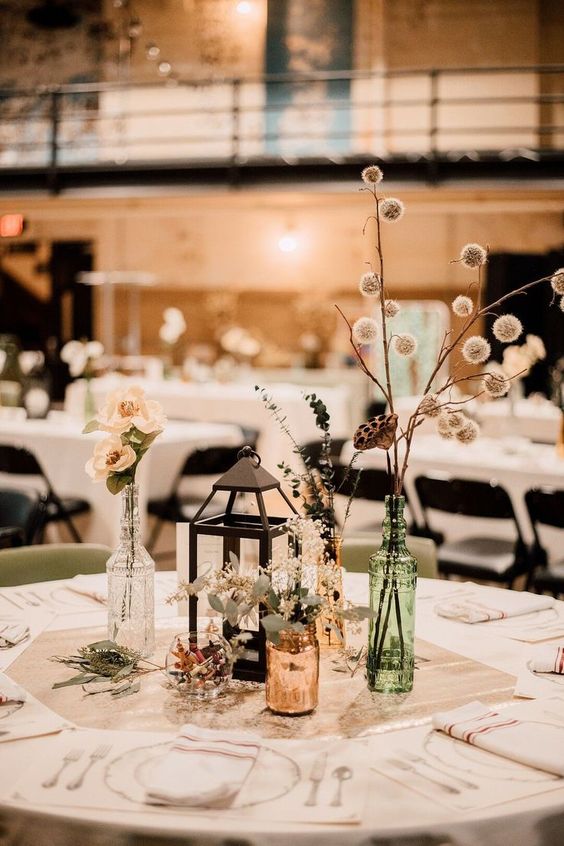 There are many kinds of table centerpieces. One of the most used is candle lanterns. If you place it to your table dinner and then add some dried flowers in a bottle vase around it, that's complete to create industrial bohemian wedding decorations.
Table Hoop Centerpiece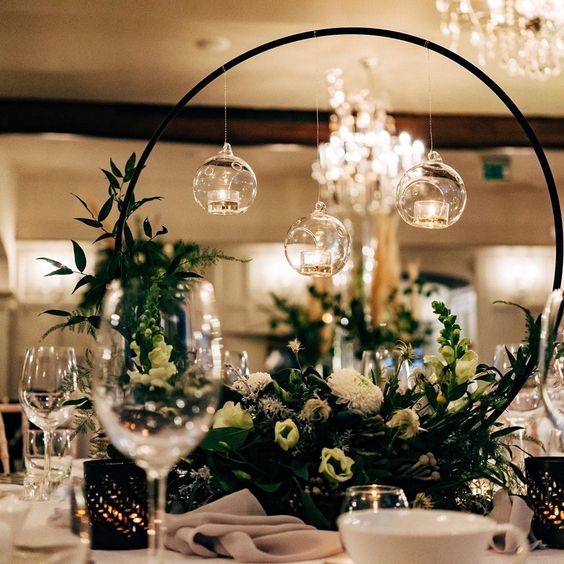 The centerpieces are a must to decorate your table dinner. In wedding receptions, there are many kinds of centerpieces to make your reception beautiful. From simple, elegant, and unique design, you can pick one that suited your wedding concept. What simple but effective table setting in industrial decoration ideas, bring greenery floral hoops for centerpieces is a great option. To make it more aesthetic, giving hanging bulbs on the hoop will amaze your table.
DIY Floral Stand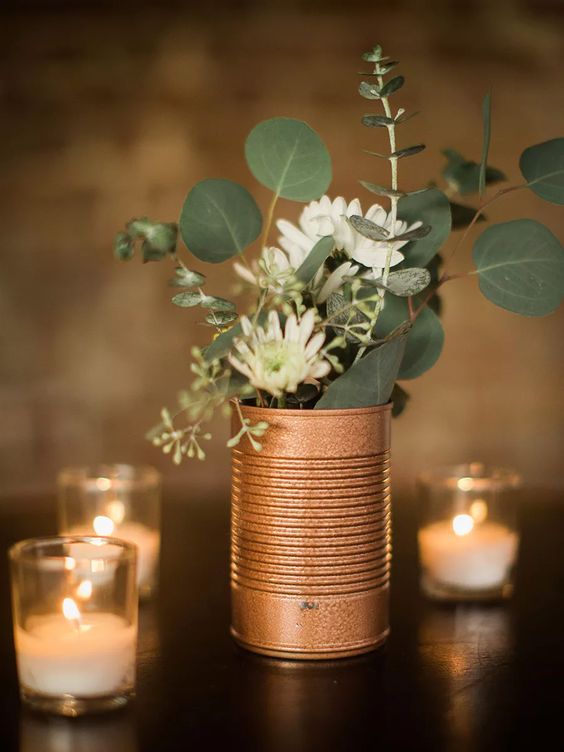 If you want something different on your table centerpieces, transform used cans for sophisticated decoration ideas. You can create a DIY floral stand from it. Paint the cans with gold color and start to arrange some beautiful wildflowers on them to get a rustic image. That looks simple but gives a big result to your industrial decoration ideas.
Industrial Candlestick Decoration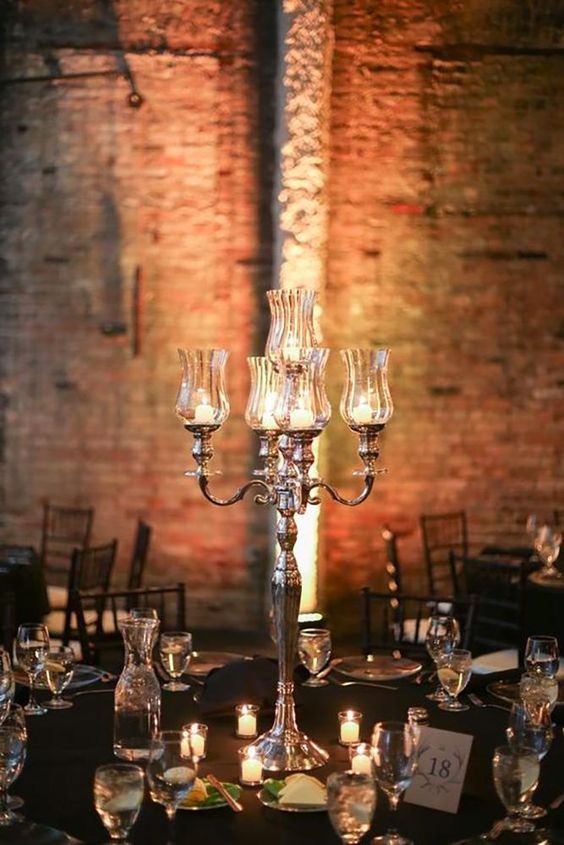 If you have the classic elegant wedding concept, bring a metal candlestick for the table centerpiece. It can also give a sophisticated industrial theme to your wedding. Choose silver or gold as the color scheme if you want more luxury designs.
Industrial Wedding Receptions
The wedding reception is the party to celebrate your marriage. This event follows after the wedding ceremony is held. At the wedding reception, family members, friends, and guests are invited to have dinner, dance, and drinks together and celebrate your newlyweds. Some people host a wedding ceremony and reception in onetime. But the others usually get the different date and schedule for it. Although wedding receptions vary, you can try to pick industrial decorating ideas for a sophisticated wedding theme.
Wedding Cake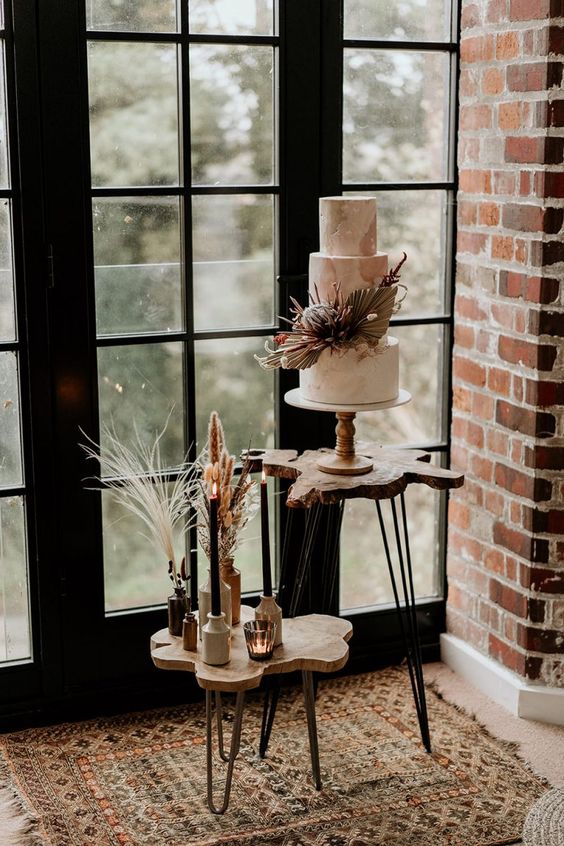 As we all know a wedding reception is a kind of party to festive your marriage. You need to bring one concept that is specific to your wedding dream such as sophisticated industrial wedding ideas. You can get this theme on your wedding cake decoration too. One crucial thing that should on your wedding reception. To decorate your cake with an industrial theme, you can start with the bohemian and rustic design. Also, you can adorn the cake with a geometric decoration idea.
Wedding Chair Decor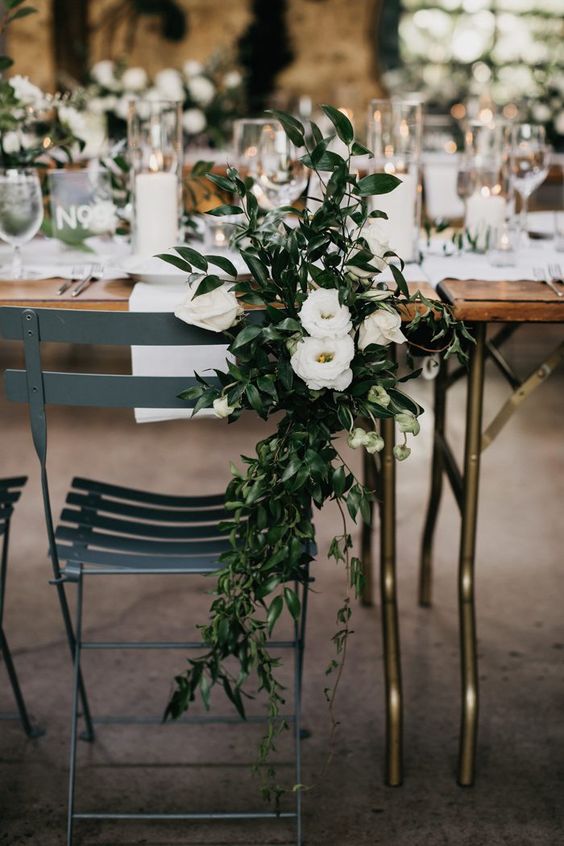 Bring aesthetic decorations to sophisticated industrial weddings, you can get metal chairs rather than wooden materials. Then decorate the chair with greenery and florals on one side. Likewise, if you want something more rustic, just bring out wooden chairs to your wedding ceremony. For a pretty elegant look, you can adorn it with white lace and flowers.
Lighting Design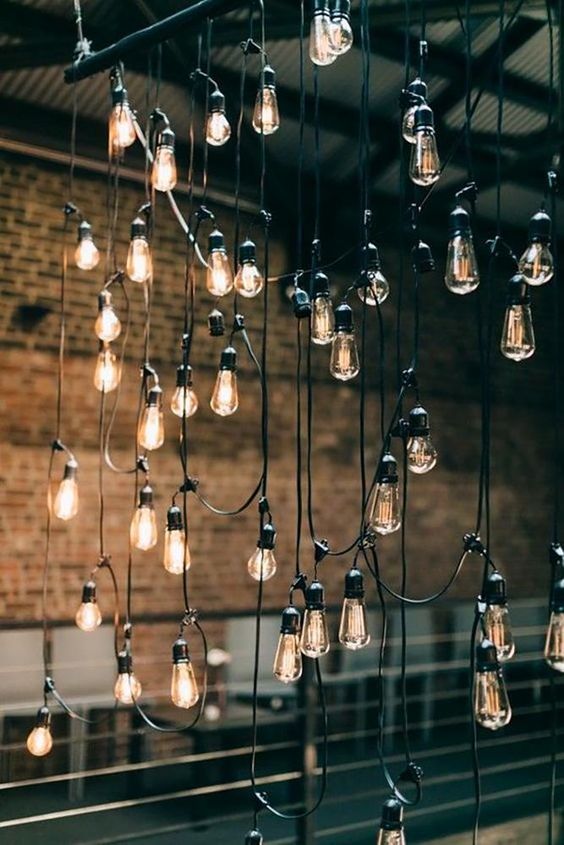 To support your industrial decoration, choosing the lighting decoration should be done properly. There are some ways for it. The first using bulbs for lighting. You can use string lighting with medium bulbs to decorate your wedding venue.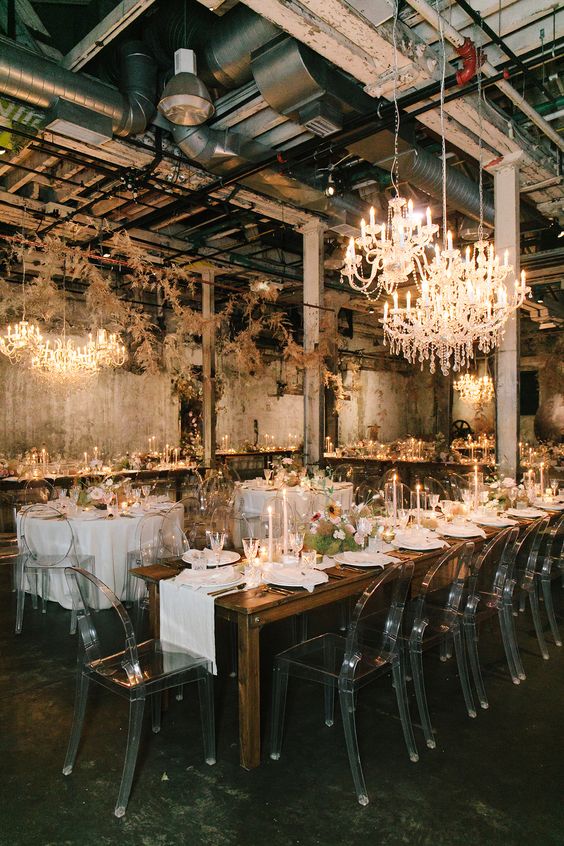 Aside from it, you can create an industrial theme with a chandelier. It would be matched for reception in a place that has visible pipe overhead, exposed brick walls, and concrete pillars. This beautiful lighting decor would bring romantic, classic, and also elegant to your wedding venue.
Hanging Decorations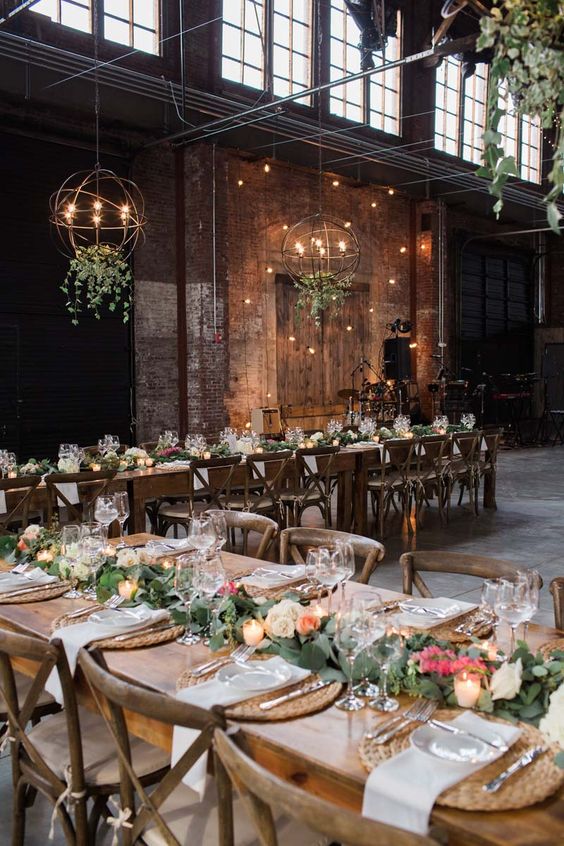 The type of wedding decoration for modern sophisticated wedding ideas is hanging decoration. For this, you can choose a round chandelier in geometric concepts.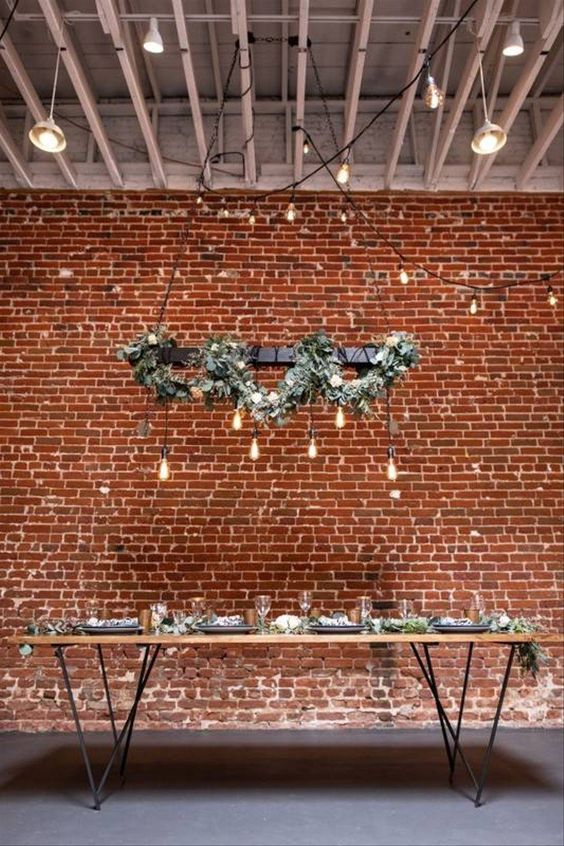 Hanging light bulbs and greenery decoration would be great to bring a statement industrial theme on exposed brick walls in the venues.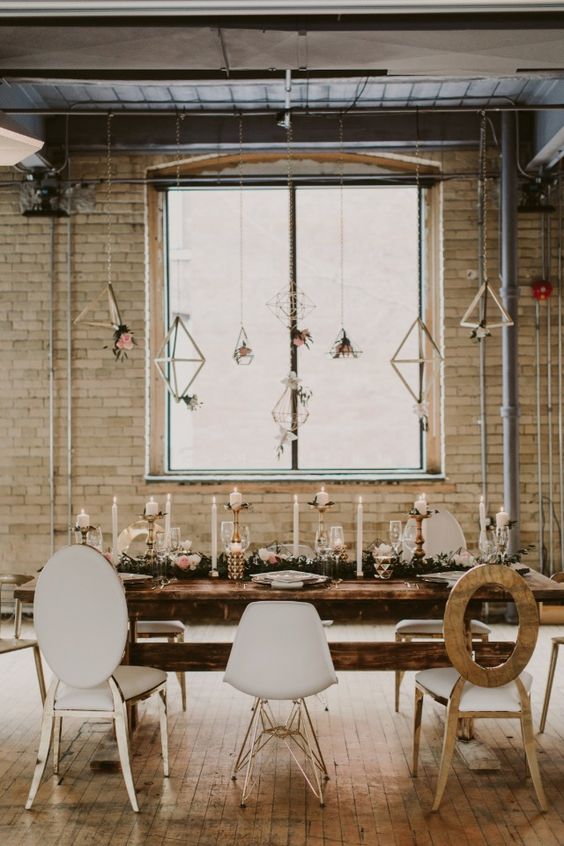 We know that geometric concept is modern and sophisticated decoration ideas. So, if you want to create a contemporary industrial wedding theme, just bring out geometric hanging floral decorations in your table wedding dinner. Besides that, give the gold color scheme for a classy look.
Conclusion 
Having industrial decoration in your wedding theme is great to design sophisticated reception. Not just it, the industrial look also gives romantic classic nuance on your wedding day. Don't do the usual design in your wedding concept. Bring something different that is unique that would give you beautiful moments. Also, don't be afraid to mix your wedding themes and remake them with better decoration ideas. I hope these ideas would help you craft your wedding nicely and lovely.