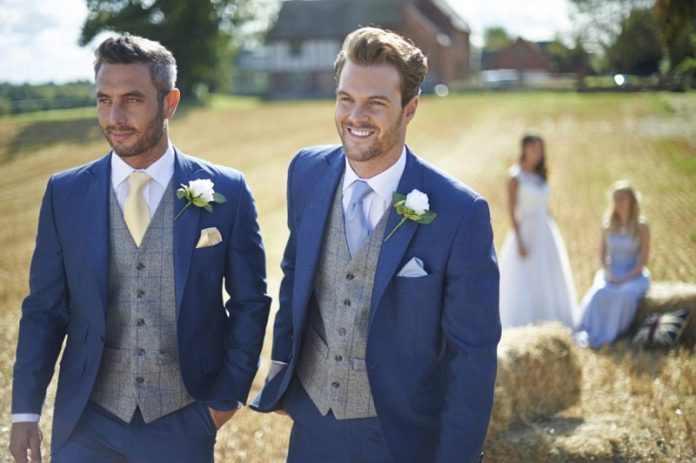 Roowedding.com – The well-dressed groom is usually an important part of your wedding plan. Either outdoor or indoor wedding theme, you need to look outstanding in stylish wedding outfits. After you get the wedding concept for decorating ideas, now you should have the concept for your wedding outfit too. For the brides, there are many kinds of wedding dresses to choose from with many styles and designs. Different from the grooms, they just have suits and tuxedos for their wedding outfit style.
Whether suits or tuxedos, they have many styles and designs to wear at your wedding. The different wedding themes also need different wedding outfit styles. That's why I compiled some stylish wedding suits and tuxedos for grooms here.
Burgundy Suits for Best Groom Style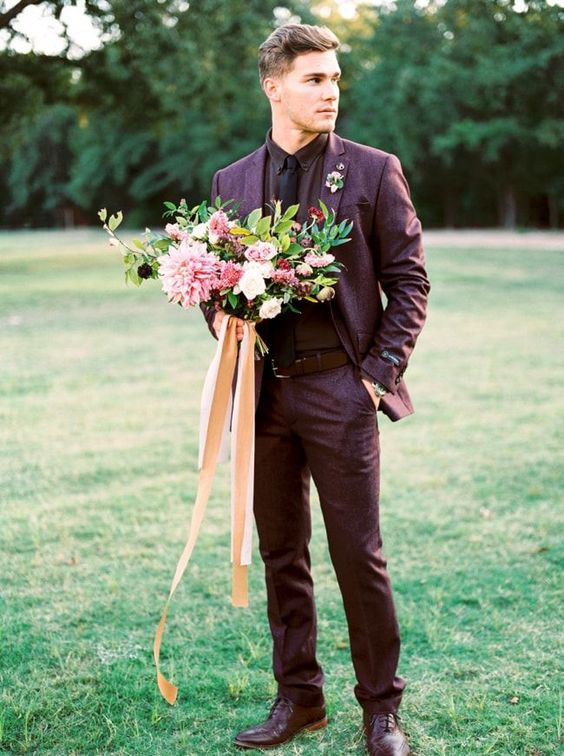 Having burgundy on your groom suits or tuxedos would make you look gorgeous for a romantic outdoor wedding reception. You can pop up burgundy colors entire of your groom outfit ideas from head to toe.
Outstanding Tuxedos with Other Color Statement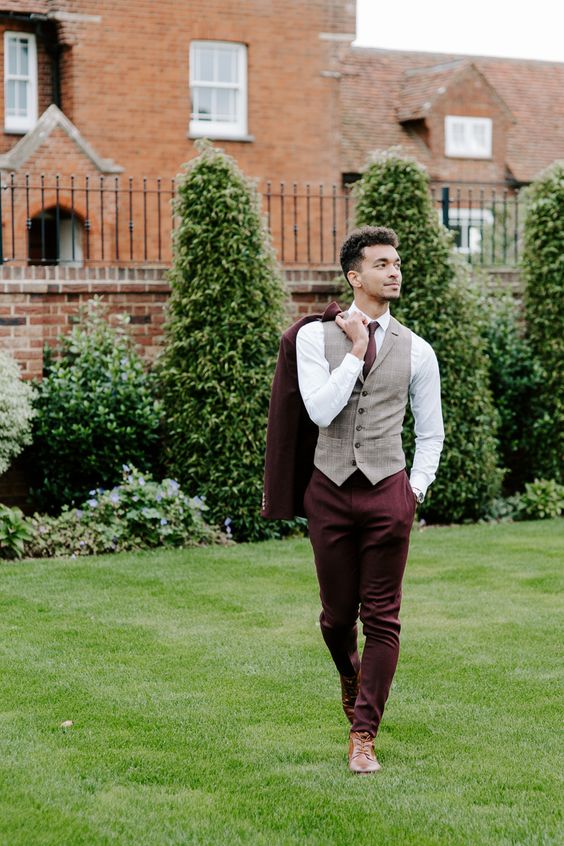 Rather pop up monochrome burgundy colors in your grooms' tuxedos, better you give another statement such as a white shirt and cream vest underneath. It would help you to look elegant and outstanding enough on your big day. You can pair these suits with brown leather shoes for matching footwear.
Suspender for Beach Wedding Outfit Style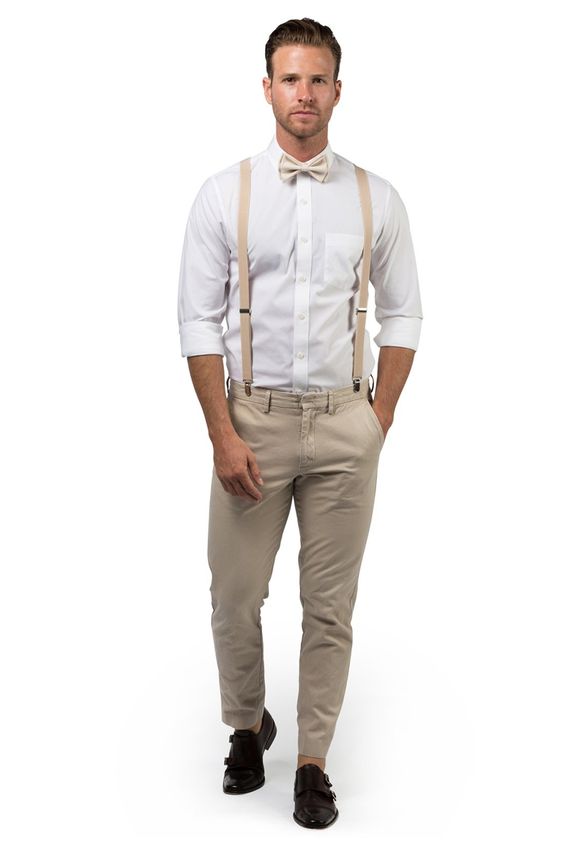 For you that want to get a beach wedding concept, better you wear something that looks semi-formal. This style would suit an intimate wedding ceremony. What you need is just to wear a white shirt, chinos, then give accessories such as suspenders and bowties. Get monk shoes to perfect your appearance.
Outstanding in Bohemian Style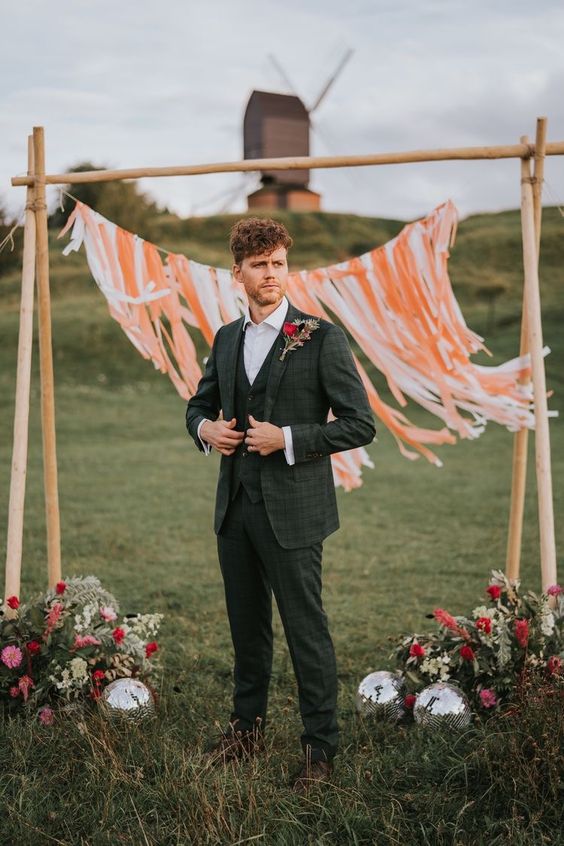 Bohemian wedding idea has romantic and unique either for decorations or outfits. For brides, they have a beautiful bohemian wedding dress with some ethnic accent like lace and brocade. Then for the outstanding grooms' outfit, styling vintage suits such as plaid tuxedos. Better to choose black charcoal for your basic outfit color idea. Perfect your groom suits with dark brown leather shoes and boutonniere for tops accessories.
Classy Tuxedo for Elegant Grooms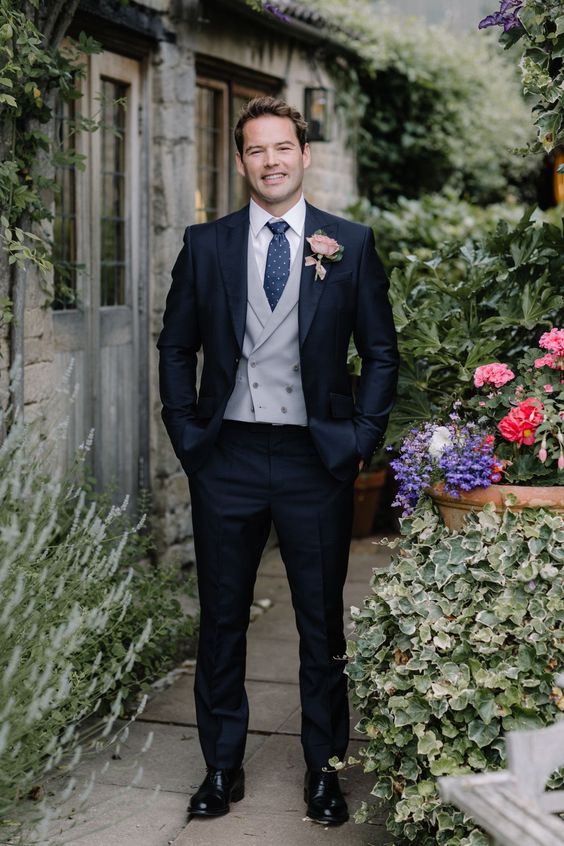 If you want something that elegant and classy for your wedding outfit style, you can try this suit. Having a sleek tux with classy navy colors would make you look outstanding on your special day. A Grey double-breasted vest and white shirt underneath would perfect your style. Consider the accessories that you wear such as ties and boutonnieres.
Cozy Suits for Winter Wedding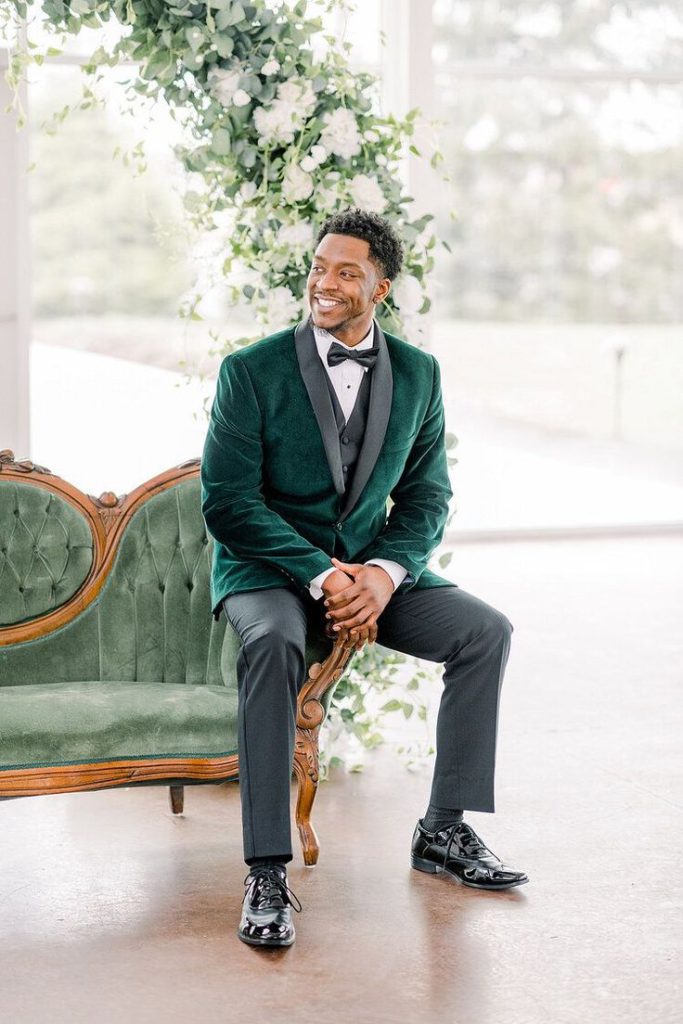 The best cozy groom suit to wear during winter is a green velvet tux. The shiny green on the outfits would bring out an outstanding wedding outfit. Match this velvet with black linen trousers, a black vest, and a white shirt underneath. For the footwear, you need to pair it with black leather loafers. Don't miss out the accessories such as bowties to make your performance look gorgeous.
Classic Combo Suits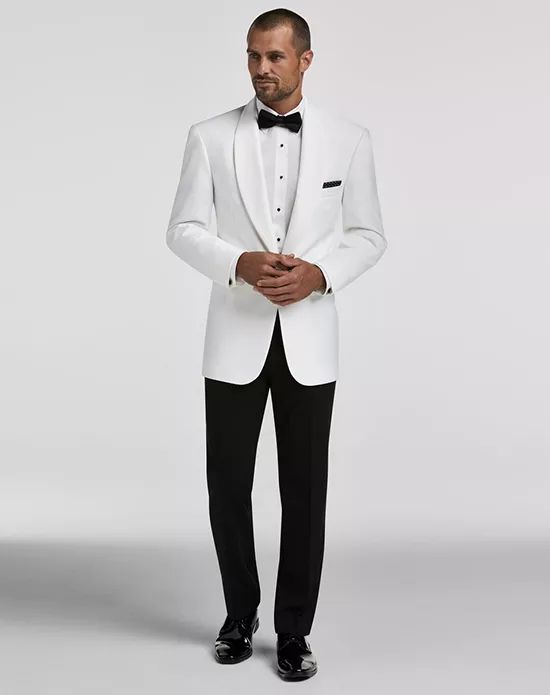 The classic combo in men's suits with elegant black and white. They will give you the most outstanding groom's style ever. Having a white blazer on tops and black trousers in the bottom would be matching either for formal indoor or outdoor wedding receptions.
Elegant Slim Fit Tuxedo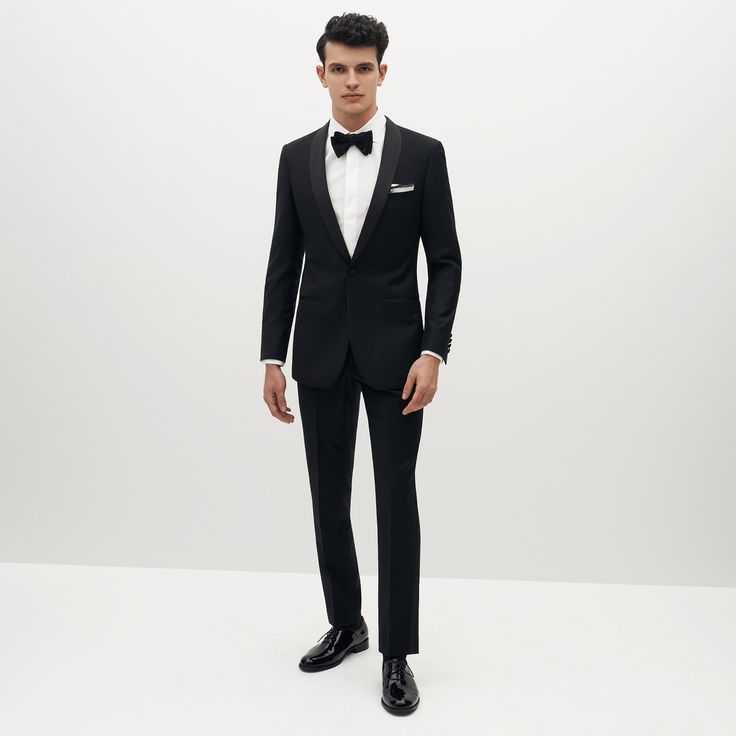 Slim-fit black tuxedos would bring elegantly to your wedding outfit style. This is actually the most common style that grooms wear.  Getting it tailored with your body would make you look handsome to stand on the altar with your brides.
Cool in Western Wild Style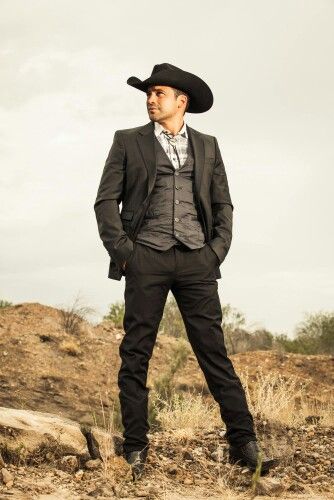 If you love something cool, trendy, and manly for grooms style, just apply western wild style. That's common in it is contemporary cowboy outfits. Choose a black blazer, vest, and plaid shirt for tops. Rather you wear trousers, if you want to make it cool and trendy you should bring jeans for bottoms. The important accessory that would make you look like a cowboy man is a cowboy hat. This style would actually match your bohemian wedding receptions.
Pastel Suits for Romantic Groom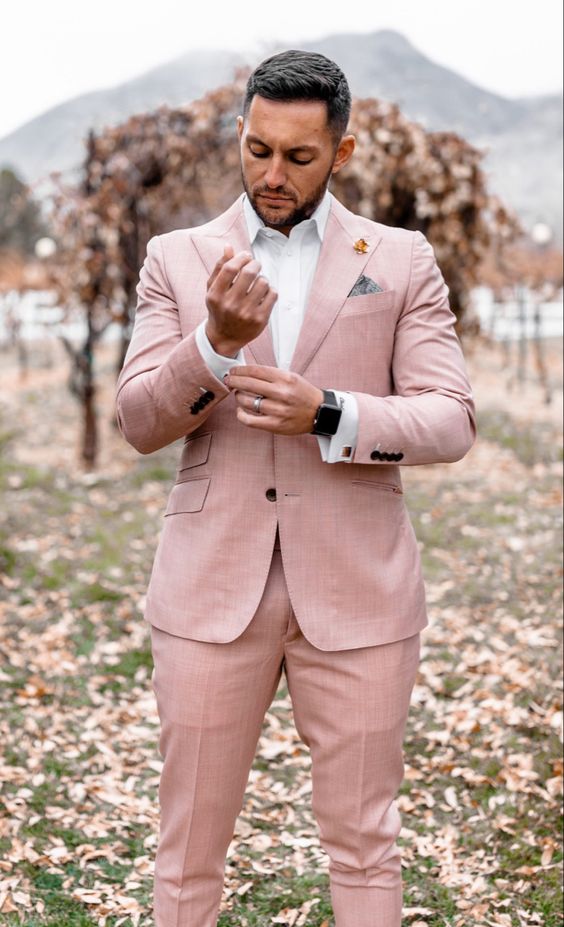 We love pastels and pink is the best color to create chic and romantic vibrancy. For the outstanding groom suits, you can choose beachy color schemes like salmon. Not like you believe, this color wouldn't make you look odd. It exactly makes you look more handsome.
Red Statement in Vintage Black Suits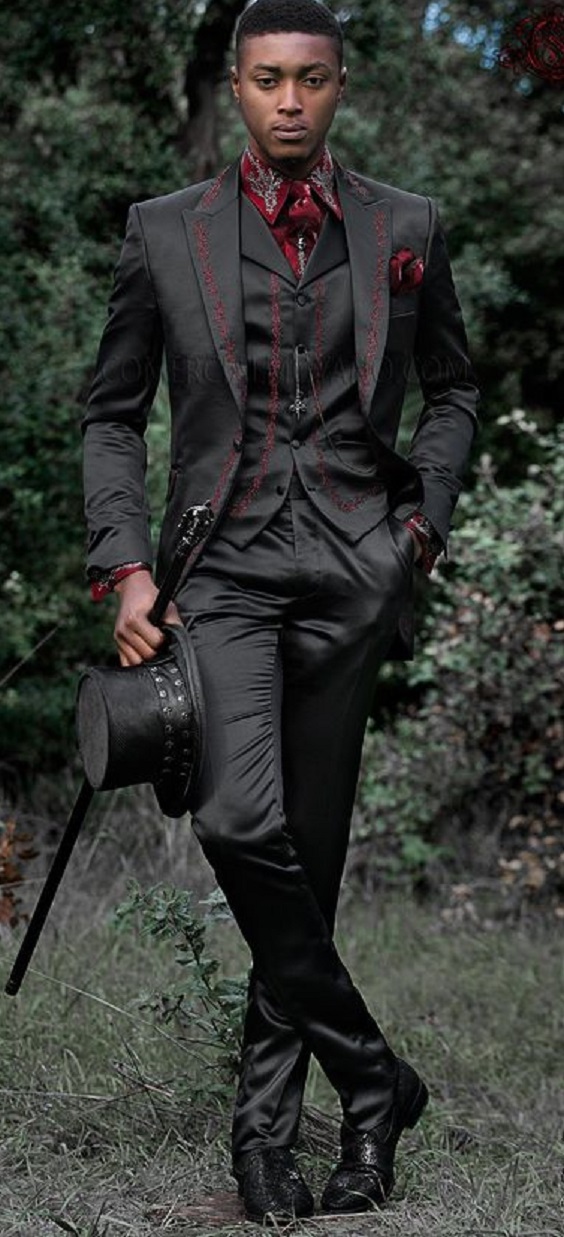 Red and black would give masculinity to your wedding attire. As for grooms who want to look outstanding, having black sleek tuxedos with red trims is a great idea. It would look good for a luxury wedding with the classy vintage concept. You can get a full vintage dress by bringing a classic stovepipe hat to your stylish wedding outfit idea. Besides that, the darkness in this style is matched for the Halloween wedding concept.
Traditional Groom Suits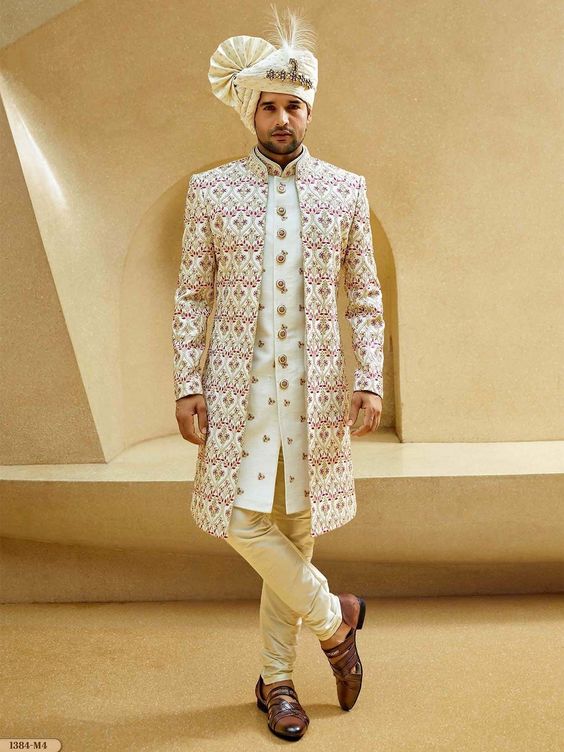 Holding traditional wedding ceremonies usually gets supported with the traditional wedding style. For example, in the Indian wedding tradition, the groom generally wears sherwani or Anarkali. They have a unique pattern and also stunning colors. This also could be called Indo western style that's very experimental for grooms' outfits.
Get Navy Suits for Great Wedding Outfits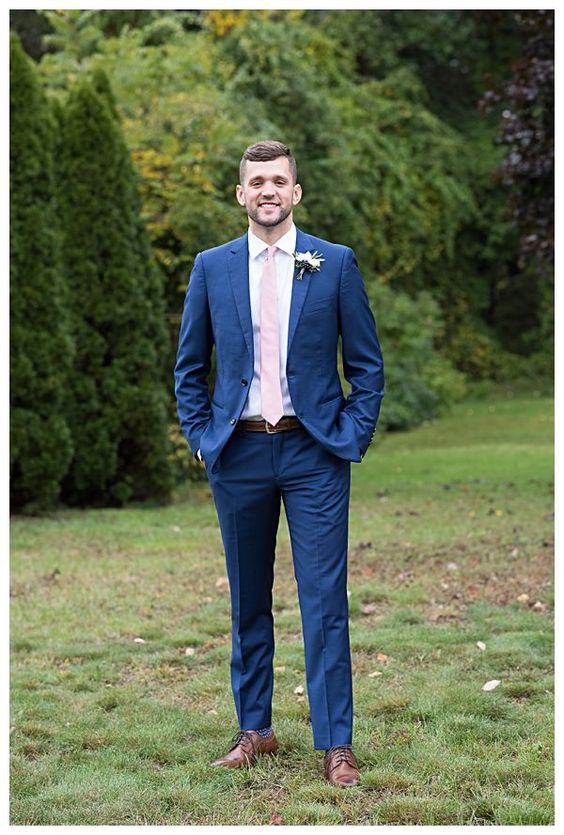 Another grooms' suits and tuxedos that are usually used for getting an outstanding picture is navy suits. A heavy colors scheme would bring your masculinity and cool side. To bring it differently, you can get light accents such as a pale blue shirt and pink tie on your wedding suits. For the shoes, pick a pair of brown leather loafers for the best style. You can put this style for your garden wedding reception.
The Best Fall Scheme in Wedding Style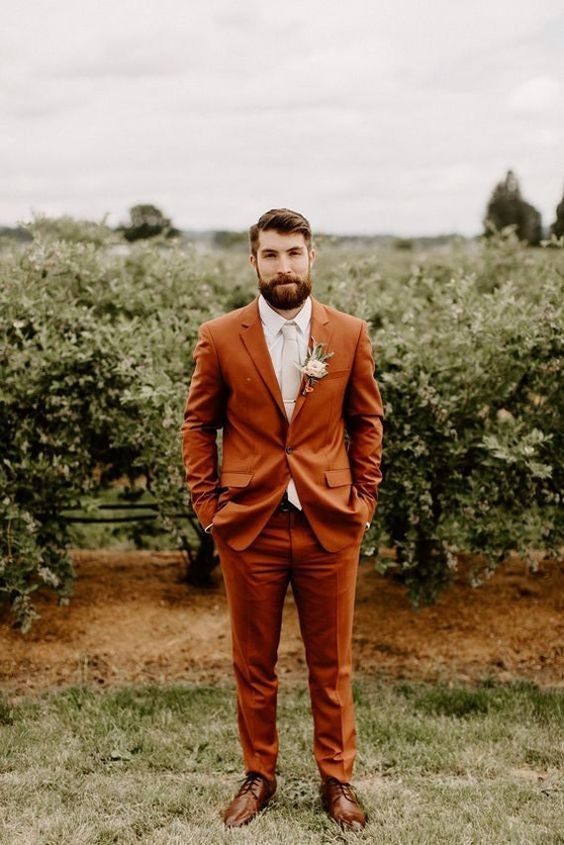 Holding a wedding during romantic fall is a great time to get a great wedding concept. You can get a fully outstanding wedding by getting a fall color scheme. What comes on this idea are orange, brown, and maroon colors. That would adorn your wedding either for decoration, venues or for your wedding outfit ideas. Likewise, grooms would get good suits or tuxedos to wear on a big day. Applying a burnt orange on groom suits idea is one of the ways to give you a rustic concept. You will also look good wearing those suits at bohemian wedding ideas.
Classic Modern Tuxedo Style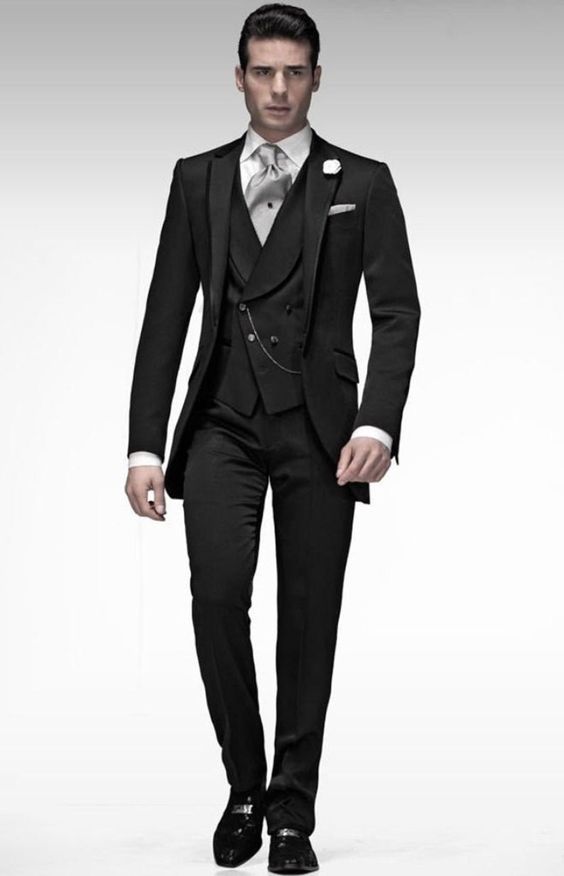 If you want to look outstanding in a different way, combining classic and modern style is a solution. For this, you can get a consultation with your designer about your own design. You can search on the internet or Pinterest about the style that you want. For instance, you can try the style in the picture above. The slim-fit blazer, trousers, and double-breasted vest make you get outstanding suits to wear on your wedding day.
Monochrome White Suits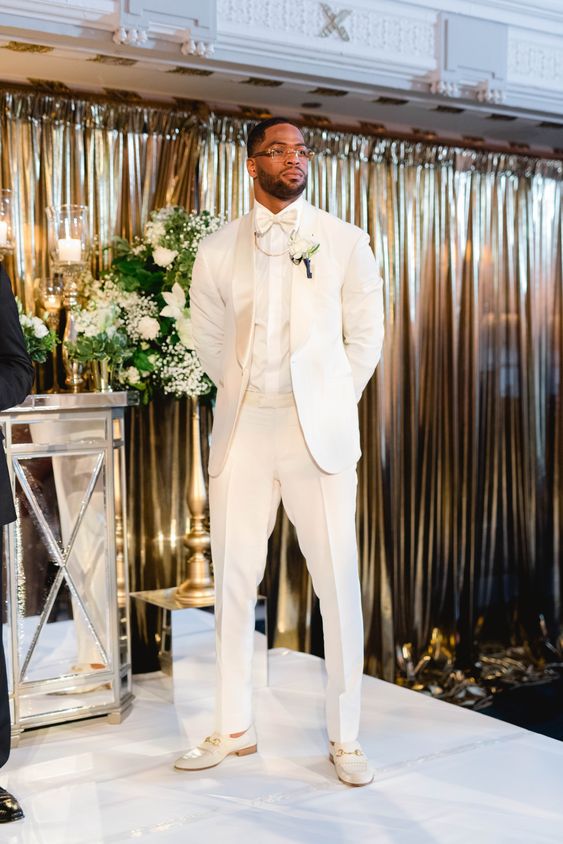 What to wear for your wedding is really important, so make sure you get the best ones. Consider thinking about the wedding concept and theme before you choose the outfits. However, if you want to be safe, pick monochromatic white as your stylish wedding suits and tuxedos. Those colors would be outstanding in any kind of wedding theme, from classy, elegant, indoor, and outdoor receptions.
Get Tweed on Your Wedding Fashion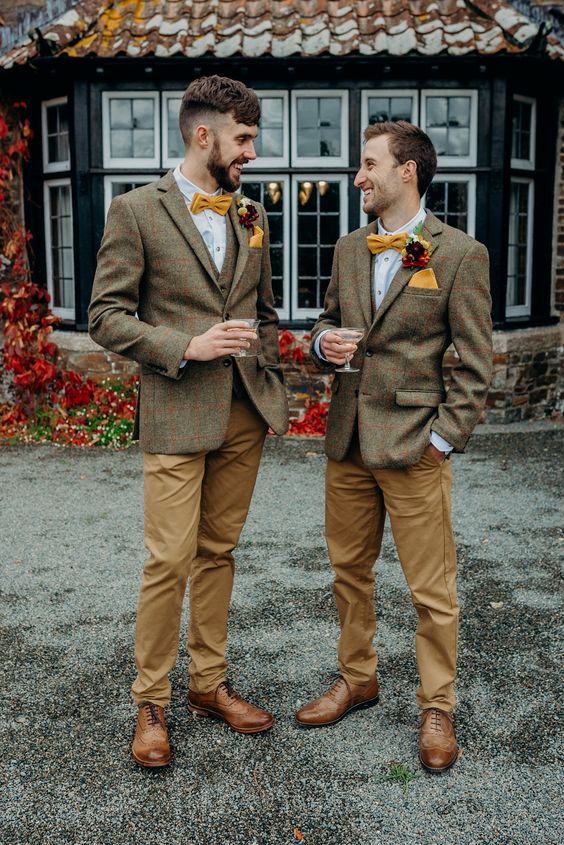 Getting tweed on your wedding outfit ideas would give something different. If you won't get the same ensembles as your daily style at work for wedding style, better you choose these brown tweed suits. It can give you a sophisticated and outstanding look on your special day. Having a unique pattern and good in any regular suit make these pieces worth wearing. You can pair it with trousers for formal style, or have a bit casual look with chinos.
Free Jacket Style for Rustic Wedding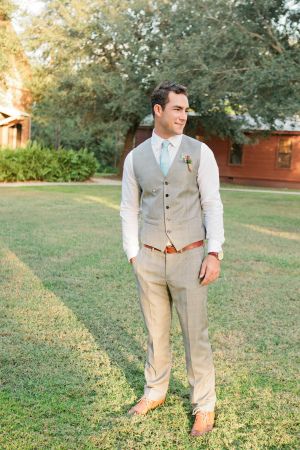 If you want to get both a fresh and outstanding look during your wedding, look no further than vest suits. It is also simple and doesn't have a layered style that is good to wear for a summer weddings theme. This suit is also good to get a rustic concept at your wedding. You can choose neutral colors such as cream or sage. Best to give some pop-up details like brown belt and light blue tie. Don't miss out on the footwear too, get a pair of brown loafers to perfect your groom's outfit ideas.
Those are some wedding outfit ideas for grooms to look outstanding in their best moments. You can choose one that is really into you and match your sense. For the great style, the important to remember is to think about yourself first. Then start to consider the matching colors. Don't be afraid to bring different or new styles like suspenders and vests. You also need to insert accessories that can represent your personality better. Make mix and match also great idea to give outstanding grooms style. So, let's start to prepare your stylish wedding suits and tuxedos properly.