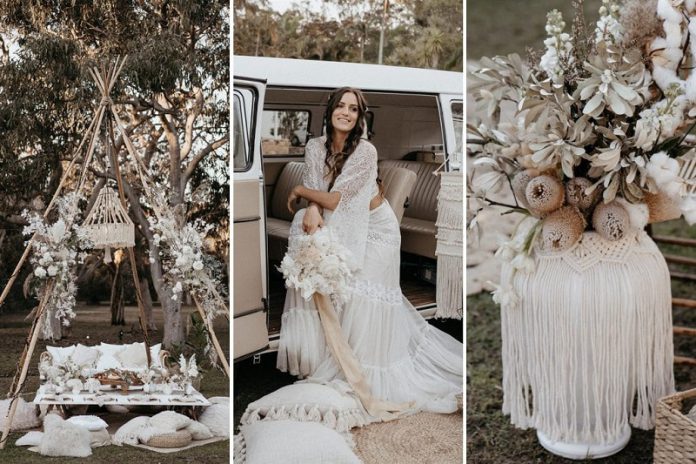 Roowedding.com – Consider simple and minimalist wedding ideas if you are planning an intimate wedding reception. Then, if you want a simple wedding to arrange, a bohemian wedding is a great choice. Those who are busy and don't want too much to bother with the wedding planner, you'll agree with this concept. As well as this wedding theme is also less expensive and more affordable. You can utilize your backyard as a natural outdoor wedding venue. There are also a lot of bohemian decor ideas that can be made by yourself in a creative way. In fact, bohemian wedding ideas can help you plan a romantic wedding ceremony and reception on a budget.
If you're trying to stick to simple chic bohemian wedding ideas, you can embrace everything that easy going and laid back. The main characteristic of the bohemian theme is free-spirited and effortlessness, it's also expressing yourself. From bohemian dress ideas to accessories or grooms attire you can pick something that is more comfortable and less expensive. Besides, you can also choose a simple wedding bouquet with dried flowers. For decorations, you can select something with a rustic accent, use earth tones for the color scheme, also adjust the nature theme in it.
Check out some of the most popular trends for simple chic bohemian wedding ideas down below. Select and enlarge the ideas that most appeal to you. Make your big day unforgettable with a romantic and sweet atmosphere. Here's how you can plan your wedding ceremony and reception on a budget in a boho chic theme!
Use Home Terrace/Backyard for Wedding Venue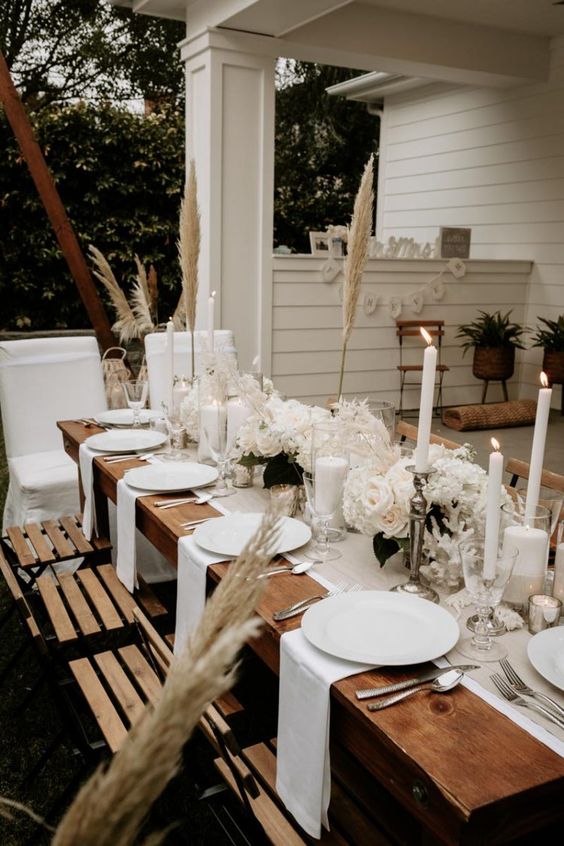 Actually, your wedding venue becomes the biggest factor to build your wedding atmosphere. That's why when you plan on a simple chic bohemian wedding idea on a budget, select a natural, laid-back, and intimate ones like your gazebo, terrace, or backyard. Since boho themed has more possibilities especially when you have more budget, you can also use a barn, winery, beach, or even the desert for the wedding venue idea. Whenever you choose to plan and hold your boho wedding, make it special and unforgettable.
Get More Rustic Accents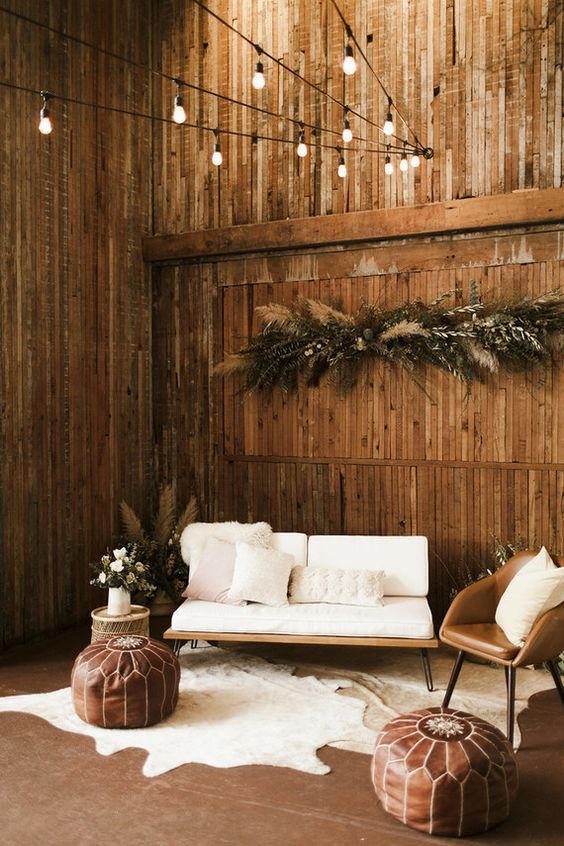 If you are planning an intimate bohemian wedding, you can get a more rustic accent for decoration. This would make your wedding venue feel more like home. You can incorporate vintage pieces as part of your wedding decorations. On a wooden home, you can use antique wooden furniture from thrift stores as your altar. Then decorate with leather rugs and pampas grass. You can also get industrial lamps for lighting that make your altar look chicer.
Creating a Simple Triangle Wedding Arch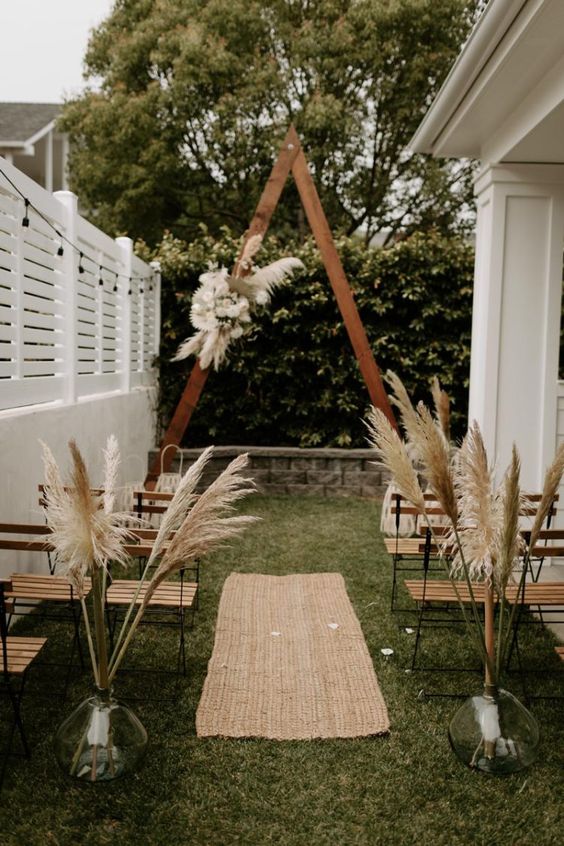 This triangle arch can serve as inspiration for simple chic bohemian wedding ideas. It does not require any additional space, materials, or preparations. Especially when you hold an intimate wedding ceremony in your backyard or home terrace. To add a more boho theme, you can adorn your wedding arch with pampas grass and dried flowers. Choose wooden chairs to sit the guests, and get a floor mat to become an aisle runner.
Ethnic Rugs/Carpets on Boho Decor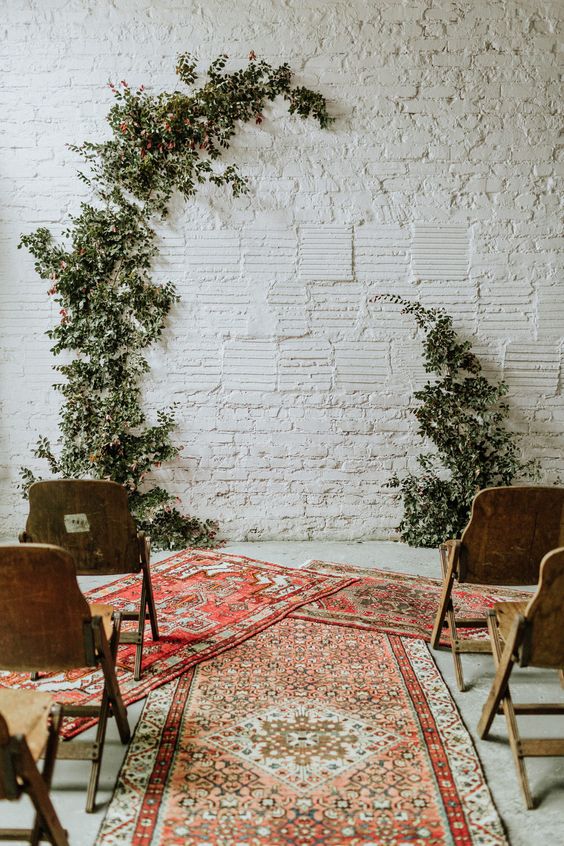 One of the biggest typical trends of bohemian themes is ethnic rugs. That's why, when you want to have a simple chic bohemian wedding idea, getting ethnic rugs is the easiest way to present the theme. They appear to be common at any boho wedding decoration. With brilliant boho patterns and eye-catching colors, make your wedding venue seems to look stunning. You can be used these carpet rugs as aisle runners and a runway for the bride when walking down the aisle.
Using Macrame for Decoration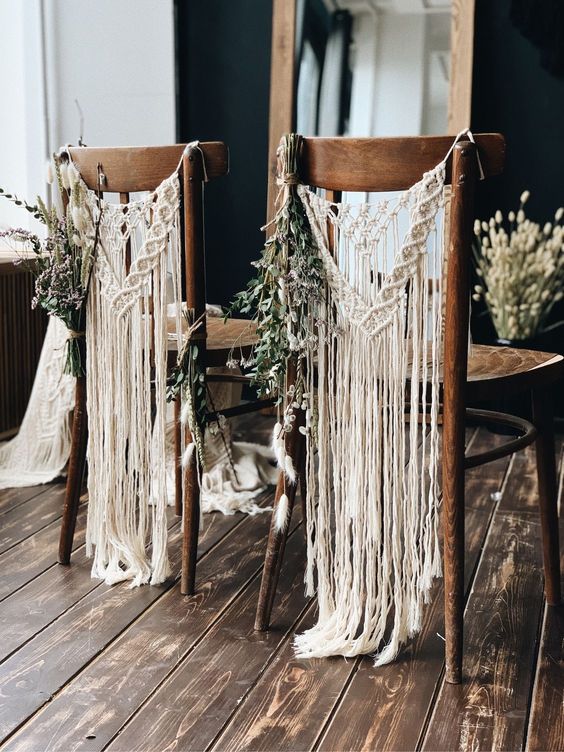 If you think something that budgets friendly for simple chic bohemian wedding ideas, macrame is an option. Macrame is a typical bohemian trend that would give you whimsy and stunning wedding decorations. You can incorporate macrame in any aspect of your wedding decorations, from the wedding backdrop to the aisle or chair decoration. One of the best aspects of macrame is that it can be reused for home decoration after the wedding.
Adjusting Lush Flowers and Greeneries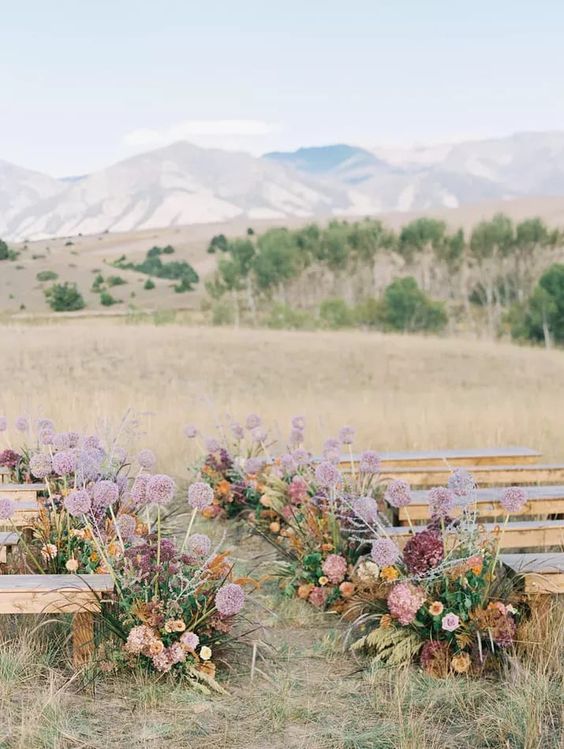 Flowers and greeneries tend to incorporate into the wedding decor. They can easily transform your wedding venue become nature themed. Besides, for boho wedding ideas flowers and greeneries also take an important part in getting cheaper decorations but are still attractive. You can bring verdant and lush flowers or greeneries to build a fresh atmosphere while maintaining sweetness and simplicity in your wedding decor. Local flowers and greeneries can be an option if you want less expensive decorations. Use greenery and wildflower garlands to decorate your wedding arch and backdrops. You can also use lush wildflowers to decorate the ends of the pews and also the aisle marker.
Simple Wooden Board for Welcome Sign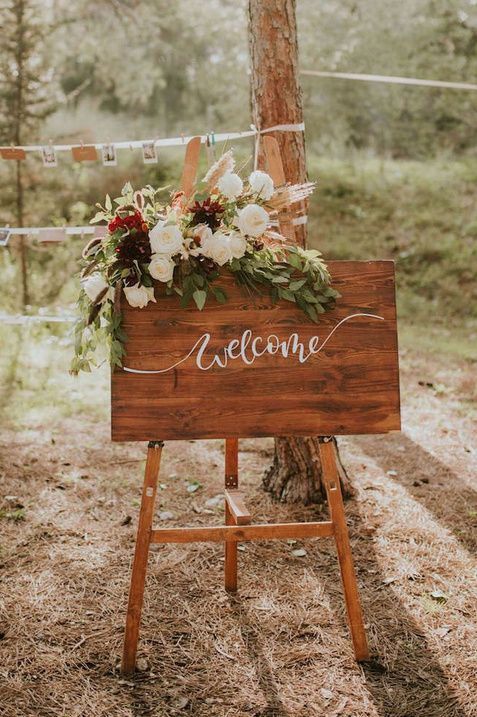 Natural elements are always incorporated into the boho style. Even for wedding themes, wood, greenery, and flower materials can be used as decorations. When it comes to simple chic boho wedding ideas, a wooden board for the welcome sign is a good option. You can decorate it with greenery and flowers, then use simple aesthetic stationery. It's more than enough to give your wedding venue a boho vibe right from the start.
Wearing Comfortable Style for Grooms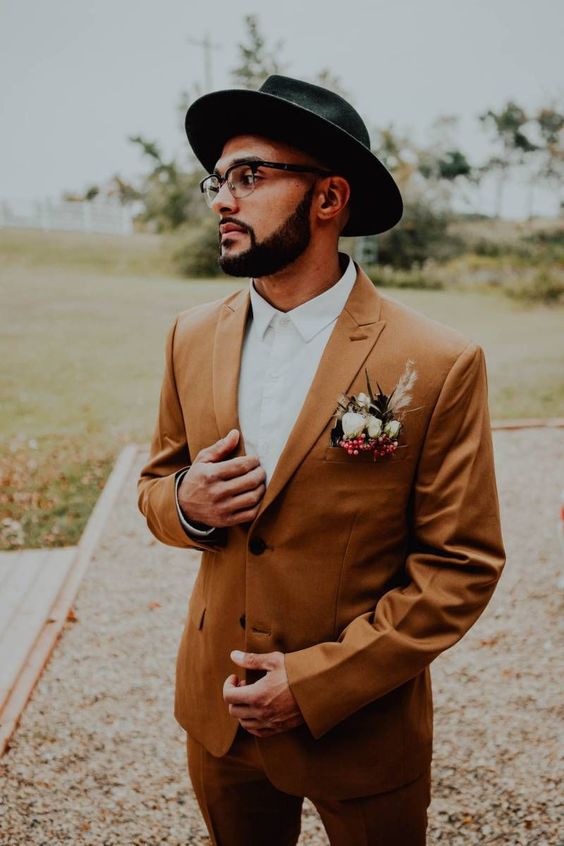 When it comes to menswear, bohemian grooms can opt for a more casual look rather than formal tuxes and suits. Keep in mind that simple chic bohemian weddings are related to being free-spirited, comfortable, and expressing your own personal style. So, to dress up for your big day, you can wear suspenders, sneakers as footwear, bow ties, fedora hats, vests, and other accessories. Furthermore, instead of sticking to black, navy, or grey suits, you can also wear more soft-colored suits such as beige, olive green, or terracotta.
Simple Lace Dress for Boho Brides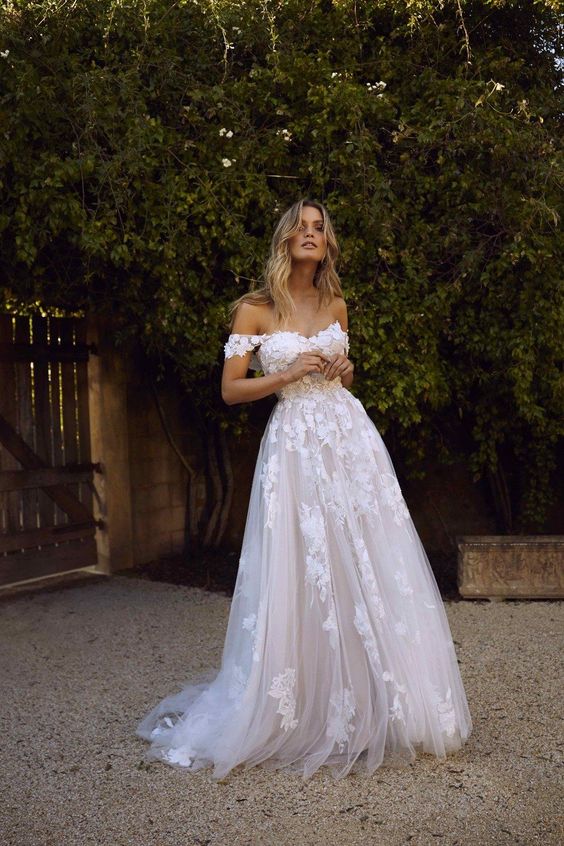 Your wedding plan wouldn't be complete without getting a wedding dress. Since bohemian wedding dresses usually have a unique design with a casual look, most boho wedding dresses come with lace fabric designs. Besides that, you can expand your bridal look with vintage gowns and nontraditional-colored wedding dresses. Select a flowy, comfy, and aesthetic dress that also can capture the boho theme. Like this off-shoulder lace wedding dress. It looks stunning with floral appliques all along the dress. The best part of getting a boho dress, you can think out of the box to express yourself.
Terracotta Bridesmaid Dress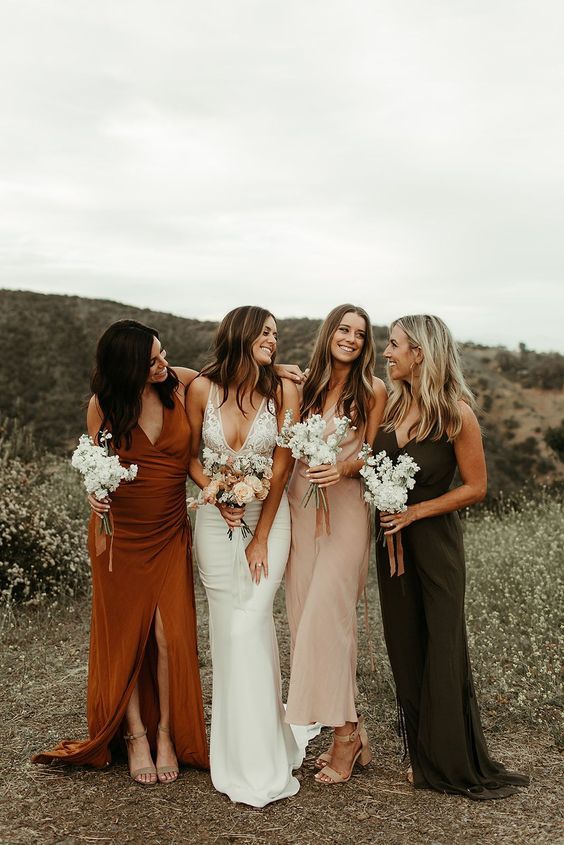 When it comes to wedding attire, bridesmaid dresses shouldn't miss out! When you want to embrace simple chic bohemian wedding ideas through a fashion look, bring a terracotta dress for your ladies in honor's uniforms. Besides, this earthy color palette truly symbolizes nature's spirit from the boho concept. You can pick olive green, rust, brown, and orange burnt to create fancy bridesmaid dresses for your ladies that will accompany you while you take a vow.
Utilize Cowboy Hat and Floral Crown for Accessories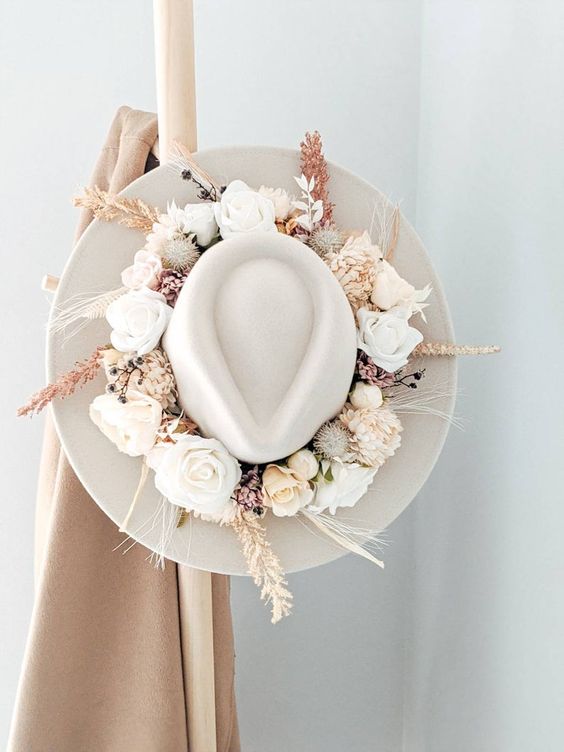 Not only wedding dresses you can embrace a chic boho theme, but your wedding accessories also take part. For example, you can use a cowboy hat and floral crown as bridal accessories. This would elevate your performance and make you look chicer while you walking down the aisle and all along the event.
Let Invitation Bring The Mood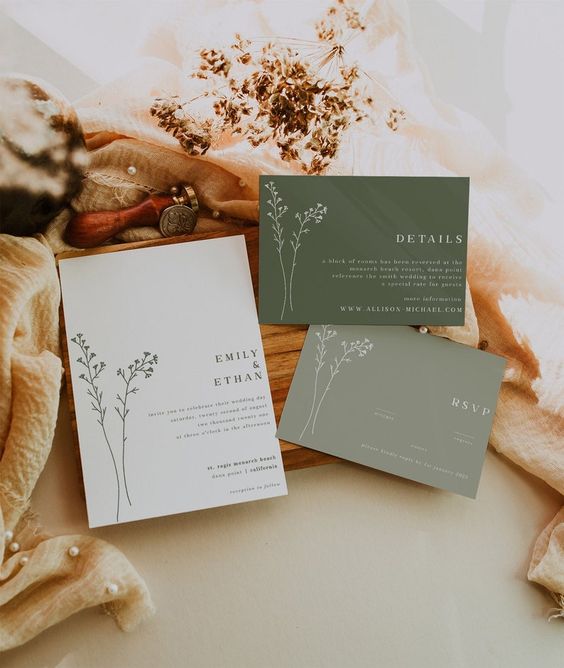 This sage green and white invitation suite has a free-spirited and rustic style. We love the organic color that pops up your wedding stationary that also looks elegant. If you have a simple chic bohemian wedding idea, this invitation would look better to announce your big day.
Minimalist Table Centerpiece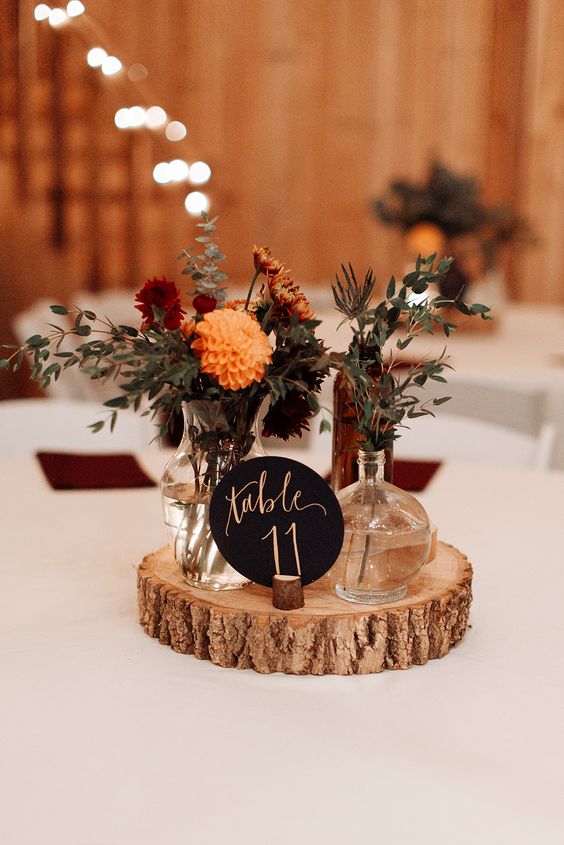 Looking for a vibe to present a boho theme at your wedding reception? Arrange your table centerpieces! There are plenty of ways to create simple chic bohemian wedding ideas, especially for the centerpiece decoration. One of them is using a minimalist table centerpiece design. You can use a wooden slice and get a bottle vas with wildflowers on it as a table centerpiece. As well as using succulents, antique lanterns, candles, or pampas grass for table centerpiece decorations. Just make sure to decorate it perfectly and give huge space for guests to take dinner comfortably.
Handmade Craft Tableware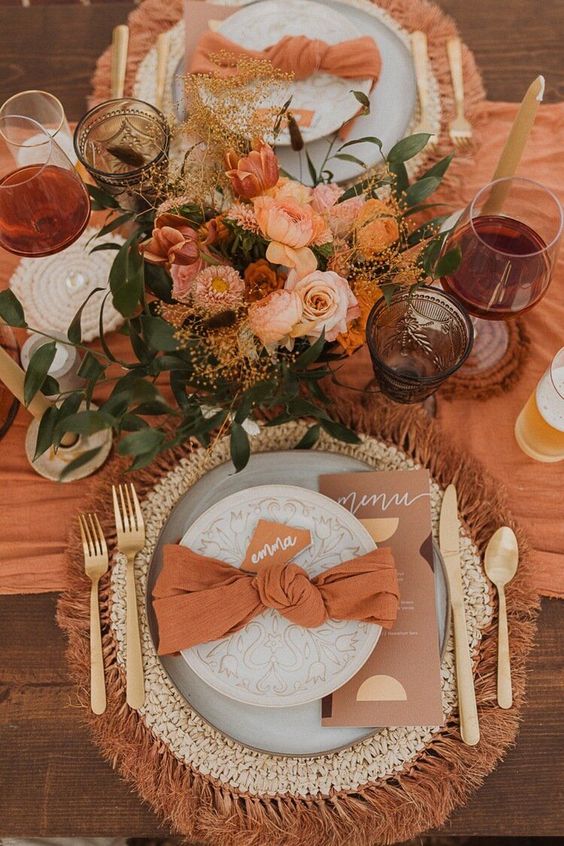 Consider handmade crafts for bohemian wedding decor ideas that will give you an organic vibe. You can use it on furniture like assorted tableware. For instance, you can use handmade craft placemats with tassel adornments.
Embrace White Lace Fabric for Table Setting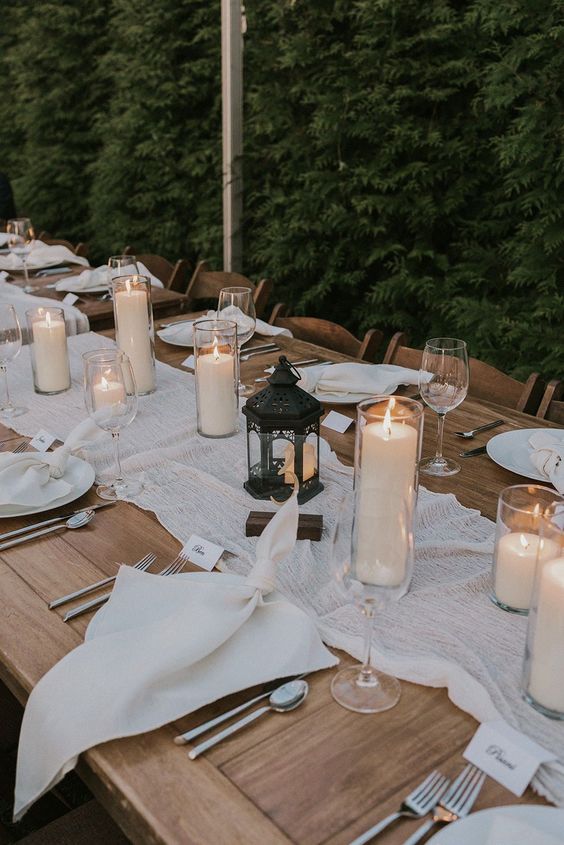 Besides handmade crafts and greeneries, you can adorn your table setting with lace white fabrics for simple chic bohemian wedding ideas. You can use lightweight white table clothes in the center of a wooden table then place candles and classic lanterns to give a romantic vintage vibe.
Bring Barrel for Decorating Accent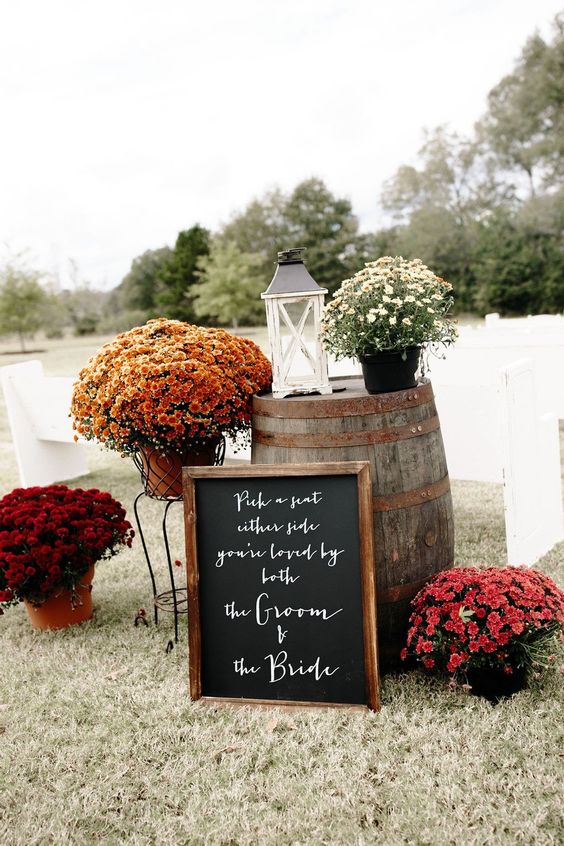 As we always mentioned before that bohemian can be presented in anything that implements nature, free spirits, and of course uniqueness. You also have limitless concepts here, from romantic to rustic and vintage. Like when you bring barrels as decorative accents that give you simple chic bohemian wedding ideas especially when you hold the wedding in a barn or winery.
Dried Flowers Wedding Bouquet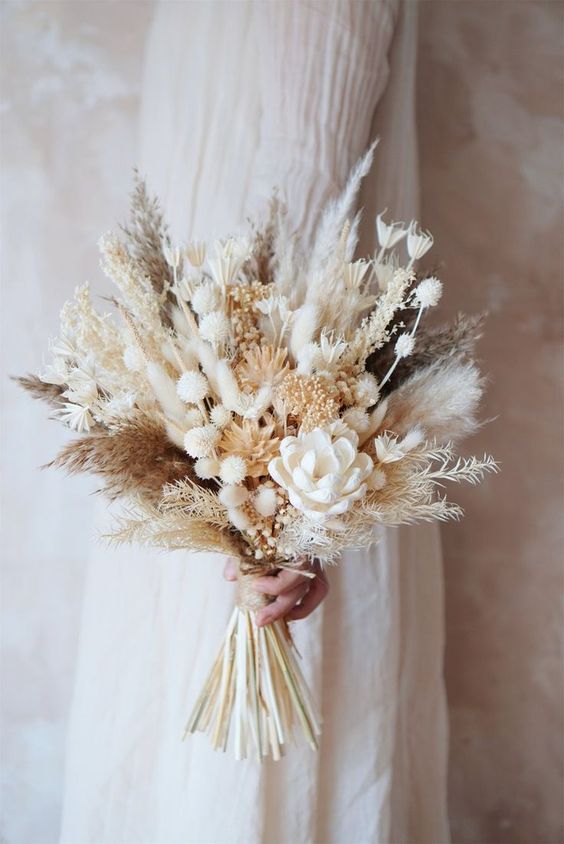 More and more brides begin to use unique wedding bouquets both in colors or arrangements. For specific simple chic bohemian wedding ideas, you can arrange your bridal bouquet using dried flower accents. Besides, this kind of bouquet looks elegant from the natural color of dried flowers. You can arrange your bouquets from pampas grass, bunny flowers, phalaris, Lagurus, and more. Make sure to keep your flowers loosely arranged to have a more natural look.
Make Traditional White Wedding Cake
There are plenty of ways to draw boho concepts in your wedding cake design. From celestial cake design to floral cascade adornments and displaying your cake in a macrame or terrarium cake stand, there is something for everyone. However, for a simple chic bohemian wedding idea, use a classic two-tiered white cake that can be transformed into a boho confection using pampas grass as garnish and a topper. You can also add edible gold to your cake to give it a more elegant appearance. FYI, when it comes to popular boho cake trend now is to have naked or semi-naked cakes.
Create DIY Decorations with Recycled Bottle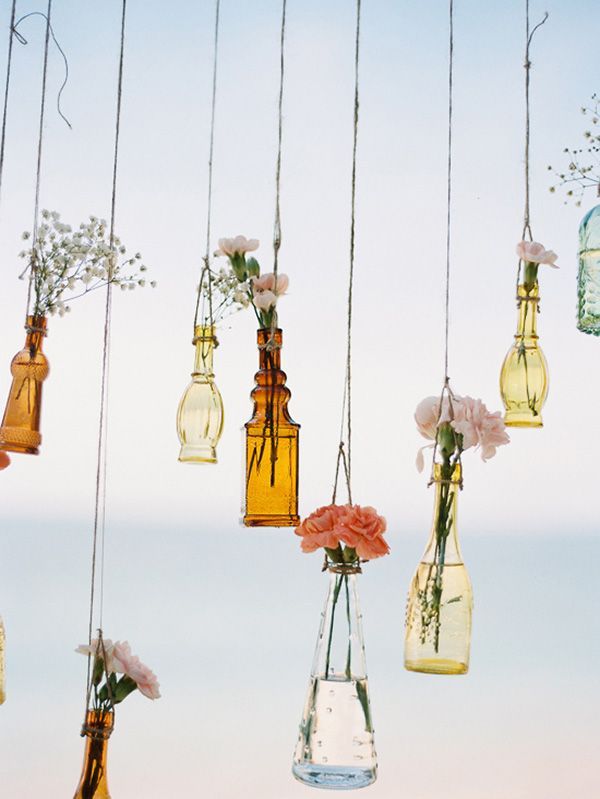 When talking about bohemians and their nature concept, you can also incorporate eco-friendly ideas here by using recycled bottles for DIY hanging decorations. For this, you can have less budget and get chic wedding decorations. You can use different shapes and colors of bottles that you fill with water and flowers, then hang them for aesthetic decorations to elevate your wedding venue.
Hang Wicker Lanterns Decorations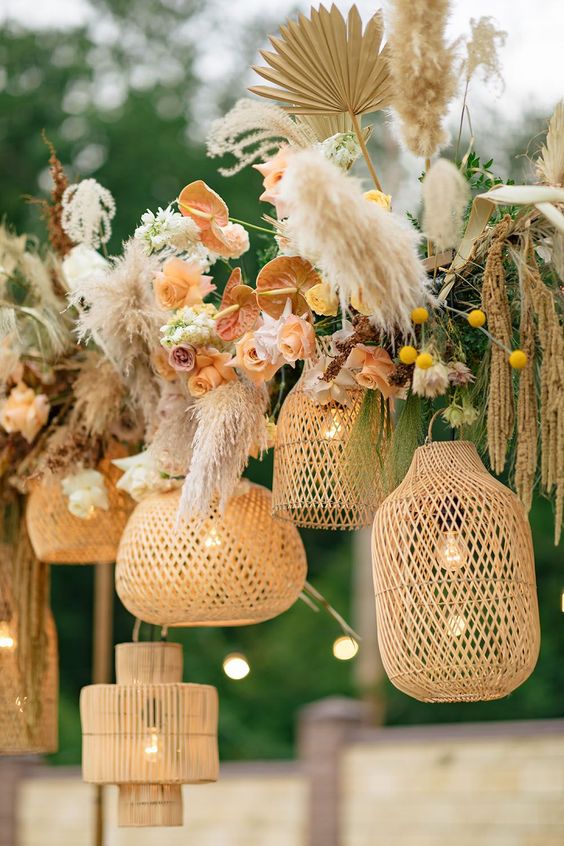 To have more rustic accents and natural ornaments, hang these wicker lanterns as wedding decorations. This would give you an alternative simple chic bohemian wedding decor to adorn your wedding ceremony. You can hang them with flower arrangements on your table dinners that seem aesthetic.
Romantic Lighting Use Candles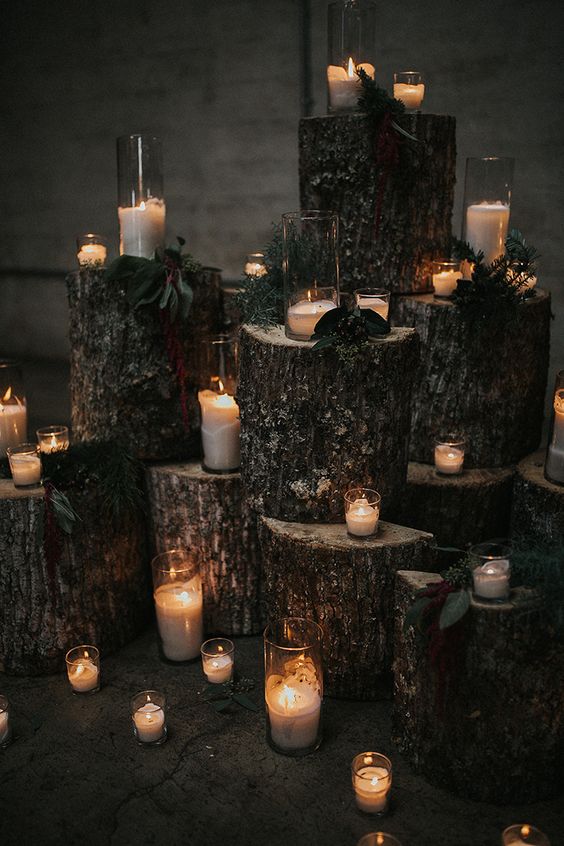 To have a more romantic vibe and less budget for wedding lighting, use candles. You can use this for simple chic bohemian wedding ideas, especially when you go with outdoor wedding receptions. You can make them more aesthetic and romantic by displaying the candles on some logs which also give you a rustic atmosphere.
Consider Natural Wedding Favors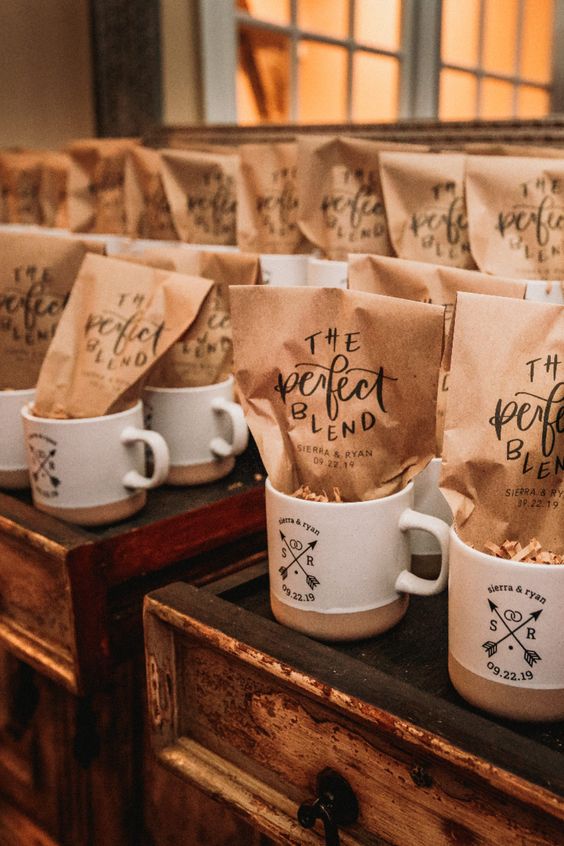 While you sorting out important wedding list, don't forget about wedding favors. The thought giving of your guests gifts as appreciation is also necessary. If you are not sure what will you give to your guests, you can get eco-friendly wedding favors that contain natural elements such as coffee bean bags, homemade jams, cookies, and more as one of your simple chic bohemian wedding ideas.
Getting Pampas Grass Wedding Backdrops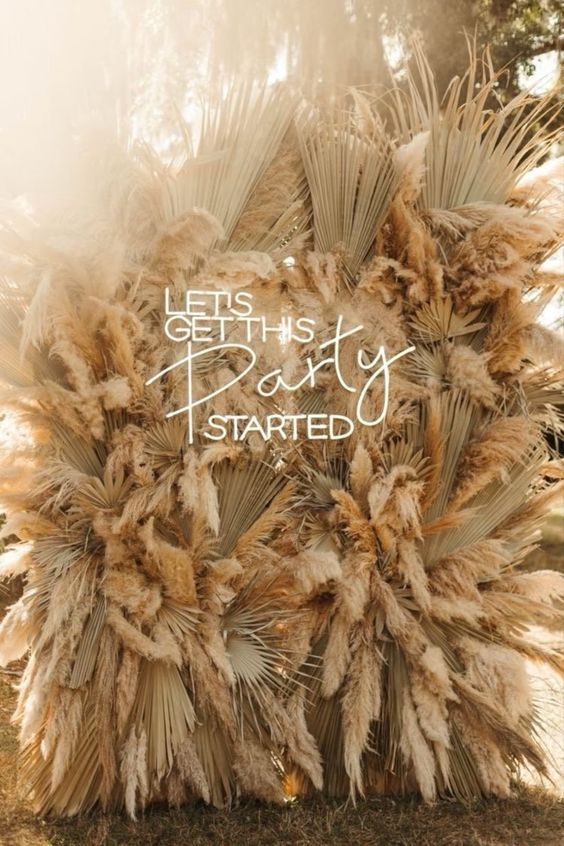 Incorporating nature elements along with a certain romanticism is typical of bohemian wedding ideas. However, the easiest way to bring simple chic boho to your wedding is by using decoration, like on your wedding backdrop. You can build your backdrops from pampas grass and dried palm leaves that give you a tropical wedding vibe. Not only that, but you can also put a personalized neon sign to seem a bit industrial and contemporary.
Build a Simple Bar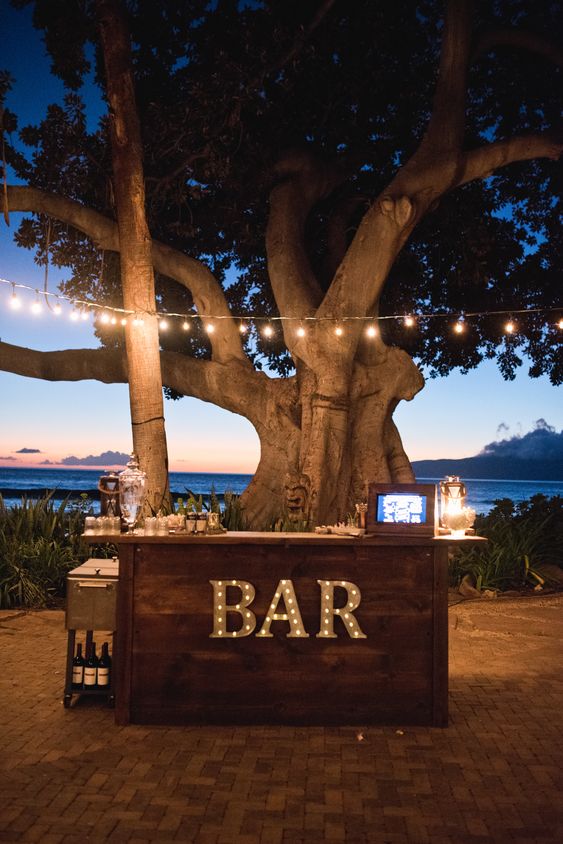 Given the casual and industrial style of the boho theme, if you have a small budget you can DIY a bar. Make your own food and drink bars! You can book food and drinks from a local restaurant and then set up the place on your own. If you have an outdoor minimalist wedding you can place a bar table with wooden benches and then set it with industrial lamps for lighting. You can place some drinks, wine, or cocktails that are reserved for guests. This bar service is fit for simple chic bohemian wedding ideas.
Play with Fairy Lighting to Decorate The Venue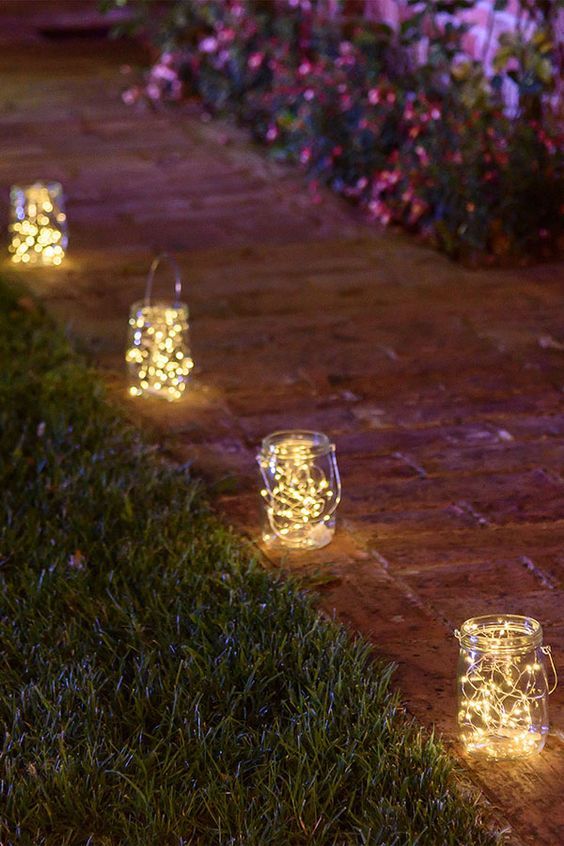 Aside from candles, you can draw a romantic ambiance through fairy lighting for simple chic bohemian wedding ideas. The simple way is to prepare string lightings that you place on the jars and then organize them to become aisle markers. They look great when you have to hold a wedding reception at night.
Unique Boho Wedding Buffet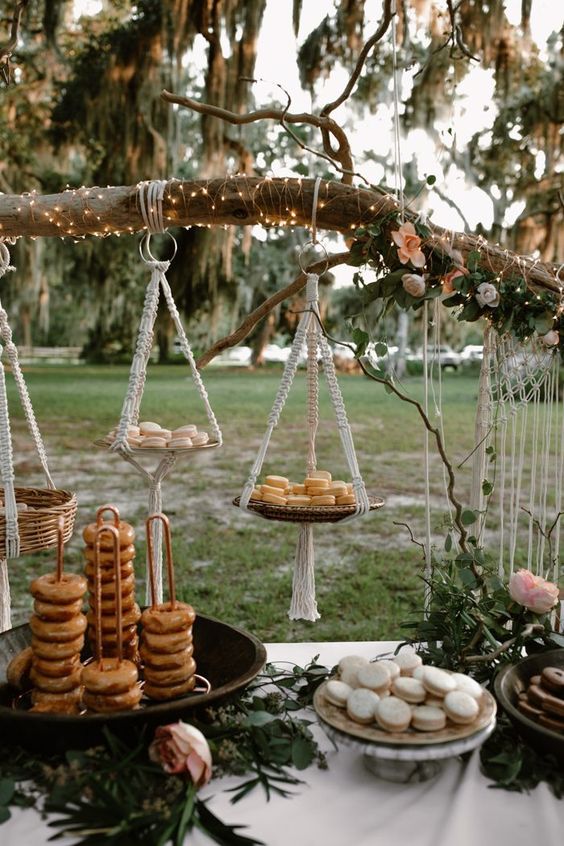 According to the simple chic bohemian wedding ideas that you want to create, you can select a more casual or structured food buffet. One option that would stand out is to serve food from food trucks that you order from local restaurants. Another option is to create a unique family food buffet style, such as using a hanging stand macrame to serve desserts at outdoor wedding receptions. When it comes to the type of foods, you can pick local or seasonal foods that are familiar to your guest's taste. If you can, serve wine and beer or cocktails from local vineyards or breweries. This would provide your guests with an unforgettable wedding experience.
Arrange Photo Display for Romantic Decor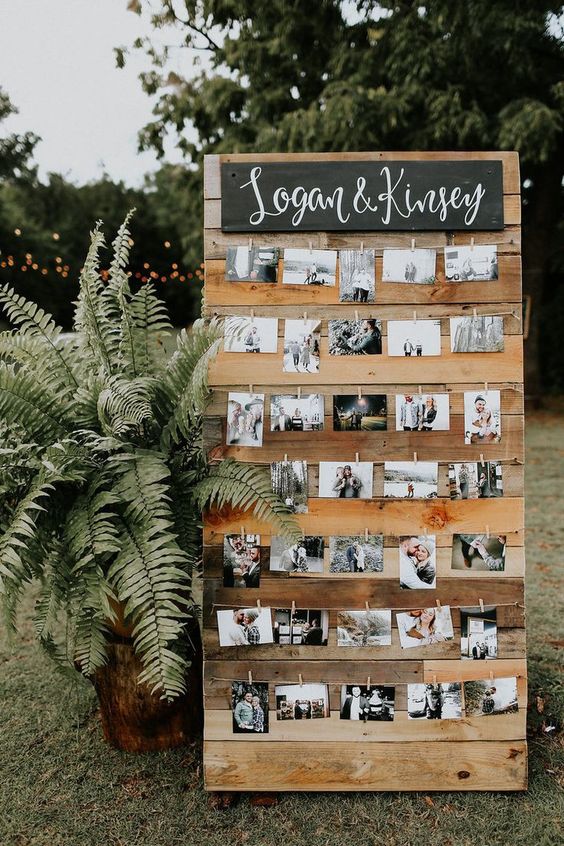 Get creative with your bohemian wedding ideas using photo display. Arrange both your memories photos and prewedding photos in a board. You can use black and white photos as a vintage concept that feels romantic. This display photo would shows the journey of your love story and beautiful moments that you create together until now.
Use Natural Confetti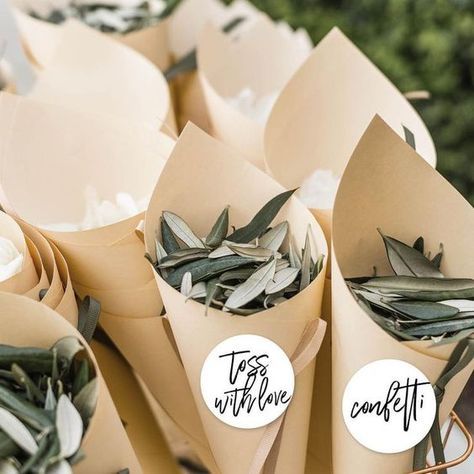 When you look for other ways to bring simple chic bohemian wedding ideas, you can try to make a festive using wedding confetti. This is a kind of wedding ritual in the bridal processional as symbolize unity ceremony. Rather you use common wedding confetti, make it more natural and organic by using dried flowers or leaves that are formed in cute pieces.
Boho Wedding Color Scheme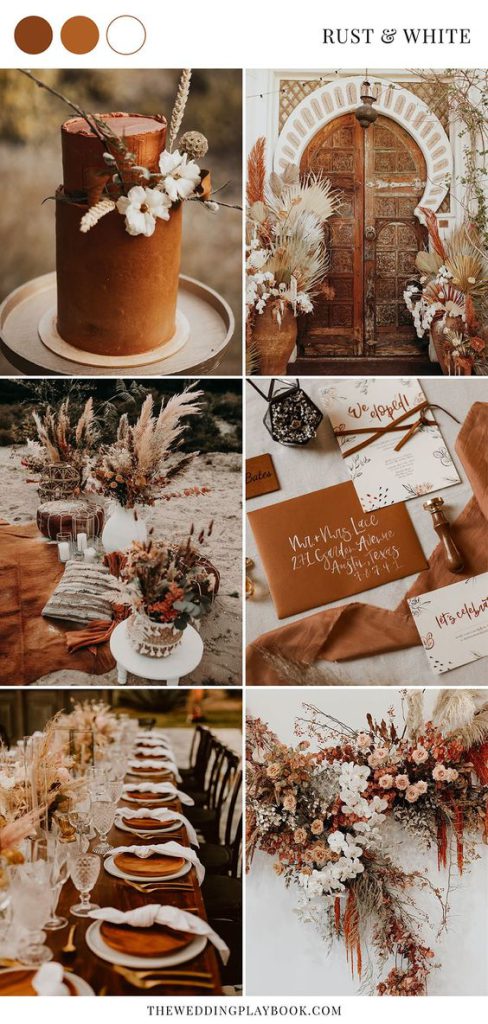 Indeed bohemian weddings can use any color scheme. However, most often boho weddings use neutral and earthy-toned color palettes. Regarding recent trends, terracotta become popular in simple chic boho wedding ideas. Palette colors such as rust, burnt orange, brown, and beige always fulfill the wedding venue and decorations. Combine with ivory, peach, nude, white, and cream which are also popular shades for boho-themed weddings. The combo of white and rust color schemes would give you more of a rustic feel.
That's how we see simple chic bohemian wedding ideas. We wish you can get them as your inspiration to get your dream wedding. Not only that, but with this bohemian wedding concept, you can have intimate and romantic wedding receptions on a budget.