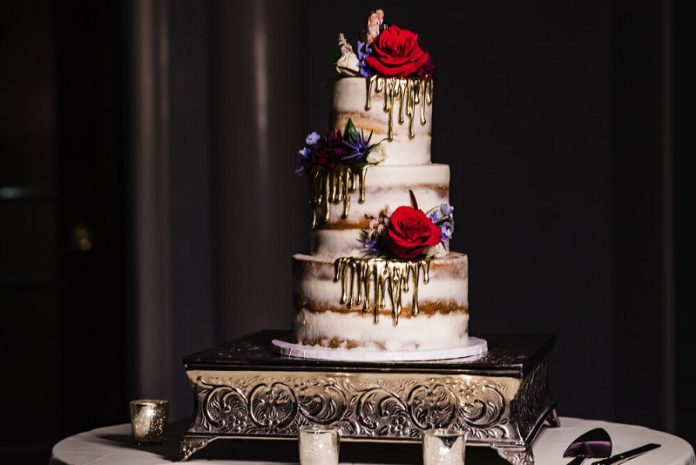 Roowedding.com – Halloween is quickly approaching! If you're looking for a unique wedding theme this fall, a Halloween wedding theme is always alluring. Whether it's a fall-themed or a trick-or-treat reception, Halloween will give you creative wedding ever. Aside from decorations and dresses, the most important aspect of your wedding is the cake. The wedding cake is an iconic symbol that can also bring your dream wedding concept to life. So, if you're seeking some inspiring Halloween Wedding cake designs, you come to the right place.
Fall and Halloween go hand in hand, which is why incorporating those themes into your wedding reception is a great idea. In the Halloween wedding idea, perhaps you could select delectable fall wedding cupcakes, add more gothic elements to the cake, and use deep or moody colors for wedding cake inspirations. After all, your Halloween wedding cake design can be as unique and out of the ordinary as you want.
If you're an October bride looking for a Halloween wedding cake, we would happy to help you. We've compiled some inspiring Halloween wedding cake designs that are unique, elegant, and even a bit scary for unforgettable marriage. Without further ado, here is a list of Halloween-themed cake designs for your autumn wedding.
Pink and Black Wedding Cake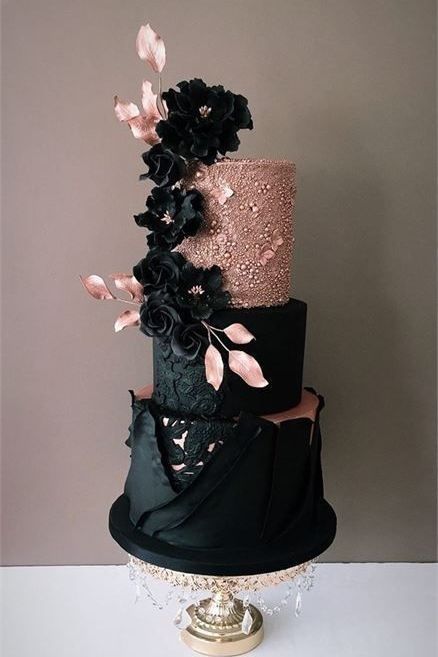 Most couples usually prefer black color for their Halloween wedding cake design. However, you still have the option of selecting different colors. Actually, you can put it all together to make an elegant Halloween-themed cake design. Like, combine pink and black into your wedding cake design. You can have a three-tiered cake that has different colors and decorations. You can use a pink cake wrapped in black fondant for the first tier, a black cake for the second tier, and a pink cake with pearl garnishing for the third and topper. In addition, get black and pink floral fondant to beautify your wedding cake idea.
Wedding Cake with Topper Silhouette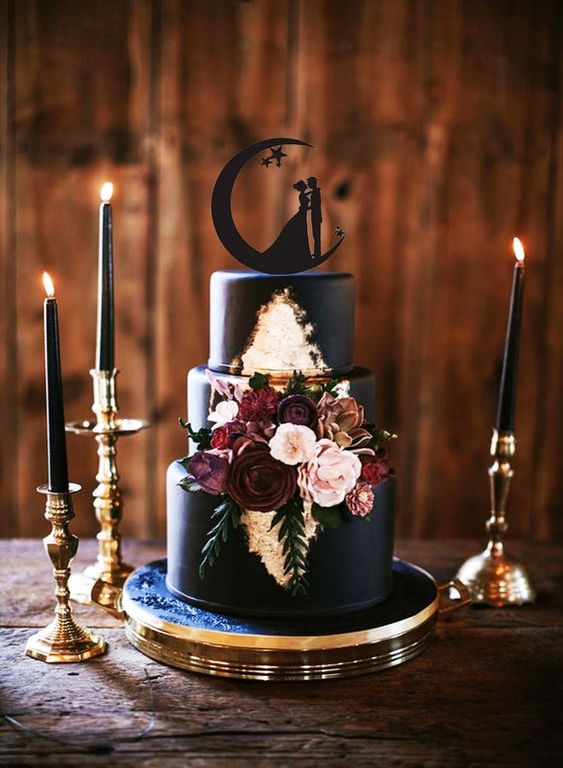 Not only from color, but you can also get stunning and magical Halloween wedding cake designs using a personalized topper. Choose this couple silhouette topper in your black wedding cake then use fresh flowers to soften the overlook. If you like romance, you'll love this silhouette topper that's made out of durable paper materials in your industrial Halloween wedding theme. Furthermore, you can also add a gold accent to your cake and use a gold cake stand to give your inspiring Halloween wedding cake an elegant and classy touch.
Skull Fondant Cake Design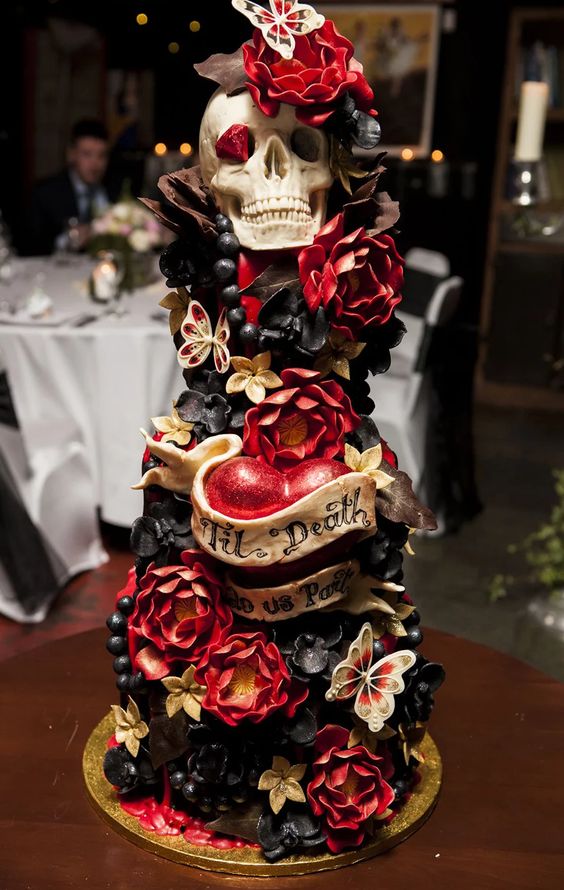 If you want a striking Halloween wedding cake design, this skull fondant cake could give you a glorious vibe. The skull with black and red flowers made of fondant looks amazing with the quote "Till death do us part" in the center of it. Besides, this cake represents dark romance to your wedding concept.
Semi-Naked Woodland Cake Design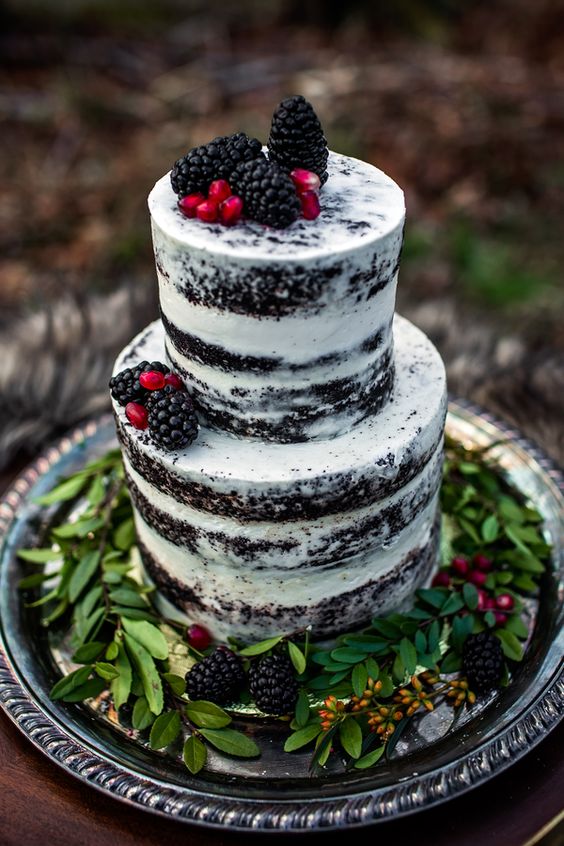 When it comes to Halloween wedding cake design, it doesn't always have to be scary and spooky. Something as simple as this semi-naked cake with berries as a topper would be ideal for your woodland wedding theme. Especially when you add greeneries to the cake stand, it will give you a simple yet elegant cake for outdoor wedding receptions.
Red Rose Topper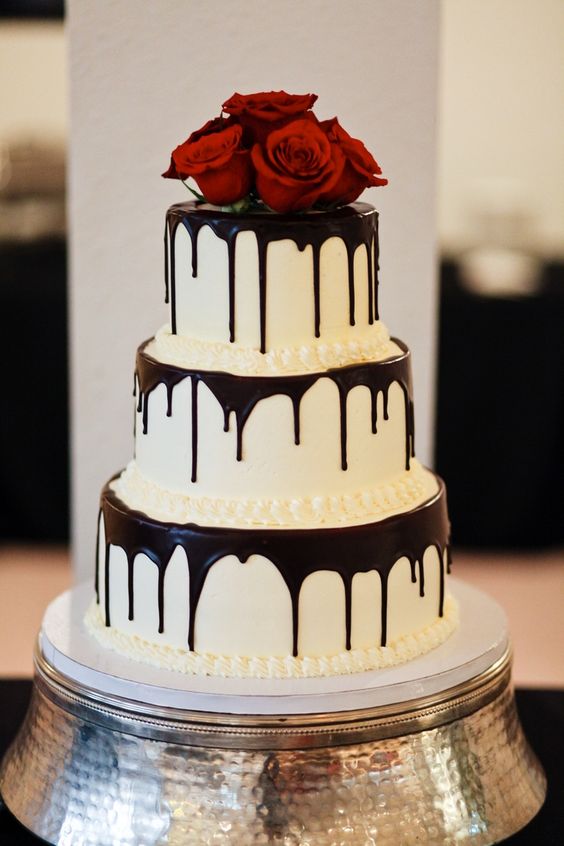 Get a statement to your Halloween wedding cake design using red roses for the topper. These deep moody roses would create dark romance in your three-tiered white wedding cake. Moreover, you can also add dramatic dark chocolate drips to make it look even more goth.
Cute Pumpkin Accent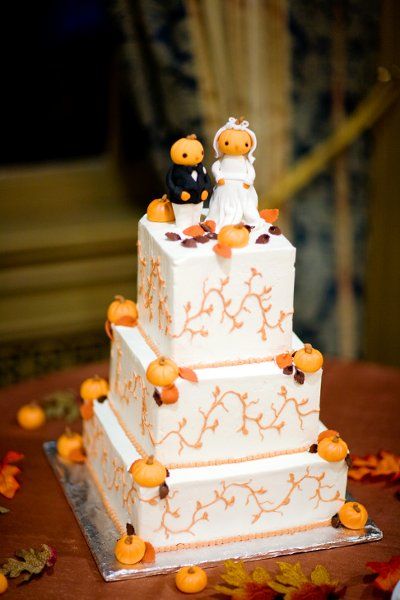 Create your Halloween wedding cake design with another iconic element. Aside from spooky designs, you can make a cute Halloween cake with pumpkin accents. This pumpkin cake has everything we love the most from fall weddings with a Halloween theme. A three-tiered white cake that's adorned with little pumpkins and has pumpkin brides as the topper looks fun. This cake also offers lighthearted touch to your wedding vibe.
Moody Burgundy Wedding Cake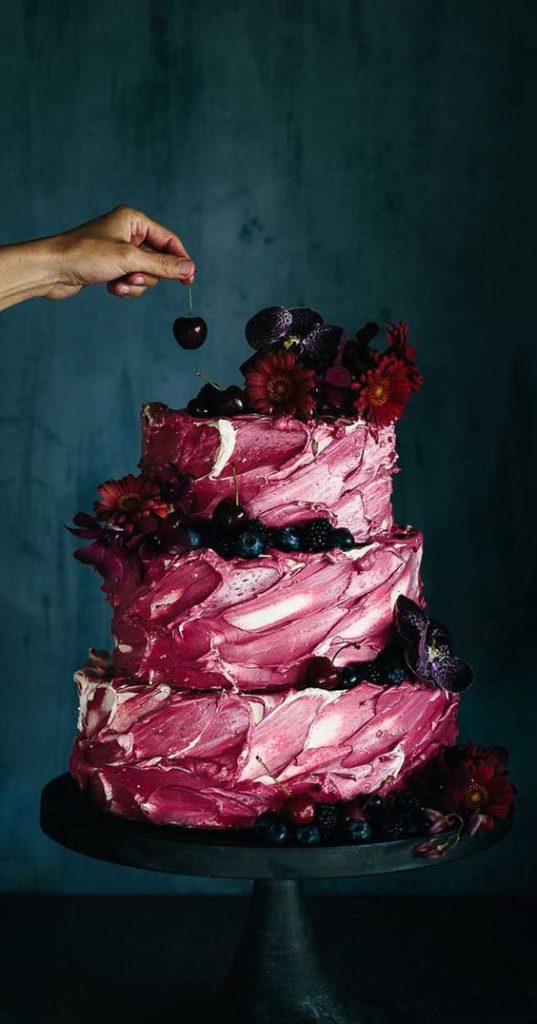 This cake is an excellent idea of how to make an unusual Halloween wedding theme work more friendly. Perfect for brides who prefer deep and moody colors like burgundy with less of a Halloween accent. This Halloween wedding cake design is really pretty in our opinion, and it is a great option if you want a minimalist version of Halloween wedding characteristics. You can get a single-tiered textural burgundy wedding cake with dark red blooms and black cherry as your Halloween-themed wedding cake.
Mirror Glaze Cake with Succulents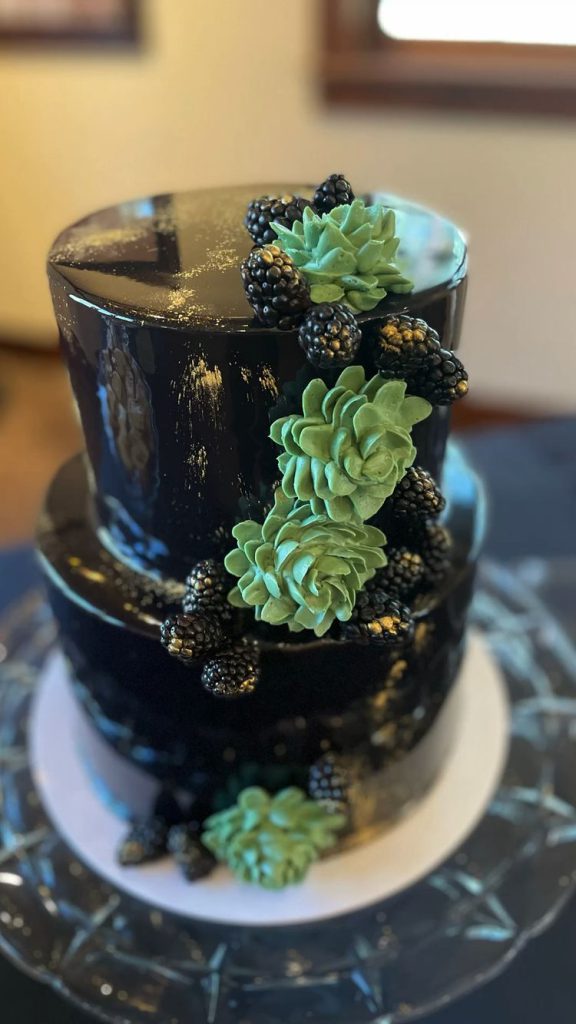 Add an elegant and exotic feel to your wedding day with this black mirror glaze cake. The cake is decorated with buttercream green succulents that look contrast with your black cake that elevates your Halloween wedding cake design. Besides, you can add black mulberries as your wedding cake adornment. This cake is for couples who want to look classy elegant and sophisticated on their wedding day.
Marble Geometric Wedding Cake Design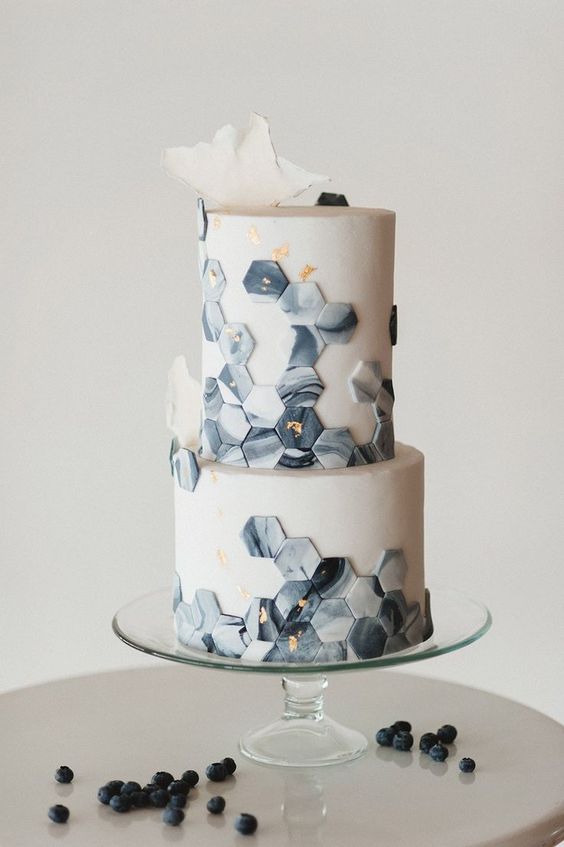 Another sophisticated Halloween wedding cake design that would inspire you is this marble geometric cake. This cake seems simple but it sure would give a point to your wedding reception. Rather than creepy or spooky, the cake looks so much more elegant and creative. With geometric grey marble adornments in the two-tiered white cake, it's quite enough to draw Halloween-themed.
Lush Flowers Cake Design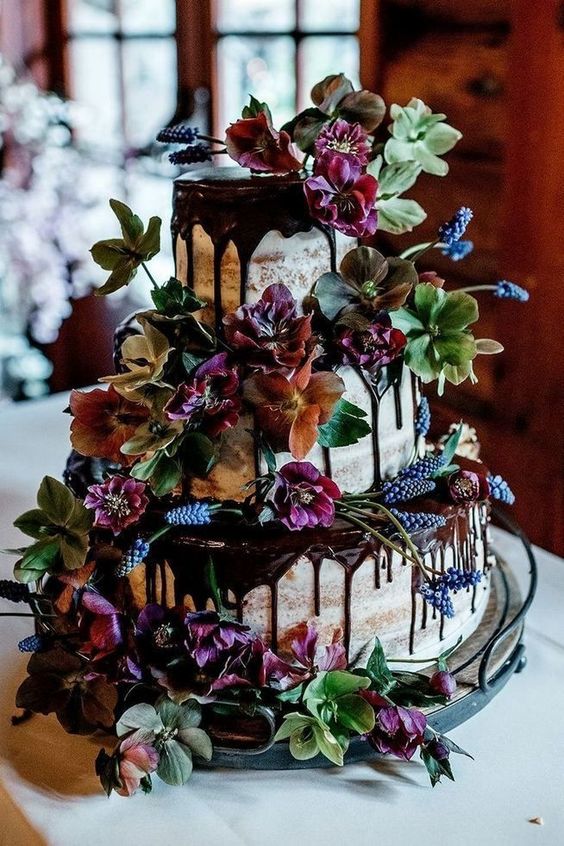 When it comes to Halloween wedding cake design, there are numerous ways to express it. Perhaps if you want something other than black cake, this lush wedding cake could be an option. Even if you use flower decoration, prefer that have moody and deep colors like burgundy, dark green, purple, or red. It would elevate your wedding cake design while still sticking ou to the Halloween theme.
Lunar Wedding Cake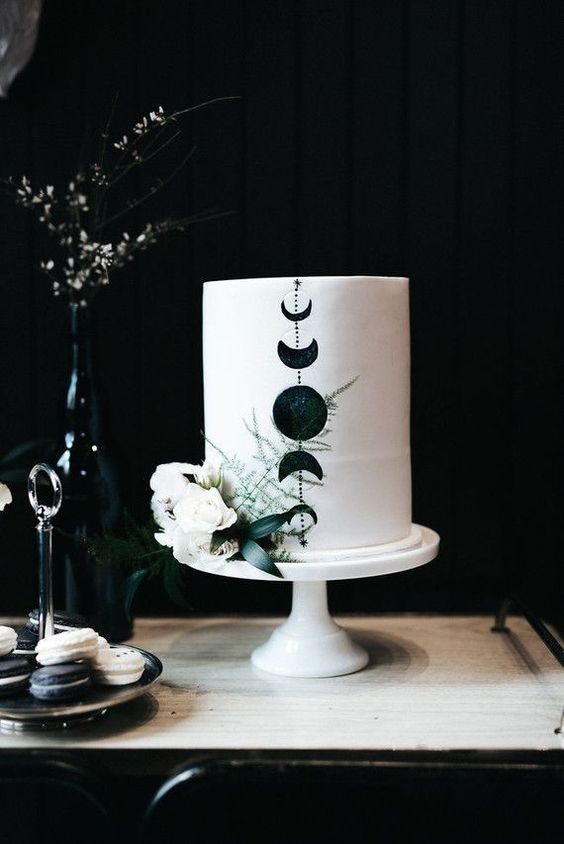 Get this lunar cake into your wedding if you are holding an industrial wedding theme while also having a bit Halloween concept. If you don't like exaggerated Halloween wedding cake designs, this single white cake with black moon phase adornments is ideal for you. In addition, you can give white blooms to the cake stand to elevate it more beautifully.
Jaw-Dropping Muted Cake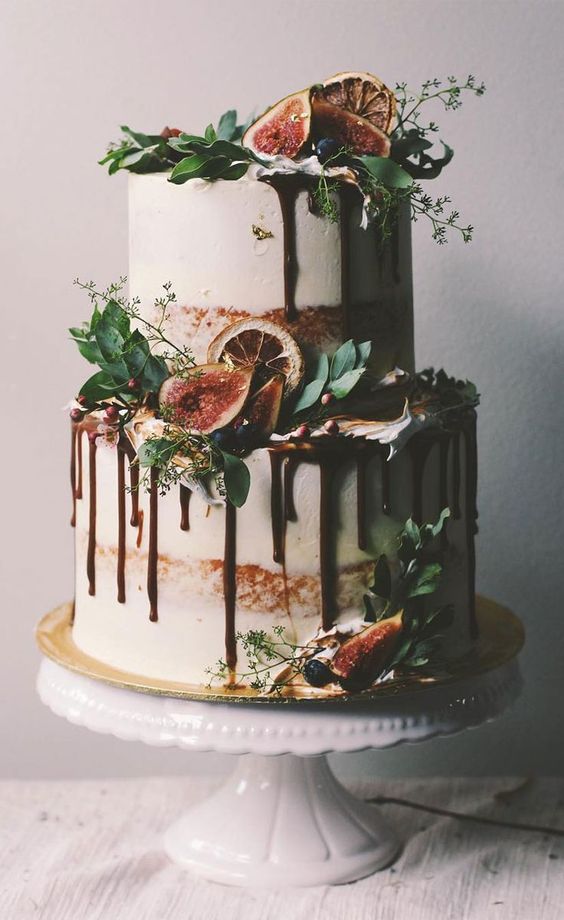 I know you need a statement on your Halloween wedding theme, therefore this jaw-dropping muted cake should take part in your wedding decoration. With just a touch of typical fall fruits and greeneries like figs, dried limes, blueberries, olive branches, or eucalyptus elevate this semi-naked cake to a whole new level. Then you can add dramatic chocolate drops to have a fully Halloween wedding cake design.
Halloween Wedding Cupcakes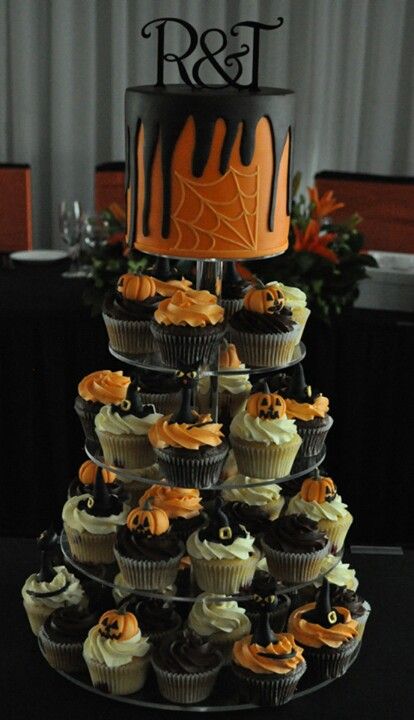 If you looking for alternative wedding cake ideas, this Halloween cupcake is another fun part of your big day. Cupcakes are also used for cute fall wedding cake inspiration, so this is a great idea. To create your Halloween wedding cake design, add creepy cupcake toppers like rat bats, RIP, ghosts, witch hats, and pumpkins that are Halloween-themed. You can use white and black cupcakes that are decorated with orange, chocolate, and white buttercream then put a topper on it.
Gothic Wedding Cake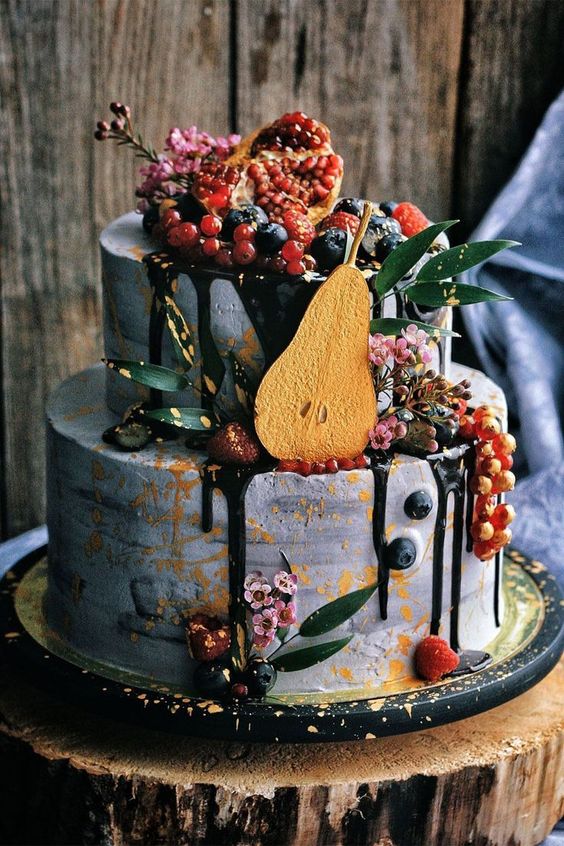 At first thought, a Halloween wedding cake design may appear to be in the black and spooky figure. However, if you're talking about Halloween, there are some other, more approachable ways to incorporate the theme into your wedding cake. Like this lovely mate grey cake with chocolate drip, fruits, berries, and adorable blooms that will add a chic touch to your wedding cake idea. I believe the gray color is also unique and different for your wedding cake design, especially if you want to incorporate a Halloween theme.
Golden Accent in Wedding Cake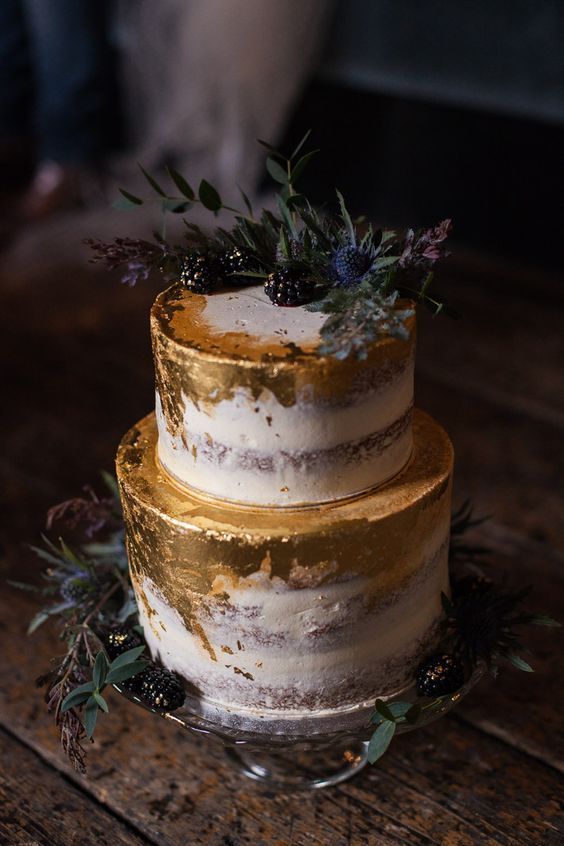 If you're tired of black, moody, and deep-colored cakes for your Halloween wedding cake design, consider this semi-naked cake with a golden accent. Halloween does not have to be spooky, something sparkly and whimsy can work just fine. Furthermore, Halloween begins with the fall season, and this simple cake can capture the mood. In addition, get some greeneries, navy blooms, and mulberries as a garnish to beautify your wedding cake design.
Fall Wedding Cake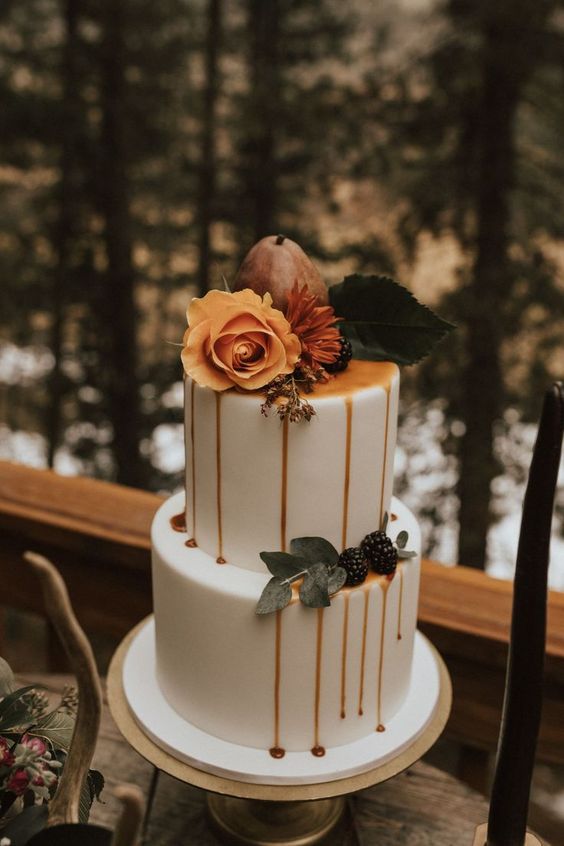 As we all know, Halloween begins in October when the fall season shows up. So, it allows you to incorporate both themes into your wedding concept. A goth wedding decoration can create a Halloween vibe, whereas a fall wedding cake idea can create an autumn vibe. Use a two-tiered white cake with fall-colored blooms, fruits, greeneries, and caramel drops to make your Halloween wedding cake design look simple in the fall accent that also seems elegant.
Emerald and Gold Wedding Cake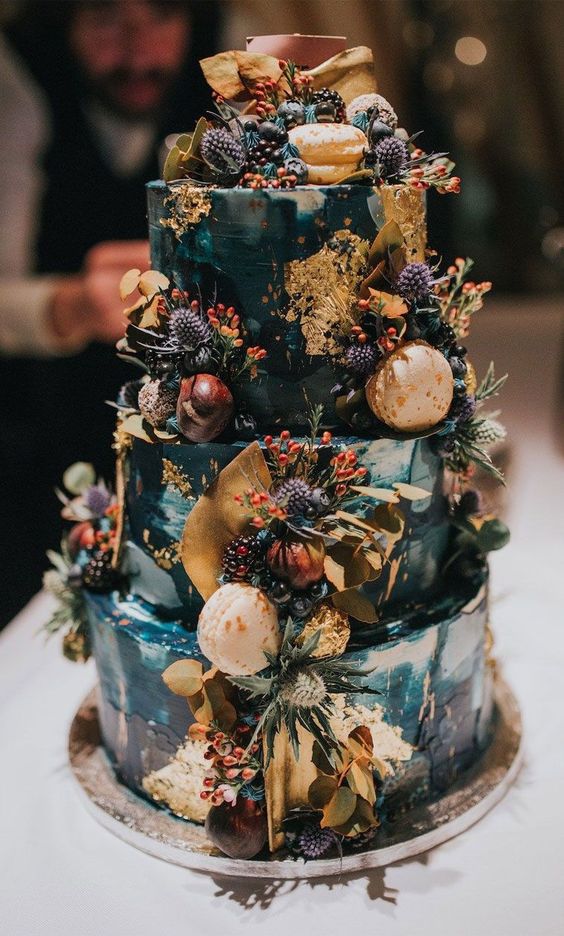 Your Halloween wedding cake design doesn't need to always be covered in skulls, spooky, or spider web adornments. This vibrant three-tiered emerald and gold wedding cake appear both classy and elegant to be a part of your wedding celebration. Fill it with fall greeneries, blooms, and fruits to stand it out. In addition, you can fill up the empty part with a golden splash to get a classy glam wedding cake.
Deep Red Cake Design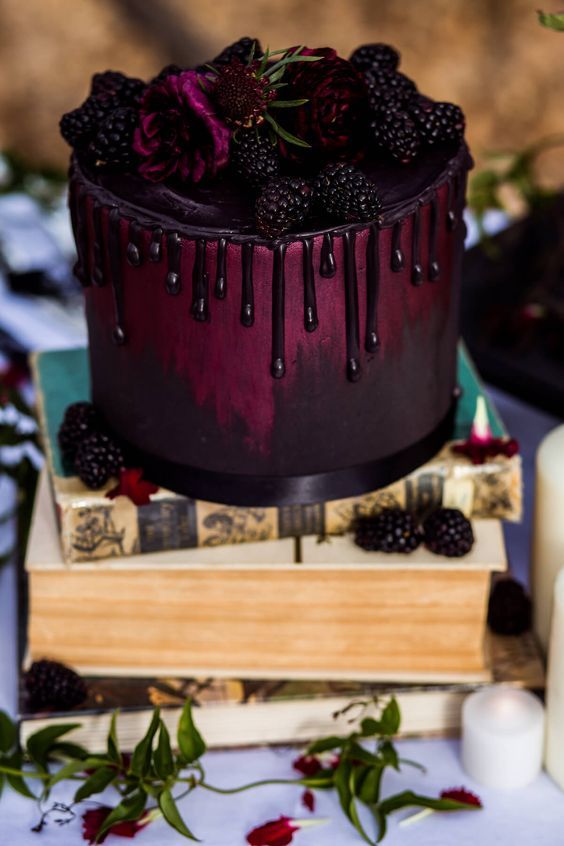 A beautiful Burgundy ombre wedding cake with chocolate drip, berries, and moody blooms is chic for a Halloween wedding cake design. We love how the deep red colored blend with a chocolate drip that figures out like blood dripping. Even if it's nothing like a creepy and scary character in it, just using a deep and moody color scheme, it's enough to draw a Halloween theme in your wedding cake.
Dark Marble Wedding Cake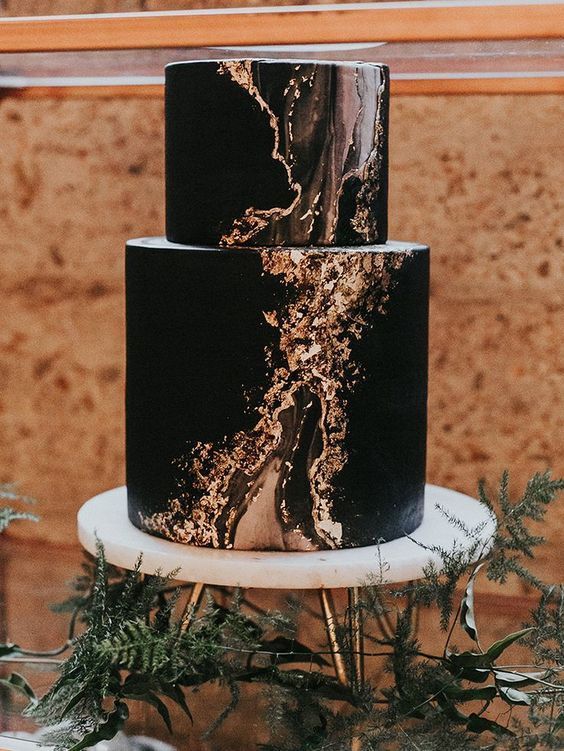 This amazing Halloween wedding cake design resembles classy marble. It's the ideal mix of romantic and industrial design, and the gold accents really make the whole thing stand out. When you prefer an indoor wedding ceremony, make sure to bring this wedding cake as inspiration.
Dark Chocolate Cake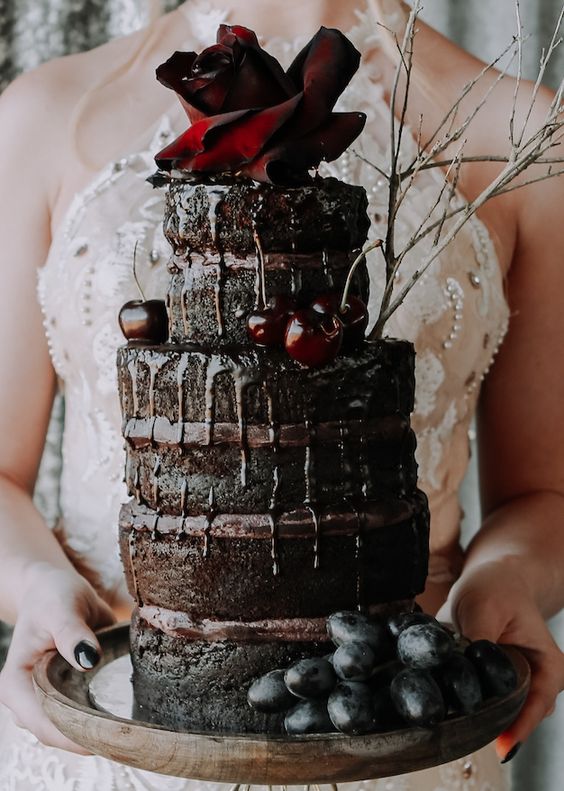 How about this naked chocolate cake? I think this cake is quite enough to describe the gloomy atmosphere of Halloween. Furthermore, because it is simple and easy to make, it can also serve as a low-cost Halloween wedding cake design. If possible, you can even make it yourself. You just need to bake some chocolate cake or brownies, then arrange it makes 3-4 tiers with chocolate cream in each layer. Adorn the cake with a big red rose as the topper, some cherries, and some dry twigs, then give chocolate drops for the finishing touch.
Celestial Wedding Cake Design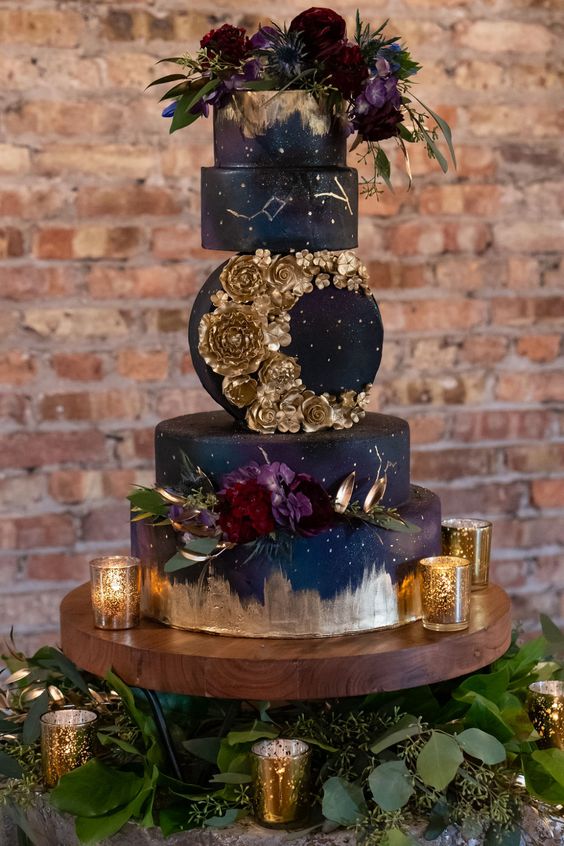 Draw a beautiful night sky in your Halloween wedding cake design to put a whimsy vibe on your wedding day. This amazing celestial cake will impress your guests and complete your Halloween wedding reception. The colors black, navy and purple would make a lovely night color. Then fill up your cake with a golden splash that looks like shining stars. You can also create a crescent with gold sugar blooms to make it more lovely. This cake can give you the most magical Halloween wedding cake creation ever.
Blood Drip Wedding Cake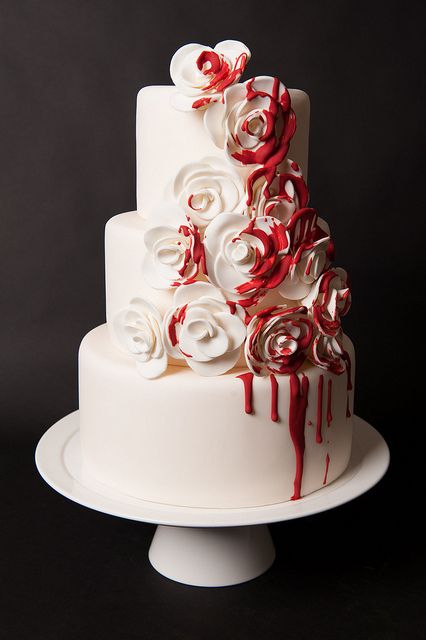 If you want something that bold yet simple, look no further than this bloody cake. This cake design represents a dark romance, which is appropriate for a Halloween theme. You can use a delicate white cake that's adorned with flower fondant and the most important performance being the addition of red sugar/chocolate drops that resemble blood on the cake.
Black Cake with Burgundy Accent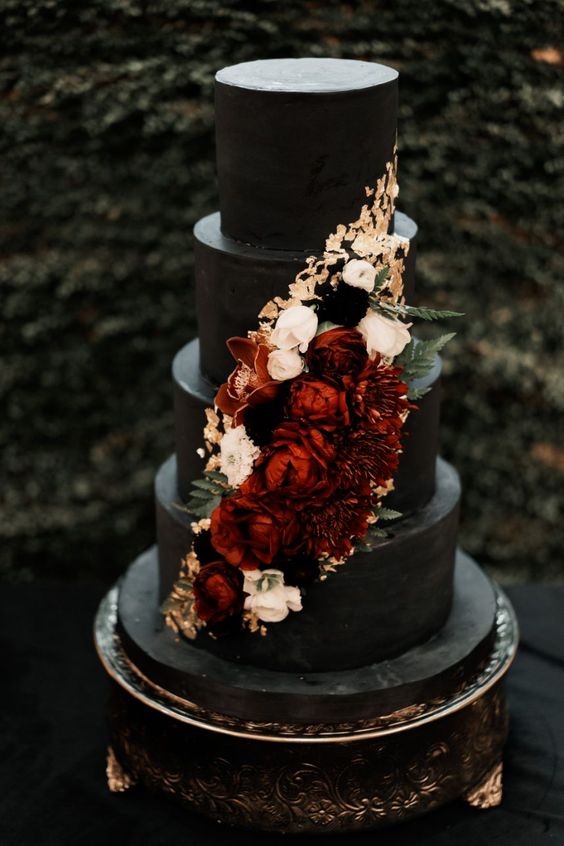 Another black wedding cake for a Halloween-themed wedding! This black and burgundy Halloween wedding cake design is available to you. Rather than scary, this cake looks more gothic and elegant while still perfectly capturing the wedding vibe. The all-black cake may seem simple, but it is eye-catching. Furthermore, when you add deep red flowers, it would deliver a "creep" feeling.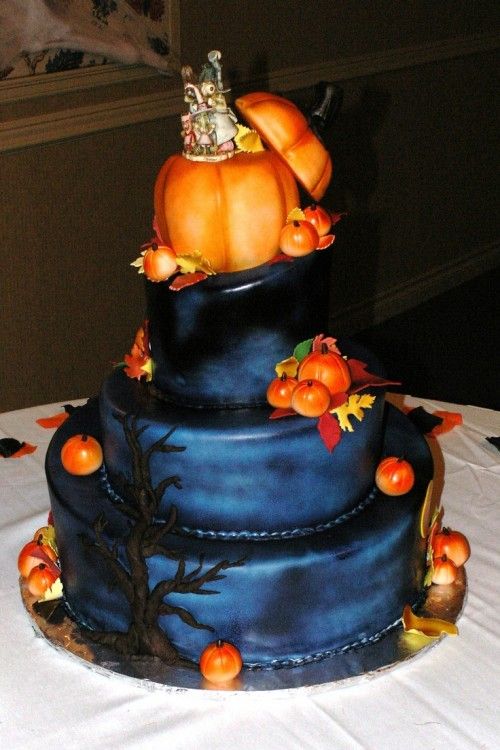 This cake has everything about Halloween-themed. Dark forest silhouette against a blue night sky, and pumpkins, it's all put together in this unbelievably stunning Halloween wedding cake design. Despite its dark elements, it conveys a fun performance. And the pumpkin topper in this would give you sweet and lovely touch!
White and Black Cake Design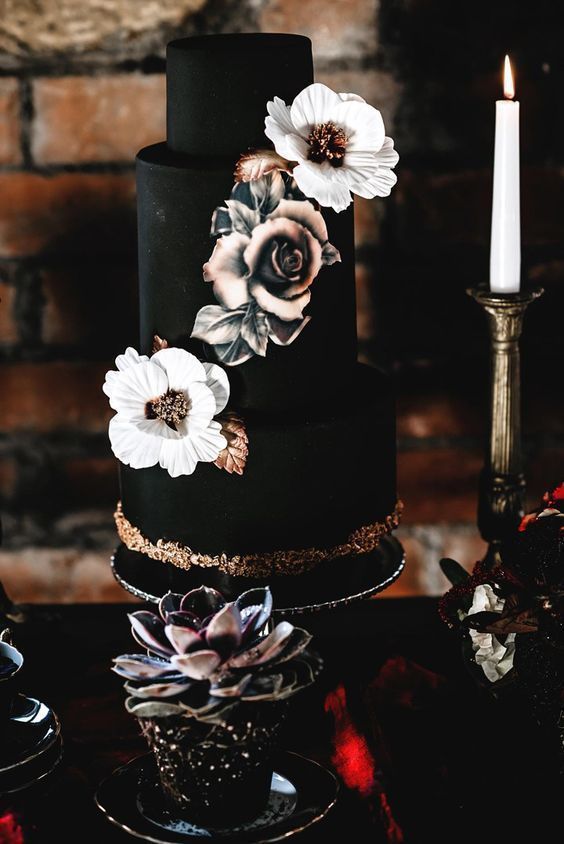 Black and white are a classic combination but it's timeless, especially to draw Halloween concepts. A chic matte black wedding cake with a white paintbrush flower and also add fresh white flowers plus gold glitter is perfect for your elegant Halloween wedding. This Halloween wedding cake design is simple and unique, right? The colors are totally fitting to embrace your autumn nuptial in this spooky month.
Purple and Black Wedding Cake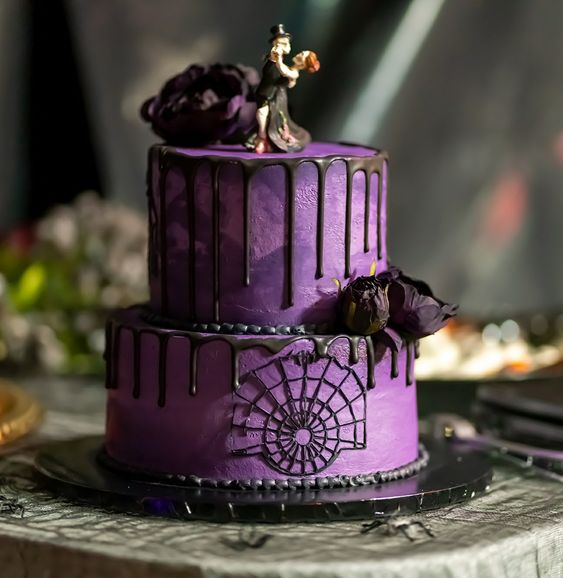 The fall and Halloween seasons almost always work well with a gothic vibe. Both give the impression of the wedding theme being dark and gloomy. Now, we can bring back a spooky gothic cake with purple and black nuance. A creative two-tiered purple cake with dark chocolate drops and a spider web accent is a stunning Halloween wedding cake design. Besides, dancing skeleton bride toppers and dar purple blooms would bring a delicate goth feeling in a fun way.
Halloween is the most popular fall wedding theme. If you have planned it, you can add a bit of spooky and scary features to your wedding cake idea. And one of the biggest trends in Halloween wedding cake design is black cake. While you can also bring some quirky toppers that can also bring a Halloween vibe. What do you think about some of the Halloween wedding cake designs above? Do you think it could bring a fantastic and unique wedding day this fall? You can try it at your wedding and pick what you really like.