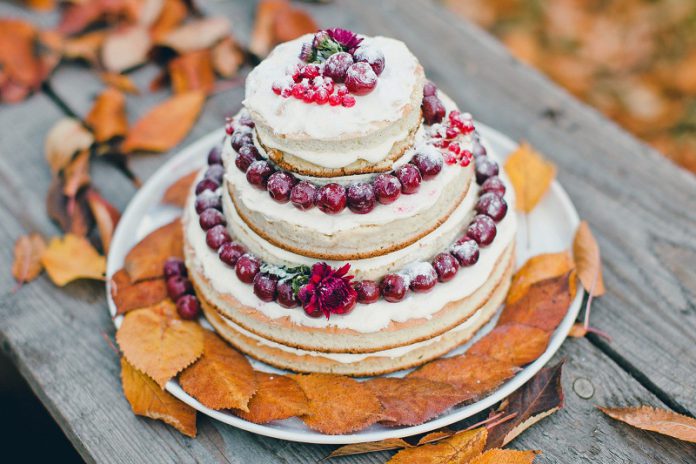 Roowedding.com – An autumnal vibe would decorate your nuptial if you plan to get married in September, October, or November. There are numerous ways to make your wedding a spectacular event. From outdoor wedding venues with fall foliage to wedding decorations, and also wedding themes that determine your wedding concept. Wedding cake design is no exception, as it is an iconic part of your wedding day. For this, there are many options for decorative fall wedding cake inspirations.
You've come to the right place if you're looking for inspiration for your fall wedding cake. Choosing seasonal desserts for your special day is actually quite easy. Simply incorporate fall color palettes, use fall foliage, or contain a harvesting theme in the cake design. When it comes to autumn weddings, the most popular cake design is one with rustic accents. Couples also can prefer alternative wedding cake ideas like using macarons, cupcakes, pies, or doughnuts. So, if you intend to hire a cake baker and plan for cake testing, it's not a bad idea to start thinking about the specifics of the fall wedding cake inspirations that you want to create.
We've rounded up some of our favorite autumnal wedding cake designs. From simple buttercream confections adorned with greenery to sophisticated marble cakes and contemporary semi-naked cakes, we have it all. So, here are 30 fall wedding cake inspirations for every taste and style to complement your autumn nuptial day.
Wedding Cake with Dusty Bloom Adornments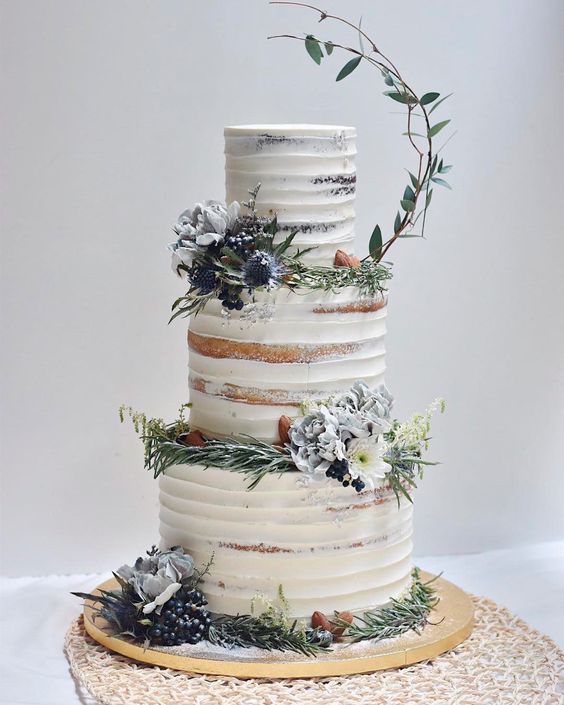 How do you want to incorporate autumn into the design of your wedding cake? Simply, get greeneries and flowers for a fresh and beautiful garnish. You can also request a three-tiered semi-naked cake from your baker, followed by fresh natural garnish. Then, the best adornments for your fall wedding cake inspiration are dusty blooms like dusty miller greens, blue thistle, olive branches, rosemary, white chrysanthemum, and some ligustrum berries. Then, sprinkle powdered sugar on top of the cake to intensify the dusty vibe.
Personalized Acrylic Wedding Cake Topper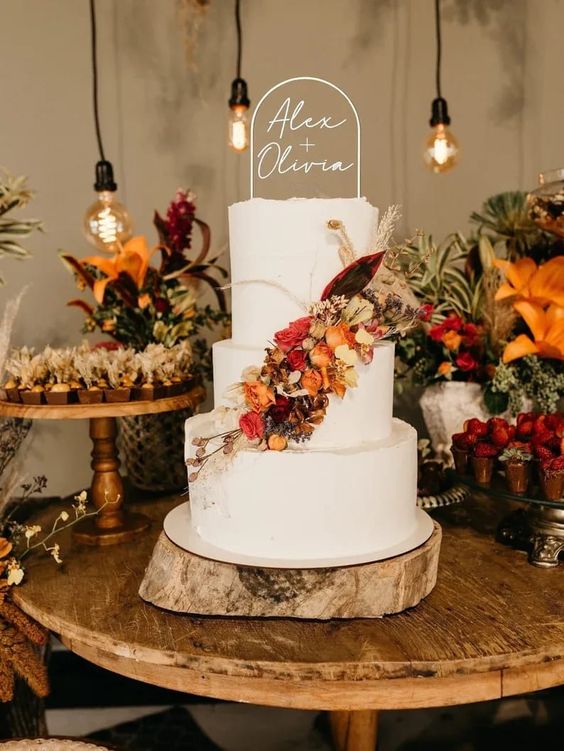 Using personalized toppers is a simple and elegant way to elevate your wedding cake design. Therefore, you can create a custom acrylic topper with your and your partner's names or initials for your fall wedding cake inspiration. Place it on top of your three-tiered white wedding cake garnished with orange blossoms to create the autumn vibe. Then, place it on the wooden stand if you want to deliver a bit of a rustic accent on your wedding cake inspiration.
Pumpkin Wedding Cake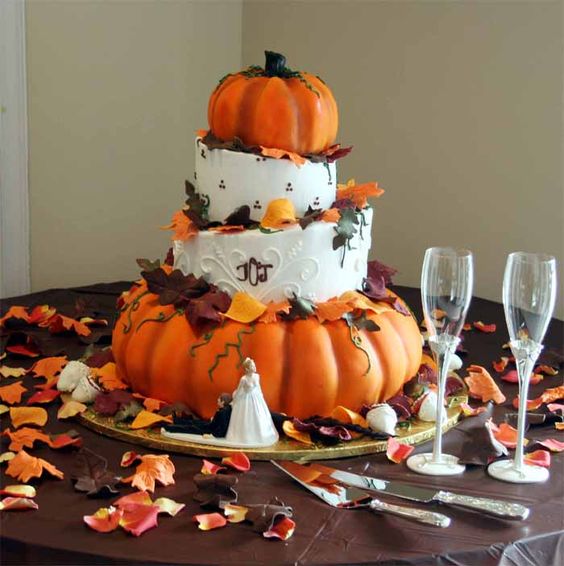 Autumn/fall is known as the harvesting season, and it is here that you will find iconic fruits such as pumpkins and apples. You can create pumpkin cake designs if you want unique and unusual fall wedding cake inspirations. This tiered cake was created with a pumpkin base and a classic white cake combination that looks whimsy. When you want to add a more subtle fall flavor, you can give fall foliage fondant for the garnish.
Fall Forest-Themed Cake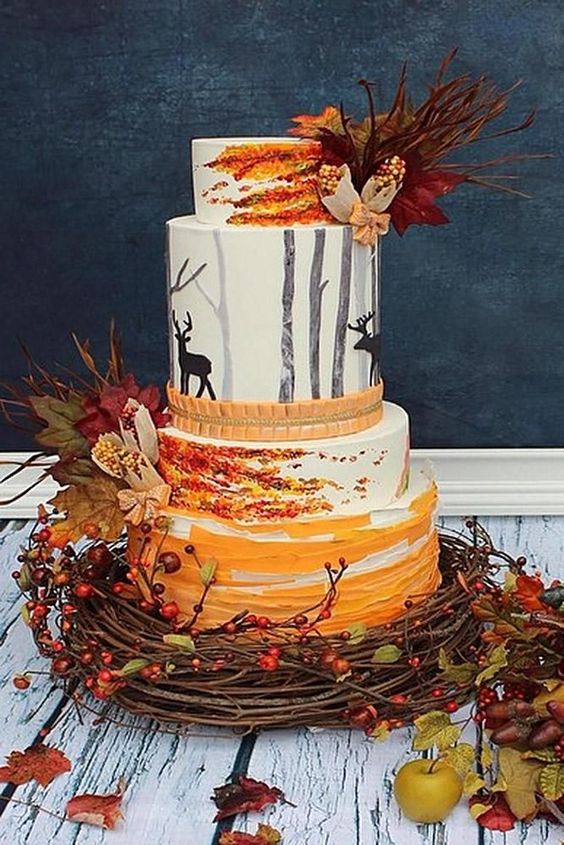 This elegant fall wedding cake design featured a lovely fall scene with a hand-painted forest motif. Using orange shades for a typical autumnal color palette gives this cake the appearance of coming from the countryside. This fall wedding cake inspiration would be perfect to adorn your rustic wedding concept. In addition, you can also give some red hypericum berries, maple foliage, dried flowers, and dry twigs as a fall decorative accent.
Bohemian Wedding Cake Inspiration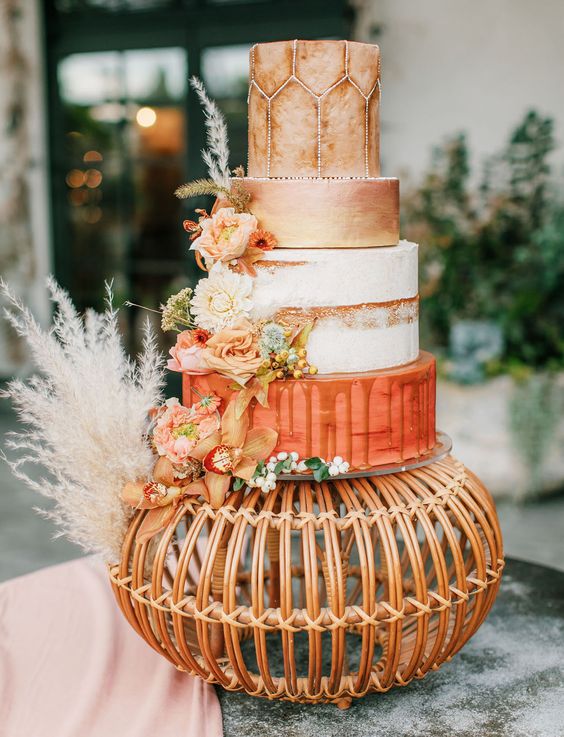 Do you prefer a bohemian theme for your wedding? With the addition of autumn hues, this lovely wedding confection conveys a rustic bohemian vibe. As shown in the image above, using rust as the color scheme for your fall wedding cake inspiration can highlight the theme perfectly. Besides, you can also add a bohemian accent with edible blush flowers and pampas grass for adornments. Furthermore, getting a rattan craft for the wedding cake stand would add more boho twists.
Wedding Cake with Autumnal Fruits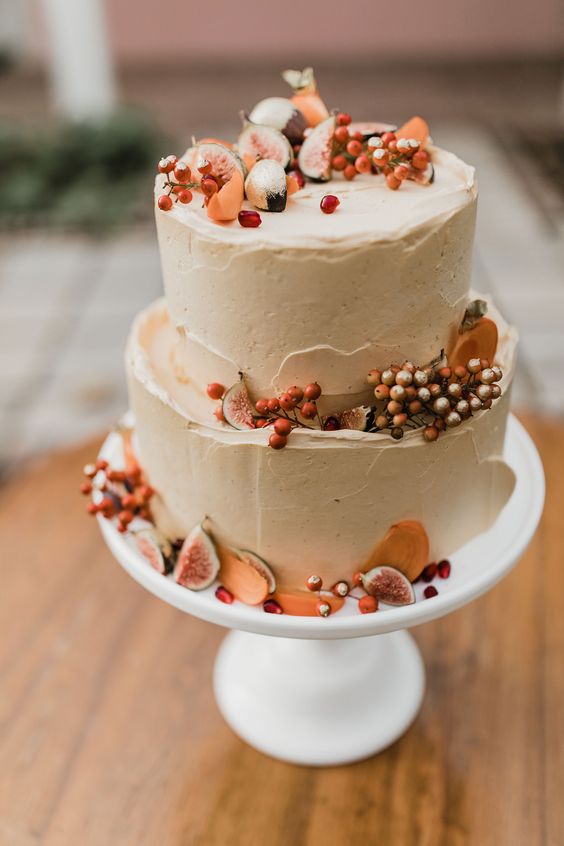 Another way to draw season into your wedding cake design is by using fruits for garnish and toppers. With this bridal cake idea, you can try to introduce local seasonal fruits like apples, figs, grapes, and more. Like this simple blush two-tiered buttercream cake, it's adorned with autumnal fruits like figs, pomegranates, sliced apples, and red hypericum berries. Furthermore, you can make this delicate cake as your fall wedding cake inspiration to go with a garden wedding reception.
Dried Flowers in Wedding Cake Design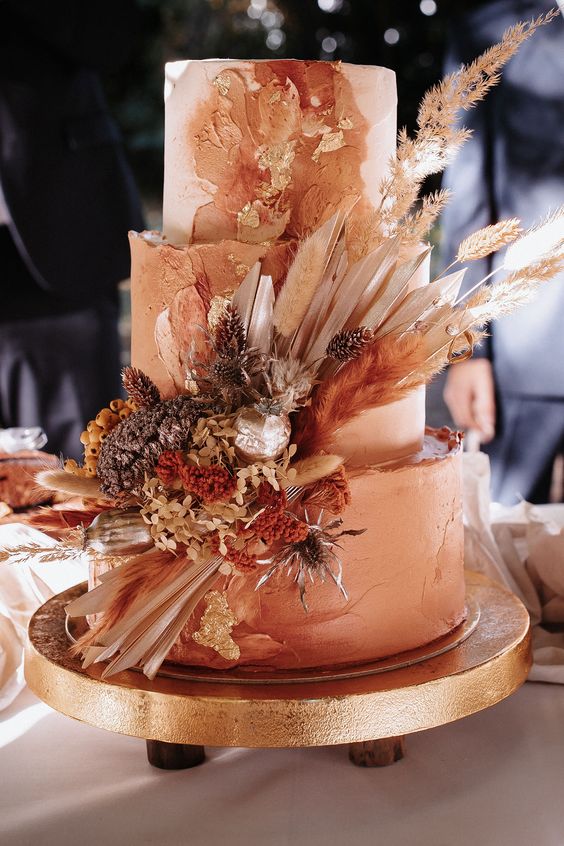 For unique adornments in your fall wedding cake inspirations, add dried flowers! Ask your baker to use dried accents like pampas grass, bunny tail grass, and other dried blossoms for the topper. Besides, you can also add edible gold to your personalized wedding cake to make it look more elegant and classy.
Fall Wedding Cake with Greeneries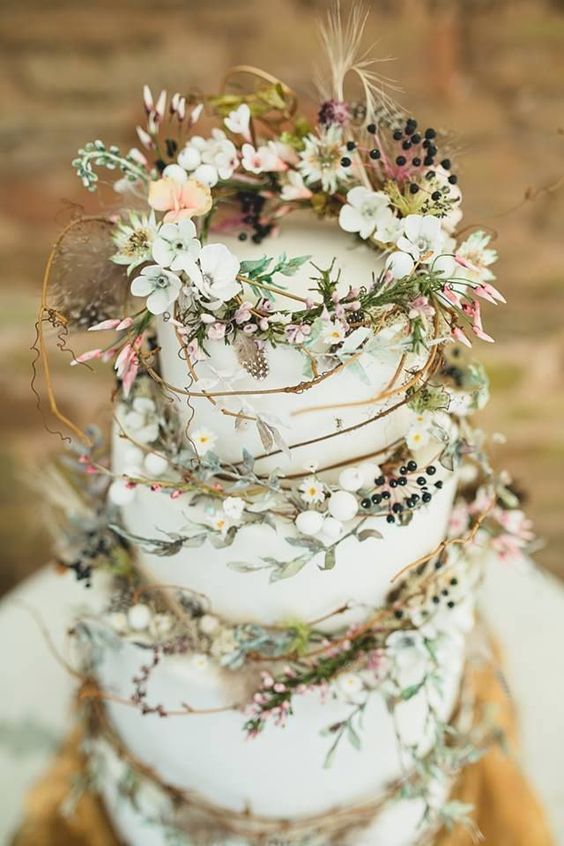 Talking about the fall wedding theme, we can't overlook the wedding cake decor. This white and greenery wedding cake looks gorgeous with a rustic touch. Featuring simple three-tiered white cakes with additional beautiful lush white blooms and greeneries, make this cake attach to your fall wedding decoration stunningly. Especially, if you also want to hold the greenery theme in your seasonal wedding, use this fall wedding cake inspiration.
Use Cupcakes for Alternative Wedding Cake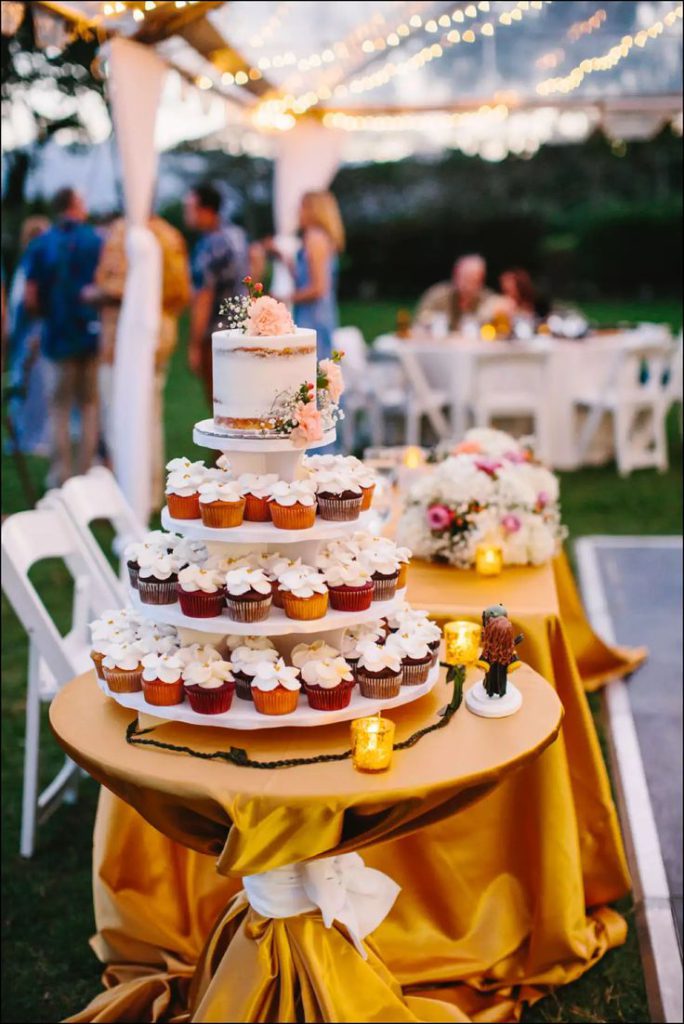 The cupcakes could also be used as fall wedding cake inspirations. We can make a towering cupcake out of them. Not only as an iconic part of your wedding day but also as attractive fall wedding decorations, particularly for the table dessert. Besides, this kind of bridal cake would be easy to share with guests. You can serve a simple white cake for the topper and get some cute cupcakes in the lower tiered. Add some fresh beautiful blooms to give romantic decoration.
Semi-Naked Cake for Fall Wedding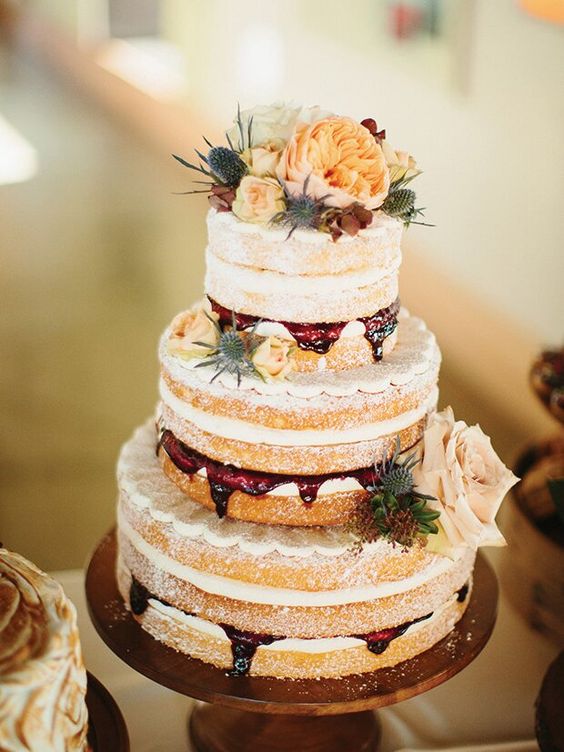 Another wedding cake trend that's coming out this fall is naked or semi-naked cakes. In this cake design, request your baker to use only a small amount of buttercream on the cake layer or replace it with powdered sugar. For a more delicate fall wedding cake inspiration, you can add fall decorative accents like bold blooms, greeneries, dried flowers, berries, and others. Also, you can swap out the frosting cream with jams or caramel for a dripping flavor.
Apple Cider Doughnut for Wedding Cake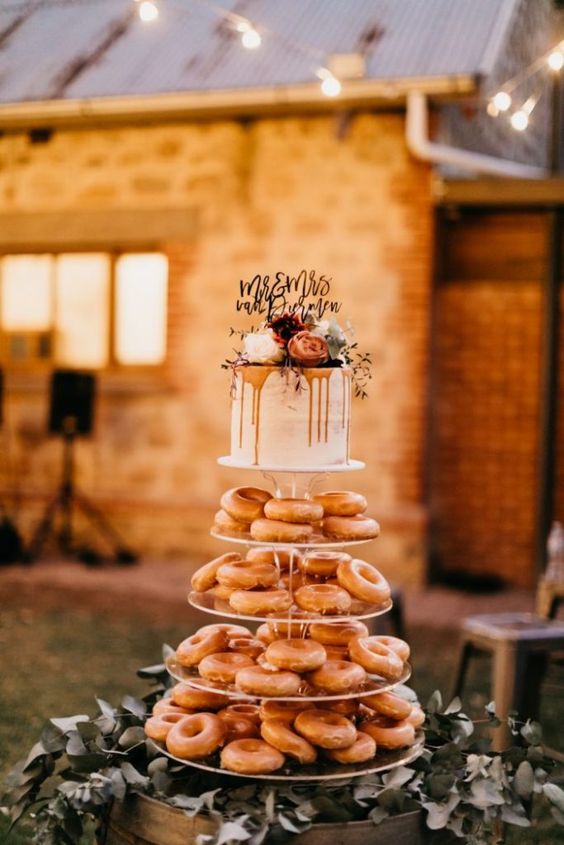 Apple cider doughnuts are a popular fall dessert. So, why not incorporate it into your fall wedding cake inspiration? Doughnuts, like cupcakes, can be made as an alternative wedding cake idea. With this, you can make a doughnut tower out of it or simply use it as a confection decoration. This wedding cake is also for couples who want to serve their guests in a unique and creative way.
Fall Foliages Wedding Cake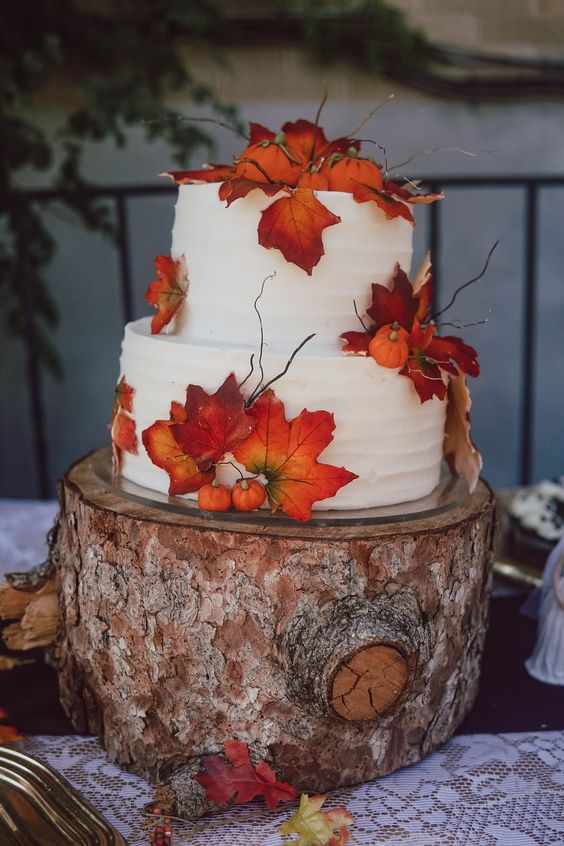 You know, every year when the leaves begin to change color, it feels magical and shady yet romantic. This fall wedding cake inspiration is quite enough to present the season! You just have to decorate your white buttercream cake with fall foliage, maple leaves, berries, or pumpkin sugar garnish that gives you a romantic autumn feel. For a more dramatic serving, you can place the cake on a log stand.
Pastel Colorful Macarons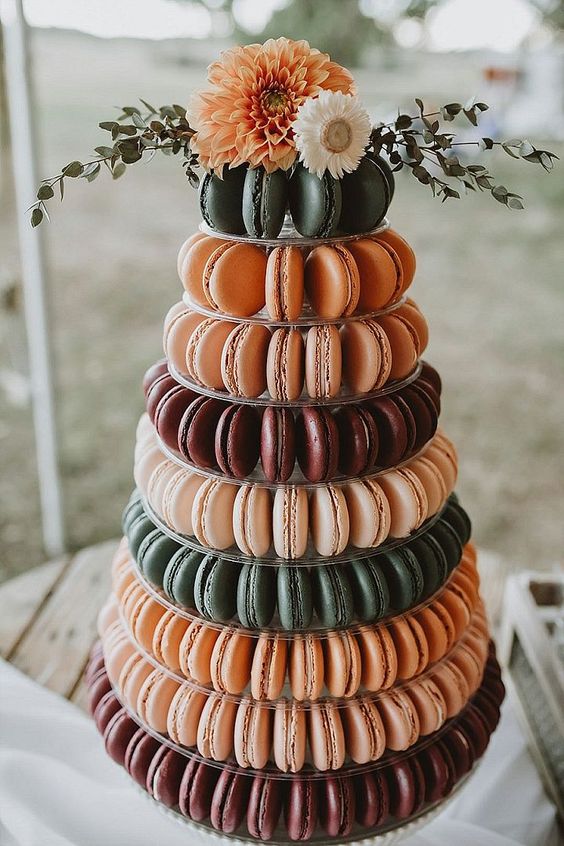 If you tend to a nontraditional wedding cake, macarons are the modern way to create your fall wedding cake inspiration. Simply, you can make a pastel tower from macarons that look sweet and aesthetically decorate your wedding table. Don't forget to add another sweet adornment like fresh blossoms or fruits.
Sweetie Pie Wedding Cake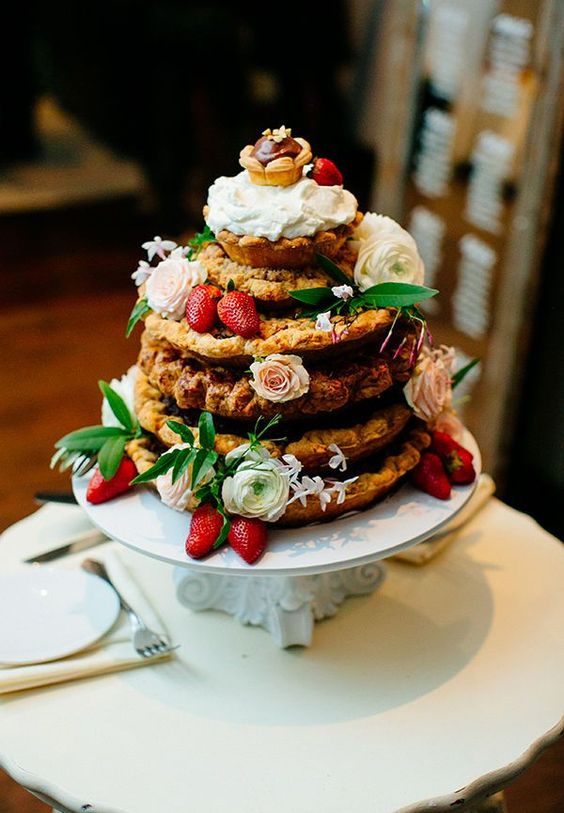 Pie is another popular fall dessert! So, if you want unusual fall wedding cake inspiration you can use it for an alternative cake. This is also a way to add a personal touch when you have a favorite dessert. You can choose a single pie flavor to replace your fall traditional wedding cake, or provide an assortment to complete the dessert table. Furthermore, make a pie tower by piling up different size pies and then adorn it with greeneries, blooms, and strawberries for a sweet look.
Burgundy Wedding Cake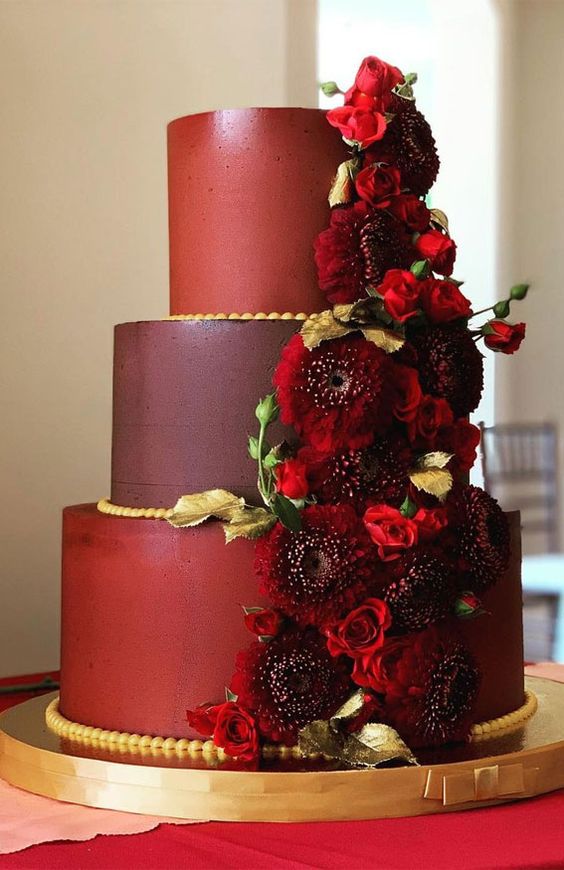 We adore this dark burgundy wedding cake! The bright red color is stunning and will serve as a focal point in your wedding decor. As you can see, this all-burgundy cake for fall wedding cake inspiration will add a festive touch to your big day. Furthermore, you have many options for how to present this cake, from elegant to rustic, whimsy to romantic, anything that you want to create in your autumnal wedding.
Drip Wedding Cake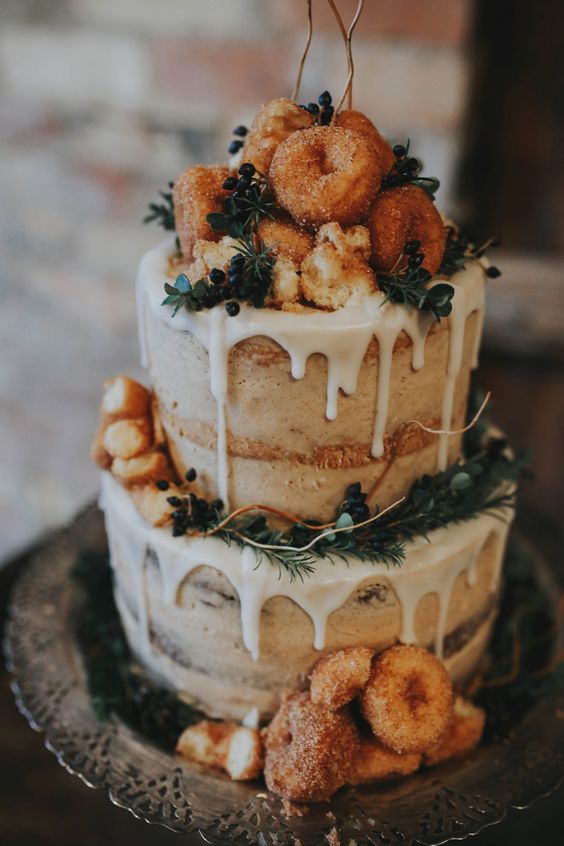 If you want to try something new, make a drip on your cake! The bottom tier of this bridal cake is semi-naked cinnamon cake, and the top is adorned with an apple cider doughnut. All of the cake should be frosted with buttercream and given an extra layer with white chocolate drip to make it look appealing. Or you can swap out the white chocolate with dark chocolate or caramel drip that would give a contrasting accent. In addition, put some greeneries from rosemary and add berries that make this cake perfect on your fall wedding buffet.
Cheese for Wedding Cake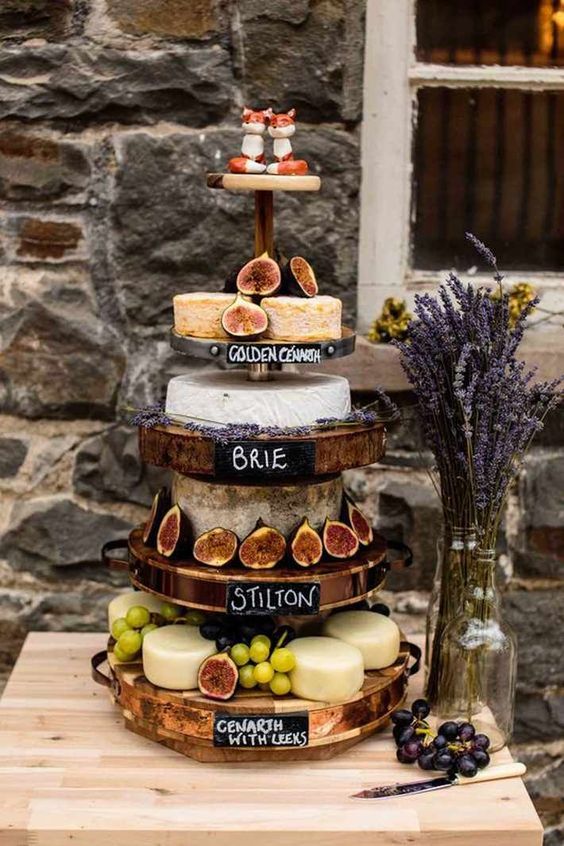 Getting married in a winery or vineyard in the fall? This alternative fall wedding cake inspiration is ideal for those who prefer not to eat sweet desserts. For this, you can choose cheeses for the wedding cake. You can arrange a variety of cheeses in a tiered stand and add seasonal fruits like apples, figs, or grapes and this cake is ideal for a wine companion.
Edible Pressed Floral Cake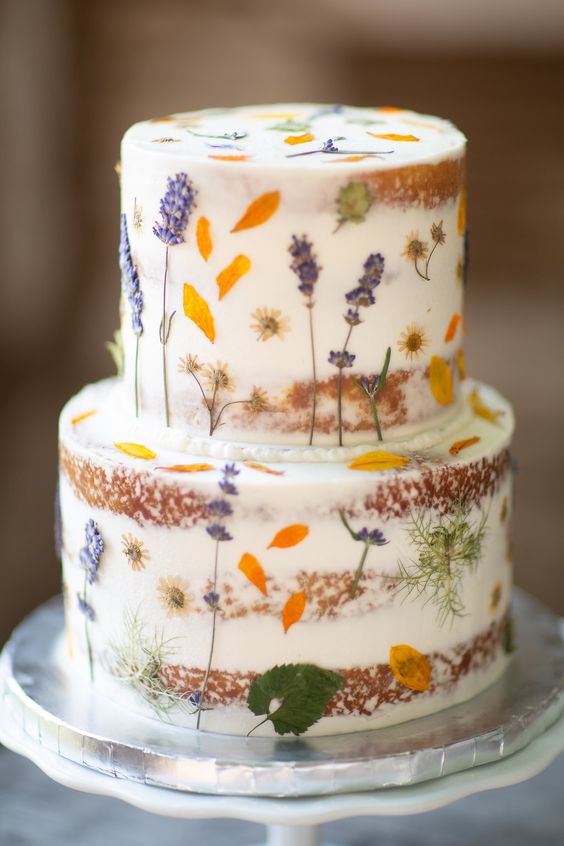 Presenting your wedding cake with flowers as garnish and a topper is becoming a popular trend for years. Either fresh or dried flowers are commonly used as wedding cake adornments. But how about pressed flowers for fall wedding cake inspirations? This is a unique way to jazz up your traditional white cake to become stunningly beautiful. You can press some edible fall flowers into your semi-naked cake and then display it on a log cake stand for a perfect rustic country wedding.
Earthy-Toned Wedding Cake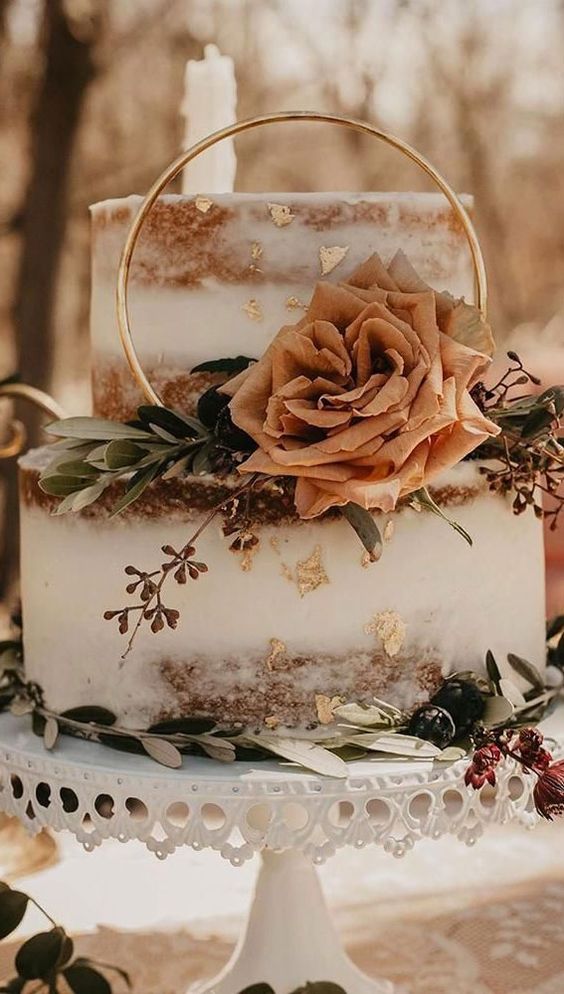 Using earthy tone hues is an easy way to incorporate autumn feel into your wedding cake decoration. Give your fall wedding cake inspiration with a bohemian look in terracotta colors. You can incorporate a big blush garden rose in your semi-naked cake as a beautiful garnish. To make an elegant industrial wedding cake with a rustic accent, give olive branches, edible gold, and a mini gold hoop for additional decorations.
Foresty Cake Design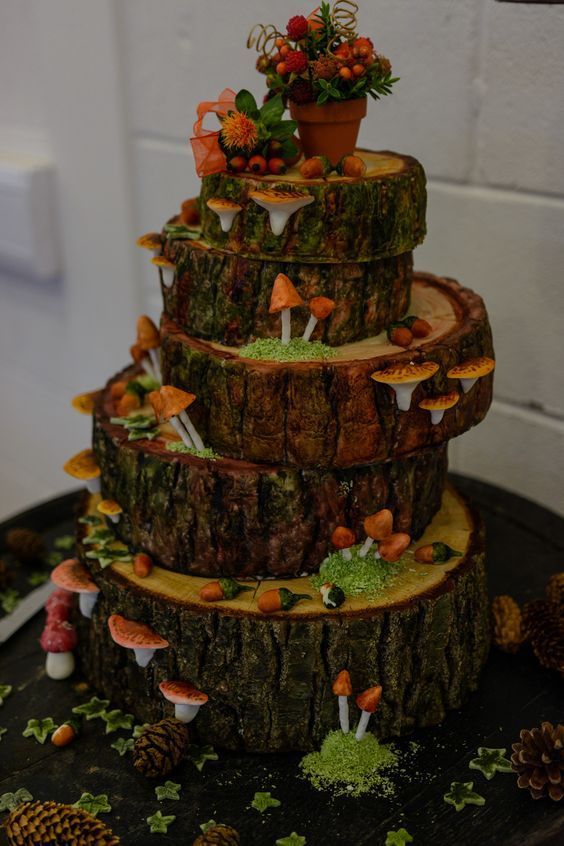 Going with woodland for a rustic fall wedding cake inspiration? You can start with this five-tiered cake that's created like slices of a tree trunk made of fondant. Furthermore, adding a hint of whimsy forest with mushroom decoration that also formed from fondant and food paint. You can also add greeneries, berries, and pinecones to your foresty cake to make it look more real.
Marble Drop Cake with Fall Color Design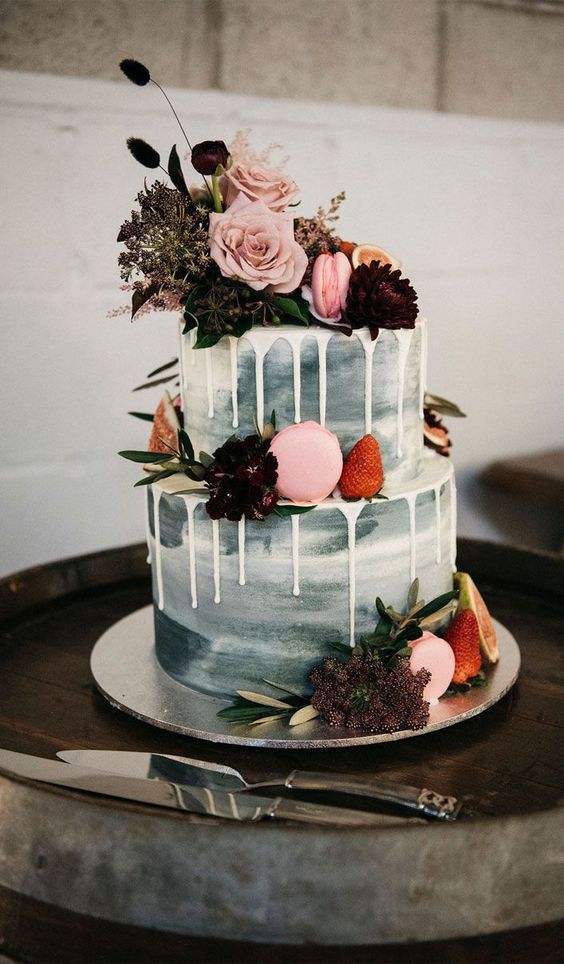 When it comes to fall wedding cake inspiration, you usually find out rustic decorations with natural elements and an earthy color palette. This grey marble color tone would make for an elegant and modern fall wedding cake design. In addition, you can give colorful and lush blooms and fresh fruits for a natural decorative accent. The grey shade from your wedding cake would completely contrast with the pink roses and burgundy flowers that you use for the cake topper. However, it would successfully give you a touch of artwork that looks great on your wedding cake design.
Simple Black Moon Phase Cake Design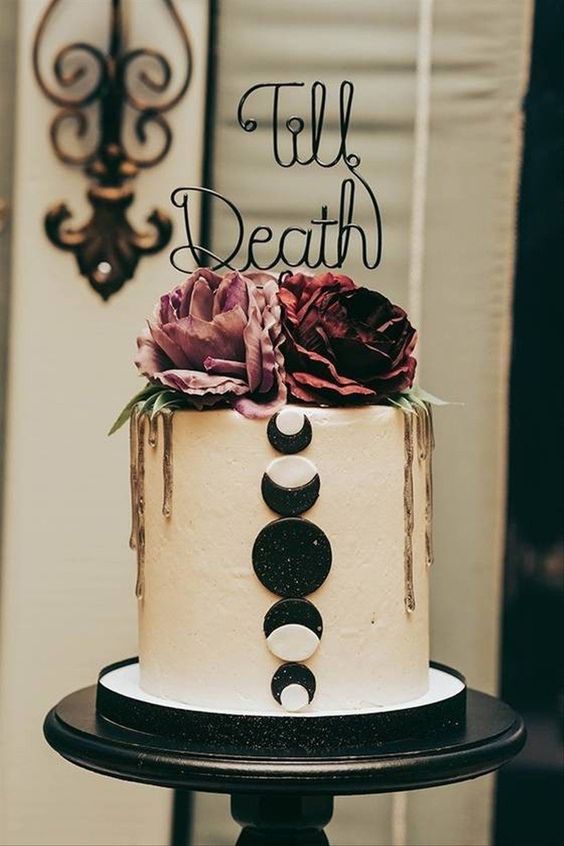 This fall wedding cake inspiration is another one with a Halloween theme. Something that's goth and moody would decorate your wedding table. For idea, you can get celestial-inspired with a one-tier cake decorated in moon phase decals. Furthermore, to make it look more elegant you can add gold dripping icing and deep burgundy roses with a personalized topper that says "till death". For another inspiration with this celestial theme, you can make a starry night wedding cake with crescents, polka dots, and a moody blue hue. Let's take this wonderful cake to elevate your bohemian or industrial wedding concept.
Spooky Black Cake Design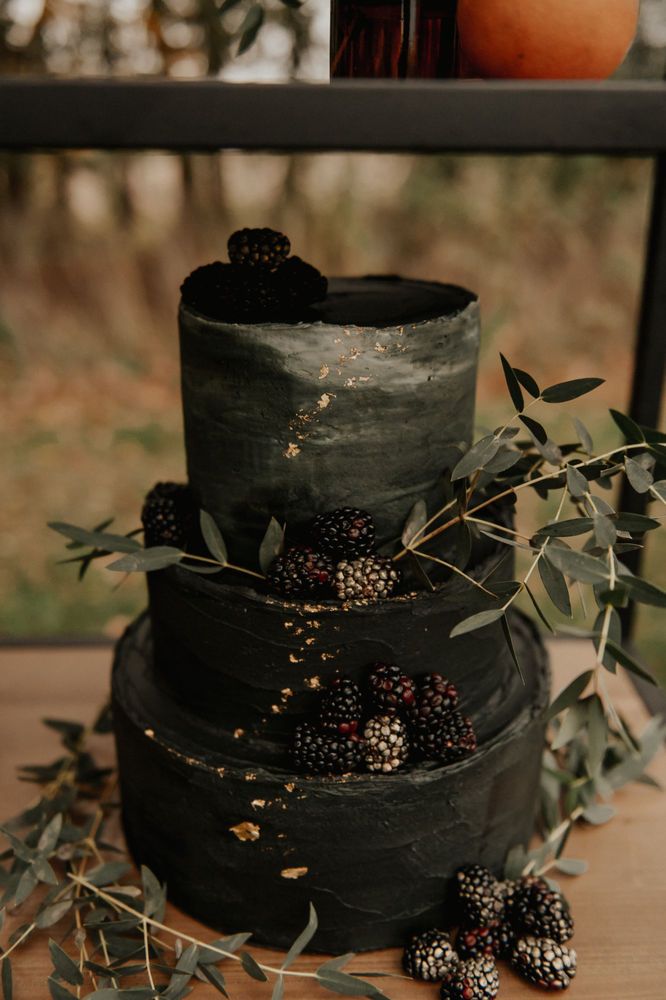 The autumn season is ideal for a moody wedding cake, as evidenced by this black wedding cake. This spooky black wedding cake is appropriate for a Halloween wedding theme. Halloween, as you may know, occurs in October, just as fall begins. As a result, this can be your unique fall wedding concept idea. Therefore, you can choose this three-tiered black cake with blackberries for the topper as your fall wedding cake inspiration with a Halloween vibe.
Three Tiered Cake with Succulents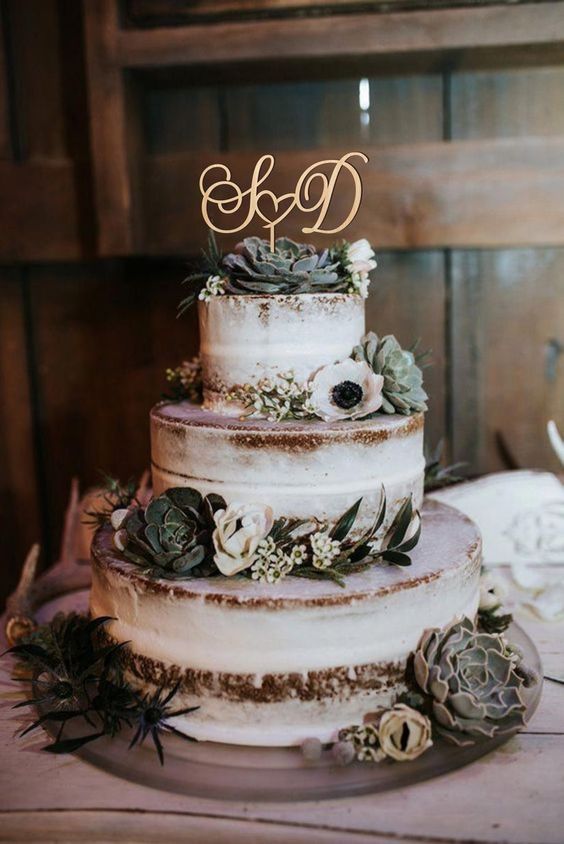 Succulents are a kind of decorative plant that you can use for alternative flowers. At weddings, you may familiar with this desert plant for decoration from wedding bouquets to wedding cake toppers. Besides, the shape and colors of succulents are completely suitable for fall wedding cake inspiration. From dusty grey shade to pinkish succulents can make your wedding cake more appealing. Besides, you can also bring this bridal cake design into any type of wedding, from bohemian to industrial wedding themes.
Mountain Themed Cake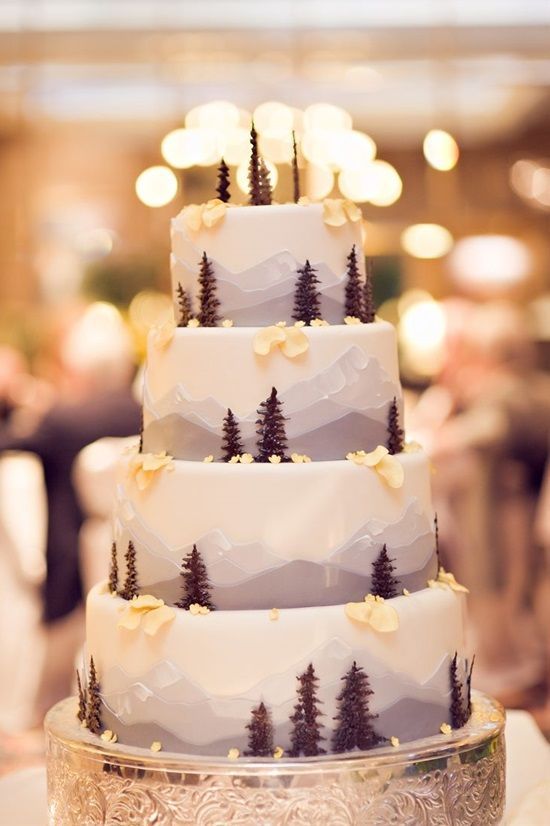 A mountain-themed fall wedding cake inspiration is a fantastic idea! This will incorporate the natural beauty of the fall season into your special day. You'll get a romantic mountain-themed cake design with sweet pastel purple to lilac tones. As a decorative accent, you can draw a handmade mountain in your cake with spruce sugar as additional adornments. We're confident that this idea will catch your eyes and remind you of the fall season in the mountain!
Dark Emerald Green Cake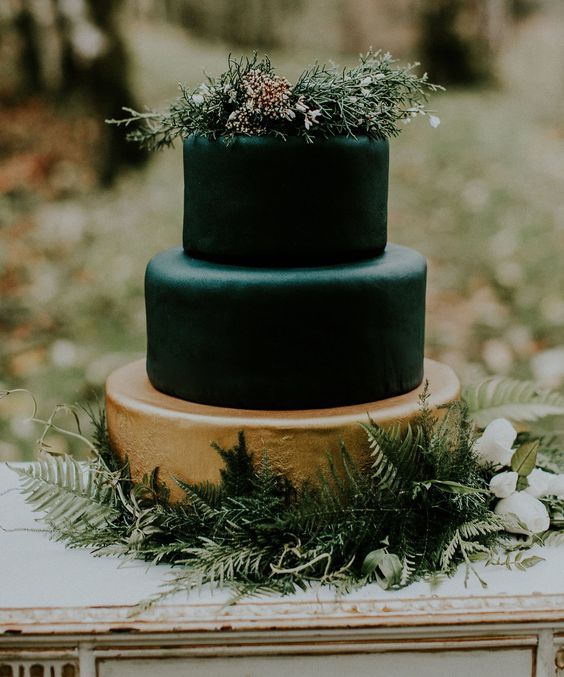 For elegant fall wedding cake inspiration, choose a rich color such as a jewel-toned palette. You can pick a simple two-tiered emerald cake that you garnish with greeneries like rosemary and ferns for rustic woods conception. Under this wedding cake design, you can also incorporate natural elements into your greenery wedding idea.
Wintery Accent for Wedding Cake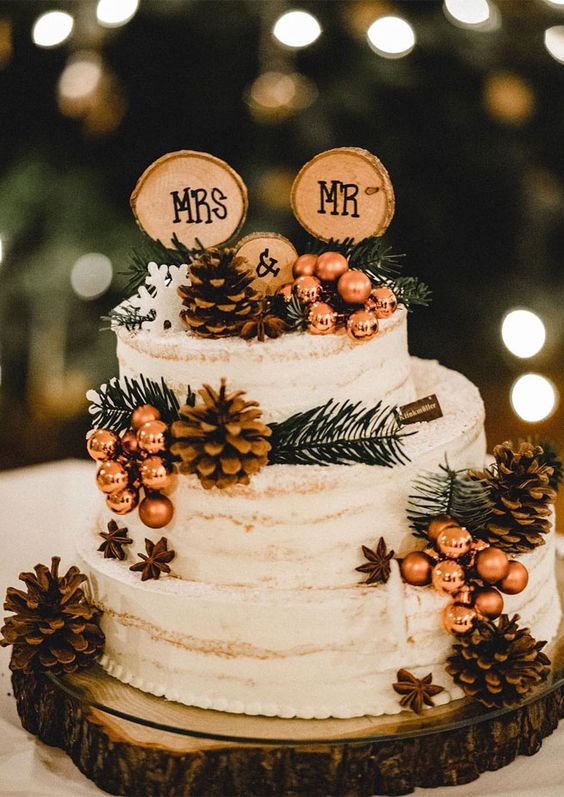 While you hold your wedding in November, it means the end of fall, you can start to add a wintery accent for decoration. Furthermore, you are free to select a winter wedding cake design to include on the dessert table for your big day. For this, you can choose a three-tiered semi-naked cake with wintery accents for your fall wedding cake inspiration. Then, garnish your wedding cake with pinecones, pine needles, star anise, golden berries, and a personalized wooden topper.
If you want a more winter wedding cake, check our article: Fabulous winter wedding cake
Purple Wedding Cake Inspiration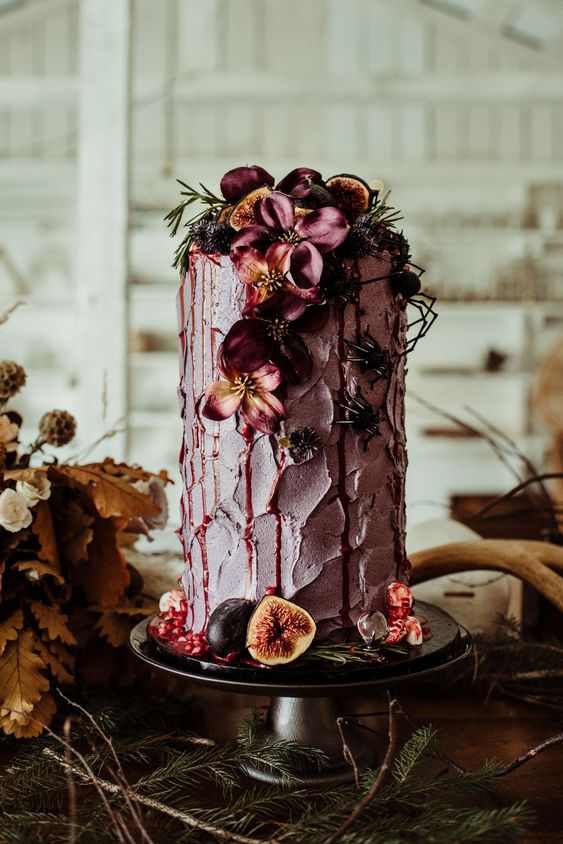 If purple is one of your wedding colors, you already know how beautiful it looks in the wedding decorations, and even in your fall wedding cake inspiration. For this, you have several options for presenting this color of your bridal cake. You can choose dark, deep, and moody purple shades in this cake design to stir up sweet Halloween on your autumn wedding day. You can ask the baker to decorate a simple cake with textured purple icing and finish out with a red jam drip. Furthermore, you can give additional garnish like purple flowers and figs for the topper with a few greeneries.
Rustic in Orange Ombre Cake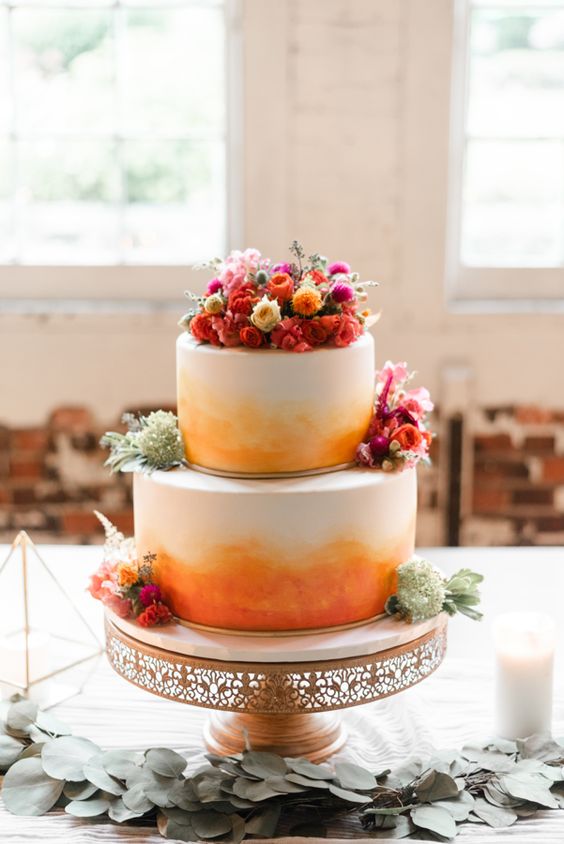 Incorporate ombre orange hues into your cake design for a romantic fall wedding. Allow cake to shine on the autumn dessert table with this sunset shade, and make it become your fall wedding cake inspiration. The autumnal orange faded into white in this bridal cake is so stunning. To achieve full beauty, use a mix of orange blooms for a refreshing and colorful decoration.
Burlap and Lace Wedding Cake Design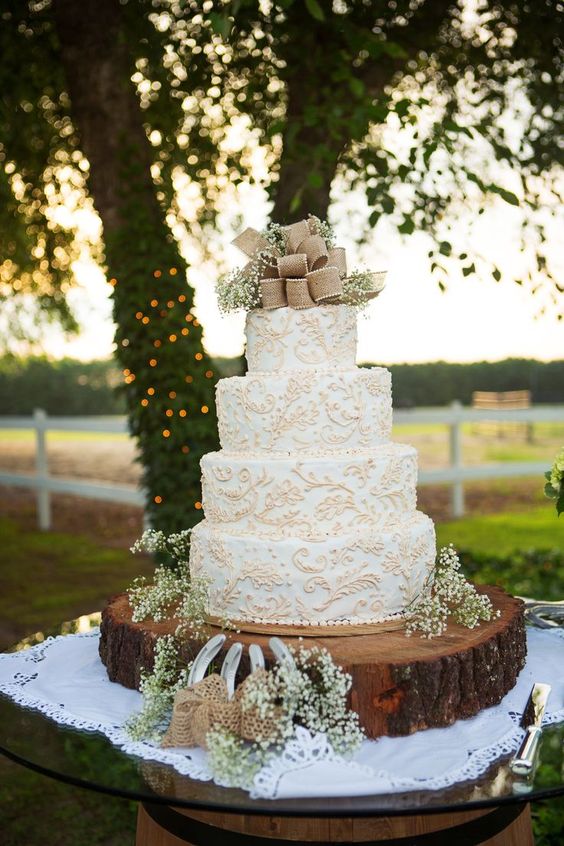 This four-tiered cake is a stunning addition to your dessert bar. If you are getting married in autumn, simply incorporate different patterns and textures into your fall wedding cake inspiration. You can use lace appliques and hand-piped sugar flowers for cake decorations, and then add a rustic touch with burlap ribbons and baby's breath flowers for the topper. With this elegant pink pastel frosting lace appliques drawn on your traditional white cake, it even becomes prettier. This cake can be displayed on a slice of a wooden cake stand, and bring it into your outdoor wedding party in a farmhouse or winery.
The colder temperature means that summer has come to an end and that fall is on its way. For some couples fall is the best season to get married. Beautiful clear sky, earthy tone colors, and fall foliage would become your wedding background. In this opportunity session, we already shared beautiful and elegant fall wedding cake inspirations. So, do you interested to get one of the ideas? From deep moody color schemes to unusual and colorful wedding cake designs, we hope you already know which one would you choose! Happy wedding!