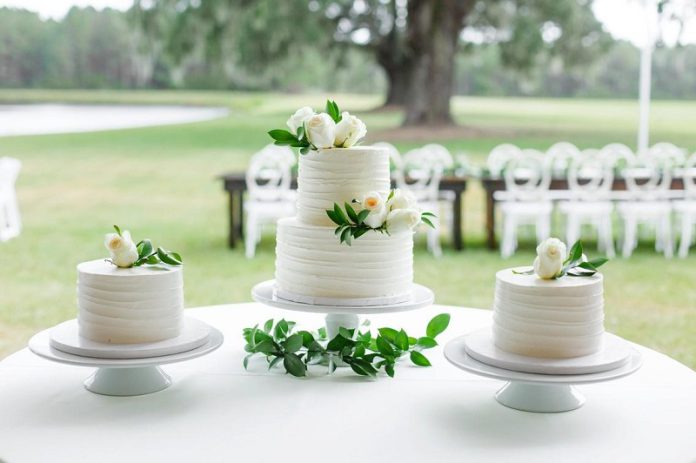 Roowedding.com – Over the past years, the greenery trend has been taking over wedding decor ideas. From the backdrop, centerpiece, bridal bouquet, and lately we spotted that greenery also could be used for wedding cake decoration. Getting a bit hint of the white and green palette in your wedding can be the way to bring a fresh natural look. Furthermore, there are more edible greenery and flowers garnishing the cake from lush green foliage, herbs, and also pretty succulents.
One of the wedding trends that we really love is using back to nature concept by bringing a white and greenery idea into the wedding cake design. This is also the way when couples want to express themselves with creative white and greenery wedding cake decorations. From the color palette, and preference for topper decor, to artistic and unique ideas with greenery garnish. You have endless possibilities.
Therefore, we have a collection of 13 white and greenery wedding cake designs to inspire your natural wedding concept. Some of them are decorated in fresh greenery and flowers, and some of them use edible decorative objects. Are interested now? Let's check this out!!!
Simple Wedding Cake with Foliage and Flowers Decor
Simple doesn't always look boring, and sometimes it can be really impactful to your wedding ideas. Like these simple greenery wedding cake designs. You just need to make minimalist 1-3 tier white cakes and then adorn them with some greenery and flowers. For this, you can get beautiful blush roses, white orchids, Queen Anne's lace, sunflowers, and green eucalyptus or olive branches to adorn the top of your cake and have a more natural accent.
Cupcake with Greenery Garnish
For the whimsy wedding cake design that has different shapes for the original ones, cupcakes could bring cute and sweet vibes to your wedding. This one looks a bit childish, but when you arrange them with beautiful edible foliage and herbs garnish, they can turn into a lovely greenery wedding cake design. Likewise, you can adorn your cupcakes with white cream and give silver dollar eucalyptus and berries over. Or you can create beautiful roses with the cream for garnishing. Another option, you can serve your cupcakes with berries and mint leaves to have colorful wedding cake decor.
Log Style Wedding Cake
Looking for an artistic way to get aesthetic greenery wedding cakes? Why don't you get this log cake style into your wedding decor? You can create your white cake like a piece of wood and then show up some annual circle as the detail. Yet you can also use a semi-naked wedding cake that's garnished with greenery like eucalyptus, rosemary, and olive branches. Use some flowers too such as lavender, chamomile, roses, or fresh fruits like fig, orange, berries, and other for the topper.
Greenery Colors for Wedding Cake Ideas
The greenery trend not only comes from green leaves and foliage decoration, but it can also become up with any design. Like green hues in your greenery wedding cake design. You can create your wedding cake in green leaves coloring style, minty, or sage green. Then, give some additional details such as green foliage, white flowers, or fresh fruits to support the natural greenery cake idea.
Personalize Wedding Cake with Gold Topper
Have a classy and chic wedding cake design with a personalized gold topper. Gold is the color that would balance your simple white and greenery wedding cake to become stunning. For this, you can get edible gold to garnish your top cake with a personalizing gold letter of course. Then, bring some edible greenery and flowers that would complete your natural wedding cake concept.
White Roses Wedding Cake Garnish
White roses are the most favorite decoration to garnish wedding cake. Whether it's a real rose or buttercream decoration, it would still bring a romantic and natural vibe into your wedding cake design. If you want to have a dash of adorable elegant decorative style, add subtle edible pearl and white rose petal detail to your cake. Some fresh garden roses and eucalyptus or olive branches in the wedding cake would give refreshing air to your wedding ceremony.
Romantic Wedding Cake with Succulents
Another greenery that would look beautiful for wedding cake decor is succulent. A kind of desert plant that has a shape like real flowers and is pretty enough to become garnishing. Succulents also have various types and hues from greeny, sage, and silver, to pinkish. They look fabulous to add to your white and greenery wedding cake ideas. Adding this greenery also gives something aesthetically, pleasing, and also suited for the rustic bohemian wedding theme.
Pressed Colorful Flowers Wedding Cake Design
Using fresh flowers for decorating your wedding cake is the usual way. How about taking a different and unusual method that would give you an aesthetic cake to serve? Like pressed colorful flowers in your white and greenery wedding cake. We thought it would be cool and beautiful enough to have 2D realistic flowers in your decorative cake design. Remember, when you plan to adorn your cake in this way, make sure to choose organic edible flowers such as Nasturtiums, Violas, Chamomiles, and Cornflowers. As they can be easily pressed and stand their colors beautifully. Besides that, you should plan it long before because pressing and drying flowers can take a few weeks.
Rustic Wedding Cake with Green and White Accent
What better symbol to create a natural wedding cake design than a white and green accent? The combination of both colors would bring the freshness of lush greenery to your cake decorations. Besides that, using these hues also gives you a humility and modesty vibe. For the way, you can give green marble touch to a white wedding cake and then also adorn it with fresh greenery as the topper. Or, you can create clover leaves from buttercream around the cake in different green hues on each tier. You can also paint the cake abstractly in green coloring and get white roses and slight gold for the topping. Another simple way is just using green flowers like hydrangea to garnish your cake.
Eucalyptus Garnish for Wedding Cake Design
We know one of the greenery that's usually used for indoor or outdoor natural wedding decor. Yups, it's eucalyptus. Whether it's seeded eucalyptus or silver dollar eucalyptus, both of them are faithful to adorn your wedding. Make a eucalyptus garland that looks beautiful with white cake. Besides that, you can also add other neutral flowers such as blush or white roses, orchids, and others that would make your natural wedding cake look fabulous.
Winter Greenery Wedding Cake Decor
Hold your wedding during the winter season? And want to bring Christmas to your wedding? Try to get white and greenery wedding cake ideas with pine cones, cinnamon rolls, and pine leaves to garnish your white cake. Besides that, you could give a bit of red statement with a naked red velvet cake and then garnish it with white buttercream and red berries that represent white Christmas. Another greenery that can be detailed for Christmas eve in your wedding cake, use firs, blackberries, or silver dollar eucalyptus to become a cool garnish.
Foresty and Woodland Wedding Cake Design
We can't talk about greenery design without including the woodland and forest concept. This trend can be very different from other wedding cake designs and never be boring as you may be thought. Play with organic foresty touch to your simple white cake by using some greenery stems, vines, ferns, and moss. Aside from it, ger naked cakes with a little white cream statement then you can garnish it with silver dollar eucalyptus and white flowers that look fresh. And when you love to have a colorful accent, bring other bold flowers like purple flowers, blush roses, and succulents among green silver dollar eucalyptus in your greenery wedding cake.
Tropical Greenery Wedding Cake Style
Another concept that would match with a greenery wedding theme is a tropical look. You can bring this idea into your white and greenery wedding cake decoration by adding tropical botanicals such as protea flowers, monstera leaves, palms, orchids, anthuriums, bird of paradise, and yellowbird blossoms. For the optional trick, you can also paint your cake with palm leaves, and greenery, or gives a gold garnishing. That would make you look like held your wedding on a tropical island or this cake design is also suited for a beach wedding.
That's all we can share with you about white and greenery wedding cake decoration ideas in the natural concept. So, you already know what beautiful greenery ideas stand for the wedding. Plan your marriage properly with your couple and wedding planner to have the perfect wedding ever. And if you want to know more about the greenery wedding theme, just read our article about greenery wedding ideas with natural elements. Good luck!!!