Roowedding.com – If your wedding comes in October, it's an excellent time to incorporate the Halloween theme into your wedding concept. Halloween is kind of unique theme for weddings. Using the scary and creepy concept for hosting a wedding during fall would make it an unforgettable moment in your life. Then, if you still looking for inspiration, why don't you start with the wedding invitation designs?
We can say that Halloween is fabulous and fun to incorporate into the wedding theme. In the Halloween wedding invitation ideas, there are a few elements that you can incorporate into the design. They are dark color schemes, pumpkin decor, goth style, and some fairy tale designs. When this concept has done properly on your invitation card, you can really surprise your guest.
Halloween wedding invitations are personalized as you proudly like. Whatever you are passionate about, it can set the stage for a romantic and unique wedding in your version. From the looks of Halloween wedding Invitation Ideas we've searched on Pinterest and the internet, we've collected some of our favorite designs. Are you interested? If so, let's go to find your unique and unforgettable wedding cards to help spark Halloween wedding ideas below.
Beautiful Pumpkin Design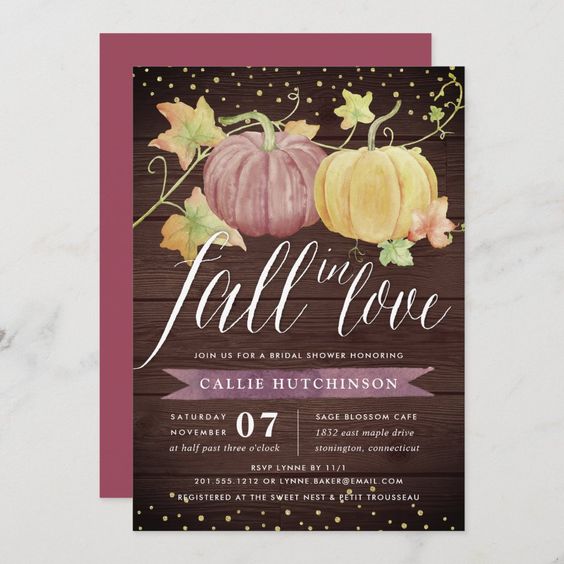 What's in your mind when you think about Halloween? It's maybe something that's scary and mysterious in the dark. But, have you ever thought that Halloween can look beautiful too? For this, you can get this beautiful pumpkin design for your Halloween wedding invitation idea. If you plan to hold your wedding in October during the fall season, this invitation it's the best option.
Goth Paper Lassercut Invitation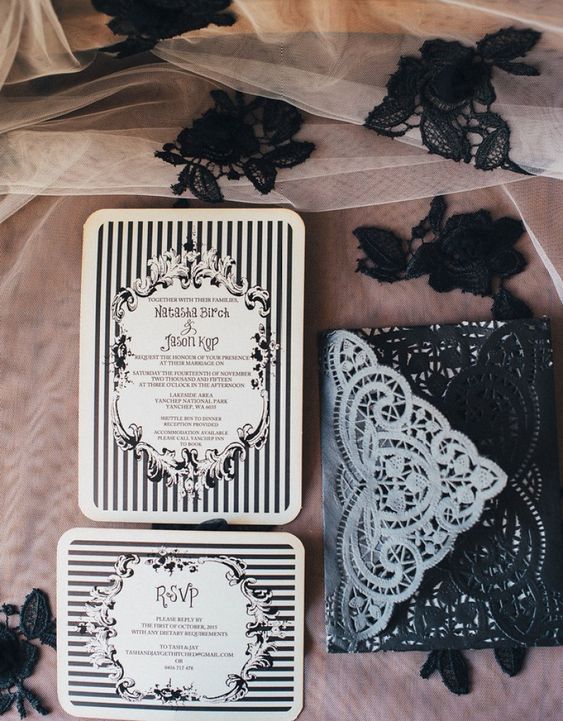 Another Halloween wedding invitation idea to try on your wedding is a beautiful paper laser cut design. This invitation design looks chic and elegant with black and white color shades. Besides that, this wedding card gives something formal to send to your guests. If you plan to hold an elegant Halloween wedding theme, this goth invitation design would be a great to become an option.
Black Coffin Invitations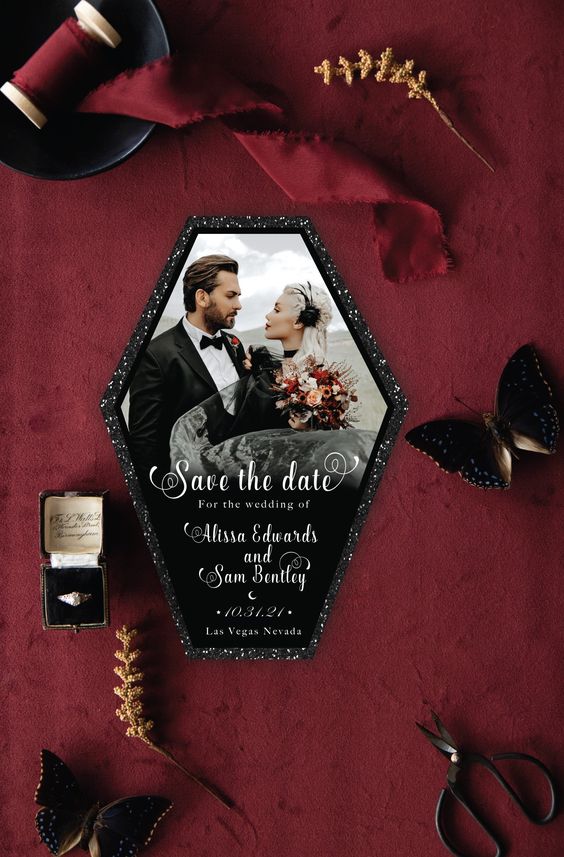 Are you believe in Dracula's story? If you follow the movies about Dracula, you will find typical things such as a coffin. This can be your inspiration if you are looking for a Halloween wedding invitation idea. For this, you can order customized invitation cards in coffin design. To make it look unique you can insert your prewedding photos for the background. Just keep in mind, that this wedding card usually needs some time to print, so you need to plan properly and far before your wedding date.
Harry Potter Invitation Design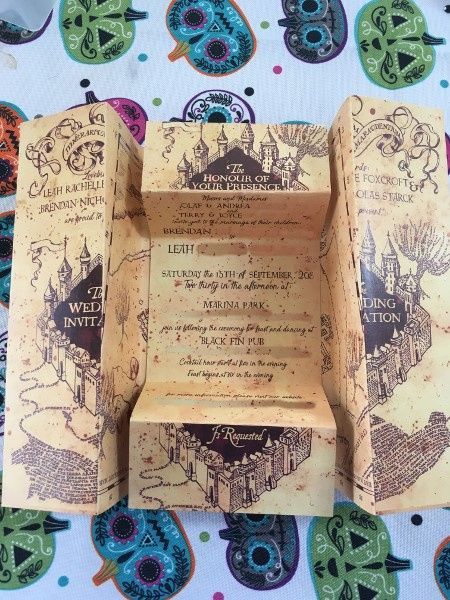 For couples who like Harry Potter, you can insert it in your wedding, especially for the Halloween wedding invitation idea. You can create a creative and unique wedding invitation with the Hogwart castle illustration. Make your wedding card design look magical and unforgettable that can wow your guests by using folded paper design.
Tarot Wedding Card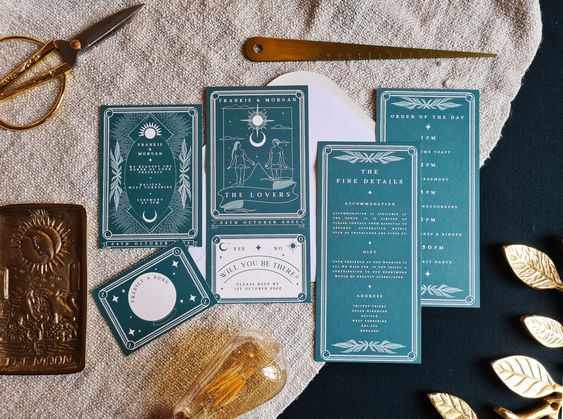 Halloween theme sometimes comes with mystical, spooky, and magical things, like tarot cards. The design is simple with an aesthetic illustration that combines with celestial design. This makes your Halloween wedding invitation idea seem elegant and classy in a unique way. It's also available in a range of colors in dark shades like navy blue, black, or green.
Cute Pumpkin Shape Card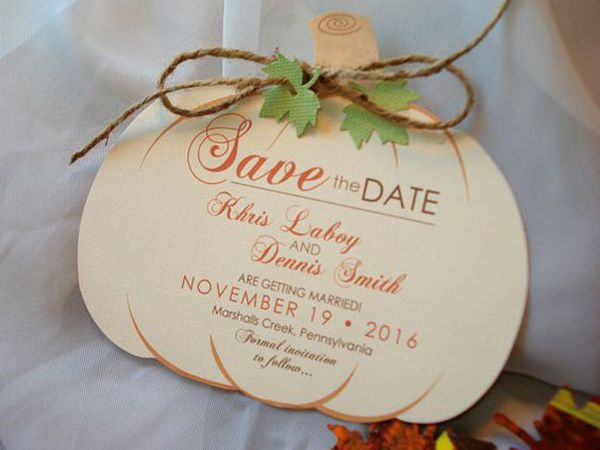 As we said before, the Halloween wedding idea is not always about something scary and spooky but also uses something cute and unique like this pumpkin invitation card. Halloween and pumpkin are one entity. If you look back, you will easily find carving pumpkin decorations in every Halloween theme. You can make this unique Halloween wedding invitation in cute pumpkin forms and then adorn it with rustic stationery. Then bring a pastel or beige color palette to get a rustic Halloween harvested wedding concept.
Photo Card Design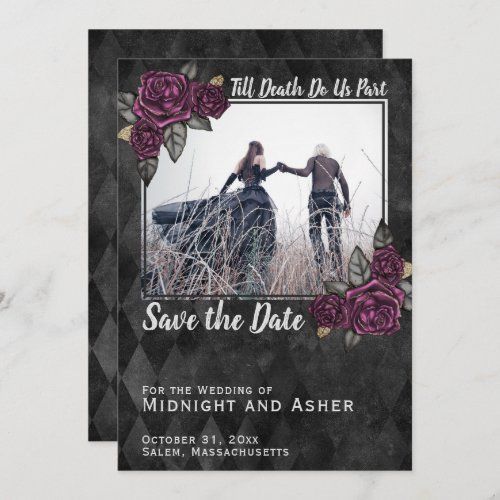 The black background with red roses on the sides frame makes your couple's photo in the Halloween wedding invitation idea would pop up beautifully. The simple elegant gothic Halloween wedding card that you personalized certainly make it unique and unforgettable. You can still save this as the memories of your wedding on the photo album.
Till Death Goth Skull Wedding Invitation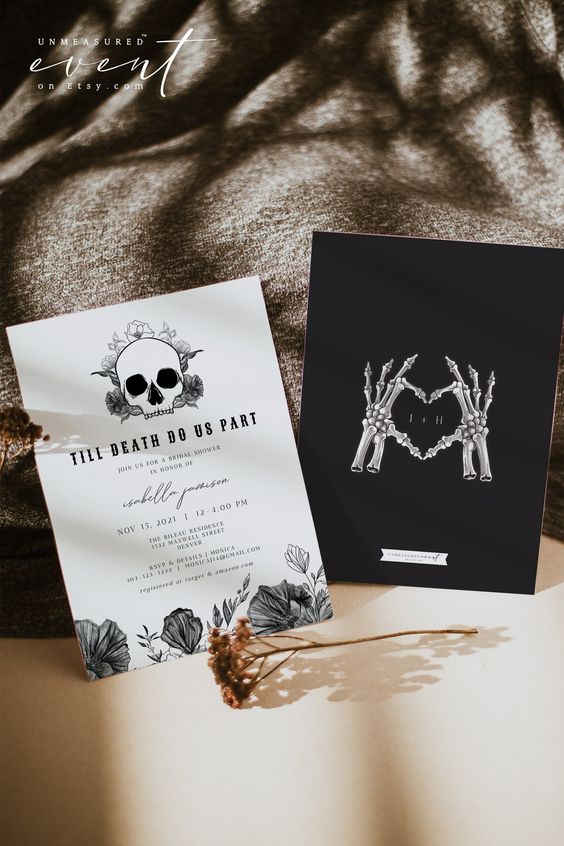 Have you known some famous lines concerning Halloween? Some words that have double meaning can be your idea to bring a unique and unforgettable Halloween wedding invitation design. The words like "Till death do us part" or "Happily Ever After" seem romantic, but when it's supported by the scary skull or skeleton picture it would turn scary enough.
Save The Date Ouija Board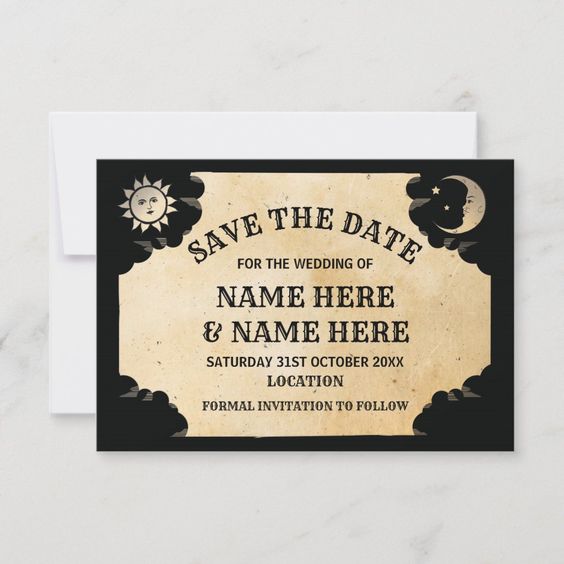 If you want to bring scary feelings into your marriage, bring this ouija card for your unique Halloween wedding invitation ideas. Because you design it similar to the real ouija board, the spooky Halloween could really into your wedding atmosphere. You can find this invitation template on the Internet, and you can also customize it like you want, such as in the part of the color scheme.
Chic Maple Leaf Invitation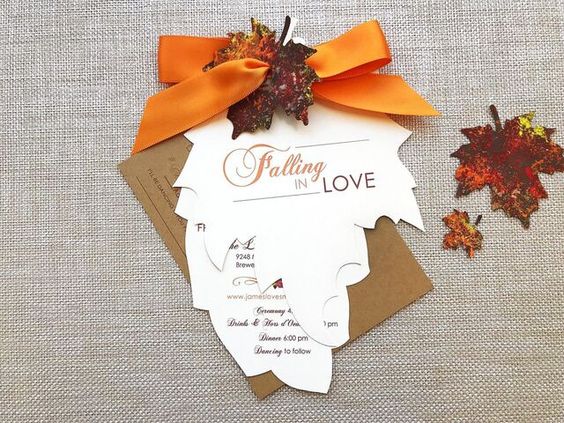 Halloween comes in fall and besides pumpkin, the maple leaves can be typical of this theme. When you want something unique and chic design for a Halloween wedding invitation idea, you can use a paper crafting design that forms like a maple leaf with orange shades on its color palette. You can add tiny maple leaf prints and orange ribbons to adorn your invitation cards. This elegant and simple wedding card design also would be suited to your fall wedding theme.
Romantic Vintage Invitation Card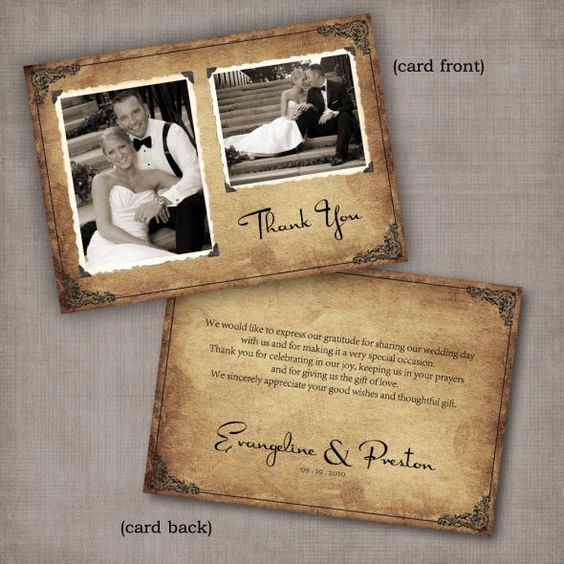 For a subtle classy-vintage wedding invitation design to suggest for a Halloween theme, consider this shabby paper looks with monochrome photos for the wedding card. Besides that, designed your Halloween wedding invitation with chic calligraphy in the save the date section to make it look aesthetic.
Cemetery Save The Date Design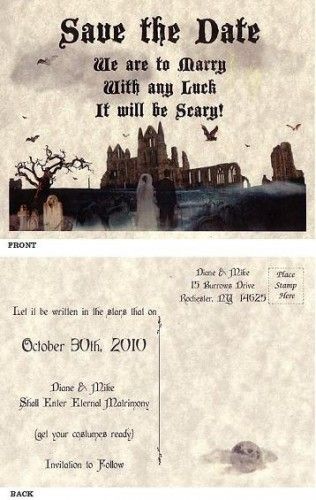 Bring the Halloween theme to your wedding invitation design with spooky cemetery scenery. The scary castle, cemetery, and spooky couples' background for the cover are combined with a shabby paper style with classic stationery. This design would bring creepy vintage invitation cards to your wedding.
Love Silhouette Invitation Card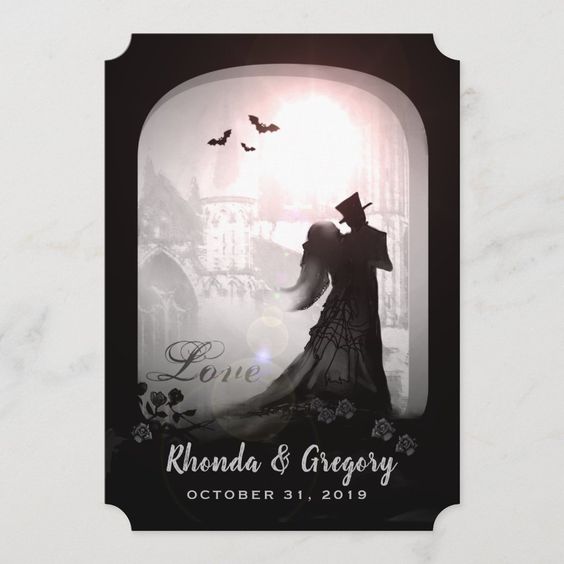 Want a unique template for your unforgettable Halloween wedding invitation idea? The couple's silhouette in black shades and transparent castle as the background make it look romantic and mysterious. You can also add bat illustrations to the invitation card to make it look like a creepy Halloween theme. Using simple beautiful wedding stationery is enough to perfect your invitation card. It would bring elegant concepts and dark romance to your wedding.
Frankenstein and Brides Wedding Card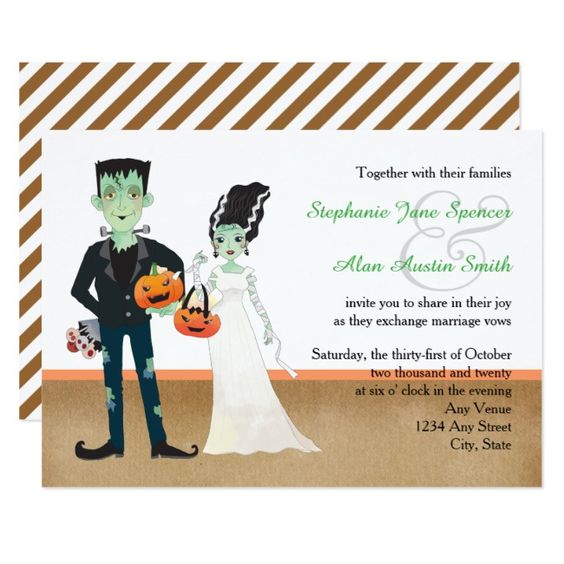 Besides skeleton, skull, and spooky ghosts, you can create chic Halloween wedding invitation ideas with Frankenstein's characters. You know, this character is also one that's mostly used during Halloween costume parties. So, let's make your wedding card fun by adding Frankenstein's couples illustration with colorful style in it.
Scary Pumpkin Carving Design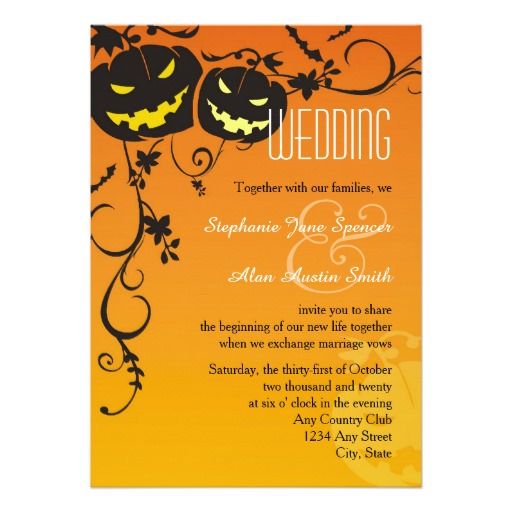 Embrace the Halloween theme into your wedding invitation design by featuring craving grinning pumpkin lanterns in it. With an orange background, you will make the grinning pumpkin look scary but fun. We love this simple vintage Halloween wedding invitation idea because it truly presents the scary but chic Halloween theme. Then to make it a unique and unforgettable wedding card design, customize it with your own details such as adding your photos or illustrations for the cover. Then, you can also make it more fun with funky envelopes and stamp it with pumpkin wax.
Skeleton Brides and Grooms Illustration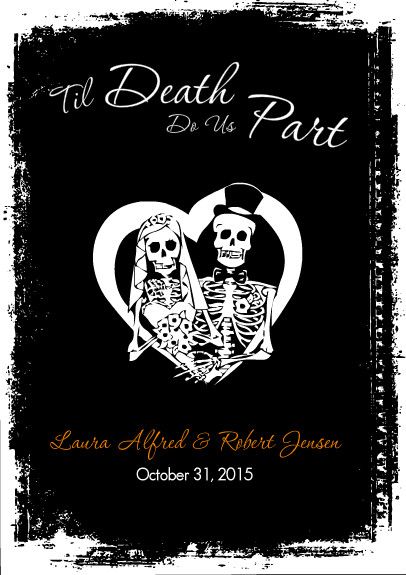 The spooky skeleton brides and grooms illustration is a favored design to use in Halloween wedding invitation ideas. You can insert it as your marriage invitation for the cover. Use black color for the background, then give white and a bit of gold nuance for the wedding stationery look. For making it embrace the Halloween theme more, give the Halloween words such as "Till Death Do Us Part" and then place two skeletons together in the middle with a love frame to make it look romantic with a deadly aura.
Dark Story Book Invitation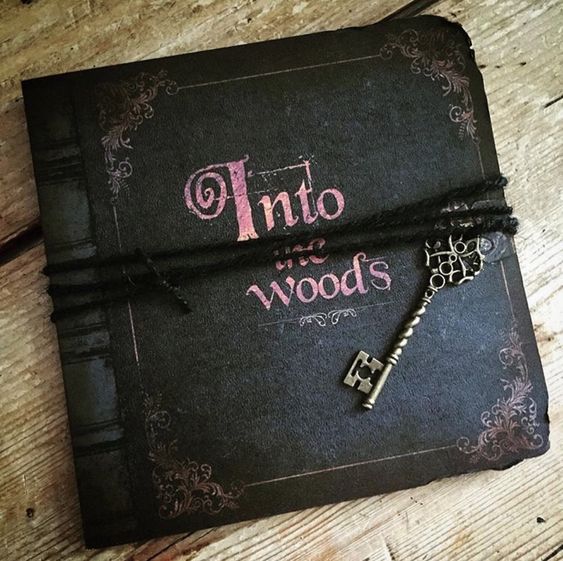 Have a unique Halloween wedding invitation idea with a scary book design. If you both like mysterious, witches, and scary stories, this dark storybook style would suit your preference. Designed with the classic vintage victorian style, the dark schemes and slightly red coloring in the writing design make this wedding card look mystical and creepy. Then, give key adornments for making it more mysterious.
Celestial Wedding Invitation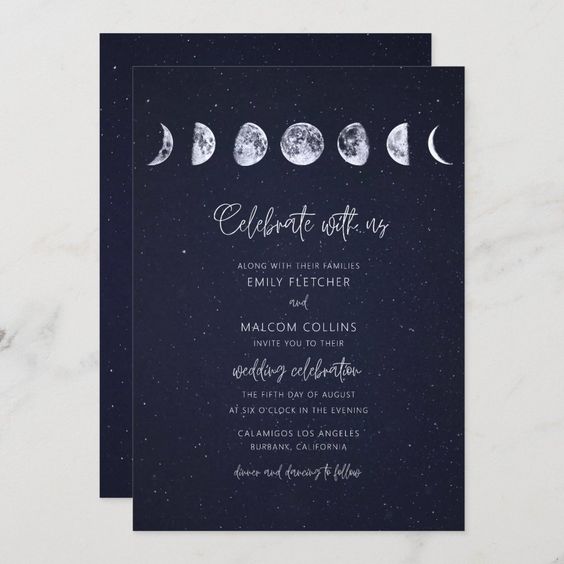 Keep your Halloween wedding invitation idea looks simple and stylish with celestial design. Use the theme of a dark starry sky with moon phase pictures on the cover. Portray the mysterious romantic from the night sky to invite your families and guests to your reception in another way.
Blood Splattered Invitation Card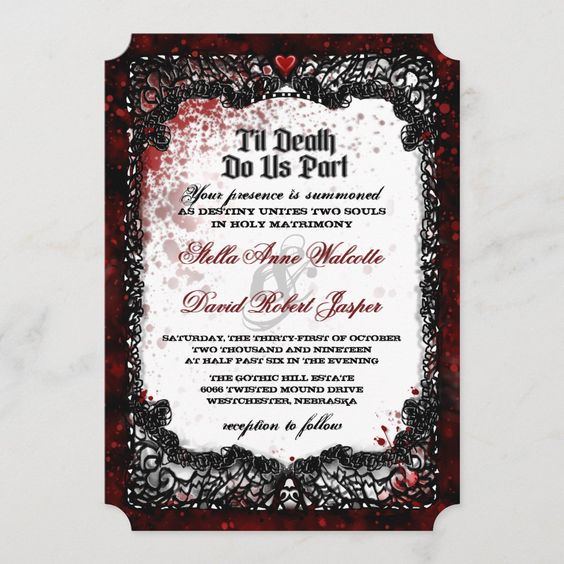 When your fascination for death and its mysteries, you can show it in your Halloween wedding invitation idea. For this, adding bloody splatters for the wedding card background can be an option. Besides that, make sure that your Halloween wedding card looks hauntingly beautiful by combining gothic design into it. This would make it look dramatically creepy to invite your family and surprise your guests.
Spooky Wedding Invitation Design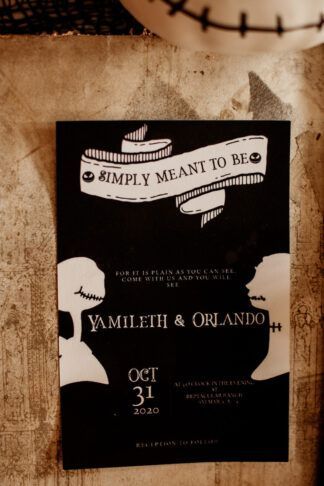 If your wedding is around the Halloween festivities, and you both like zombie movies, use it for your unique Halloween wedding invitation idea. Portray your Fun Halloween wedding with a spooky zombie illustration in a fun way in your wedding card design. Bring dark shades for the color schemes of your invitation card and get white for the letter color theme.
No matter what wedding concept theme you choose, you can bring the idea through all the details. Not only just from wedding invitation ideas, but all things about your wedding such as wedding gowns, decorations, and more. Make sure that the theme can express both your personality. If you like something creepy, scary, and mysterious Halloween could be chosen as your wedding theme. If you want to know more about it, browse our previous article about creepy and unique Halloween wedding ideas.