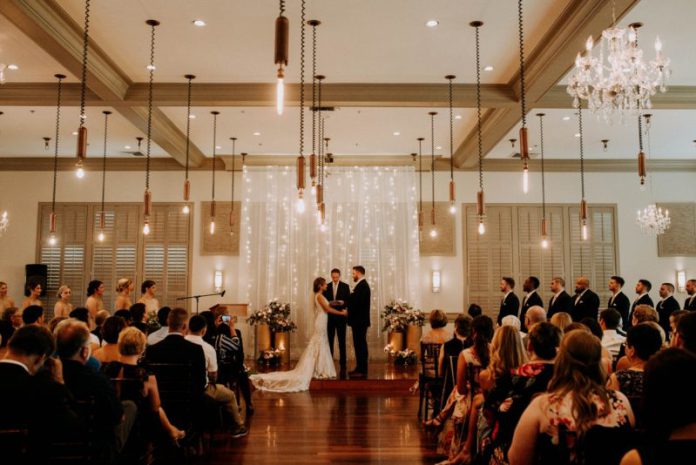 Roowedding.com – The industrial wedding theme is actually a flexible concept that can match up with other ideas. From the minimalist, elegant, and bohemian all things are suited for this wedding idea. If you have seen industrial weddings, it's full of modern letter light, Edison bulbs, and some chic hanging decorations. Besides that, having a decorative bar and loft or warehouse as for the wedding venues would turn out as great as a beautiful wedding ever for you.
Industrial wedding theme ideas are usually simple with romantic nuance that's a bit chic and unique because use abandoned places. Rough brick walls, copper, and natural details in industrial venues look contrasting and really eyecatching to create an intimate wedding in a unique way. The details from it also can leave lasting impressions on you and your guests.
At this moment, we try to talk about another concept of the whole industrial theme idea for a romantic wedding. From the wedding outfits, venues, decorations, and color schemes, we try to define what the industrial wedding looks like. Planning on making your wedding with an industrial concept? Read more about this industrial idea for the romantic and chic wedding by scrolling down.
Industrial Wedding Gown and Suits
Your chic and romantic wedding concept wouldn't work well before you stand to take vows at the altar with gorgeous outfits. That's why to make your romantic industrial wedding theme ideas all out, you need to prepare the bride's gown, groom's suits, bridesmaids, and groomsmen outfit style. Here are some inspirational wedding outfit ideas to take on!
Brides Gown
For the brides who want to have industrial wedding theme ideas in their wedding dresses, there are some gown styles to try on. If you want a bit country with aesthetic design, get this starry gown. For this, bring on a country wedding dress idea with a transparent cape that would make you look outstanding on the altar. You can match and perfect the dress with accessories like a cowboy hat that would make you look more industrial in a western wild vibe.
When you want something that's a bit glamorous in your industrial wedding, get sequin on your gown. For the tips, you should bring a simple design to your gown to balance the glamourous of sequin that you use on your gown. For instance, a modest short sleeve A-line dress would be the best style to choose.
Getting a ruffle or tulle dress would also bring chic and simple style to your industrial wedding theme. Then for the elegant retro look bring a classic vintage trumpet gown to your wedding concept. Furthermore, if you want to have something metal, trendy, and cool, a mini ruffle dress with a black leather jacket should you wear on.
Grooms Suits
Besides the bride's gown, you need to match up your wedding concept with the groom's style. For this, there are some outstanding grooms suits and tuxedos you can try to bring for industrial wedding theme ideas. From the rustic wedding concept with a burnt orange blazer, trendy style in cowboy look, to elegant black suits, it can be worn in your wedding.
If you want to have unique and classic suits for wedding style, you can get plaid blue-green suits with a bow tie. Besides that, getting pastel pink on your suits brings a chic romantic vibe into your industrial wedding theme. But, if you want to black suit, better to bring a statement with bright bow ties and boutonnieres.
Bridesmaids Dress
Bring your friends to your wedding and become your bridesmaids or groomsmen, you should think about the concept of the outfit to wear. If you are about to use the romantic and chic industrial wedding theme ideas, you need to find the attire for your bridesmaids like pastel gowns or elegant black mini dresses. For the tips, you need to create a lovely bridesmaid's dress as simple as possible. Remember that the bridesmaid's dress shouldn't be more stunning and attractive that the bride's wedding dress.
Groomsmen Suits
Choosing groomsmen suits a bit tricky but still easy. It's the same as you choosing a bridesmaid gown, make it as simple as possible. For the tips, you just need to make it doesn't look spot on rather than the grooms. You can make uniforms with the same suits either for the grooms or groomsmen. But the trick is you should make it a bit different with accessories. For instance, wear the groom's suit with a blazer but groomsmen use suspenders. Or you can choose a bowtie to match the groom's suit and a usual tie for the groomsmen's look.
Another option, you can play with the color shades. When you have bold or dark shades suits, you can choose brighter color palettes for your groomsmen suits or vice versa. For industrial wedding theme ideas, you can choose blue navy, black grey, or pastel blue suits.
Industrial Wedding Invitation Design
One of the things to stand your wedding concept is on your wedding invitation card. This is a way to invite and surprise your guests about your wedding. In industrial wedding themes with the modern rustic concepts before, it uses a combination of vintage and rustic concepts in their invitation. But if you want a romantic chic wedding card design, you can create a custom painting or illustration for your invitation card. Besides that, get a black and gold palette, the industrial lighting image for the cover, and use pastel colors. The tips for creating an industrial invitation card are using simple design and coloring. Don't make it look too excessive.
Industrial Wedding Venues
The way to create a theme and atmosphere for your wedding, you can use wedding venues and decorate them properly. You need to find a place that matches industrial wedding theme ideas that take from abandoned and neglected places vibes. Your wedding venue should have unfinished walls, a shabby look, peeling paint, and unfinished bricks that look chic.
For this, you can choose warehouses, rice or sugar mills, rooftops, and barns, for indoor receptions. This is because those places have open ceilings with some pipes or with wooden designs that are suited to the concept. If you want to have outdoor industrial wedding venues, gardens are the best place for this. You can adorn the garden with string lights, wooden tables and chairs, also give the other details. To make it all easy, you can have a consultation with your wedding planner. Give them a list that you need and what concept you want for your wedding.
Industrial Wedding Decorations
What do you need to support your wedding if you want to create a theme for it? Yups, it is decoration, either for ceremony and reception, you need to decorate your venue properly. For the industrial wedding theme ideas, here are some inspirational decorations that can you try on!
Arch Design
Decorating the wedding altar is necessary because this is the main place where couples take vows to live together for life. That's why you need to thought about your wedding arch properly. The various wedding arch design with romantic and chic decorations would adorn your wedding venue. With industrial wedding theme ideas, you can make a beautiful wedding arch ever with some flower decoration, greenery, light linen, and a unique decorating idea with bulb lamps and candles.
For this, you may need to give your creativity and decorate your dream arch design perfectly to create beautiful moments with your lovers. Just remember when you want to have romantic and chic industrial wedding theme ideas in your arch, make sure to make it simple and full of lighting.
Wedding Lighting
When it comes to industrial wedding theme ideas, you will find out the romantic ambiance with delicate lighting adorns your venue. For this, you can bring bulb lamps and string lighting to create an electric industrial wedding concept. If you want a chic and romantic wedding, bring lampion for the lighting. And for the classic romantic atmosphere, bring chandeliers and candles for the venue lighting.
Table Decorations
Your wedding decoration wouldn't be perfect without table decorations. Because most guests would more enjoy the party in their table to have meal and chit chat, that's why you need to bring the good atmosphere in there. In industrial wedding theme ideas with the romantic and chic concept, you can adorn the table with a beautiful flower hoop for a bit of rustic nuance. Then for the unique one, use greenery for the table runner, it would bring fresh air into your table. Glass terrariums and candles for romantic lighting in the middle of the table. Then bring some creative hanging decorations such as geometric decorations and string bulb lamps.
Wedding Receptions
For decorating your wedding reception, it includes all components from the table, chair, and ceiling. To have romantic and chic industrial wedding theme ideas, you can start with a dry twig for a rustic look. Get white light linen for decoration of the venue to get elegant nuance. Using greenery hoop hanging decorative and transparent chair for a bit natural look. Furthermore, you can adorn the venue with gold and silver things or velvet for a glamourous ambiance. To get more inspiration for design, you can browse our article about sophisticated industrial wedding decoration ideas before.
Industrial Wedding Bouquet
Choosing the perfect wedding bouquet is a must. This would increase the brides' appearance and pull out their beauty. Therefore, when you want to have the best industrial wedding theme ideas, you need to choose a beautiful flower bouquet with some designs. For instance, if you want a chic bouquet, you can choose purple and blue wedding bouquets that have bold colors. To make it have a romantic rustic wedding concept, get a dried flowers bouquet in your hand. Then for natural greenery wedding bouquet, use eucalyptus and some white flowers in your hand bouquet. Or just add wildflowers and orchids for the tropical concept.
Wedding Cake Design
Cake design is also an important element in your wedding reception. So, when you want to create industrial wedding theme ideas, you can decorate the wedding cake properly. As we know that industrial theme is about an unfinished look, shabby paint, and brick design. So, make sure to insert that component into your wedding cake design. For instance, getting gradation grey colors in your cake to make it look like an unfinished wall. Get letter lighting and gold decorations for a classy retro wedding cake. Furthermore, if you want something chic and romantic style pastel flowers decoration can you choose to dress your wedding cake.
Industrial Wedding Color Scheme
The loveliest aspect of a wedding besides the theme is the color schemes that define it. There are some color schemes that you can try to bring on industrial wedding theme ideas. For example, when you want something looks mysterious and elegant, get bold colors such as purple, red, and black on your decorations. For elegant romantic, you can get neutral and gold color schemes. When you want to create an electric industrial wedding, a black, white, and blush color scheme is the option. But if you want to have some natural and fresh look, get green sage and black color palette into your wedding decorations. For this, you can apply the color scheme to your invitation design, bride's gown, and venue decorations.
Overall
Getting married is an important moment in your life. That's why you need to plan it properly and help to wow your guests with eye-catching decorations. So, let's get this industrial theme idea and bring beautiful memories with a great atmosphere to your wedding reception. Choose your decorations, venues, dress, and suits that can represent chic and romantic wedding concepts in an industrial wedding theme. Good luck!!!