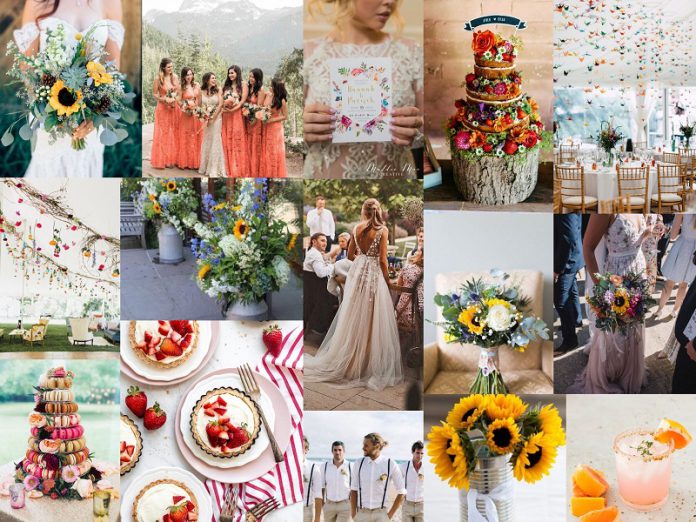 Roowedding.com – Spring and summer is the best time to hold weddings. There are many benefits to having a wedding during this season, especially when you play with color schemes for decorations. You have more freedom in selecting the color palette for your wedding theme. While most people prefer bright colors like yellow to bring spring and summer wedding color schemes, you still have many different options to warm and beautify your big day. So at this moment, we'll help to narrow down your choice.
While you look for the right pops spring and summer wedding color schemes, you can use 2-3 color combinations. Therefore, make sure to consider the color wheel. Your outstanding color palette for weddings could be created by combining contrasting hues or blending colors from the same shades. The combination possibilities are truly endless.
White monochromatic matches any wedding season, but skip it now and consider choosing a pair or trio of vibrant color combinations. With blue sky, bright yellow, fresh green, or another color palette, just make your spring and summer wedding concept unexpected yet still wonderful. Read on and see what we'll share with you to help on getting inspiration. Choose what colors can integrate your spring and summer wedding schemes.
15 Best Color Schemes for Spring and Summer Wedding Concepts
Yellow and Lilac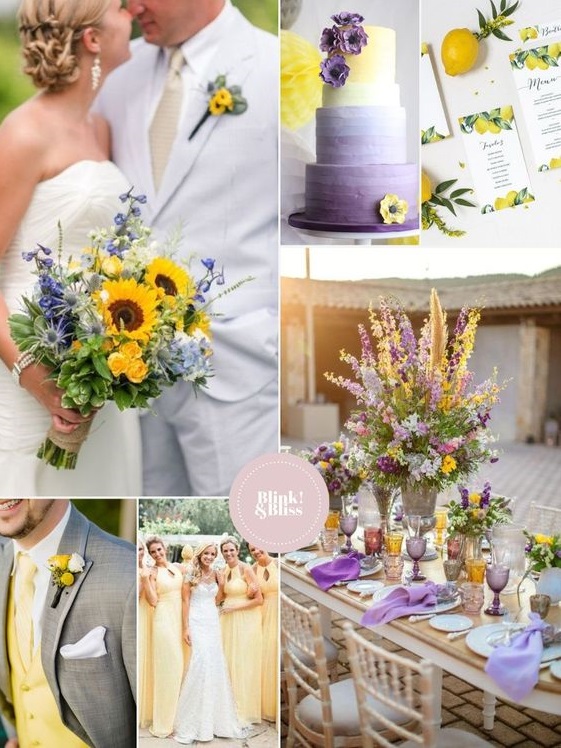 The first color combo to create a vibrant spring and summer wedding is yellow and lilac. Yellow and lilac are perfect palettes for a lay-back summer wedding even this combo seems classic fiesta style. You can choose the lime yellow and lilac that you can apply on the wedding bouquets, bridesmaid dress, grooms tuxes, and the decorations of course. Also, you can opt for gradation from those pair colors to create an outstanding wedding cake design with purple and yellow flowers for traditional toppers. This would bring a cheerful atmosphere from a summer color staple (yellow) and a bit shady yet romantic from the lilac. Note how the colors blend well and worked together to bring beautiful spring and summer wedding color schemes ever.
Ocean Blue and Violet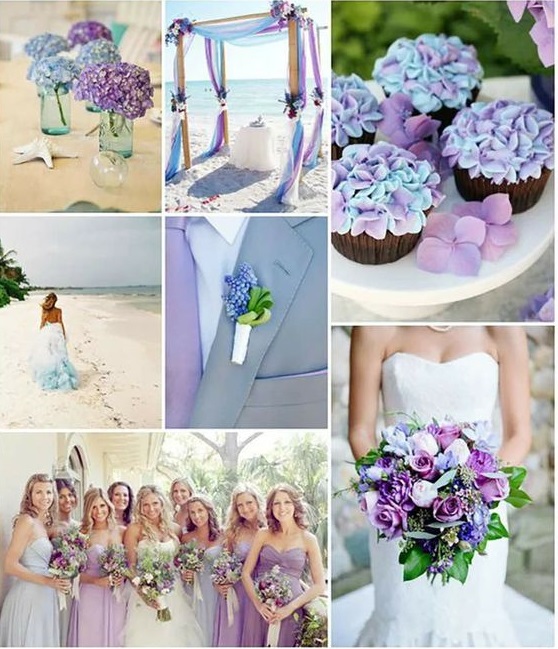 Do you want a nautical or beach wedding concept for your summer wedding? These breezy color palettes must be incorporated into your decorating ideas. What else is there besides the color combination of ocean blue and violet? Those vibrant colors would add a touch of cool and freshness to your warm wedding theme. For this, you can bring a splash of light blue in your wedding gown to blend in perfectly on the beach. For your bridesmaid gown, go with a violet and ocean blue color scheme. Give a touch of a combination of light blue and violet on the aisle use linen, wedding bouquets, and table setting.
Yellow and Green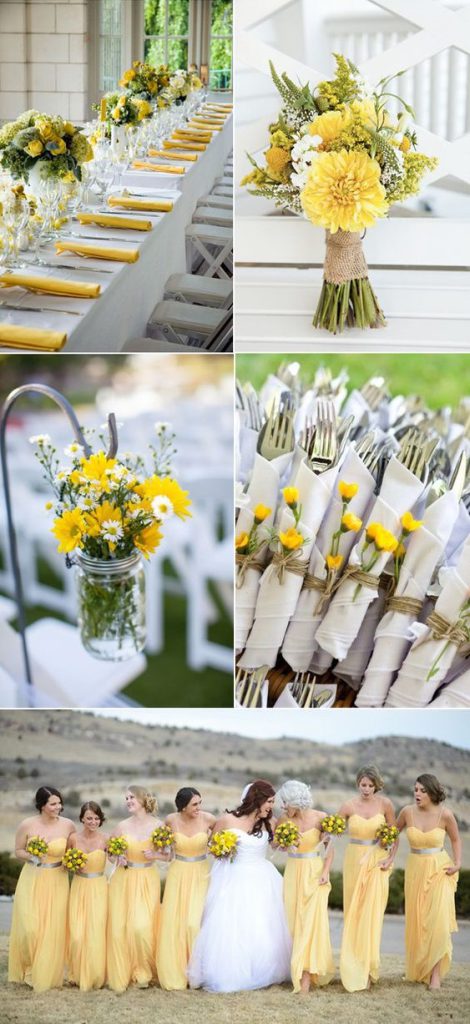 Use yellow to add some sunshine to your spring and summer wedding color schemes, and green to add some freshness. This combination would brighten everyone's mood and make them smile. More yellow flowers with green leaves, such as chrysanthemums, sunflowers, daffodils, and marigolds, can be used for hand bouquets or table settings. Bring a greenery wedding concept to your wedding aisle or backdrops, and a charming yellow to the design of your bridesmaids' gowns. Set up a wedding cake design with edible yellow florals and greenery, or get a splash of yellow in white cake and then adorn it with eucalyptus leaves for green touches.
Mint and Peach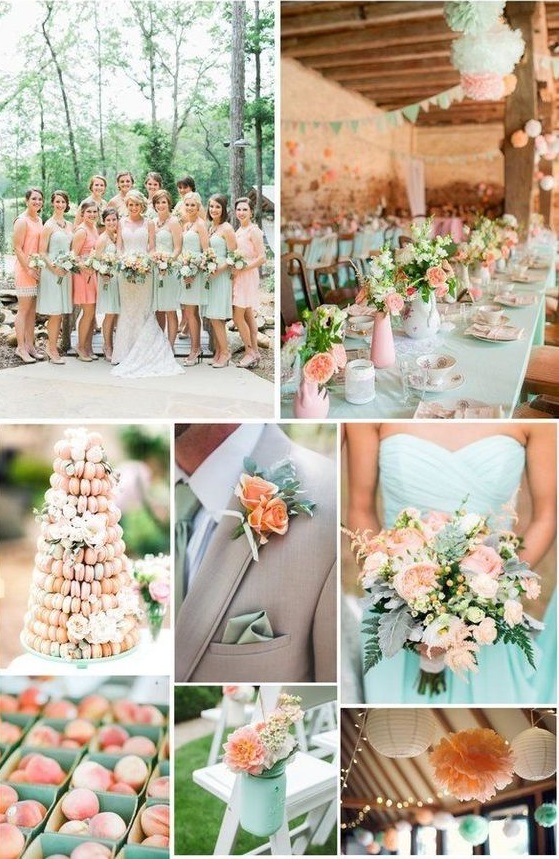 Mint and peach are the perfect color palettes to bring a romantic vibe into your hall wedding. This combo can set off a calm yet lovely ambiance in spring and summer wedding schemes. Both light but soft enlighten your spring and summer wedding perfectly. Use fresh peaches and mint shade to a table setting like in the vas and flower arrangements, then you can also use peach macaroon for a wedding cake design. For bridesmaid dresses, you can set up those two colors for gown design. For the bouquets, you can mix peach coloring flowers with silver dollar eucalyptus and dusty miller.
Pink Blush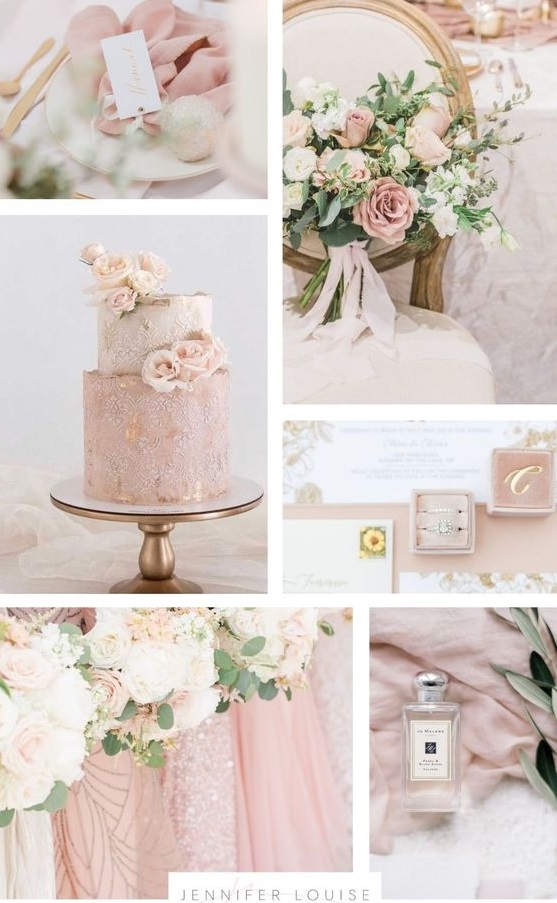 Despite being a classic, pink blush is an excellent choice for creating a romantic spring and summer wedding color scheme. Aside from that, this type of color palette produces warmth and feminity like summer blooms. It pairs well with other color combinations such as green, yellow, and other vibrant and soft colors. It can also feel romantic when used as the primary color theme for a great outdoor wedding ceremony. You can use dusty and pink blush to adorn brides and bridesmaid dresses, wedding cake inspirations, flower hand bouquet ideas, and also create sweet romantic invitation designs.
Coral Vibrant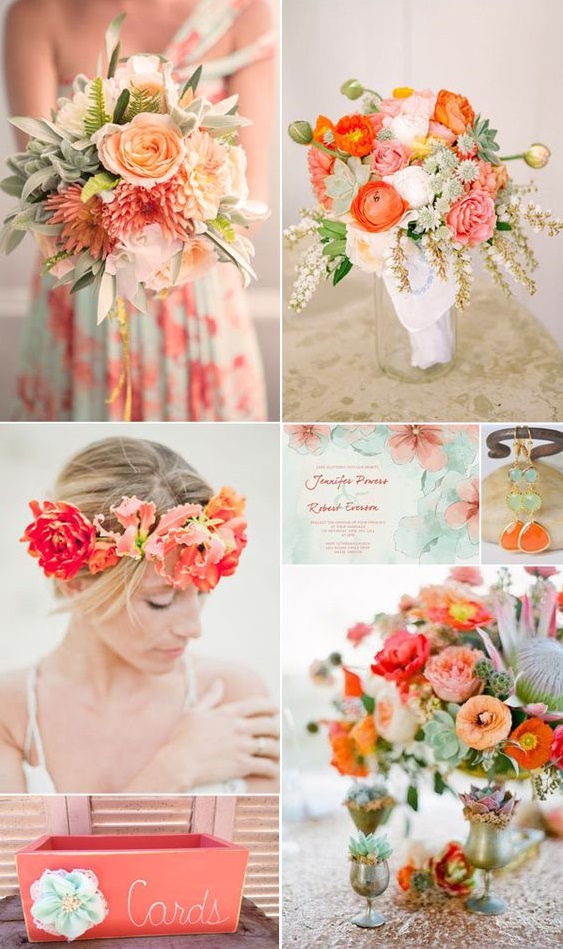 Get coral vibrant to festive your spring and summer wedding if you want something a little bold but still soft and lovely. This color is the same as pink blush and white palettes, it can be easily combined with another color. You can get coral schemes in many flower arrangements either for wedding bouquets, runner and marker aisle, backdrops, or table settings. Besides that, you can choose this color for adorning brides and bridesmaid dresses. For accessories, you can create a crown from peach flowers that would look stunning.
Colorful Rainbow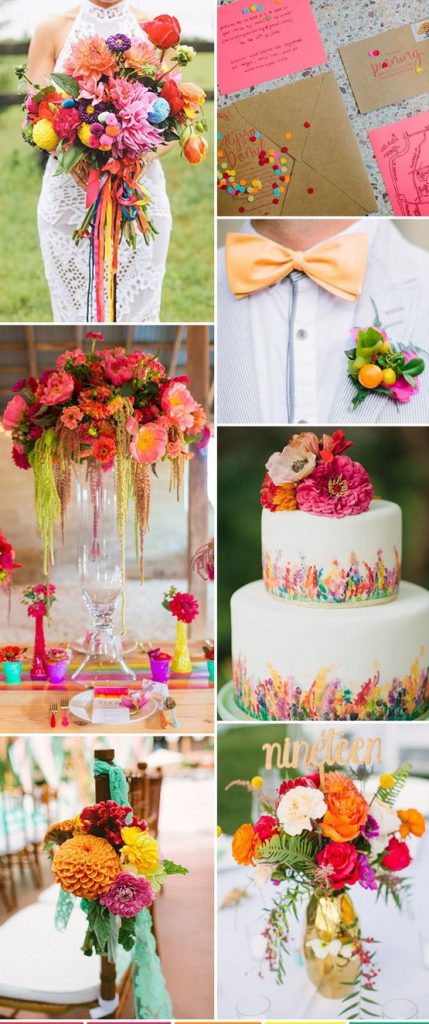 Want a cheerful and playful ambiance in your wedding theme? Why don't you bring rainbow colorful to become your spring and summer wedding color scheme? Get more than 3 color combinations for decorating your wedding venue. This color palette is also the perfect idea for an outdoor wedding. You can play the vibrant in your wedding bouquets, hanging decorations, table setting, and more. You can use this rainbow palette to decorate your bohemian wedding concept by combining in rustic accent into a wedding invitation design. Also, bring colorful flower prints in your wedding cake design to look lively.
Berry and Green Shade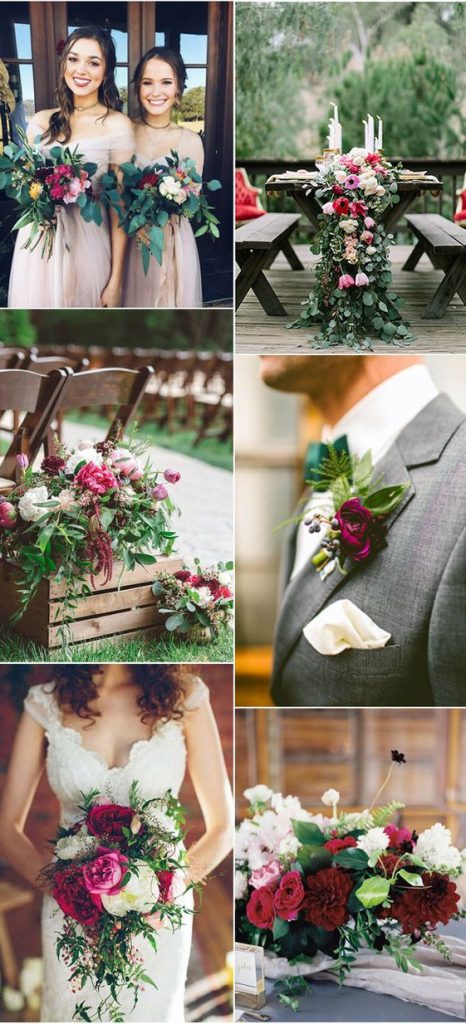 Bring a timeless green and berry color scheme to your big day by getting bold burgundy and greenery bouquets, mauve bridesmaid dresses, and real flowers and green leaves on your wedding cake design. This is the most exciting aspect of your spring and summer wedding concept. Simply use burgundy and green to add a sense of class, freshness, and elegance. This color scheme is also a good choice for a winery and vineyard wedding theme, especially if you are having your wedding in a beautiful vineyard environment. With this, you will set your wedding apart, whether it is nature-themed or to contrast with a modern city setting.
Sage Green Palette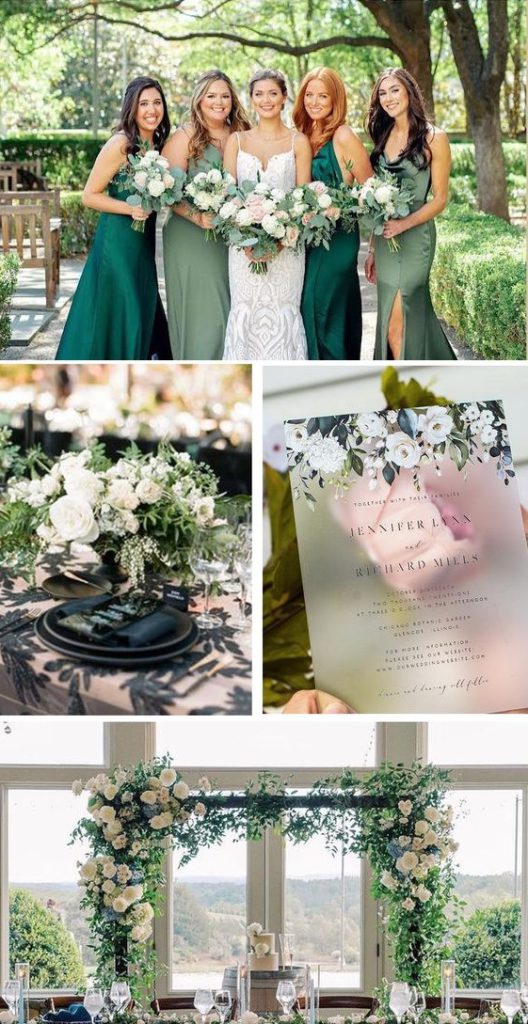 If you are getting married and want to bring a bit lush theme, just use green sage as your spring and summer wedding color scheme. You can combine this green color with neutral tones such as white, champagne, or blush. Just use a sage green silk dress for bridesmaids. White and greenery for decorations either for wedding aisle, backdrops, or arch, table setting decor. You can incorporate green leafy and white roses for the runner in the middle of the table. Also, adjust the color of sage green to design your wedding invitation card. For this, you can use frost acrylic that's painted with floral and greenery. To make it look classy vintage style, then add to the green sage envelope with wax sealed.
Fresh Fruity Colors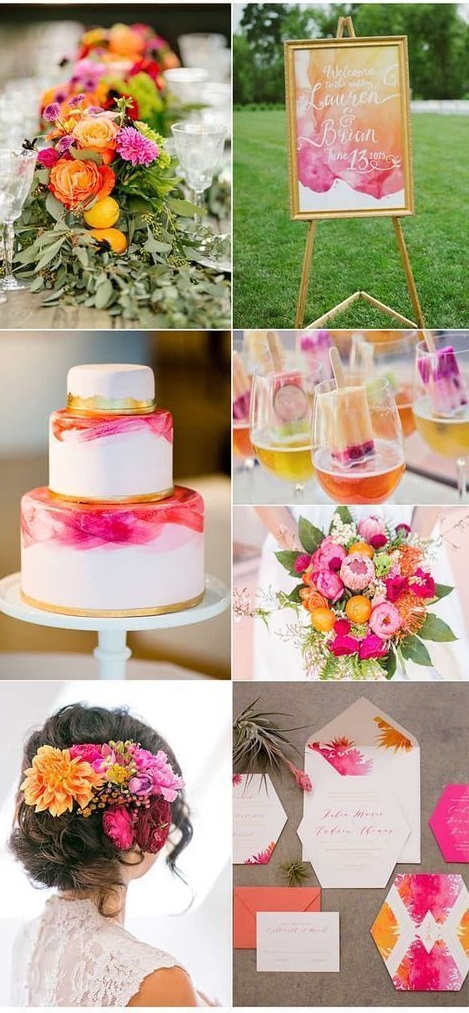 Lean into fresh fruity colors like strawberry, pineapple, and orange that bring an airy mood into your spring and summer wedding. Consider using playful pink for your bridesmaid dresses. Opt for white cake with fruity splash color that makes gradation that blends perfectly. You can also ask your wedding planner to organize some pink bouquets that you add orange or lime into it to bring a unique and unusual wedding bouquet. Then elevate your cocktail time by offering colorful drinks and fruits on your table. Perfect your appearance by getting a pink, blush, and orange flower arrangement to adorn your hairstyle. Besides that, add those pop-up color schemes with watercolor designs to your wedding cards.
Turquoise and Coral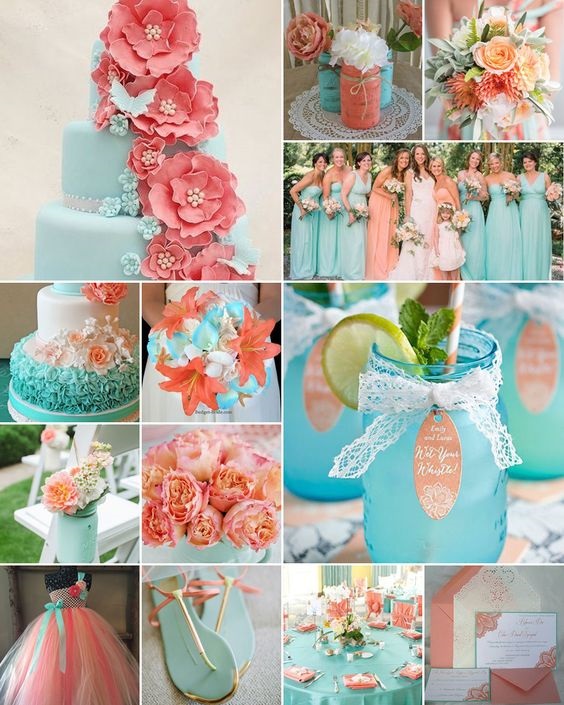 When it comes to spring and summer wedding color schemes, turquoise and coral are a great combination to consider. Many people believe that this light blue and coral color palette is ideal for beach or tropical weddings. The bridesmaid dresses can be turquoise or light blue. Table settings should include turquoise tablecloths, coral dinnerware, and flower arrangements. Also, use this combination to create an eye-catching creative design for your wedding invitation. Stand out more with this turquoise and coral palette for beach wedding bouquet ideas, and pair a light blue wedding cake design with coral flower garnishes for the topper.
Blue Shade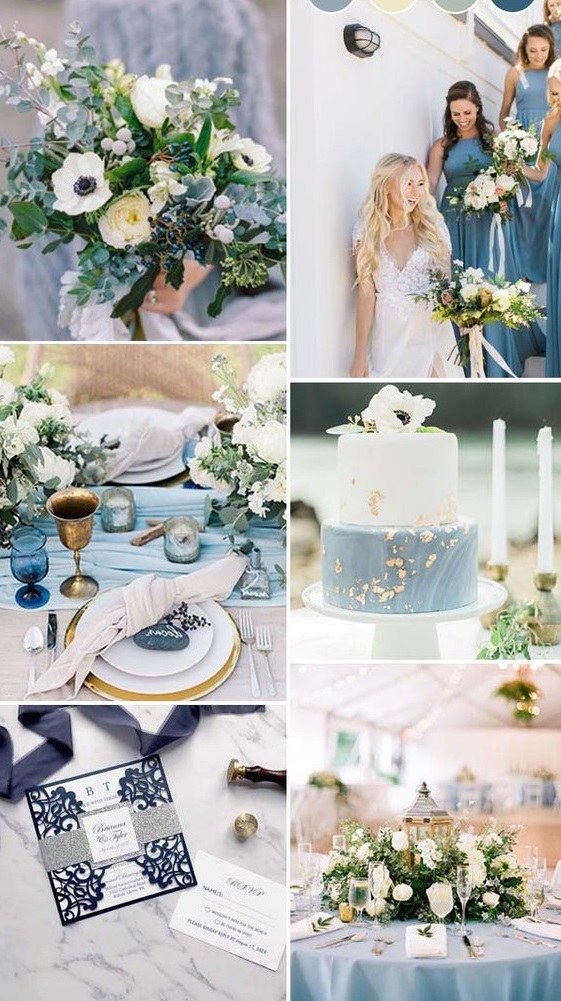 Plan your spring and summer wedding with blue shades for the decoration color palette. For this, you can opt blue color with different shades. Suppose bring pastel light blue to become a wedding cake design idea, use blue for table setting, bridesmaid dresses, or pick blue flowers for wedding bouquets. If you want a bit classy vintage style, design your wedding invitation by choosing dark blue with laser paper cut style. You can also prefer some combos that would look to match this blue shade like blush, white, green, and gold or a metallic color palette.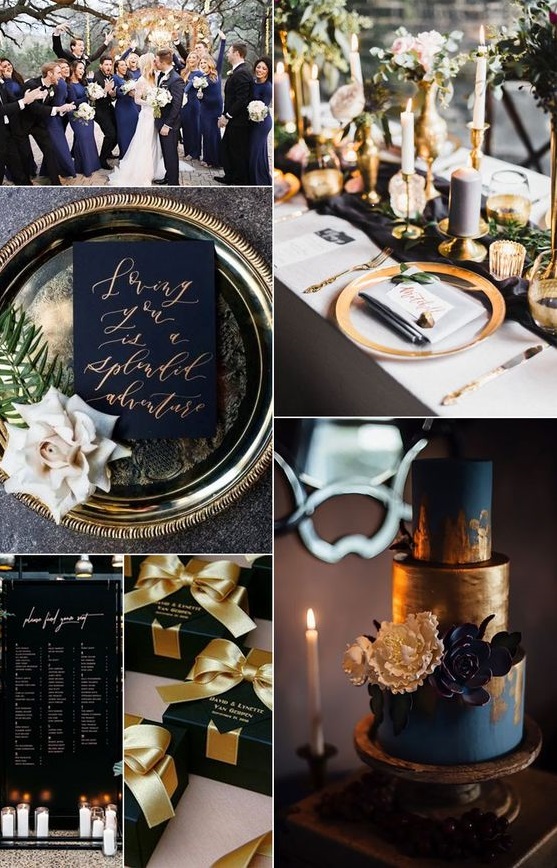 Most brides choose light blue or pastel for their spring and summer wedding color schemes. Navy and darker blue are an unexpected alternative palette that would add a new characteristic to your wedding theme. Especially when paired with a gold shade. It can help to create an elegant and classy atmosphere at your wedding ceremony. This pair of colors is simple, but it has a lovely touch that is easy on the eyes. Simply get navy for groom's tuxes, or get this color for wedding card design, and also use this pair palette to create an elegant classy wedding cake design. Another inspiration, opt for a gold table setting by choosing gold tableware and centerpieces, then match with navy color schemes by applying it to tablecloths. You may also suggest navy for your bridesmaid gown then choose glamour gold for the wedding arch design.
Terracotta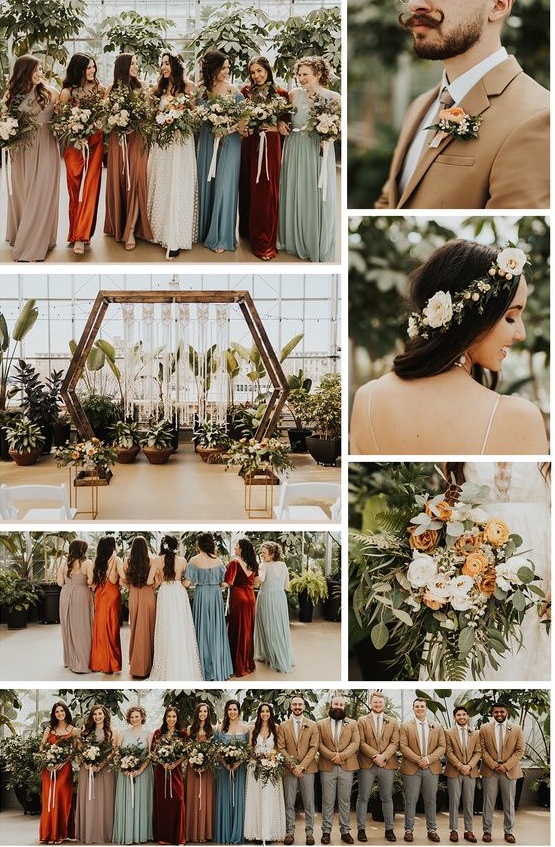 Terracotta colors seem natural and earthy. And nowadays, people use these colors to create eco-friendly wedding ideas. For terracotta palettes, you may see brown, burnt orange, bronze, beige, and more. When using terracotta in your spring and summer wedding color schemes, encouraged to apply it to groomsmen's tuxes and bridesmaid dresses. Aside from that, you can also bring natural elements like a wooden accent that would make your wedding feel more rustic. Aside from that, add this scheme to your flower arrangement, table setting design, wedding invitation card, and even wedding cake inspiration. This color is also much better to create a beautiful bohemian wedding decor.
Silver and Grey Palette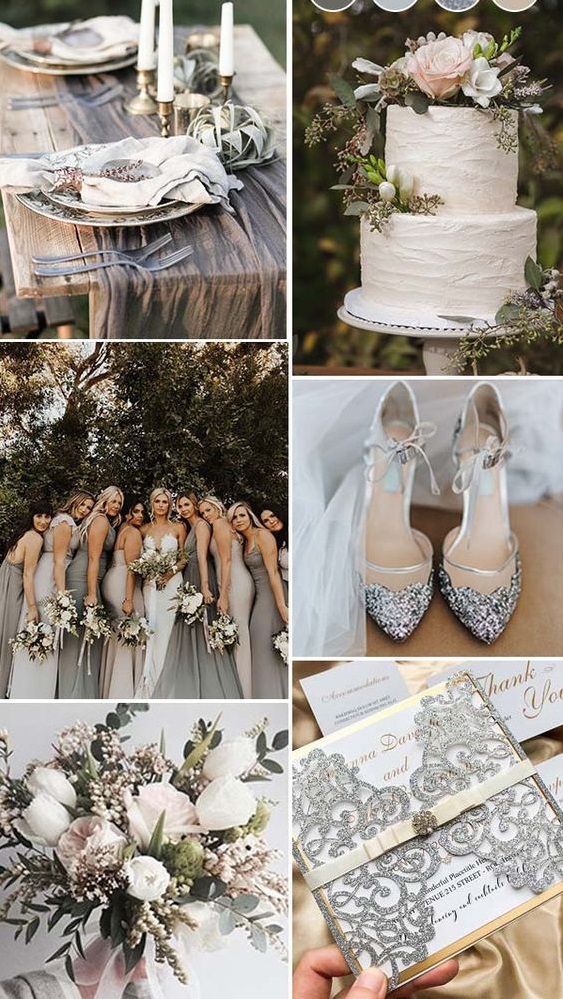 Similarly, when selecting a wedding gown and decorations, you can base your wedding scheme on time and season. Silvery and grey are appropriate for winter wedding color combos, but they can also be used in spring and summer wedding color schemes. Bridesmaid dresses can be made in pearl grey or silvery grey. Choose silvery glitter to add glitz to your wedding shoes and invitation designs. Choose dusty miller leaves or silver dollar eucalyptus for a more silvery grey palette in wedding bouquets. Then use silver tableware and grey tablecloths for table setting and centerpieces. The groom and groomsmen will look better in grey tuxes, and you can match them with a silvery tie. To make it seems outstanding and attractive, you can personalize the grey to be light or shimmery, and the silver to be dull or bright.
Plan for summer weddings is fun and usually full of energetic and bright color palettes. You can also combine more spectrum of warm and cool colors that would give you unexpected spring and summer wedding color schemes. For the tip, you can select contrasting hues from two opposites colorings in the color wheel. This may give you a harmonizing look that is excellent for your wedding decor idea. So, what's your favorite one? Then, for more info and inspiration, just read our articles about spring wedding color themes or beautiful aqua colors for spring and summer wedding concepts.