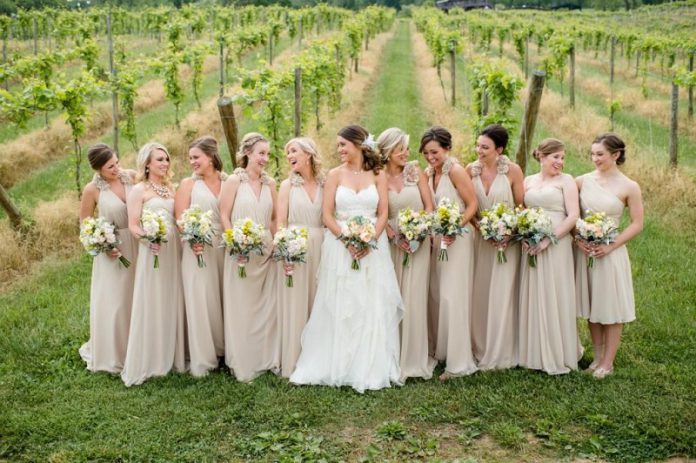 Roowedding.com – While every wedding always focuses on the brides and their other half to lying the knot. However, it will be different if you have bridesmaids on your side. There would be more than just two people involved in your big day. So, make sure you also think about your girl squad, especially for their bridesmaid dress ideas. Today, we want to focus on your personal bridesmaid costumes to look perfectly pretty for the winery and vineyard wedding theme.
After all, the women that become your bridesmaid deserve to look beautiful on your big day. You can use individual styles in the same colors, or make uniforms from lace dresses, or jumpsuits with many colors, and different looks that perfectly match your winery and vineyard wedding theme that you dream about. As such, you will get the perfect wedding from the decorations to the appearances.
At this moment, we want to feature some pretty bridesmaid dress ideas that your girls who will escort you to the altar during your wedding. So excited about what we would share with you? From the stylish look, serious formal power, up to the pretty elegant performance, these bridesmaid gowns would be wonderful to treat with your girls! See what we'll recommend to you then you can get planning about pretty winery and vineyard bridesmaid dress idea with your bestie.
Warm Bronze Bridesmaid Dress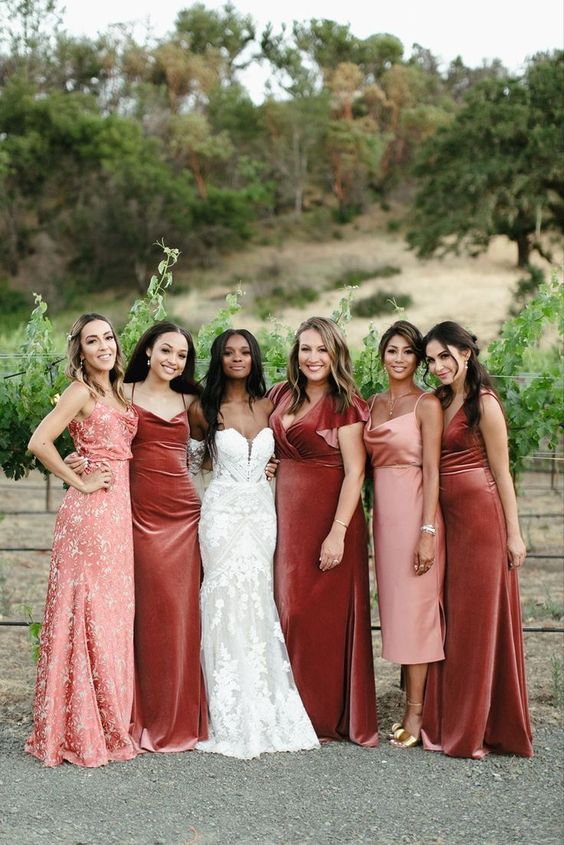 These warm bronze dresses in different stylish looks would be a pretty winery and vineyard bridesmaid dress idea during the fall season. When you want something that classy but still modest for your wedding, just bring a fitted evening velvet dress for bridesmaid gowns. This would actually create a romantic atmosphere in your wedding ceremony and stand the bride's dress perfectly.
Lovely Strapless Pink Dresses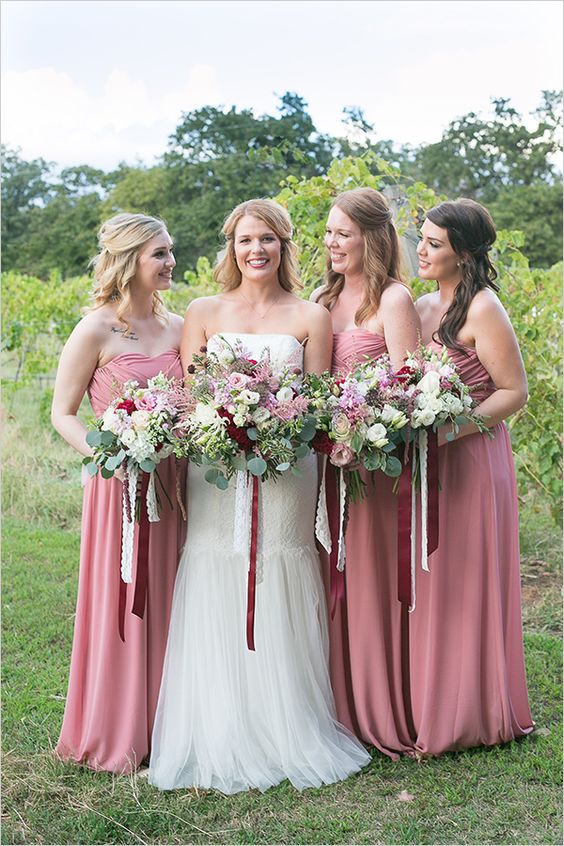 Search for pretty winery and vineyard bridesmaid dress ideas? Just come with these lovely strapless pink dresses for your girl squad. Look how the colors would be matching with your white dress in a greenery outdoor wedding ceremony. That would look pretty like blossoms, and it actually fitted for your spring wedding or any kind of wedding idea.
One Shoulder Satin Boho Dresses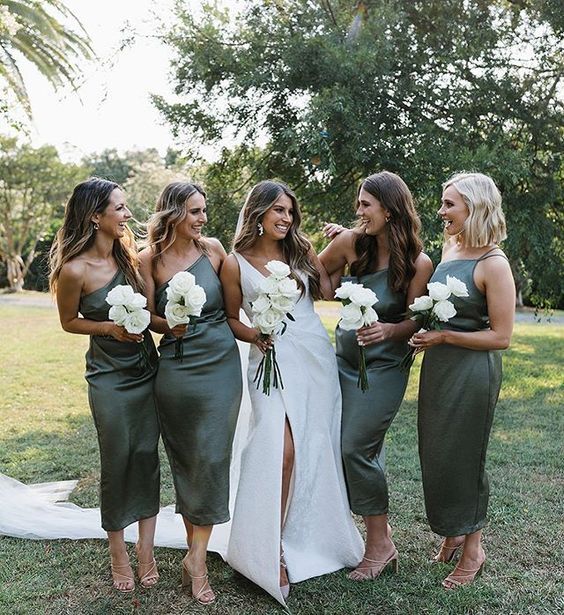 If you want a bit bold in your winery and vineyard bridesmaid dress, just bring fitted satin off-shoulder dresses in the olive green palette. These dresses would contrast with your white bridal dress. To make it more elegant, you can match the dress with pastel strappy high heels.
Minty Stretch Silk Dress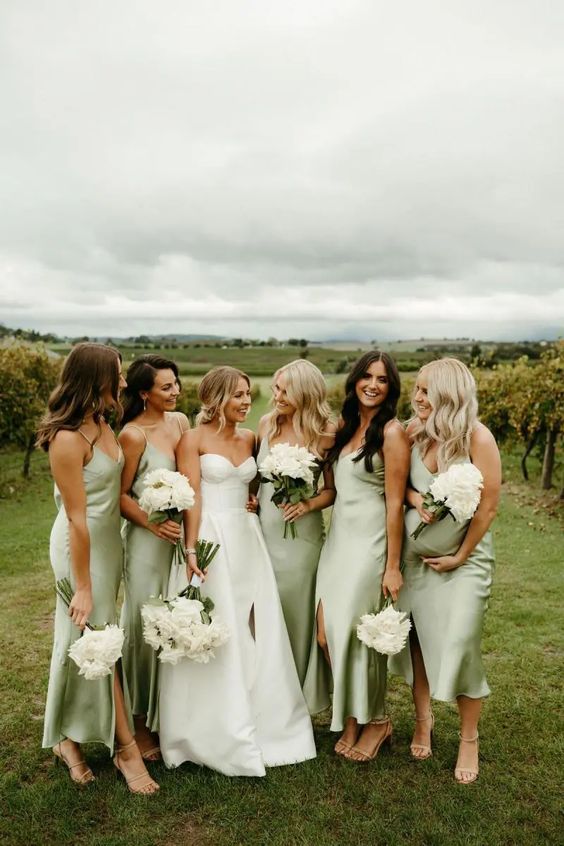 When it comes to winery and vineyard wedding themes, a green palette such as minty would look good for flattering your bridesmaid showing. Opt for a stretch silk dress in the mint shade for a greenery wedding-inspired bash. And then, you can get high heels, stilettos, or strappy heels for matching footwear for his gown. You don't have to wear many accessories, just simple gold jewelry and with loose wave hairstyle pretty enough for stunning your girls' performance.
Pretty Blush Short Dresses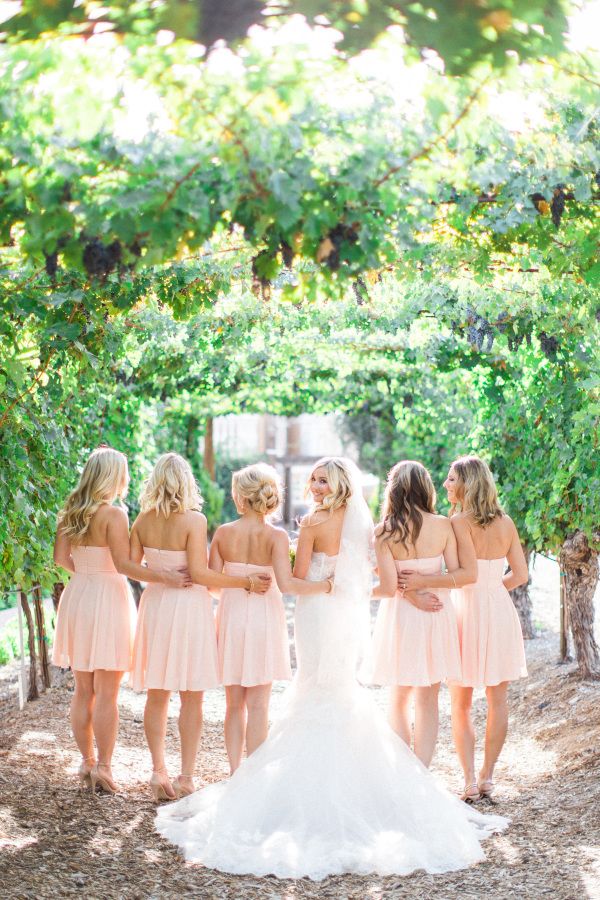 If neither maxi nor long dresses are really into you, another option for winery and vineyard bridesmaid dresses that we think you'll love is short dresses. Designed in strapless style with short tulle skirt peach blush color makes your personal bridesmaid look chic and pretty. High heels are the perfect footwear you should choose to match with this dress. With this gown, you would get perfect photos with your best friends in the center of the green vineyard.
Modern Pastel Violet Chiffon Dresses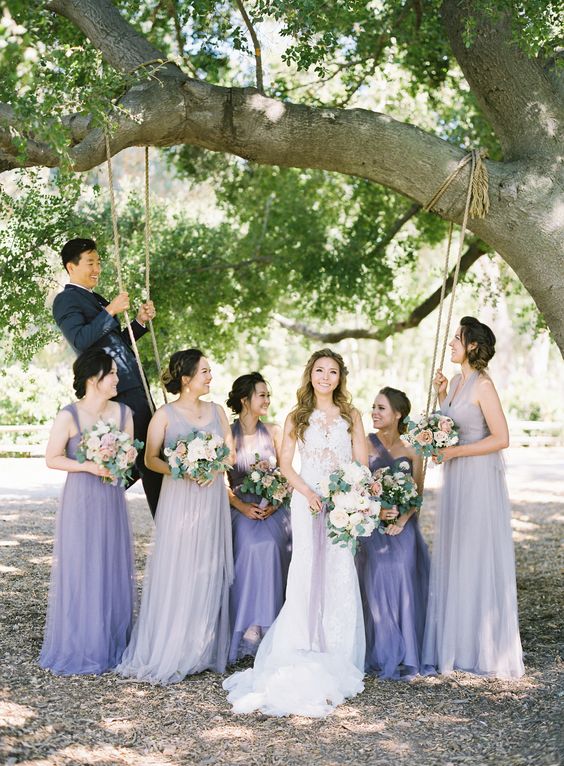 When you think to create shabby vintage style in your wedding theme use costumes, get this modern pastel chiffon for your bridesmaid dress idea. You can try to add pastel violet in different shades that perfectly match your lace brocade white bridal dress. By styling your bridesmaid hairstyle in updos, it can be more creating elegant cottagecore looks. As far as this bridesmaid dress look, just think about whimsical style, flowy gown, romantic faded colors, and elegant sleeveless dresses.
Chic in Denim Jacket and Dress Style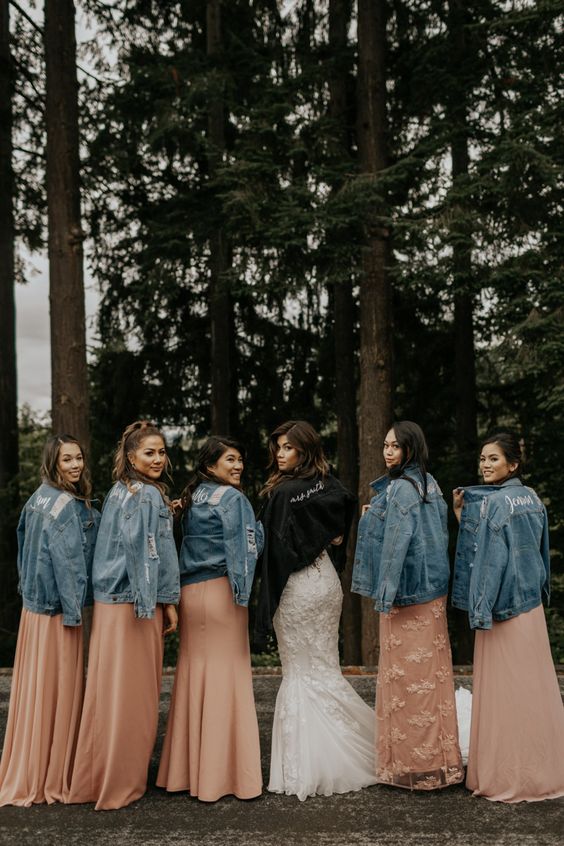 Are you bored to bring dresses to your wedding? Why don't you add something different like this jacket style into your plan? So, to create a trendy winery and vineyard bridesmaid dress idea, wear a personalized denim jacket over your girl's gown. This idea can be your way to produce a bit of industrial nuance in your wedding.
Cocktail and Party Short Black Dresses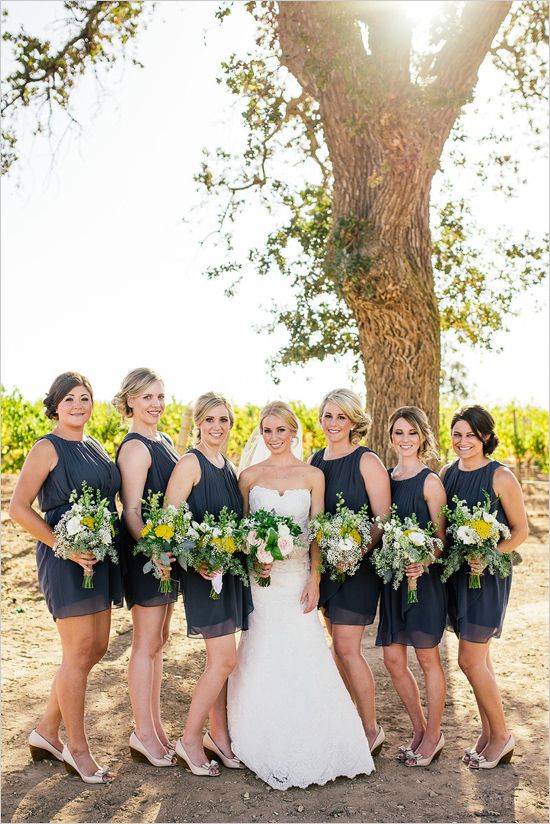 Another winery and vineyard bridesmaid dress idea to get on is this black cocktail mini dress. Sometimes you want a bit modern look, and long and maxi dresses are common to classic formal styling. Therefore, picking a short chiffon dress with a halter neckline has a fresh elegant style for your wedding. Besides that, choosing black really makes a chic statement that suits everyone.
Rustic Red Bridesmaid Dresses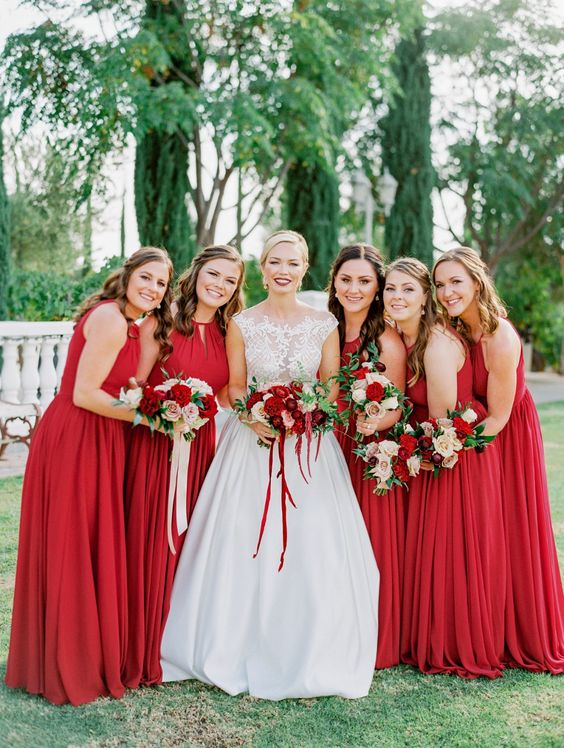 From sweet blush to berry, rose to cherry, and ruby to wine, bridesmaids are excellent in red lately. As such bringing red cranberry into winery wedding bridesmaid dress ideas also can be a great option. This eye-catching dress can create fun and cheer for any wedding. This bright color will surely add a sweet and pretty look to your wedding day.
Wine Bridesmaid Dresses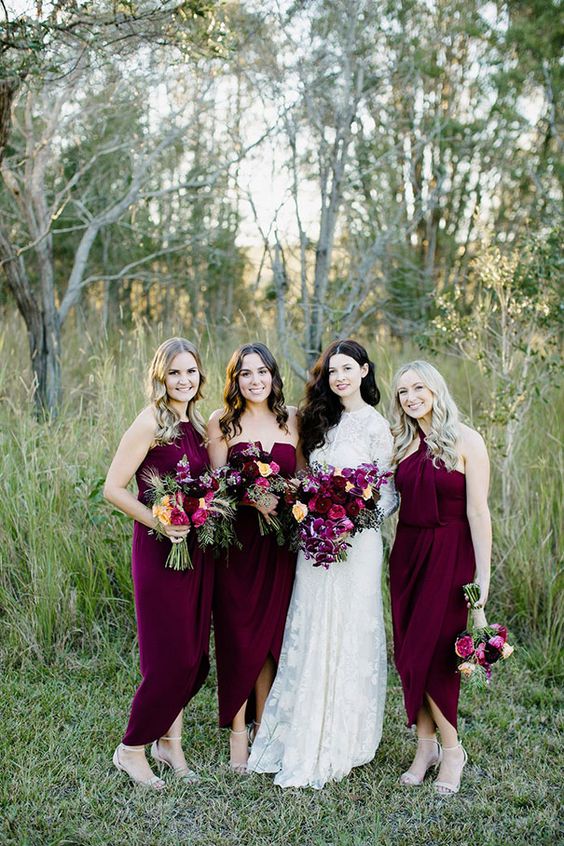 We love this bold gown really much. Yes, wine color gown that looks elegant and perfect for a winery wedding concept. The color is flattering, gorgeous, and truly versatile for adjusting to any seasonal wedding. You can create different evening dresses with this color to become pretty winery and vineyard bridesmaid dress ideas. It's a perfect choice for formal weddings, outdoor garden weddings, and also elegant wedding receptions.
Champagne Color Satin Dresses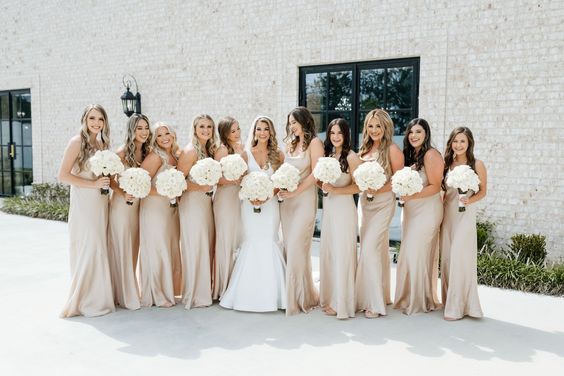 Aside from pastel and wine colors, the cream also has a place to spotlight for winery and vineyard bridesmaid dress ideas. We can see whole cream shades such as ivory, pearl, and champaign which feel delightful and pretty. Especially, when you go with a fit silk champaign dress to become your bridesmaid gown. All your girls would look super modern in a perfect silhouette.
Greenery with Fern Green and Floral Printed Dresses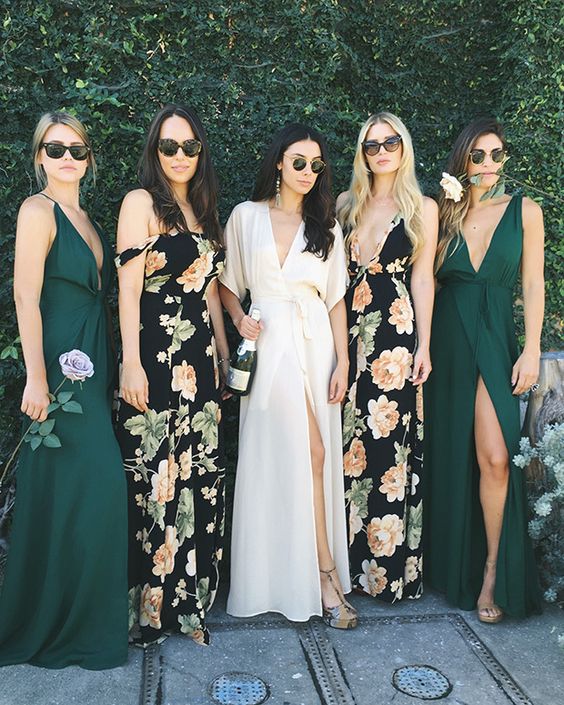 When you have an idea of bringing your winery and vineyard wedding into greenery theme ideas, simply get green fern colors and a floral printed dress into your bridesmaid style. We have been popping out a lot of bridesmaid dresses in the same colors, patterns, and style. Now, we are going to share and tell you that your bridesmaid dress ideas can be had in any variety of colors and patterns at one time. For instance, if you have 4 girls who become bridesmaids you can make two pieces of the green gown and two pieces of floral print black dress. For the style, better to ask or hand it to your bridesmaid.
Full Blooms Bridesmaid Dresses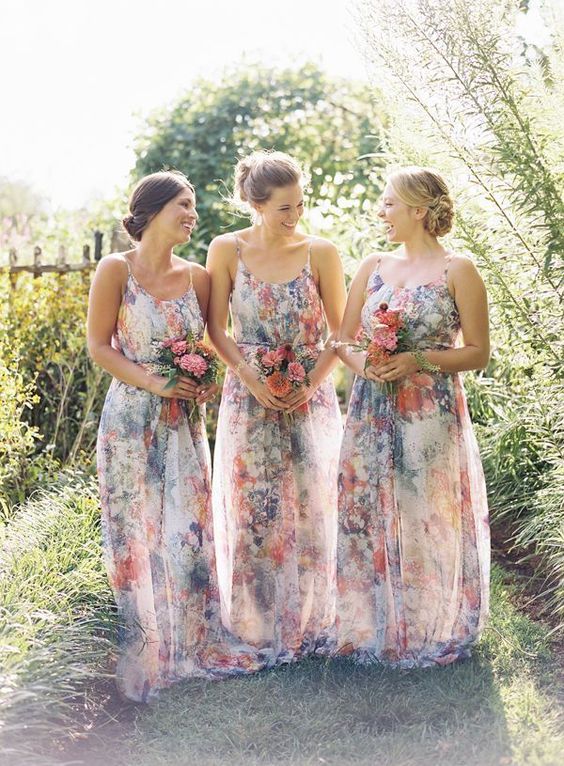 This kind of dress is not a new trend, but we are definitely happy to see it appear at your wedding. Yups, floral printed dresses. To make it pretty for winery and vineyard bridesmaid dresses, better to choose pastel coloring with faded flower print. Better to use chiffon or another light linen that is a bit transparent to bring a whimsical rustic concept. Also, designed in strappy maxi dress style would be fitted to show full blossoms for spring or summer weddings.
Classic Red Velvet Dresses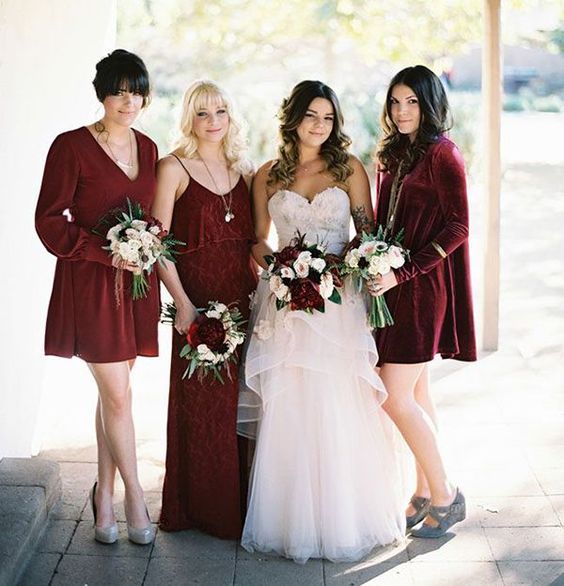 Jewel tone shades have comes popular over the last years. All manner of emerald, ruby, or sapphires shades are favored to add to the wedding, especially for bridesmaid dress ideas. Now, let's see this ruby velvet dress. How it can be suited to perfecting your late summer, autumn, or winter, or even on winery and vineyard wedding themes. Using velvet in red ruby coloring carries a sophisticated and classy texture that brings luxe to your girls' squad performance.
Earthy Tones in Vineyard Wedding Dresses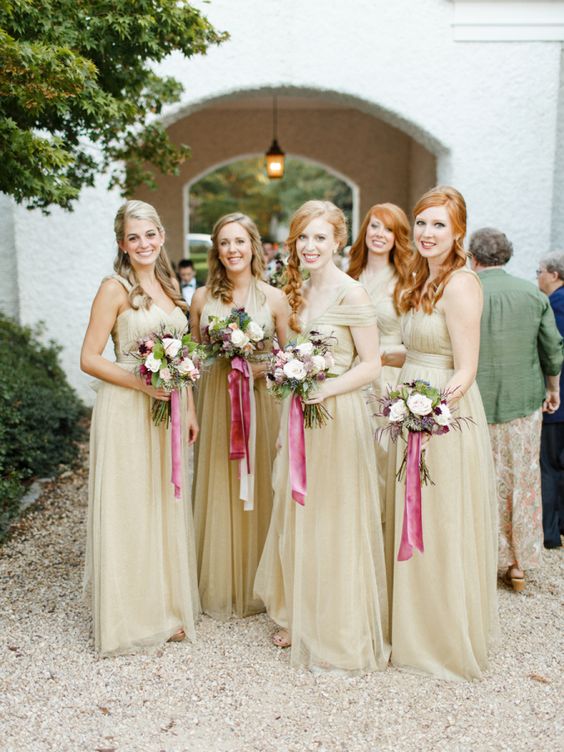 Terracotta is a kind of exciting addition to your bridesmaid fashion. What actually comes in this look is earthy tones style as such this cream dresses. Overall, this dress is really flattering and can be adjusted to any kind of wedding. As inspiration for a pretty winery and vineyard bridesmaid dress idea, get this pretty cream-long chiffon dress for the late summer or early fall wedding concept. The warm tone of the dress actually brings intimacy and shows how you look closely with your friends.
Bridesmaid Tulle Skirt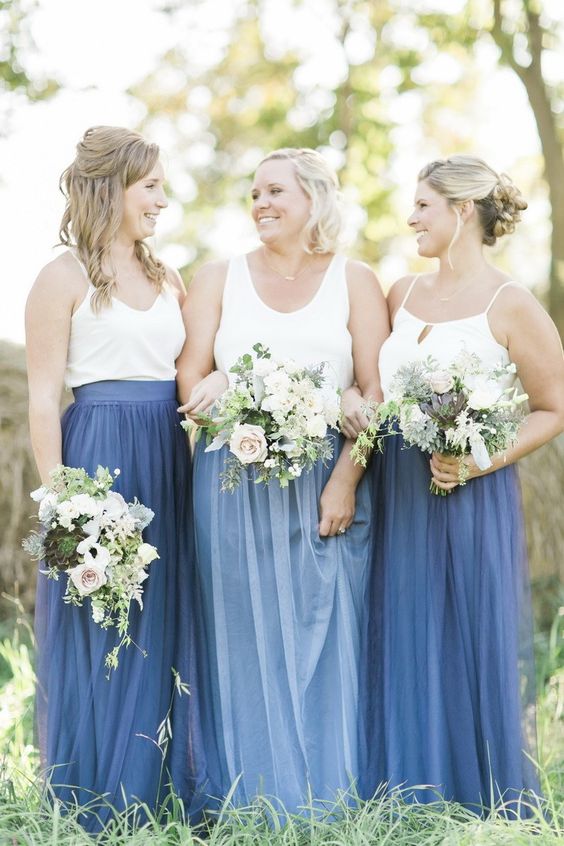 Mix and match your bridesmaid dresses in another style look such as tulle skirts in blue shades. We think it's excellent to choose a two-piece outfit than wearing a dress if you look for something unique and whimsical. With this style, you can bring different tops for each girl but have similar bottoms style. So, your squad girls can a bit free to express their fashion style.
White Lace Bridesmaid Dress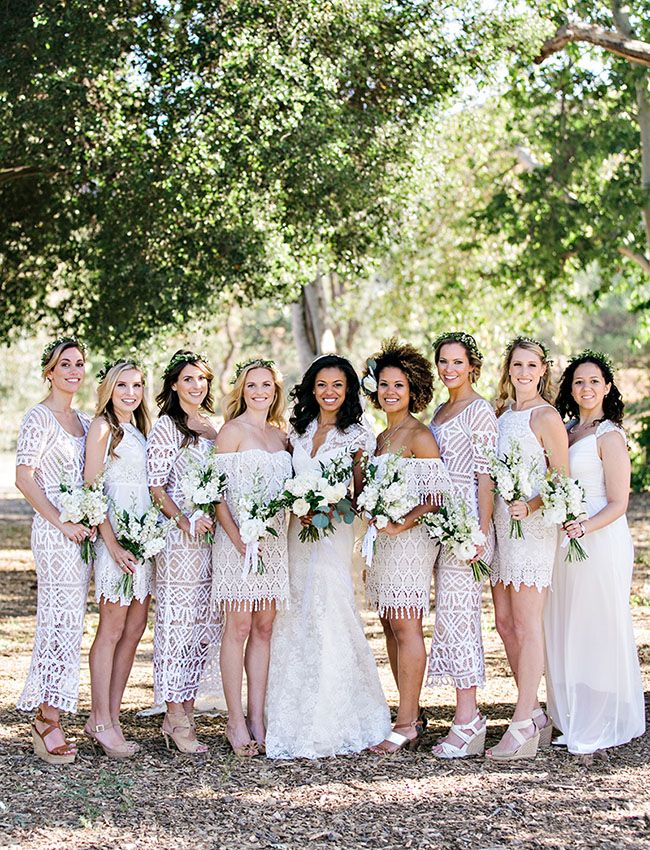 What's more romantic at the wedding than wearing a lace dress? This elevated texturing dress is timeless and versatile, not just can adorn a bridal gown. But you can also adjust this lace dress for creating pretty winery and vineyard bridesmaid dress ideas. Clean shades of white in this dress actually can work for every type of wedding theme from chic bohemian concepts, industrial ideas, and to glam elegant theme weddings. For inspiration, you can adjust different patterns and different styles to your white bridesmaid lace dresses.
That's all about the winery and vineyard bridesmaid dress inspired! You can try to copy and follow these ideas if you want still confused about how to concept your bridesmaid look. Still, make sure to have a talk with your friends about your plan. Even if this is about your wedding, their opinion is important too. Make this opportunity to strengthen your friendships. Also, when you want another inspiration design for your bridesmaid, read our article about lovely bridesmaid dresses in beautiful colors. Happy wedding and congratulation!!!