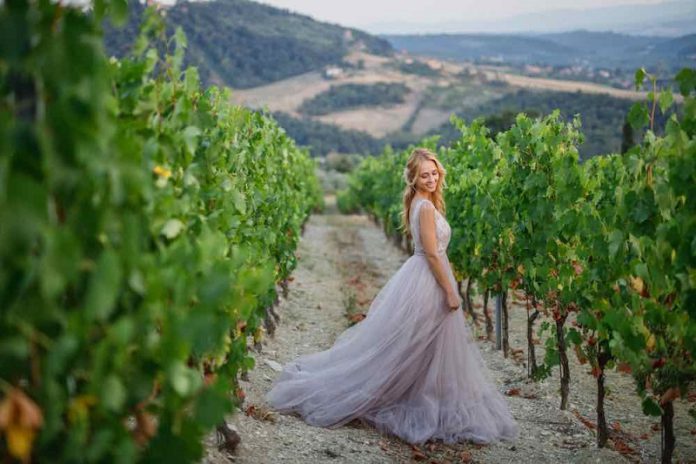 Roowedding.com – When we talk about winery & vineyard wedding concepts, it's usually full of romantic, rustic, and chic vibrant. The decor, venue, and wedding dress ideas, can turn overwhelming when you think about them thoroughly. Especially your bridal gown, which you need to consider after you get your wedding theme. So, what kind of gown would be appropriate for winery & vineyard wedding ideas?
Figure out what you want to wear on your big day to walk down to the altar with your mate. Regarding your wedding gown, make sure it expresses yourself and your wedding concept. Like when you try to come up with a winery & vineyard wedding theme. There are many kinds of chic and elegant wedding dress ideas to inspire you.
Winery & vineyard weddings are truly romantic that stand in vintage countrified style. From fairy white gowns to romantic blush and pink dresses, your wedding concept could be carried with other color schemes. So, wondering what you should wear for your wedding to look fabulous while surrounded by beautiful vine scenery? You can find the answer by scrolling through our winery & vineyard wedding gown ideas below. We"ve decided to encourage you with some chic and elegant dresses, let's get started!!!
Beautiful Lace Dress
First, find basic when it comes to wedding dresses like white schemes and lace. Most brides choose those components to create chic and elegant wedding dress ideas, including for winery & vineyard wedding themes. When you want a bit rustic and country style, getting a lace gown is the best option. You can create another concept with just this one dress such as a bohemian wedding.
Wine Color Dress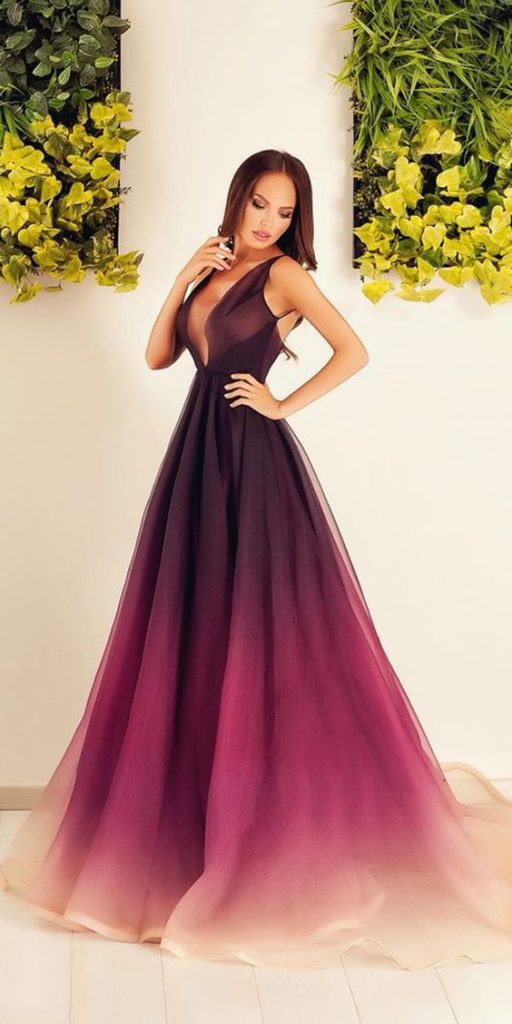 Basically, white is the favorite color when it comes to the wedding gown. However, you can also use another color scheme for your gown like this one. Wine colors would seem sophisticated to adjust to your winery & vineyard wedding dress ideas. It really suits the concept and brings your wedding another level of elegance and a classy vibe.
Two-Piece Bridal Gown
If you are the type of girl who wants an unusual gown for your wedding, get this two-piece into your winery & vineyard wedding dress idea. You can design your bridal gown in a two-piece model which includes a strappy cropped top and a long slit maxi skirt. Using silky and fall fabrics is a great choice that would fit through your body and create an elegant and chic look. With this wedding gown, you can freely present another appearance such as an industrial wedding theme by adding sneakers as a detail.
Short Tea Wedding Dress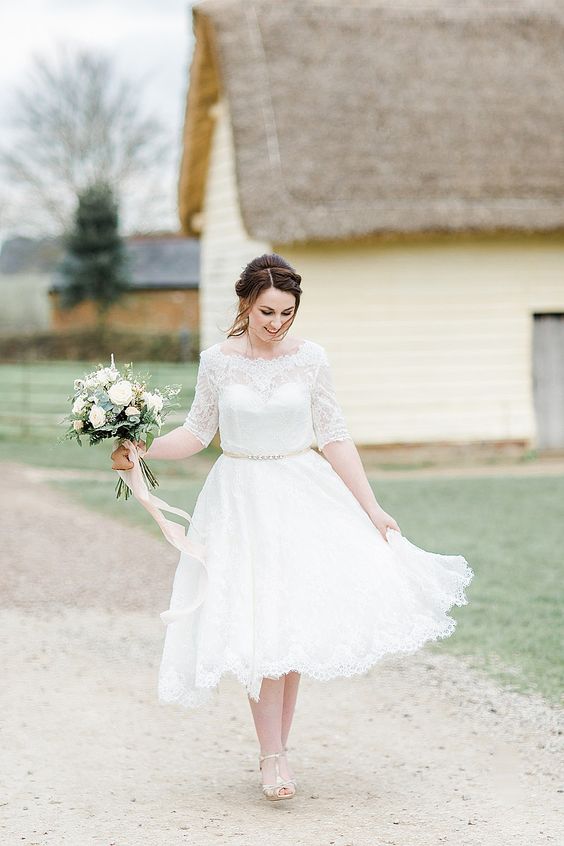 If you go to an outdoor wedding party and you need a simple gown, so a tea wedding dress would help your styling look. Designing with midi length in a bit of layering on the skirt and transparent sleeves would certainly make you have an elegant style. Bring a little accessory like a pearl belt over the dress to create a slim-fit style. This dress really matches brides who have petite bodies.
Blush Pink Wedding Dress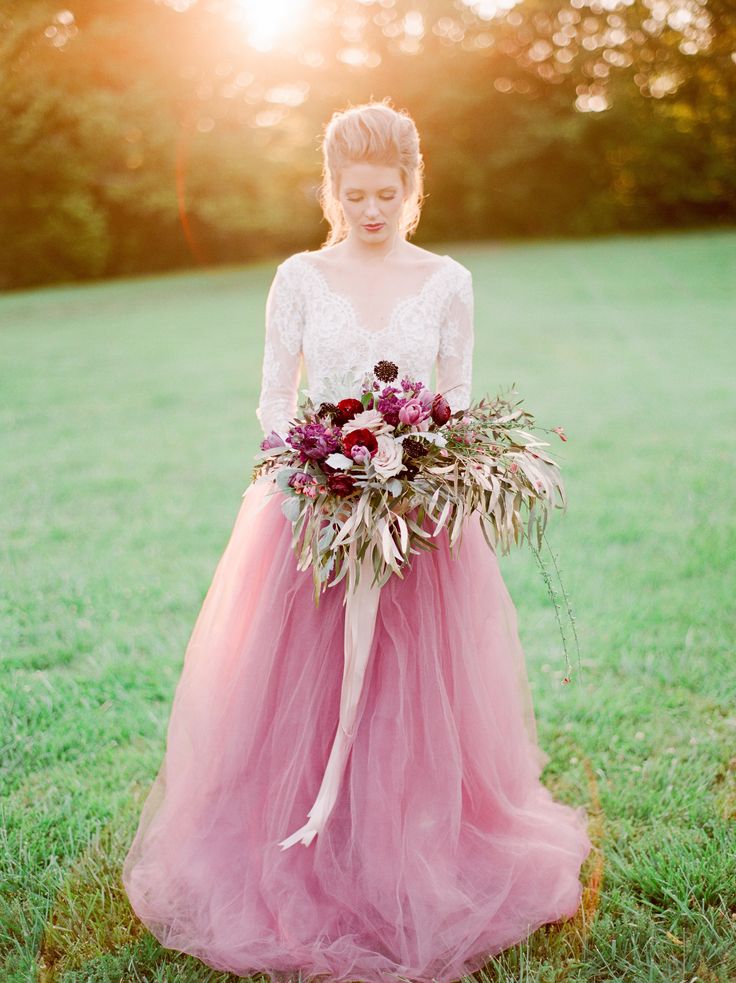 Bring a romantic atmosphere into your winery & vineyard wedding dress idea by getting a blush pink color combination. You can design your dress with a white lace top and a pretty pink tulle skirt in the bottoms. A v neckline and a bit of transparent lace fabric on the top would bring an elegant styling dress. Then match your dress with your hairstyle and another detailing accessory that would make you look beautiful at your big moment.
Backless Gown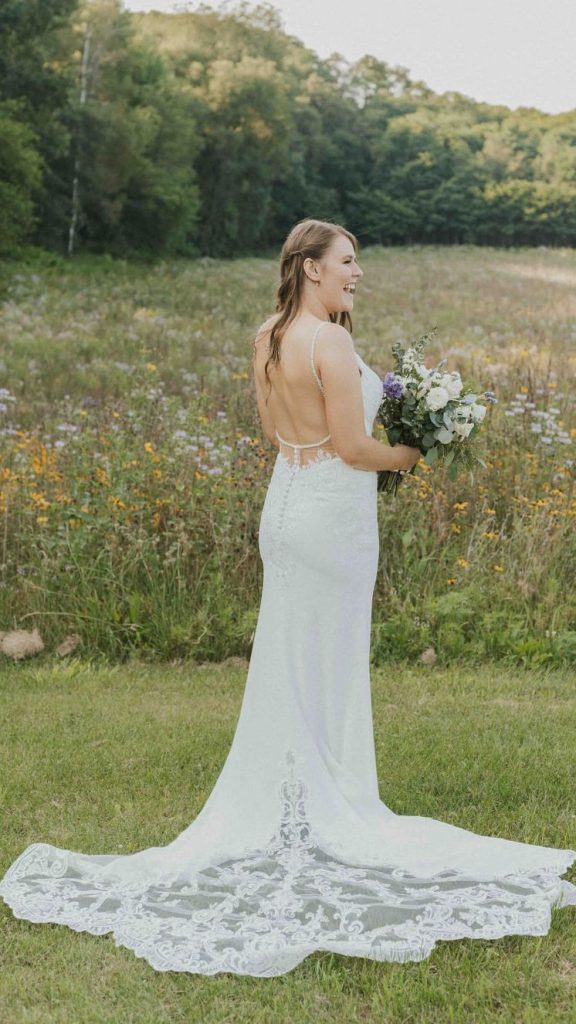 When you want something a bit sexy in your elegant wedding dress style, bring this backless gown. You can choose a backless lace mermaid dress that looks gorgeous when you wear it in outdoor winery & vineyard weddings. The long-falling skirt in the back dress can support the elegant look, especially when you use lace fabric with beautiful embroidery embellishments. In addition, designing a backless style of the back and strappy sleeves could build your sexual performance.
Chic Puff Sleeve Dress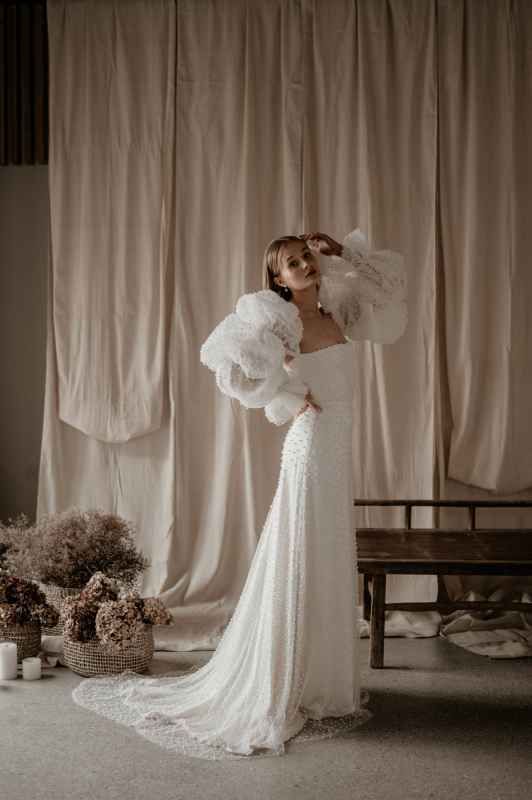 Want to look chic in your white wedding dress style? While other brides get sleeveless or long sleeve styles, why don't you try a different design by getting a puff sleeve? We truly think that would pretty and chic on you. You can create a line model as your winery & vineyard wedding dress idea and attach some pearl embellishments to get a glamourous look.
Silver Ruffle Wedding Gown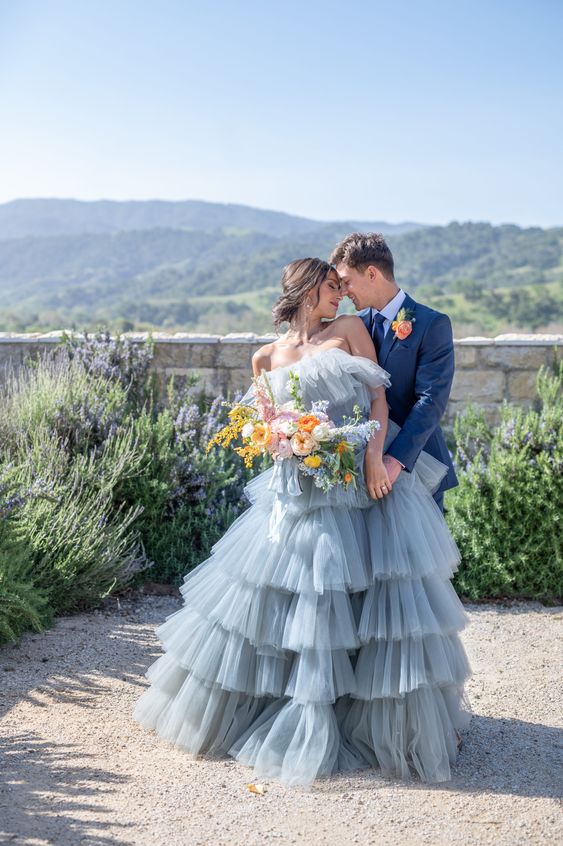 If you search on Pinterest about wedding dresses, they commonly appear in white coloring gowns in many designs. However, there are also some colorful wedding gowns that you can try on if you are bored with white. Such this silver-grey gown. The color is not too eyecatching and a great option if you want a bit formal ceremony but still chic like an outdoor winery & vineyard wedding. Regarding the design, you can get a ruffle with chiffon fabrics and a strapless style that would make you look pretty in this chic and elegant wedding dress idea.
Elegant Blush Off Shoulder Dress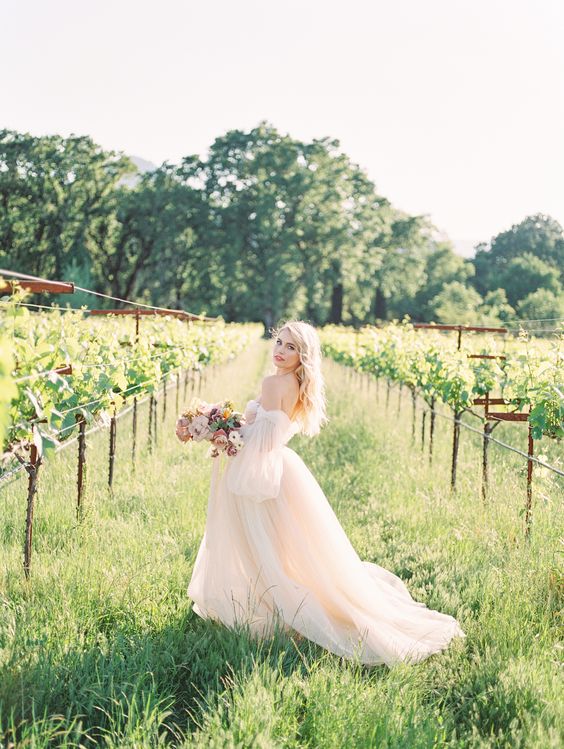 This off-shoulder blush dress is one of our favorite wedding gowns. The color looks pretty and soft which makes you look wonderful in humility. Designed a bit exposed on the shoulder make you have a sexy glace that would take people's attention. More importantly, this chic and elegant dress is great to become your vineyard & winery wedding gown idea. The colors perfectly match with beautiful green from the vine's scenery and keep you lovely at a summer wedding.
Black and Blush Strapless Ballgown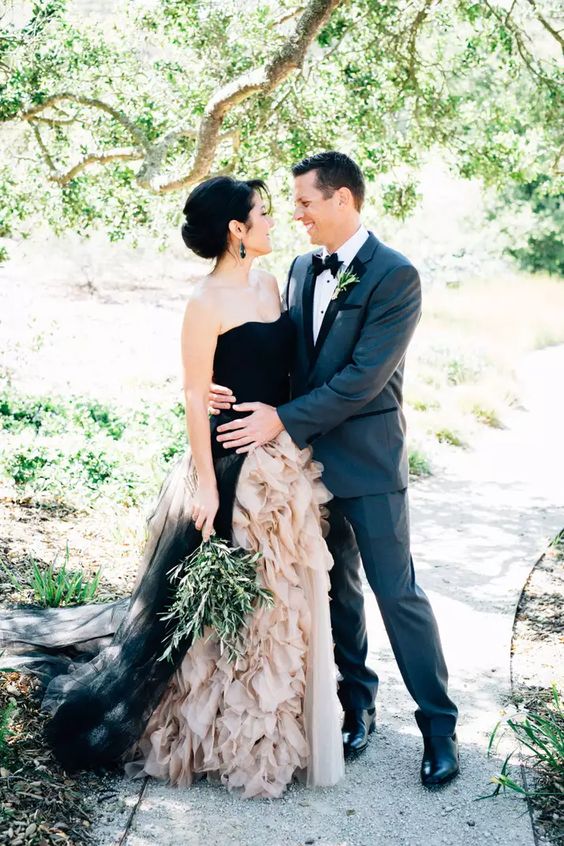 We have seen many kinds of colorful wedding gowns that are pretty enough to become chic winery & vineyard wedding dress ideas. Most of them come in blush and pastel coloring styles. Not different from this strapless ball gown. You can turn it to become classy elegant design by getting a black and blush color combination. With this, you don't need anything again besides simple jewelry to make you extremely wonderful in your greenery wedding reception in the vineyard.
White and Red A Line Dress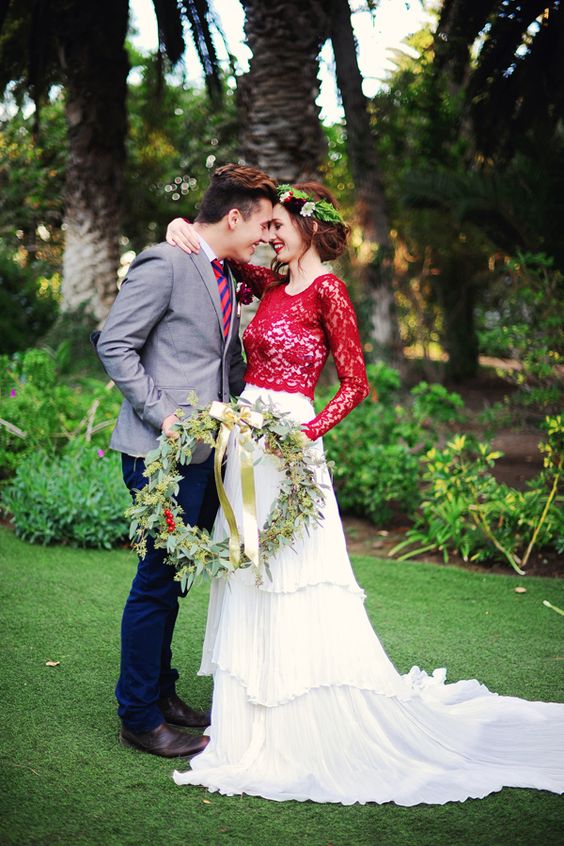 Still, wondering what to wear on your wedding day? We recommend you try this one. Bring a red hint into your white dress. You can get the touch on the topper dress with red lace fabrics, then the rest create a layered ruffle on the skirt. Make this a whimsical elegant winery & vineyard wedding dress idea that you ever wear. You just need to perfect your dress performance with your rustic bridal hairstyle with an updo and greenery crown.
Bold in Red Gown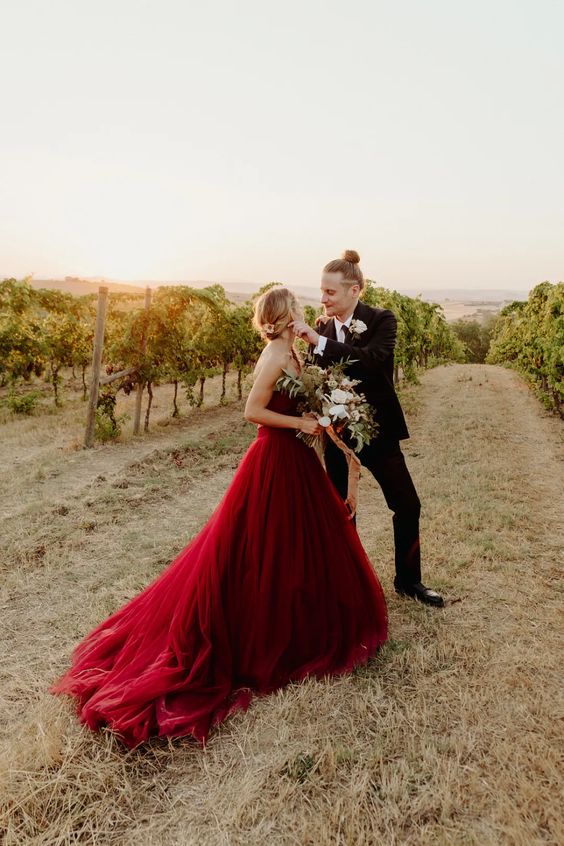 One of the tricks, when you want to look extraordinary in your best moment is wearing a bold red gown. The deep red from your dress would really hit your winery & vineyard wedding concept. It looks perfect to adorn your outdoor receptions with beautiful vines for the background.
Rustic with Peasant Bridal Gown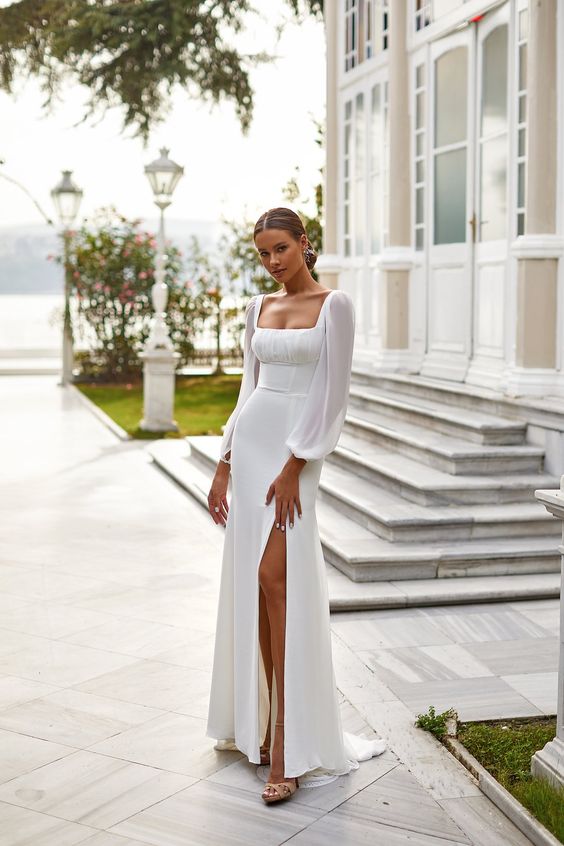 If you hosting a simple intimate ceremony where just your family and besties attend, this peasant dress would create the atmosphere there. This would be suitable to adorn your winery and vineyard wedding ideas in a modest rustic concept. You can take a simple long sleeve dress with a square neckline and a long slit on one side. Design it to fit your body that would captivate every people in the venue. Perfect your wedding dress with simple jewelry and high heels. Then, you can also get styling your hair in a low bun to support your modesty and elegant look.
Simple Elegant Trumpet Gown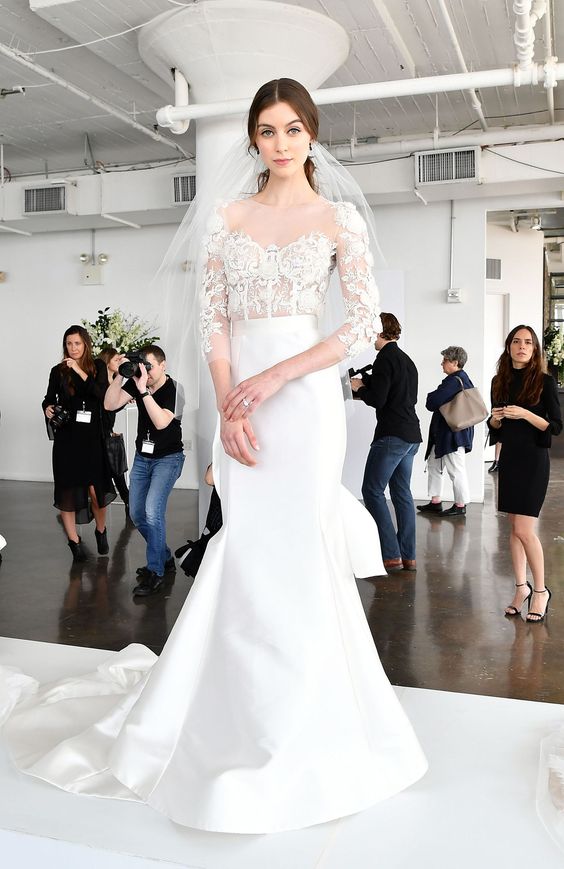 Another simple yet wonderful gown for a chic and elegant winery & vineyard wedding dress idea is a trumpet dress with a veil. We really love how the long-sleeve brocade tops with beautiful embroidery matched with elegant long silk skirts. Likewise, if you pair your gown with a veil. That would look sacred to your wedding ceremony.
Romantic Bridal Gown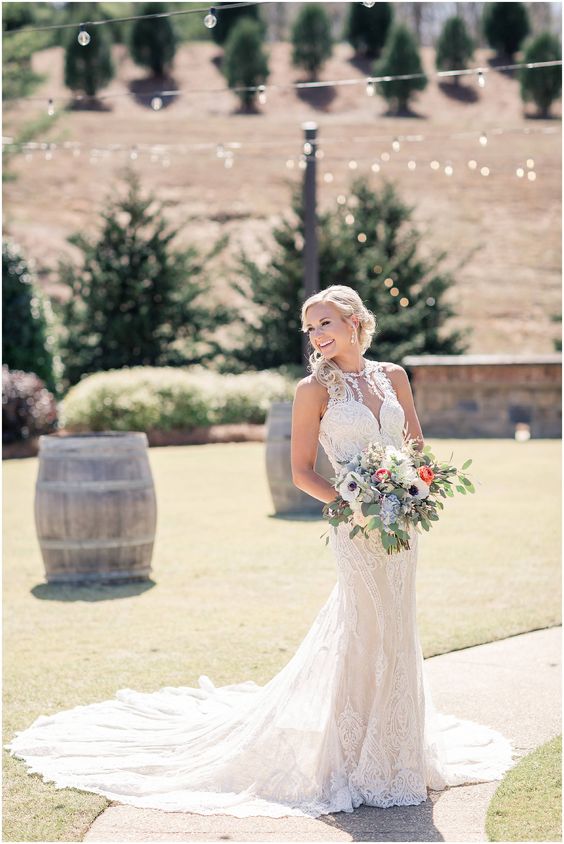 Want a bit classical gown to wear on a winery & vineyard wedding theme? This halter lace dress it's enough to bring a vintage feel to your wedding. With a very long skirt on the back, make it like a fairy tale dress. It would also be great for creating bohemian wedding dresses in the winery wedding concept.
Gorgeous Brides Jacket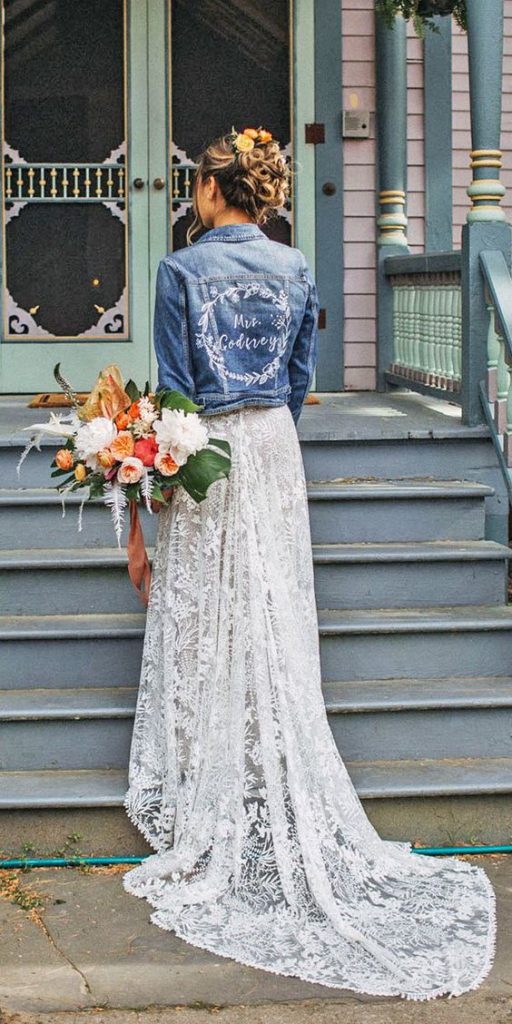 Have you ever thought to wear a denim jacket as your wedding dress style? Making a creation with your gown is one of the ways to express yourself. So, don't hesitate to include anything that really presents your sense. Likewise when you want to include a denim jacket to bring chic winery & vineyard wedding dress ideas. You can make a custom jacket that has letter prints on the back. This bridal jacket could be matched with any kind of wedding dress. You can create a bit of industrial style from it by matching the jacket with a lace wedding dress. Or, when you appear with cowboy boots and jackets, it looks more country wedding dress style.
Clasic Elegant Criss-Cross Back Dress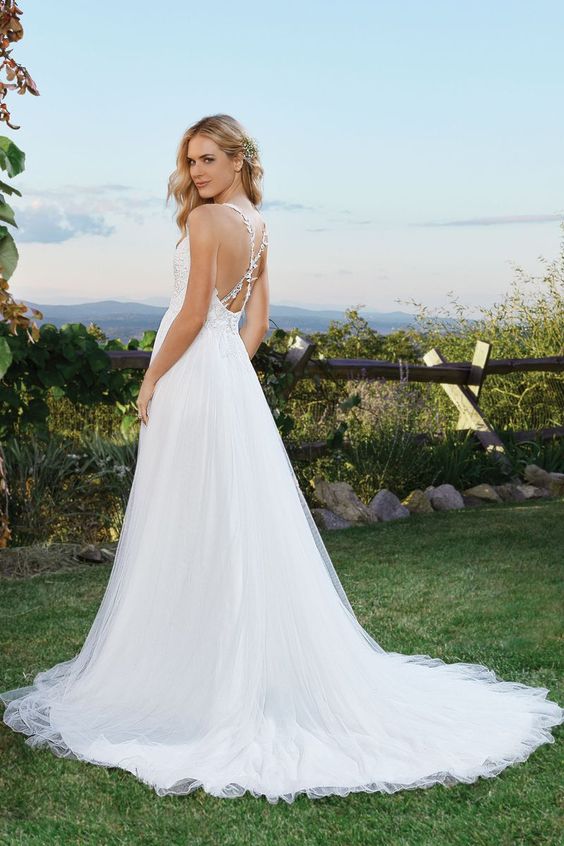 The combos of classic and elegant are still being favored by brides to design their wedding dresses. We have shared some classic elegant dresses for you here, but this one shouldn't be missed. We are really into this gown becoming your winery & vineyard wedding dress ideas. The classic a-line dress that's designed with criss-cross straps on the back and exposes your back would bring sensuality to your performance. Especially when you styling your hair in a loose wavy style, that would add more to your beauty.
Chic Floral Print Wedding Dress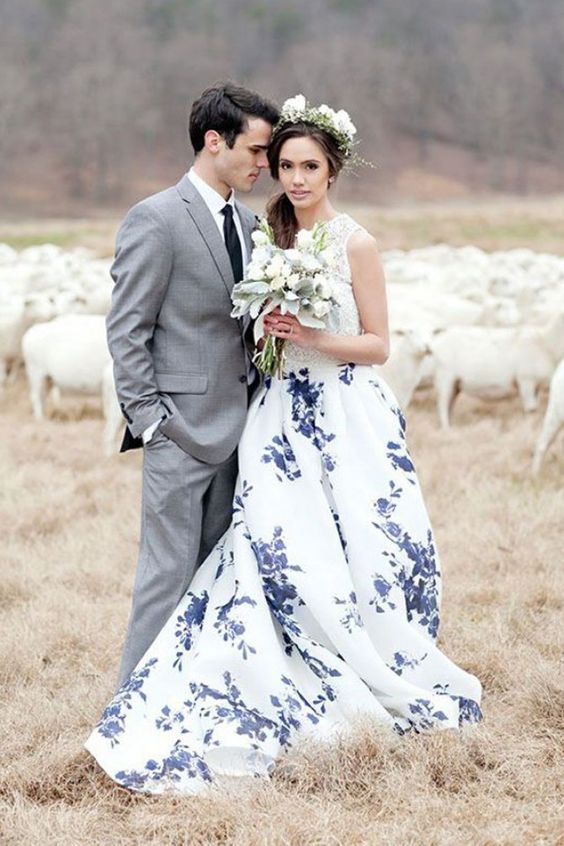 Perform your chic vineyard & winery wedding dress idea in a unique way by wearing a floral print gown. Make it different from another bridal gown by bringing flowers all around your white gown. You can add black flower prints to the skirt part of your dress and white lace for the top. Then, perfect your performance with a low ponytail and a flower crown that brings a more rustic nuance.
Glamour in Sequin Dress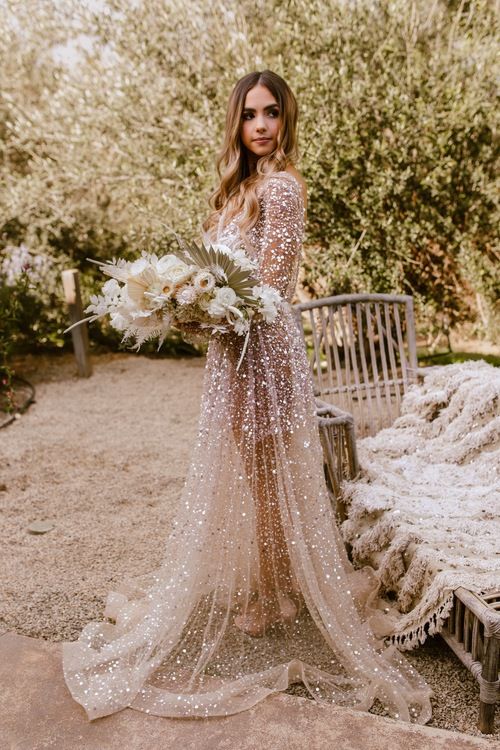 Bring glams to your winery wedding? Why not. Present a classy glamorous to your wedding with a sequin dress. Are you curious? We give you one example dress from the picture above. I think it looks amazing. Eventually, you can still look luxurious even in green vines scenery not in the ballroom. You can ask your wedding planner or designer to tailor a transparent dress but attach some glittering sequins around the dress. With this gown, you don't have to wear any jewelry with you, just a simple ear stud is enough. And for the hairstyle, better to have loose waves hairstyle that would be perfect in this gown performance.
Sexy Elegant Wedding Dress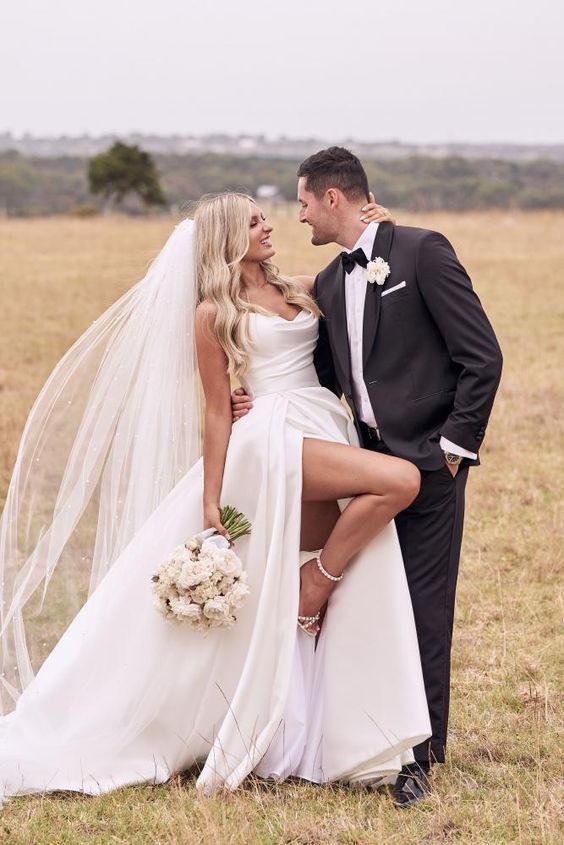 So, we have come to the last idea about chic elegant winery & vineyard wedding dresses. This dress is also what we are preferred more. The simple sweetheart a-line silk dress with a very long slit on the side. For the sleeve, get a strappy style to support you with a sexy performance. Then, you can bring a transparent long veil in the back with a loose wave hairstyle that looks pretty enough. And for the last touch, perfect your sexy elegant appearance with strappy high heels with pearl adornments.
That's all some inspiring winery and vineyard wedding dress ideas. Anything you choose later on your wedding, just pick the best version. If you want to get the full concept of this wedding theme, read our articles about winery and vineyard wedding ideas in rustic concept. You will find what you need there. Have good luck with your wedding guys, and congratulations!!!