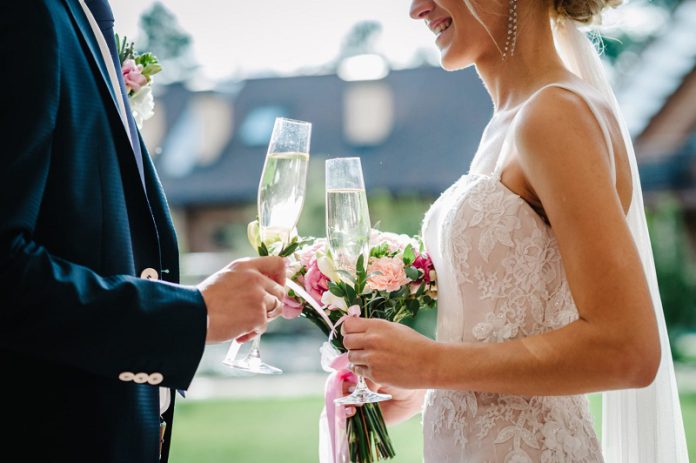 Roowedding.com – Since we talk about winery and vineyard wedding concepts for romantic weddings, there would be more ideas to try on. A vineyard is a magical place, not only has amazing scenery with the vines but it also has a romantic side in a natural accent. From large fields with plenty of natural light, and unique architecture from barns or wine vaults, there would make you think to knot your vow there.
If you have an amazing wedding dream, supposed to support it with great ideas. You should consider the wedding theme to use at your reception because it could represent yourself. When you want to have taken vows in the vineyard, make sure to consider plenty of things that are generally included in the winery wedding concept in romantic rustic concepts. Besides thinking about the scenery and budget, you also need to consider transportation, noise obligations, restricted bar list, and other importance before booking your vineyard venue for the wedding.
To help you guarantee to have a romantic winery wedding with barrel decorations, delicious foods, fabulous outfits, and other elements, you should communicate it properly with your partner and wedding planner. So, on this occasion, we'll tell you the general view of winery and vineyard wedding ideas in rustic concept for a romantic wedding.
Wedding Dress and Suits
Once you choose the wedding theme, you need to bring that theme to your outfits. You need to all out for making your wedding perfect, even for the dress code. So, this is what you need to prepare and consider about the bride's dress, groom's suits, and bridesmaid attire for the winery wedding idea.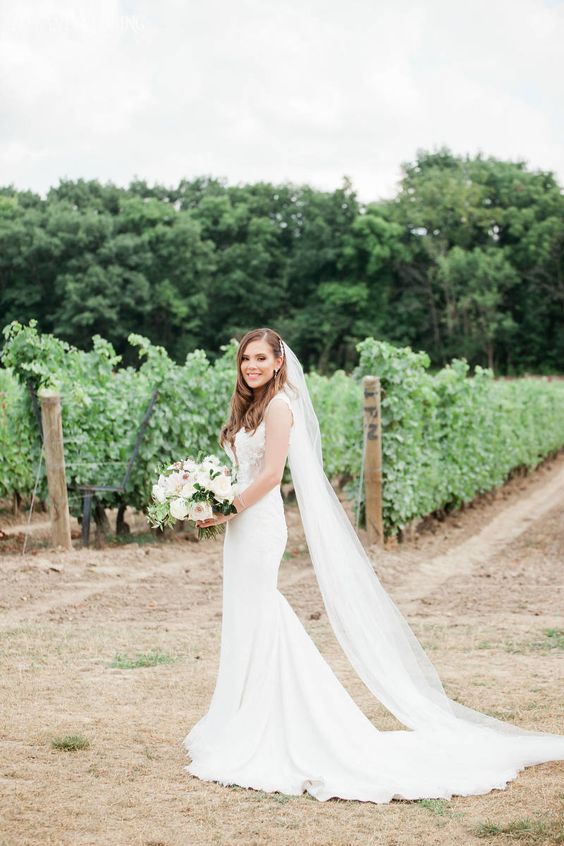 For brides that want to dress up matching the winery wedding in a romantic rustic concept, you can try to bring a country wedding dress. What you need is a sleeveless trumpet dress in a white tone and with a dramatically detailed train. Then, you can still give another point on your wedding dress idea with a long vein for an elegant look. For the wedding shoes, you can choose high heels or stilettos to adorn your feet.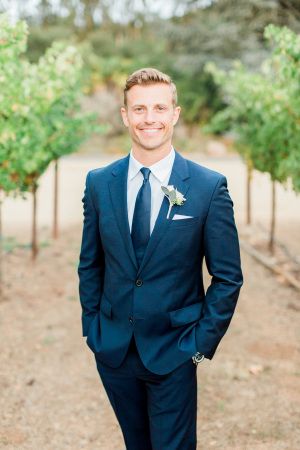 As the grooms, you can wear outstanding wedding suits and tuxedos. If you held your ceremony with winery and vineyard wedding ideas, you can choose this navy blue suit for elegant style on your wedding day. You can see thet the suits would match perfectly with the bride's dress and create a romantic couple at the event. You can give accessories to your suits with boutonnieres that are suited to brides' wedding bouquets.
Bridesmaid and Groom Men Outfits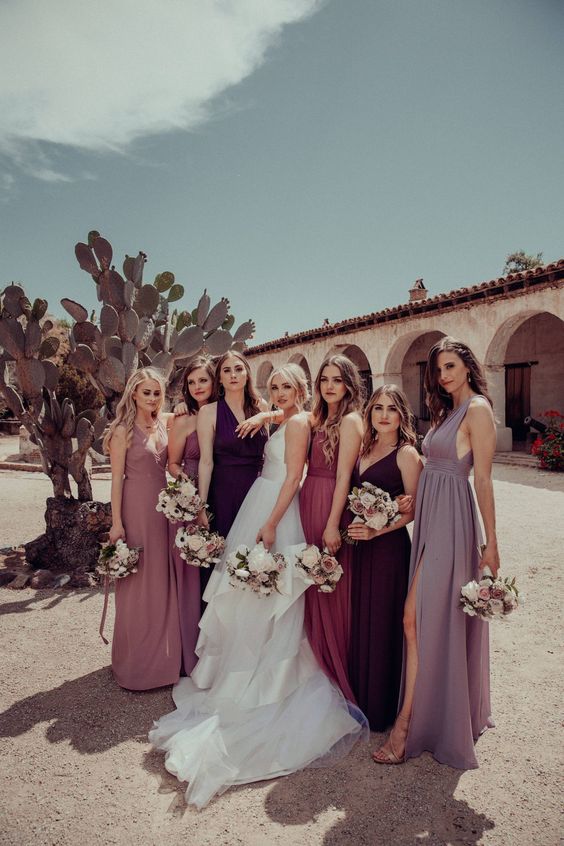 When you ask your friends to become bridesmaids and groomsmen, you should think about the costumes. If you are about to use the winery and vineyard wedding concept, you need to find the attire for your bridesmaids. For instance, you can choose bold tones like wine colors on bridesmaids' dresses. Besides that, pastels also look good like lilac, violet, or pink to create a rustic concept on your wedding look. Just remember that the bridesmaid's dress shouldn't be more glamorous and stunning than the bride's dress.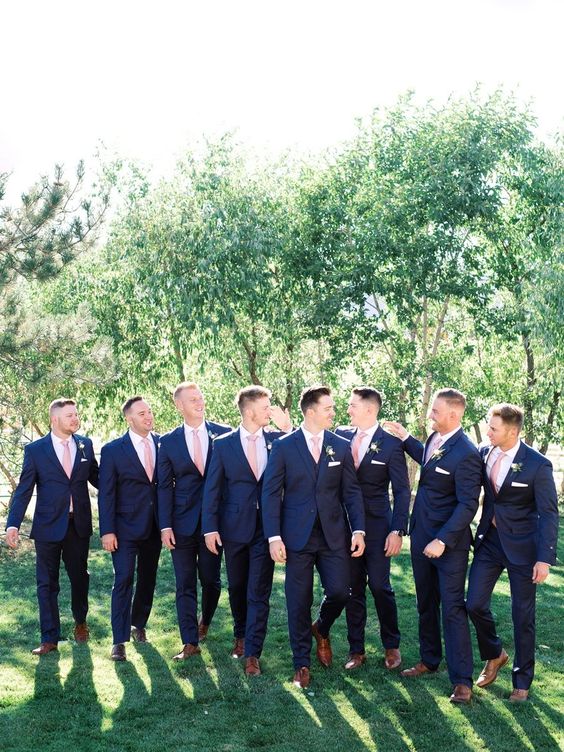 Choosing groomsmen outfits are a bit simple and easy. For this, you can bring two options. First, you can make the costume similar to the groom's attire. Just give accessories to bring a different look. Or, you can bring shades in it. For example, if your suits have bold or dark shades, you can choose lighter colors for your groomsmen suits or vice versa. In winery wedding ideas, navy blue suits are favored and when you choose a light navy blue in your wedding outfits, better dark navy blue for your groomsmen suits.
Wedding Invitations
The way to bring out the winery concept is in your wedding invitation design. You can create your wedding card with the winery elements like barrels or wine bottles, or use the beautiful scenery of vineyards for card design. Besides that, you can also create a wedding invitation with a wine bottle. Here is the explanation.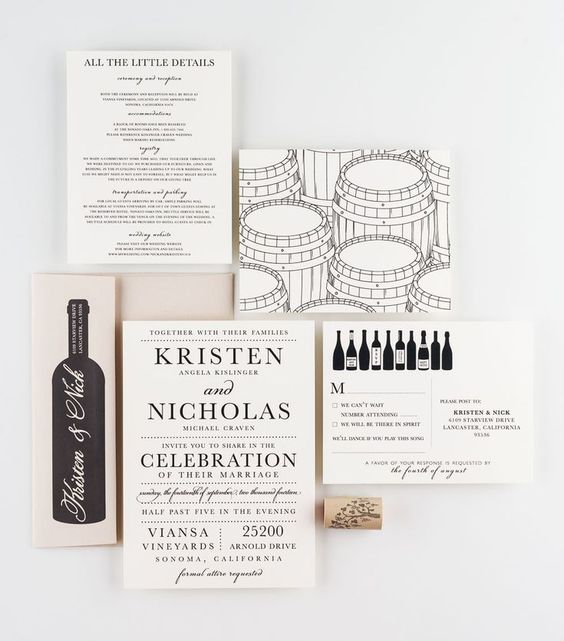 If you want to create your wedding exciting with a winery wedding concept, you can start with the invitation card. To classic rustic wedding invitation, you can design it like in the picture above. Having a barrel and wine bottle design on the invitation card is enough to present the winery and vineyard wedding concept.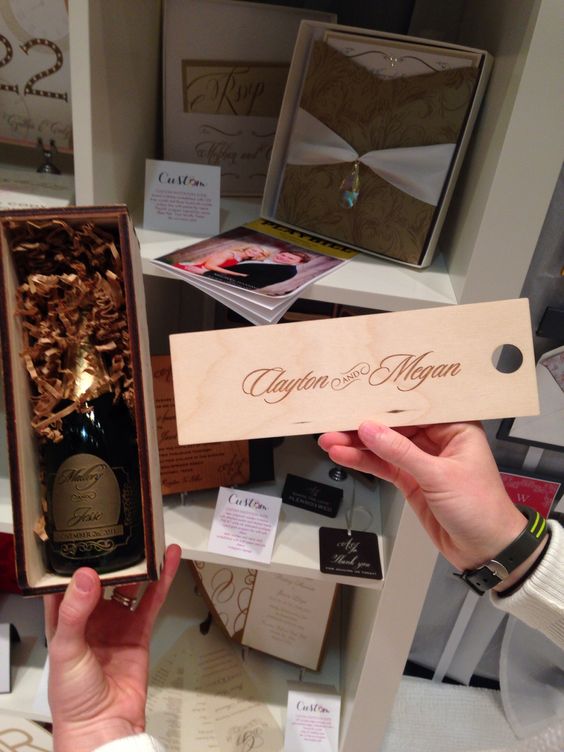 When you want to invite your close friend to become a bridesmaid or bigwig in your office and important clients, you can choose a wine bottle invitation. This is more elegant and special rather than just an invitation card.
Wedding Venues
The atmosphere of your wedding ceremony and reception needs to give more thought. That's why you should choose your wedding venue properly. The most important is to choose a place that can really deep into your wedding concept. Here are some of the wedding venues you can pick for romantic rustic weddings in the winery concept.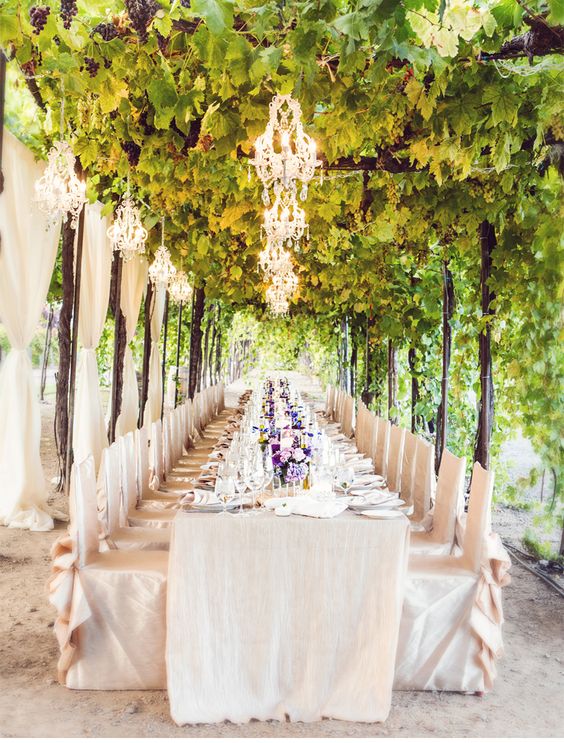 The best wedding venue for a romantic rustic concept is vineyards. That's why this venue becomes popular for the brides to host their weddings intimately. It also gives you a beautiful spacious vines scenery for the backdrops of your outdoor wedding. Your wedding planner also can make any creation to bring great wedding decorations to this venue.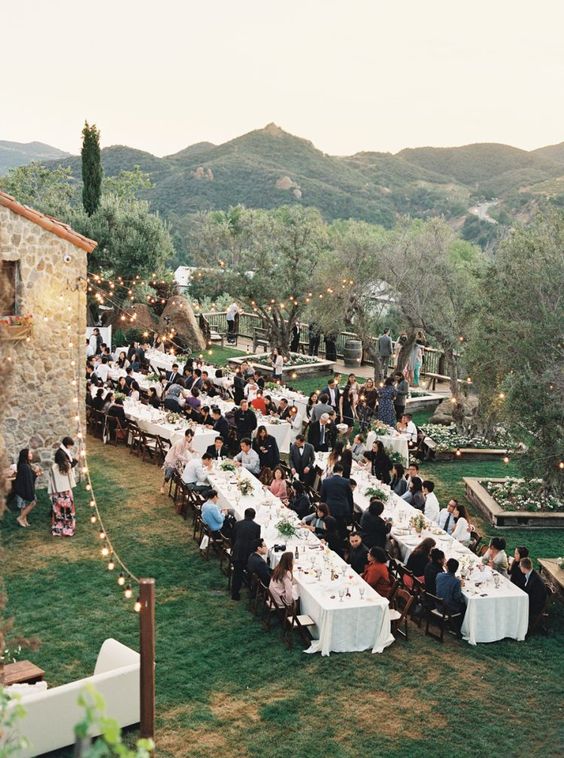 Another venue that you can use for vineyard wedding ideas is a barn. Some vineyards usually have buildings like barns, and you can utilize them for your rustic wedding concept. You can make either indoor or outdoor wedding reception. From the indoor reception, you will get thick rustic wedding ideas. Furthermore, the outdoor barn will give you a beautiful wedding with a vineyard view.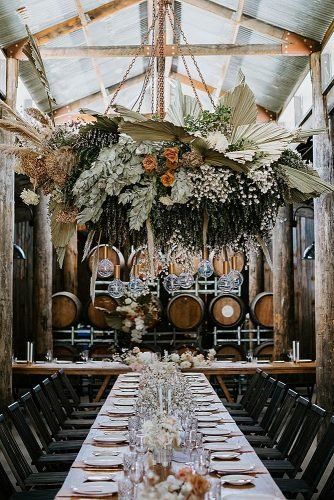 Every vineyard usually has property buildings such as wineries and wine vaults. The place is used to produce and save wine. The design of those places is unique with some barrels which contain wine and they could bring a romantic vibe to your wedding concept. Just take advantage of its place and create outstanding wineries wedding venue ideas ever.
Decoration Ideas
After you get to the wedding venue, it's time to think about decorations. It's necessary because would make your wedding look fabulous. Here are some of the things that are usually utilized for adorning winery and vineyard wedding ideas.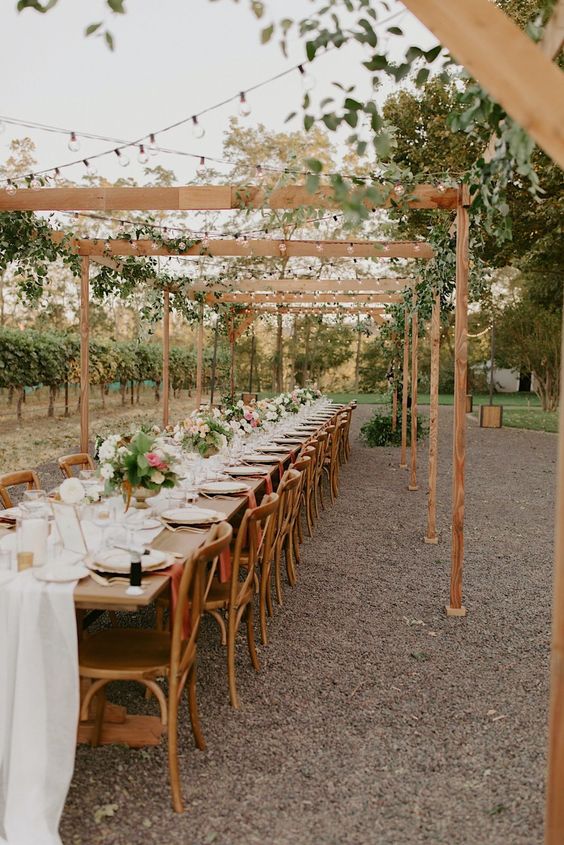 Instead to make a small group of guests at every table, better to gather along at one long table. This would create a more intimate ambiance for your wedding. Besides that, when you decide to hold a vineyard wedding concept, you shouldn't be afraid about the space. You will get a big venue that's suited to bring the long family banquet table setting.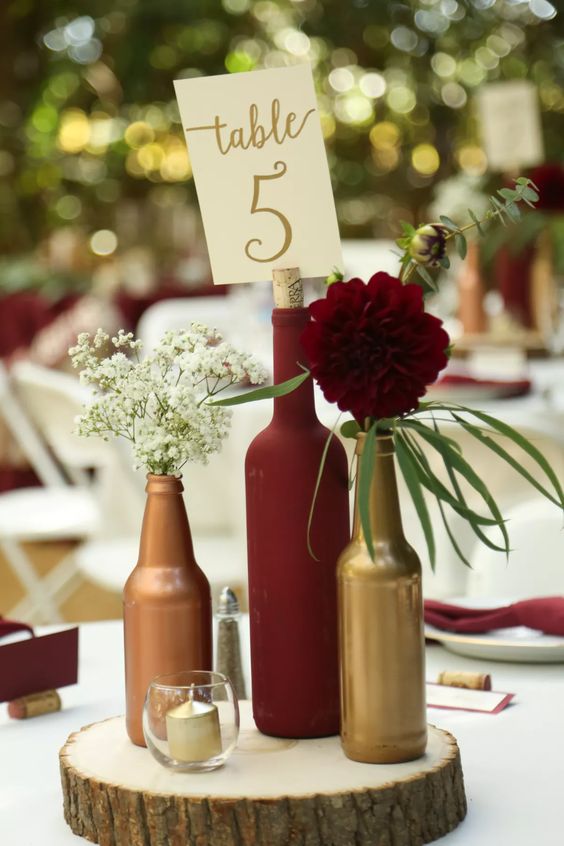 For table centerpiece decoration, you can adorn it with used wine bottles that are repainted. Make it an aesthetic vas, then give little beautiful flowers in it. Besides that, you can also use that bottle for the table number stand. To create a romantic rustic winery wedding concept, get a wooden placemat and candle in glass.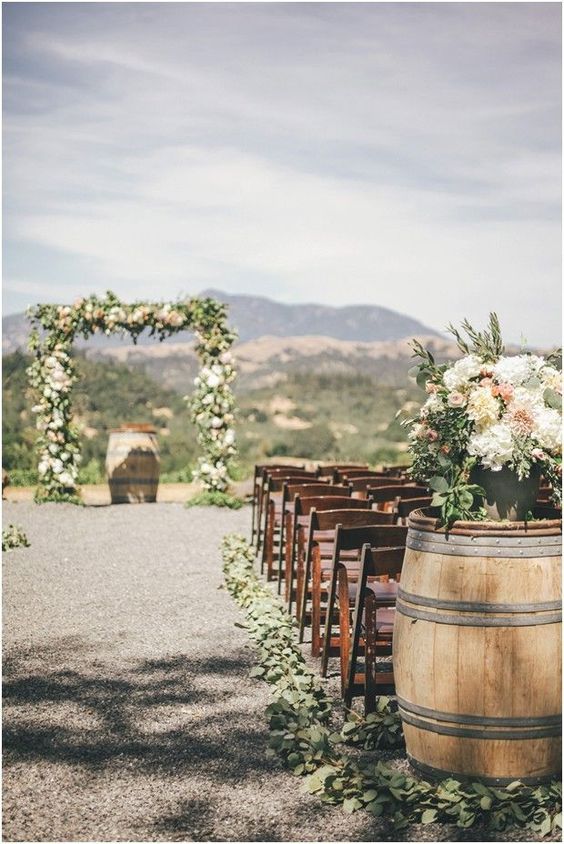 As for the winery and vineyard wedding ideas, you don't need to bring much decoration in your aisle markers. Because of the scenery, you just need a bit of decoration such as greenery and flowers on your aisle that can pop up the beauty of the vineyard panorama. Then, if you want a more winery look, get a wine barrel for the flower stand and tables at your wedding ceremony.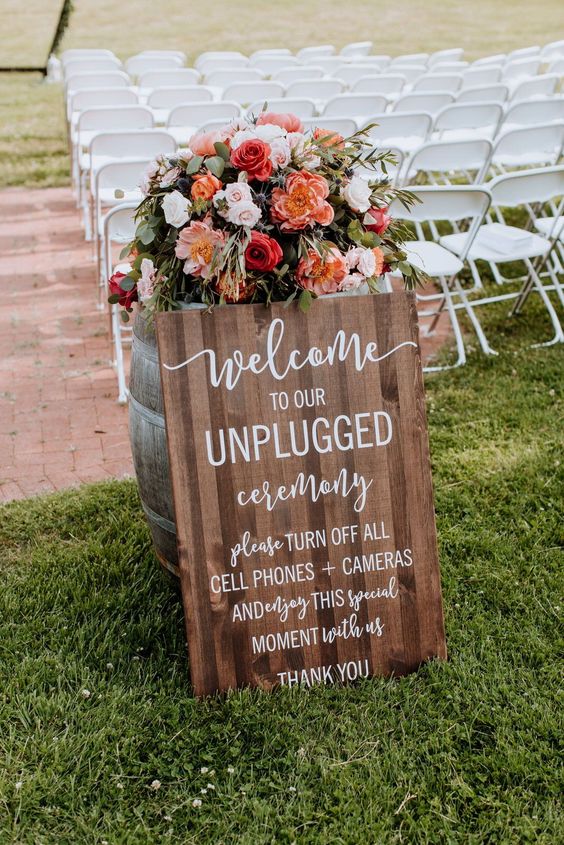 Decorate your welcome sign with a wooden board and then place it on a wine barrel. The wooden accent would match your rustic wedding concept and the barrel usually present a winery impression in your wedding ceremony. Another way to beautify your wedding sign is using a grapes accent to decorate it both for replacement and complete the flower arrangement.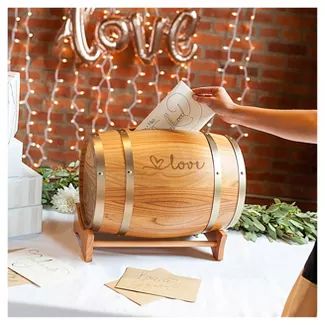 The way to use wine barrels for natural decoration ideas in vineyard wedding ideas is using them as cardholders. For this, you can ask the vendor or wedding planner to set up wine barrels miniature at the front desk. Or you can hold it next to wedding favors.
Floral and Vine Decorations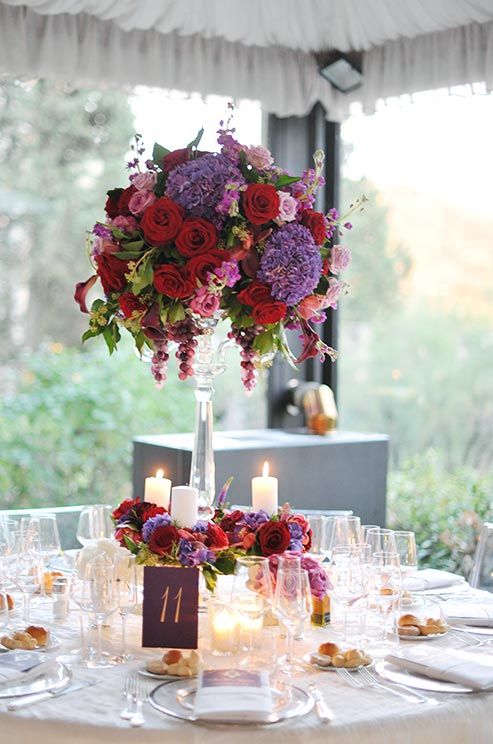 To make your wedding table look fabulous, you should place something outstanding like colorful flowers and a vine accent. For this, you can make flower arrangements for table centerpiece ideas or hanging decorations. You can start with bold colors flowers like red roses, violet hydrangea, and some pink flowers. Besides that, red or green grapes can you use on the arrangements too to pop up a vineyard wedding concept.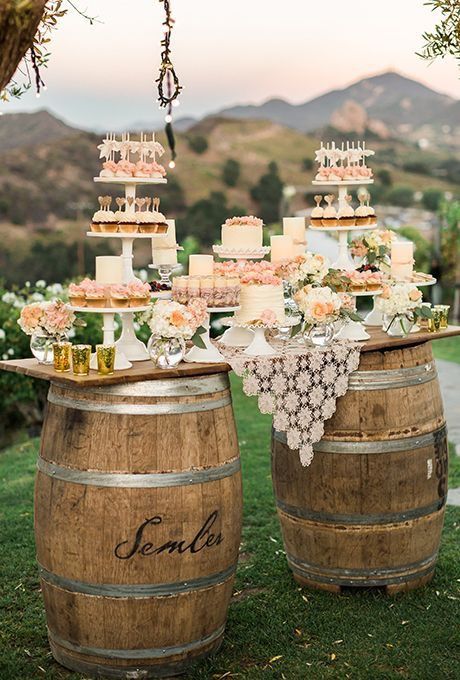 We find more barrels adornment in vineyard wedding ideas. This kind of versatile decoration that you can form for any usage. From cardholder, floral stand, and now it's used for the dessert display. You need two barrels and one board placed over it. It turns into a table for displaying some sweet desserts and wine for guests.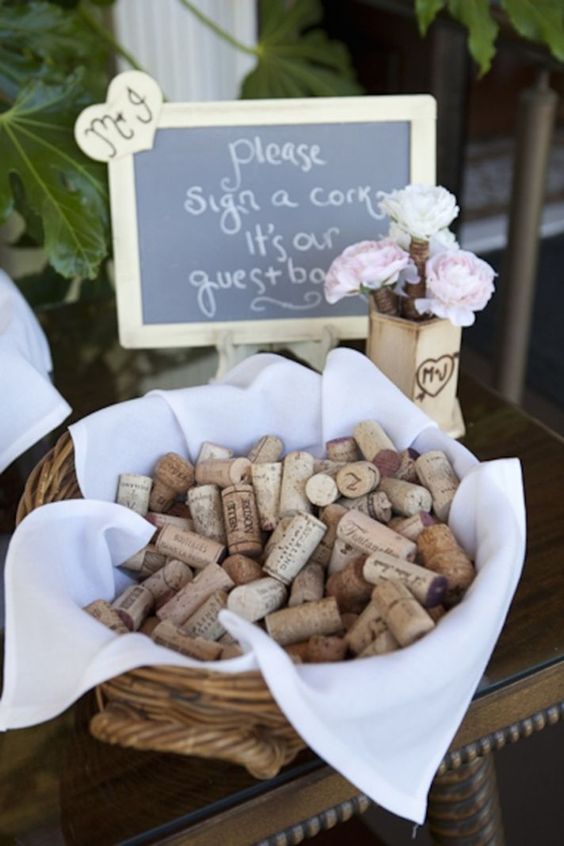 If you want something different in your wedding ceremony and receptions, you can bring unique items for decoration such as wine corks. You can turn it into a wedding sign, decorations accent, or unusual things like guest books. All you need to do is just print out the guest name lists on the corks and then place them at the front desk. You can give announcements on the board, so that guest would pick their name in that cork. That's the way you decorate your wedding in the winery concept.
Wedding Cake Designs
The cake is also an important element of the wedding party. This is also the most used to define the wedding theme. For the winery wedding ideas in rustic concept, here are some of the cake designs you can try to copy.
Winery and vineyard wedding idea is identical to vines and grapes. So, is a great choice to bring a grape accent to the decoration look. For this, it will pop up perfectly if you use the vines and grapes for the best wedding cake decorations. To produce an elegant cake design you can create three layering white tarts and then garnish it with wine ribbon, white flowers, some candy pearls, and the red grapes surely.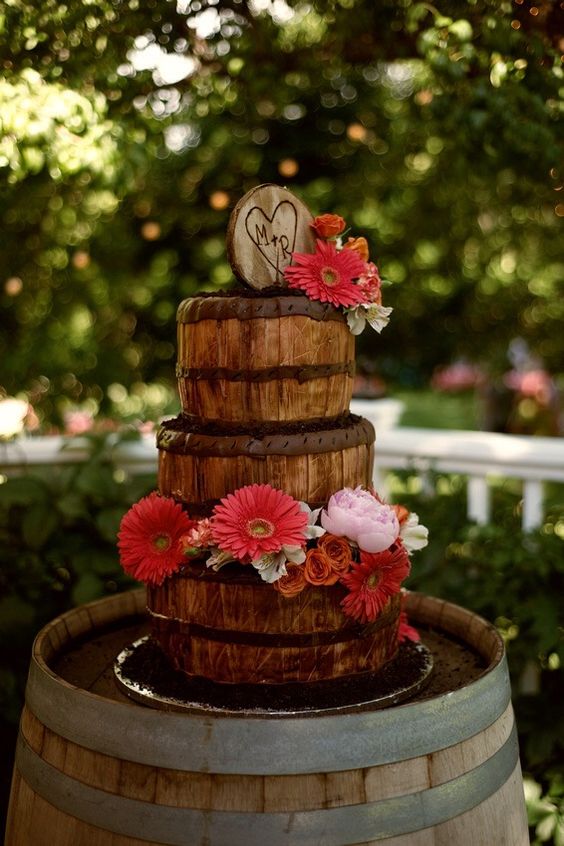 Wine barrels not only could be used for decorating wedding venues but they also can be used for unique wedding cake inspiration designs. We all understood that the winery wedding concept is not far from wine barrels, vineyards, and wines for the component. So, when you want something futuristic and aesthetic to show at your wedding, you can get this cake design.
Floral Bouquets
After the bride's dress, groom's suits, wedding venue, and decorations, your wedding party wouldn't be complete without beautiful wedding bouquets in your hand. There are two options to choose your wedding bouquet for romantic vineyard wedding ideas.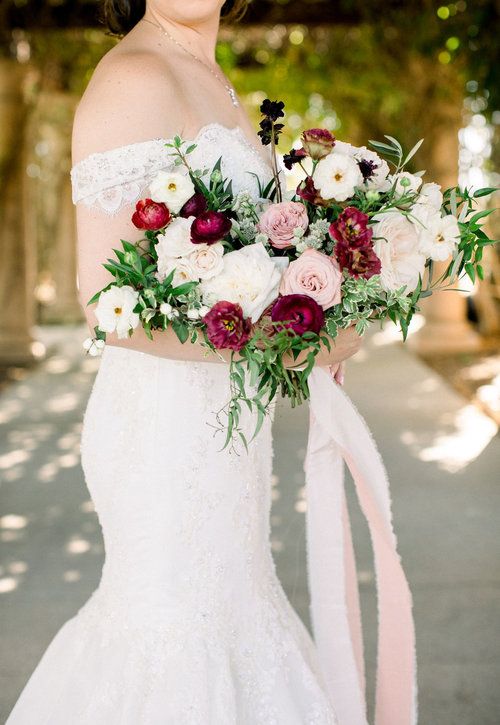 First, you can arrange your wedding bouquets with bold color flowers like a red peony. For this, you can give other beautiful flowers that are soft like pink roses or white peonies to pop up the bold ones.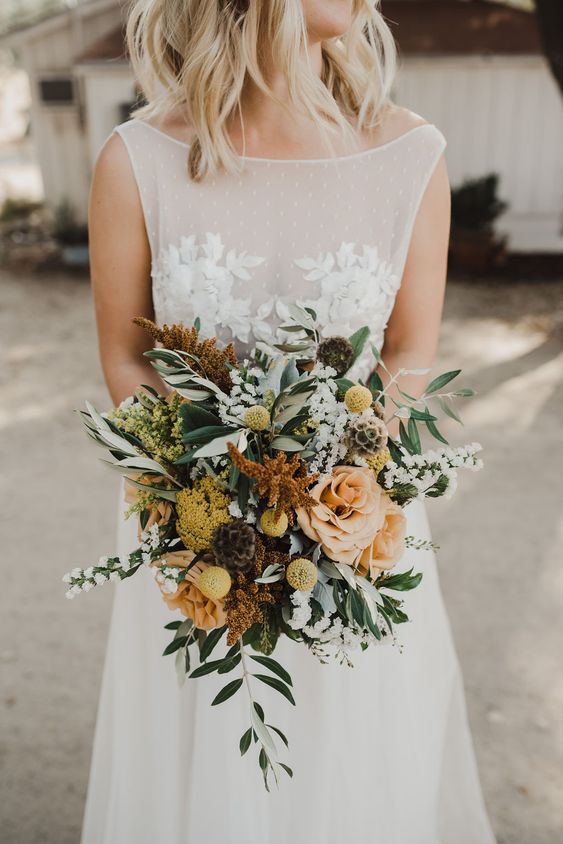 As we know that most brides usually bring flower arrangements while wedding ceremonies or receptions. It can be a kind of meaningful symbol not only just for a decorative posy. Another way to bring a winery wedding bouquet is using a rustic look. When you try to bring a rustic wedding concept to your bouquet, better you choose gold and earthy tones. Besides that, arrange some wildflowers that can be stood up a rural ambiance.
Wedding Color Schemes
When you want to create different vineyard wedding concepts, you can begin by choosing the color schemes. There are many kinds of color palettes that you can try to combine. The famous ones among the brides are burgundy, navy blue, and pastels. For this, we give you some examples below.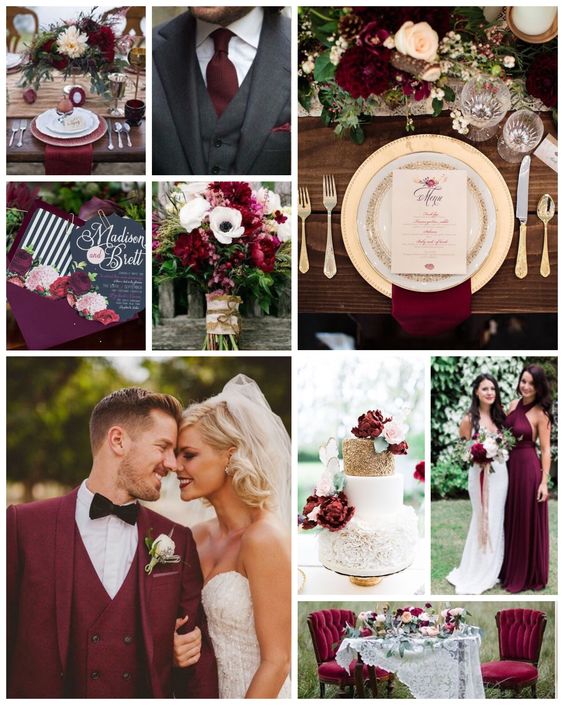 For you that want classy elegant winery wedding ideas, you can try to choose a burgundy color scheme for your wedding decorations. You can begin to choose the groom's outfits, just give a burgundy accent like in the tie or in their suits. For the brides, you can find elegant style in the flower bouquet with that color. Another choice, you can insert burgundy into your wedding invitations, table setting, bridesmaid dresses, and having a burgundy sofa for decorations. Because burgundy is similar to wine pigment, so bring this palette into your wedding decoration ideas is actually a great choice.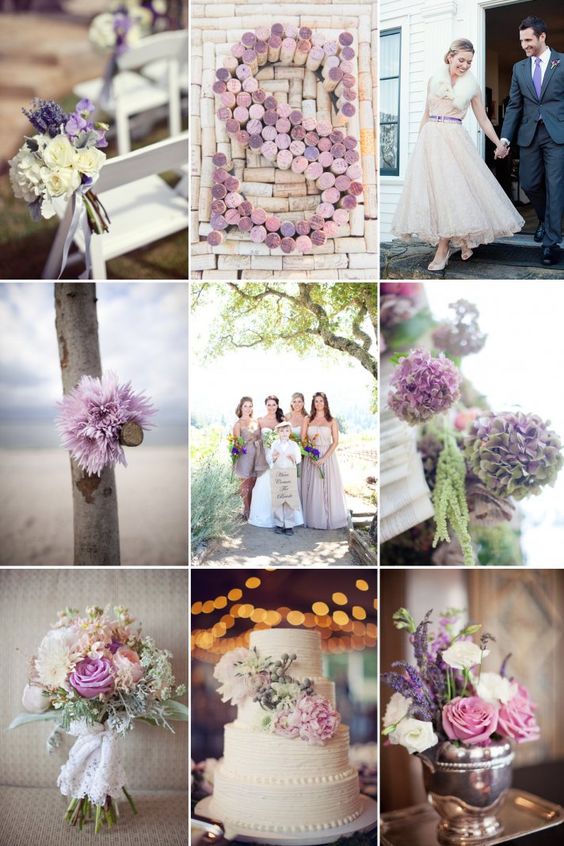 Want something that romantic in vineyard wedding ideas, bring this lilac palette to the decoration ideas. The combination of white, violet, and lilac brings a new look to your wedding ceremony. You can start with the wedding dress, chair decorations, adornments, wedding cake decorations, and flower arrangements.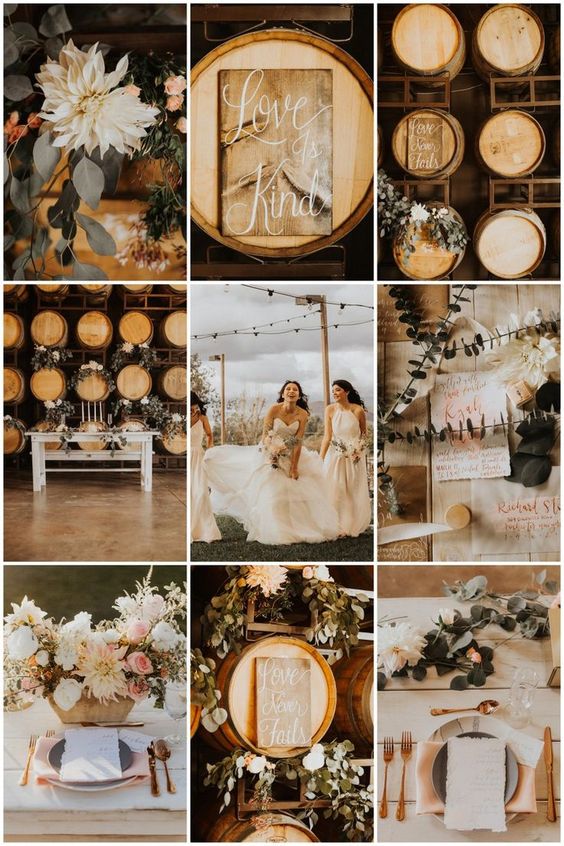 Another option to choose in your winery wedding idea is using a blush and gold color palette for a rustic wedding concept. For this, better you choose the wine vault that has natural tones from a wooden accent. Besides that, getting it as your wedding venue would give you a unique but romantic vibe. You can also start the decorations with a gold accent and blush color palette. For example, bring gold tableware and candle holders, then use white and pastel flower arrangement to adorn your wedding venue.
Winery Wedding Favors
When you host a wedding you also need to prepare wedding favors for the guests. For this, if you have more budget, you can ask the vendor to serve wine samples with personalized labels on the bottle for take-home gives.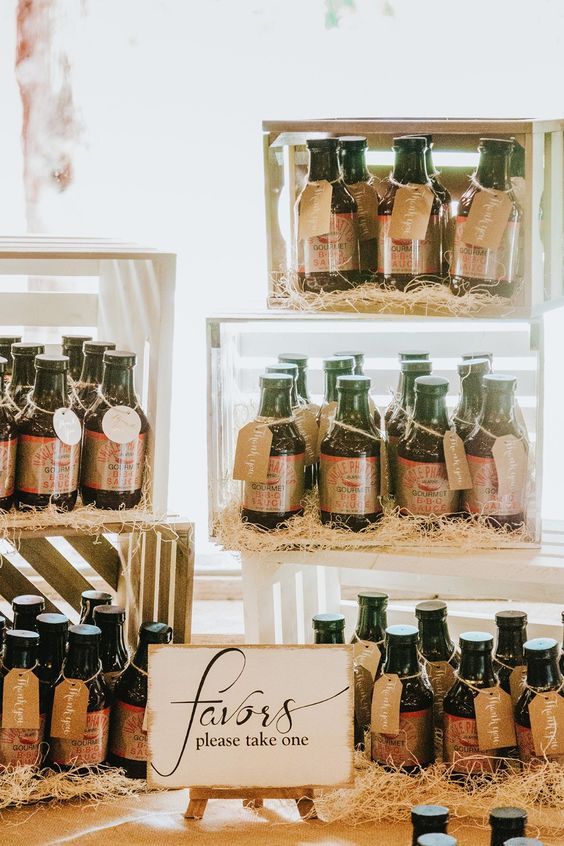 Aside from wine, if you want natural ingredients for your wedding favors, olive oil is another solution. Or you can also use succulents in your wedding for a guest give.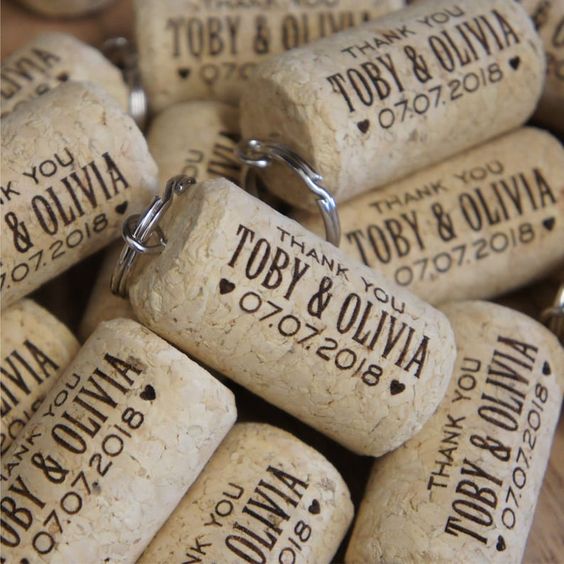 But, when you want something that is cheaper but still presents a winery ambiance, you can take on the cork keychain that's written your name with couples there for thanks. The advantage you take this wedding favor is you can give more budget to the other part of your wedding plan. Like you can rent a larger venue with that budget, book savory catering, and others.
Overall
That's all some of the general explanations about winery and vineyard wedding ideas. If you want to really a romantic wedding with a rustic concept, you can try this wedding theme. With this, your wedding party and ceremony would be different from others and give you beautiful memories ever.