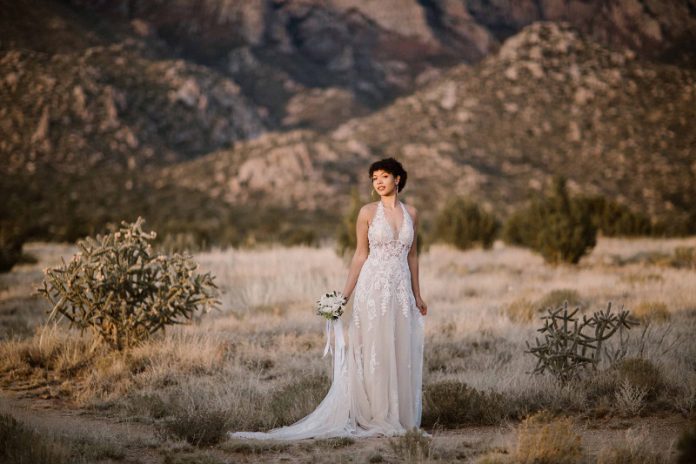 Roowedding.com – The country wedding dress is a bridal gown that adapts a natural and simple concept for a romantic look. It's suited for your rustic country wedding theme. The existence of delicate lace, modest design, and attractive embellishments would create gorgeous country wedding dress ideas ever.
For brides, they want to look charming and pretty in the best moment of their life. Because of that, they try to prepare all of the things on the wedding list includes about the wedding dress properly. From the concept, design, and anything they want to achieve their wedding dream. One of the trends now is a rustic wedding theme and country wedding dress ideas.
Country wedding dress ideas usually present the simplicity of a rustic look combined with the pretty details in their wedding gown. Besides that, the wedding dress accessories also need to add to it. Just find your inspiring country wedding dress ideas, and then start to embrace them to your wedding concept.
Here are 9 gorgeous country wedding dress ideas that would help the brides look charming and beautiful in their best moments.
Western Country Wedding Dress Style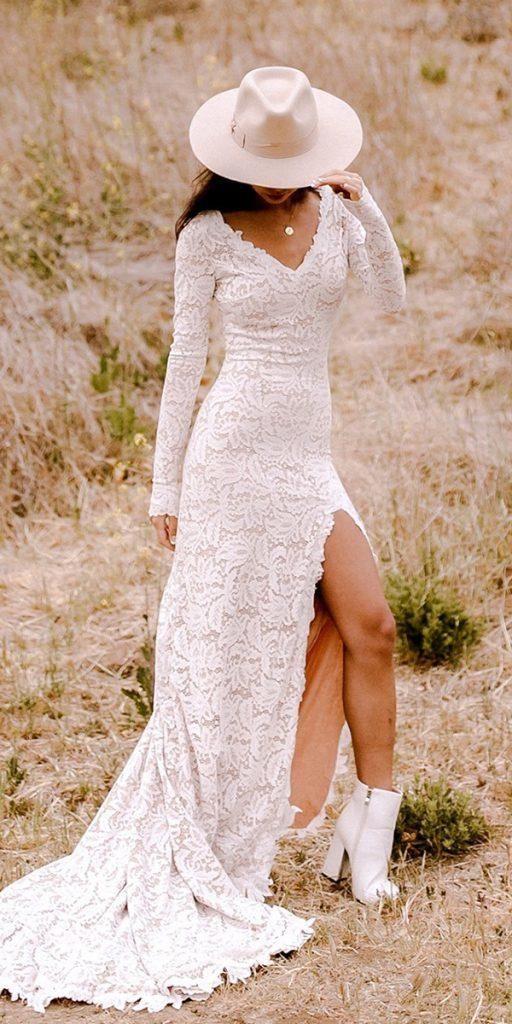 If you want unique wedding dress ideas, you can try to bring out the western wild in your design. For this, what you need to prepare is a lace dress and then use the cowgirl details such as a cowboy hat for wedding dress accessories. To complete your western country wedding dress idea, you can get a pair of ankle boots rather than heels.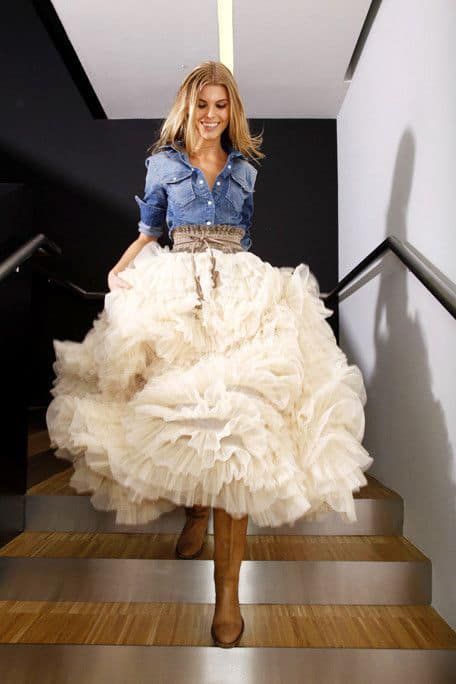 Another way to bring this concept to your wedding dress, you should combine the gown with a denim shirt for the tops and then cowboy boots for the matching shoes. When you want to make it more dramatic, you can choose a tulle skirt for the bottom wedding dress style.
Cute Country Bridal Dress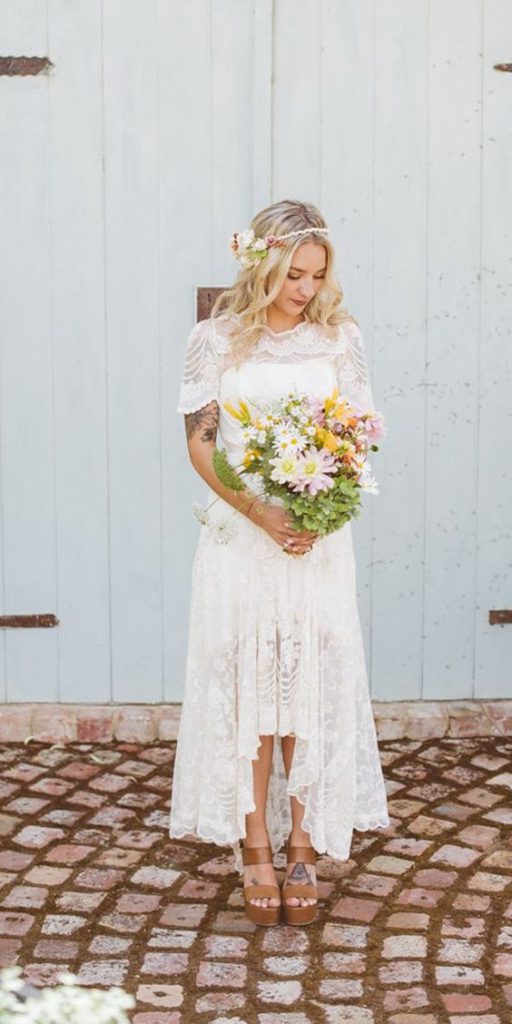 When you want to look cute with country wedding dress ideas, you can try this one design. A short sleeve high-low wedding gown with lace details can be the option. Pair the dress with brown wedges and get a flower crown as accessories.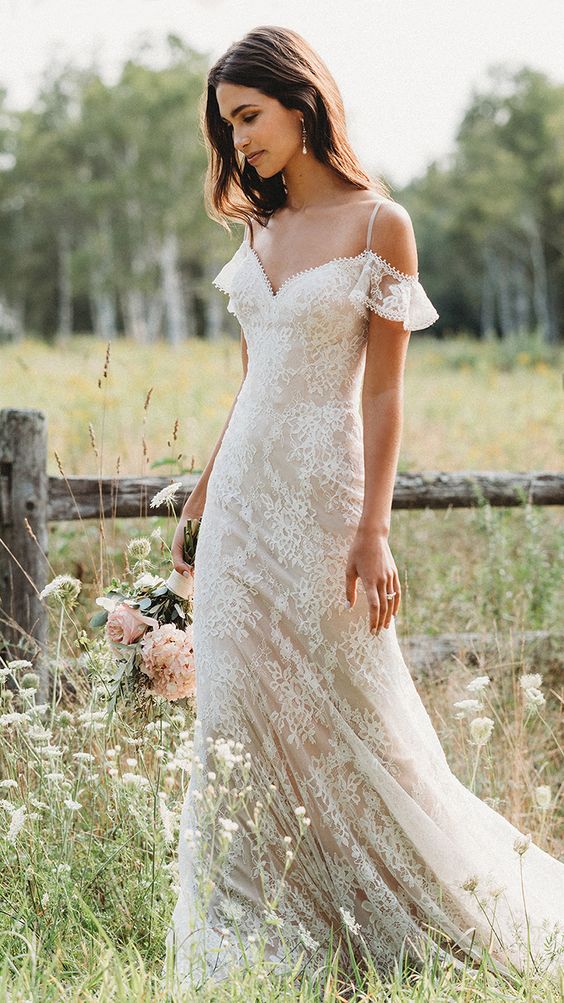 Rustic style in a wedding is usually about modest design and has delicate details.  You can bring this concept into your bridal wedding gown by wearing an off-shoulders linen dress. Make it look cuter with spaghetti straps on your dress. The dress actually simple but still would pull your charm out.
Stunning Long Sleeve Wedding Gown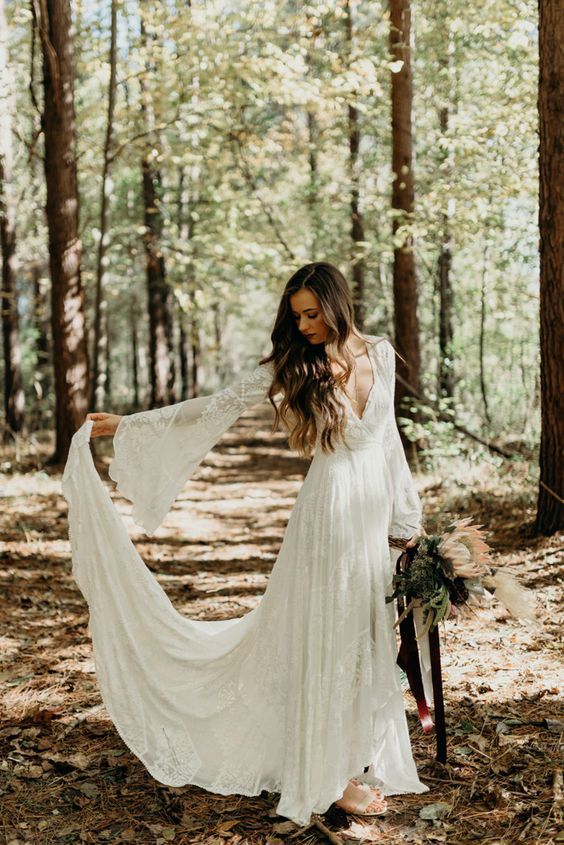 Having a rustic concept on your wedding theme usually needs to match up with the gown too. So, that's suited for the concept is the country wedding dress idea. If you want to stand up in an elegant gown, you can try to come up with long sleeve wedding dress ideas. Getting the bell shape on the end of the sleeve would bring a charming look. And then, with a plunging neckline on your gown design would bring a bit sexy image.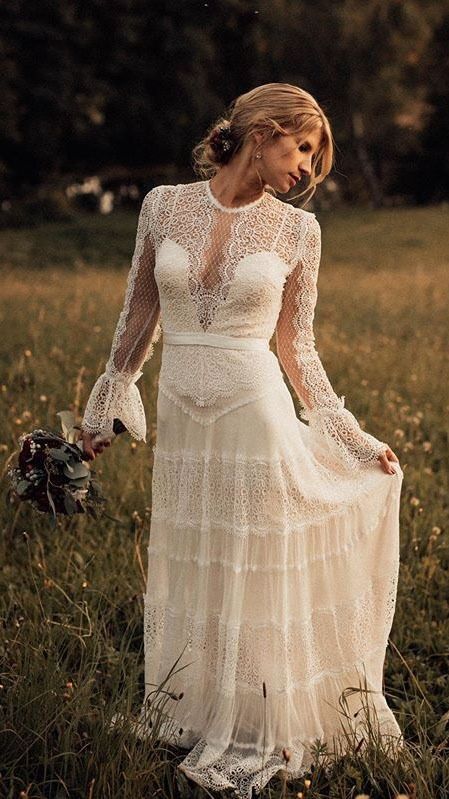 Getting stunning long sleeve lace floral dress as your country wedding gown would make you look pretty in tenderness and humility image. The tiered skirt on the bottoms of your wedding dress would give the lovely details. It would help the brides look more fascinating.
Gorgeous Sleeveless Bridal Dress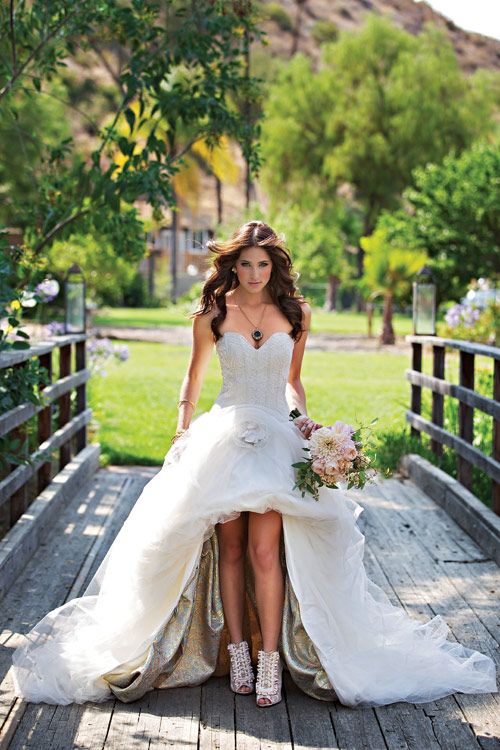 Look gorgeous with the high-low tulle strapless wedding dress. Because of the dramatic detailed train on your dress, it makes you look stunning and beautiful. This would be great to wear for outdoor wedding receptions. Having a pair of shiny wedges on your wedding outfit would give a glamorous to your appearance.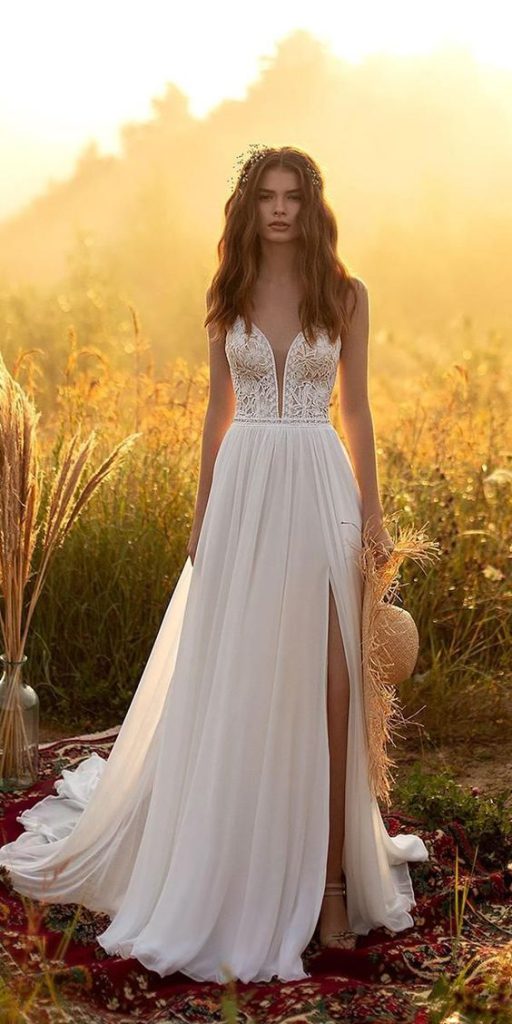 Another sleeveless dress that would be good to wear in country wedding style is a strapless slit a-line dress. Having it as your wedding dress would make you attract more attention from the guests. The style is simple, with the brocade detail at the tops and tulle skirt for bottoms bringing a romantic accent to your gown. Besides that, a long slit in the side of the gown and have plunging neckline give a sexy impression to your appearance. To make your look more country and rustic, you can accessorize it with a straw hat. Then, get stiletto heels to adorn your beautiful legs.
Adorable Rustic Dress for Country Look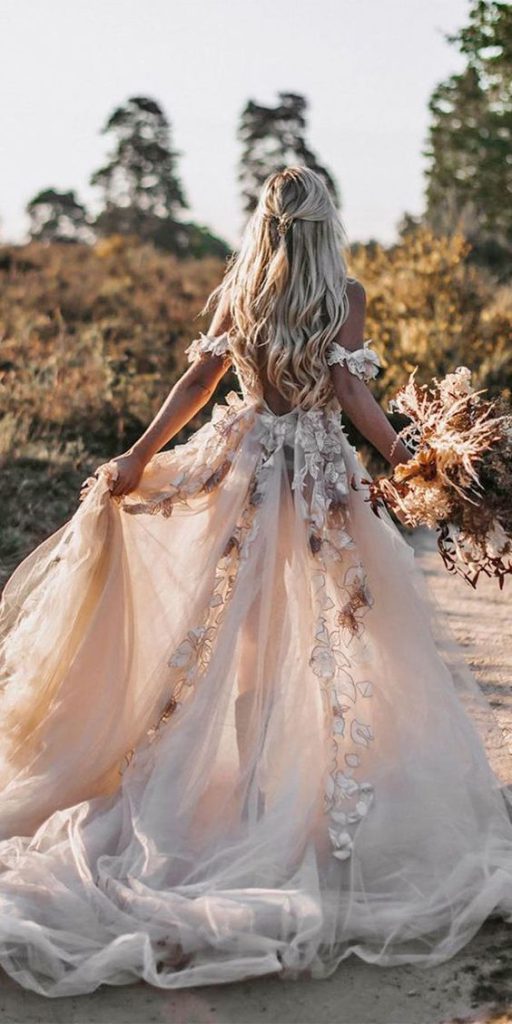 You wouldn't get a rustic wedding dress style without a bit or much lace adornments. There are some lace fabrics such as knit, brocade, chantilly, eyelet, and more that would give you a gorgeous country wedding dress idea. In addition, you can get a backless design and floral embroidery on your gown for the lovely style. For more country designs, you can get boots for matching footwear. A beautiful wedding dress and a pair of boots would be enough to create a charming rustic bride.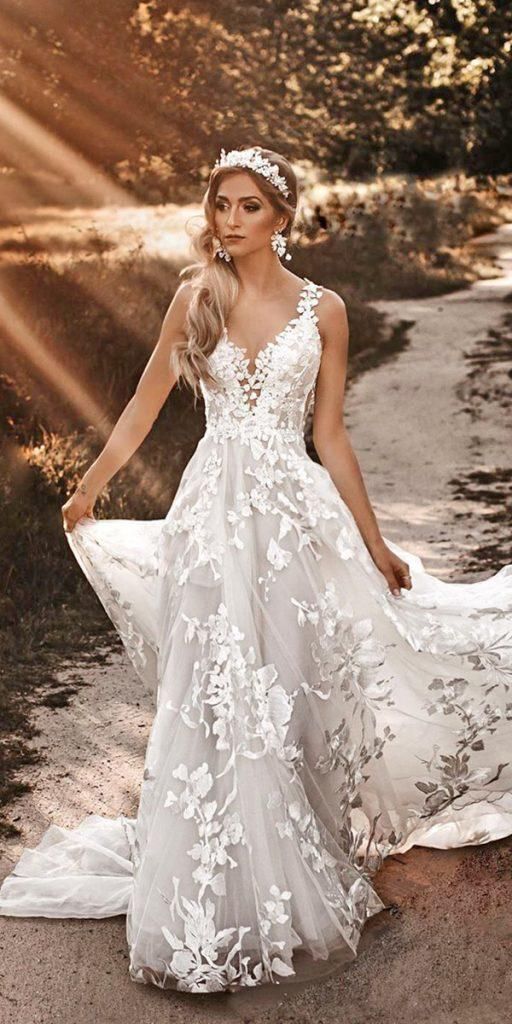 Besides that, if you don't want to get a full country look, you can wear sleeveless floral lace by having a fabulous bridal hairstyle for rustic brides.  For this, you can get a half up half down style or choose a simple low ponytail with floral crown embellish for your bridal hairstyle that matches your dress.
Elegant Vintage Country Wedding Dress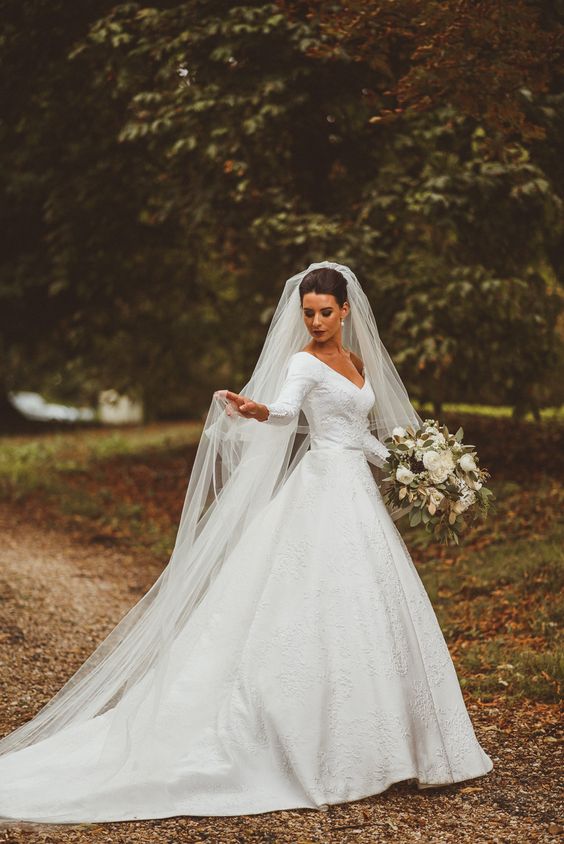 Don't underestimate vintage style. This look would be gorgeous if you can use it properly. In the wedding dress ideas, the vintage style would bring an elegant classic image to the brides. That's why they still use this style to design their bridal gown. The old look of a vintage wedding dress would match the image of the country theme. Simple, tender, and elegant with a v neck ball gown wedding dress and a veil for the classic country style.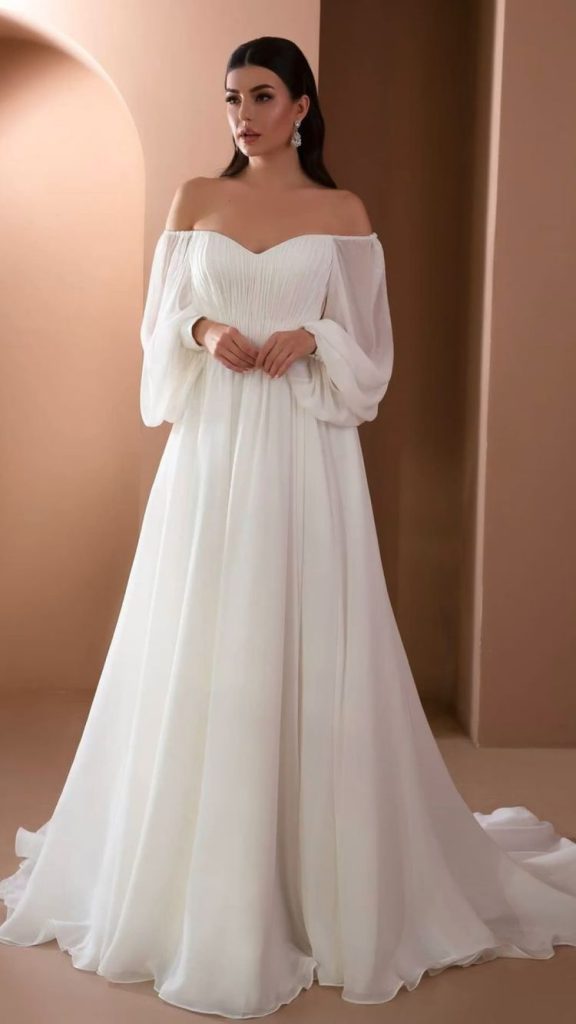 Stunning in a classy vintage bridal gown that has an off-shoulder a-line wedding dress design. Make it more beautiful with the balloon sleeve. Just bring fewer accessories like a pair of tiny earrings and styled your hair simply. This is the way to pull out the bride's charm when having a fabulous vintage wedding dress.
Simple Country Bridal Dress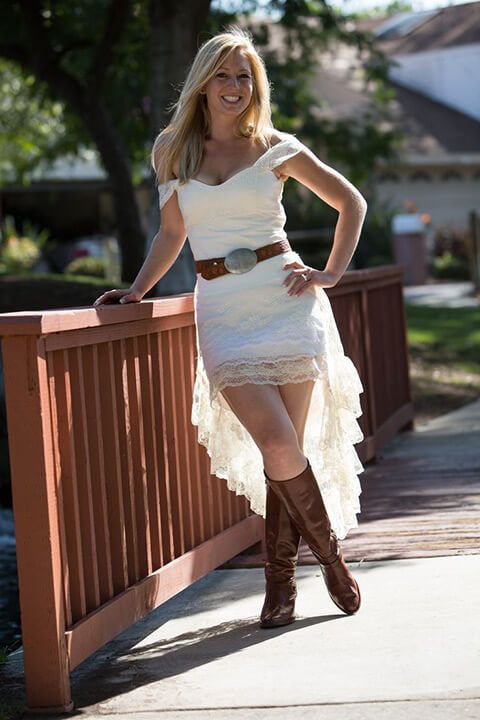 If you like something that's simple for your bridal gown, you can try to wear a short wedding dress in country style. What you need to wear is just a white lace mini dress and a pair of high leather boots. That makes it look like a wedding dress, you can give train detail on the back of your short dress. pair the dress with a belt over it to tie the country look together.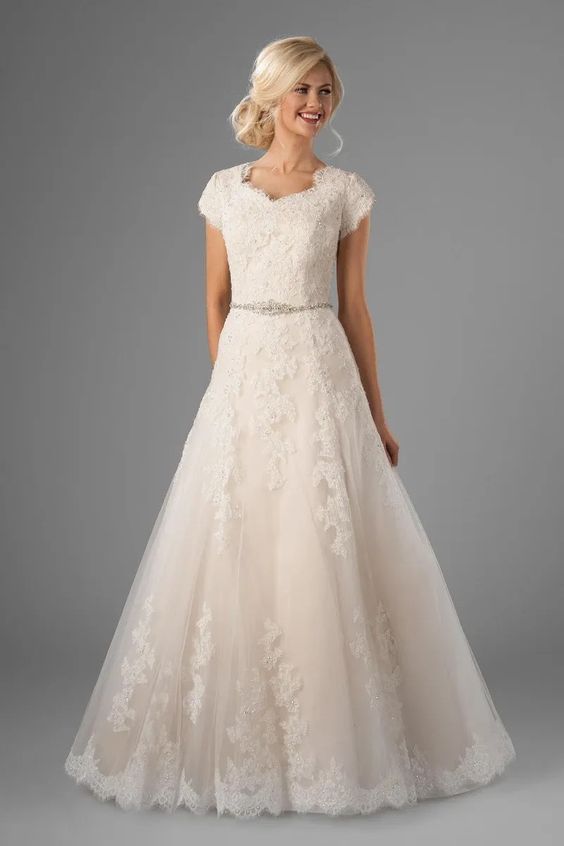 For the brides that want a chic simple long dress, a short sleeve a-line wedding dress. With fewer details and accessories, it still makes the brides charming in a rustic vibe. This dress would look better if you styled your hair with low updos.
Country Lace Gown for Bohemian Look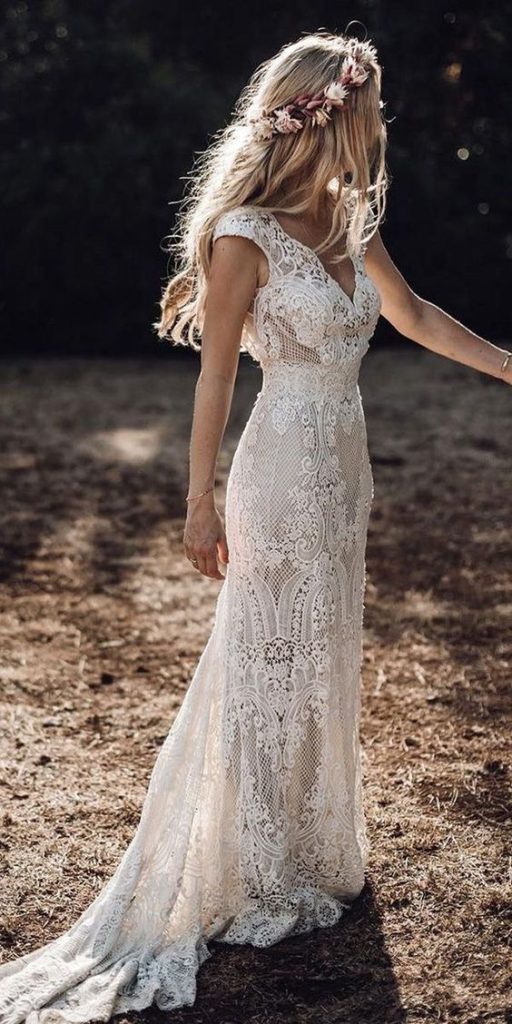 If you want to have a gorgeous country wedding dress, lace is great to pick. This is because texture lace can more expressive and give a beautiful silhouette to your body. Having a delicate style makes this dress would give a graceful look to the girls who will marry. Only just with a simple cut, the brides would be charming in their special moments.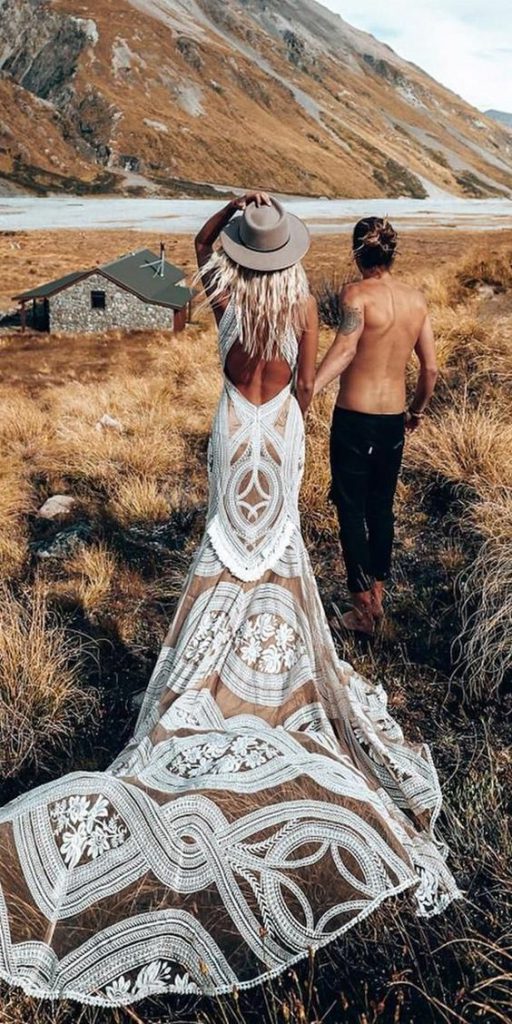 Aside from the rustic country style, lace also could be present on a bohemian wedding dress. For this, have gorgeous wedding dress ideas in a backless dress with a detailed train in the back. Accessorize your wedding dress ideas with a country cowgirl look by having a cowboy hat and also cowboy boots. Wear this dress for the barn wedding reception in a bohemian or industrial wedding theme.
Lovely A-line Wedding Dress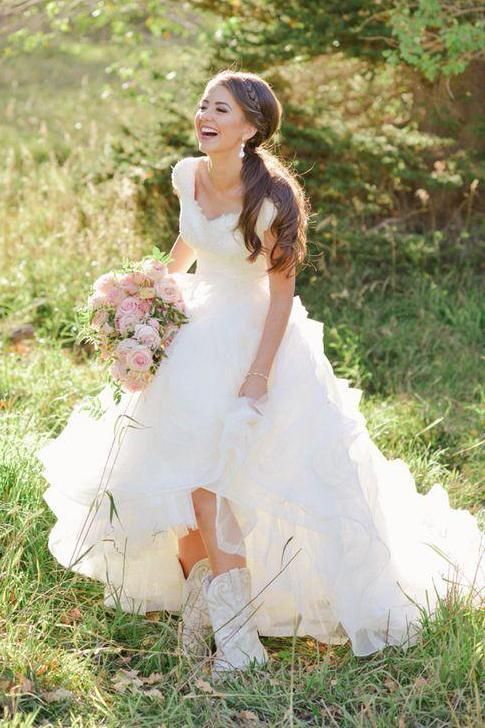 The essential one to create a charming country wedding dress is attractive lace. This becomes a certain way to reach rustic wedding dress ideas. Just keep in mind when you starting to find a gown, think about your wedding concept and theme. If you have an outdoor rustic wedding ceremony and reception, better you use an a-line lace wedding dress style.  If you want something that would make you have a gorgeous appearance, you can put on boots rather than high heels.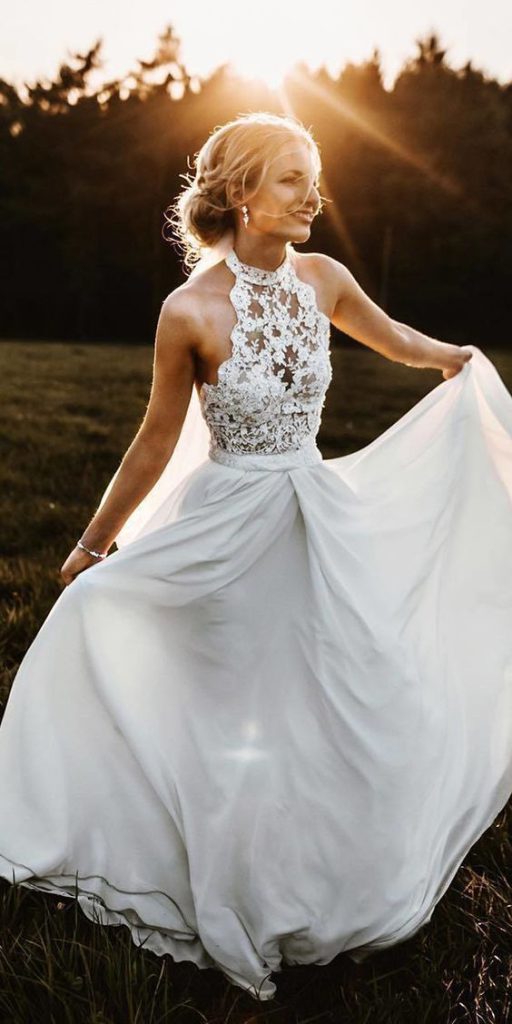 Find another charming wedding dress idea in a way to transform your lace dress into a stunning country dress style. For this, I have one great way to bring out your lace dress more fabulous. Get the brocade for a statement on the tops of your gown and get silk for the bottom dress. That two combos would give you a lovely a-line dress to wear at your rustic wedding. The delicate silk dress would make it fall down dramatically and create a romantic vibe that is really lovely. You can wear this kind of dress either for the indoor or outdoor wedding ceremony.
No matter what dress you choose, just make sure you are being comfortable wearing it. The best wedding dress is the one that makes you feel more confident. Don't get stressed about it, just enjoy your beautiful moments. After all, I hope my recommendation can help you to select the best wedding dress. Good luck.