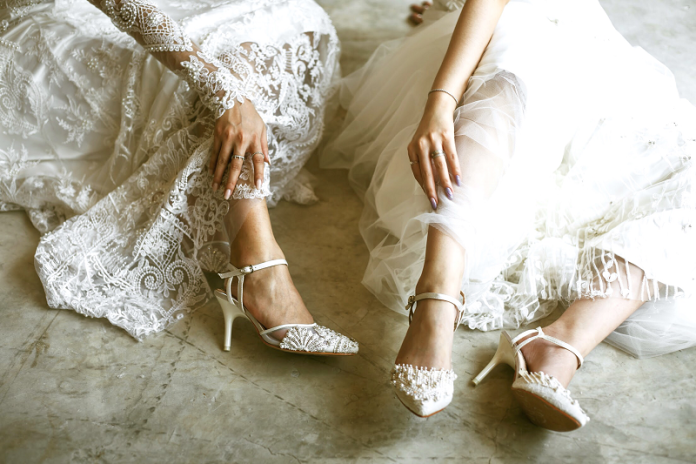 Roowedding.com – A wedding is a moment when girls get new life with their love. For the best day ever, they usually prepare it totally. From the decorations, dresses, and shoes, all of that should be perfect. Because most brides want to look pretty and stunning at their wedding moment.
After you find your wedding dress, now you should get the matching footwear for it. When you think about wedding shoes, you may assume about white shoes, heels, and elegant designs. That's not completely wrong, but there are so many kinds of stunning wedding shoes in any design and color that you can wear.
A bohemian wedding is a dream for many brides, and now the question aside from the wedding dresses is what kind of wedding shoes can complete it. Whether you like some elegant high heels, comfortable boots, or flattering sandals, make sure you pick one that would increase your wedding dress performance. Here are some inspiring pretty bohemian wedding shoes for stunning brides.
Wedges for Pretty Boho Wedding Shoes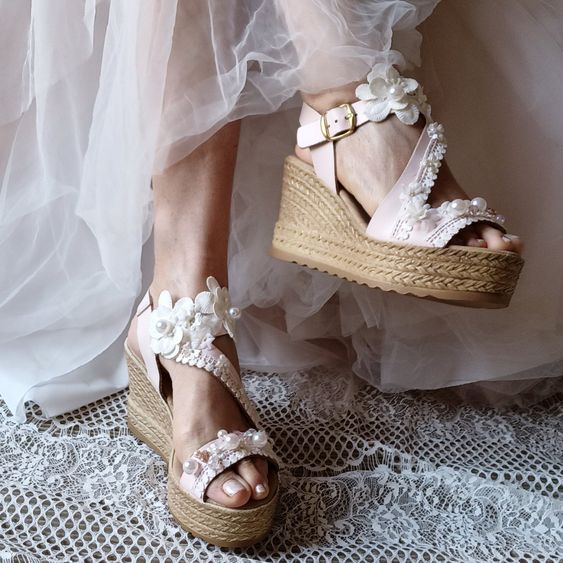 If you find high wedding shoes for brides but don't want to use high heels, wedges can be the solution. Pick a pair of rattan sandal wedges with floral and pearl embellishments on them. Having nude colors and a natural accent make these wedding shoes suit your bohemian dress well.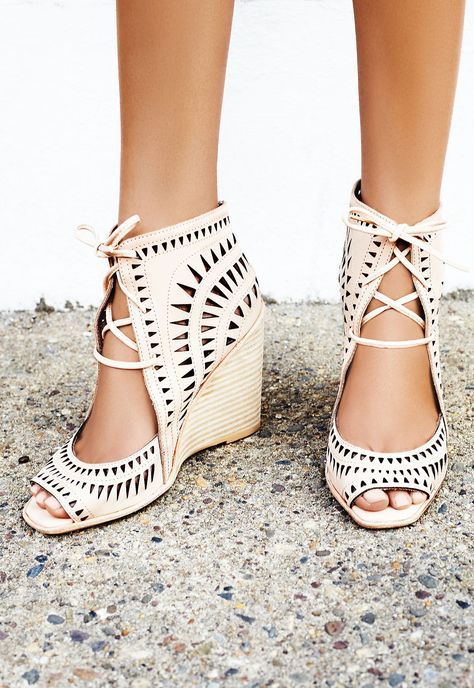 Besides that, leather wedges with bohemian carving also could be used to perfect your pretty wedding dress idea. Having strappy details and designed not too high make these bohemian wedding shoes are good to wear for outdoor ceremonies or in the barn venues.
Comfortable Wedding Shoes with Short Heels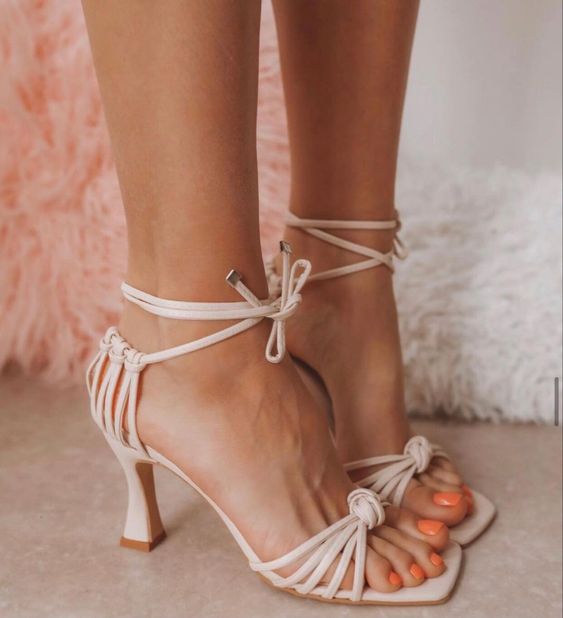 For brides who need something elegant without wearing high heels, choosing short heels is one of the ways. Getting the strappy design and the beige color scheme on your shoes can bring a bohemian vibe to your pretty wedding shoes.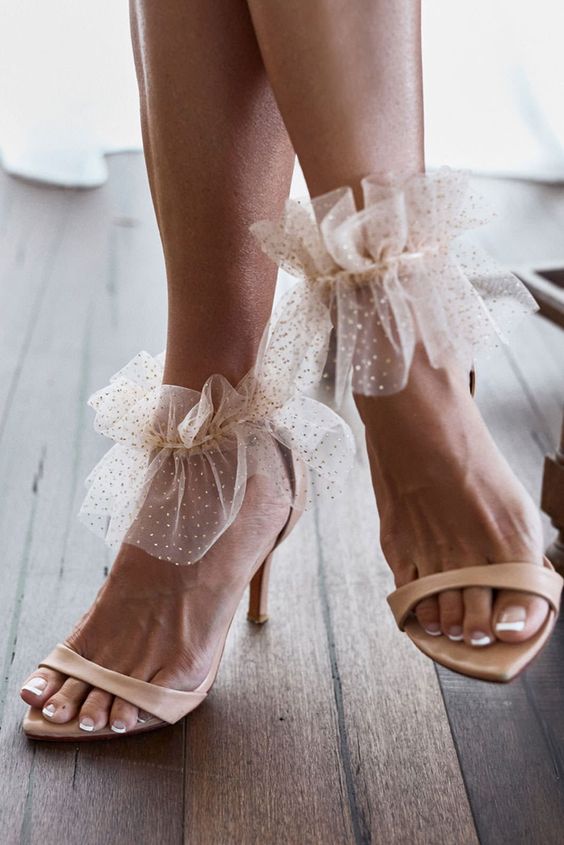 Besides strappy shoes, getting lace ankle on short heels also would present pretty boho wedding shoes. Wear these shoes to complete your tulle dress. You can get other colors such as light pastel yellow for a fabulous look.
Stunning Boots for Bohemian Bride Shoes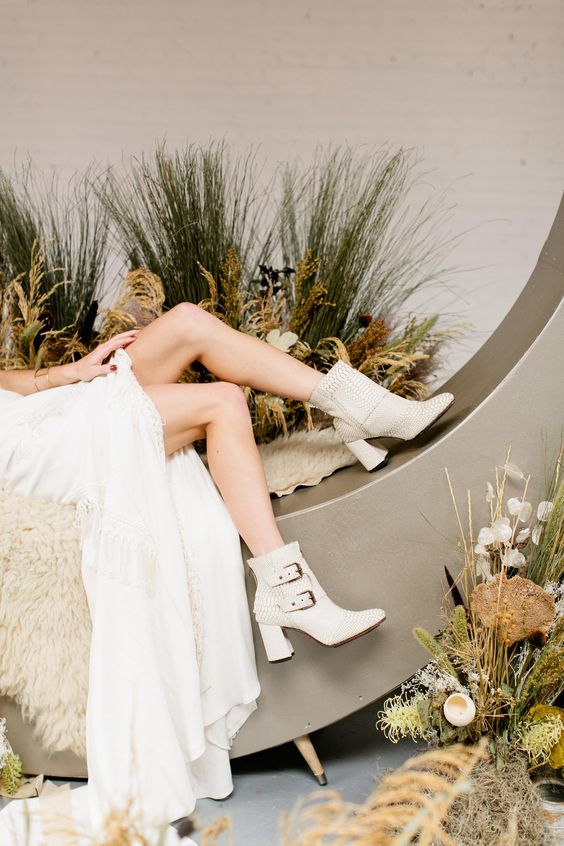 These nude leather ankle boots are ideal to go in contemporary boho style. For instance, crocodile skin boots would bring a modern look and also toughness to your bridal fashion. You can match this boot with a high-low bridal dress to pop up it.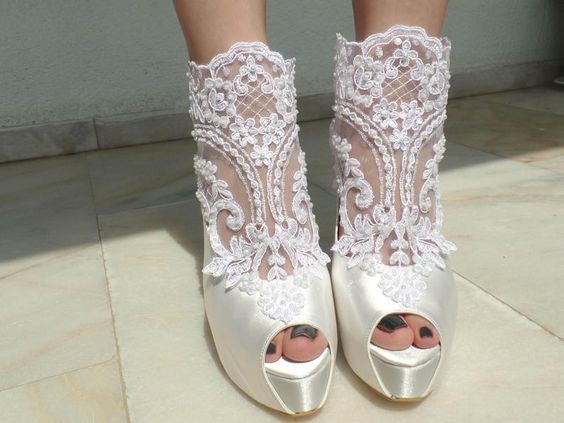 If you want stunning boots in a bohemian look, just pick lace boots.  The design has similarities to common boots but uses floral brocade for trims. The white lace design would give a romantic pretty bohemian style to your wedding shoes. Pair these boots with your silk wedding dress to astonish your look more.
Bold Colors for Chic Wedding Shoes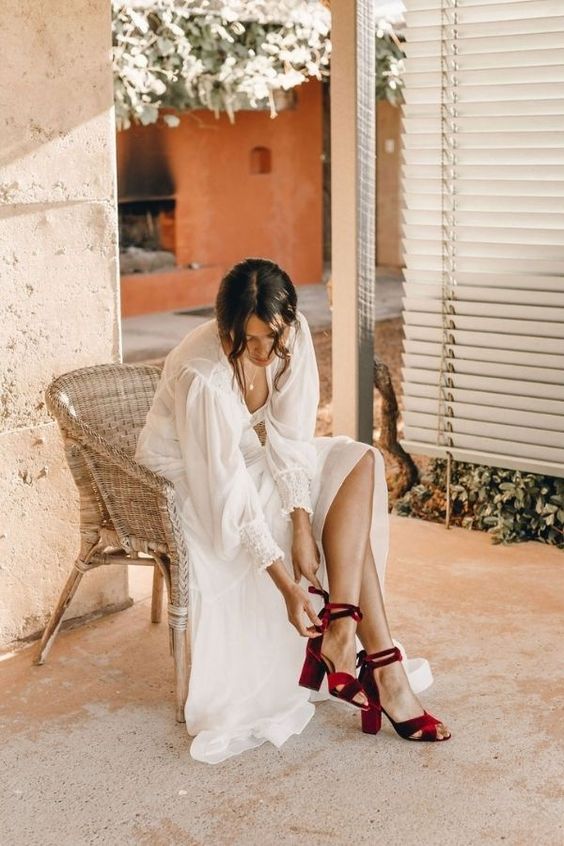 Actually, weddings always come in white schemes. However, it's not mean that you can't use another color scheme. When you want to give chic details, having a bold accent on your wedding style can be used. Suppose, add this concept to your stunning wedding shoes style. For this, you can try to use maroon suede strappy heels to beautify your simple bohemian wedding dress.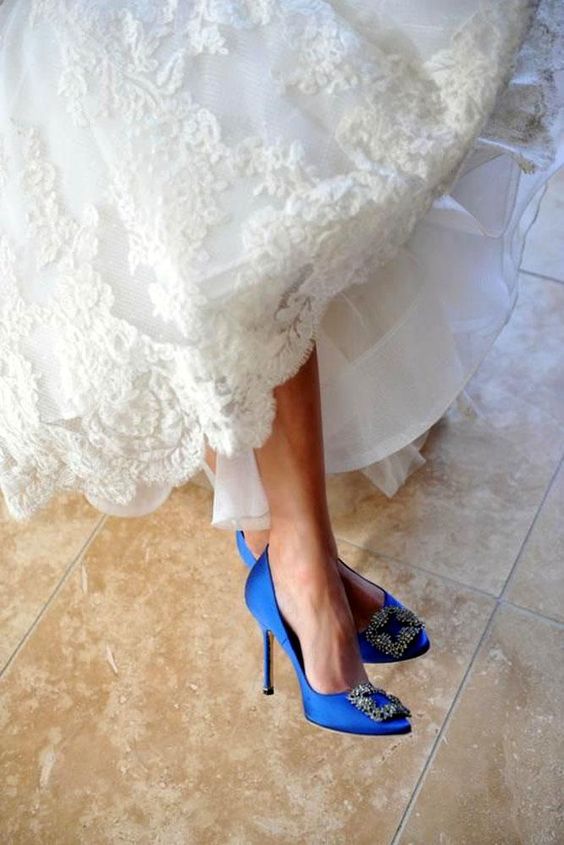 Likewise, when you want to bring a classy elegant look to your wedding dress performance, you can wear blue heels for the appropriate footwear. Make it glamourous chic by giving shiny rhinestone embellishment over the high heels.
Romantic Gladiator Sandals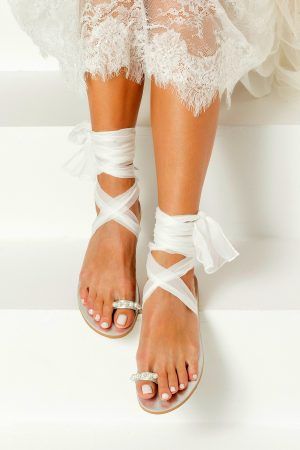 For brides who need a romantic bohemian accent on their wedding concept, consider bringing gladiator sandals with light lace elements. The lace details on the pretty wedding shoes would bring a sweet appearance to the brides. Bring this style to perfect your summer wedding dress idea.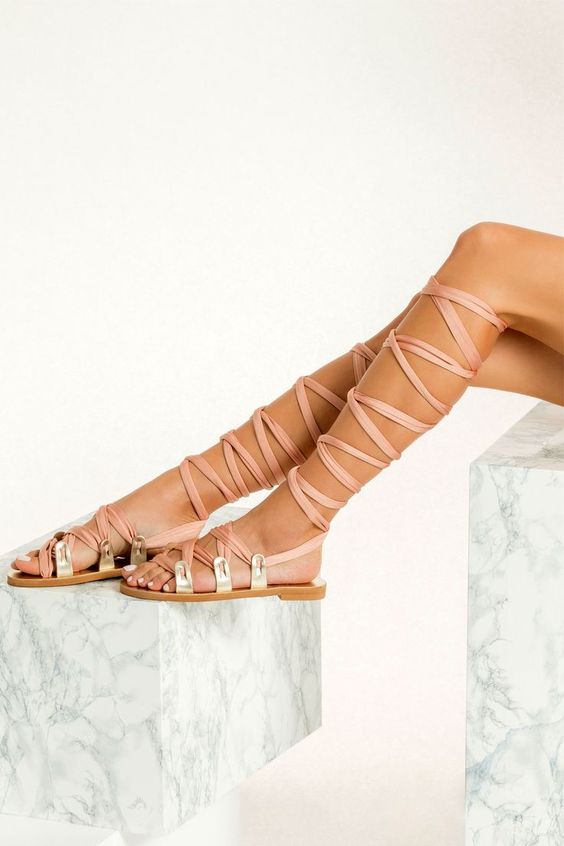 Better to bring the pastel color schemes like salmon on your flattering gladiator sandals for the beachy look. With this, you can get the best footwear to set on your beach wedding dress.
Beach Wedding Barefoot Sandals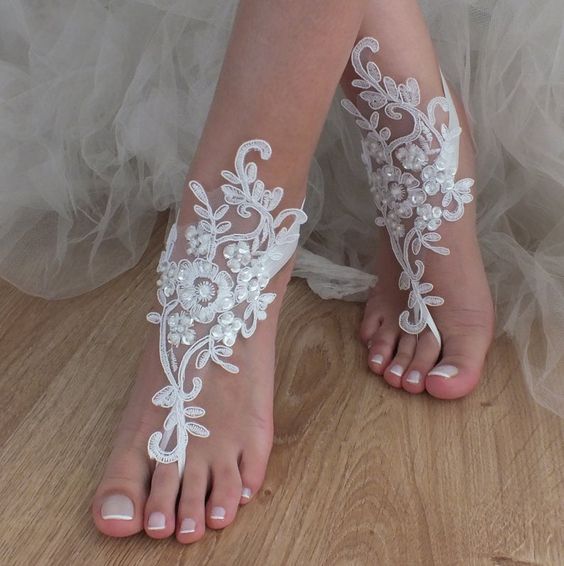 Barefoot sandals are kind of beach wedding shoes with the nature concept. Having a simple design that flatters well on your feet with floral lace decoration could perfect your bohemian wedding dress idea.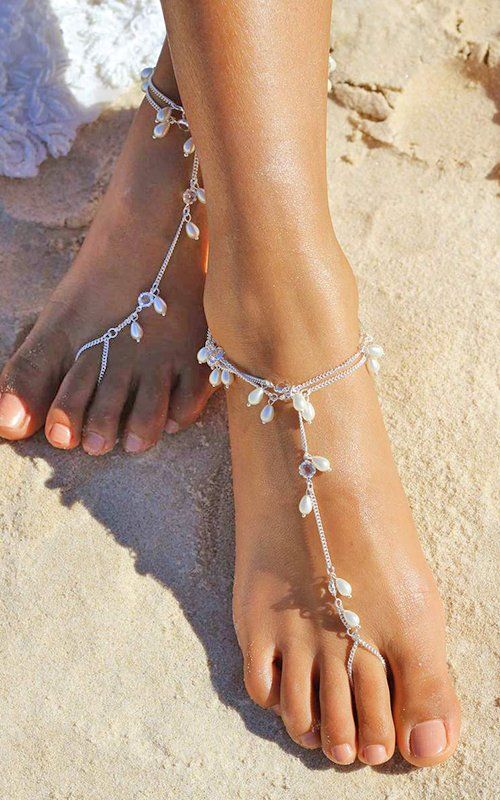 Getting pearl string as your bare feet sandals would feature stunning bride shoes that flatter your feet well. In addition, the design is simple and makes you feel comfortable moving in the sand on the beach. It may look like foot jewelry rather than footwear, but the design is enough to bring unique bohemian wedding shoes.
Aesthetic Boho Wedding Shoes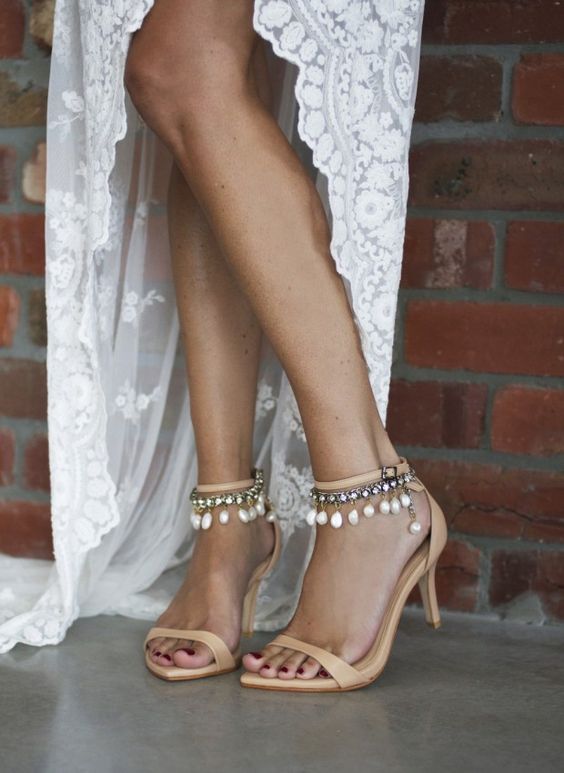 If you are a typical feminine person, floral, lace, and silver fringe are suitable to pick to adorn your stunning bridal shoes. For example, you can give ankle fringe pearl on your high heels to bring aesthetic boho-chic style.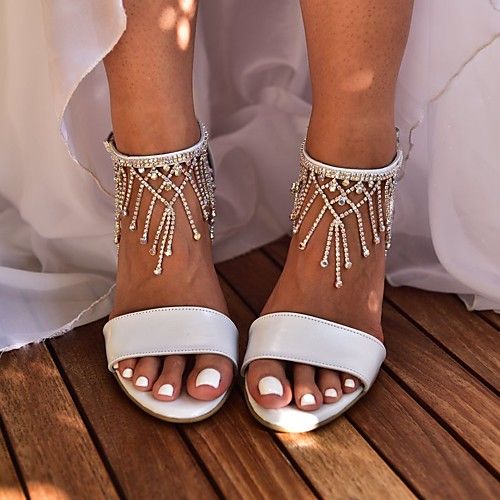 In addition, having silver fringes ankle on your bohemian bride shoes is perfect. That would make your white plain shoes look more glamorous and aesthetic.
Rhinestone Embellish in Bohemian Shoes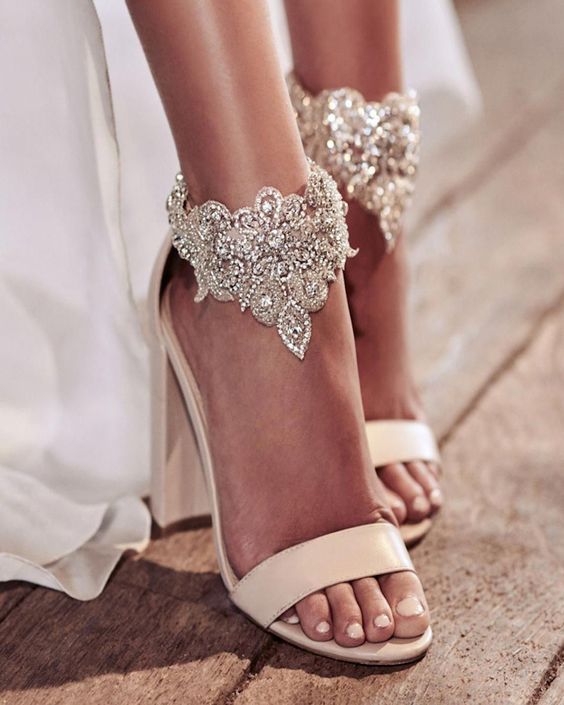 Look beautiful at your wedding not only from the dress but also from what you wear on your feet. For completing your bridal style, wedding shoes are important. If you choose the wrong ones, it would ruin your look. For footwear that you can wear in the bohemian wedding concept, try the style in the picture. Rhinestones in lace for trims with earthy tones are great to adorn your bohemian wedding shoes.

Big rhinestones on your stunning wedding shoes would give a bohemian statement. That also gives a bit of glam to your wedding style. If you have a plain wedding dress, bring the festive on your shoes with these rhinestone embellishments.
Simple Bohemian Brides Shoes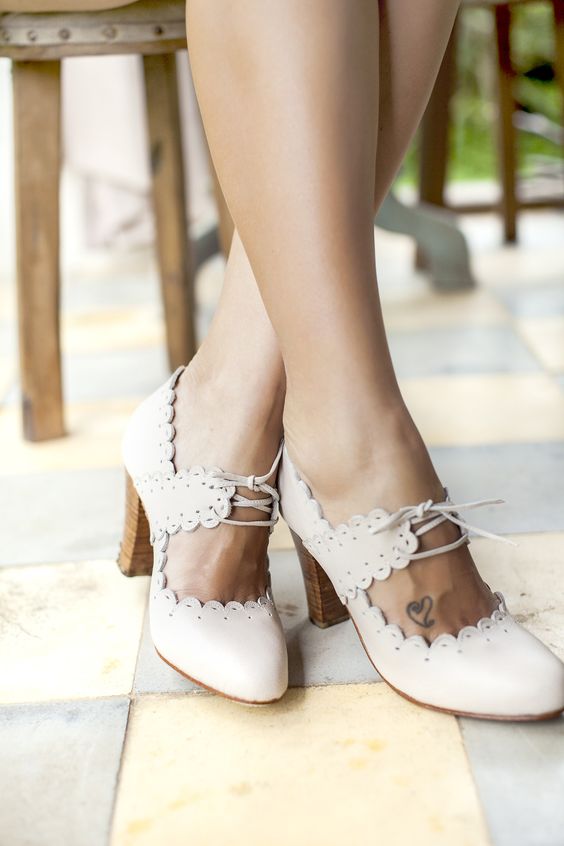 If you want something that simple and modest on your feet, a pair of pastel clog shoes maybe can help you. These pretty shoes would match well with your bohemian lace wedding dress. It also helps you to move freely on the ground either for indoor or outdoor wedding ceremonies.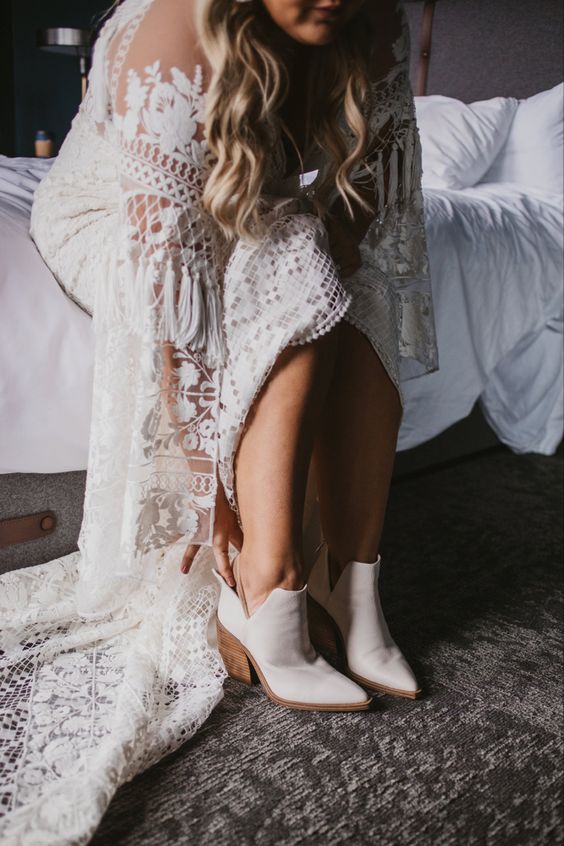 Another simple bohemian shoe that would make you look pretty is ankle boots. This is for brides who want to wear simple and not too high boots or high heels. Get brown and white for color schemes, and use the footwear to beautify your long sleeve lace bridal gown.
Rustic Country Wedding Shoes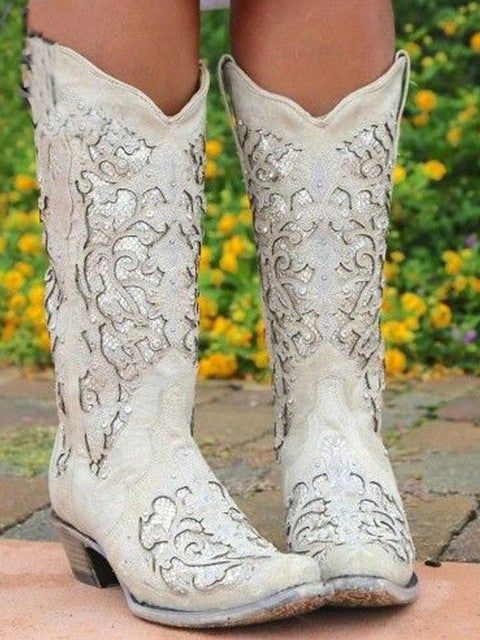 What is good about boots is they can make you feel comfortable, then look pretty and trendy at one time. In a country wedding with a bohemian and rustic theme, cowboy boots are the favorite wedding shoes. They really suit either your long wedding dress or the short ones.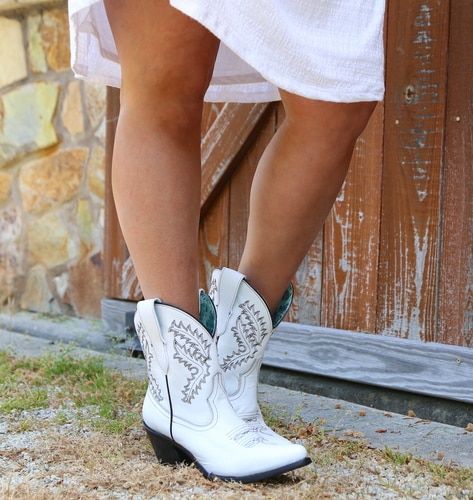 In the country wedding ideas, especially the western wild style, the brides are dressed in cowgirl style. In this concept, they wear a cowboy hat and cowboy boots for wedding dresses accessories. For stunning wedding shoes, you can use white boots or those that are carved.
Vintage Lace Wedding Boots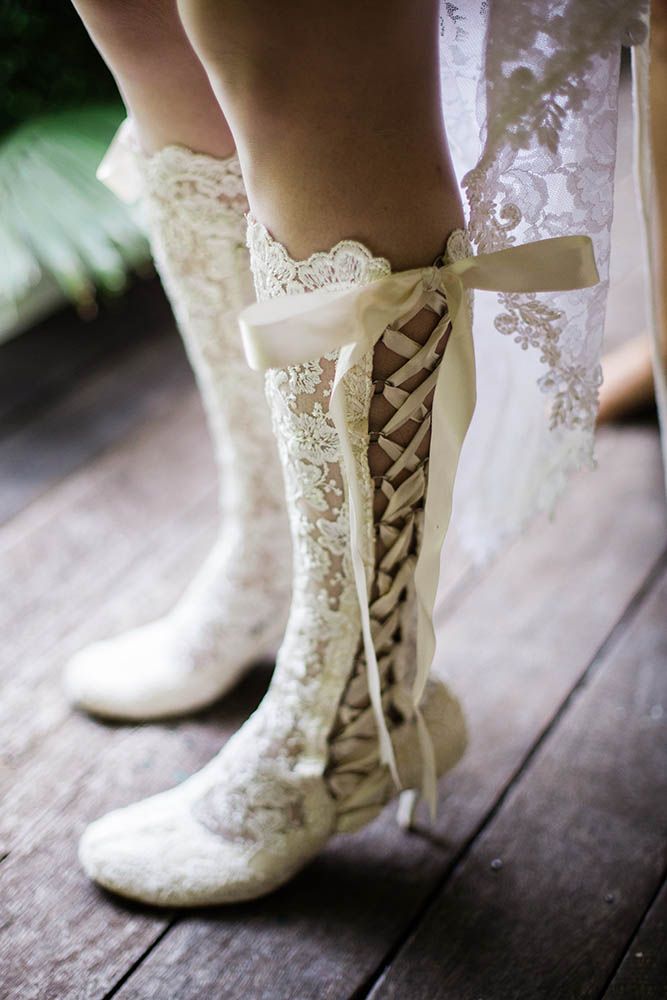 If you perform the bohemian in classic vintage ideas, you can get the concept in your outfit style. For this, you can bring a lace wedding dress and then get a statement on your feet with lace wedding boots. You can ask your designer to create the boots in one set with your dress. If you choose high kee lace boots, better to dress up with the lace short gown or tea dress. And when you want to get dramatic flow, you can give a detailed train in the back of your short dress.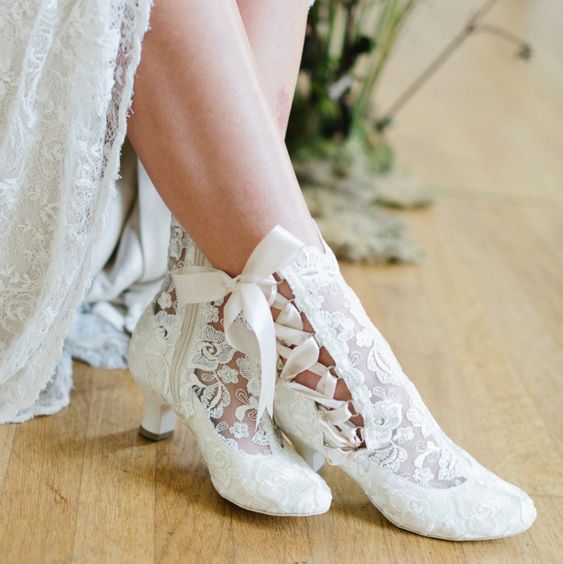 On the other hand, if you want to wear a long loose lace dress, better to choose short lace boots as your pretty wedding shoes. This would balance your appearance and actually make you look stunning. Better you wear these boots in a bohemian wedding dress that have a high slit or with a high low design.
Capturing your special moments with a beautiful dress and also the best shoes. What you wear during your wedding is always important. So, make sure to have the concept and choose the best shoes that would make you look stunning and pretty. Remember, anything that you choose should be comfortable first. Start to choose stunning bohemian wedding shoes above for pretty brides. Good luck!