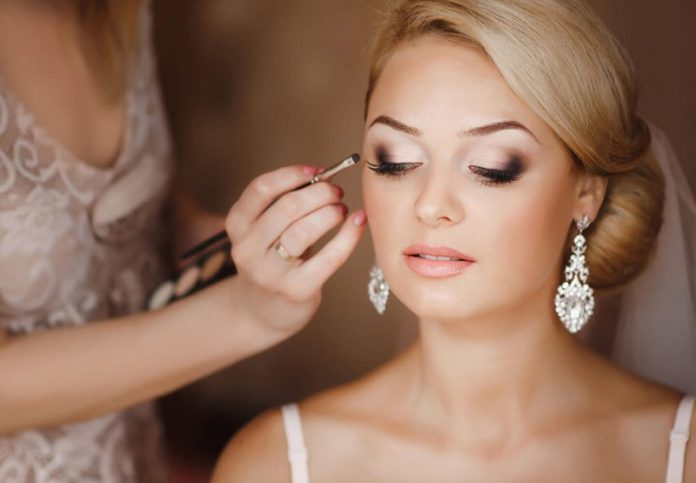 Roowedding.com – Choosing a makeup look for your special day is necessary. At the wedding, there more memories would be captured in wedding photos. That's why you need to prepare your wedding makeup style properly that also consider your wedding concept. With pretty makeup, you will look flawless and fabulous.
Some brides usually want to look outstanding in glam makeup, but others want to look natural in an effortless makeup look. Those two makeup looks have their advantages. In glam makeup, it comes with a bold and elegant image. This makeup style is a match for the evening party. Contrarily, natural wedding makeup can be shown as fresh and simple makeup on your face. This makeup look is suitable for bohemian wedding receptions with a rustic concept.
Nowadays, the trend is about a no-makeup makeup look that's naturally considered to use nude and pastel tones color palette. We have collected some natural wedding makeup ideas for brides to look pretty enough on their wedding day.
Peachy Makeup Style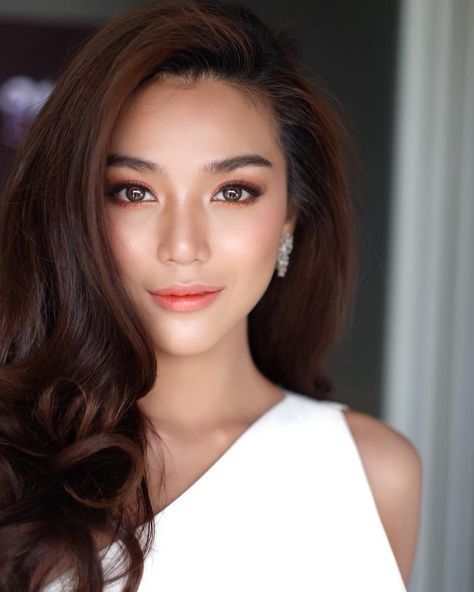 For the pretty natural makeup idea, you should use a peach color palette in your eyeshadow, blush, and lipstick. For the first, use foundation shades that match your skin tone. This is important to make your final makeup not look greyish. To make it look lovely, give peach eyeshadow under your eyes. You can also add a little smokey style to your eyes by adding a bit of brown eyeshadow. For lashes, just create natural fluffy. Give a little highlight on the nose tip, cheekbones, and chin for the final. This makeup look also can be used in your daily style too.
Freckles Makeup for Natural Look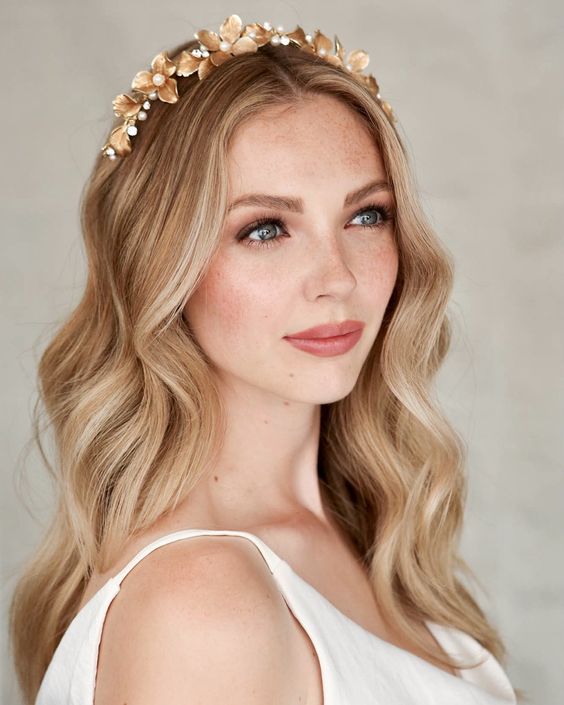 If you want to have natural bridal makeup ideas, you can get freckles style. This makeup look is usually used for brides that have light skin tone and red hair. For this, you can use light and less foundation. It uses just to disguise your natural freckles on your face, but not to cover them. Then for the eyes, use neutral eyeshadow with a bit of pastel pink and brown. For the lips, adorn it with natural pink lipstick that's lighter for a highlight.
Soft Bridal Makeup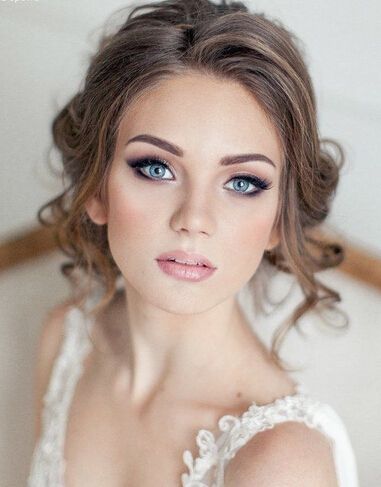 This bridal makeup looks soft and naturally fresh. Having nude pink lipstick, a little blush, and brown eyeshadow make you look refreshing throughout the wedding reception. This makeup also looks good on your fairy skin and blue eyes. Using this natural makeup idea for indoor wedding ceremonies.
Natural Glowing Skin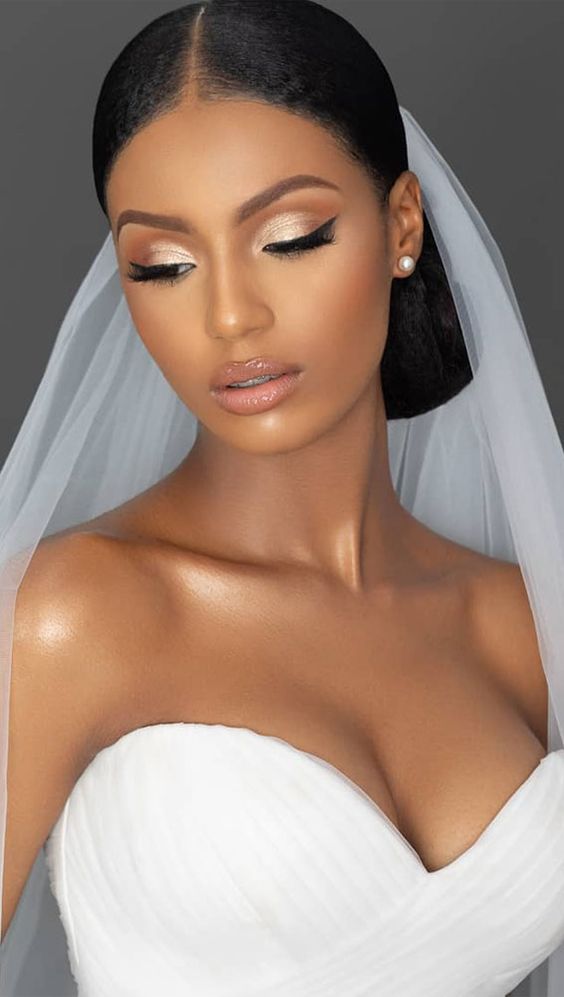 The brides that have dark warm skin tones could look pretty with naturally glowing skin makeup ideas. This style you can achieve by giving liquid or cream highlights under your makeup foundation. Apply this foundation not only to your face but also to your neckline. Give the highlighter to your eyeshadow style. Then, you should find the matching nude lipstick to perfect your pretty bridal makeup.
Soft Pinky Bridal Makeup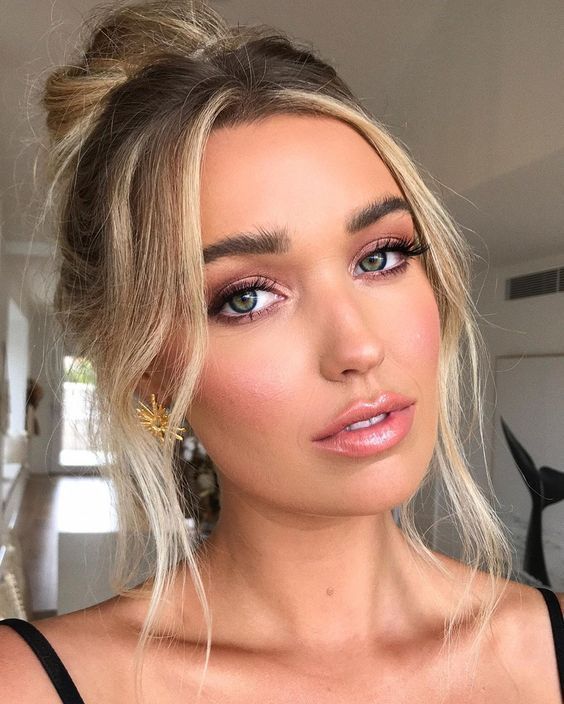 Aside from peach, soft pink is the color scheme that favorites to apply to natural wedding makeup ideas. You can bring an all-pinkish look by having this color on eyeshadow, blush, and lipstick. It's simple and easy to follow for your wedding makeup inspiration.
All in Nude Makeup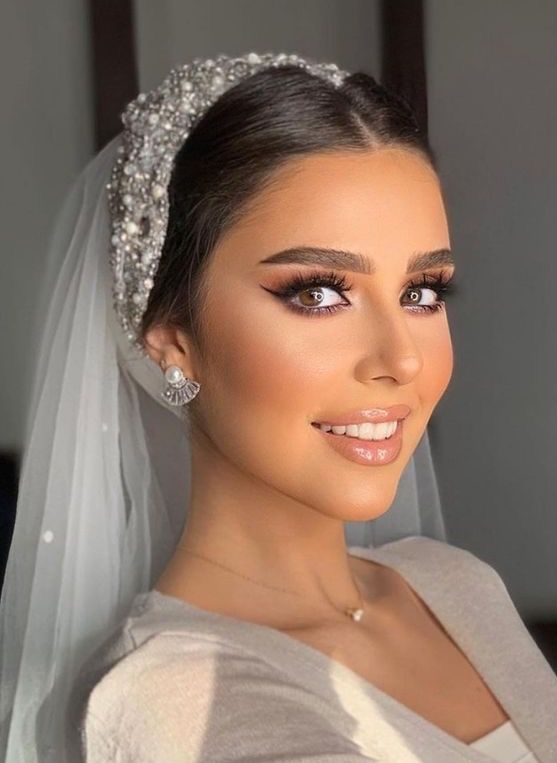 The easy way to bring out natural wedding makeup inspiration is by having a nude color palette. Whether for your lipstick, blush, or foundation you should be matching it with your skin tone. Choose one spot to give a highlight to your face like your eyeshadow style. For the nude makeup ideas, you can add a bit of smokey eyes with brown eyeshadow. This is the way to sharpen your eyes and make you look pretty at your wedding.
Natural Glam Bridal Makeup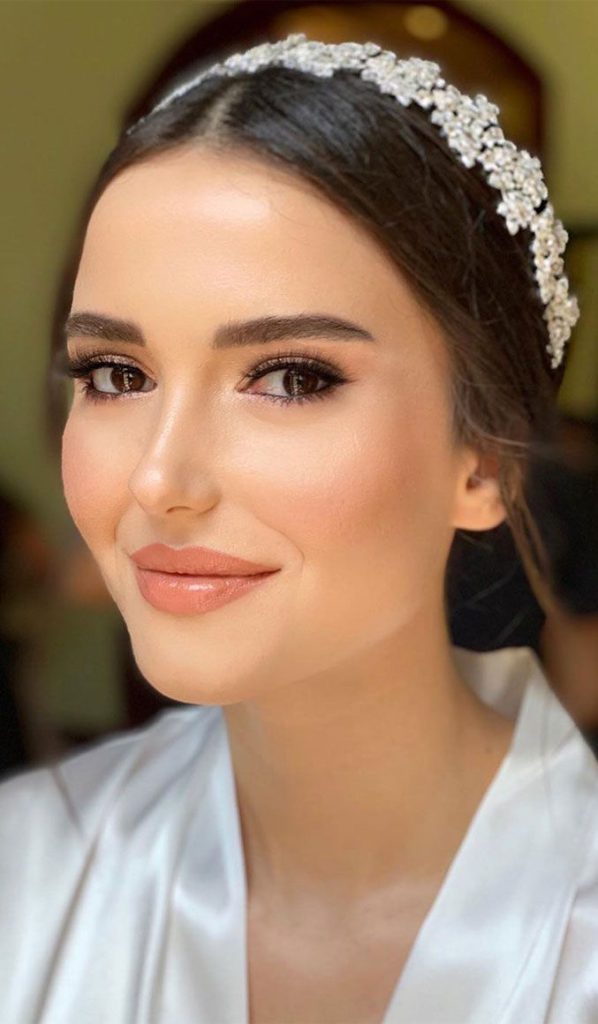 For natural glam, the best way to create it is by giving highlights on your lips. There are two ways to get a glam makeup look. First, you can make your lips look full by using nude lipstick. Or, you can use bold lipstick colors like red. Those two ways have the same goal, which is to present a sexy glam look. For making it balanced, you need to get minimalist makeup on your eyes.
Natural in Smokey Eyes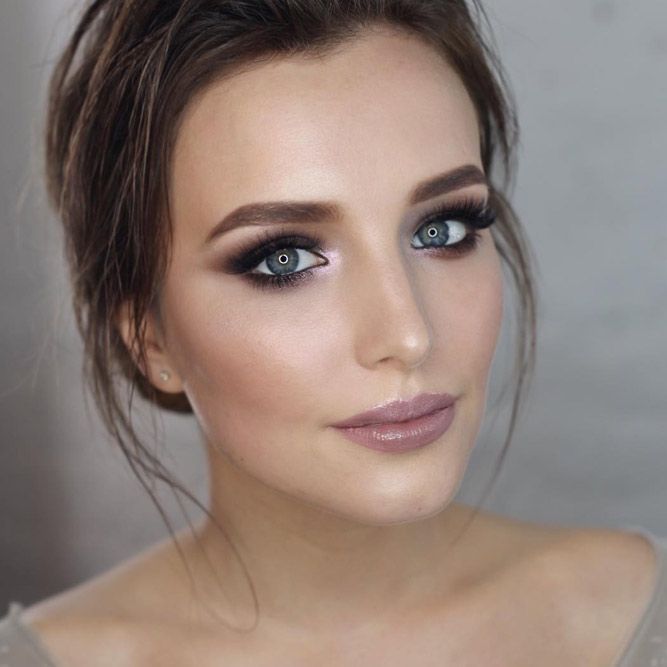 Natural smokey eyes makeup is the opposite of natural glam look. In this style, you need to highlight the eyes more rather than another part. For this, you can apply black and brown eyeshadow to make smokey eyes.  Then go with long fluffy lashes to stand up your eyes. For the lips, better you choose nude and soft lipstick like this rossy pink.
Flawless Wedding Makeup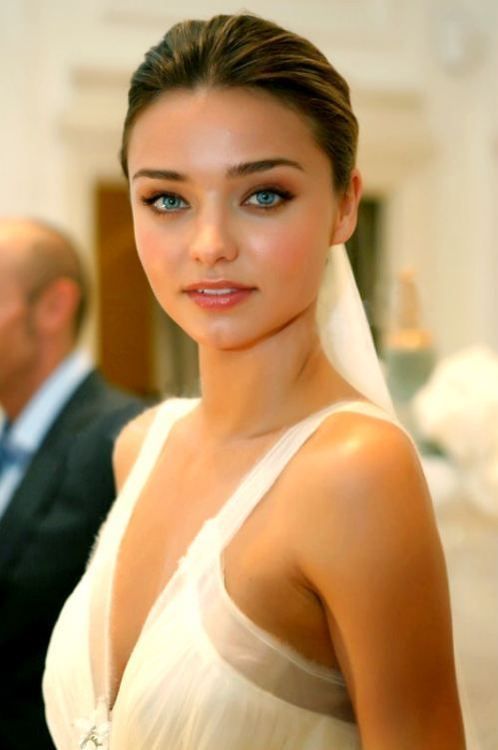 The meaning of flawless makeup is perfect and really good makeup that gives the best featured and coverage makeup. The point of this makeup idea is how to build your skin look smooth and conceal any imperfections your skin. That's why the makeup techniques and the selection foundation are important in this inspiration makeup. The result of flawless makeup is also different for every person. It sometimes can look bold and sometimes are natural.
No Makeup Makeup for Rustic Brides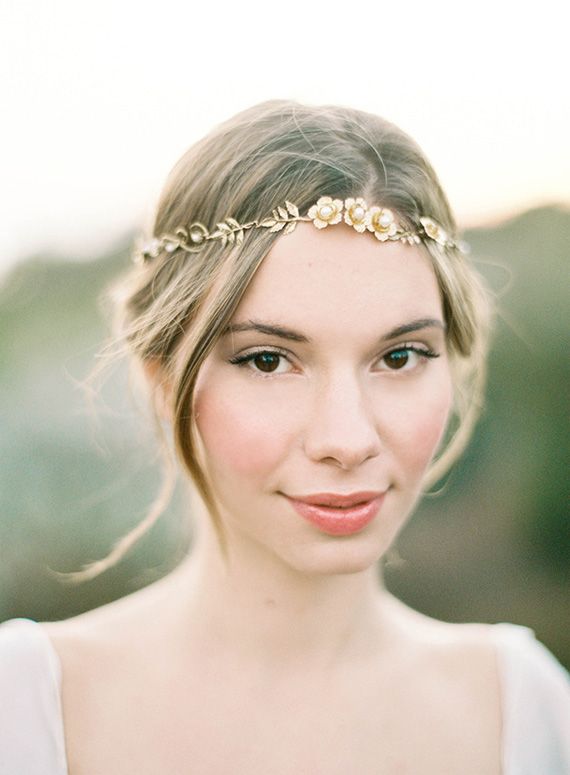 Creating no-makeup makeup looks simple and easy. But you know, this is kind of makeup style actually tricky and a bit challenging for makeup artists. You should look flawless and fresh in minimalist makeup. Natural tones like peach, nude, and pink are the most used in this bridal makeup inspiration. This inspiration bridal makeup would look good to apply for rustic brides.
Best Natural Makeup for Brown Skin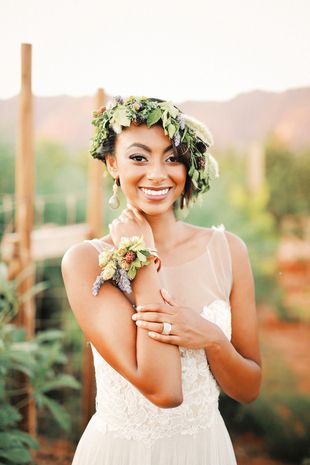 For you that have exotic brown skin, natural makeup with the same shades would be best for you. Suppose use nude or neutral palette colors in your lipstick and eyeshadow. Just try to bring out a minimalist look with less variation both for your lips and eyes.
Bronzy Statement for Glow Makeup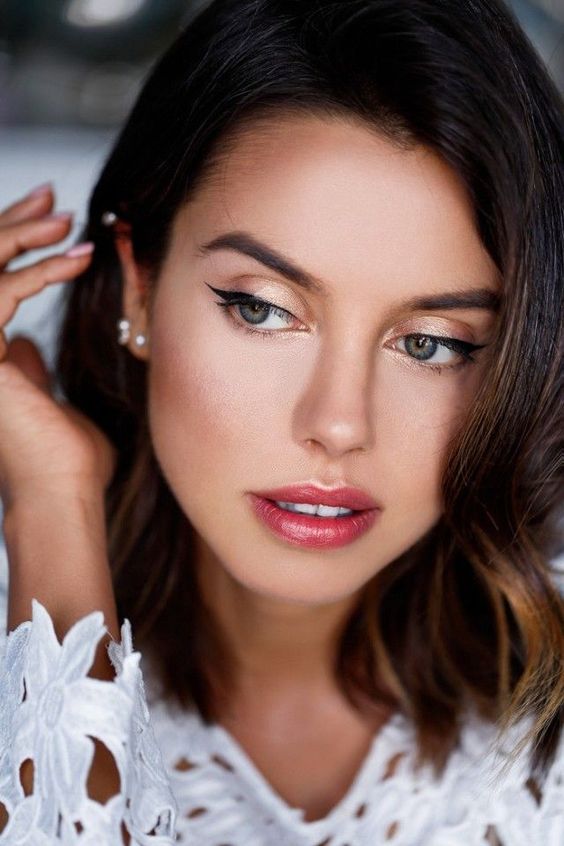 Give bronzy statement would bring a dewy and flawless bridal look. The trick is by giving a bronze highlighter toward the temples, upper cheekbones, and also on your jawline and chin. Besides that, you can also use a bronze highlighter on your eyeshadow. Adding this glow bronze statement would bring the most natural sun-kissed look.
Natural Blushing Makeup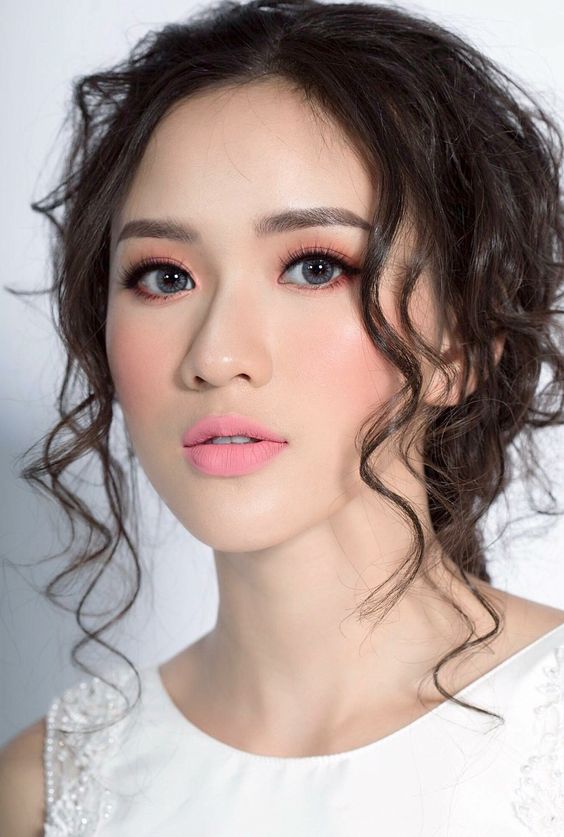 Applying blush is a bit tricky. If you are wrong use your blush on, it would give you a clown look. For natural blushing makeup idea, you can find a way to perfectly apply the blush on your cheek like by layering technique. You should apply two types of blush. First, use cream or liquid blush, and then layer it with a powder blush. The powder would be setting up your cream blush to last long and perfectly show.
Pop Up Lips Color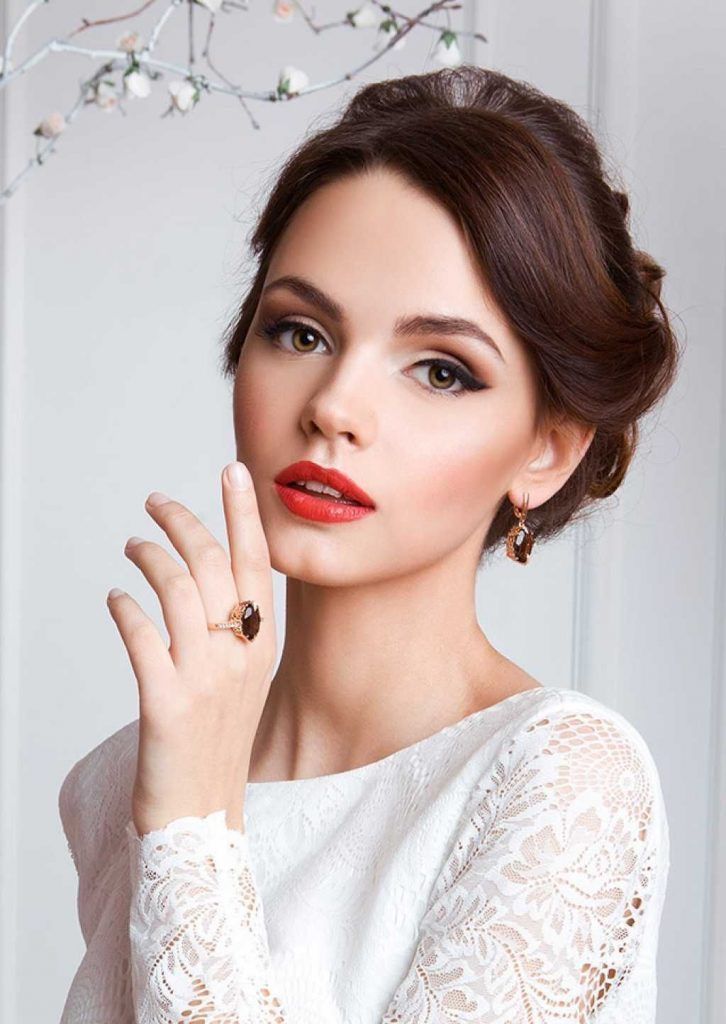 Brides with red hair that's strong enough, you need to have stronger makeup to avoid overpowering your hair features. For this, you should be brave with your eyes make-up, or lip colors. Bring one pop-up color like red to your lips like the picture above. This will be balancing the makeup style naturally.
Simple Makeup for Light Skin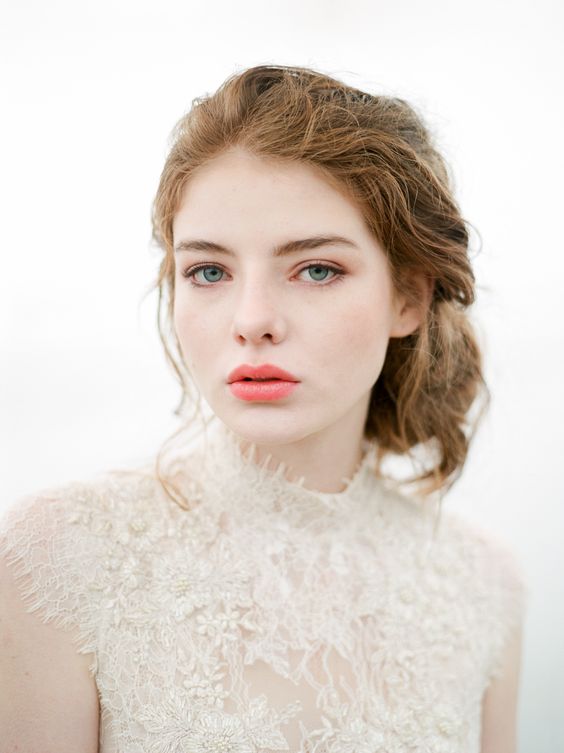 If you have fair and light skin with blue eyes, you need to keep your makeup minimalist. For this, you should be using barely foundation, bushy brows, without having eyeliner and eyelashes. We love how the natural lip colors stood up in this makeup idea. Besides that, you can give a little pinkish touching in your eyes to light up your blue eyes.
Fresh Bridal Makeup Look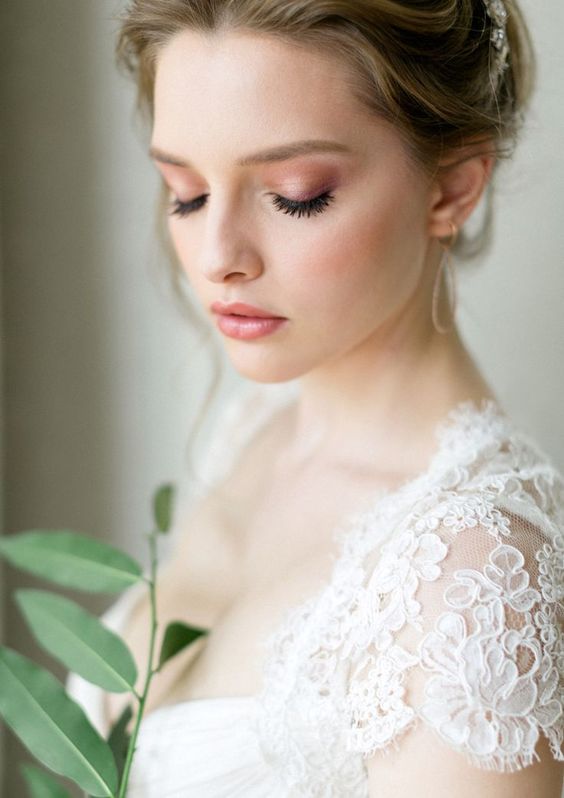 Likewise, for a fresh natural bridal look, you need to use nude pastel colors such as pink and peach. You also need to adjust it with a minimalist look that's having monochrome color schemes. For instance, choosing light pink to bring out on your eyeshadow, lips, and cheek would bring warm and fresh features. This pretty bridal makeup look would be outstanding for your minimalist or greenery wedding.
Those are some inspirations of natural makeup ideas for pretty brides' style. Choose one that you want and really matches your wedding concept. Ask for some advice from your wedding makeup artist. What you need to know is what your makeup looks like, the most important is your confidence.