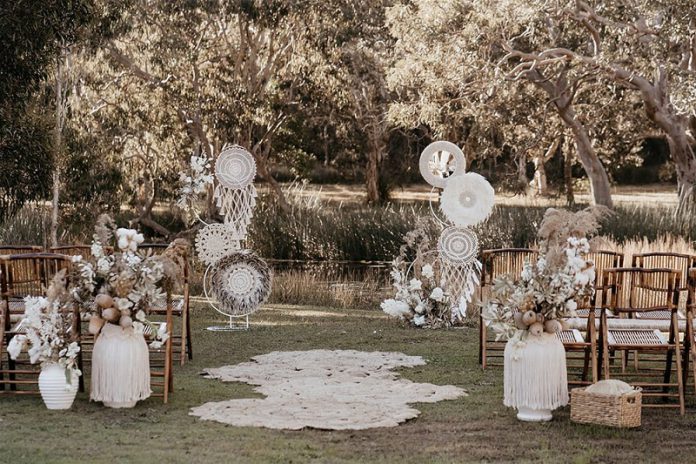 Roowedding.com – Bohemian wedding ideas like came from the fairy tale that has beautiful scenery in every decoration. You would really be happy to adopt it at your outdoor wedding reception and ceremony. Having many ethnic and unique features would fill up every side of your wedding venue in the romantic vibrant.
Boho chic wedding decor ideas have been inspired by nature and a beautiful outdoor panorama. Meanwhile, it has simple decor but still looks romantic and poetic vibe. You will never go wrong to bring out earthy details, a variety of florals and greenery decorations, and other unique boho decorations to transform your traditional wedding reception become the most beautiful. Today, we'll talk about bohemian wedding decoration ideas for a beautiful outdoor reception at your big moment.
Wedding Arch and Backdrop Decorations
Arch and backdrops in the wedding can symbolize the entrance for couples to hold new life. At the wedding reception, the arch and backdrops are usually formed like a threshold.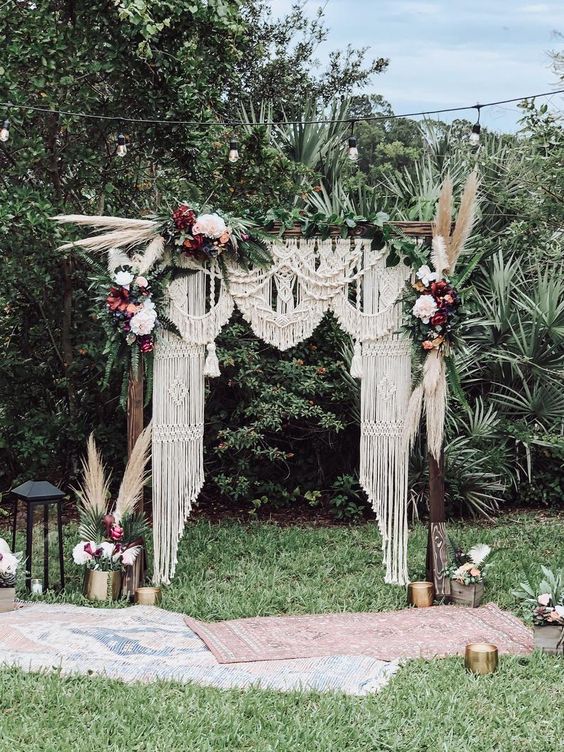 In the bohemian wedding ideas, the arch and backdrops should present the rustic nuance. Adorn them up traditionally with wood accents, local flowers, and other bohemian features. You can try decorating it with the hanging macrame, dried flowers, rugs, and lace features. Getting it more beautiful by giving the candle decoration to bring romantic vibrant. For the arch stand design, you can prefer geometric themes like square, pyramid, or rectangle designs.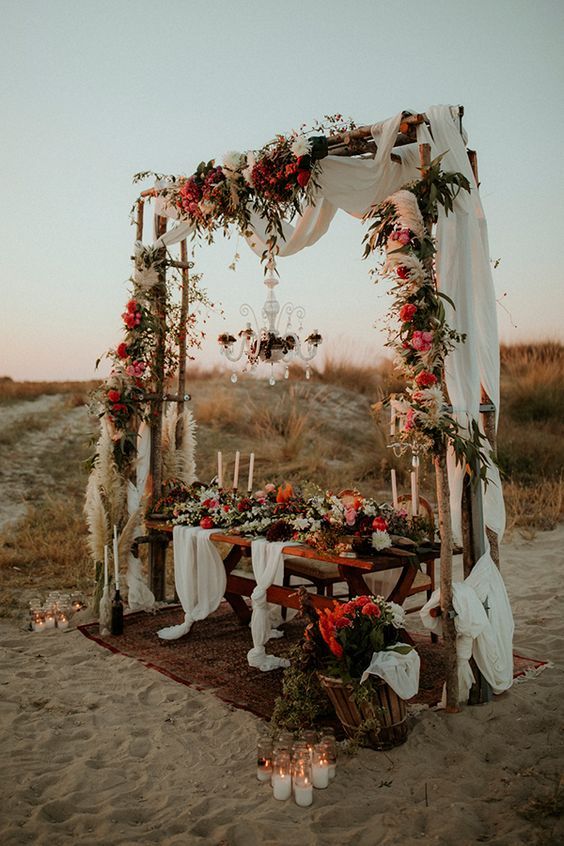 Adorn your beautiful arch with colorful flowers, light linens, and a romantic chandelier to give you gorgeous bohemian decoration ideas for outdoor wedding receptions.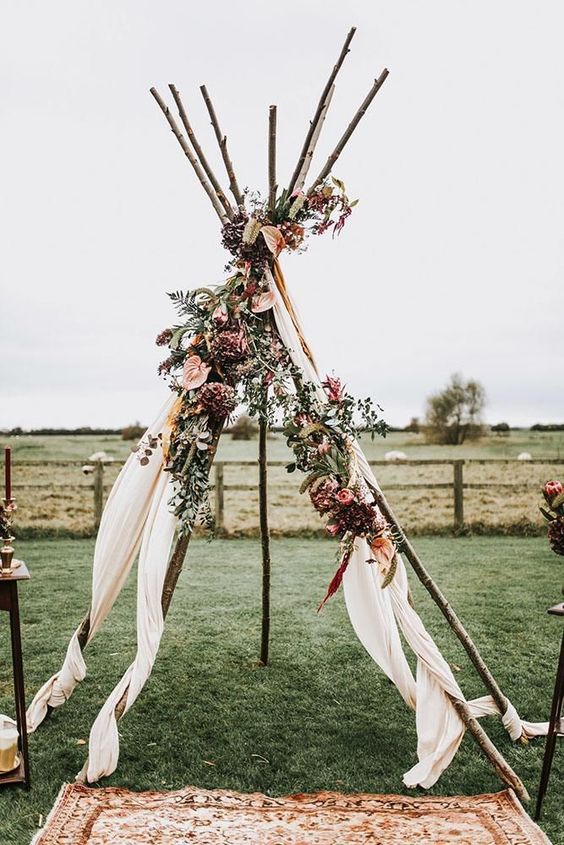 If you just want a different arch decoration, transform it into a geometric shape such pyramid. It more looks like a traditional tent with light fabrics embraces on every side. When you give an ethnic rug under it, you will get hippie bohemian arch decor.
Boho Wedding Table Setting
When you held a wedding reception, some of your colleagues and family will attend. To create a warm and intimate atmosphere, one of the ways is to decorate your wedding table nicely. The place where people make the interact while eating together. Also, this is a place for having a warm conversation with each other.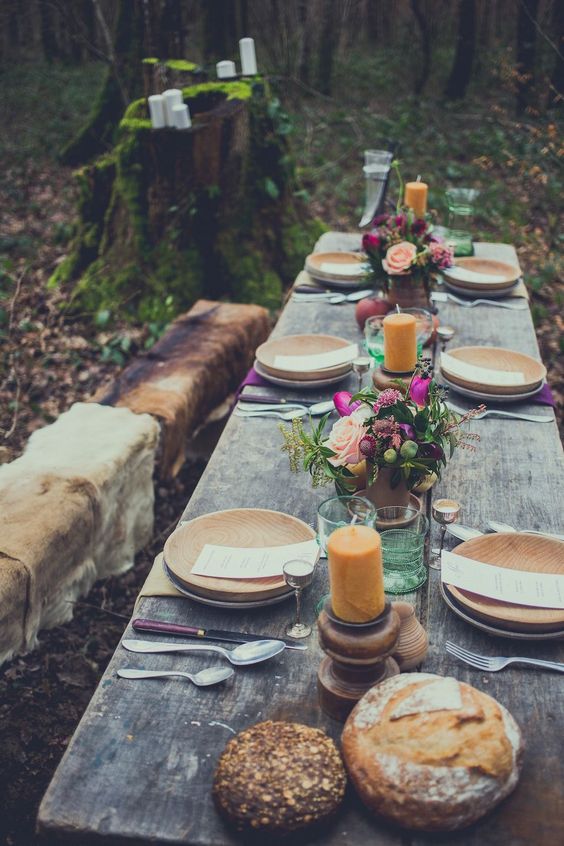 Nowadays, a trend that's favorite in wedding reception is using one single of tables for eating together. You can try to choose long tables with one single chair each, or pick huge round tables. For the bohemian decoration ideas, get wood tables and chairs for the greenery wedding concept. In the center, you can bring out colorful flowers and simple knickknacks.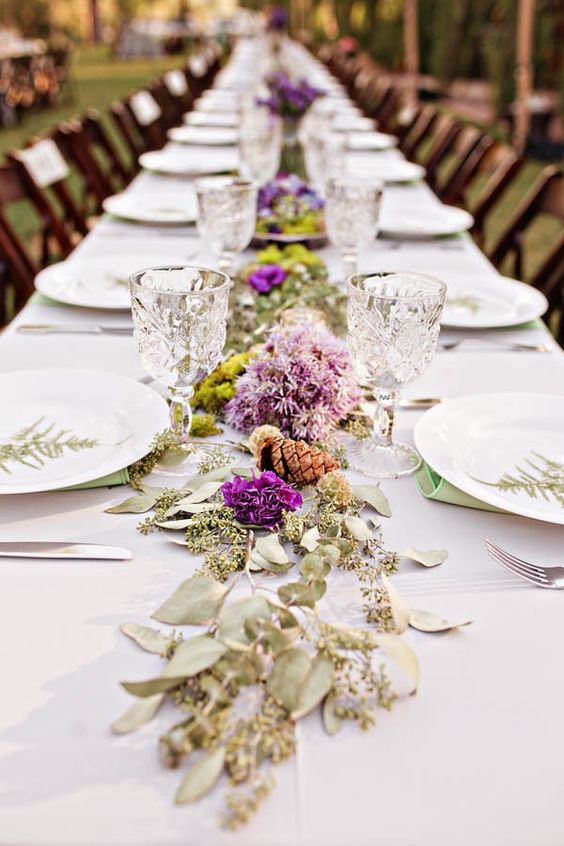 If you want elegant bohemian wedding table decorations, you can add a white table cloth to them. Get wildflowers for perfecting the table to look beautiful. Besides that, choose white and dark brown as the color scheme.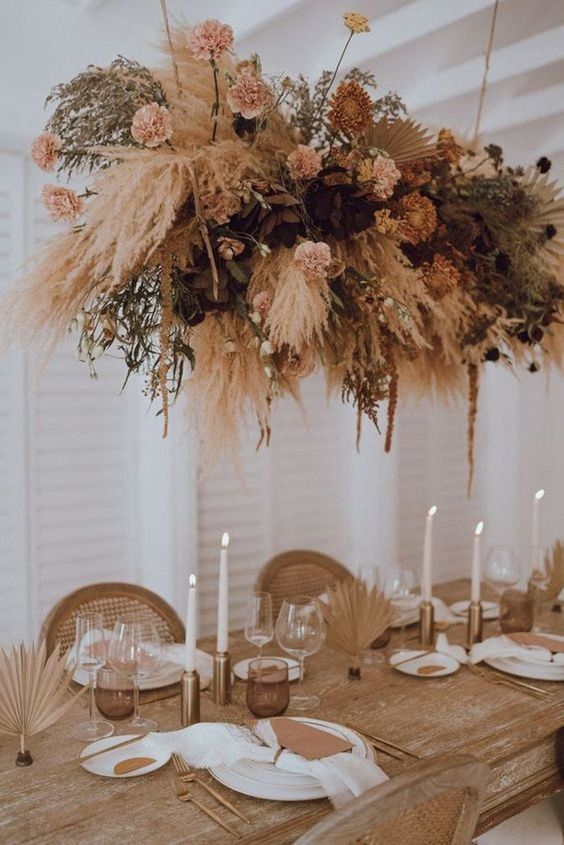 When you want to have rustic table decorations, having a neutral color scheme like cream is a must. Just begin to bring out wooden, rattan, and dried flower features on your boho-chic decoration. You can form hanging decorations with neutral and dried flowers. Better you get gold placemats on your wedding table that's more embrace the theme. Fix up the table with candles to give you romantic nuance.
Bohemian Wedding Sign 
Aside from arch and backdrop, decoration for bohemian wedding reception also includes wedding sign. What's meant by a wedding sign is a kind of welcome board that's decorated beautifully and aesthetically.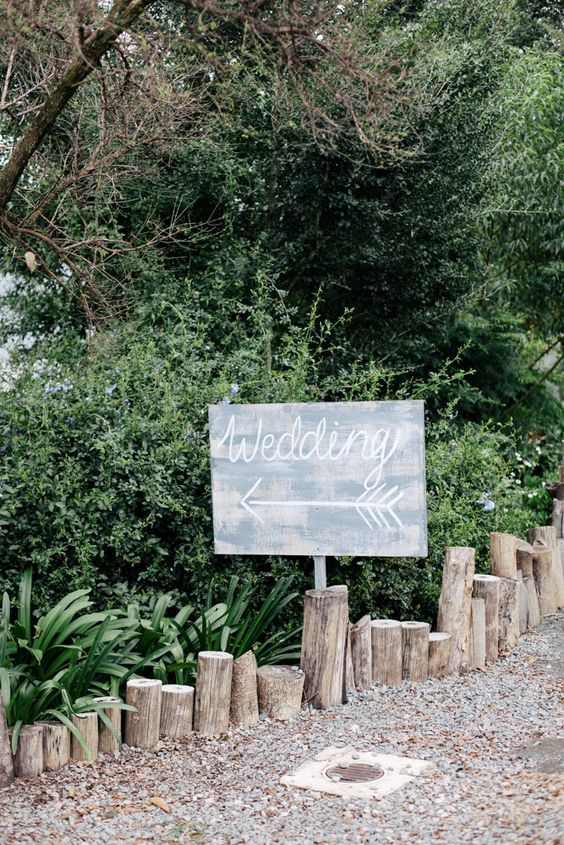 Simple bohemian wedding sign with a wooden board that's decorated in a shabby look. You can get a bit industrial style with the peeling paint form on it.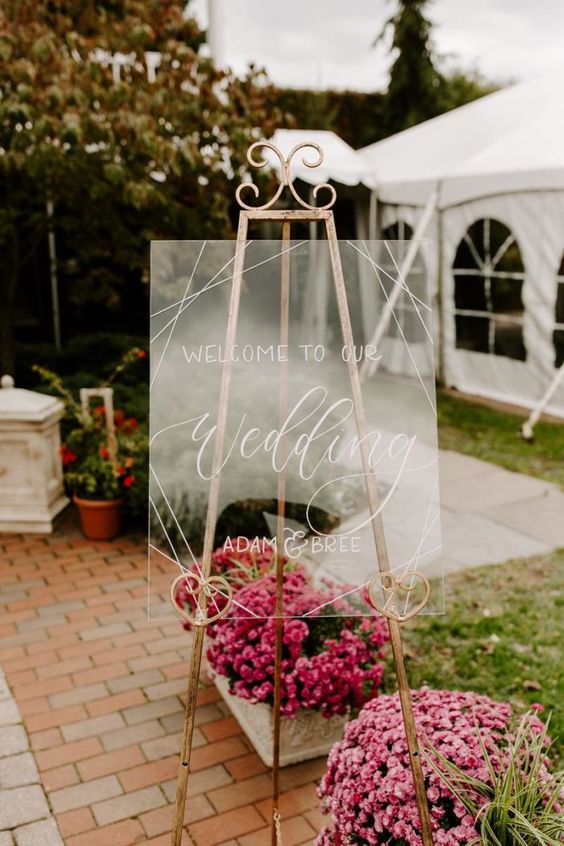 For the elegant ones, you can get the acrylic or glass wedding sign. Choose a wooden standing frame for making it look bohemian style.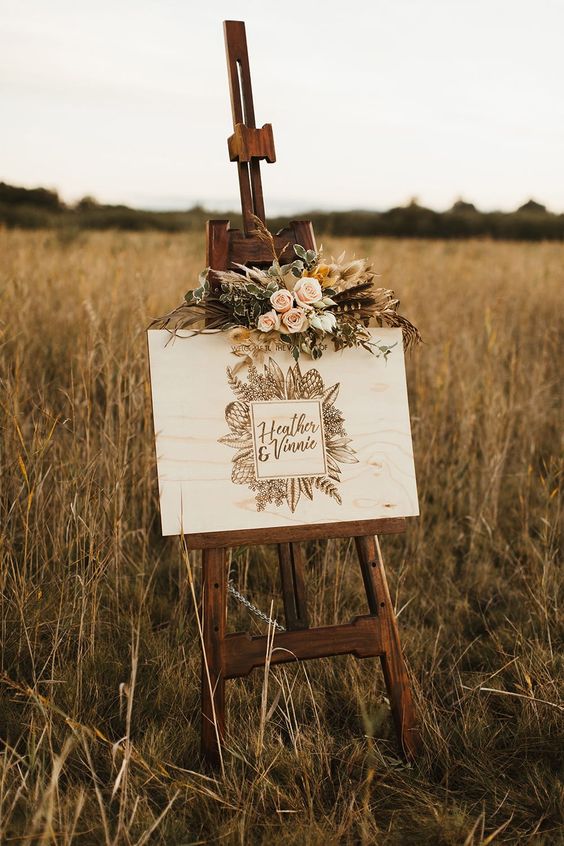 Bohemian decoration ideas couldn't fail to combine with the rustic design. What's formed from this combo is a masterpiece. When you want a boho rustic wedding sign, you just need a canvas and a vintage standing frame. Then, adorn it with some dried flowers or make it look beautiful with local flowers.
Hanging Decoration Ideas
I usually find out hanging decorations in the bohemian wedding theme. What you should do is just make creativity from the things around you.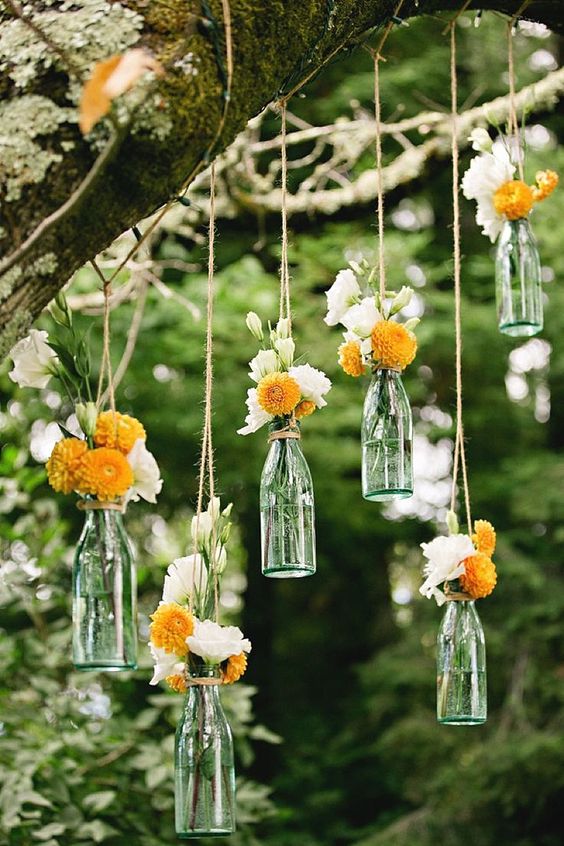 For example, you can utilize glass bottles to turn them into hanging vases. Inserts some attractive flowers and you will get beautiful outdoor bohemian wedding decorations.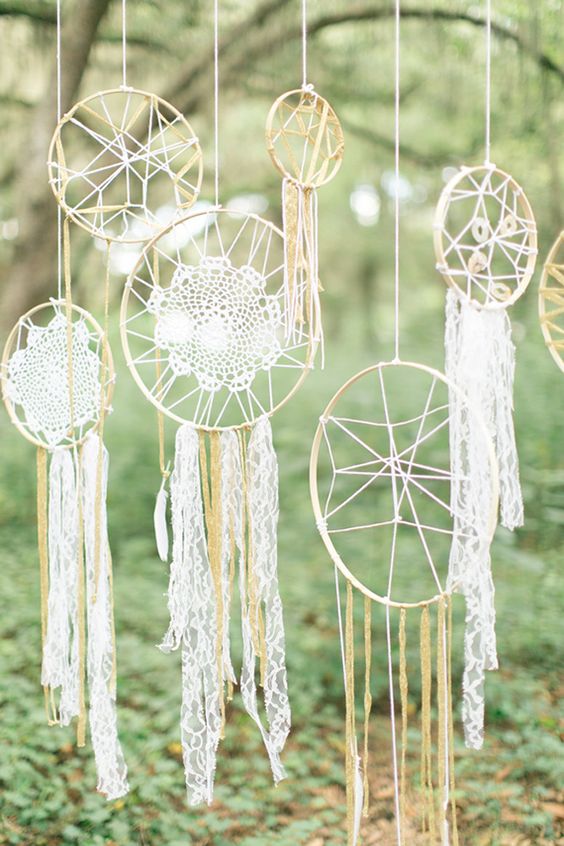 Asides from that, dream catchers are typical of bohemian embellishments. They will give you elegant and beautiful decorations to adorn your wedding reception venue.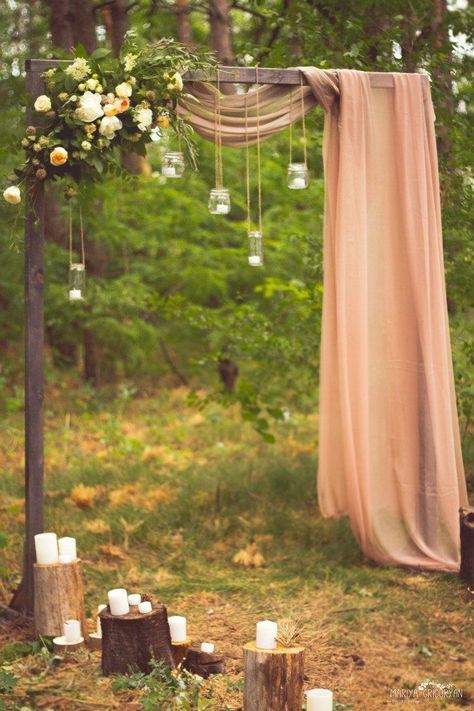 Another hanging decoration for your bohemian wedding ideas is a hanging lantern. You can create it from other used bottles and insert candles in them. This also could be alternative lighting that would stand out romantic atmosphere.
Lighting for Bohemian Wedding Receptions
Hosting wedding receptions until the night, you need something to light up your wedding venue. Besides that, You need lighting that can also live up to your boho receptions. There are a few kinds of lighting you can choose for your wedding decor ideas.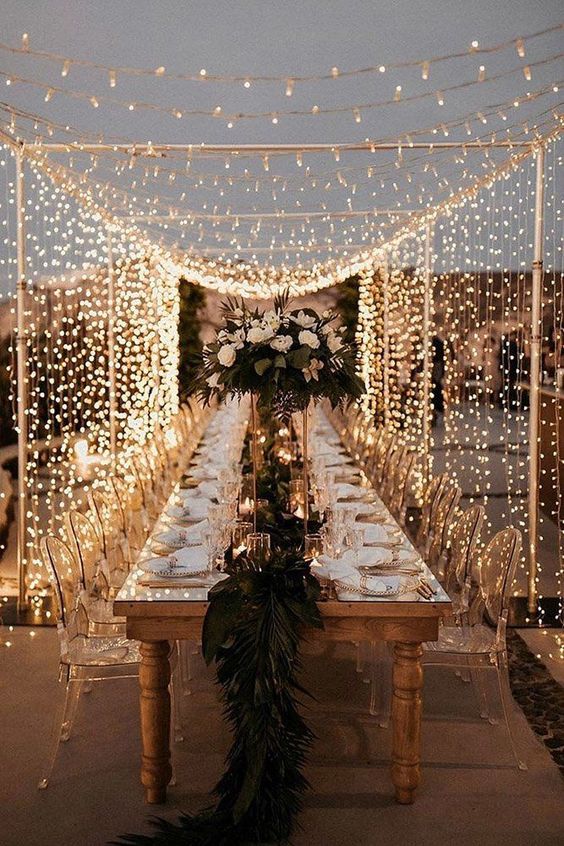 Want to have any better rustic bash on your boho decoration, you need to adjust string lights for romantic wedding decor. It can enhance your boho concept more stunning. Aside from that, it can make out a starry skies effect on your outdoor receptions.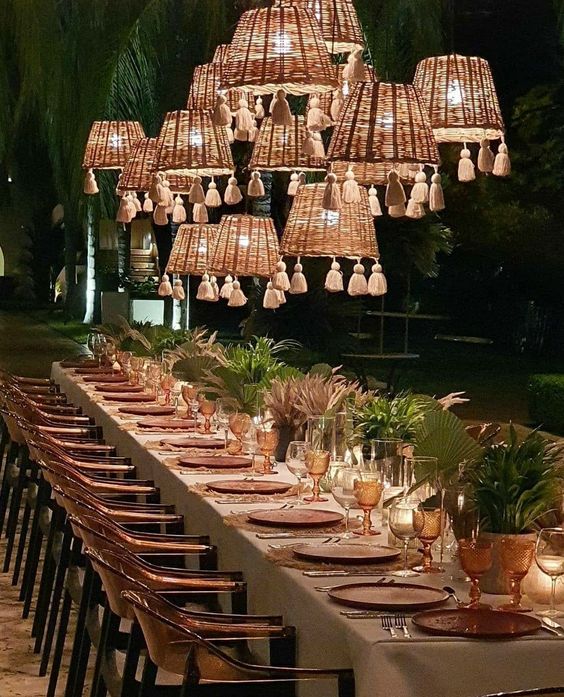 Another lighting to decorate your boho wedding concept is hanging lanterns. The rattan craft on the lamp makes it look industrial and aesthetic for beautiful outdoor wedding receptions. It would look better to adorn your bohemian wedding table.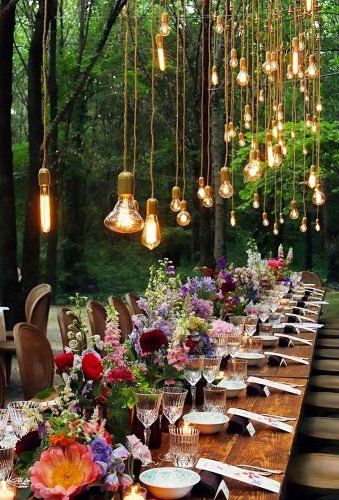 Bulbs have become the best choice for boho lighting in outdoor reception. It would create a beautiful look and also give a little vintage style. Amazingly, that yellow light from the bulbs can arise romantic and classic nuance around your wedding venue.
Bohemian Outdoor Wedding Venues
The wedding venue is the place where you host your wedding ceremony and receptions. In beautiful bohemian wedding decoration ideas, various wedding venues could present the concept better.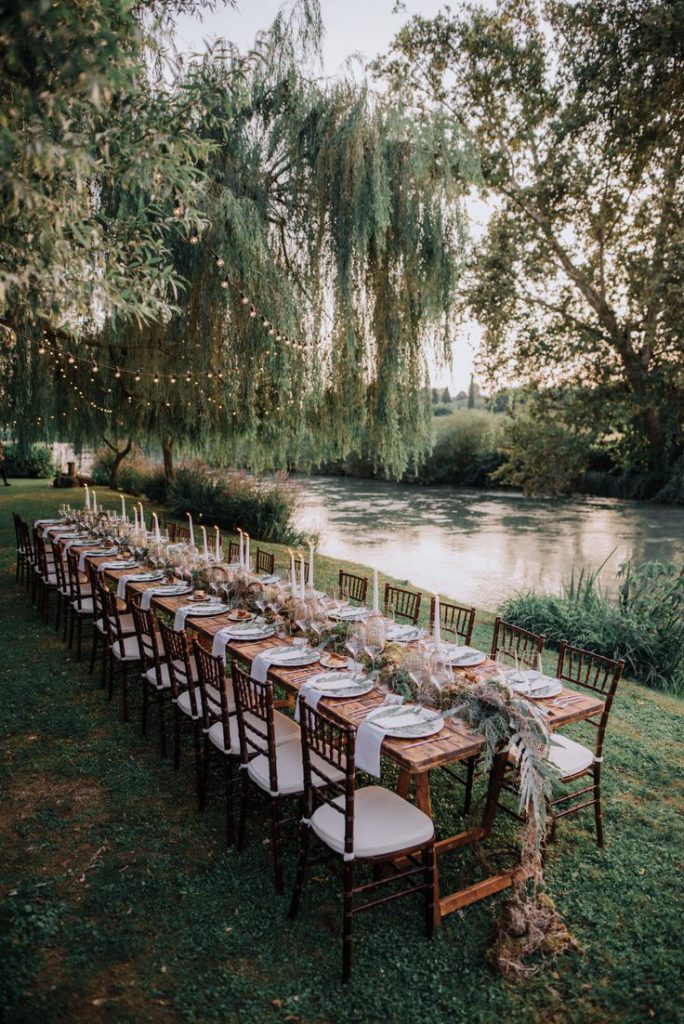 First, you can choose the venue on side of the lakes with the forest views. Place your table right on the side lake, get lighting decoration in twigs, and also don't miss out on the hanging ornaments. You will get beautiful outdoor reception ever in your life in this boho concept idea.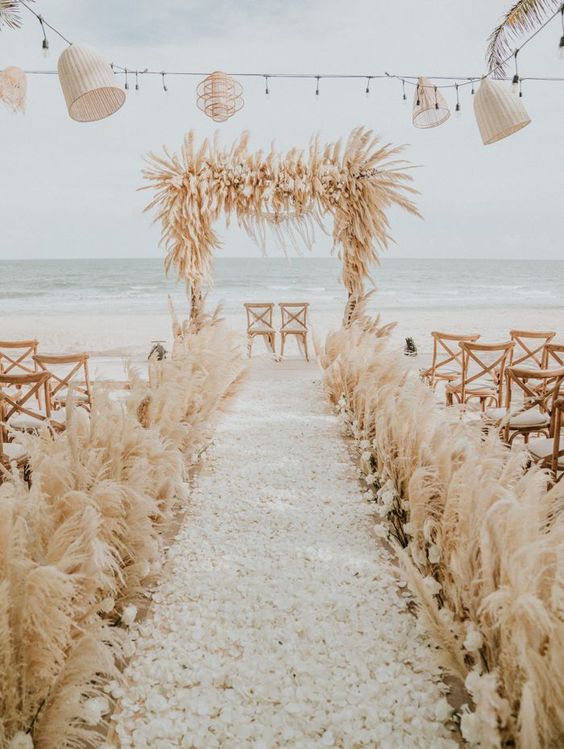 If you want a rustic feel, you can choose a beach for your outdoor wedding venues. Rather you adorn with fresh florals, better to bring out the venues with dried flowers and some rattan crafts. The earthy tones that you bring on bohemian decoration would be suited for a simple romantic beach wedding concept.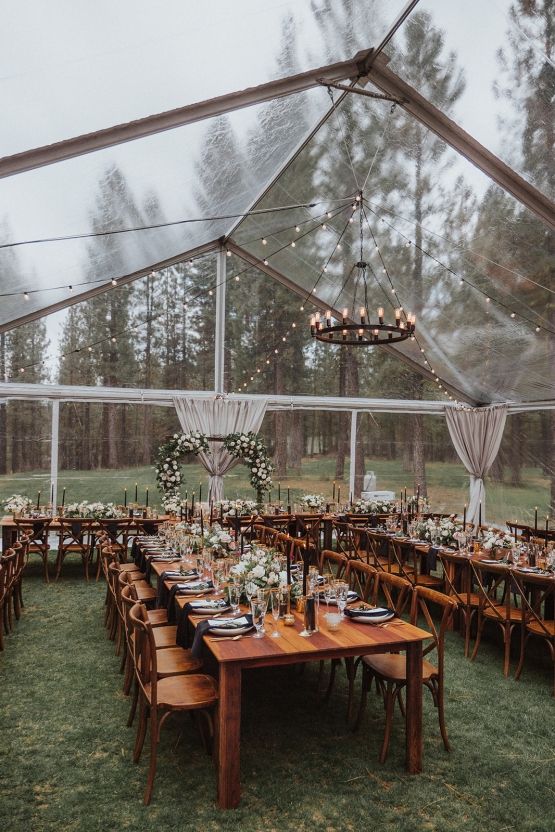 Another outdoor wedding venue you can consider is the greenhouse. With this, you will get the botanical garden concept. For the beautiful bohemian decoration, array the place with wooden things, a chandelier, string light, and some light linen. To make it elegant, you can stand out in black and which color scheme. Importantly, you should decorate the venue with greenery and flowers to make it look fresh.
Cake Decoration Ideas
A wedding cake is something that you shouldn't forget at your wedding reception. It's one of the important things to prepare for your marriage day. Concept bohemian could absolutely you bring on wedding cake decorations ideas.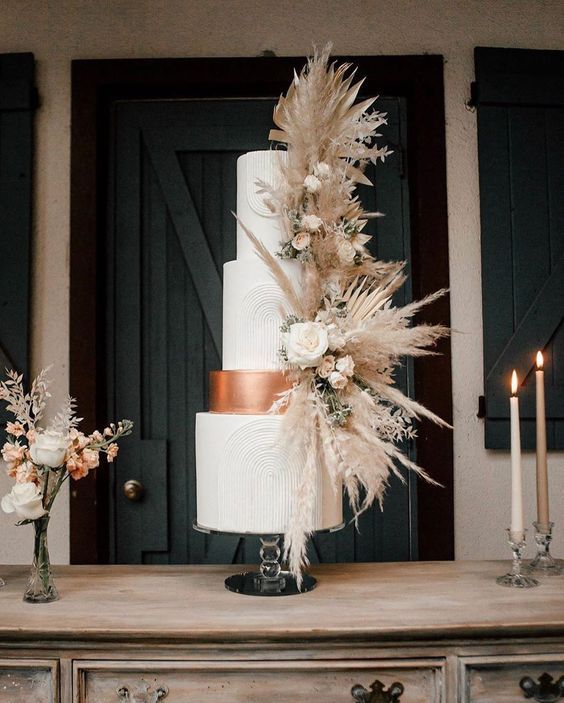 For the bohemian wedding, you can decorate the cake with dried flowers on top of it. The pampas grass is one of the favorite embellish to use in bohemian decoration ideas.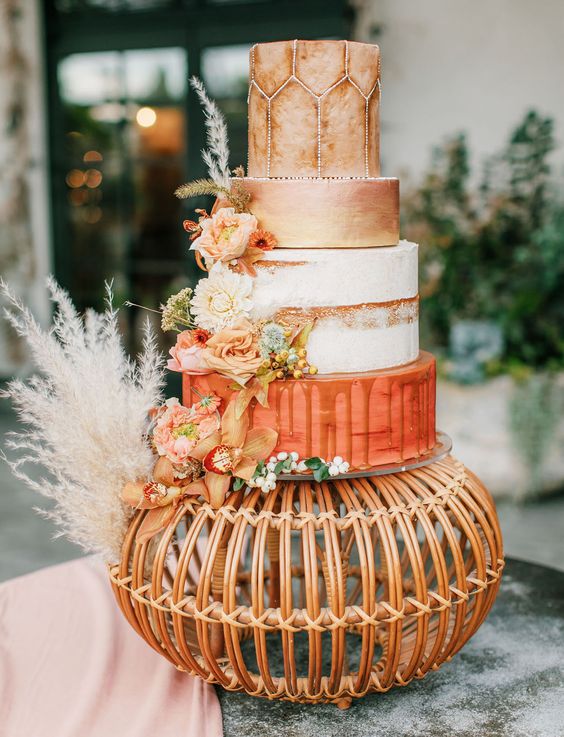 The other way to get a bohemian concept on your wedding cake is by giving rattan craft for a cake stand. People would choose it to also present a unique rustic vibe.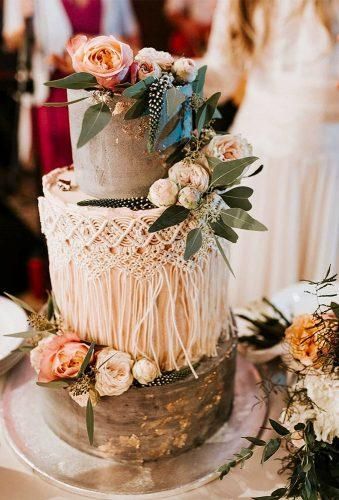 Macrame in cake decoration is also great to perfect your bohemian wedding reception. That makes your wedding cake beautiful in ethnic features. For the beautiful performance, you can add some flowers to decorate your cake too.
Aisle Decoration Ideas for Outdoor Wedding
One decoration that should be a priority is the aisle altar. For the beautiful outdoor wedding reception, you should prepare some decorations that match it, and bohemian is one of them.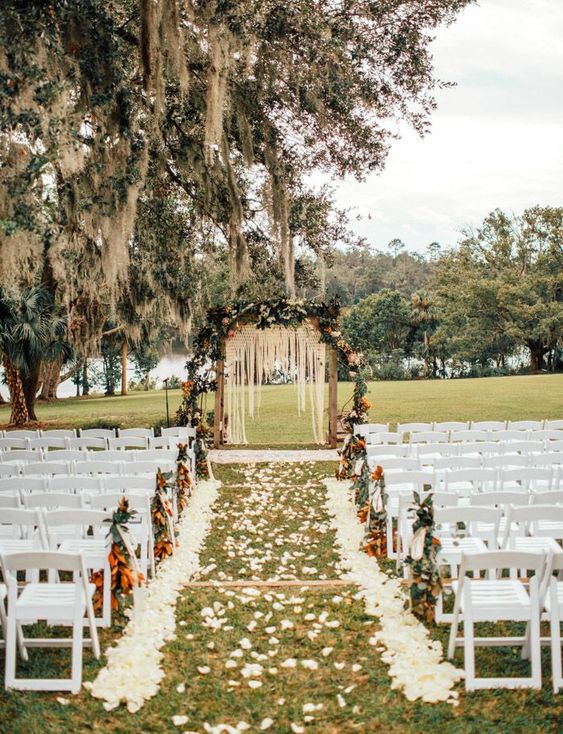 When you held an outdoor wedding ceremony, it gives you beautiful and natural scenery on your big day. Make it look lovely and romantic by adding beautiful bohemian decoration ideas to your aisle altar. You can start with a macrame hanging design for altar decorations.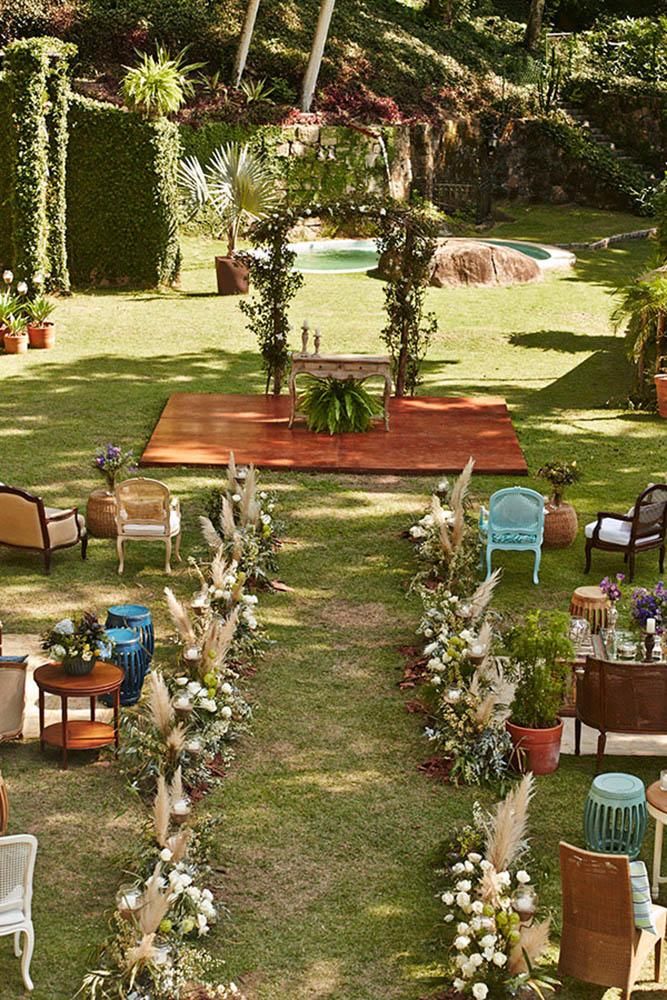 Greenery and floral arrangements are also needed to bring fresh and romantic nuance to your aisle altar. For the bohemian wedding ceremony, you can decorate it with dried flowers like pampas grass. Wild and local flowers would really match this concept.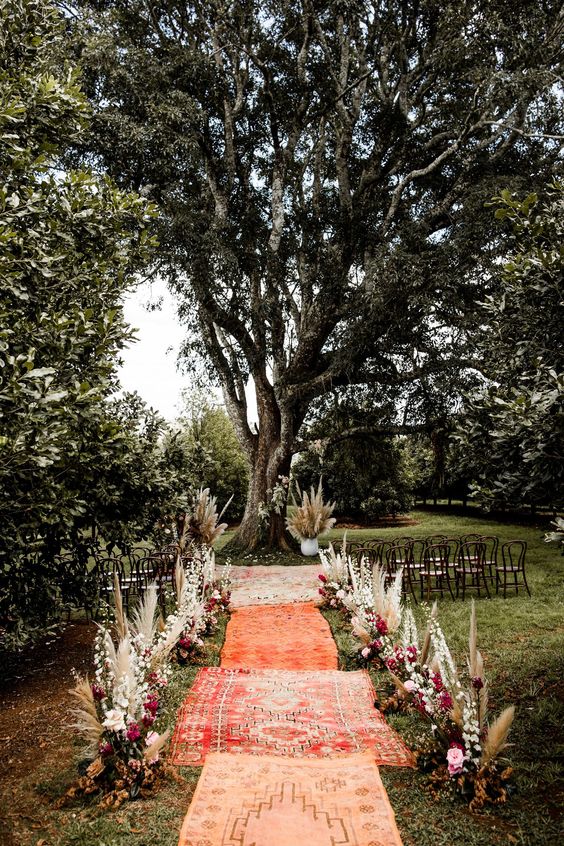 Having ethnic rugs all along the aisle is also the way you can embrace the bohemian concept. With this decoration, you'll feel like walking in red carpets on your best day. Decorating your aisle with these rugs would make this ceremony feel classic romantic.
Boho Chair Decor Ideas
Another wedding decoration for a bohemian outdoor reception is chairs. For boho wedding chairs, they should be light and get beautiful embellishments like pretty fabrics and florals.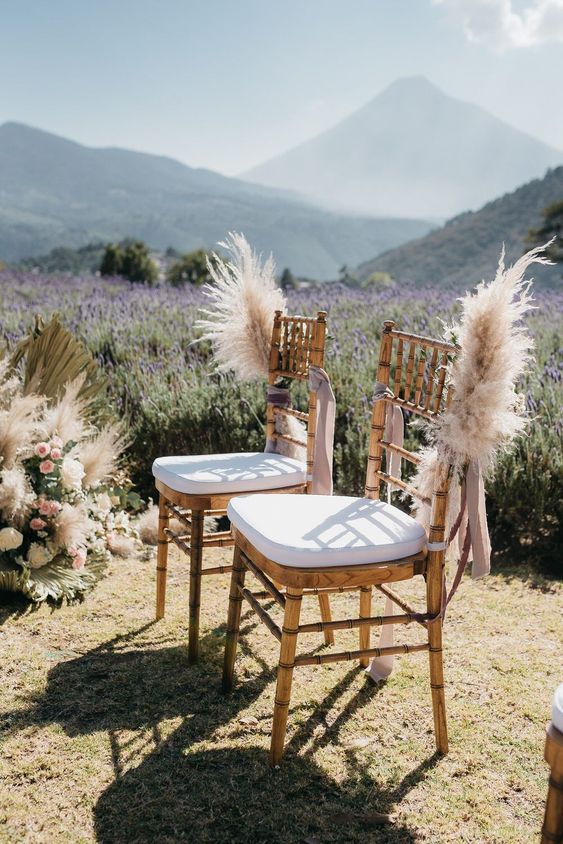 If you want to get a rustic wedding concept, you can get dried flowers like pampas grass to decorate your boho wedding chair. Pick the rattan seats rather than metal or wood materials to give a thick rural vibe.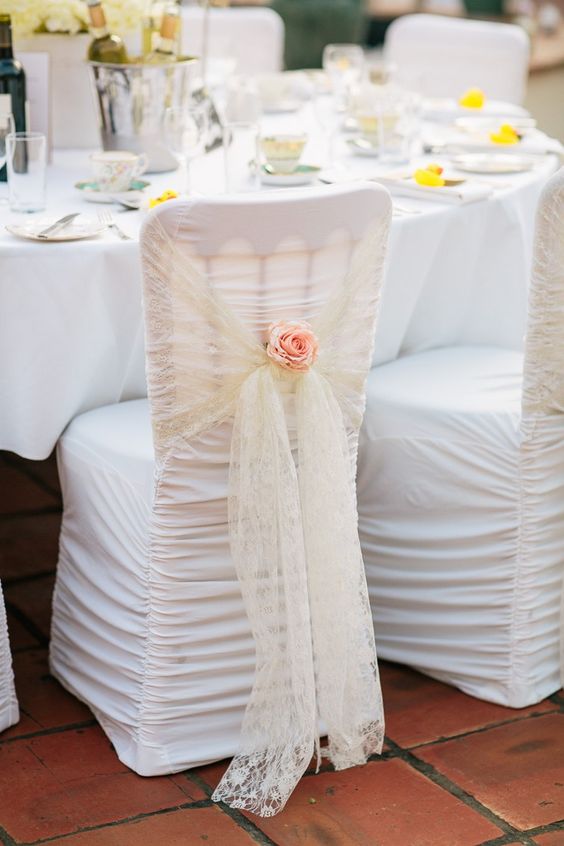 If you want to get a rustic wedding concept, you can get dried flowers like pampas grass to decorate your boho wedding chair. Pick the rattan seats rather than metal or wood materials to give a thick rural vibe. Make it look prettier by giving a small flower on the center of the ribbon.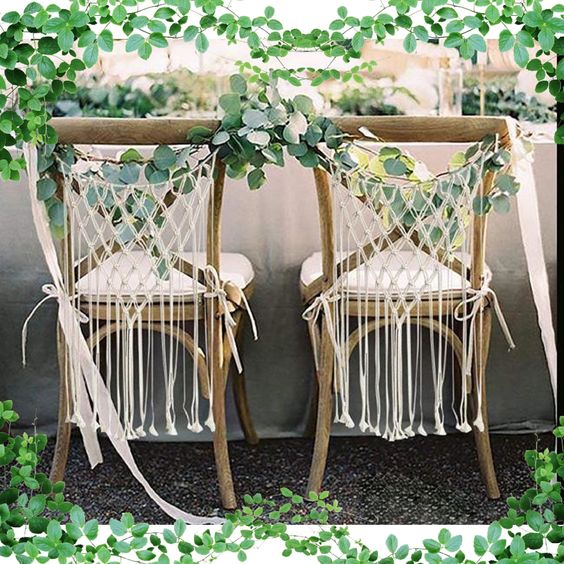 We know that bohemian has typical embellishments like macrame. This is a kind of aesthetic fringes or tassels embellishment that is usually used to adorn walls. You can also add this macrame to modify your bohemian wedding chairs.
Centerpiece Arrangements in Bohemian Wedding
Spotlight your wedding table with some beautiful centerpieces for decorations. You can array it with bohemian features such as lanterns, terrariums, succulents, or hanging macrame.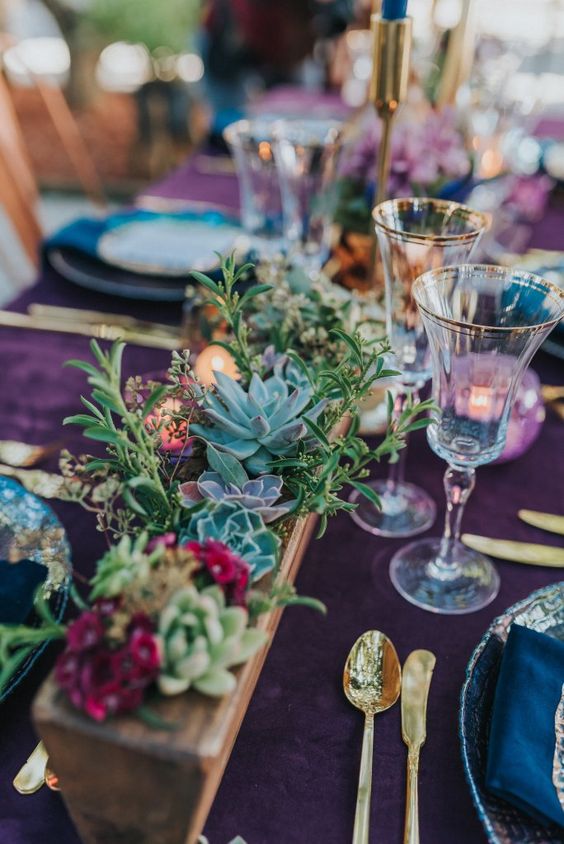 A fresh look for table centerpieces with succulents statements. You can bring those desert plants with other wildflowers or just put them on terrariums. In the bohemian wedding ideas, succulents are the most suitable to fix up your table.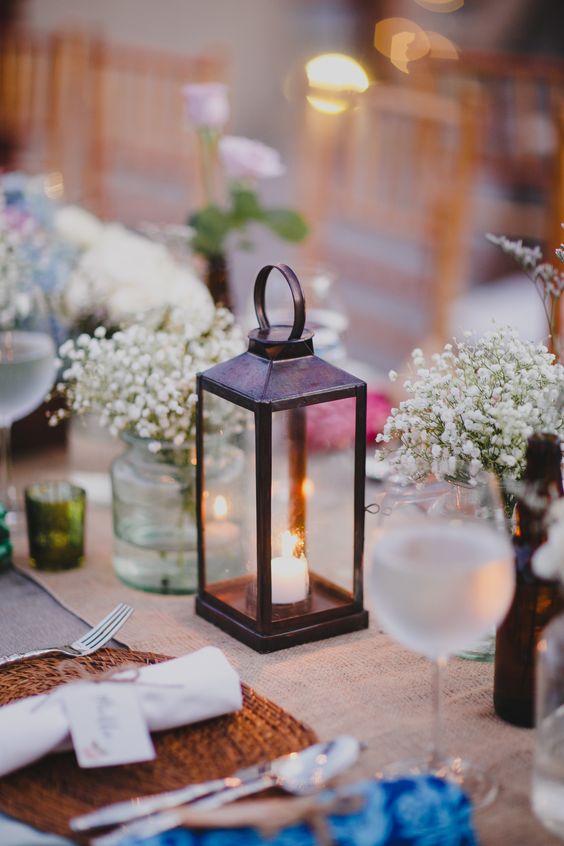 Lanterns are also bohemian features that are mostly used for decorating table weddings and wedding venues. Deliver it with candles to bring a romantic vibe to your wedding table.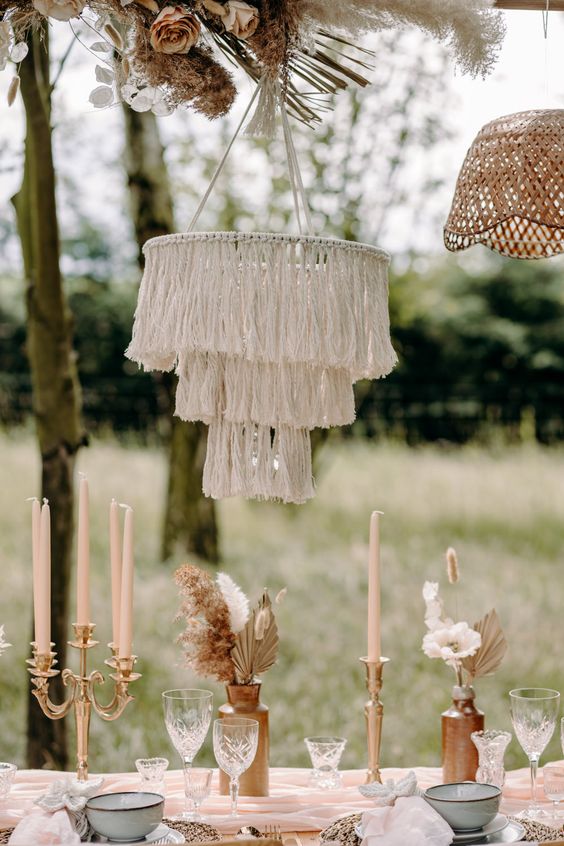 Hanging macrame is also embellishments that are easy to find on bohemian decoration ideas. These trims can be used to beautify your table centerpieces.
Unique Boho Wedding Photo Booth Ideas
Some of the brides provide a spotlight to take aesthetic pictures. They decorate a photo booth uniquely and beautifully. In the bohemian concept, there is some way to decorate your photo booth nicely and chic.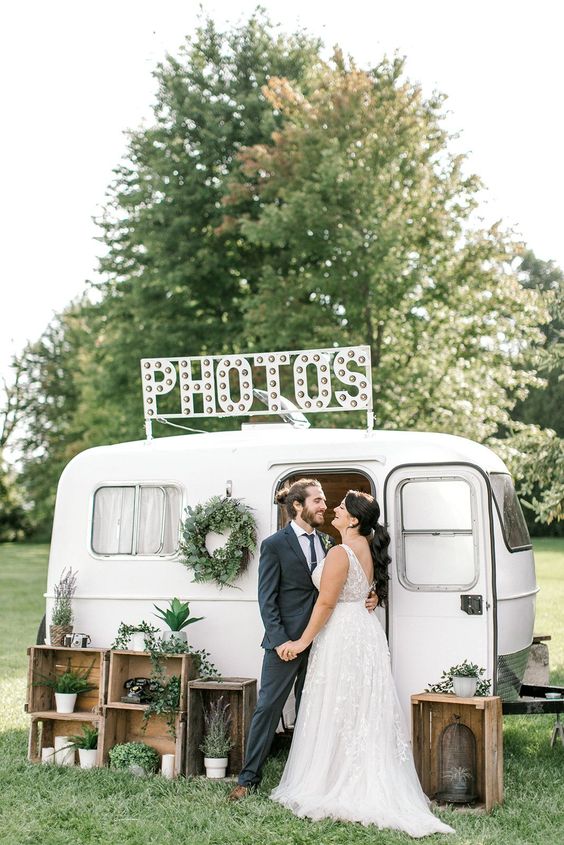 A camp truck is the best outdoor photo booth decoration. Decorate it with wood and greenery accents to transform it into a bohemian style. That would give you the best picture with a beautiful background to save.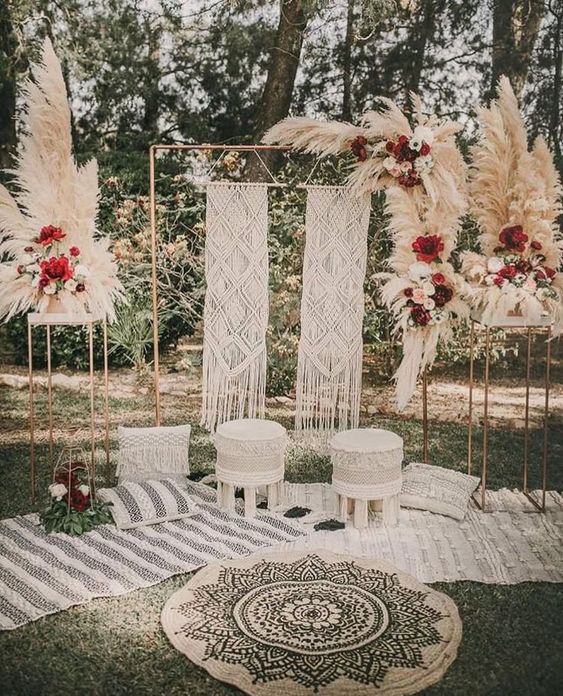 Decorating your wedding photo booth with macrame, rattan furniture, rugs, and pampas grass for the rustic feel.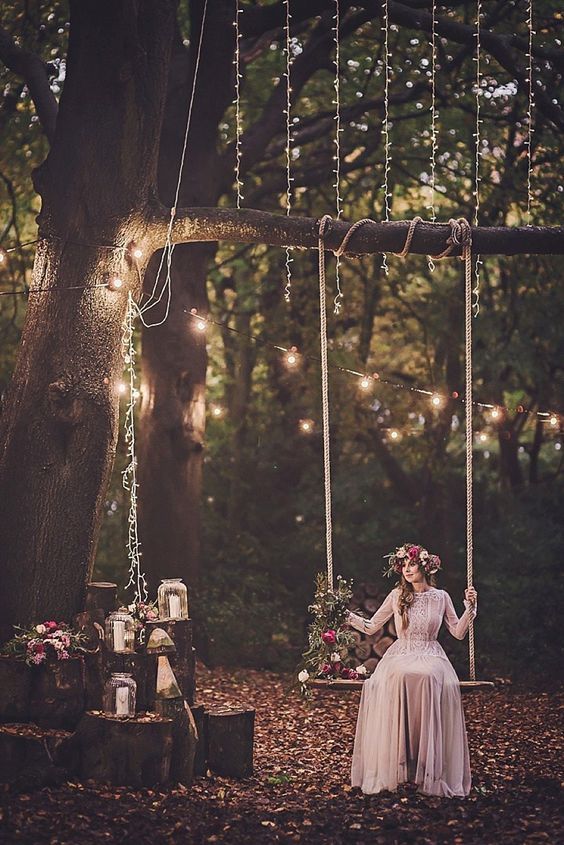 Bring a dramatically romantic vibe in your photo booth with a swing. Bring on some candles and flowers around the swing to give you aesthetic lighting and background for a wedding photoshoot.
Beautiful Floral Arrangements
Besides table centerpieces, floral arrangements are also could be used to adorn your wedding venue more beautifully. In the bohemian concept, there are several table floral arrangements.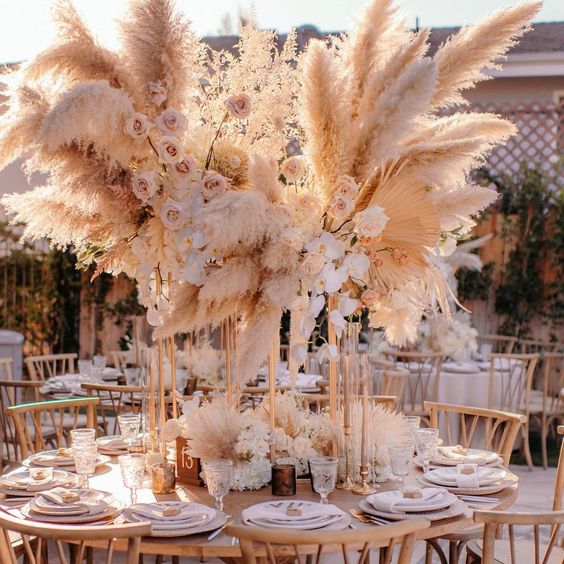 Pampas grass dried and pastel flowers are the most favorite ones. They can give rustic pictures with earthy tones. These flowers arrangements are also suited to decorate your outdoor receptions.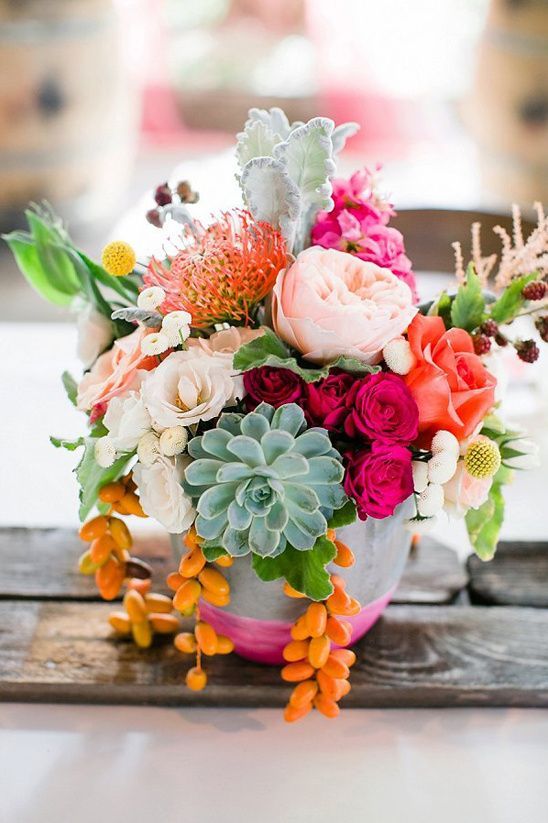 Having outdoor reception may be challenging to bring out beautiful decoration ideas. This is because some of the decorations usually contain floral and greenery arrangements. Wedding planners should consider the best flowers to use and can last long on the outdoor ceremony. For this, succulents are the most suitable and favorable to adorn a wedding venue.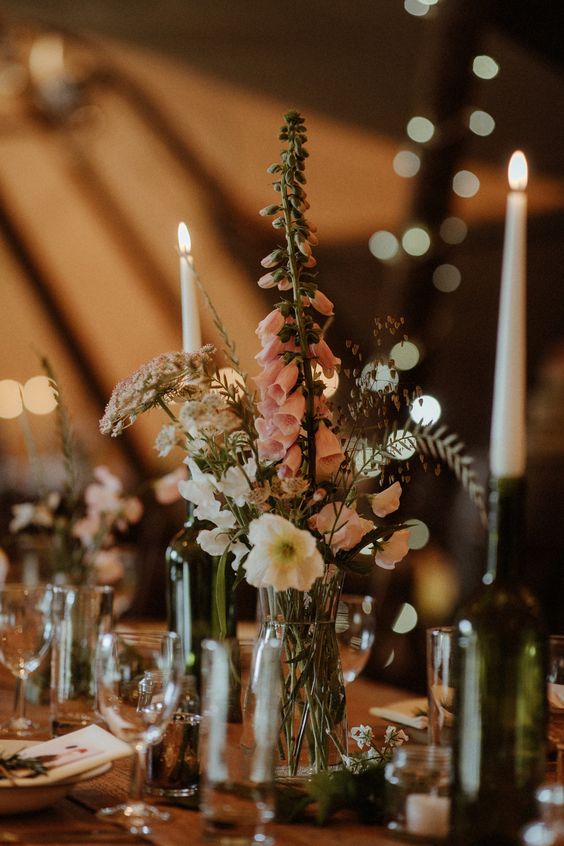 Bohemian concepts usually come in simple and modest looks. That's why, if you want to bring the theme with beautiful flowers for outdoor wedding receptions, better you choose the simple one. Pick minimalist pastel floral arrangements with the glass vase to adorn the table.
These days, bohemians give you something new for wedding decoration ideas. Besides the unique design, it also has a poetic and romantic vibe. When you want to adorn your wedding reception in a bohemian theme, the earthy tones, rustic designs, and ethnic features all that are you need in bohemian wedding decoration ideas. I hope this article could help you find a way to bring the bohemian concept nicely.