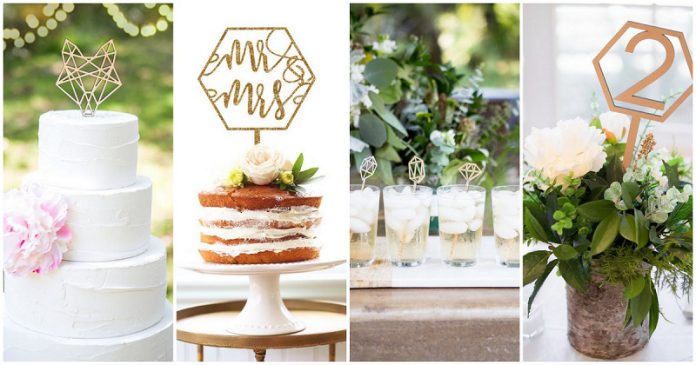 Roowedding.com – If there is one thing for romantic and unique wedding ideas that's lovely, it's a modern geometric theme. When you think mathematics is just about numbers and has nothing about art creativity on it, you are wrong. Recently, the geometric theme for wedding decorations become a trend. This is proof that math is can be turned into an art.
Many geometric decorations apply to create romantic and unique wedding ideas. From square backdrops, cylindrical and tube terrariums, pentagon centerpieces for wedding ceremonies, and dining plates in geometric shapes. They are also stunning for any wedding style, like bohemian, modern, minimalist wedding, and so on.
The Definition of a Geometric Wedding Theme
Geometrics or geometry is the mathematical concept that refers to the calculation of anything about the angle of polygons or the diameter of circles. This word comes from the Greek "Geometria" which has the meaning "measurement of earth or land". This word starts to appear and use in the early 17 century. In 1900 this word is begin to use for describing a design style, especially Greek pottery style.
Nowadays, the geometric theme is a kind of modern decoration idea that comes in the form of squares, diamond shapes, hexagons, pentagons, and other geometric shapes. This theme is much to adopt and apply for interior, exterior, or wedding decorations. If use it on your wedding concept, you should insert some geometric shapes either for backdrops, lighting, arch, hanging decorations, or table centerpieces.
Applying Modern Geometrics to Your Unique Wedding Ideas Romantically
What's more important about the geometric wedding theme is how you apply it. Find the right way to create romantic and unique wedding ideas with this. So, I will help you to get inspiration for modern wedding ideas in decorations and accessories that's come with geometric themes in the description below.
Geometric Theme for Wedding Cakes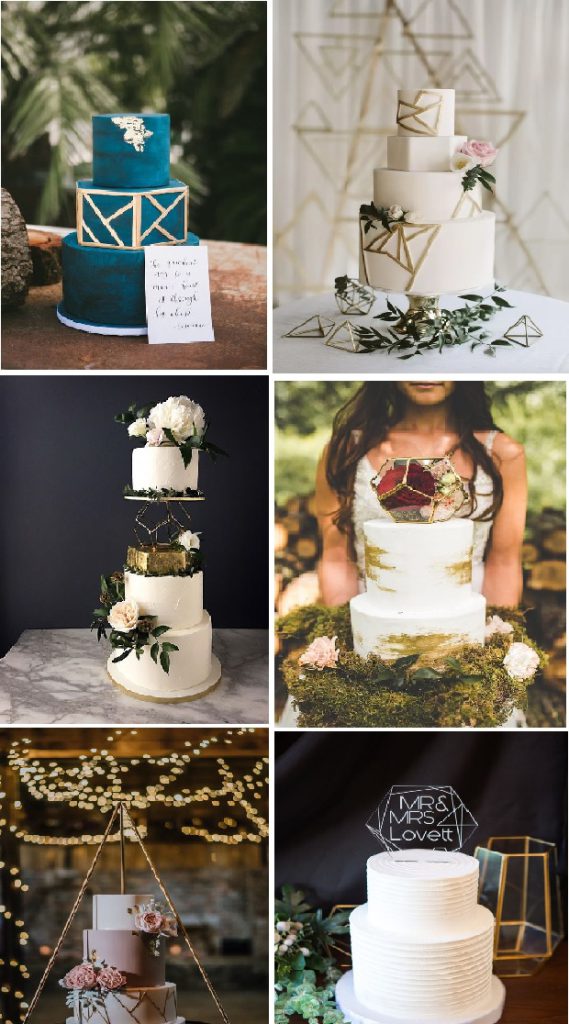 It's easy to bring out a geometric theme on your best wedding cake idea. For example, having resin hexagon for wedding cake decoration. You also can get the geometric shapes for the cake stand, or the separator. Another way, to get geometric shapes or patterns on the cake design is a part of modern geometric wedding ideas.
Bring Out in Romantic Wedding Decorations

A pretty good way to apply geometric themes in romantic and unique wedding ideas is in the decorations. You can apply the ideas for altar ornaments, lanterns, hanging decorations, wedding flower stands, romantic wedding altar, or wedding chair signs. If you want a natural wedding theme, you can add some flowers or green plants for decorations. To make it have a romantic feel, apply a hanging geometric lantern in glass material with a candle in it for wedding decoration.
Using for Table Centerpieces Decorations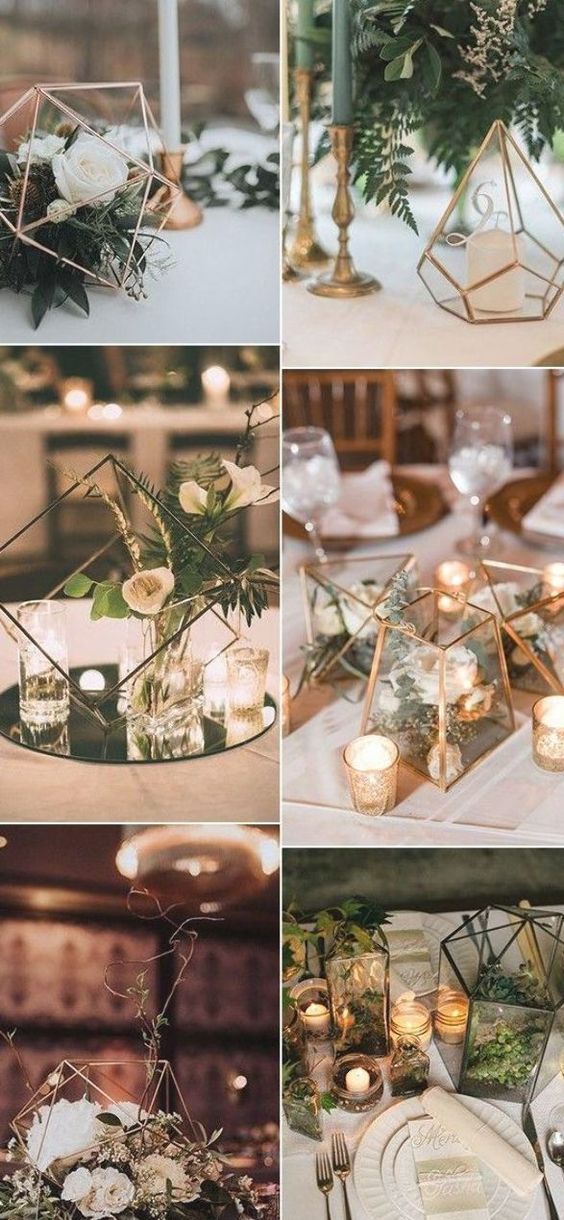 When it comes to table centerpieces for a geometric wedding theme, they usually come with terrariums for decorations. Adding blossoms in terrariums would bring a fresh and chic look to your wedding table. Besides that, having candlelight on the table is a great statement for romantic wedding ideas. For this, you can put them in pentagon terrariums for a unique decoration.
Apply for Wedding Backdrops and Arch 

For a romantic wedding with geometric themes, apply it to your backdrops and arch. You can form your backdrops in pentagons, rhombus, or rectangles. Decorate it as beautifully as possible just like the concept you want. Adorn it with flowers for greenery and a colorful theme, wildflower for rustic weddings, or dried flowers and succulents for bohemian ideas. Adding candles, drapes, or light could also bring a dramatically romantic atmosphere.
Modern Wedding Invitation Concepts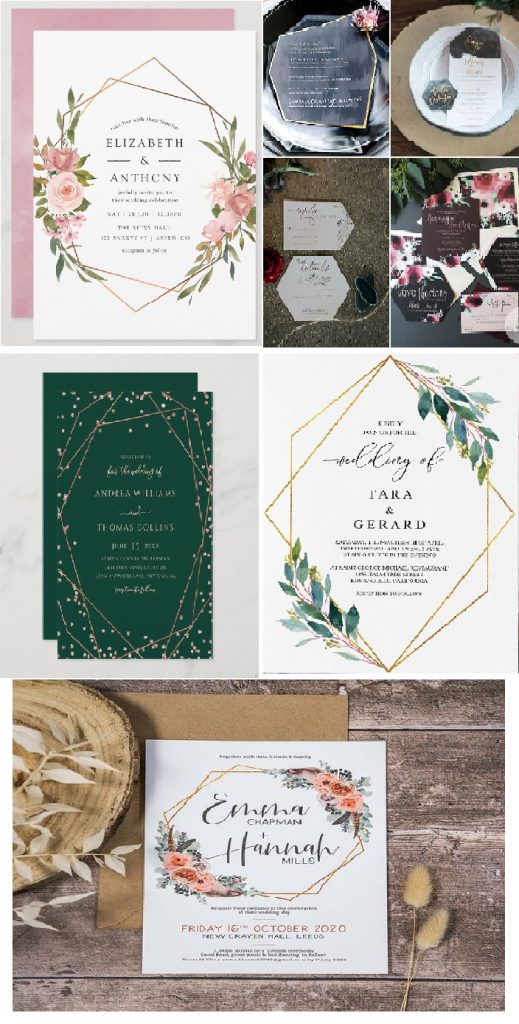 Give your wedding theme a classic and romantic vibe with the geometric concept in your wedding invitation. You can choose a simple rustic invitation with geometric and flower patterns on the prints. Furthermore, coming along with the shapes like a pentagon, hexagon, or others would give a little touch of geometric ideas. With this, you will get a chic and classy wedding invitation.
Decorating Wedding Signs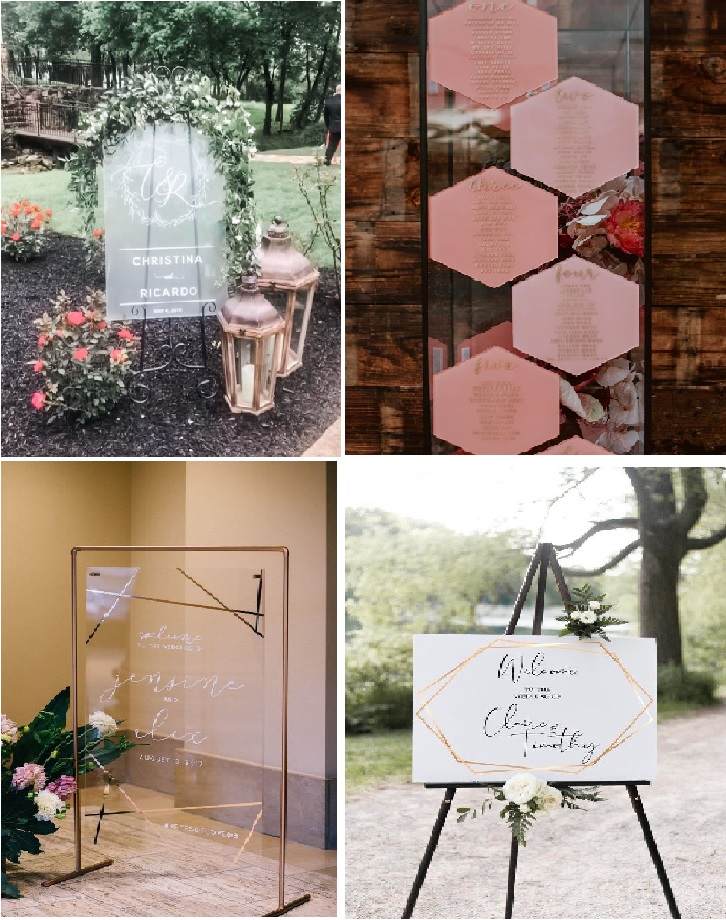 A geometric wedding theme could be shown in your welcome sign design. Make great art on a canvas to welcome your guest. For a romantic and unique wedding, you can design your welcome sign with a canvas that's drawn initials of bride and groom. Aside from it, having a giant guest book in glass canvas brings a unique concept.
 For Modern Wedding Dress Idea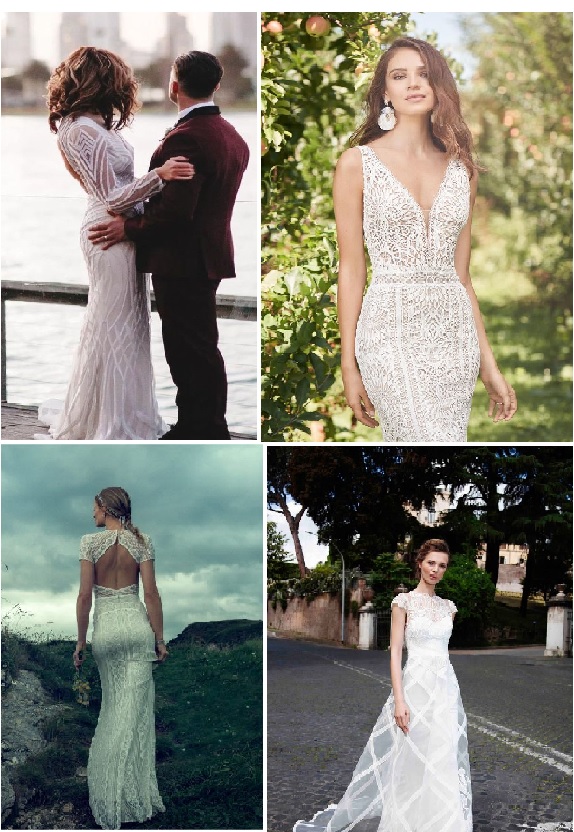 Applying a geometric theme in a wedding dress, why don't you try. What's coming in this concept is a bohemian wedding dress. Because boho styles have many patterns that look like geometric shapes such as ikat, tribal, and others.
Geometric in Wedding Ring Ideas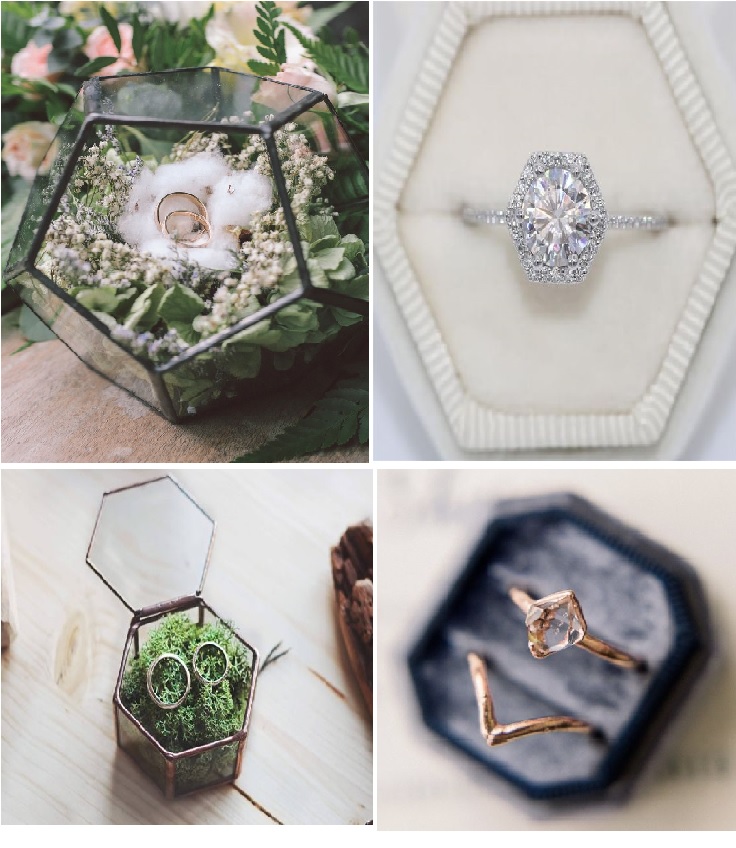 Having a geometric theme not only on the wedding decorations, but you can also get this concept on your wedding ring. Bringing this idea can be shown in your wedding ring box. Having a mini glass terrarium that's filled with green leaves for the ring holder is a match for a greenery wedding theme. Wearing big diamonds for ring decoration is the most favorite one. The shape actually can present the geometric theme ideas. Another way, you can try to have a geometric model as your wedding ring design like the picture above.
Terrarium Geometric Decorations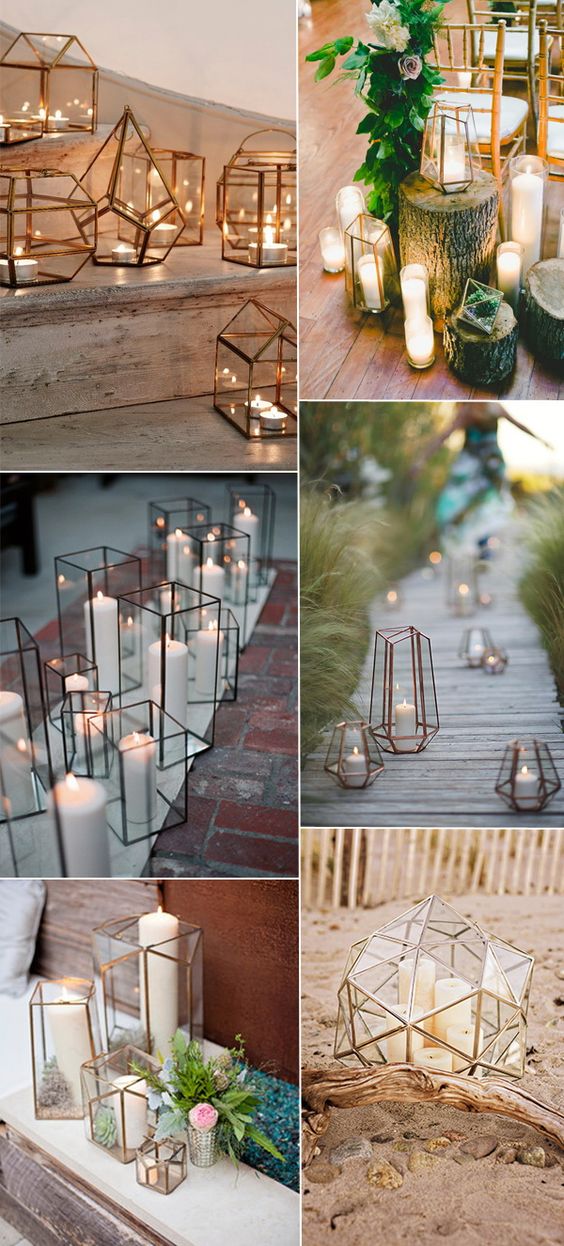 Getting terrariums like the picture above is also a great statement for romantic and unique wedding ideas. This isn't just decoration, it's an art that's would admire in your wedding ceremony. No matter the shape, it always looks stunning in geometric details.
Wedding Favors Concept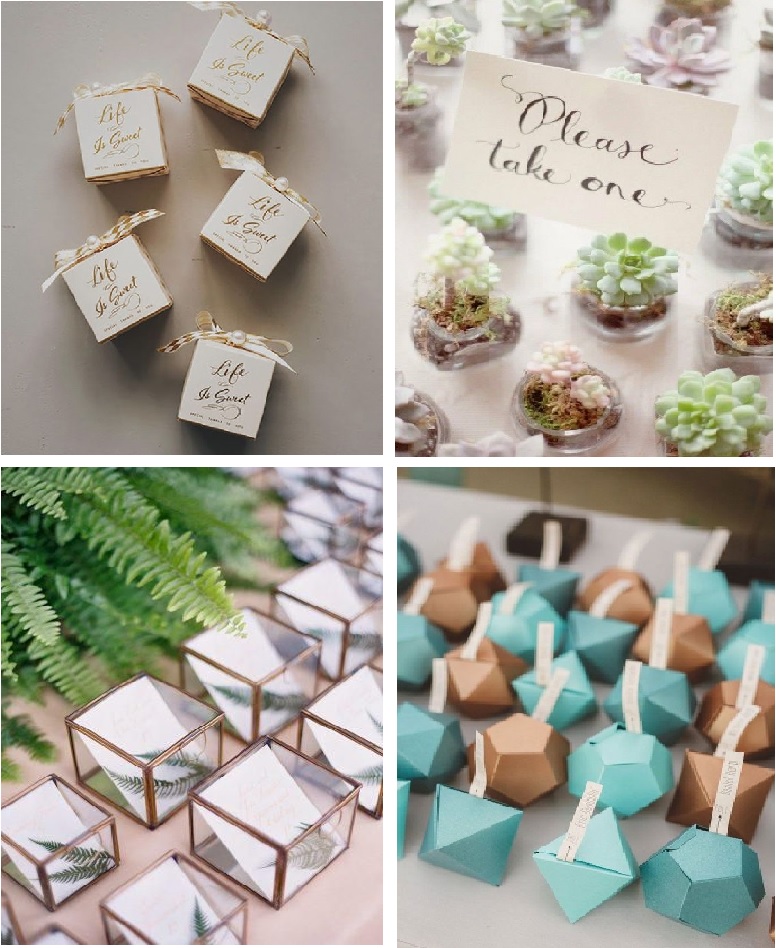 Most brides usually prepare wedding favors as take-home gifts for their guests. For unique things, you can design your wedding favor in a geometric theme. You can give succulents in geometric vas, square or tetrahedron souvenir boxes, and many more. You also can make the box from glasses or colorful paper. Give trims like ribbon or your initials on it.
Table Number Decorations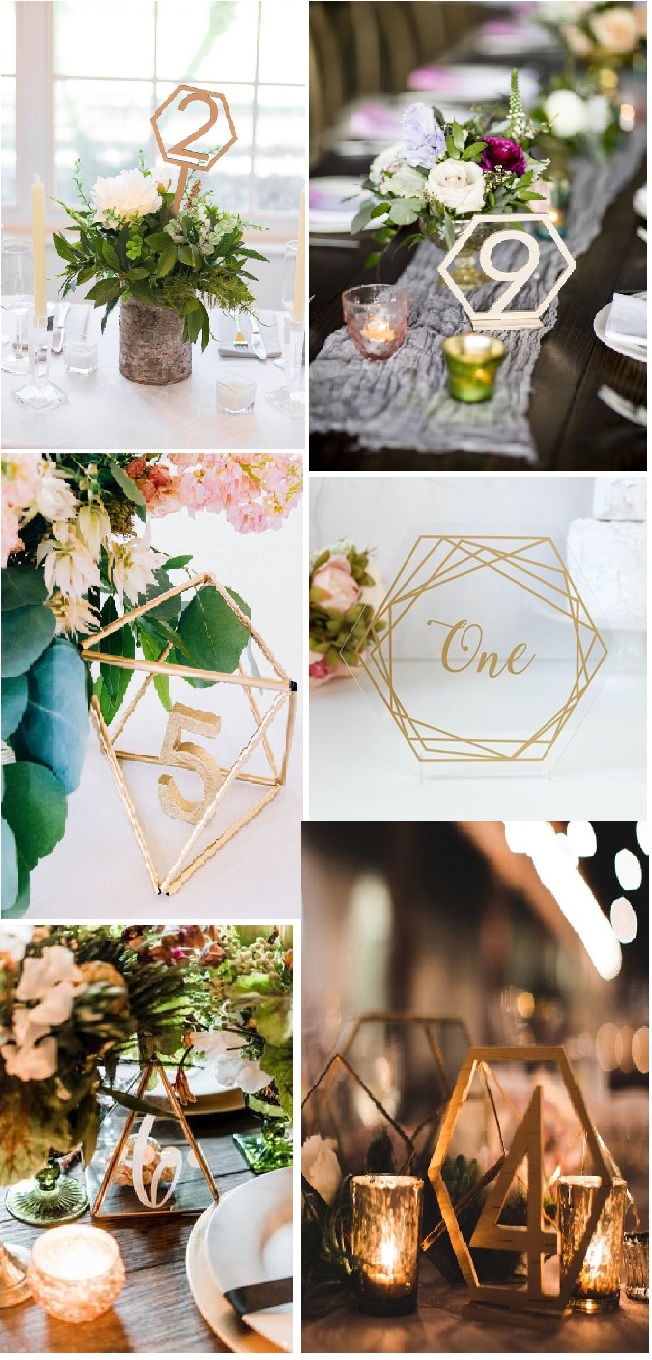 Stylish decoration for table numbers with the geometric concept. You can create it from a high-quality hexagon wooden stand or make a mini tetrahedron terrarium for it. In addition, using resin that is displayed with a geometric pattern could be an option. Paint your table number decoration in gold to make it look industrial and modern concept.
Conclusion 
If you really want a romantic wedding theme that's unique and different, you can try to adopt geometric wedding theme ideas. Having geometrical shapes both on your decorations and accessories would make your wedding reception different from the others. You can show sophisticated modern decorations but still, it gives a romantic vibe. Make an unforgettable moment on your special day by following this theme idea. Let's begin to apply it to your wedding concept.