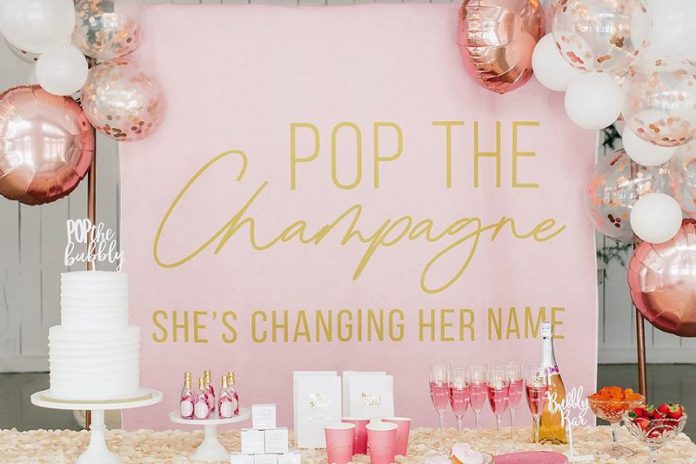 Roowedding.com – You know something is exciting before the big wedding day. Something fun and enjoyable you shouldn't be missing out on at all. Yup, it's a bachelorette party. Most brides want to held a party before their wedding. This is a kind of celebration and is held to honor the brides who will have a new life with their soulmates.
A Bachelorette party is a kind of festive beside for celebrating marriage your best friends, it also becomes the time to tighten your friendship. If you want to build a good and fun atmosphere during the party, you should bring incredible themes and decorations to it. So, it's time for you to plan your own bachelorette party perfectly and get some beautiful memories with your friends. Here are some inspirational ideas to help you make incredible decorations for your bachelorette party.
Flannel and Christmas Bachelorette Party Theme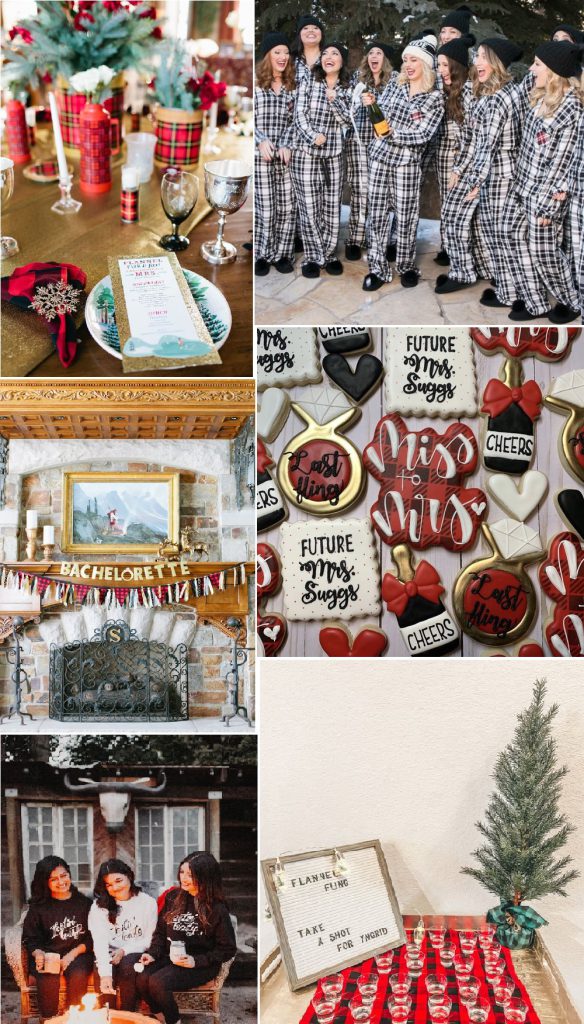 If you want homey and cozy bachelorette party decorations you can try this one, a flannel theme. The ornaments and ideas are similar to Christmas Party. With flannel pajamas as for outfits, flannel print in tableware, cute cookies, and more could bring the warmth of family. You can also plan some activities together with your best friends such as sitting around the bonfire, funny games, chit chat and doing photoshoots. You can hold this party in your own home and decorate it like Christmas eve with a red color theme, flannel ensemble, and also a Christmas tree. Also, you can choose a snowy mountain for your incredible bachelorette party theme to make it real like Christmas.
Disney Theme for Bachelorette Party Decoration Idea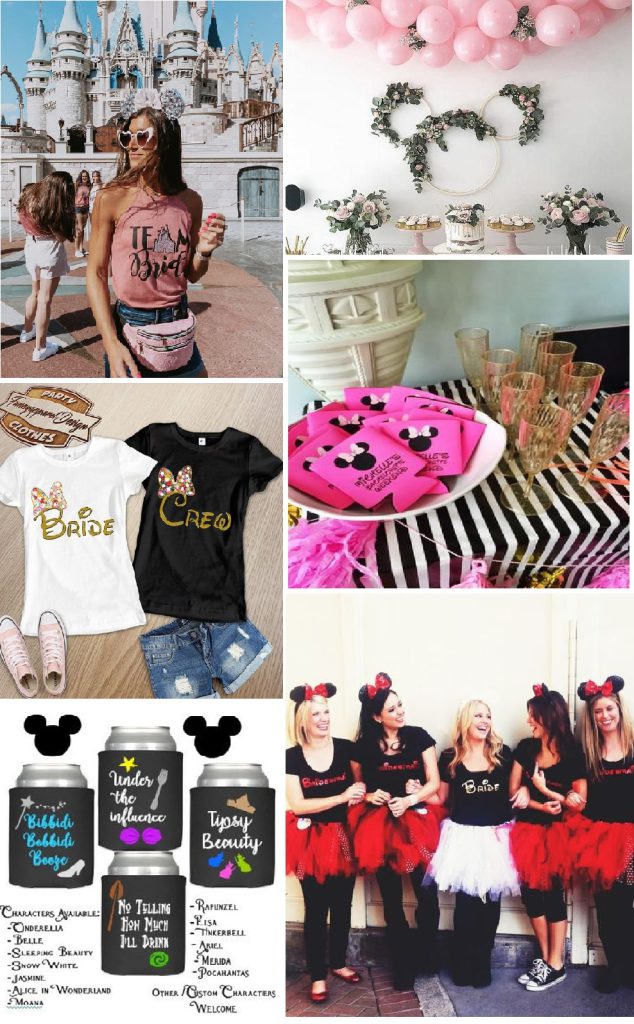 Disney is usually all about children and also it's used to decorate child's events. However, this theme would also be an incredible decoration for bachelorette parties. You can plan a trip to Disney with your friends and bridesmaids. Wearing the same personalized outfits, cute accessories, and enjoy the game like back to your childhood. Besides that, having Disney as for decoration theme is a great idea. You can adorn the place with balloons, get Disney characters for decorating cookies or invitations, and wear Mickey Mouse Costumes.
Creepy Halloween Bachelorette Party Decorations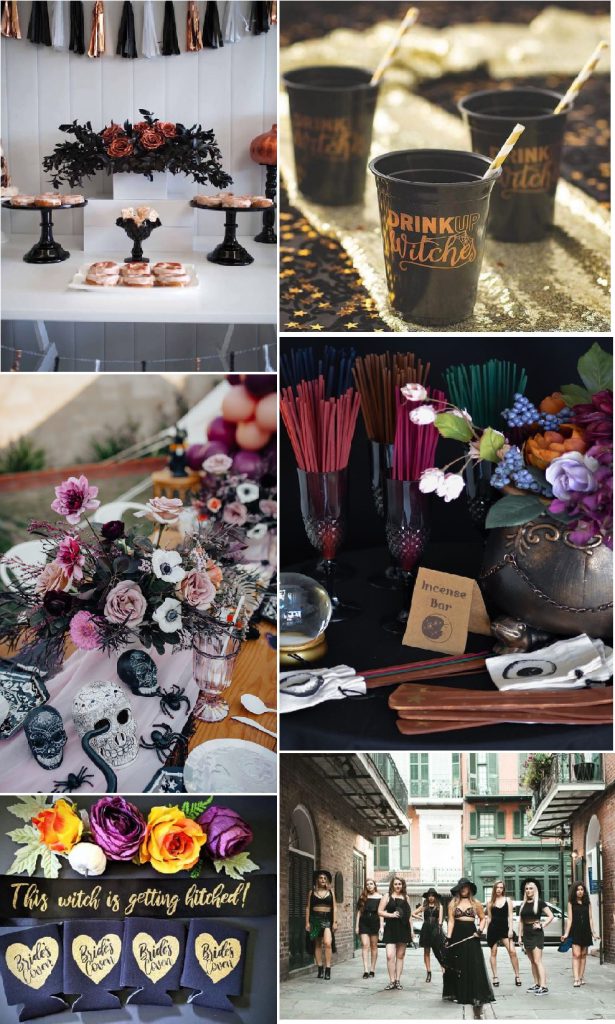 For those who want unique bachelorette party theme ideas, the creepy Halloween concept is the one you should try. If you like something edgy, mystical, and magical like Harry potter this theme would be perfect for you. Choosing dark and orange for basic decoration shade is matching for the Haloween bachelorette party. Wearing black outfits, using Halloween knick-knacks, and getting the witch theme on every side of your decoration ideas is the way you can bring this out. This is a bit the same as the rustic concept with a gloomy and spooky atmosphere. You can make it look a little chic with some flowers for the decoration.
Summer Bachelorette Party Theme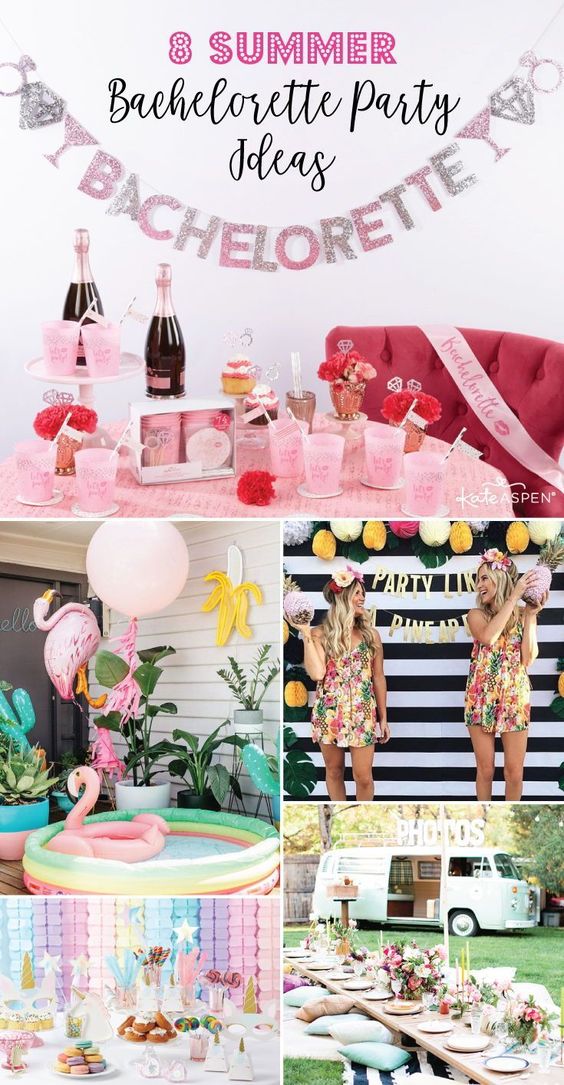 When you want to hold a bachelorette party in the summer theme, it's should have a colorful and cheerful vibe. So, you can adjust it to your decoration ideas. It would be fun to bring the summer theme ideas to your party by having a camp truck on your plan, rainbow decorations, tropical accessories, and pretty delicious foods. The beachy colors also bring the warmth of summer and holiday vibe to your party. For the option, you can hold a garden party and decorate it nicely with flowers, some picnic belongings, and have barbeque too. The bachelorette party would be unforgettable memories for you and your friends.
Incredible Beach Bachelorette Party Theme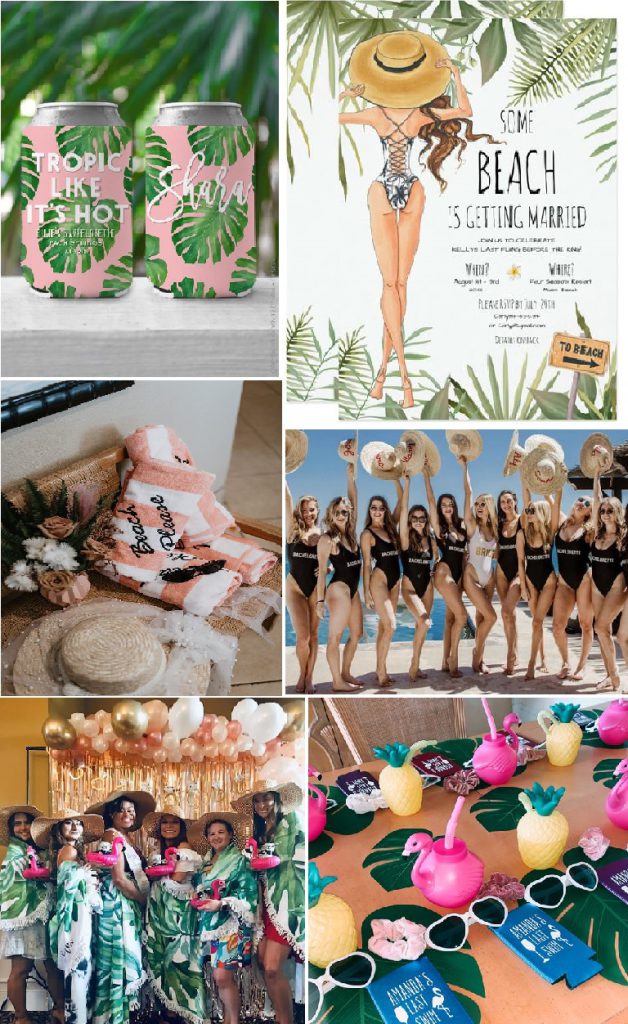 Beachy is the most favorable and incredible theme idea for the bachelorette party decoration. You can stand up more tropical and beach accent into your party decorations. There are some of the ways you can bring this theme. First, you can hold the party on a real beach, or just make the decorations like you are on a beach. For the decoration theme ideas, you can bring some swimsuits for costumes, decorate your pool with a tropical vibe, have a flamingo or bright color knickknacks, and make every side of your party like on the beach. Also, bringing out beachy colors like coral and peach could become an option. This beach party idea could also go together with your holiday plan.
Cute Peach Bachelorette Party Theme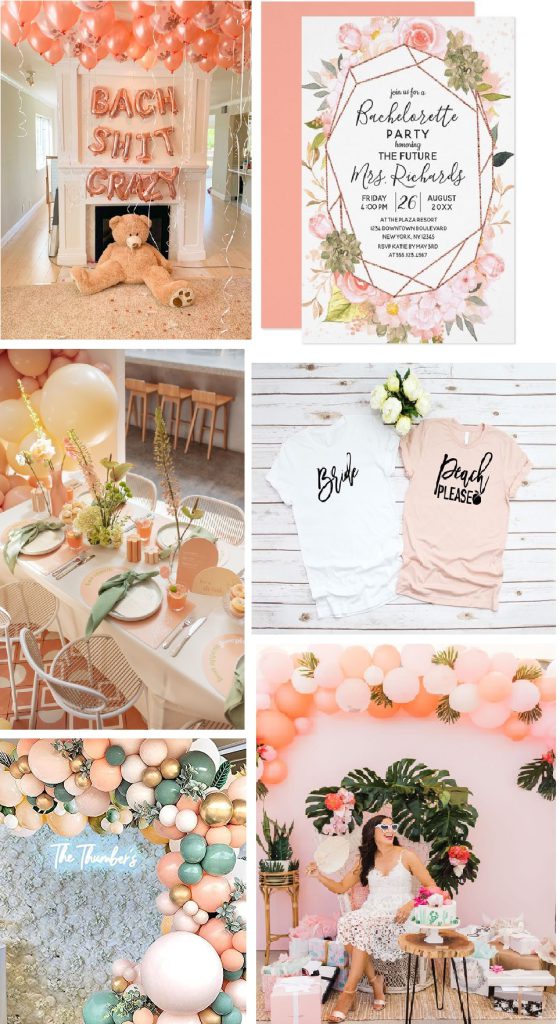 Have a cute and incredible bachelorette party theme idea with something smooth like peach colors. For this, you can start to design party invitations in peach, get peach balloons for decorations, and adorn your party with some peach colorful knickknacks. This kind of cozy party is suited for you that's like something simple and warm. Bringing a big teddy bear on the decoration could also make a homely atmosphere. Besides that, you can bring up this peach theme with other party ideas such as tropical or beach themes.
Vintage Bachelorette Party Ideas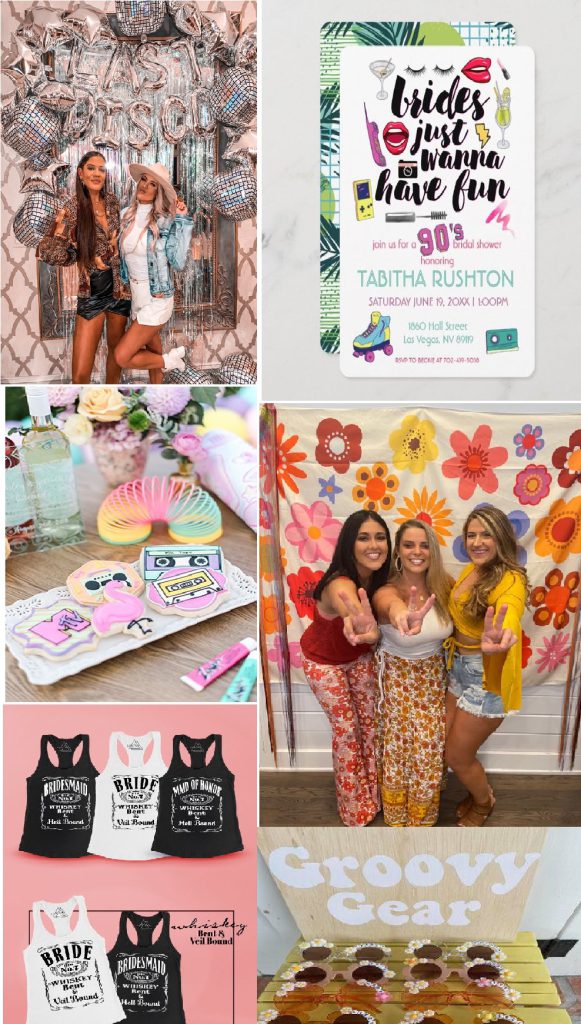 Being retro sometimes feels fun. You can be having nostalgic by adopting a vintage theme as your bachelorette party idea. Start to find inspiration on Pinterest about the '90s decorations and accessories. If you look for vintage style, you can get several options. The bohemian, disco and western wild themes are the ones you can try to adopt. Rather than you confuse to choose, you can combine two themes such as disco and western wild theme. You can get the disco for decorations with the glam and shimmering things, like silver disco lights. Pull out western wild in the outfits by adopting cowboy look style. If you want a little gypsy style, just adjust the bohemian concept both on your decorations and accessories. This includes the costume too. Feeling more retro by presenting ancient things on your decorations such as your cookies decoration and party favors.
Classy and Glamour Bachelorette Party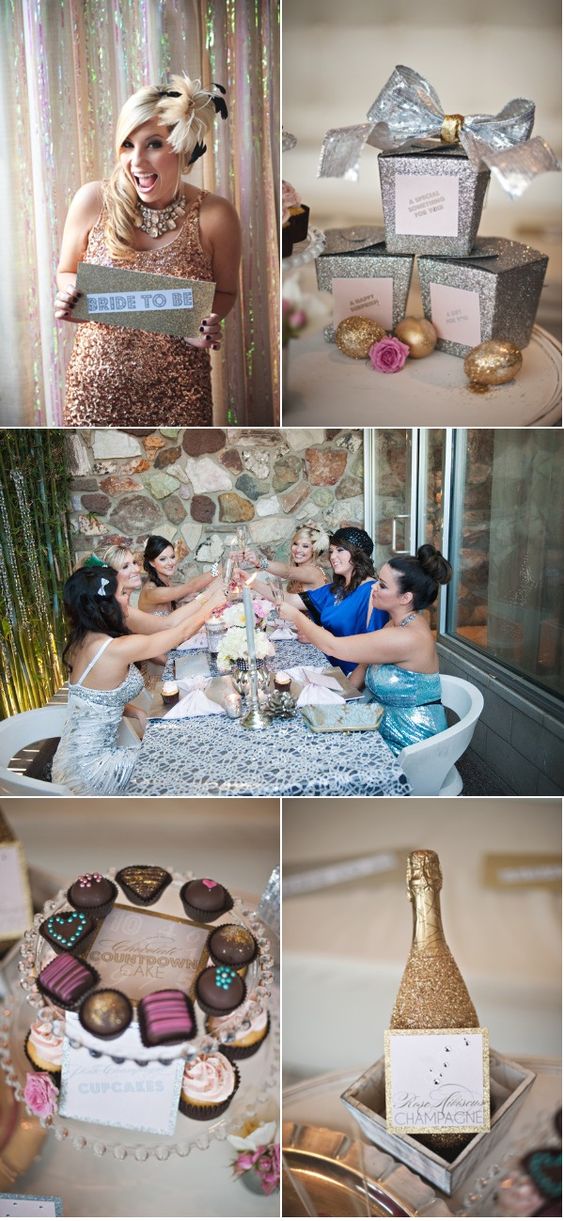 Bringing classy bachelorette party ideas with silver and gold decorations. With this, you will get a shimmering look that's glamorous. Choose your party dress in a gold or silver sequin dress to stand up the theme more. You can also get a silver or gold accent on party favors, table centerpieces, wine bottle decorations, and others. Having candlelight at the table would make your bachelorette dinner feel warm and closer. This theme would be perfect if you hosted the party in hotels or classy restaurants.
Simple Bachelorette Party in Hotel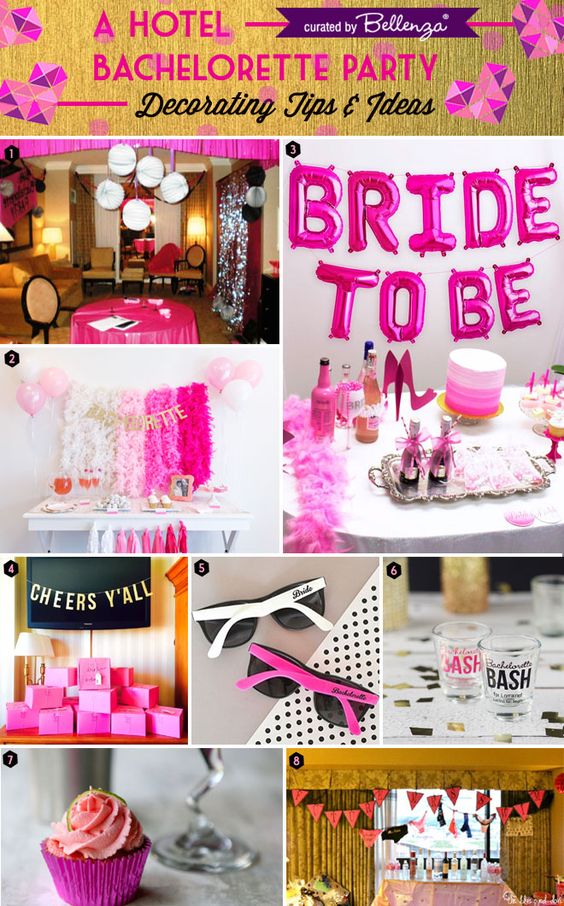 If you want to simple and incredible bachelorette party decoration, you can hold it at the hotel. For this, I recommend you choose a suite room with a larger space. You can ask the hotel do they also provide facilities for party decoration when you reserve the room. This would help you more if you are busy and don't have much time to plan a bachelorette party properly. You can ask the staff to decorate the room as you want. Just make sure to have more budget for the tip. This also suits to become a surprise party to your bestie.
Nautical Bachelorette Party Theme Ideas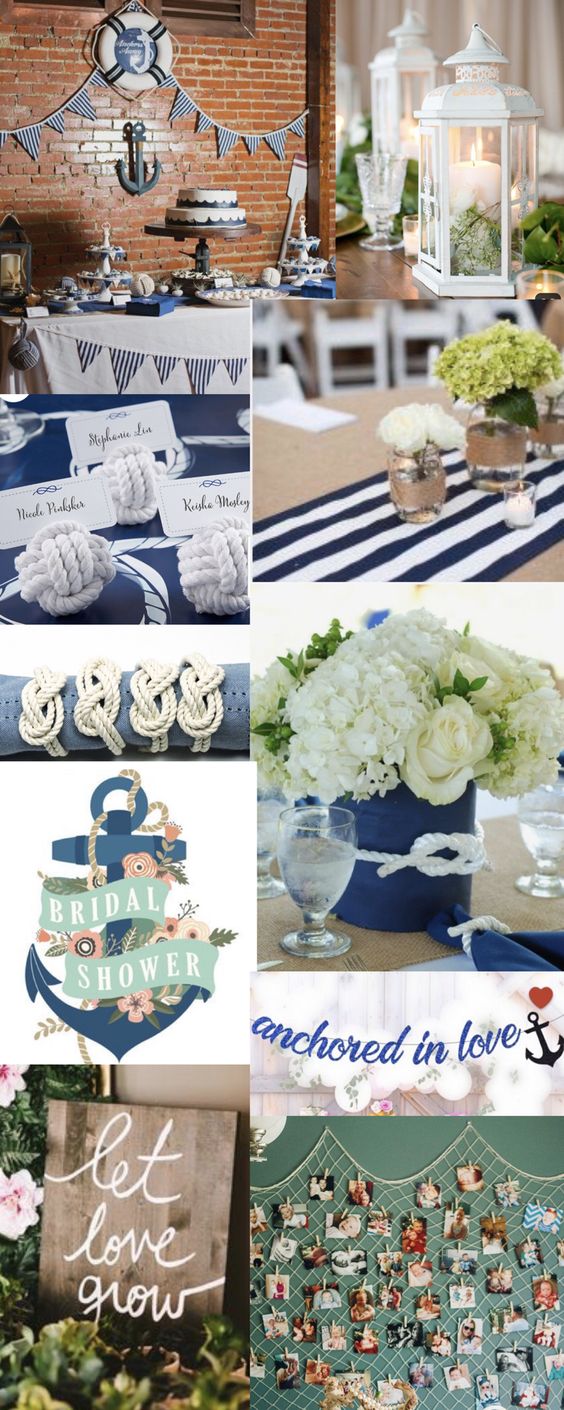 For having incredible decorations for a bachelorette party, you can bring out a nautical theme for decorations and accessories. For this, you can get the blue-white striped concept for the color concept. Adjust the color on your tablecloth or hanging decorations. Getting anchor and fishnet decorations is good to present a nautical vibe like in the ship. Besides that, having a few rustic concepts like getting flower decorations or lanterns would make your bachelorette party is perfectly incredible. You will get the best nautical party if you show the theme on your invitation design and the outfits also.
Those are some of the theme ideas for incredible decoration for your bachelorette party. Let's choose one concept from the theme ideas above. Just choose suitable decor with your character and what you really like. Enjoy your moments with your best friends in some great place to celebrate your last day become single.