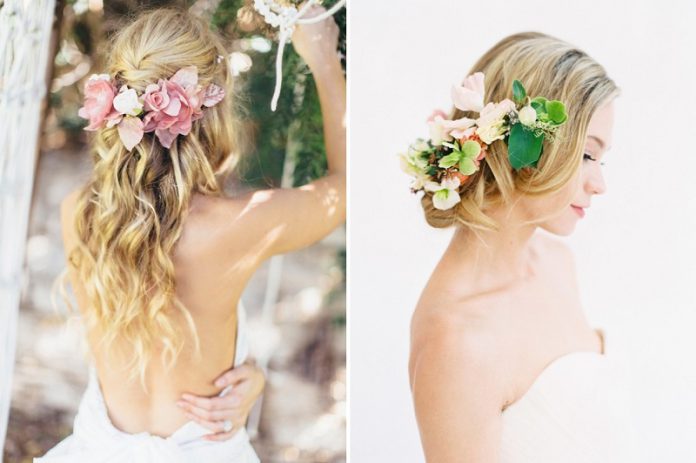 Roowedding.com – For the brides that would make them look beautiful on their special day besides dresses are make-up and hairstyle. Having this rustic theme on your wedding concept makes you need to find out fabulous bridal hairstyles that have matched the theme. This would help you look beautiful and give you the best memories ever.
The rustic wedding theme is all about a natural concept that's commonly decorated with greenery and flowers. This idea gives a romantic, earthy, humble, and warm feeling to your performance. As such, the bridal hairstyle that's suited for this concept is simple, modest, and has many natural decorations.
Fabulous Rustic Bridal Hairstyles to Make you Look Beautiful in Your Wedding
In a rustic theme, natural is a must in your concept. For the rustic bridal hairstyles, you can get messy, natural waves, curls, and flower decorations for such a beautiful look. We've rounded 20 bridal hairstyles that can be resembled a rustic wedding theme from which you can choose here.
Elegant Twisted Bun Hairstyle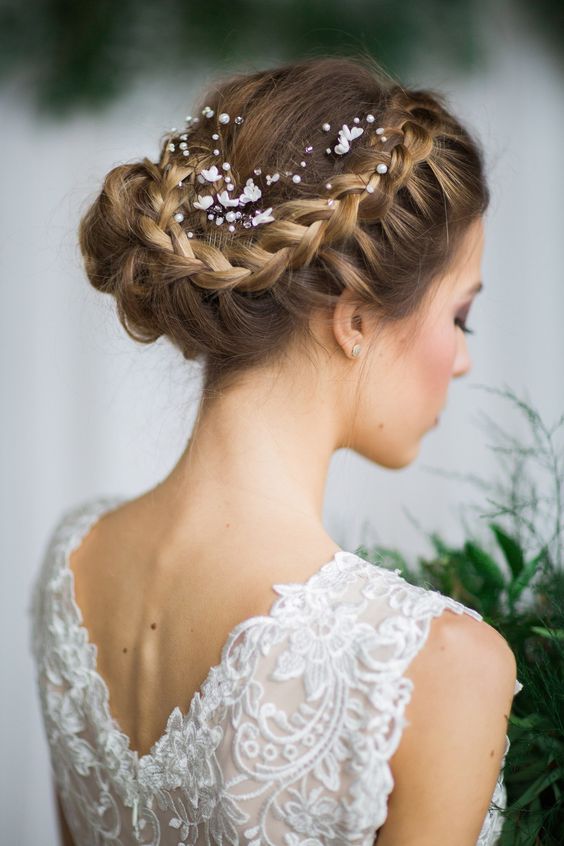 When you want to look elegant, get a twisted braid hairstyle like the picture above. This would look simple and make you look naturally beautiful. Take a simple flower decoration to gorgeous your appearance like rustic brides. This hairstyle is great to wear either for indoor or outdoor natural wedding ideas.
Messy Side Ponytail for Rustic Bridal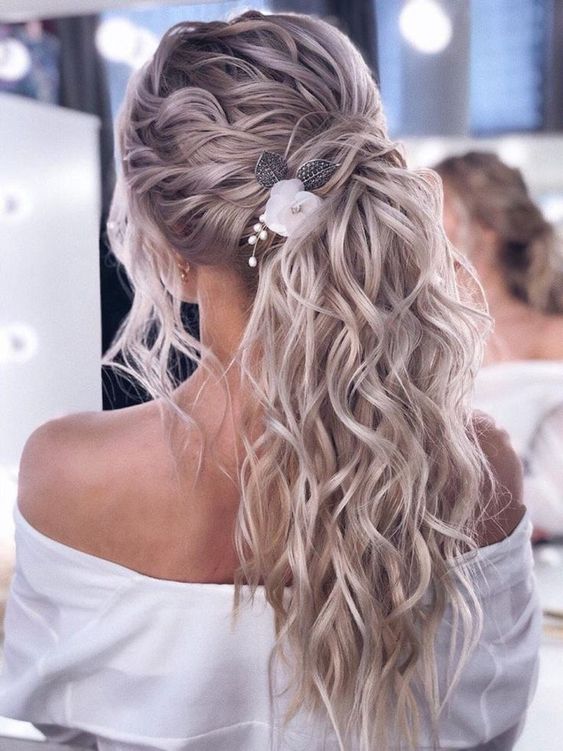 For the rustic wedding theme, bridal hairstyles should be modest, natural, and a bit messy. You can bring the side low ponytail with the curly style for a messy look. Give tiny accessories such as flower hairpins to make you prettier.
Simple Braids with Lavender Decorations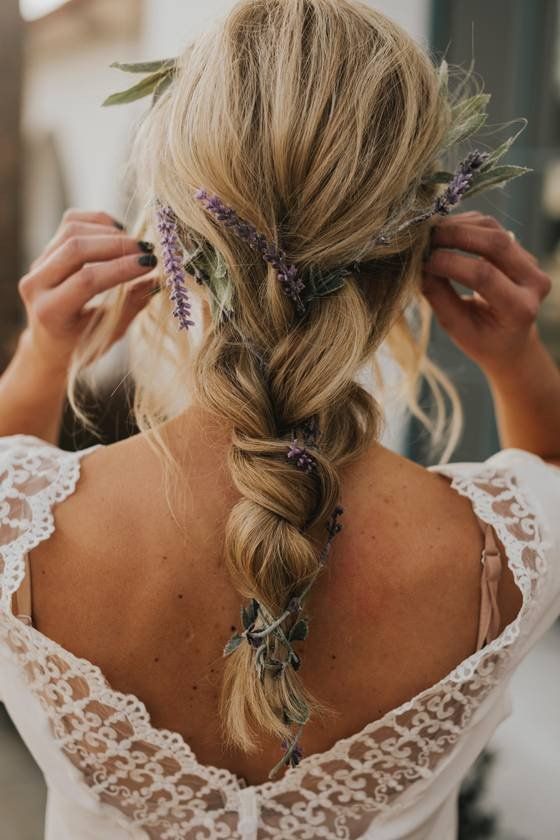 As we all know that's rustic hairstyle usually comes with a simple design. For this, you can try to have typical soft braids that bring innocence style. To make it more look countryside, you can add some natural decoration on it like lavender flowers throughout the braids.
Beautiful Rustic Hairstyle for Long Hair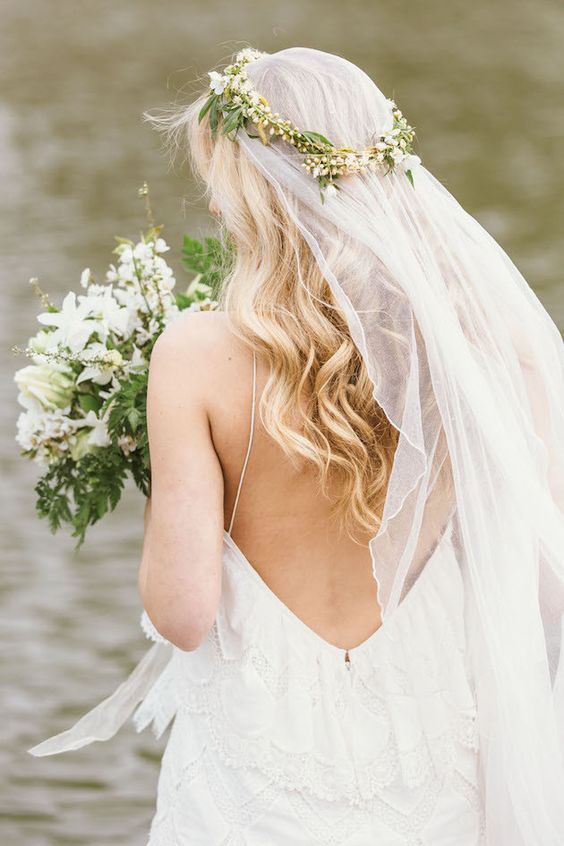 Have long hair and you just want to make it naturally loose in your rustic wedding theme, try to apply this hairstyle. You just have to set your hair with the natural wave or sleek curves. Accessorize with a pretty veil and flower crown to make it more rustic regard. Match your flower crown with your beautiful bridal bouquet to harmonize your performance.
Fresh Look in Greenery Crown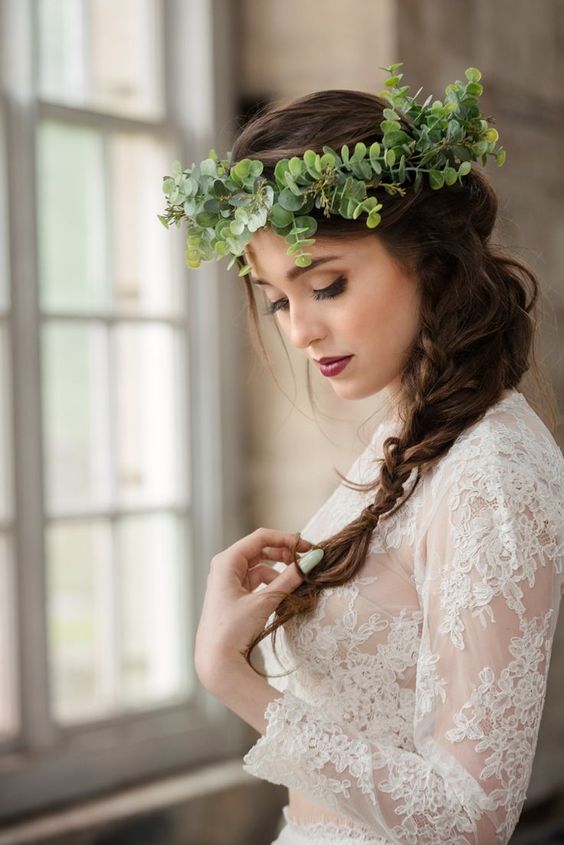 Besides flowers, rustic weddings also come with a greenery concept idea. Generate a fresh look to your hairstyle by decorating it with a green plant crown. Disheveled braids are really matched with your greenery crown to resemble a rustic wedding theme.
Low Bun Rustic Bridal Updos with Flower Hair Pins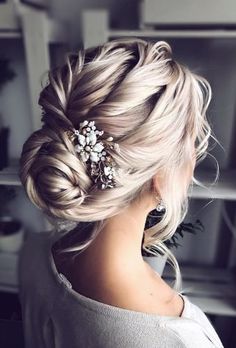 If you want a bit more classy and perfect for an indoor rustic wedding theme, apply a low bun updos for your bridal hairstyle. Bring it more beautiful by adding simple accessories like flower hairpins. For the natural image, make your bun a little messy with a twisted style.
Perfect Short Hairstyle with Floral Headband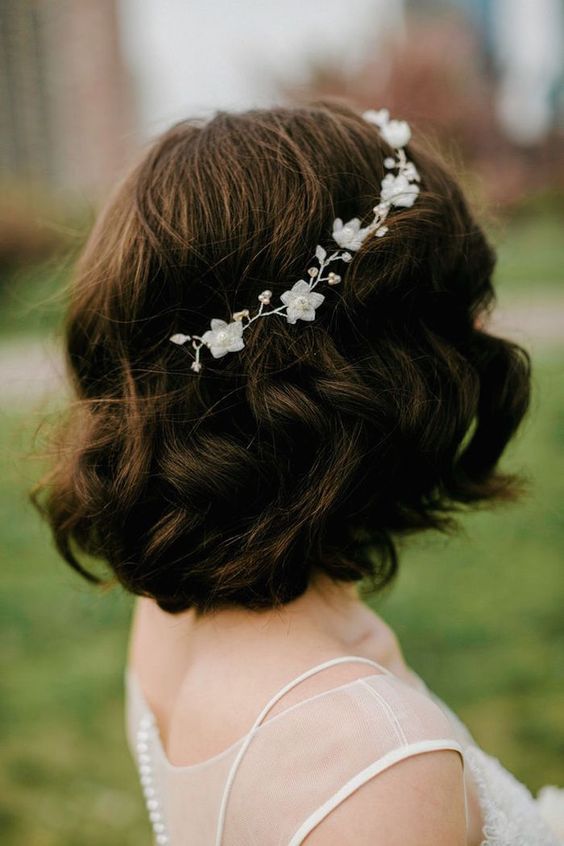 Want to have stunning look even in short hair at a wedding reception, try to come with the rustic hairstyle. For this, you just create a genuine view with the natural curves in your short hair. Make it more fabulous with the floral headband for representing rustic style on your wedding theme.
Loose Wave with Floral Crown for Rustic Bridal Hairstyle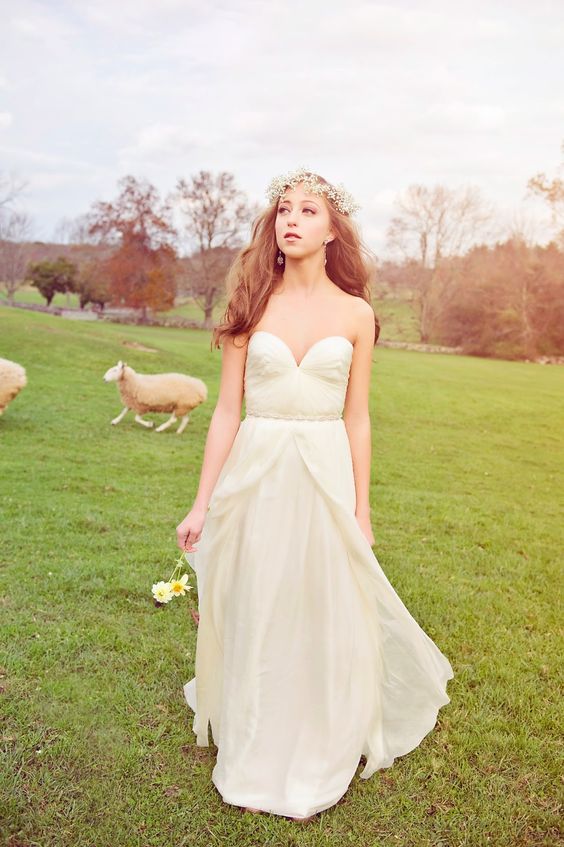 The rustic concept is identical to nature and organic accent on its decoration. Even for the bridal hairstyle, they come in a greenery vibe and are a bit messy. Make your hair have loose waves that look simple and then give a tiny flower crown for the accessories in a rustic bridal hairstyle. This style would be perfecting your sleeveless rustic or bohemian wedding dress for outdoor receptions.
Soft Braids Updos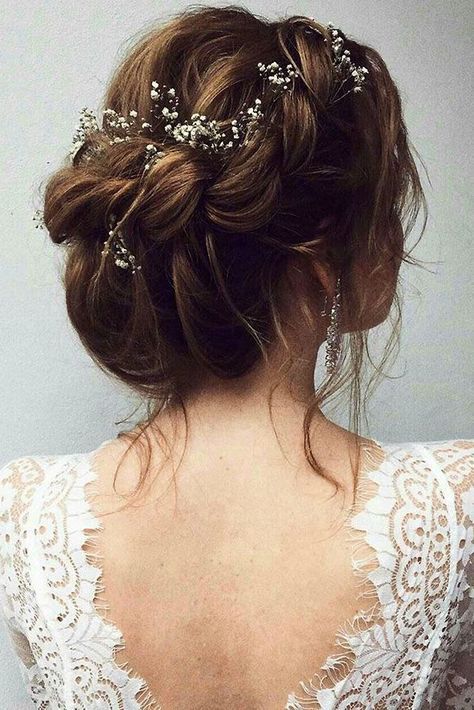 Classic updos may be too stiff and formal in your rustic wedding theme. You need to loosen it up for a bit more casual. Disheveled braid updos and pull on a little hair on the sides for carrying on relaxed rustic regard on your wedding hairstyle. Give additional flowers on your updos to drive it more soft and beautiful. Apply this bridal hairstyle to amaze your backless wedding dress.
Gorgeous Updos for Medium Hair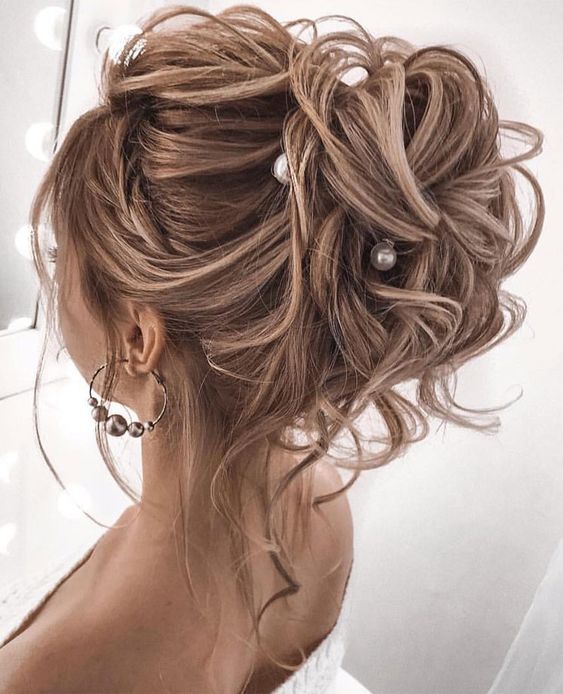 When you have medium hair and want to have updos for a rustic bridal hairstyle, follow the style on the picture above. Getting twisted hair bun and some loosen the hair on the sides and back for a messy thing in natural looks. Make your hair more fabulous by having pearl hairpins for accessories.
Effortless Ponytail for Elegant Rustic Brides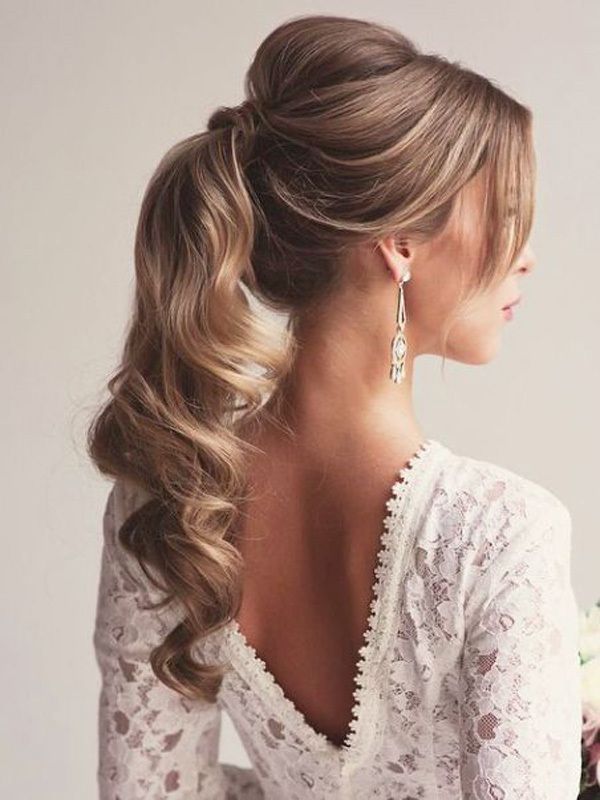 Getting effortlessly and messy is typical of a rustic bridal hairstyle. To present an elegant style on your image, you can get an everyday ponytail with curls style on the bottoms. Make it more classy with tidy side bangs. Apply this hairstyle with a lace bohemian wedding dress for a great matching style.
Adorne with Baby's Breath for Rustic Hairstyle
Whether you want to get a natural, romantic, or rustic look, a sprinkle of small flowers on your bridal hairstyle is a great thought. Style up your long hair in messy braids and get the baby's breath flowers to adorn it. Give a special accent with the bigger flower in the middle of the braids to a fabulous hairstyle for rustic wedding themes.
Rustic Bridal Hairstyle with Dried Flowers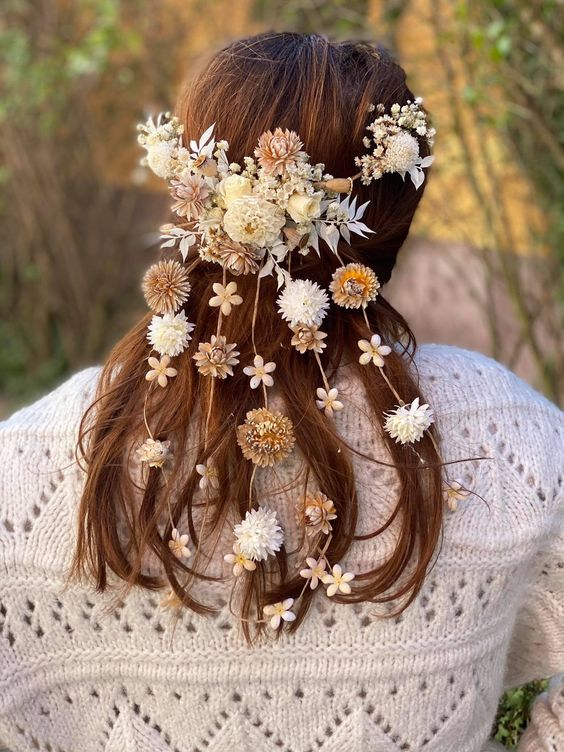 The rustic idea also comes in the bohemian wedding concept. They have a slightly similar decoration theme, but the boho concept usually has more unique, romantic, and eclectic. If you want to get them on your wedding hairstyle, you can drive the half up half down hairstyle add dried flowers for decoration. This bridal hairstyle gives a romantic vibe and natural rustic to your performance.
 Low and Loose Ponytail For Rustic Wedding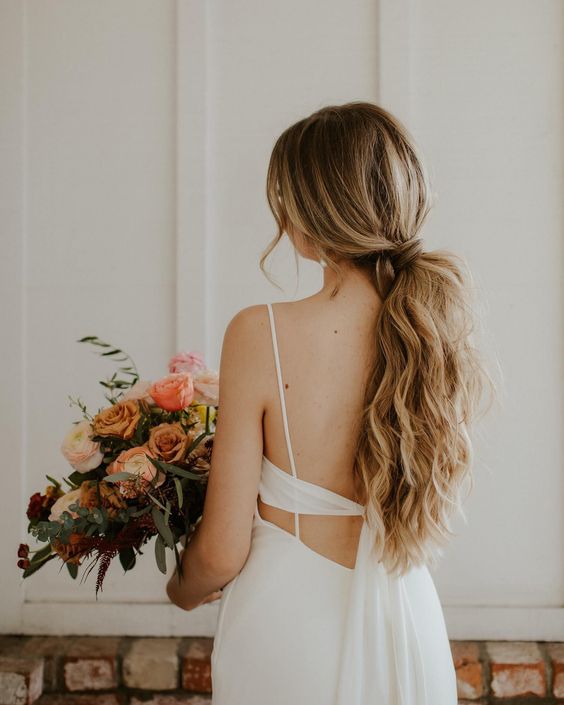 Nothing that's more classic and simple rather than a low ponytail as your rustic wedding hairstyle. You just need to make a simple low tied in your long hair. Then, create waves on your ponytail by curling it for having natural waves. You can adorn it with flower hairpins or just make it basic.
Flower Barrette Decoration in Ponytail Hairstyle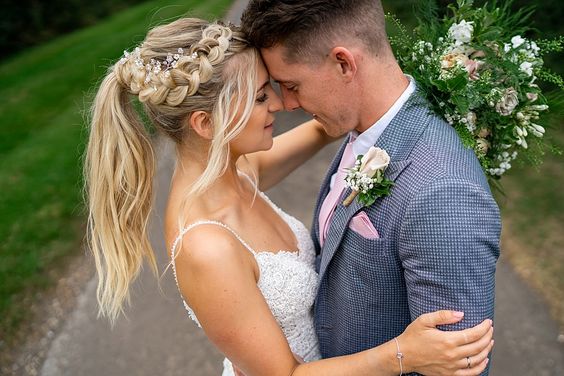 Nothing that's more classic and simple rather than a low ponytail as your rustic wedding hairstyle. You just need to make a simple low tied in your long hair. Then, create waves on your ponytail by curling it for having natural waves. You can adorn it with flower hairpins or just make it basic. Apply it to any kind of bridal hairstyle like bun, ponytails, or braids.
Perfect Half Up Half Down for Rustic Wedding Hairstyle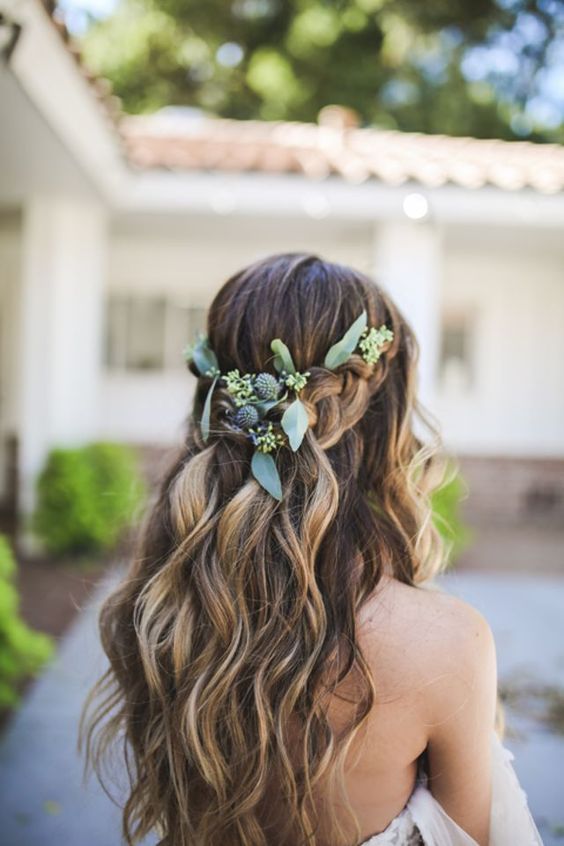 Braid half up of your hair and let the half down curl naturally for a fabulous hairstyle in a rustic wedding concept. To make it look more rural style, accessorize with green wildflower between the braids.
Fabulous Half Up Rustic Wedding Hairstyle with Ribbon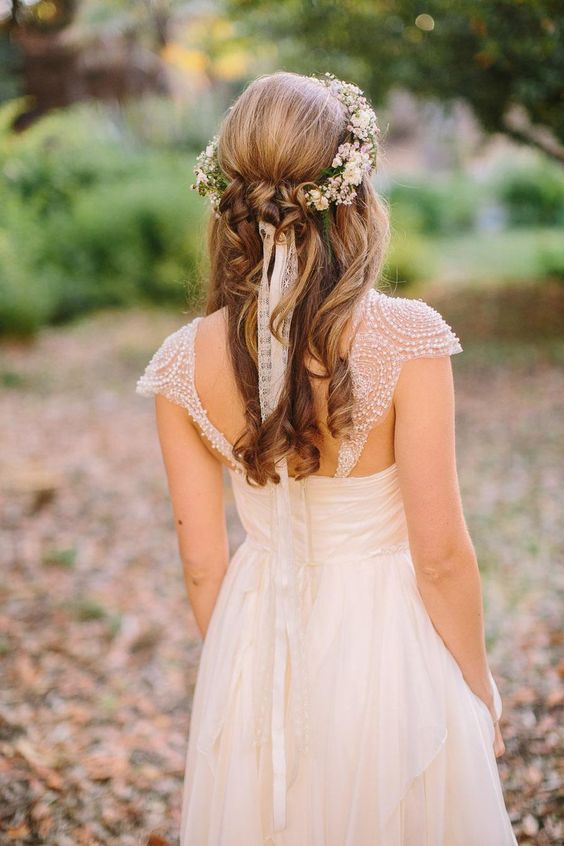 Bide half your hair up and let the other stay down then twist flowers among it for a rustic hairstyle. Make curls on the bottom of your hair and then get a ribbon to embellish it. This hairstyle would be perfect to present a boho, country, and rustic wedding theme.
Flower Crown with Veil for Rustic Bridal Hairstyle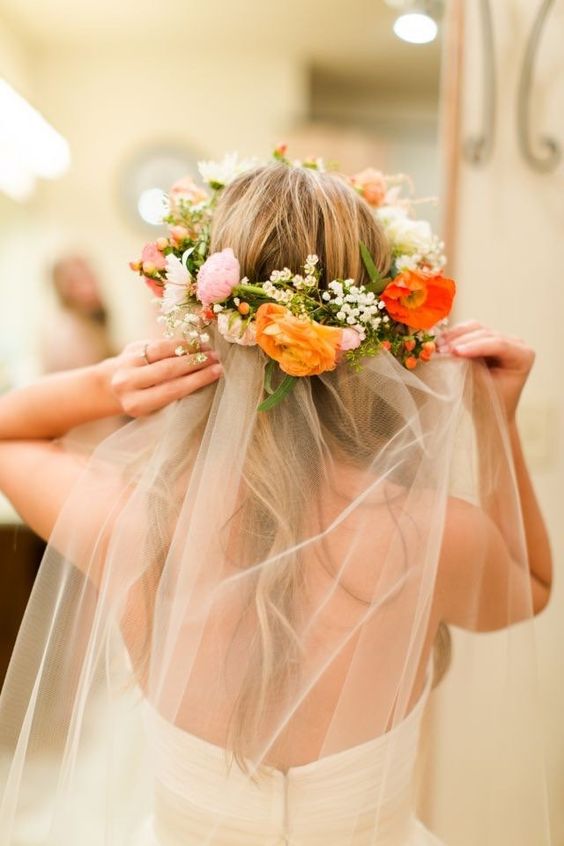 Dramatically bring a veil on your wedding hairstyle with tender colorful flowers crown. Styling your hair plainly with natural loose and having waves. Make the veil and floral crown a focal point to stand up your performance more fabulous at beautiful moments.
Wildflower Accessories for Rustic Chignon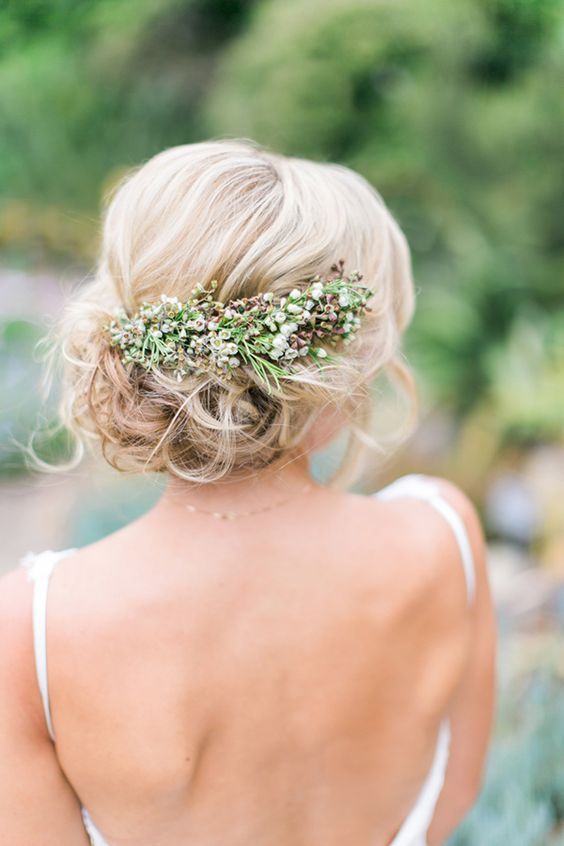 Get a messy low chignon and then put on wildflowers for rural decoration in your bridal hairstyle. Something that's unstructured and tangled like this hairstyle will work in a rustic wedding theme. This bridal hairstyle typically suits most brides and wedding gowns.
Pretty Roses for Rustic Wedding Hairstyle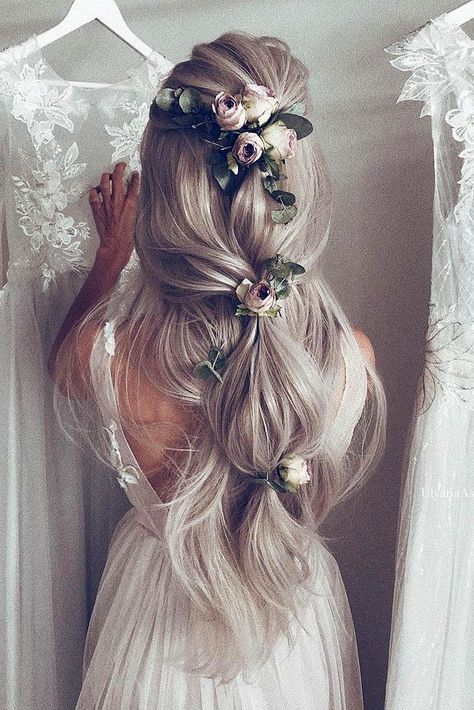 Consider natural wedding ideas in a beautiful rustic hairstyle in your wedding. For this, you can try to ask your hairstylist to give roses for organic accents. Request to them to tie your hair loosely and make big bubble braids, get two or three layerings. Then, give roses for decorations in every braid. That's undoubted would make you look pretty and fabulous in front of your soulmate.
How To Make Your Bridal Hairstyles Look Fabulous
Find your bridal hairstylist from a trusted resource to give you the best wedding hairstyle. Get salon recommendations from your relatives and make sure they offer bridal services.
Thinking about hair color and condition needs to consider more for your wedding preparation. You have to make hair color and treatments in your trusted salon.
You should be thinking about your wedding concept to narrow down what hairstyle you will choose. If you get a classic wedding, elegant updos are the perfect ones. However, if you have casual receptions you can choose loose wave or messy bun for a more laid-back vibe.
You also need to match your hairstyle with the bridal gown you'll wear. For a backless dress, better to style your hair in updos to stager your dress performance.
When you want to accessorize the hair with flowers, just make sure to discuss with the florist what best flowers can stand long for the reception.
Be yourself and choose the best hairstyle which can be stood up your performance and increase your confidence on a special day.
Consult with your hairstylist and get the hair trials long before your wedding is held. This would help to create some alternate hairstyles to compare.
Take accessories like hairpins, flower barrettes, and crowns with you to form a beautiful hairstyle ever.
Overall
Choosing bridal hairstyles in the same importance as you choose a wedding dress. You need to consider the theme and concept of your wedding. Make sure to style your hair perfectly and should look fabulous with your wedding dress. For the rustic wedding theme, having natural accessories and simple designs are the best choice to develop your performance. With all of those ideas I gave to you, I hope ones can be inspired you. it's your choice to pick what you really like. No matter what it's, as long as you and your mate love it, it would look fabulous and beautiful on you.