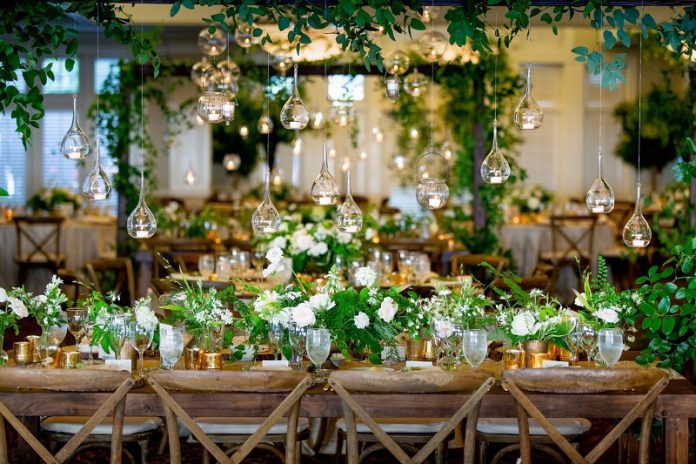 Roowedding.com – Weddings are the moments when you want everything to be perfect. From the dresses, makeup, ceremony, and receptions, all should be as your planning. Brides usually are expecting much from the wedding receptions. They want something fabulous and definitely inspo for photographs. So far, wedding organizers always consider every inch of the venue for making the brides' wedding dream come true. One topic you should consider after getting an important list is the decoration concept for your wedding venues. This is necessary to create an outstanding wedding environment. For this, you and your wedding planner should think outside the box, like DIY decoration ideas.
When it's about DIY decorations, that's all about your creativity. Anything you make and choose, they will give you unique and personalized looks that are different from other weddings. Besides that, it would also reduce your budget significantly. There are so many beautiful DIY wedding decorations that you can try to add to your venue. However, what you need to understand is to make your guest feel comfortable, not only thinking about the beautiful ornaments. Instead of decorating the tables full of candles and flowers that would look crowded, better you try to combine them with DIY hanging decorations. Better to balance the top and down decorations of your wedding venue.
Creative DIY Hanging Decoration Ideas for Beautiful Wedding Venues
Finding inspiration for the right decoration concepts for your wedding is a bit tricky. The options for this are limitless, but you need to find the best for making the venue beautiful but still feel comfortable for guests. Don't just stick out to the table decoration, you also need to consider the ceiling of your venue. For this, you should think creatively about hanging decoration ideas like hanging terrariums, string lights, glass globes, lanterns, Chinese lampions, and others.
So, what kind of DIY hanging decorations that you really want for adorning your big day? Here are some creative DIY hanging decoration ideas to help you get the most beautiful wedding venue ever.
Glass Globe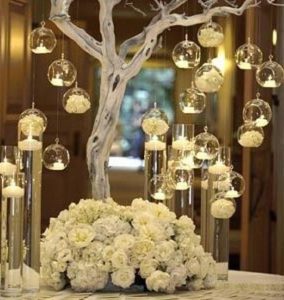 Some of the wedding decorations have regular elements that you should consider to add on your venues like beautiful flowers, utopian lighting, and even glass decor. They could bring a romantic ambiance to your wedding ceremony and receptions. For the creative wedding decoration ideas, you can try to bring out a glass globe that you fill up with candles and flowers. Then, arrange it on an ornamental branch for the DIY hanging decoration in the table centerpiece.
Hanging Jar Flower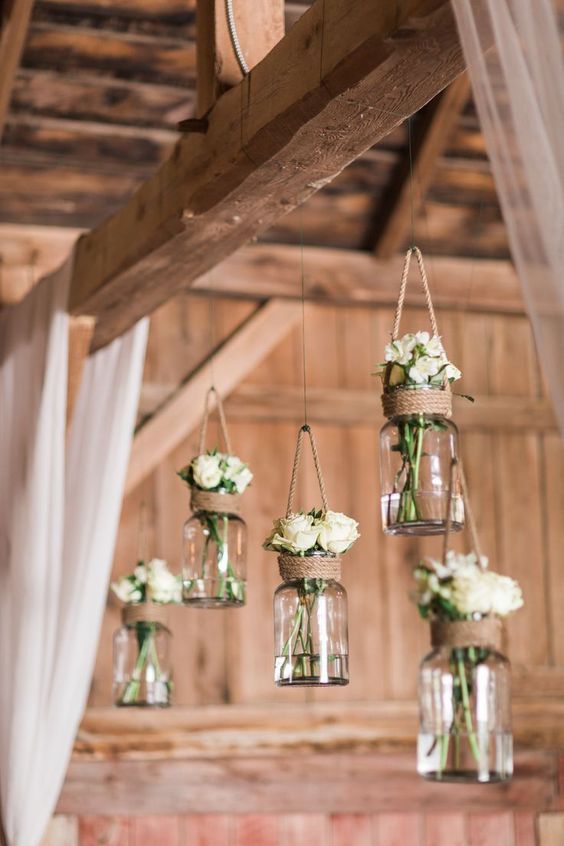 Want a unique wedding decoration idea, just try to utilize some of the recycled items like a jar for making hanging flower vases. For this, you just need some used jars, ropes, and some beautiful flowers. Then, hang on the jars that you have filled with some water and flowers on the ceiling tops for creative rustic wedding decoration ideas.
Disco Ball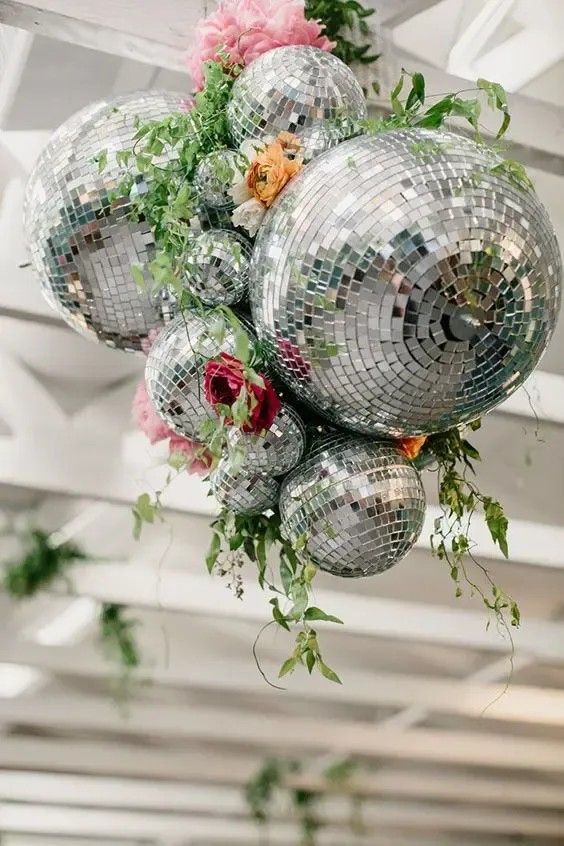 The Disco ball is an iconic centerpiece in parties for years. They use it as the hanging lighting in the center of venues. Thanks to their reflective lights that are like magic, they can make your party live up more. Nowadays we found couples start to bring out this item into their wedding decorations. Creatively, your wedding planners can make beautiful hanging decoration ideas with some flowers around the disco ball.
Hanging Star and Moon Decorations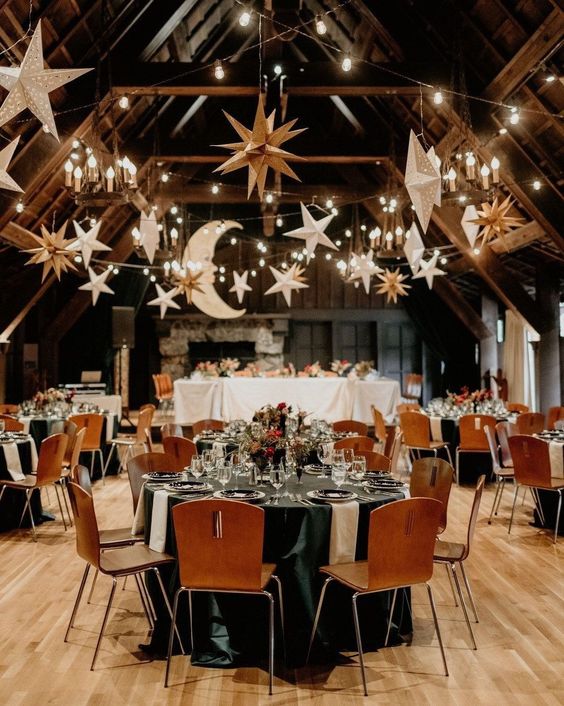 When you want something that's a fairy tale and dreamlike, get star and moon hanging decorations for celestial wedding looks. Adorn your ceiling with starry lights that deliver you like being in space. This creative hanging decoration also looks good to adorn your industrial wedding theme.
String Lighting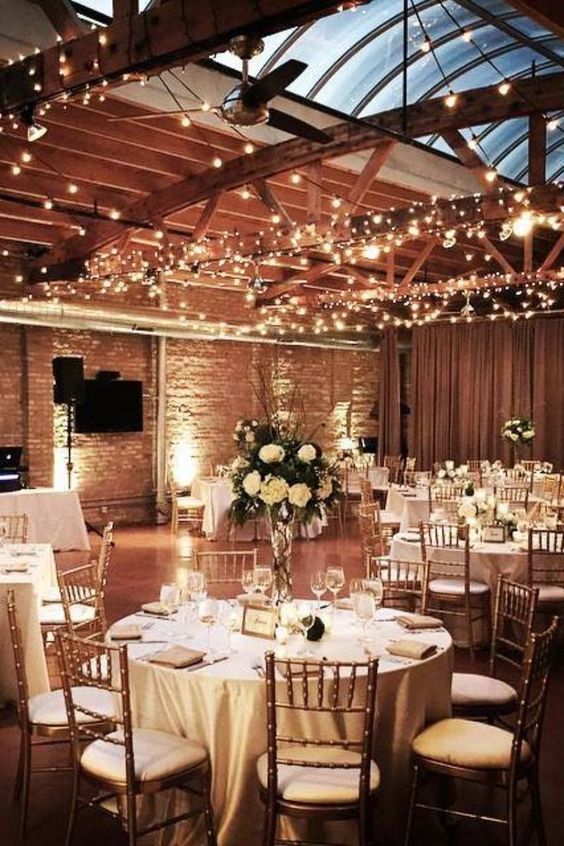 Besides star and moon hanging lighting, another romantic wedding lighting that gives you a starry sky look is string lighting. This is also a cheap DIY decoration that doesn't need much budget to spend. So, if you want to have romantic dramatically lighting in your wedding venue, you can start to bring string lighting. This would look good either for the indoor or outdoor wedding party.
Pampas Flower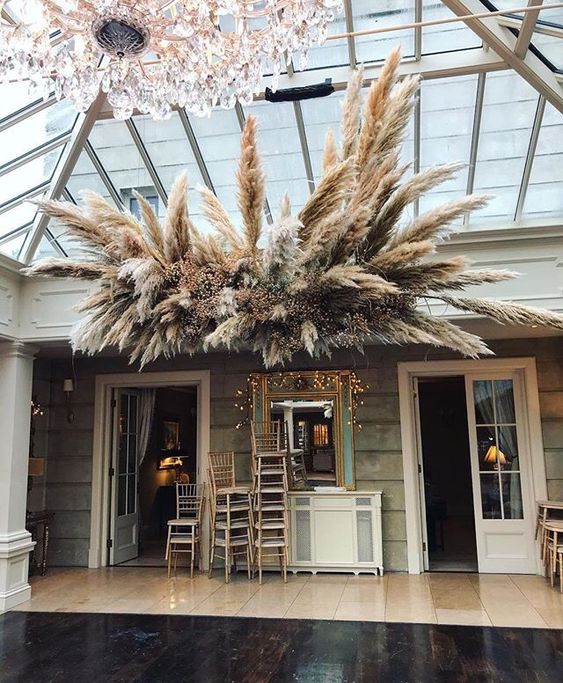 If you want something that looks natural, rustic, and durable to adorn your wedding venue, pampas flowers are the option. The shabby tones that come from them would really suit your rustic wedding concept. To create creative decorations with these flowers, you can make a hanging decoration for a table or ballroom centerpieces.
Origami for Decoration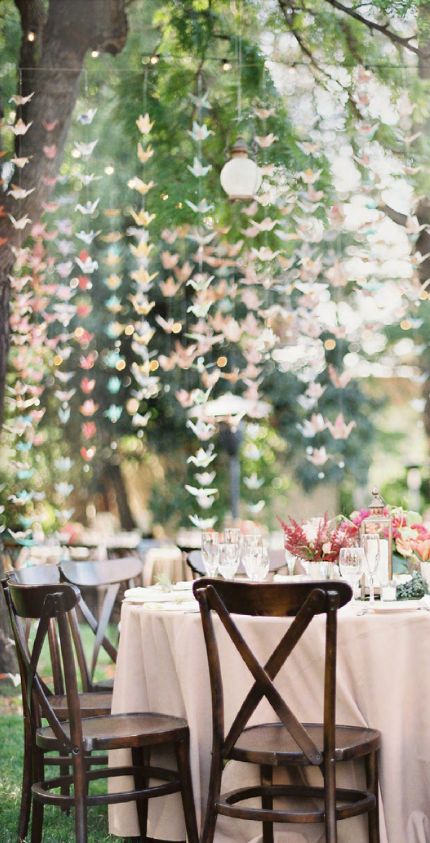 Another creative DIY hanging decoration idea that wouldn't spend much budget is origami. This become one recent trend that couples bring to decorate their wedding receptions. Besides that, the paper cranes that you craft are symbolic of couples' happiness. From this, you can also have a wish to always live happily with your soulmates. This hanging decoration tends to become a tradition in Japanese weddings that making it unique and personalized. You can make paper cranes for curtains, adorn your arch, or use them for beautiful hanging table centerpieces.
Macrame in Wedding Arch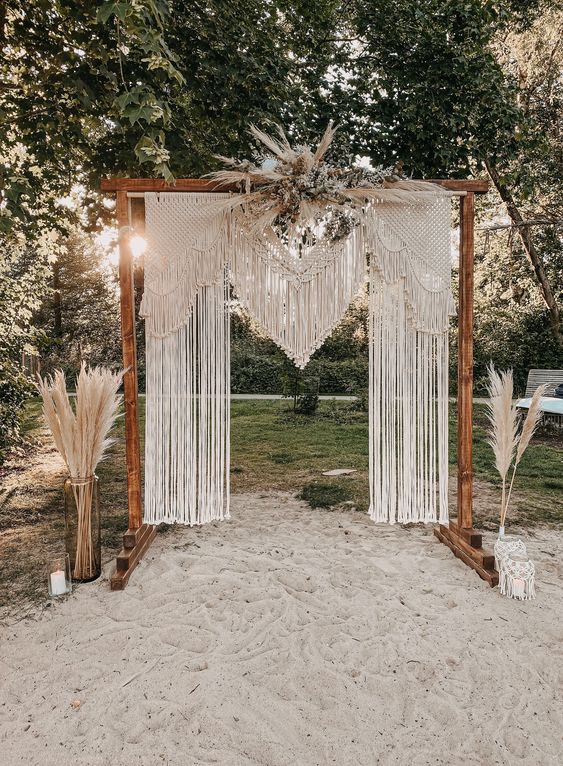 Getting bohemian wedding concept into your reception and ceremony, it has typical decorations like macrame. Just when people thought macrame just only textile craft, make it different at your wedding receptions. For a modern concept with a bit of a bohemian look, turn creatively the macrame into a beautiful hanging decoration in your wedding arch and backdrops. The knotted ropes or cords together in a macrame pattern give you a unique creative hanging decoration idea to adorn your backdrops when you take your vows. That brings a romantic vibrant that's artistic.
Light Linen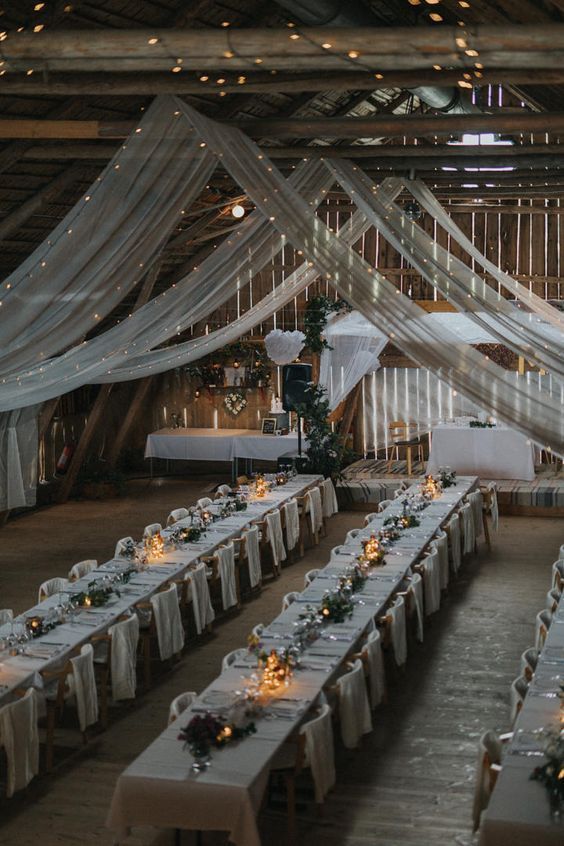 For the minimum budget but still look elegant, light linen is great for adorning your wedding venue. As an idea, you can make all decorations with light fabrics for table runners, chair wraps, and also aesthetic hanging decorations. Choosing a barn as a wedding venue would look contrast with white linen and it absolutely pretty enough. You can hang some white linen and string lighting on the wooden ceiling to create a romantic elegant ambiance for your wedding.
Hanging Lanterns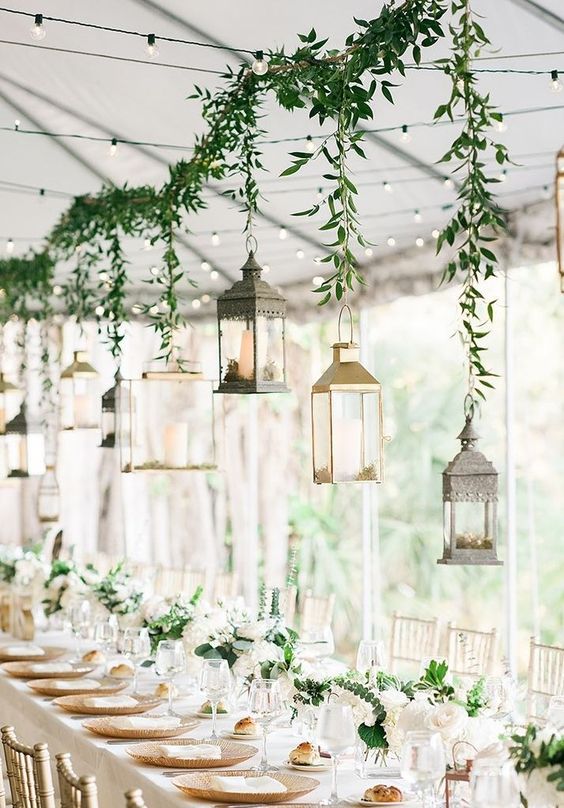 The common DIY hanging decoration that's mostly used by couples is lanterns. They creatively stood up the hanging lanterns for table centerpieces to give melodramatic lighting. Besides that, dangling the lantern also could create classic vintage style into your wedding concept.
Feather Decoration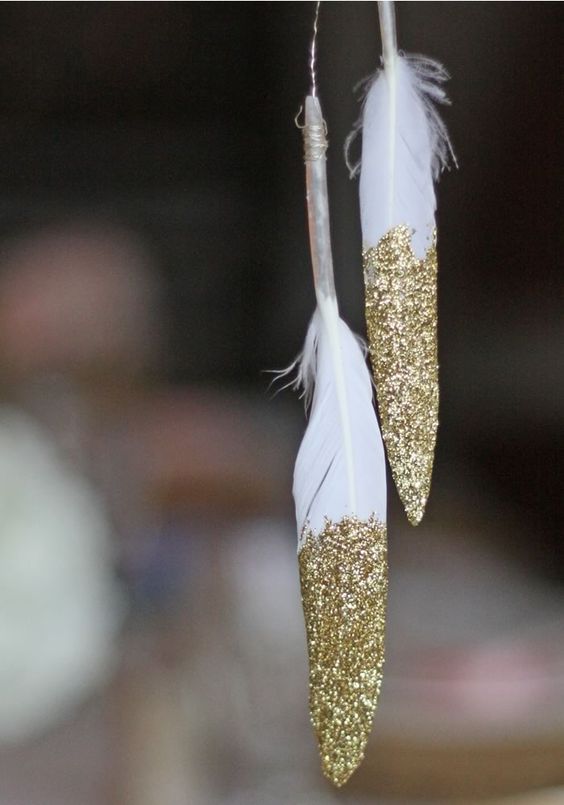 Maybe flowers, plants, lampions, are commonly used for decorating your beautiful wedding venue. When you want something unusual and different from others, you can try to get poultry feathers as creative DIY hanging decoration idea. From the picture above, you can see that it looks beautiful even in a simple way. You just need to arrange the feathers with string, and then give glitter in half of it.
Lighting Bulbs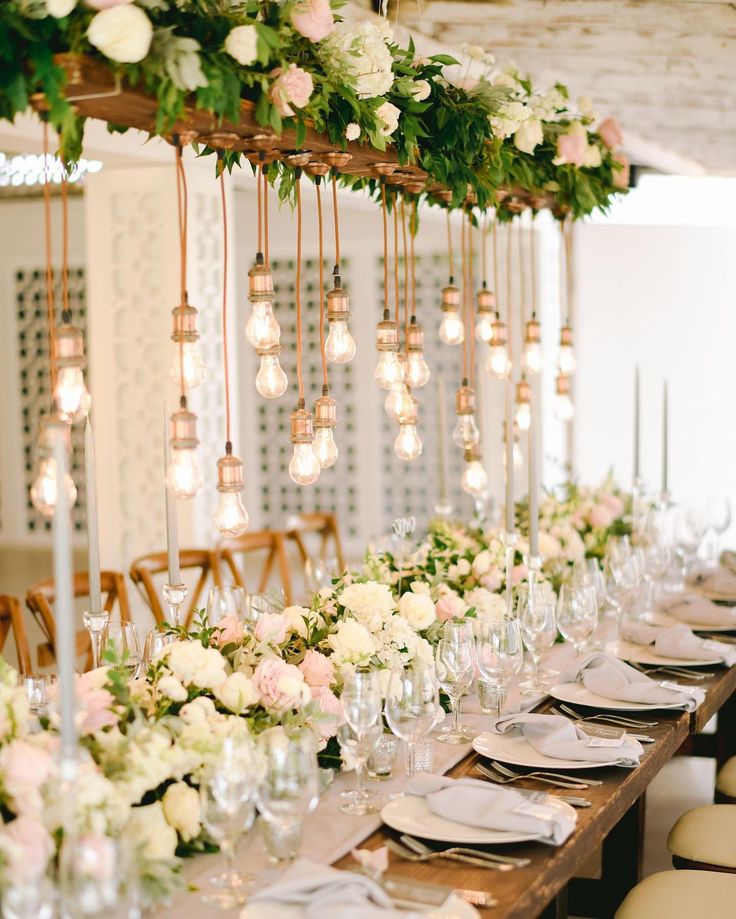 Find creative for decorating table centerpiece, bulb lamps can be used for the idea. For those who want to bring out an industrial look at the wedding, this decoration supports you in creating that view. For instance, you just need to ask your wedding planner to hang some bulb lighting in the center of tables with floral and greenery adornments.
Light Bulb Vase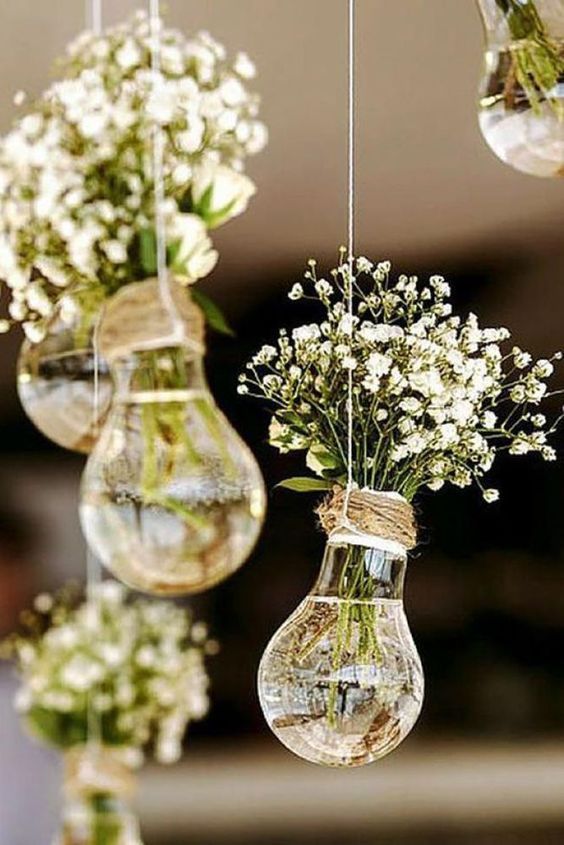 Some of the DIY collections usually use recycle items like bulbs lamps. You know that used bulb lamps could be turned into beautiful wedding decorations when you can utilize them properly. For example, if you eliminate the center part and then fill up the lamps with water and baby breath flowers, and then give the rope to hang them on the ceiling tops. You will get stunning hanging vases in your wedding venue.
Chair Hanging Decorations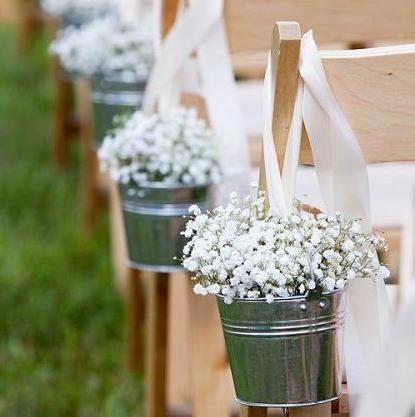 Chairs are also the elements that you need to consider in your wedding plan. When you held an indoor and outdoor wedding ceremony, chairs can be used as aisle markers. To make it beautiful, you can try to adorn it with creative DIY decorations. What's common for this is hanging decorations that are created with florals arrangements, ribbons, and buckets. To produce a pretty romantic wedding aisle runner, the baby's breath floral decorations in a hanging silver bucket are one of the ways. Hang them on one side of the chairs.
Greenery Hoop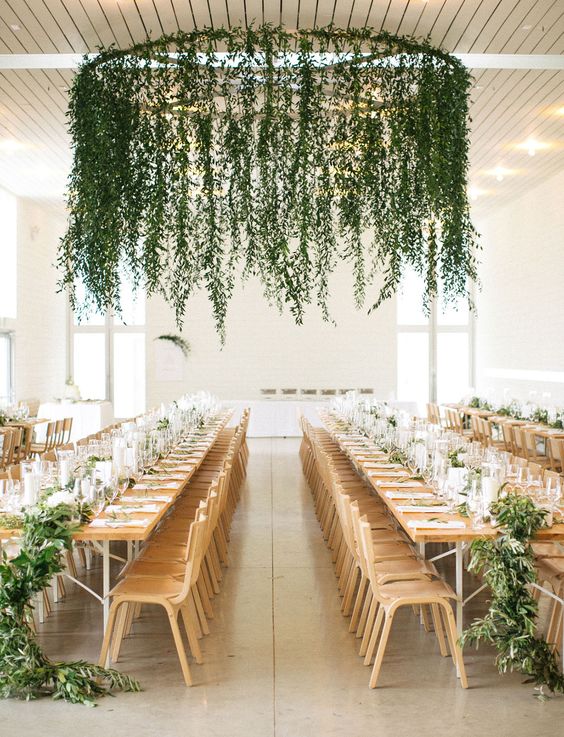 Having a big greenery on the center of your wedding hall is something that amazing and fresh. That'll bring you to the natural look in modern style. When you think a simple decoration for the ceiling, a big greenery hoop can make statement. A big round hoop you put in the middle of the venue, then for creative DIY hanging decoration you can arrange some greenery vines on the hoop.
Geometric Terrariums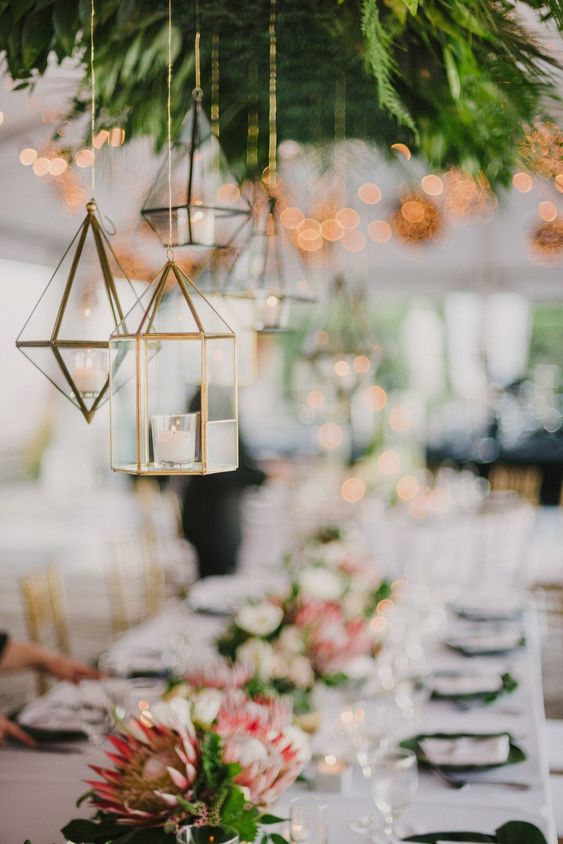 The next beautiful and creative wedding decoration idea is geometric terrariums. What you can guess about geometrics? We commonly hear a geometric word from a math dictionary. This is a kind of shape like a rectangle, cube, pentagon, hexagon, and diamond, that you can find in a mathematical concept. When you turn those shapes into terrarium forms, you would get beautiful geometric decorations in your wedding venue. The function of those terrariums can be beautiful DIY hanging decoration ideas. For this, you can fill the terrariums with flowers and greenery, make lanterns by adding candles to them, and table centerpiece ideas.
Flower Hoop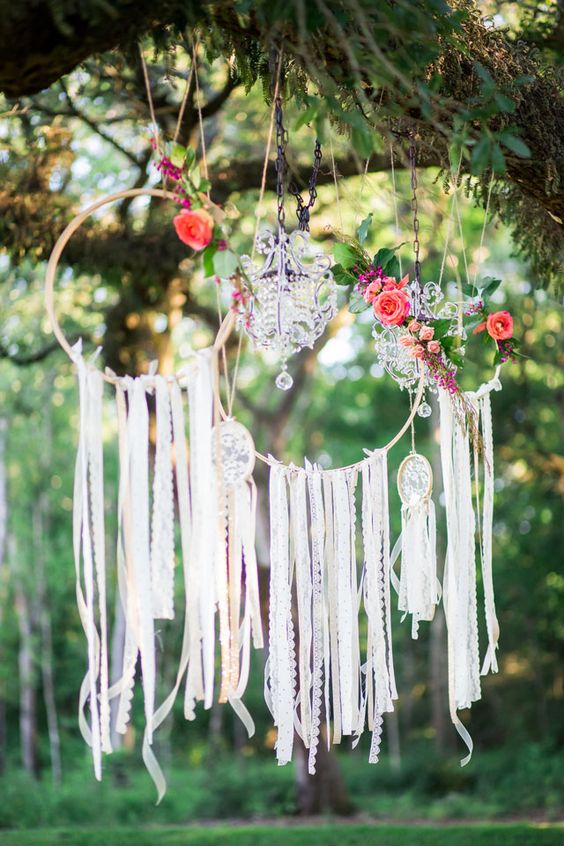 A mini round hanging flower hoop is one creative idea to decorate your outdoor wedding venue. It's easy to create and no need to have much money to spend, making this statement could be an alternative way. To make it have dramatically vibe you can bind some long ribbons on the side of the hoop and arrange some flowers on another side. Then, hang the hoop on a big branch around your outdoor venue.
Floral Curtains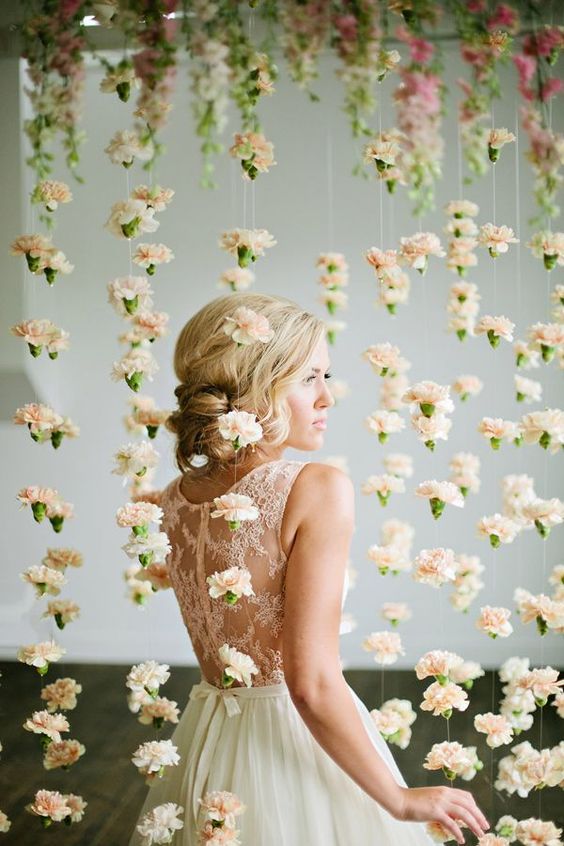 Arranging some flowers to make a curtain is a kind the creative way to create beautiful wedding decoration ideas. For this, discuss with your wedding planner and florist about the flowers that can stand long to create this natural curtain. You also need to match up with your wedding concept. For the rustic theme ideas, it's better to bring soft flower shades like pink and pastels. This flower curtain you can easily find in Indian Wedding decorations with the marigold arrangement in it.
Wedding Chandelier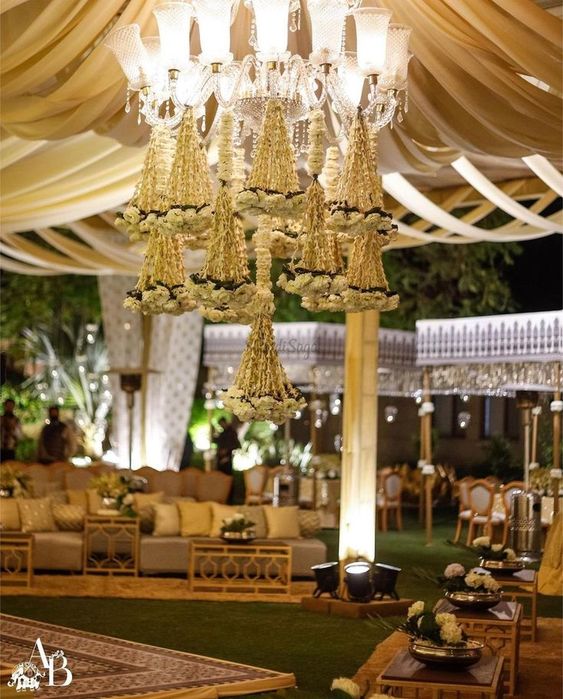 There are many options to choose the lighting for your wedding venues. The lanterns, bulbs, candles, and string lights are commonly used to adorn your venue beautifully. The favorite ones in decorative lighting are chandeliers. The esthetic looks, then the glamourous and classical ambiance can send out from the ceiling of your wedding venue by adding a chandelier to it. There are many types of chandeliers that can be used to adorn your venue, from crystal, vintage, and creative chandeliers. Just choose what suits your wedding concept.
Chines Paper Lanterns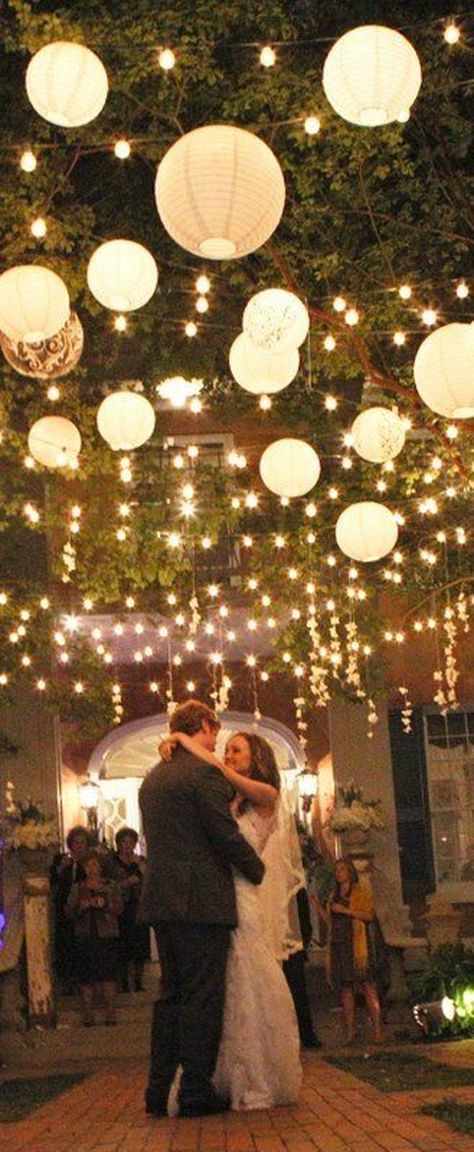 If you are looking for something that is cultural and aesthetic to decorate on your big day, Chinese paper lanterns can be chosen for your venue lighting. They can be hung anywhere either for indoor or outdoor decoration ideas. Besides that, this DIY hanging decoration is also budget-friendly. Decorative round paper lanterns are stunning and could create a beautiful atmosphere at your wedding party.
Decorative Clouds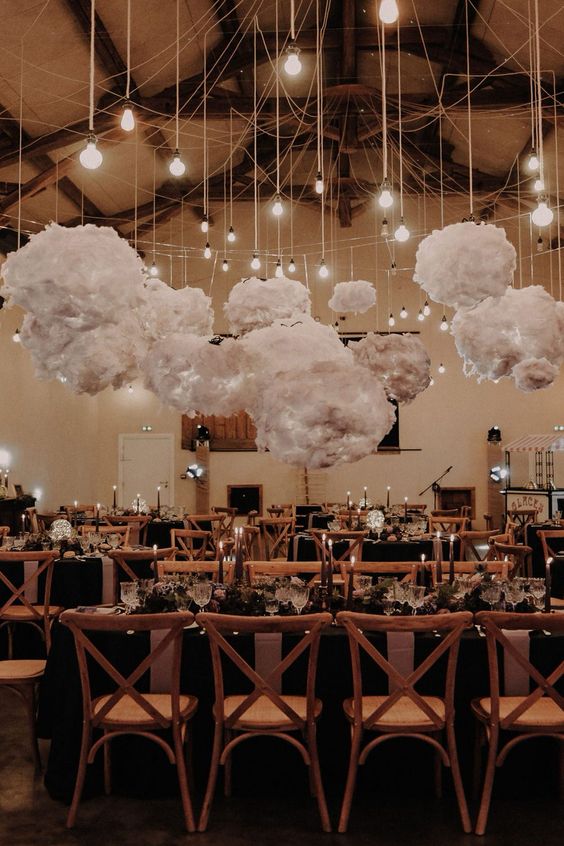 Things you need to try installing on your wedding venue ceiling are artificial hanging clouds. An amazing magical clouds that would make your ceremony looks beautiful and aesthetic. These creative DIY hanging decorations can you add for lighting complements. Pairing it with a string lamp would give you a starry sky in your wedding venue. Or, hang it side by side with the hanging bulbs to make get beautiful decoration on your barn ceiling.
Wicker Pendant Hanging Lamps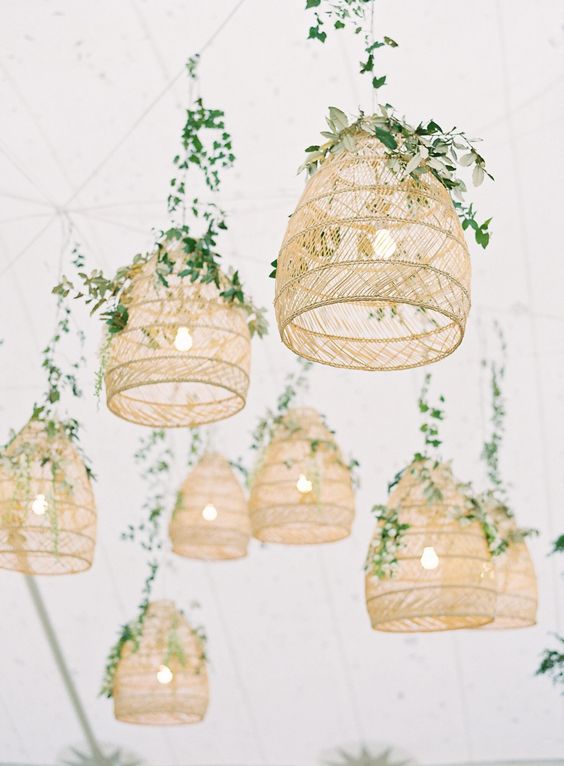 A simple wedding party and ceremony would look special when you choose decorative ornaments on your own. There are many DIY decoration ideas that you can try and some of it never been on your mind before. For example, if you're going for a bohemian or rustic wedding decoration ideas, the series of hanging lighting can help you. The Rattan pendant on your hanging lamps smoothly blends with the boho decorations. Add greenery to the lamps for creating a bit Mediterranean feel in your wedding venue.
Ceiling Floral Displays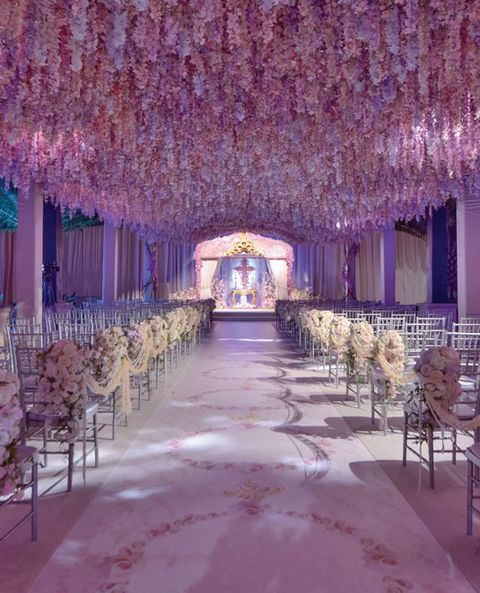 Talking about the ceiling, it's may not the main part of your wedding party but actually, it's a kind of big plain canvas that you can include something to draw beautiful scenery. Then we know that most weddings usually incorporate flowers in their decoration. So, when you want that to look like a fairy tale with a colorful skylight in your wedding ceremony, you can put on some flowers on the aisle runner track. That beautiful hanging decoration is a great way to build your own world on your big day.
Decorative Umbrella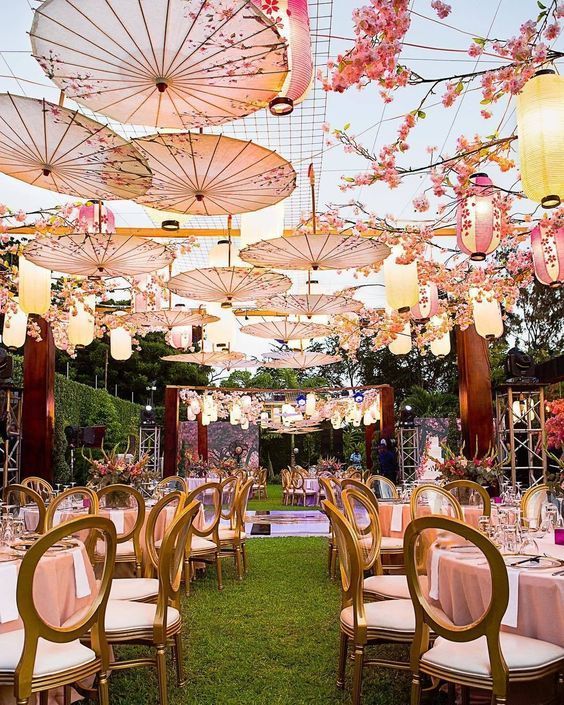 Decorative umbrella is an up-and-coming trend in outdoor wedding ideas. Hanging umbrellas could be a great way to fill up your outdoor skylight that looks unique and beautiful. You can make a canopy from those umbrellas by hanging them upside down and they give an elegant touch to your wedding reception. The colorful pink hanging Japanese umbrella would look great for a summer wedding because give you a view like a cherry blossoms scenery.
Dream Catcher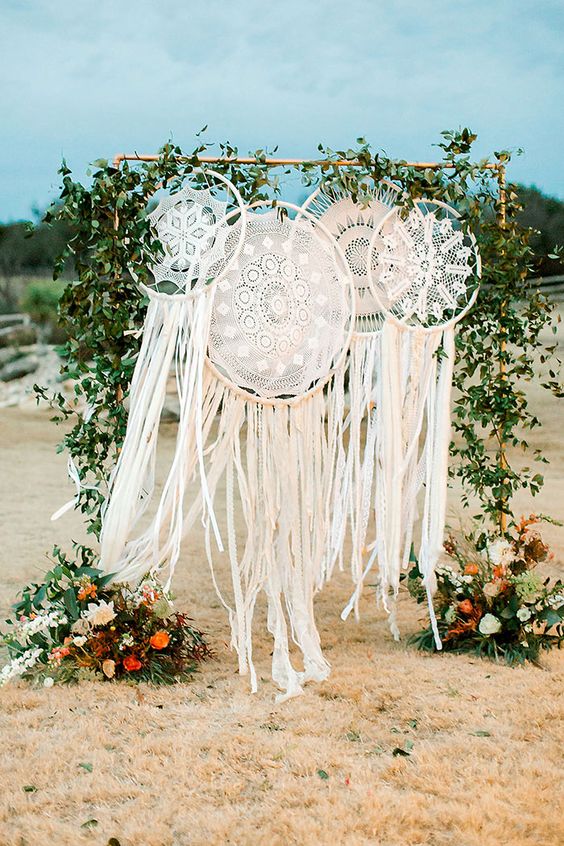 Bohemian style becomes a trend everywhere, whether in interior design, fashion, and also wedding decoration ideas. We know that macrame is a decorative item that can bring boho into your wedding venue. And the other that don't less beautiful is the dream catcher. This Native American handcraft combines feathers, tapestry rings, lace, macrame, and geometric accents which make it become a lovely feature that you can hang on your wedding venue. It will fill your place with happiness, love, and intimate vibes.
Bell Decorations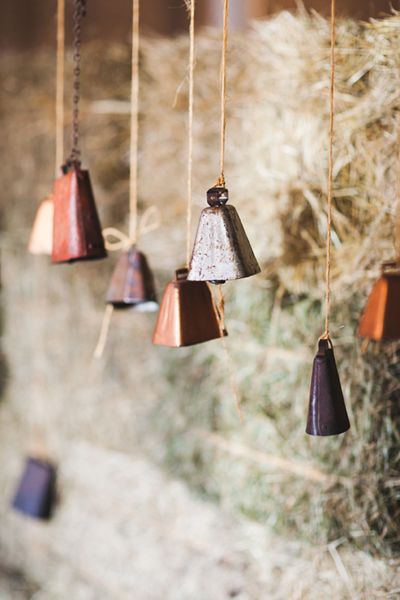 Bells are a symbol of marriage and in the past, they were used for fundamental ceremonies, especially religious ones. In history, bells are rung when people finished take a vow and becoming newlyweds. Thanks to that, most couples now begin to incorporate them into their wedding decor ideas. There will be a fun addition to your wedding reception with those decorative bells. We recommend you personalize bells with guest names for escort cards, Or, if you want to have more creative DIY decoration, you can choose cowbells to become hanging decorations on your farm or barn wedding theme.
Polaroid Photo Decoration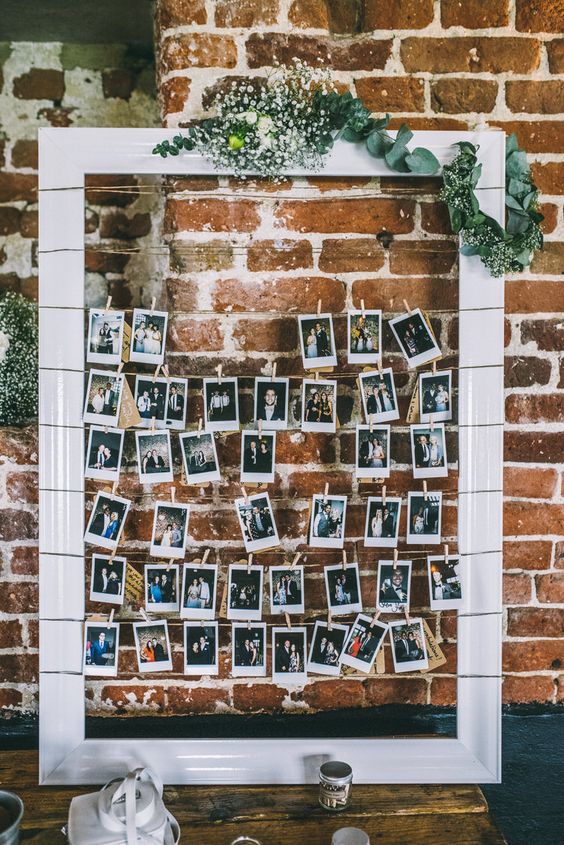 Nothing better to remind beautiful memories with your partner aside than decorative polaroid photos at your wedding ceremony. Some of the heartwarming photos you put on a box and then hanging it on the wall as wedding adornments. The look of bricks as backdrops gives a more romantic vibrant in it. You can add this decorative accent to your bar for an industrial wedding.
Hanging Ribbons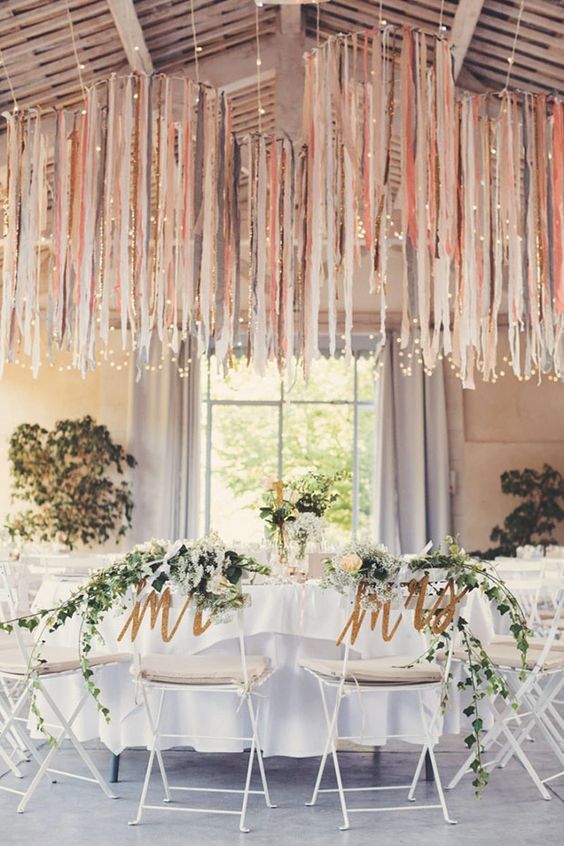 When you look for affordable decoration within your budget, but still can adorn the venue beautifully just try colorful ribbon. Bring those ribbons to the next level by great arranging them on the ceiling. Make it dramatically hang on your head and over your table dinner.
Tassels for Wedding Decoration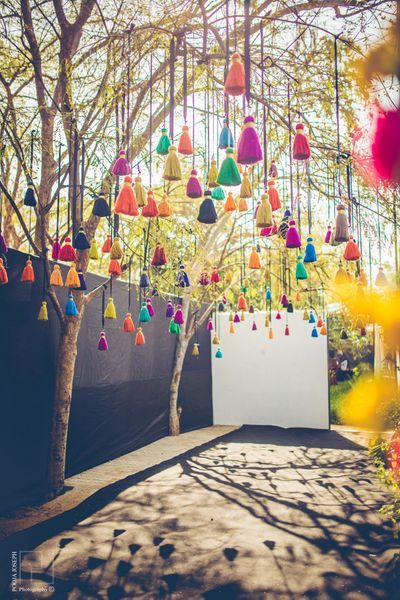 Tassels, are a kind of sophisticated decoration that you can bring to the wedding reception. Hanging colorful tassels on the tree branch can give a beautiful picture to your outdoor venue. those hanging tassels just make everything look happy and give a joyful ambiance. Besides that, they are also affordable and you can make them yourself.
Hanging Cake Stand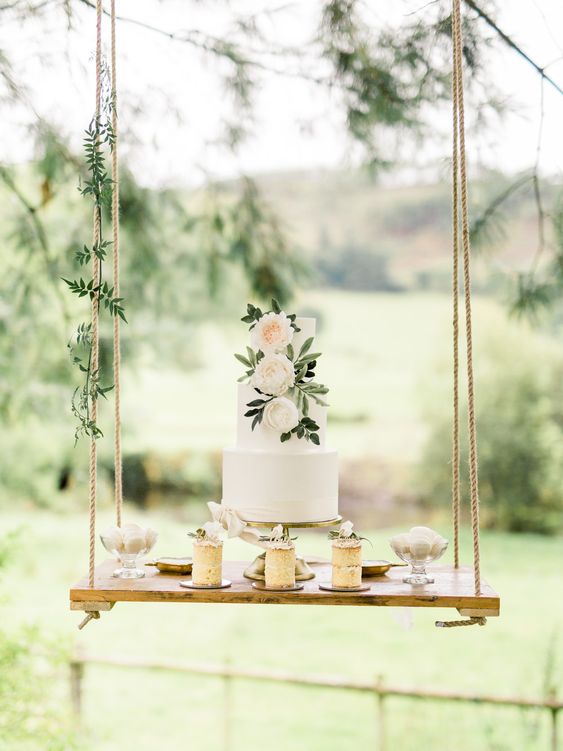 For brides who want something different and unusual on their wedding decorations, a hanging cake stand is sound great. Your wedding is would complete when you serve the beautiful wedding cakes at your reception. Not just the cake decorations which can you give a special touch, but the cake stand too. A hanging cake stand could bring a real centerpiece to your wedding venue, and you can make a focal point from it. You can hang a simple board and place your cakes on it. Give creative decorations such as macrame for bohemian style, using the wooden board for rustic, or give flower arrangements.
Final Thought
Marriage is inseparable from a beautiful place with stunning decorations. From the floor up to the ceiling should be adorned perfectly depending on your wedding theme. One of the ways is using hanging decorative items. Those are some creative DIY hanging decoration ideas that make your wedding venue beautiful. Now, you find out plenty of hanging decorations from flower ceilings, greenery hoops, dream catchers, string lighting, and others. So, don't confuse deciding on your wedding decorations because you have got some inspiration from the article above.