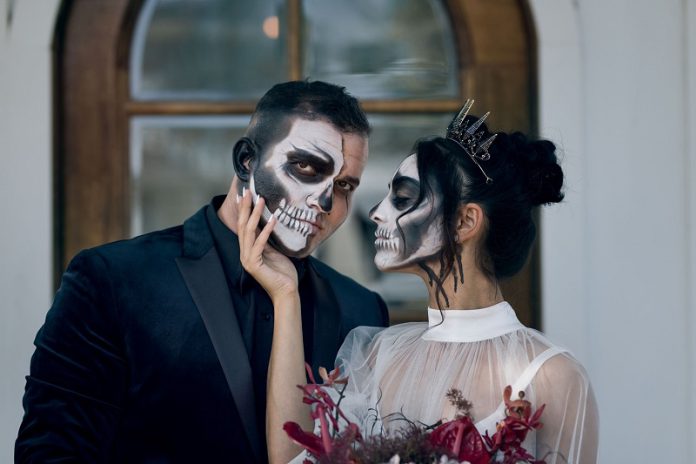 Roowedding.com – Holding a wedding party and reception that's a bit unique and different from others is what every bride wishes. If you are going to get married in the fall season in October, a creepy Halloween wedding party would definitely be a precious moment for you. Well, for this you need to all-out prepare your wedding party. From the venues, decorations, costumes, and even the makeup look.
After you get your wedding concept and everything that you need, then begin to think about your performance, especially the makeup look. That's why it's necessary to have bold makeup in order to attract everyone. Besides that, your Halloween wedding concept is never completed without stunning and creepy makeup for brides. You need to continue a creepy and frightening feel in your wedding with something that is scary in your makeup and costumes.
Bold makeup is the one that usually matches up with this Halloween style. The look of smokey eyeshadows, pale skin, and bold lipstick make would give stunning brides that will be remembered for the rest of our lives. Besides that, it would be a unique story that captures in photographs. To help you find stunning Halloween makeup for brides, we've provided you with some inspiring looks to try on and support your Halloween wedding dress. Let's check it out!!
15 Stunning Bold Wedding Makeup Look for Halloween Brides
One of the ways to bring out the Halloween theme in your wedding ceremony and reception is a bold makeup look. So, we've prepared 15 bold makeup style that suits for Halloween wedding party. So, let's check it out!!
Bold Red Makeup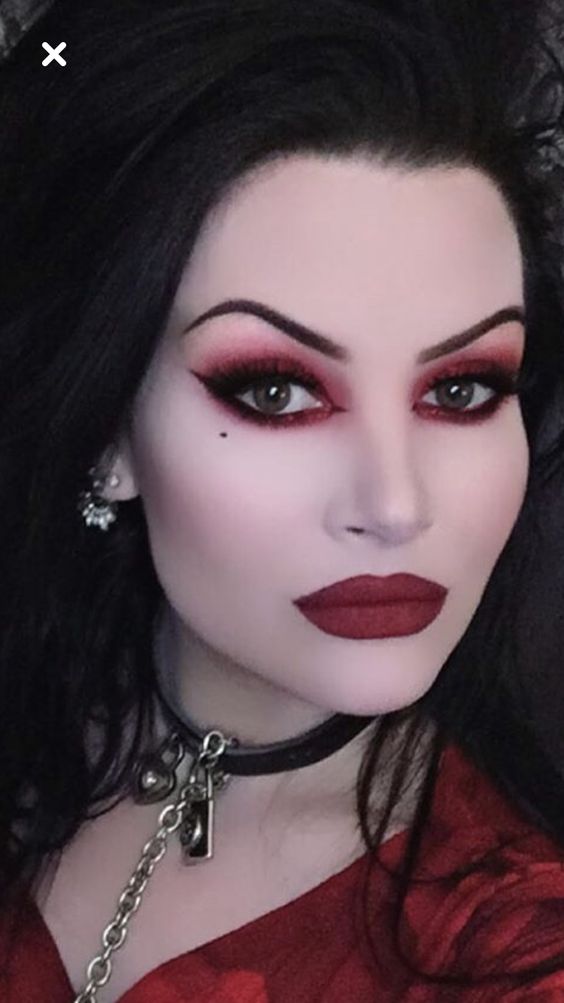 Red is the color that can be used for creating a dark bold makeup look besides black. Choosing blood-red colors for creating Halloween wedding makeup is a great way to have a stunning bridal look. Play on bold red eyeshadows in your eyes, then sharpen with the eyeliner and mascara on your eyelash. Also, get thick red lipstick to complete your performance. On the cheek, give a slight blush for refreshing your face.
Stunning Eyeshadows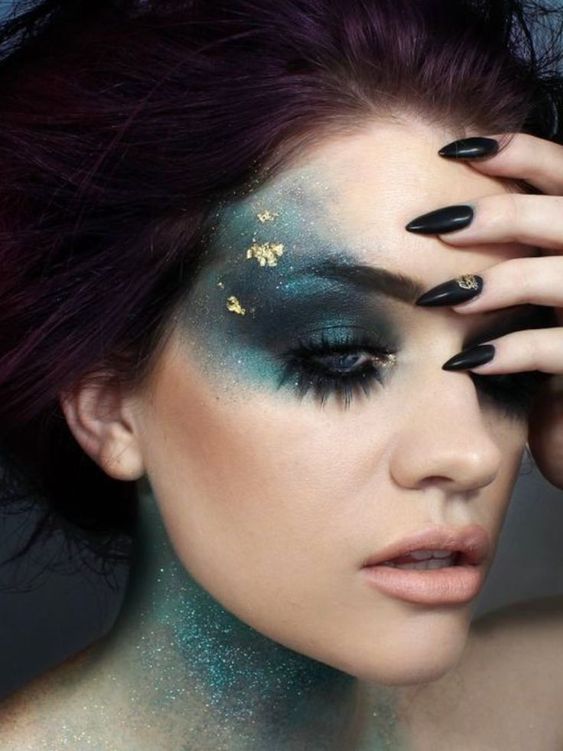 Want something different with your bridal makeup look, just highlight your eyeshadows more. For this, you just need to apply natural makeup look with a nude style, and then give more attention to your eyes. You can make creations on your eyeshadows style like giving glitter, using a bold and dark palette, or drawing something on your eyes. We think it would look stunning for a Halloween wedding makeup look.
Long Lashes Style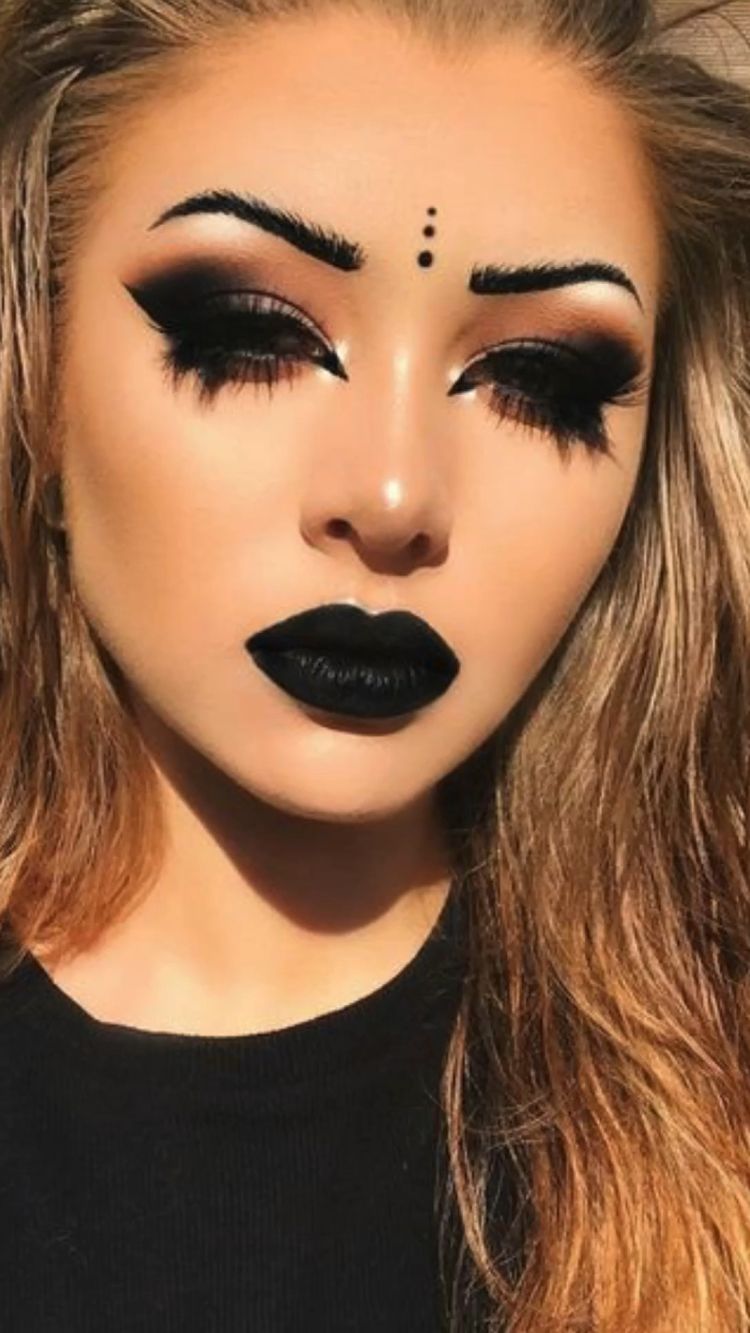 Bring out the darkness on your makeup look for Halloween wedding ideas with long eyelashes. As usual, work on bold makeup uses a dark palette for the eyeshadows and lips. Then, to astonish your performance, add long faked eyelashes to sharpen your eyes.
Statement with Black Lips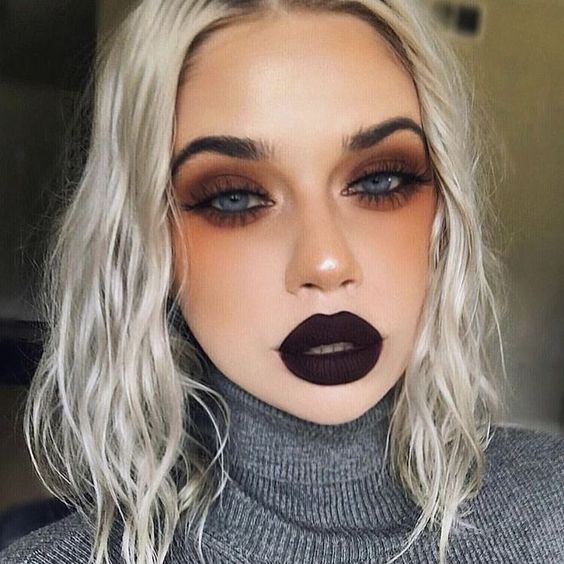 For this look, you just need to create smokey eyes with brown eyeshadows. Bring out the peach colors under your eyes and cheeks. For the eyebrow, make it curved naturally. For the main point, get bold dark lipstick to give a statement. This is also a simple Halloween makeup style that you can try on your big day. To make it a bit scary, you can wear a grey soft lens on your eyes.
Vampire Look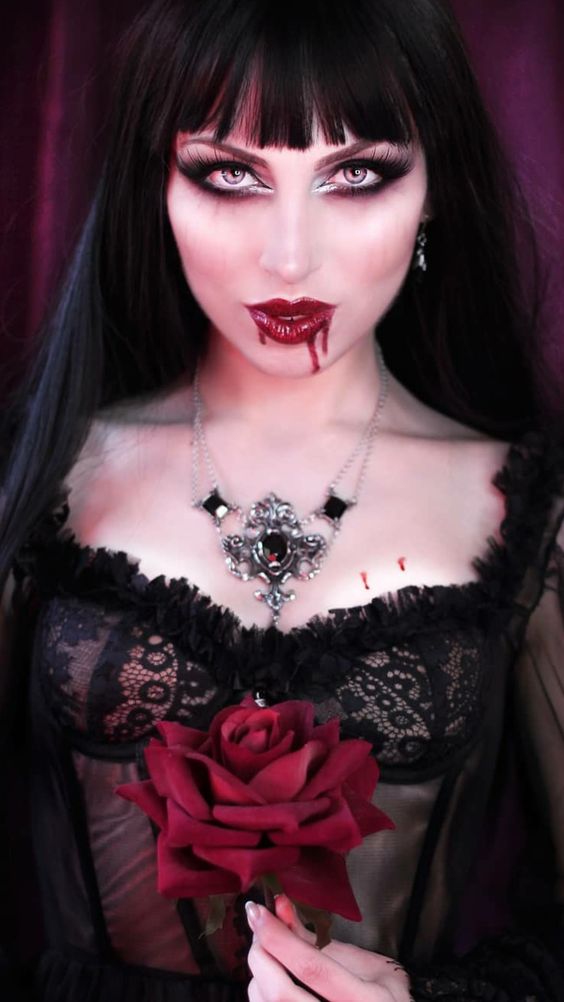 Vampires are identical to the creepy Halloween concept. So, most brides try to copy this look for their bridal makeup style. Bold makeup in the eyes with sharpened eyeliner, using dark palette eyeshadows, a bit of glitter on the eyes, and red lipstick like blood color. Add extension eyelash to make it long enough. This makeup look would be great to support your black wedding dress and bring dark romance vibes.
Fall Makeup Style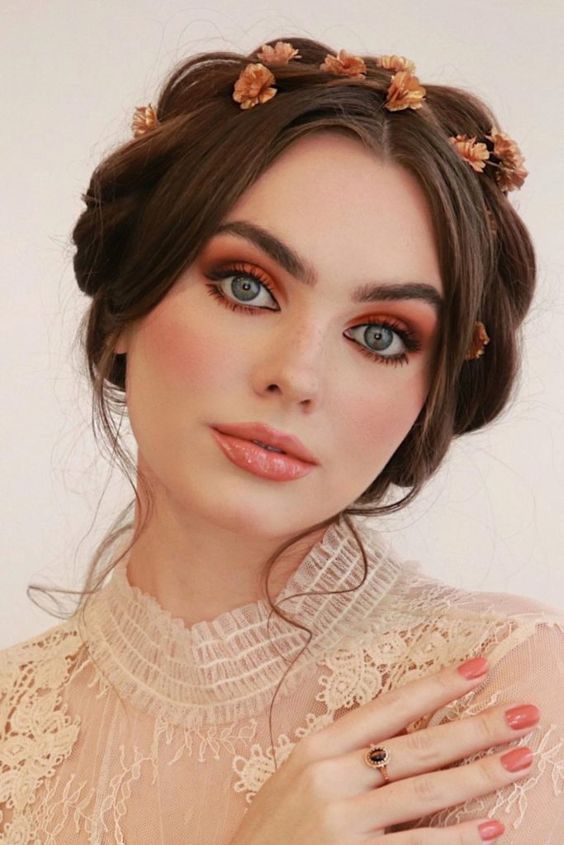 When it comes to Halloween ideas for your wedding party, it's not all about scary and creepy things. You can still look like a stunning bride without using odd things. Like use general costumes, decorations, and makeup look, just give a little Halloween accent on it. For this, you can bring your wedding reception in a rustic concept with a fall and pumpkin theme. For the makeup look, bring a peachy bold style to it. You can highlight your eyes with bold orange eyeshadow that can represent fall and Halloween. For the rest, just make it soft with pink and peach shades.
Goth Makeup Look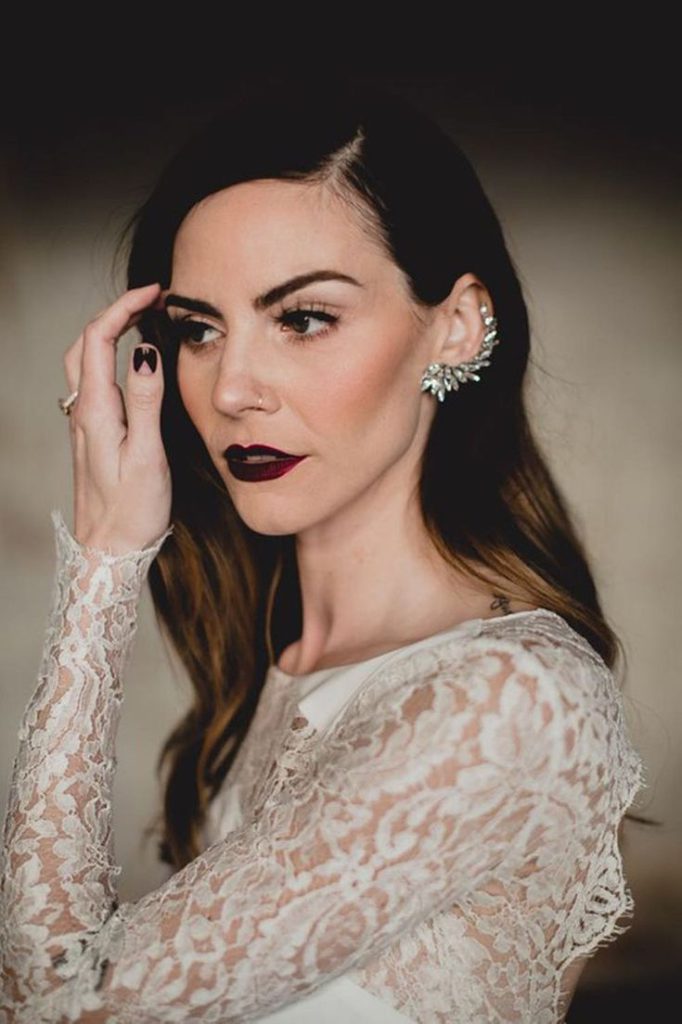 Goth makeup style also can be used in Halloween wedding parties. We know that the goth style usually has bold makeup on the eyes and lips. It's pretty simple because you just need to choose one part to highlight. Mostly, brides bring up goth style with bold lipstick like dark red. For the rest, you can have natural makeup like using a soft palette of eyeshadows and blush. Then, for a more goth vibe give metallic accessories like silver spike earrings around your ears.
Smokey Eyes Makeup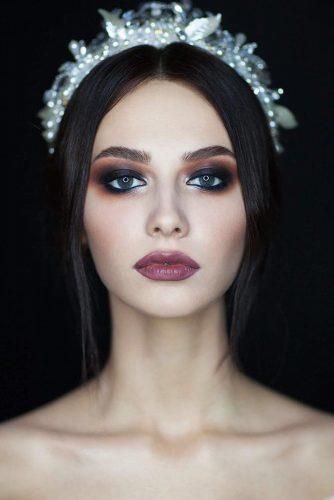 Smokey eyeshadows are the best style to carry to a Halloween wedding party. This makes your face look bold and stunning. The way to bring this look is just to give dark palette eyeshadows full on your eyes with natural eyelashes. Then, sharpen under your eyes with black eyeliner and eyeshadow. And give a little blush on your cheeks, and purple mate lipstick on your lips.
Dark Fairy Makeup Look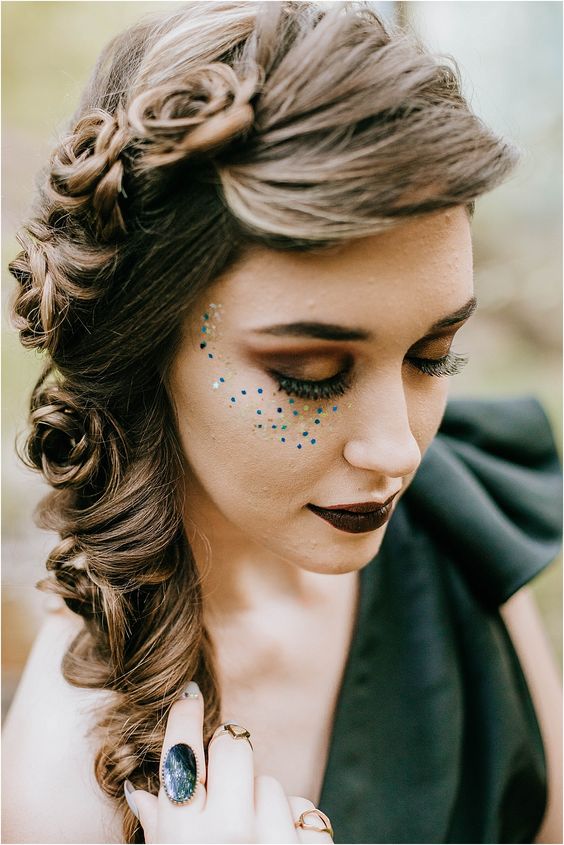 In Halloween makeup look for a wedding, you need to be creative. Find some inspiration on the internet or Pinterest about fantasy fairy makeup look. Like we know that Halloween is not always about creepy and scary ghosts, zombies, or vampires. It almost has more styles than you can imagine. For example, you can see the picture above. A bold wedding makeup style with dark lipstick and smokey eye makeup. It's also supported with long extension eyelashes and then a bit of creativity with colorful glitters on the side of your eye. This makeup look would drive you stunning brides in your special moment.
Half Skul Makeup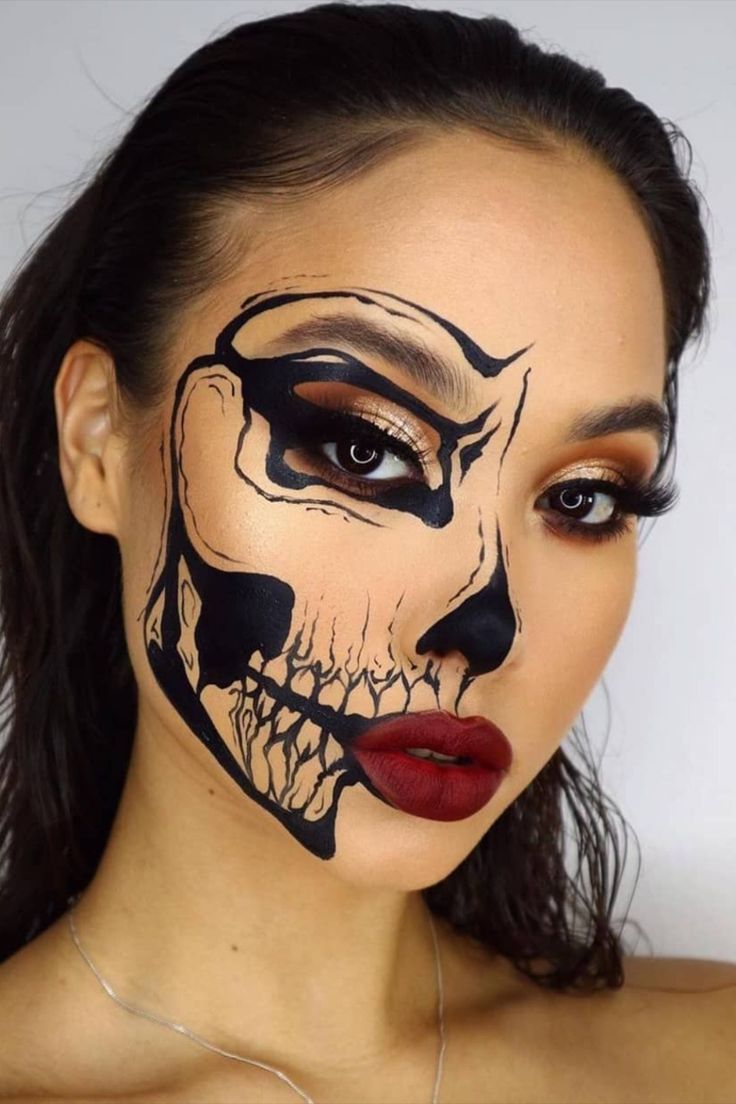 Halloween makeup is about limitless creativity. You can try it with any kind of makeup style from the creepy ghost to a gorgeous fantasy fairy look. When you want something unique and different, having half-skull makeup can be the option for you to carry stunning wedding makeup look. For this, you need to find a makeup artist that has the skill to paint on the skin. This is a bit tricky, but when you see the result you will be satisfied. This bold bridal makeup look will give a half beauty and a half creepy to represent the Halloween wedding theme.
Spooky Ghost Makeup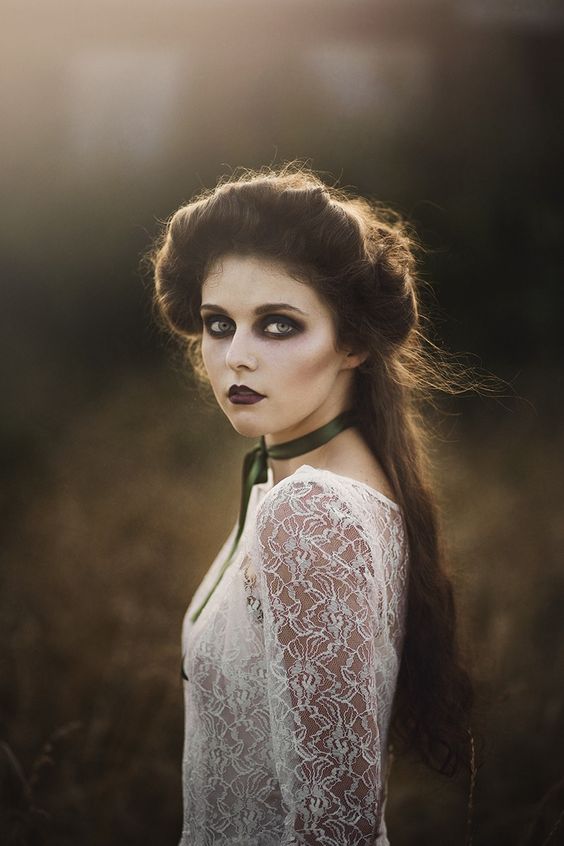 Halloween wedding theme usually comes with something unique, scary, and really mysterious. Not only the decoration, dress code, and makeup look should be supporting the theme ideas. For the costumes, you can have a bohemian wedding dress and then stand up the theme with the bold and scary makeup like a spooky gosht look. This Halloween bride makeup is a bit simple, you just need to shade your face in pale skin look then highlight your eyes with black eyeshadows. To make it more stunning, make a contour in your cheek line with a brown shade, and use black lipstick for finishing.
Gorgeous Elf Makeup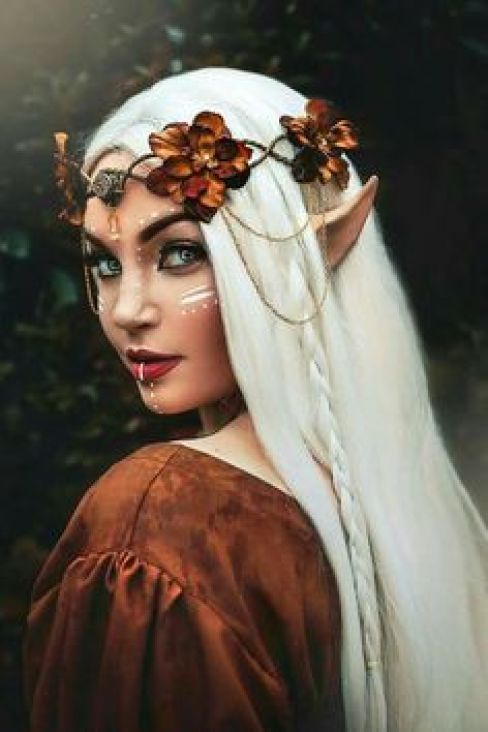 Halloween it's not all about creepy and scary things, but also about fantasy or myth. For the stunning Halloween bride's makeup, try the outstanding elf girl look. For this, you ask your makeup artist to prepare artificial elf ears and flowers crown for accessories. To get the looks, you can bring out bold makeup on the eyes and lips. Support the makeup look with your hairstyle by making it blonde. That will give you a gorgeous mysterious girl style.
Frankenstein's Makeup Look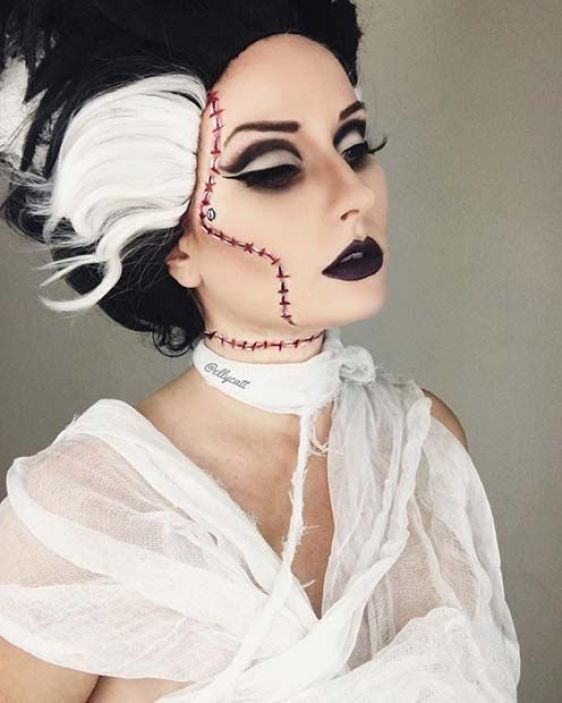 If you like Frankenstein so much, why don't you become Frankenstein's bride at your Halloween wedding reception? For this image, you just need to get a bold makeup look with black eyeshadow and lipstick, then spray your hair with safe white paint for a streak in your hairstyle.
Beautiful Ice Queen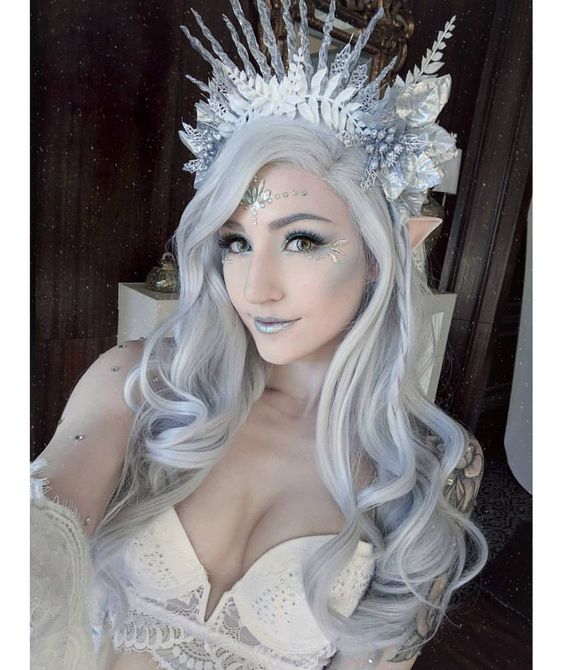 Another fantasy makeup that you can try on your Halloween wedding party is beautiful ice queen makeup. For this, you just need to bring white, grey, and silver palettes for the makeup style. Make your face look light pale by applying silver lipstick, blush, and eyeshadows. To make it seem fresh, you can get silver or white highlights. Then, you can also add some rhinestones for accessories to your face to support your makeup look. Get a silver crown and it's all perfect to make you look like cold ice queen.
Marriage is a special moment in your life that you need to celebrate with your lovers. Because of this, you need to make it unforgettable. Most brides make unique wedding concepts that are different from others, and one of them is a Halloween wedding. To support this theme idea, besides the decorations, both costumes and makeup are necessary too. Some Halloween makeup typically has a bold style like smokey eyes, dark lipstick, and pale skin, which also holds a fantasy look. In this article, we have given you some inspiring bold wedding makeup looks for stunning brides at Halloween receptions. You can choose what makeup look you really want to attract people's attention on your big day.