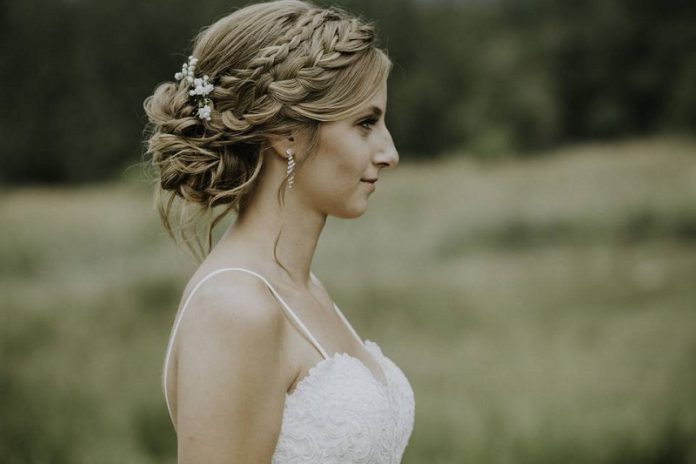 Roowedding.com – There are so many different wedding hairstyles to choose from for making you look charming on the wedding aisle. When you want an adorable hairstyle during knotting your vow, consider a pretty braid hairstyle. This hairstyle works well with any hair texture, from curly, straight, wavy, to short. Also, this hairstyle can be suited for any kind of wedding theme either classic, elegant, rustic, or bohemian wedding ideas.
For Bohemian wedding theme usually has a rustic concept and something naturally simple either in decoration or bride's performance. Likewise in the bridal hairstyle, they usually convey braids in their styling. This wedding hair look can reintroduce the bohemian concept to the bride. The braid accents in bridal hairstyles become a trend and receive a lot of attention in the past years. So, if you are interested in braids to create pretty bridal hairstyles and fit your wedding theme, let's check out some inspiration below.
20 Adorable Braids to Create Fresh and Pretty Bohemian Bridal Hairstyle
Simple Regular Braid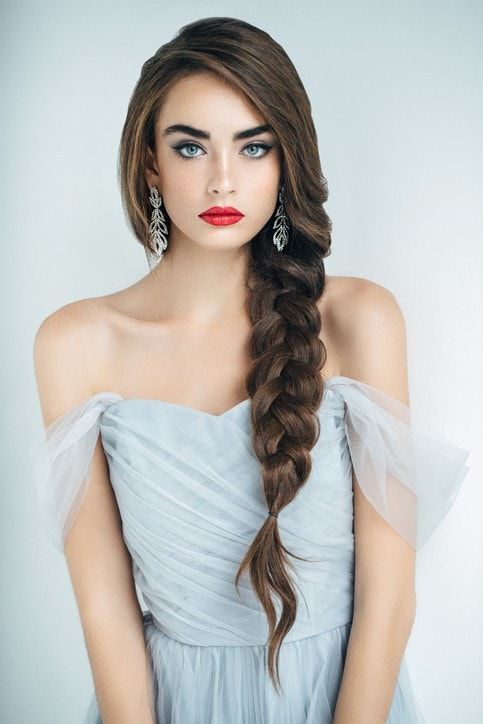 If you have thick straight or wavy hair, better to do a simple regular braid hairstyle like the picture above. Make a big loose braid and then place it on the side for looking elegant. For the optional, you can adorn your hair with floral hairpins or veins across the braids. Or you just make it plain and get another gorgeous statement like hanging earrings. This adorable braid hairstyle really suited to support your simple boho dress.
Dutch Braid Updos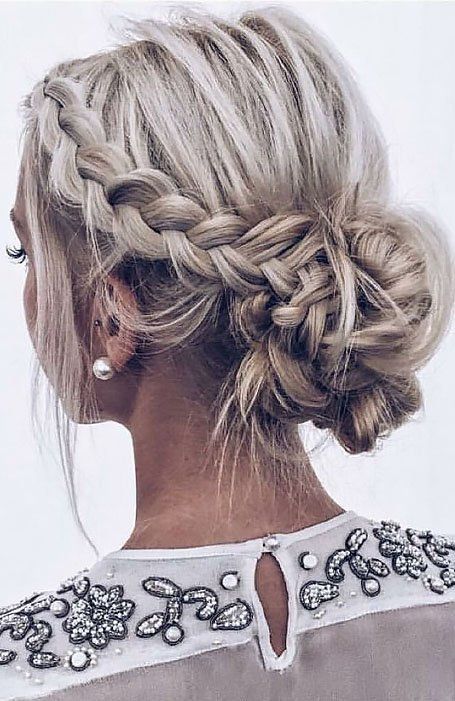 For brides who need an elegant look in braid style, just try creating dutch braids wedding updos. You can ask your hairstylist to braid the side part of your hair and then make a little low bun on the back of your head. This bridal hairstyle is suited either for medium or long hair. For the dramatic accent, let some hairs loose for creating slight side bangs. Another option, you can get fresh floral for accessorizing your wedding hairstyle more beautifully.
Beautiful French Braid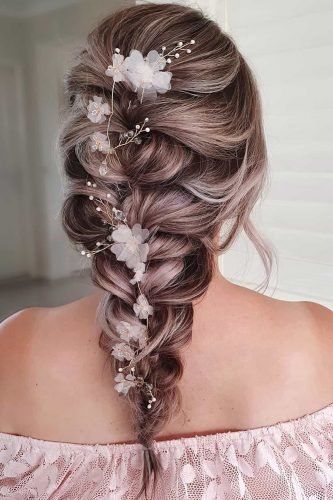 There are many types of braids that you can try on your bridal hairstyle like beautiful french braids. This happens when your hairstylist tries to incorporate strands of hair into a three-strand braid. Using these braids in your bohemian bridal hairstyle would give a patterned appearance that looks like the hair is pulled from the side. In addition, to show a more adorable and fresh style you can accessories with a white flower vein hairpin. Also, using this adorable braid hairstyle would be a trick to give volume to those with thin hairs.
Adorable Crown Braid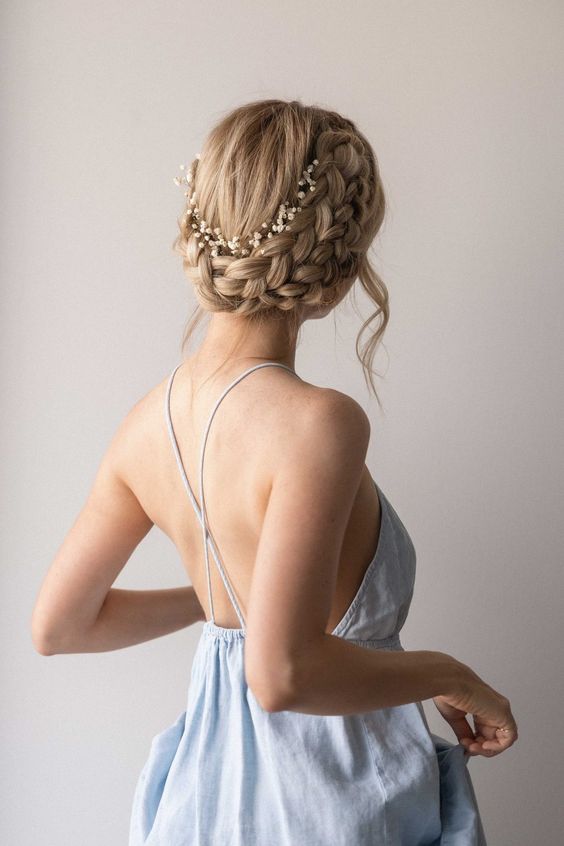 Having a braid for wedding hair in a bohemian wedding theme works well. The concept of boho and rustic are usually about nature and simplicity, so braids are perfect here. For an adorable bohemian hairstyle, you can try with crown braid style. This bridal hairstyle peak looks romantic and suited formal or outdoor bohemian wedding receptions. Add some baby's breath flowers as accessories if you want to make it look elegant and outstanding.
Inside Out Braid Style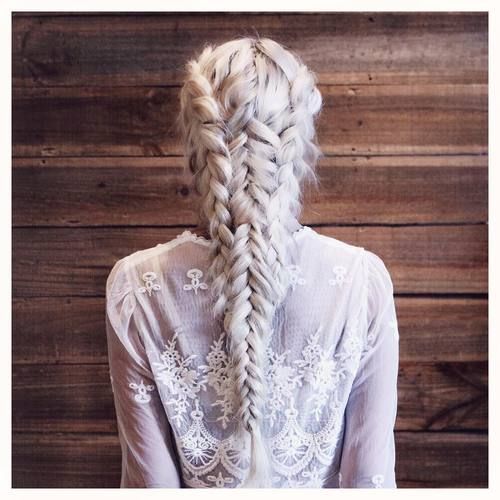 Long hair is like a kind of plain canvas. There are a dozen of adorable looks for a bohemian bridal hairstyle, especially in the style of the braid for long hair. From the simple regular braid and updos, it would support your performance on your big day. If you want to have a unique wedding hairstyle, get an inside-out braid style like the picture above. This style is derived from the combination of the usual braid with the dutch braid style. You will look so fresh and adorable in that bridal hairstyle even if you don't add any more accessories.
Mermaid Braid Wedding Hairstyle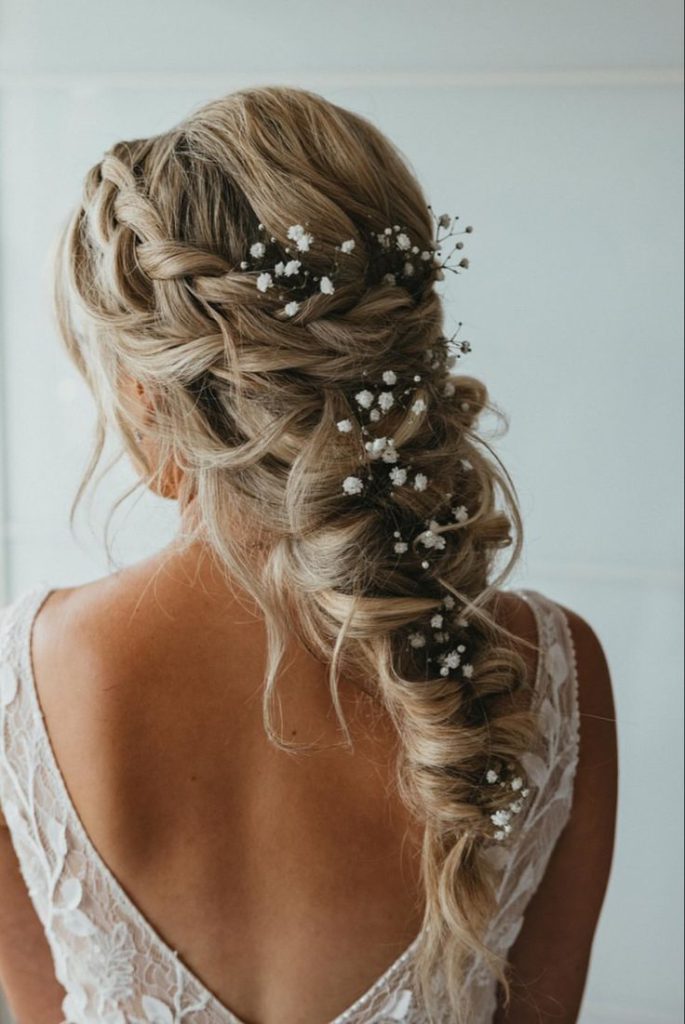 If you dream of a fairytale wedding concept, you can try on a mermaid braid for an adorable bridal hairstyle. This hairstyle could present a classic and luxury performance at once that would be good to show on at any wedding venue, either in the indoor or outdoor wedding ceremonies. But the most ideal for this hairstyle is the bohemian and rustic wedding concept. The mermaid braid style leaves a middle portion of straight hair that remains loose and unbraided. The messy braided loose hair looks naturally beautiful especially when you give fresh baby's breath flowers for accessories.
Pretty Carousel Braid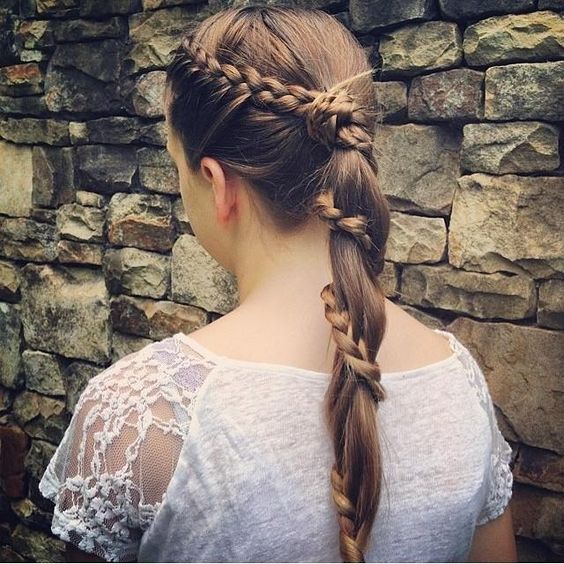 The carousel hairstyle is made by wrapping a ponytail with a braid like in the picture. The look you get from it is a pretty elegant and fresh bridal hairstyle.  Besides that, this wedding hair is what you need when you want to have a bit simple and classic image at your wedding. This hairstyle would great to support your simple bohemian wedding dress.
Boho Fishtail Braid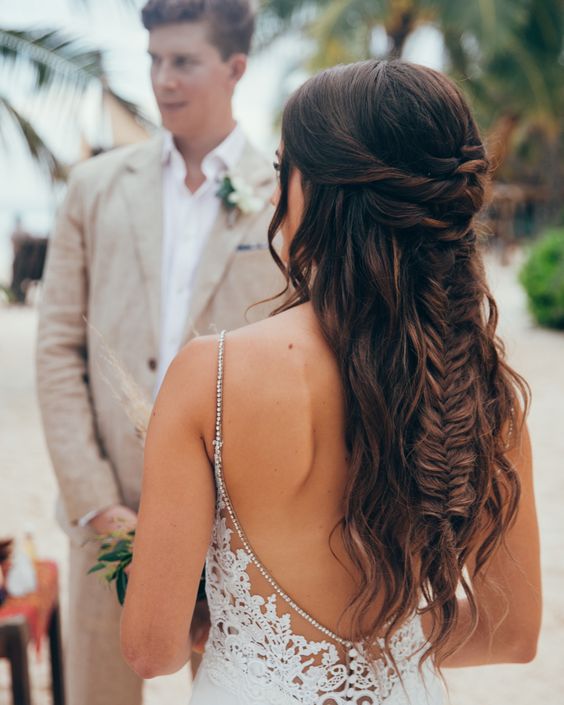 Fishtail braids look pretty and adorable for bohemian bridal hairstyles. This braid style is called a fishtail because it looks fish skeleton when get finished. To get an adorable and fresh hairstyle with this fishtail look, you can try a half-up braid hair. Getting half updos is slightly beautiful. Braid hairs are flexible to match up with any occasion, and combining braids with classic half-up updos would form a stunning hairstyle. This style is suitable to pop up in your backless bohemian wedding dress.
Unique Cornrows Braided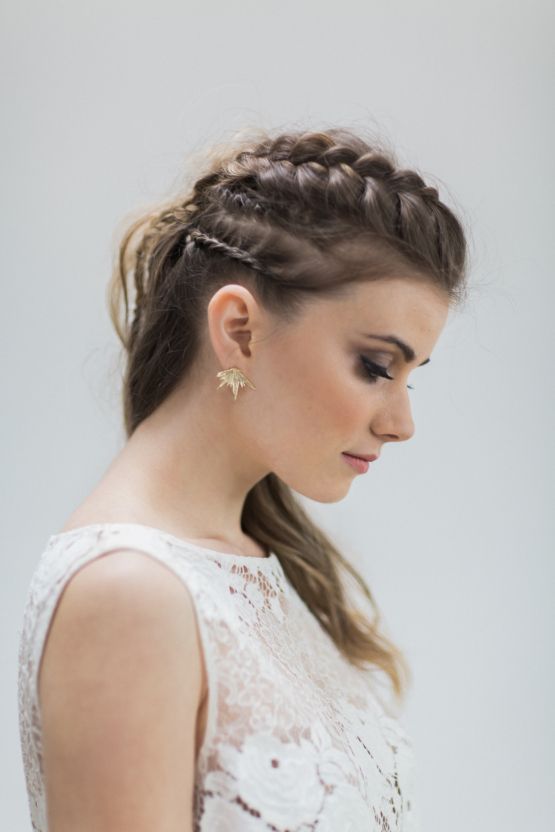 Want to have a bit unique edge of undercut into your bridal hairstyle without sacrificing your hair, cornrow braid can be a solution for this. By styling up your hair in tiny dutch braids lined up in linear patterns, you will get a cool look while still feminine at one time. This bridal hairstyle stands for you who like to perform with a boyish look.
Milkmaid Braid Updos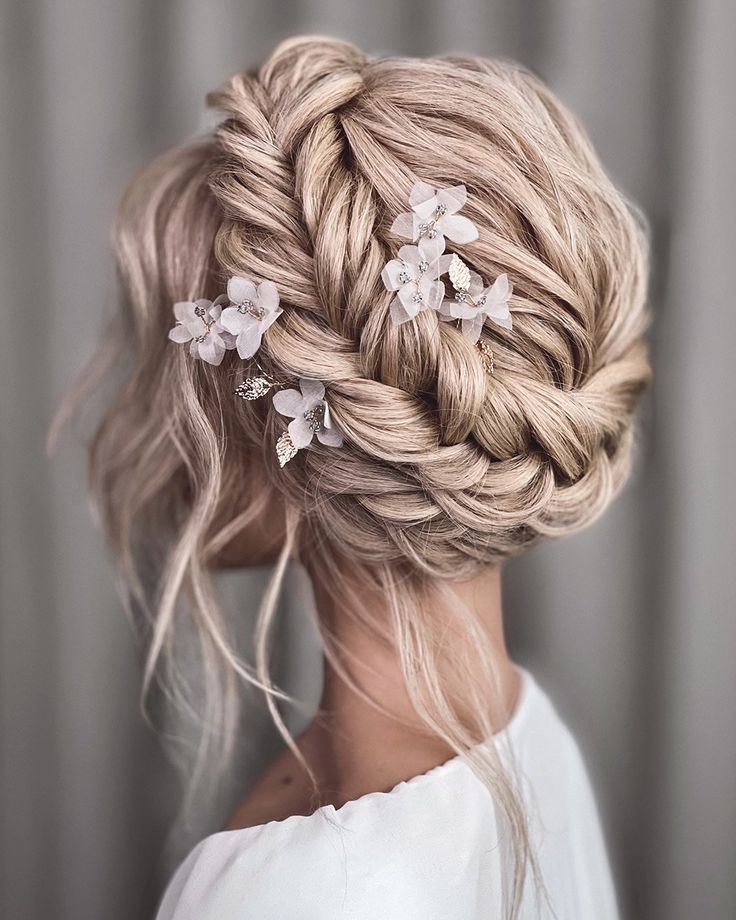 Updos are classic bridal hairstyles that can produce an elegant and romantic image. To make it suitable for a bohemian wedding theme, get milkmaid braid updos or chignon. For this, you can pin up a braid and make it look like updos. In addition, if you want to get a fresh and adorable bridal hairstyle, adorn it with a simple flower hairpin.
Elegant Waterfall Braid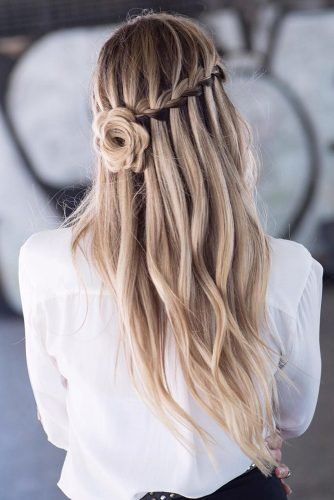 One of the most favored wedding braided styles is the waterfall braid. This hairstyle gives graceful waves through waterfall braids down your back which look elegant. Like another braid style, this style is fit for bohemian weddings that would make you look adorable in special moments. This style would be a perfect selection for a relaxed outdoor wedding party.
Pretty Ladder Braid Style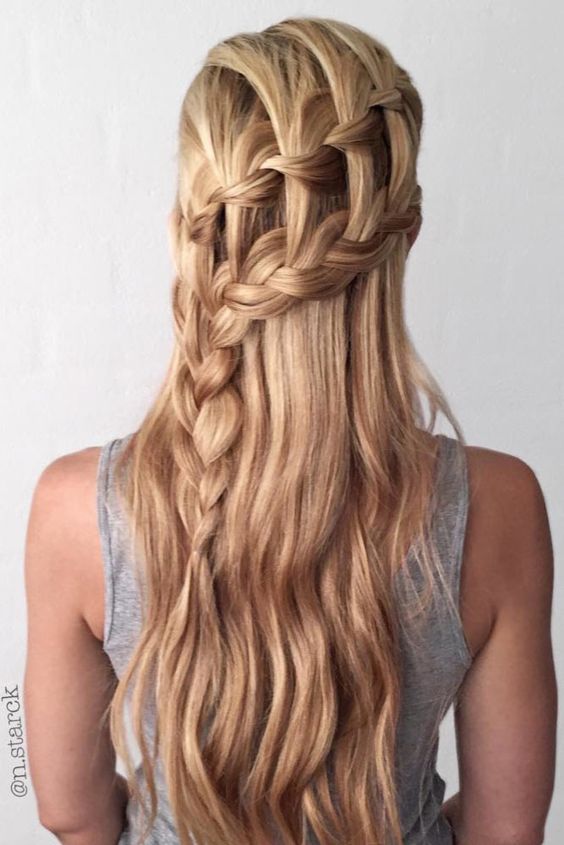 The way you bring fresh bridal hairstyle in a different look of waterfall braid, ladder braid style is the answer. We can say that's the improvisation of waterfall braids because it creates by layering two waterfall braids on top of each other. This hairstyle can also use in boho-chic weddings or beach wedding concepts.
Snake Braid Style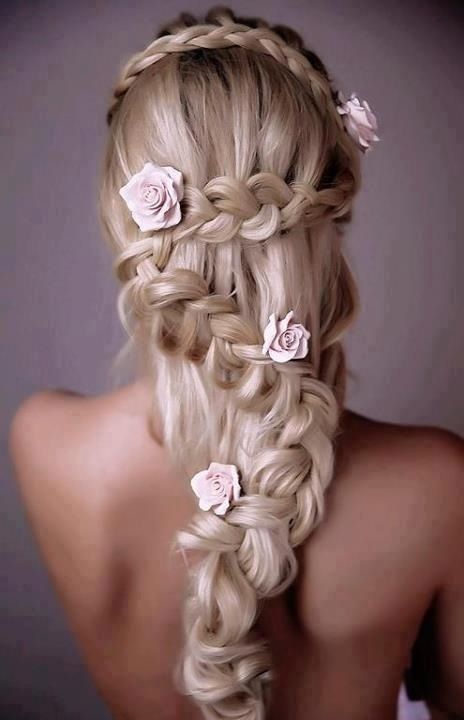 Braided hairstyle for long hair never be the same and you can play around with any kind of braid style. For mysterious and sophisticated wedding hair, you can try to make a snake braid. It looks like a skilled braid style, but when you know the trick it's just as simple as regular braids. The snake zig-zag braid is easiest to copy than you can see in the picture. Even in the real, it looks more pretty than you can think before. That's why it's perfect for a pretty bohemian hairstyle. For this, you can start to create with a snake french braid like the picture above. For making it look fresh and adorable, accessories it with roses for a natural accent.
Messy Braid for Rustic Wedding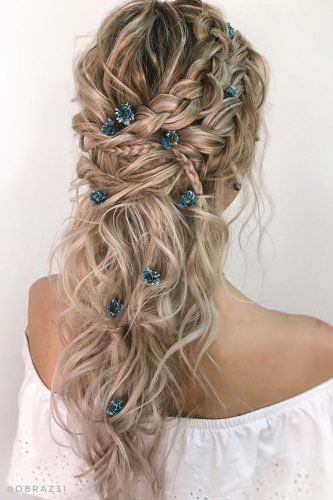 Imagine how you will look beautiful on your wedding day with the modern and classic messy hairstyle. This messy braid is perfect for a country wedding dress in a forest or rustic wedding concept. Although it's not as steady as the usual braid, there's something special about the messy braid that looks naturally adorable and fresh for a pretty bohemian hairstyle. Refreshing your braids with some beautiful accessories such as greenery pins or flowers.
Braid in Short Hair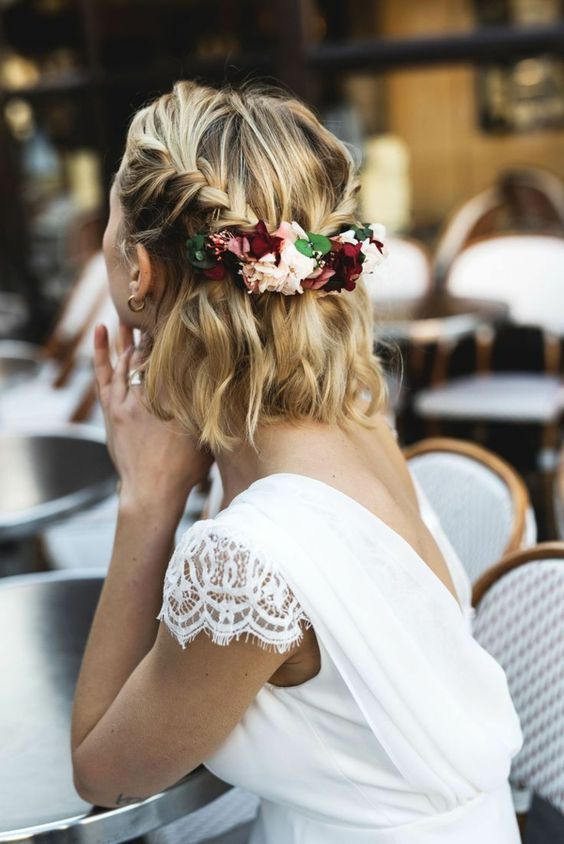 The brides with short bob hair and who want to look pretty in their wedding hairstyle, just take a messy ladder or waterfall half-up braids. You don't have to braid all your hair, just half up of it and then you can create a crown with that braid. This is a great choice to work with wavy and curly short bob hair. For a more adorable and fresh bohemian hairstyle, you just can bring some natural accessories such as a flower hairpin or crown.
Ponytail Braid Hairstyle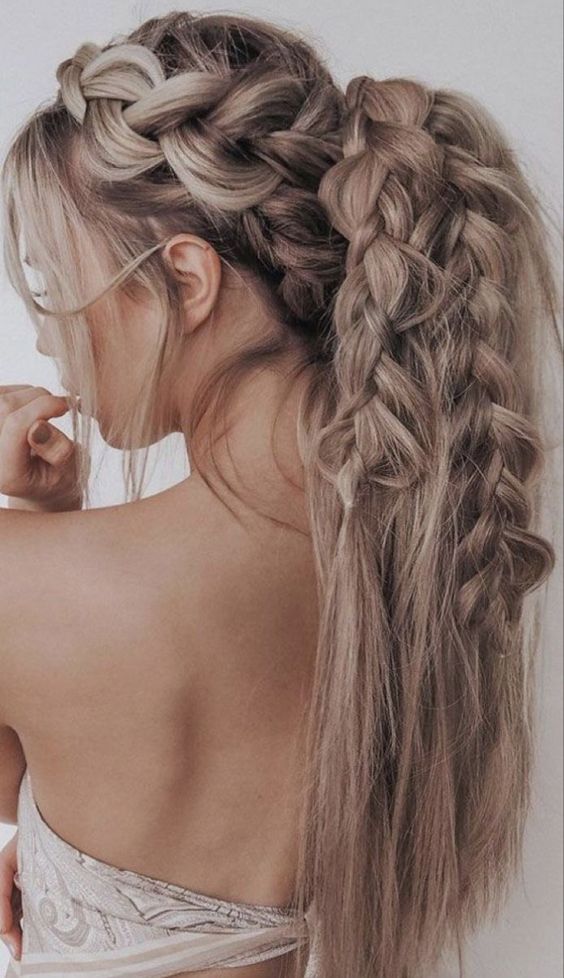 A braided ponytail is a strategical beauty hack if you want to expose your shoulder. Adding classic french braids as an accent on your ponytail can make it aim more pretty and fresh. Also, it would look great in bohemian reception for outdoor wedding ceremonies. Fortunately, it's easy and quick to do. You just need to braid two thick sections of your hair in classic french style and then tuck them into a loose high ponytail.
Bubble Braid Hairstyle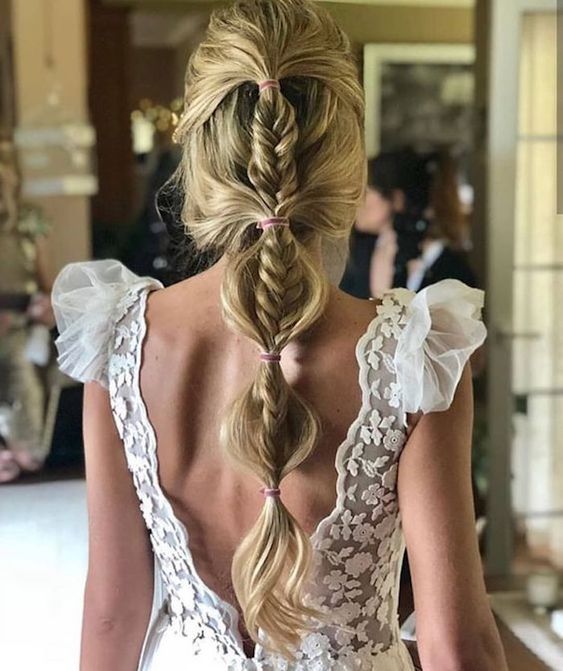 Another pretty braid hairstyle for bohemian weddings that you should try is bubble braids. This style is the best effortless style for long hair. You can make a half-up ponytail braid, and then tie the rest of your hair to make a voluminous bubble effect on the ponytail. Make sure to hold the tail and tie it firmly with an elastic band each time you create a bubble braid. For the option, you can add some accessories like flowers, hairpins, or ribbon to make an adorable bridal hairstyle.
Pretty Flower Braid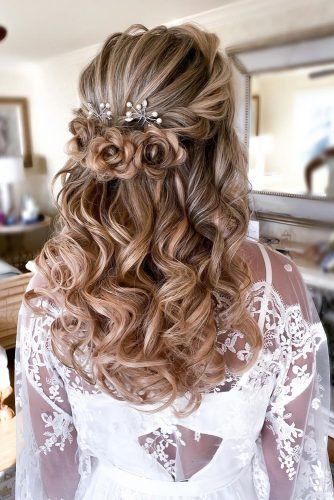 From the braid section, you can create something beautiful and unique like flower braids. This is the way to improve twist braids to become adorable for pretty bohemian hairstyles. You can start by making a half-up ponytail twist braids. Then, you can create some flower accents using the rest of the ponytail. It may be a bit tricky and need skill, but the result is gorgeous and satisfying. Add a simple tiny pearl hairpin to make it look outstanding like real flowers.
Undone Boho Braid and Curls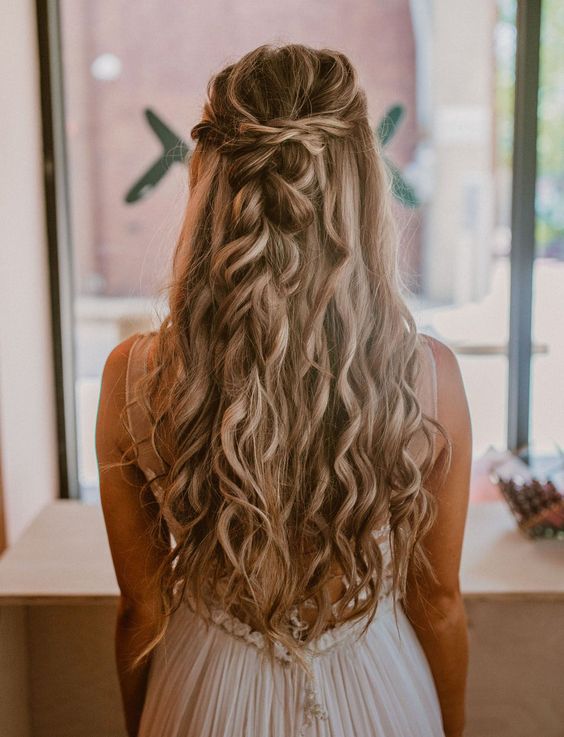 Even a simple braid could be a perfect wedding hairstyle that makes brides look beautiful on the altar. For bohemian weddings which usually look in a natural vibe, having undone braids and curls is the best choice.  This wavy and messy hairstyle would make you look pretty enough without any accessories to add on. An effortless pretty bridal hairstyle and doesn't need much time for styling. Even you can style it yourself.
Viking Braid Hairstyle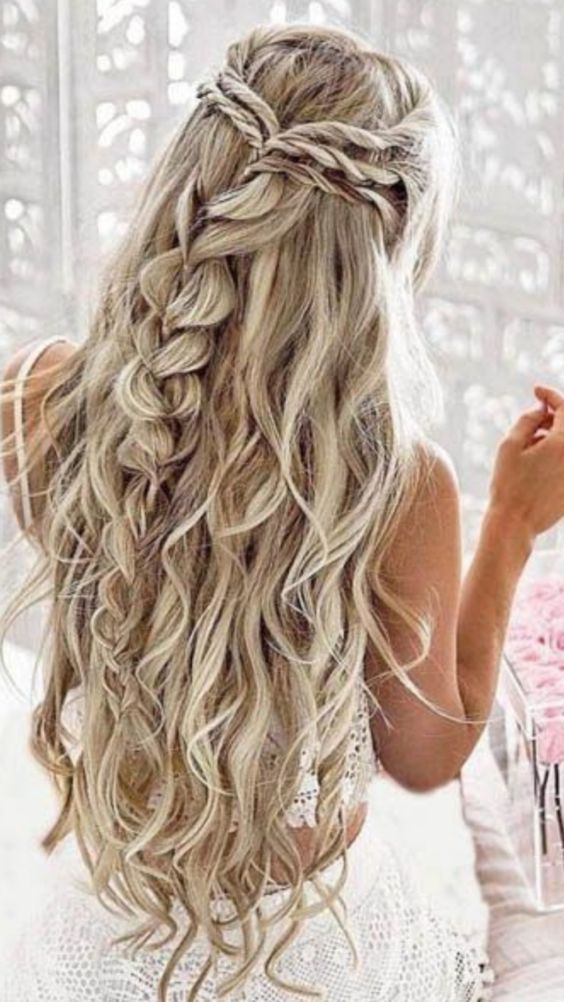 Movies are not only entertaining but sometimes also offer us some fashion inspiration from dresses, makeup, to hairstyles. Likewise, for your pretty bridal hairstyle, you can get an idea from the movie you watch. For instance that's Viking braid style, it looks great and adorable to try on your wedding day. The concept of this hairstyle would match with bohemian wedding theme ideas and turn you become a pretty bride ever.
Another Braid Hairdo for Pretty Bohemian Hairstyles
Braids become a trend in women's hairstyles on any occasion even for weddings. There are so many beautiful picturing which is could be made from braid hairstyles. From casual, elegant, to adorable bohemian hairstyle, braid works well on them. Aside from the explanation above, here are other wedding hairstyles in braids that can inspire you to become pretty brides.