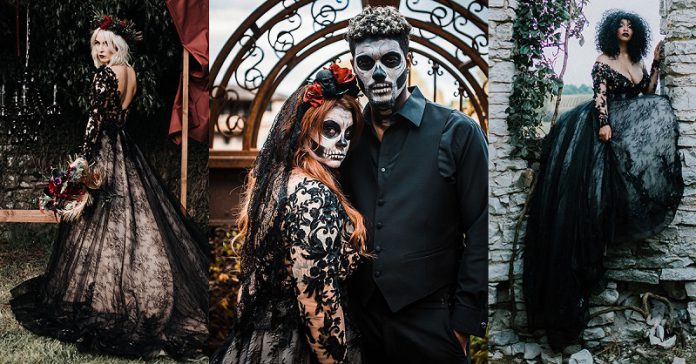 Roowedding.com – How your Halloween wedding would run perfectly it's depending on your decorations and wedding costumes. For this, there is a lot to see and become your inspiration ideas. From spooky, mysterious, horror movies, mythology, and fairy tale, it's all the part of Halloween wedding concept. But from all the wedding lists, the favorite part is when choosing the wedding dress style.
The Halloween wedding dress idea usually has a creepy and unique style in its design. They use unusual components such as dark and bold colors on the dress. From a hint of purple, goth looks, romantic fairy, to spooky costumes, Halloween wedding dresses look outstanding. This kind of dress is different from other wedding dresses in general. It could be just a bit hint or full costumes, from romantic fairy to dark goth views.
In this opportunity, we've gathered some unique and creepy Halloween wedding dress ideas for you to become outstanding brides in the creepy Halloween concept. So, let's check some ideas below before you decide to shop for your wedding dress.
Simple Bohemian Dress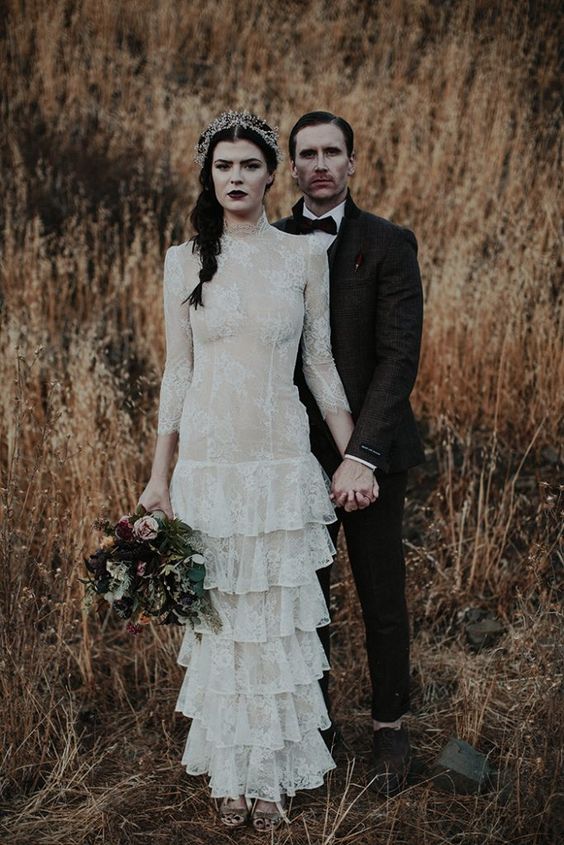 If you host a Halloween wedding party with a bohemian concept, you can choose a simple ruffled lace dress as your wedding dress. This makes you become outstanding brides without an exaggerated accent. This bohemian wedding dress would look mysterious if you can support it with your bridal makeup.
Creepy Witch Dress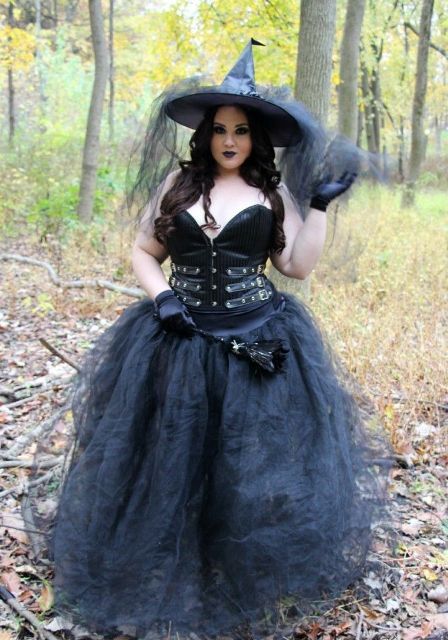 Halloween theme is usually about creepy things and unique styles even in its wedding dress design. They are usually inspired by a horror movie or story that's full of creepy characters like a witch. For this wedding dress style, you can come with a black tulle dress with a corset on top of it. Furthermore, you should get a witch hat as for accessories to get a creepy Halloween wedding dress.
Dark Romance Style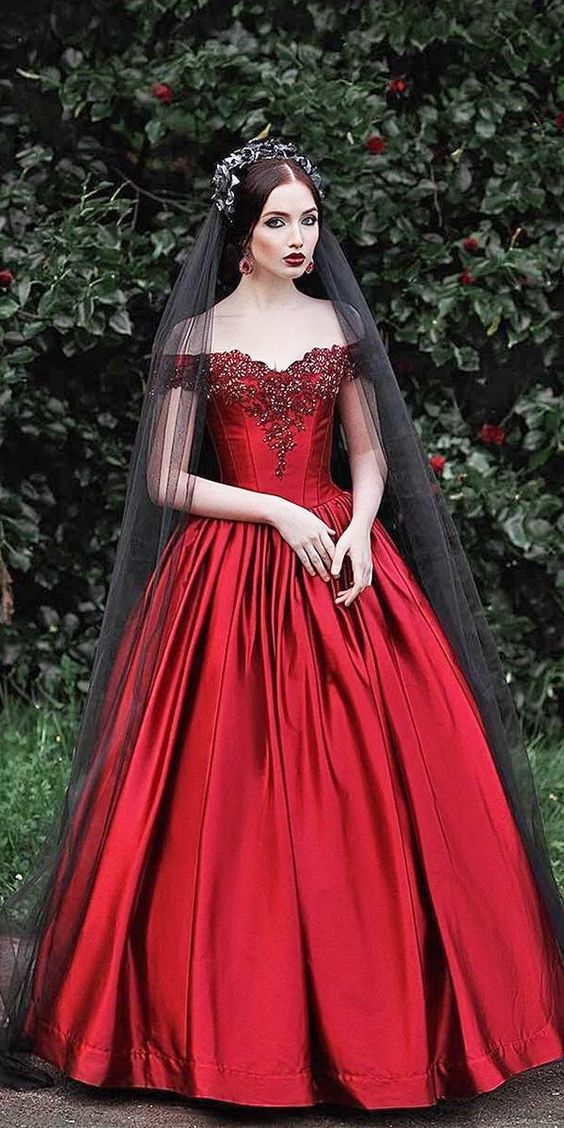 The Halloween theme usually resembles the dark side as such a dark romance ambiance. If you want to have a wedding dress that looks both elegant and creepy, you can get a bold red a-line dress for this. To make it seem darker, support it with a black long veil, and your bold makeup look. This Halloween wedding dress would make you look stronger and tougher but still lovely. We suggest you use silk or other shiny fabrics which is can give you a classy design.
Unique Patterned Dres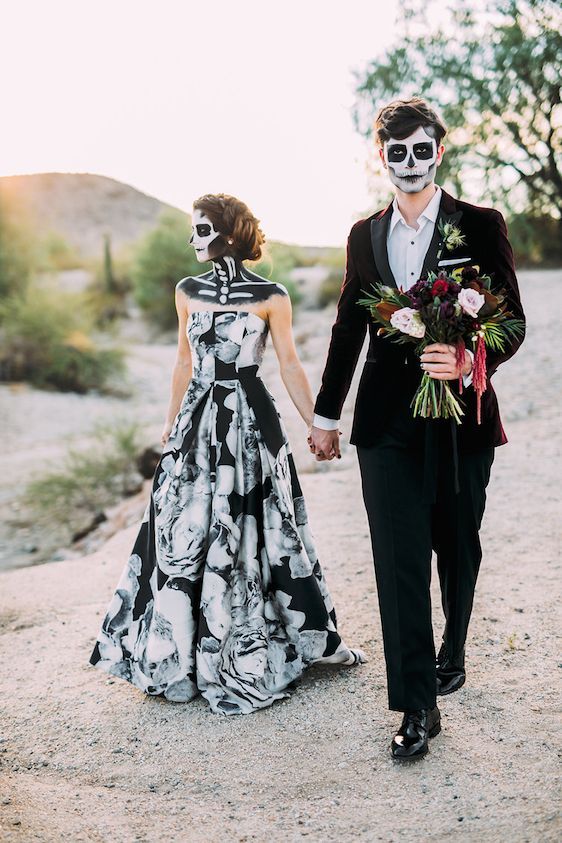 When you want to have a full of skull makeup at your Halloween wedding, the dress should support it. And for this, a unique white black roses patterned dress can really match this wedding concept. Choose the sleeveless a-line design that allows exposing your shoulder, so you can paint it with a skull pattern. This dress actually looks attractive to wear to your creepy Halloween wedding party.
Violet Lace in Black Dress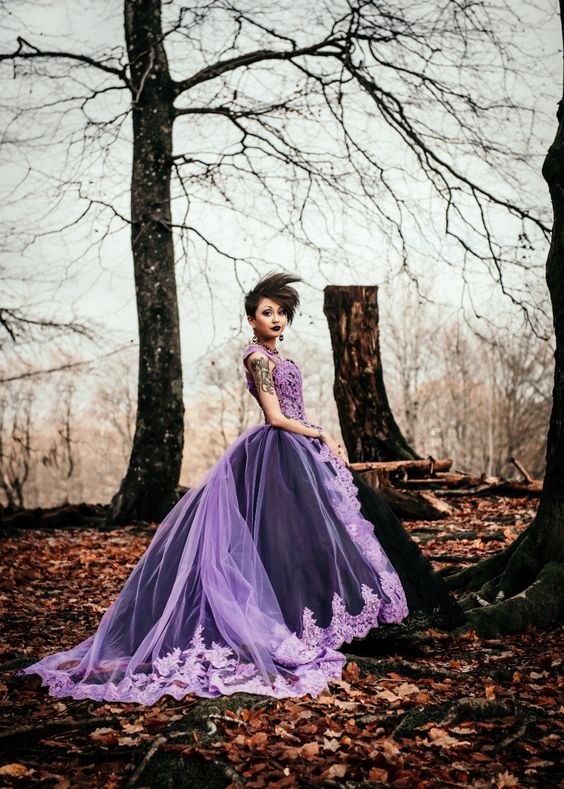 Like other Halloween wedding dress ideas, black is the main color to use on it. But, when you want to have a little lovely accent, you can adorn your black dress with violet lace brocade all around the dress. Surprisingly, those two colors blend properly and give you a beautiful wedding dress.
Sexy Dark Wedding Dress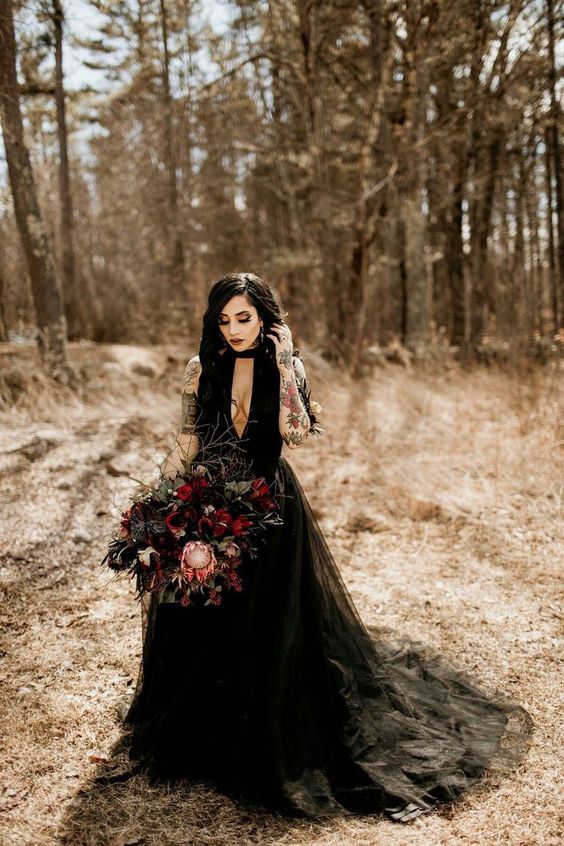 When we talk about black shade, it usually represents not only the darkness but also about mysterious, sexy, and elegant ambiance too. So, if you want to find an outstanding wedding dress for Halloween receptions, black dresses are actually an excellent choice. They don't just give you a creepy dark feeling, but you also seem mysterious and sexy at the same time. To have this image, you need to bring out a halter a-line black dress to your reception or just for a photo shoot.
Goth Wedding Dress Style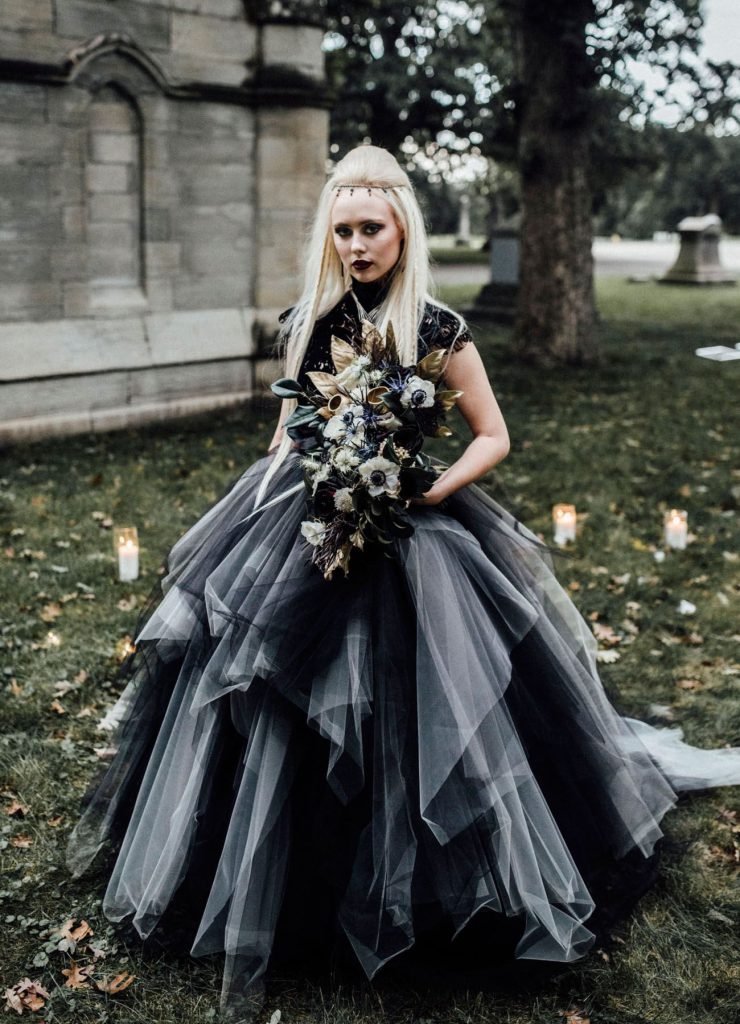 Halloween and goth are two things that have similarities. That's why when you want to host Halloween wedding ideas, you can also include goth fashion into your wedding dress style. For instance, having a black lace ruffle dress would make you look edgy and a bit cool. Keeping brocade embellishments on top of the dress makes it look a bit classy and beautiful.
Elegant Emerald Dress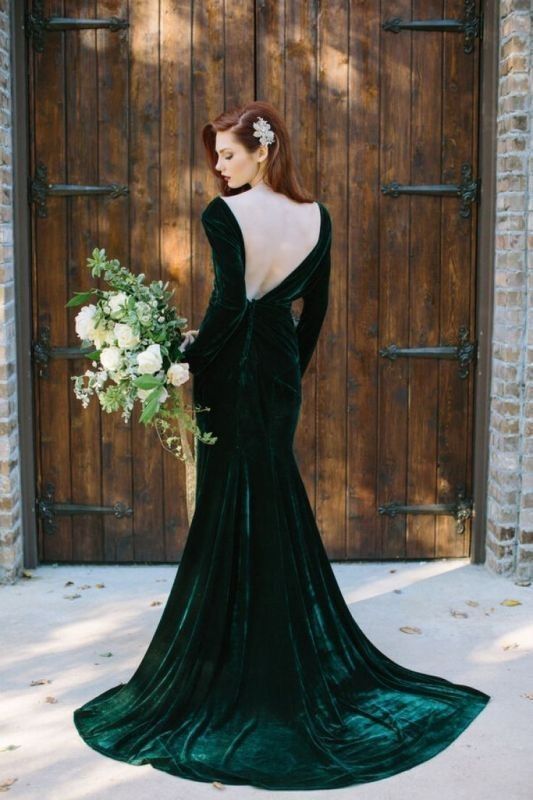 The concept of Halloween wedding ceremonies is not only about scary and creepy things but also about fantasy and mythical things. For this, you can also present your outstanding wedding dress idea uniquely. One of the favored wedding dresses at Halloween parties besides black and red dresses, emerald green dresses have also become stands out. For an elegant mystical atmosphere, you can have green velvet backless trumpet dress. It would make you look like a beautiful woodland fairy. The green color of your dress would contrast with your light skin and stand it out more. This wedding dress can also suit for rustic wedding concept.
Splash Dark in Wedding Dress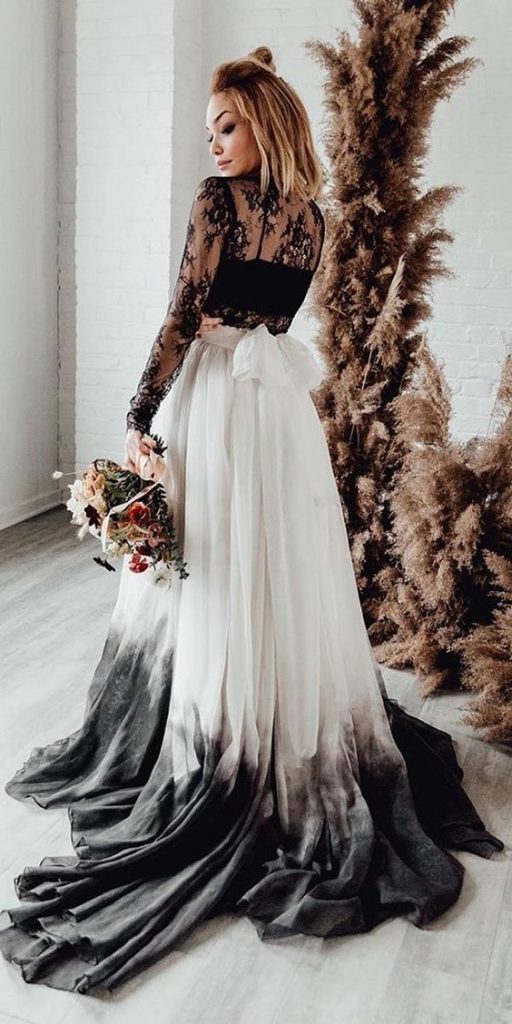 White and black dresses still become favored when it comes to outstanding Halloween wedding themes. No wonder most brides choose it because can give them the effect of elegance and beauty. For unique Halloween wedding dress ideas, you can get a lace white dress which is combined with black transparent brocade on tops and black splash on the lower dress. If you are willing to have a dramatic accent in your dress, just add a big ribbon on the back of your dress.
Bloody Wedding Dress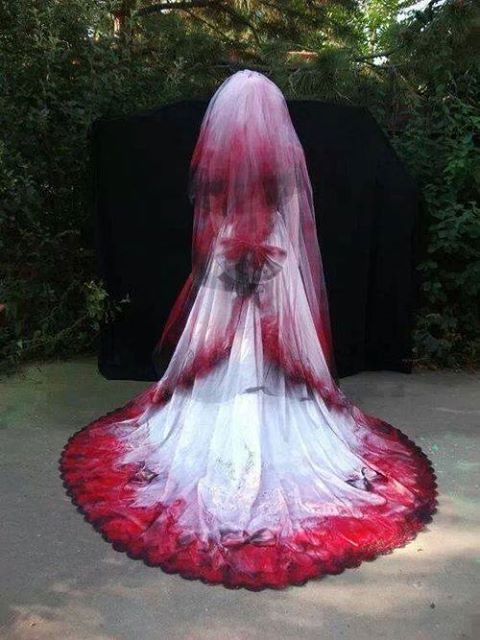 For those who like horror and thriller movies and want to adopt them into your wedding theme, start with the wedding dress ideas. You can try on the bloody gown as your unique Halloween wedding dress style. What you need is just a white modified a-line dress then give a bloody splash around the dress trims and veil. That really looks scary and creepy for presenting a Halloween theme.
Countryside Dress Style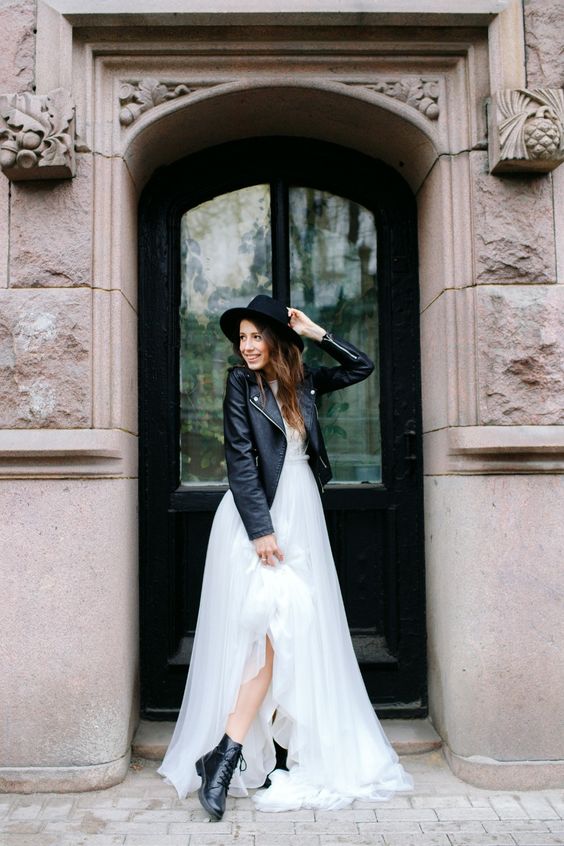 There are many ways to present a Halloween theme through your outstanding wedding dress ideas. It's not only about black dress, but it has a wider concept to engage in this theme idea. Also, at this moment you can bring movies character into your Halloween wedding theme. For brides who want to look cool in their wedding gown, performing in a country wedding dress in Westerwald style could be an option. Because of this, you need to dress up with a white lace dress and then give trendy pieces like a black leather jacket and fedora hat as for complement. Also, it would be stunning if you get a pair of lace-up boots for this wedding dress style.
Outstanding Rainbow Dress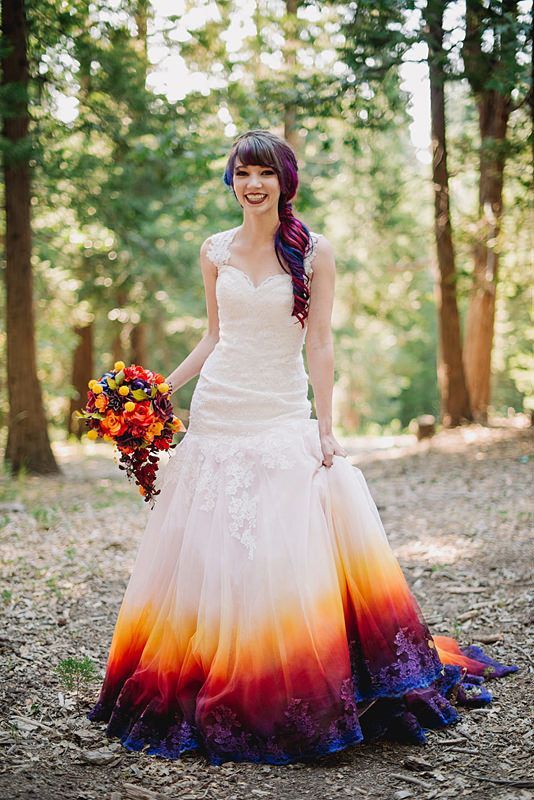 As we discussed before that Halloween is a concept that is appointed on myth, creepy, and unique things. Something that's absurd and beautiful enough to try on like this rainbow wedding dress is worth it too. Adding some bold rainbow colors to your white a-line wedding gown makes it look slightly outstanding, especially when you also match it with your colorful wedding hairstyle. With this gown, you don't need too many accessories to wear because it has been stunning well. To complete your appearance, bring a beautiful bouquet with bold bright color flowers which are the same as your dress.
Sexy Backless Dress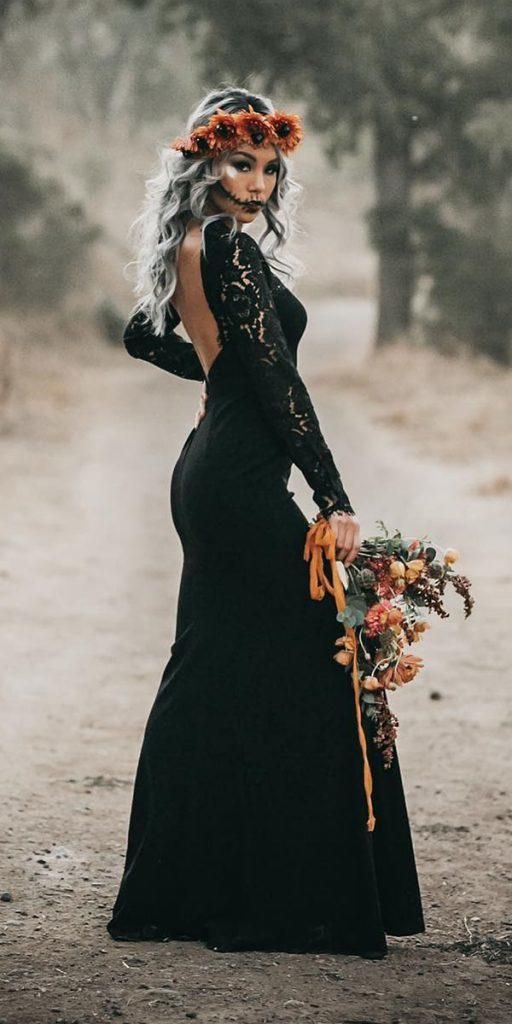 If you don't know what to wear to your Halloween wedding ceremony, a black gown can always save you. For this, you can choose a simple backless sheath dress to give you a sexy mysterious girl vibe. By choosing a bodycon dress that forms your body beautifully, backless that's exposed your sexy back, then brocade in your long sleeve, make this wedding gown look absolutely fabulous to wear on your big day.
Extravagance Splash Blue Dress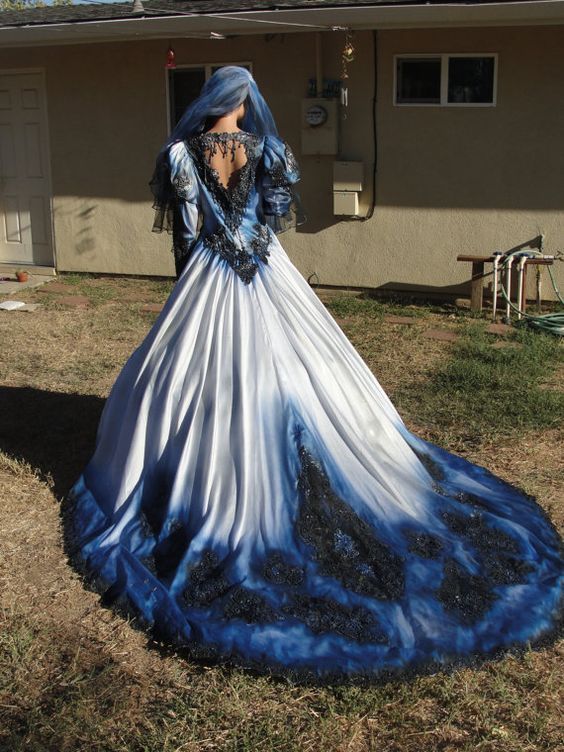 The white gown trend for weddings is gone when it comes to Halloween themes. That's why colored dresses become more popular in this wedding concept. Whether it full colored or just splashing dye, it shows how Halloween should be. In the past years, aside from black, dark blue is a favorite one for the Halloween ceremony. To have unique wedding dress ideas, get a splash of navy blue dye in your white gown for an elegant and extravagant appearance.
A hint of Purple in Vintage Wedding Dress Style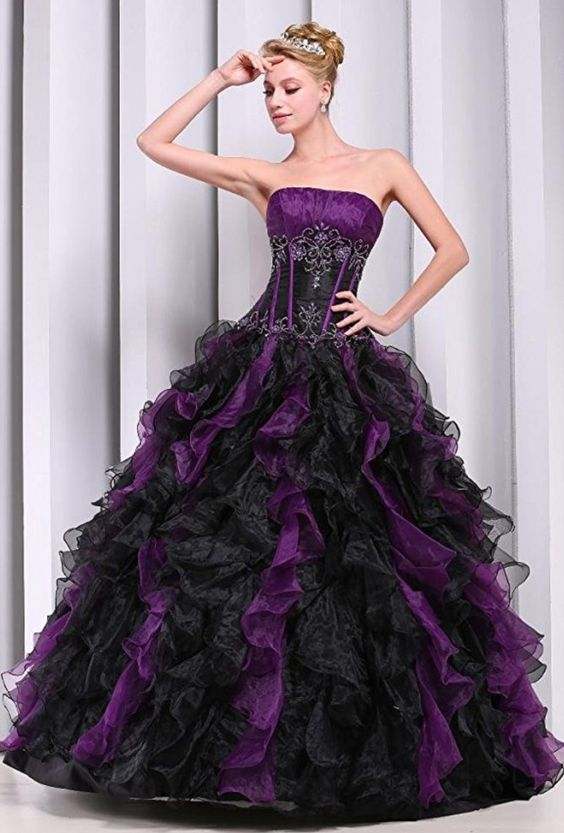 Like vintage style, try to adjust it to your wedding dress idea. And when you want to make it suitable for a Halloween wedding theme, give a hint of purple to a black sleeveless ball gown wedding dress. This dress looks a little bit victorian. Then, if you style your hair in updos with a tiara, it would make you look like an elegant dark princess.
Black Flower Gown for Wedding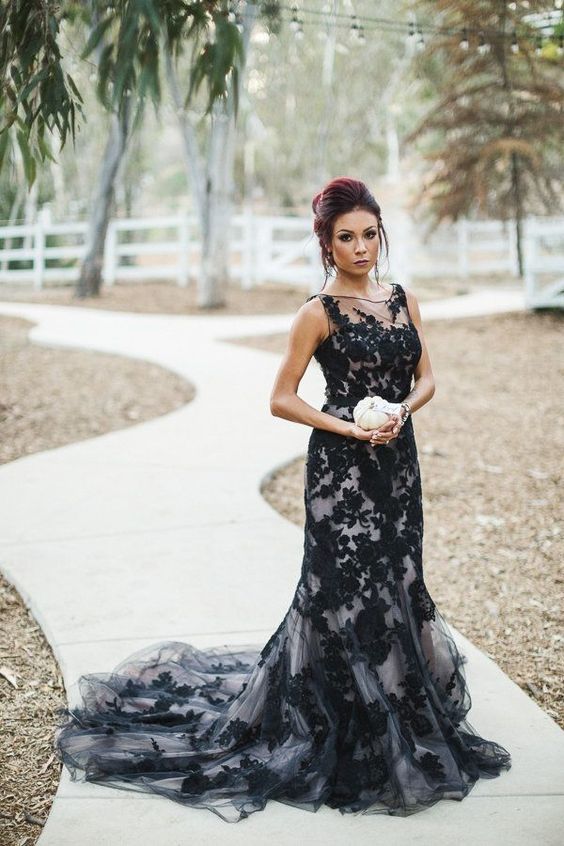 If you want an outstanding wedding dress idea for the Halloween reception, get a black trumpet dress with flower embroidery all around the dress. Choose a sleeveless design and transparent fabric for layering on the tops to make them look modern and sophisticated. You can bring this wedding dress look for an outdoor wedding ceremony.
Goth Grey Wedding Dress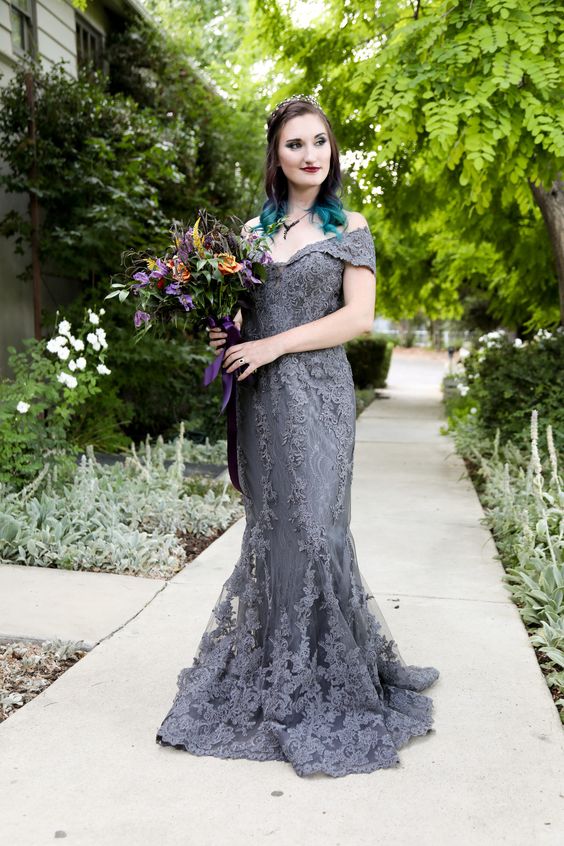 Goth not only comes in black color touch but another dark tone such grey can also be chosen. For Halloween wedding dress ideas in an outstanding appearance, you can try on a grey lace mermaid dress. Then, stand up more about the concept with your bold makeup look. Besides that, you could be coloring your hair to create a chic grunge image.
Gorgeous Orange Dress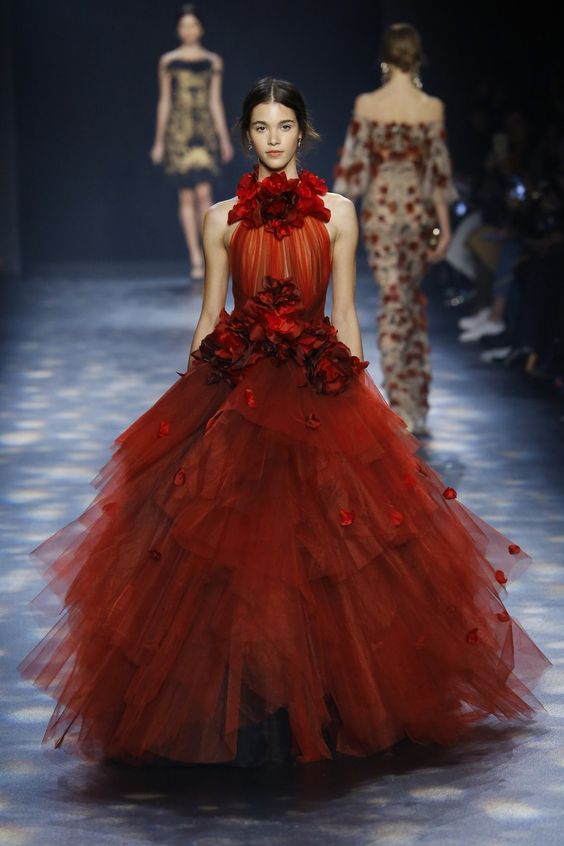 Halloween is coming in October which is identical to fall. This can also be your inspiration to have a unique Halloween wedding dress by wearing an orange gown. As we know that orange usually looks like fall and pumpkin coloring. So, this color would also match in Halloween theme. For this, you can choose a burnt orange tulle wedding dress with flower ornaments as accessories. This gown would make you look stunning and outstanding on the altar when you take vows with your soulmates.
Dark Maroon Wedding Dress Style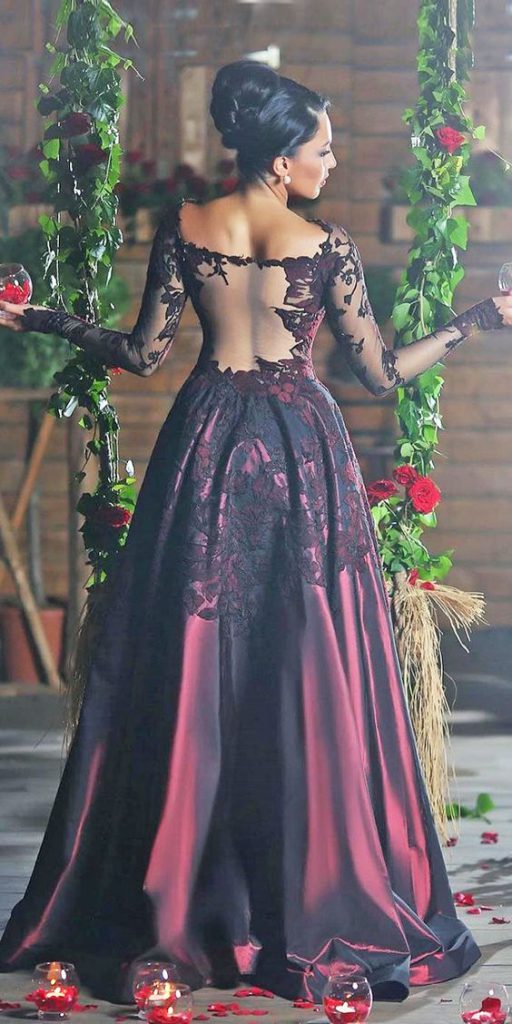 If you want to wear a dark color wedding dress but not a black one, dark maroon can be the option. While you choose maroon in a backless a-line dress with a transparent accent, you will see an outstanding Halloween dress with a dark romantic vibe. You just need to support it with your elegant bridal hairstyle and makeup to perfect your overlook.
The special moment that comes into your life needs something awesome to give you beautiful memories. That's why most couples plan their marriage with a unique and unusual concept like a Halloween party. To make it all out, besides the decoration you need to bring the concept to your performance like in your wedding dress. In this chance, we prepared some ideas about outstanding Halloween wedding dresses to copy on. Bring your creativity and fashion sense here to make your wedding more interesting in a unique wedding dress from a creepy Halloween wedding theme. Good luck guys!!!