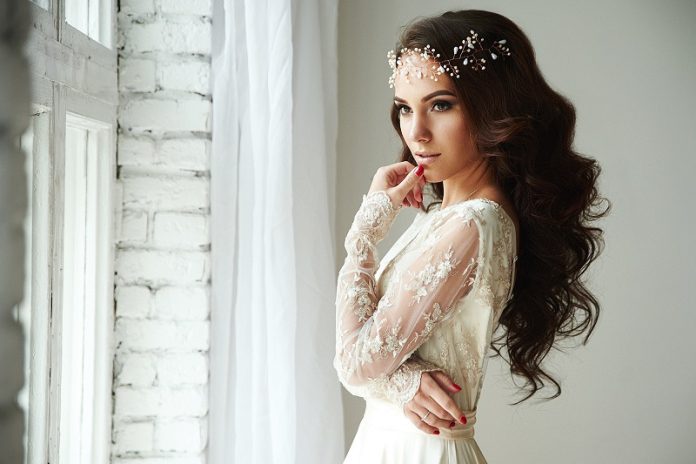 Roowedding.com – A Perfect wedding is what all brides really want. Since this is a special moment, they want everything to look amazing even for their performance. Now, it's time for you to make a decision about a fairy tale wedding you want from decoration, fashion style, makeup looks, to the hairstyle. But when you think about what you should do about your wedding hair look, don't think too much.
What you should know is that sometimes the best thing about a gorgeous wedding hairstyle is keeping it as simple as possible. However, even if you don't overdo in styling it, you still get a fabulous hair wedding style. Also, when you apply a simple bridal hairstyle you only need to spend a little time and you can do it by yourself too.
Some of the brides usually want a minimalist concept in their wedding, and it also includes the hairstyle. So, don't underestimate simple wedding hairstyles because they could exude the elegance and timeless beauty of the brides. At this moment, we would introduce 10 timeless and simple wedding hairstyles for brides to keep you looking pretty in an effortless way.
Bride Crown Hairstyle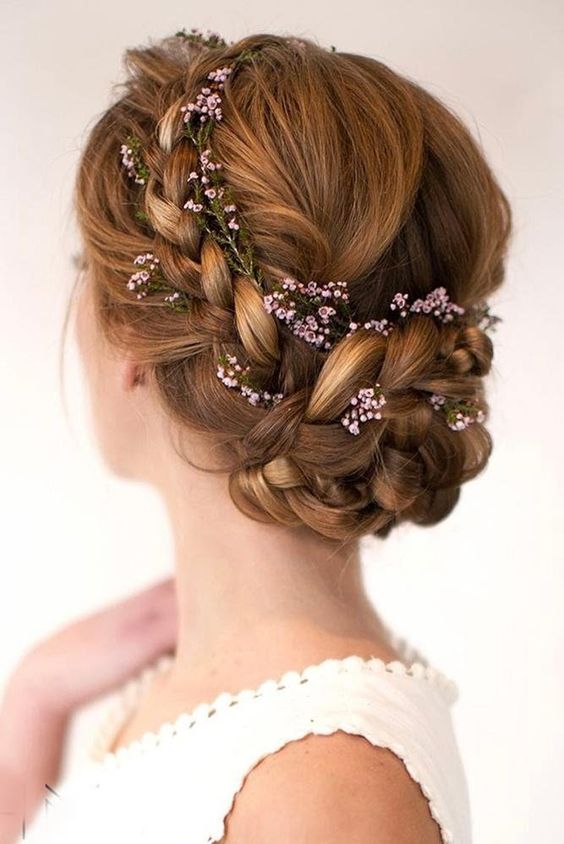 Adding a simple crown braid for your timeless wedding hairstyle is kind of the best choice. The looks from it can be suited for any wedding concept even for indoor and outdoor wedding ceremonies. We suggest you copy this simple bridal hairstyle idea into a bohemian wedding concept. And to stick out more, adorn the braid crowns with a simple baby's breath flower for a rustic accent.

The steps when you want to create a braided crown for your wedding hairstyle:
First, start parting your hair into two sections on the right and left sides of your head.
Divide one side where you normally prefer, make it into three sections and twist them to make a braid starting from the back of the neck towards the head.
Then continue to make the braid until the other side of your head, braided the rest of your hair, and tie it up with an elastic bund.
After that, take the end of the braid, wrapped it into your head to make a crown, and pin it on the top of your head with some bobby pins. Make sure it stays hidden underneath the hair.
The last is set with hairspray to make it last longer throughout the reception.
Chignon Hairstyle
When you want to have a timeless hairstyle for weddings, this chignon would help you look beautiful. Its classic style always works to give you an elegant bride's performance in a minimalist way. There are many types of chignons, but mostly brides adopt the combination of a braided chignon.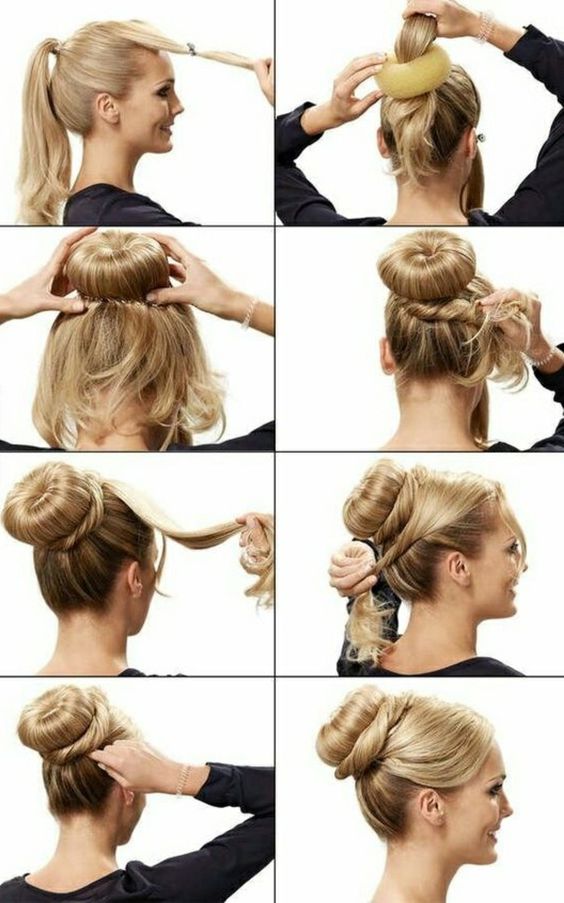 The steps when you want to create a high chignon for your wedding hairstyle:
In the first step, you can start separating a little in the front of your hair, then for the rest, you can brush the hair straight up and make a ponytail.
Then take a hair donut then place your ponytail thought in the middle of it.
Wrapped the donut with your hair, then tie the top of the donut with an elastic band to make it tight and create a proper chignon.

Take the rest of your hair and create the style you want. If you want something that simple, you can twist it and place it around the chignon. Or if you want something that's more rustic, you can create a braided hairstyle from it.

Pin it with several bobby pins to hold the braid together in the chignon.
Put your bang on the right or left side where you are really comfortable, twist or braided it, and then tie it with an elastic bund.
Next, place the end of the braided underneath the bun and use some bobby pins to tighten it.
Set your chignon with hairspray to smooth down flyaways.
Curls Down Hairstyle
The timeless wedding hairstyle idea that looks effortless and simple is a curl-down hairstyle. For this, you just need to create your wedding hair into a wavy style. Even if it looks simple but absolutely never fails for stunning your appearance. Then, when you give some flower hairpins, you will get naturally a wedding concept on your performance.

The steps when you want to create curls down bridal hairstyle:
Begin with dry hair to create an extra volume on your curly hair. You can also give thermal protection to your hair for minimum damage from heat.
Next, split the hair into two sections left and right with equal halves.
Strat to curly your hair from one side. For sure, each half should be curled in different directions using curly iron.
For hair on the left side, you can start curling towards the face by picking up a separate section of your hair.
Place your hair in the middle of the curling iron then twist your hair carefully until wrapping around the barrel.
Slide the barrel towards the end of the hair once it feels warm enough, and then release the hair from the curly iron and let it cool.
Then continue to curl your hair until the section is ended. After that, move to the right side.
You should curl your hair in the right section in the opposite direction from the left side.
With a comb placed directly under each wave ridge, brush it upwards to make the ridge more evident.
For the last, set the curl's hair with your favorite hairspray.
Low Bun Style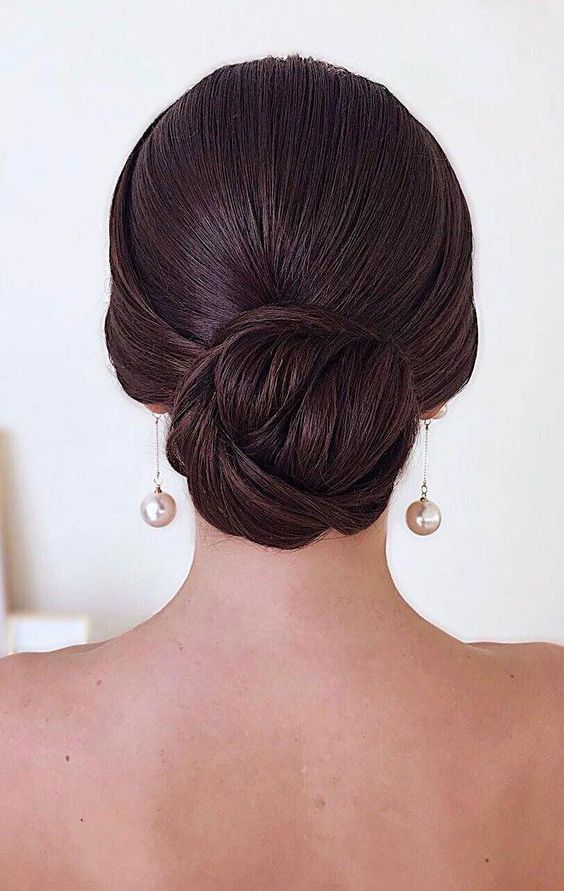 Another timeless bridal hairstyle idea that's never gone and always succeeds to amaze your looks is the simple low bun. This classic chignon would be perfect for a minimalist wedding that you want to create. This iconic chignon was set low on the head with shiny and glossy tresses. Without any adornments on it, you still beshine and look classy. Also, in this wedding hairstyle idea, you will be easy to make points on other details.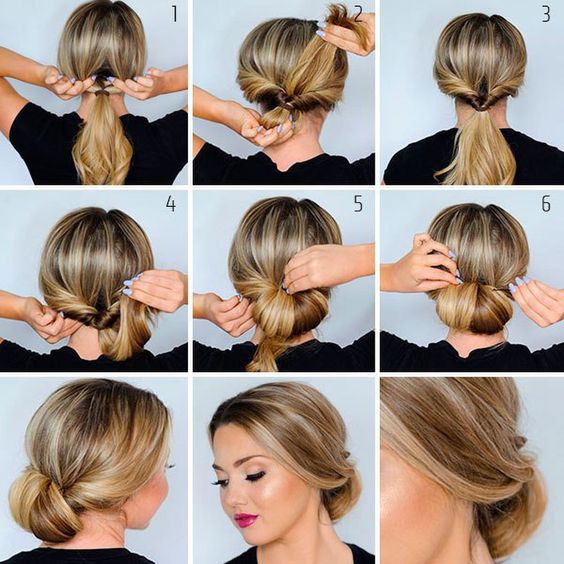 The steps when you want to create a low bun for a simple and timeless wedding hairstyle:
For the first step, you need to gather your hair and make a low ponytail.
Then, part your hair into two sections right above the elastic band to create a gap.
Next, flip the ponytail up by passing it through the gap of the ponytail.
Take the tail of the ponytail and then roll it upwards. To hold the bun in place, use some bobby pins to it.
Setting up your hair bun for last long by giving hairspray into it.
Simple Wedding Hairstyle with Veil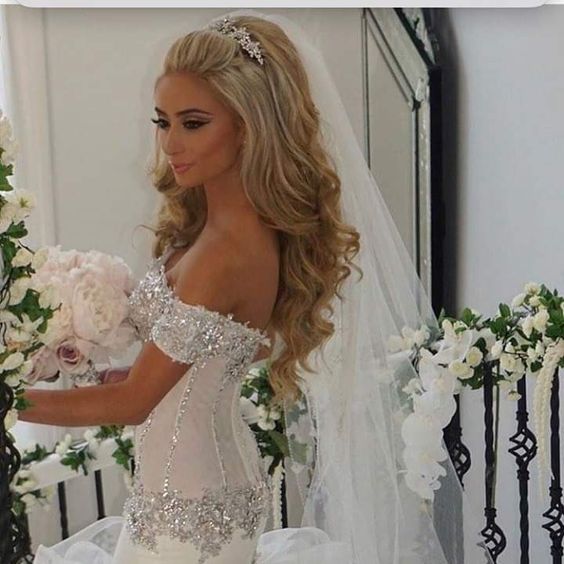 For some brides, the moment when they feel truly become a bride is when they wear a veil on their head. Whether it drops elegantly in the back or just perched over the face, it's kind of a way to create a simple and timeless wedding hairstyle idea. To get the look with a wedding veil, you only should prepare an easy hairstyle like a half curls hairstyle, or a chignon. Then, for making it a bit more stunning you can give adornments such as flower hairpins.
The steps fit a veil into your wedding hairstyle without updos:
You can start by taking per section of hair to create gentle curls with the curling iron to give a sort of relaxed boho curls style.
First of all, when you want to work with the veil, remember you always want the curve of the comb sits against the curve of the head.
Then decide where you want to attach the veil. for this, you have two choices. You could either put the veil in front of the height or just put it behind the height.
So, if you are going to work in the front height, then drive some slices of hair at the top to create a half ponytail.
Use a comb to make texture in your ponytail and to help nudge the veil into the hair.
Pop a couple of bobby pins on either side of the veil comb to help it stay in position until you are ready to take it off.
Elegant Bride Style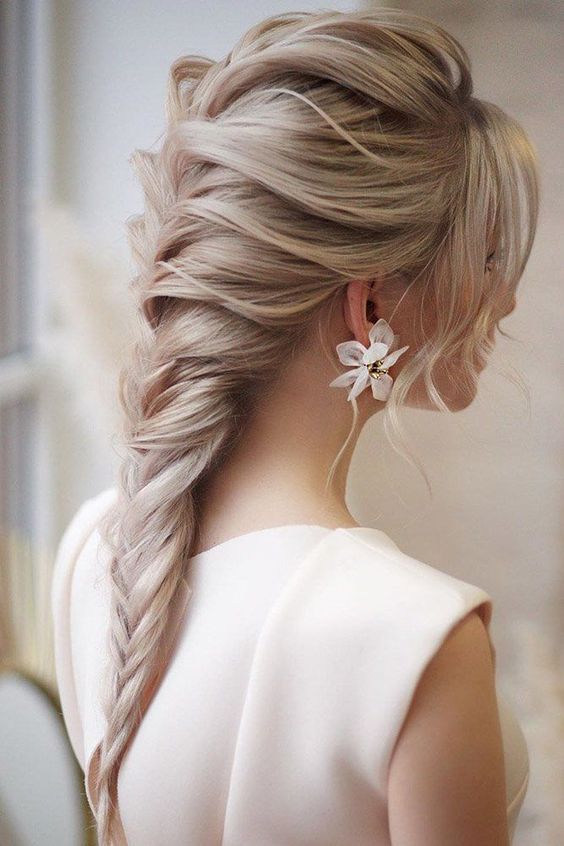 As we know when you want a simple hairstyle for your wedding day that suits for rustic or bohemian wedding concept, elegant braid hairstyles are an option. For this, you can have various types of braid styles such as mermaid, french, dutch, or fishtail braids styles. Ask your hairstylist to make a long braid and then give another statement with hairpins or hair veins.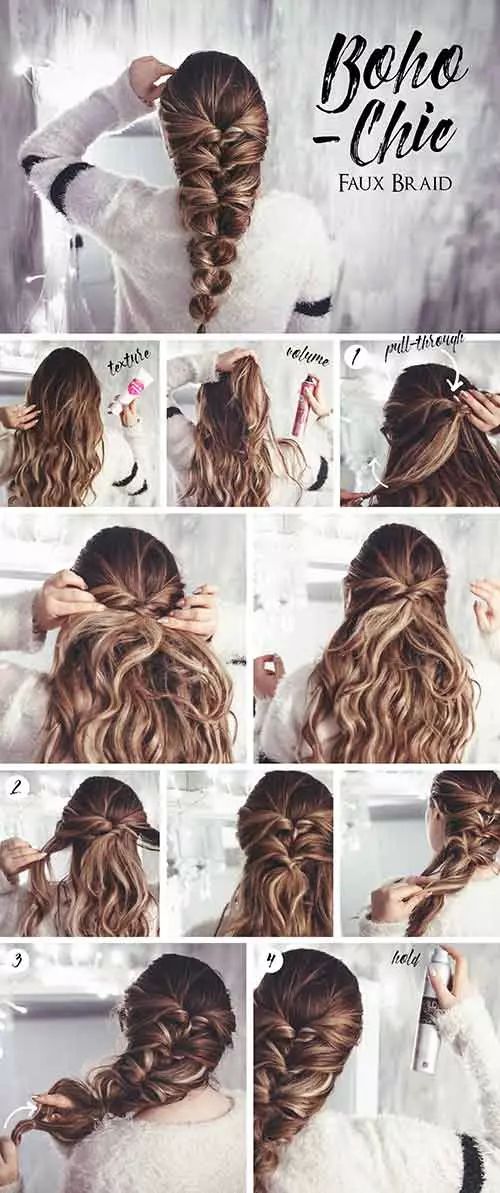 The steps to create a simple fake braided for your elegant wedding hairstyle:
For the preparation, you can start with hair care by giving hair cream to create a gentle texture on your hair. Then, add dry shampoo to give your hair feel fresh and voluminous.
Take a little part of hair on either side and tie it with an elastic band to create a simple half-up ponytail.
After that, flip the hair passing through the gap of the knot then tighten.
Next, do the same thing by taking hair from the side section, tying it with an elastic bund under the previous knot, flip, and then tightening it.
Repeat it until all parts of the hair are tied and form a braid.
To make your hairstyle stay in position, fix it with hairspray for the finishing touch.
Half Up Curl Bridal Hairstyle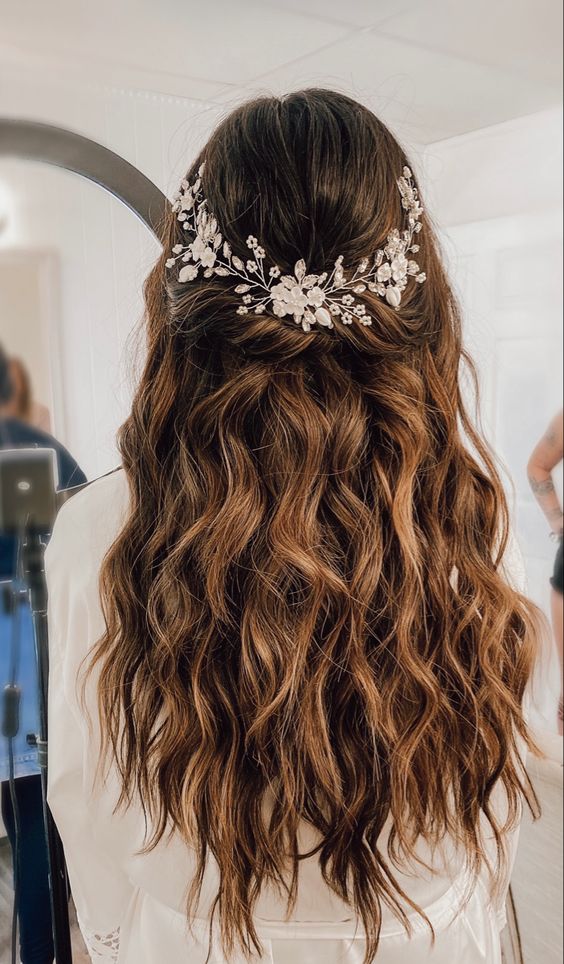 When you look for a simple and timeless wedding hairstyle idea that matches either indoor or outdoor reception, why don't you try on a half-up style with curls? This style doesn't need any kind of special technique, even you can use your daily hairstyle look. The messy curls but still arranged well would be suited for a rustic and bohemian wedding concept. Or if you want a romantic beach wedding idea, you can adjust this hairstyle to your execution.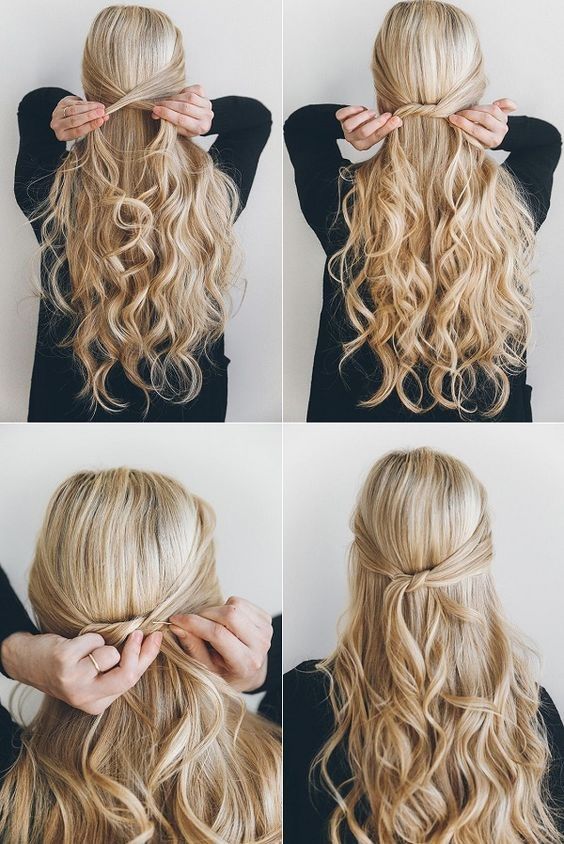 The steps when you want to create a half-up wedding hairstyle:
For the preparation, you can curl the bottom side of your hair with a curling iron
Next, spray the root with oil for hair care to create a gentle curly texture.
Take a small section of hair on each side and then wrapped around the back of your head.
For this, you can twist your hair to create a more dramatic texture for the option.
Then cross and tie up the hair to each other.

Pin it against the head with a couple of bobby pins. Sliding them horizontally along the hair to make it stay in the position.
High Ponytail for Wedding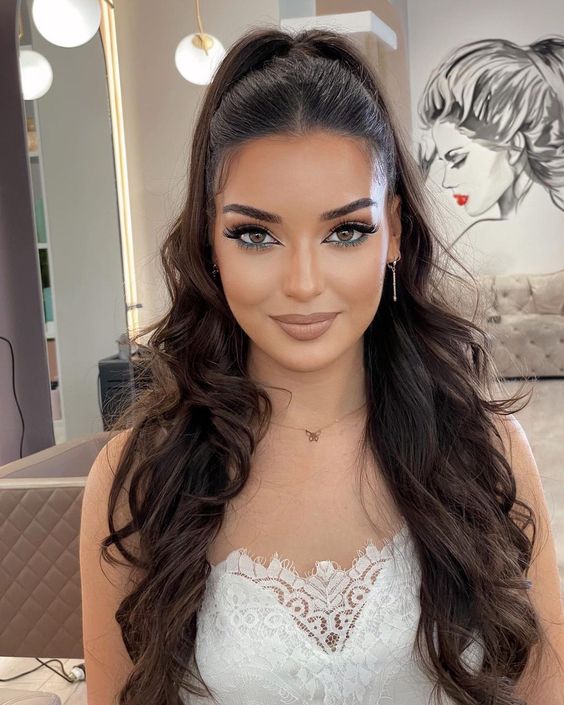 This is s bit look classic like 90's style, but still, it increased the impact on your performance at the altar.  When you tie high your hair it gives an elegant view. If you love the look of a high ponytail with a volume, ask your hairstylist to create this timeless bridal hairstyle like in the picture above.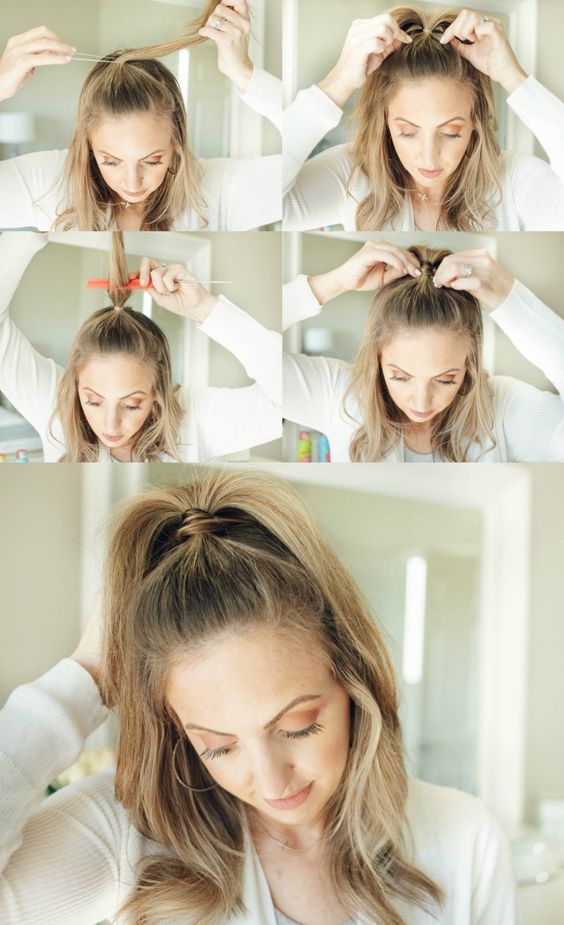 Besides that, you can create it on your own with the tutorial below:
Separating out of your hair to become two-section, a half front of your hair from the ears up to the top of the head.
Brushing it straight to make it smooth and to create a clean section, and then tie it properly with an elastic bund.
Loosen a little on the top of the tied section and then gently pull it forwards to create volume.
For the option, you can tie up the remaining section of your hair to the ponytail with the second elastic bund or let it be and make it curly to form a volume.
After that, take a small amount of hair underneath and wrap it around the hair bund to hide it.
The last, to make it stand long use a setting spray all around your hair.
Simple Elegant Low Ponytail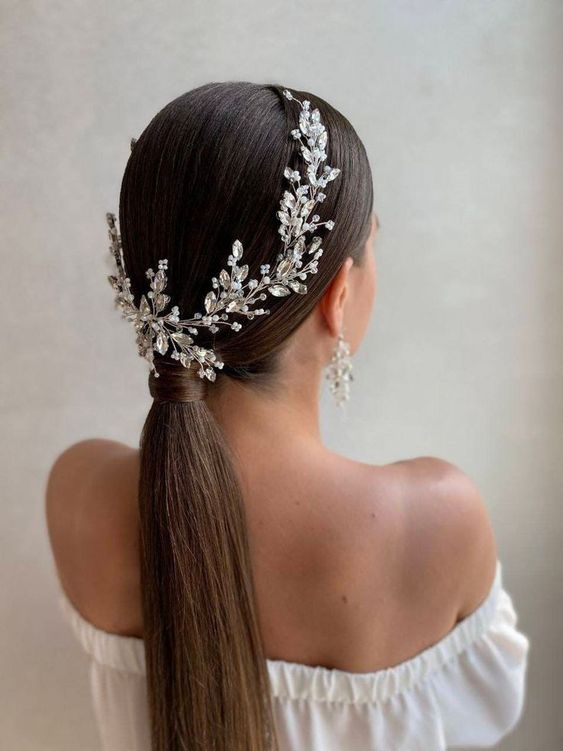 If you want to have a simply elegant bridal hairstyle, bring out a sleek low ponytail into your wedding. By making it neat, it would look gorgeously in a formal ceremony at indoor reception.  But when you want something that looks rustic and bohemian for an outdoor wedding ceremony, just make it a bit messy.

The steps to create a sleek low for your elegant timeless wedding hairstyle:
Starting to divide your hair between the center or the side part of your forehead make a bang.
Use the backcomb to sweep over the hair and create a deep hairline.
Then smooth down the front of your hair using a comb until it looks polished and clean. For this, you can also use hair oil or cream to make your hair glossy.
After that, sweep the hair back to create a low ponytail about 2 inches from your bottom hair.
Use an elastic band to tie your hair and tighten it.
Next, take a small part of the hair underneath to wrap the elastic bund until hide it.
Then secure it in place with a bobby pin and set it with hairspray.
Straight Down Hairstyle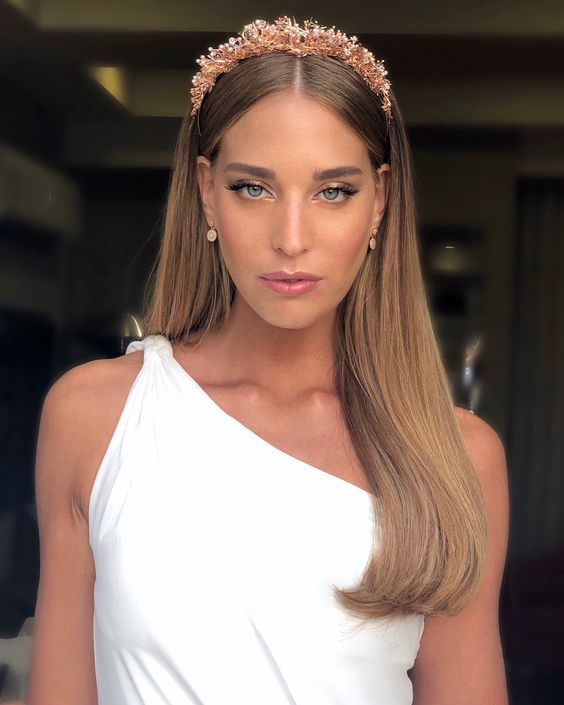 The very easy and simple bridal hairstyle to create is straight down style. The looks you get from it are an extravagance and elegance without any styling besides straight and smooth hair. If you prefer an indoor wedding ceremony in a luxury venue, you can adjust this bridal hairstyle idea and match it with your beautiful wedding dress. On top of that, you don't need any particular things for accessorizing your hair to get an outstanding performance. Just as simple as a tiara or flower bandana is can be used to astonish your appearance.
The steps to create a straight down hairstyle for the minimalist but elegant brides:
The important thing to creating this hairstyle is its preparation. You need to do hair treatment before your wedding in your favorite salon.
The first step you need to wash your hair properly with shampoo and conditioner in the shower.
Then dry your hair with a hairdryer back and forth over the head until it's 80% finished (rough dry style).
Next, brush your hair with a comb and wait until your hair is dry certainly.
To secure your hair and help straighten it perfectly, apply thermal protection to resist humidity and reduce the frizz factor.
Split the hair into three sections, in the middle at back and on each side left and right of your head. But when your hair is too thick, you can part it in four sections.
Then begin to pull the hair iron downward starting from the root of each section. Passing it over more than once wouldn't damage your hair but shouldn't do it too much. Just stop when your hair straightens completely. Create a little curve at the end of hair for natural waves using that flat iron.
The last, you need to set it with hairspray after it cools down to reduce frizz and curl hair.
Short Hairstyle with Tiara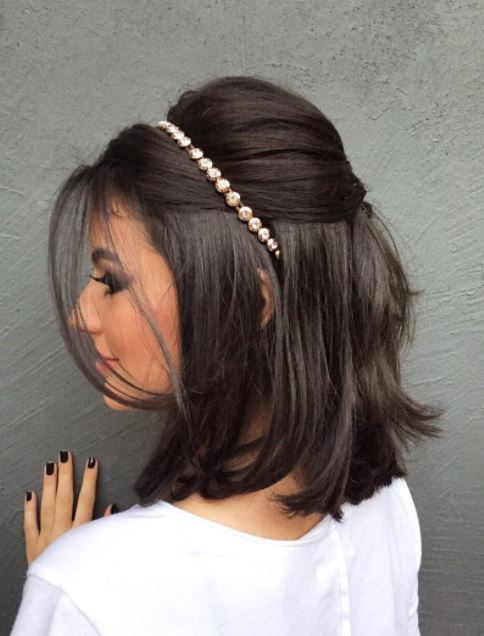 For brides who have short hair and want to create a simple bridal hairstyle for their wedding, try to adjust accessories like a tiara on it. You can begin by choosing a half-up hairstyle and take a pearls bandana that looks like a simple crown for adorning your wedding hair. Even you don't need a professional hairstylist for this look.
The steps to set your short hair into a lovely and simple bridal hairstyle with a tiara:
Begin with separating the hair into three portions
Take a portion of hair from the crown, then brush gently the hair underneath with backcomb to create volume.
Divide the hair section into three parts and cross the side strand over the middle to start creating a braid.
After that, you should take a small section of hair on the left or right side and incorporate it into the braid to make a french braid.
Repeat the step and continue braiding until it looks enough to form a simple half-up hairstyle.
Tie the end of the braid with an elastic bund and fix it with hairspray.
Place a simple pearl tiara or headband on the head an inch from the bang and the end settled behind the hair in front of the ear.
Those are some of the simple and timeless bridal hairstyle ideas to copy on your wedding day. Besides can impress people's attention, styling your hair beautifully would increase your performance during your best moments. Make you become the main character in the altar and receptions.