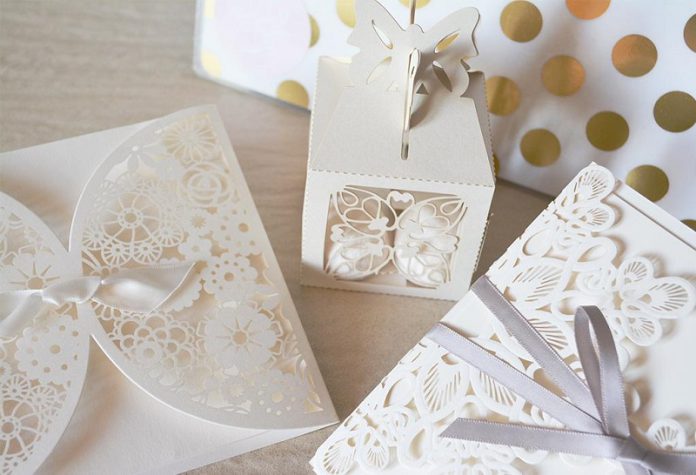 Roowedding.com – After you got the theme for your wedding, it's time for you to begin choose about decorations, venue, and invitation. There are so many beautiful and unique wedding invitations with creative designs. From the papercraft, puzzles, and rustic designs, they can adorn your invitation differently from others.
The wedding invitation is important because it is the way you inform and invite the guest to your wedding. Nowadays, people usually send e-invitation through social media and emails. However, a traditional wedding invitation has its own charm. Having personalized design, custom stationery, and creative color palettes from unique wedding invitations can express your personality.
The invitation is the first way to set your wedding ambiance and the way you surprise your guests. So, shouldn't you invite your guests with something that's really in your style? That's why we round up some unique wedding invitation designs to inspire you. From the decoration, materials, illustration, sketches, and others, it's designed creatively. Not just you, but your guest would be really excited to receive your invitation. Besides that, those creative wedding invitation designs can also work as keepsakes. So, let's check them out !!!
Jute Burlap for Rustic Invitation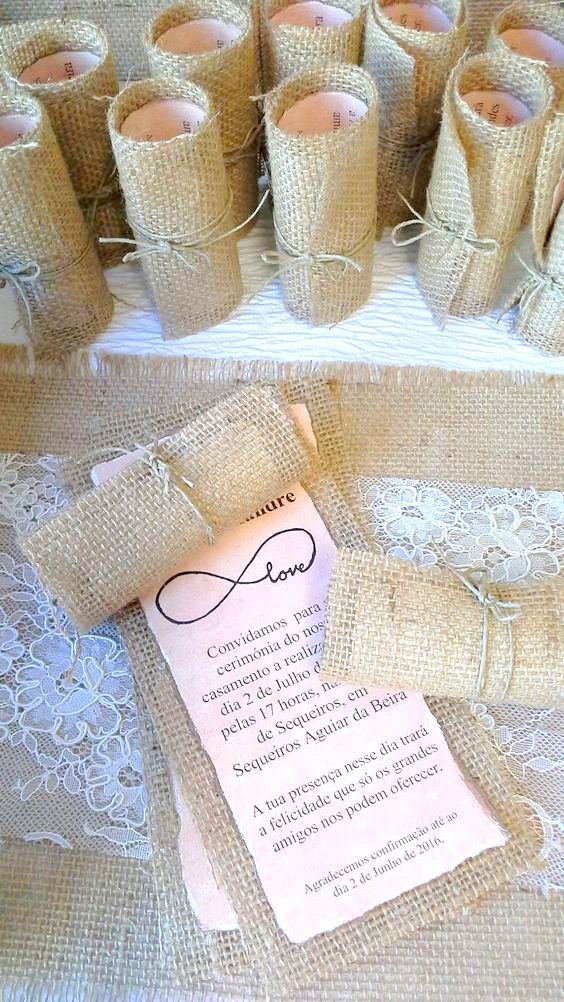 Get a creative and unique wedding invitation design for the bohemian theme with a jute burlap fabric that uses as wedding card envelopes. For this, you just need to print a simple wedding card and use gunny fabric for the envelope. To make it unique, you can roll it and then tie it with a thin jute rope.
Regal Box Design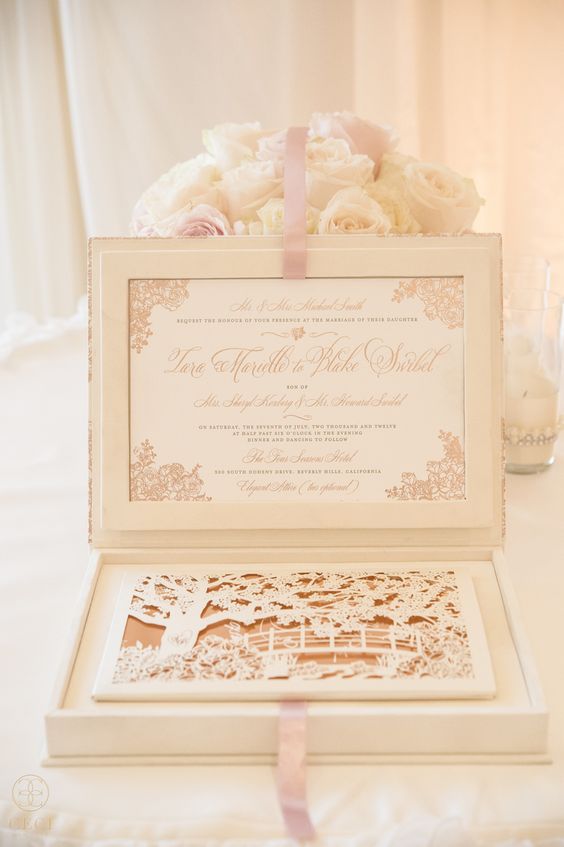 If you like something that's more elegant and classy, use the regal box to pack your wedding card. To create the unique one, you can stick the card under the lid, then set a beautiful paper laser cutting in the box. Use a neutral color palette like white or nude for an elegant look. Besides that, this creative wedding invitation design can be used for keepsakes.
Papercraft Invitation Design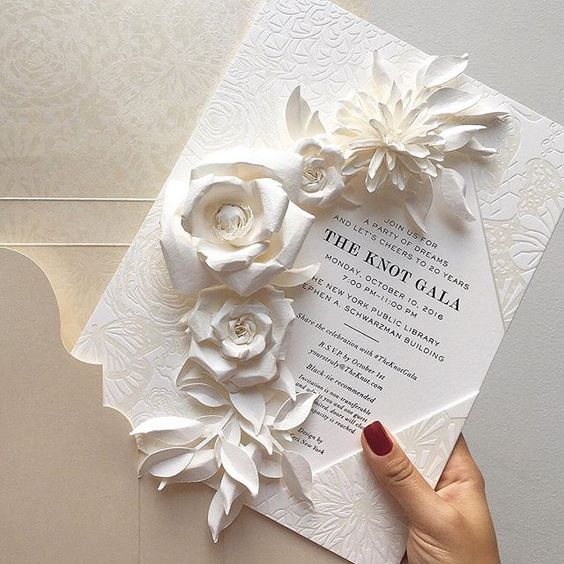 Look for a unique wedding invitation with creative design, just try on papercraft ornaments style. There are so many papercraft models to copy, from simple cutting to tricky ones. You can adorn your wedding card with something that is pretty like a floral papercraft in the white palette. But for this, you may need more extra budget when you want to have real details.
Tassel Ornaments in Invitation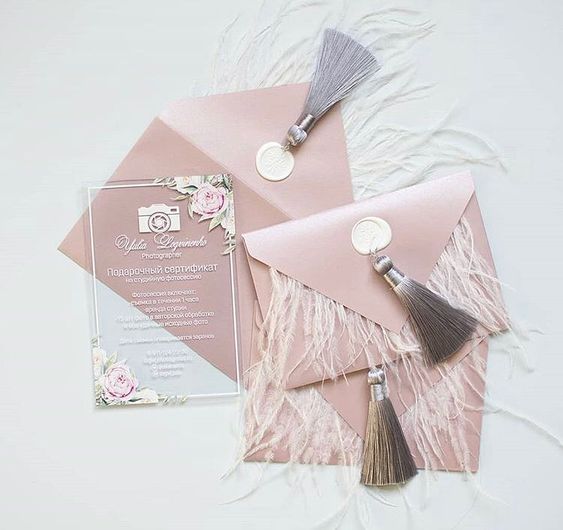 The component in a wedding invitation is basically a card and envelope. When you want to make it unique, besides designing the wedding card, you can give adornments on the envelope. The way people decorate envelopes usually uses customize wax seals, ribbons, or vellum wraps. If you want something different to create a unique wedding invitation design, you can use tassels in the envelope design.
Wooden Wedding Invitation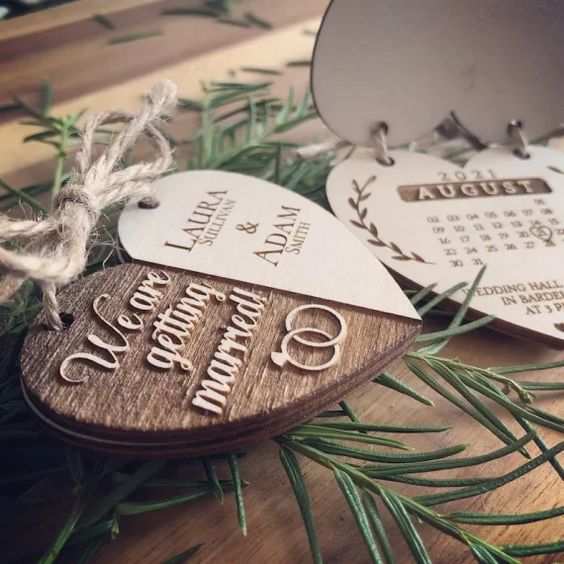 The way you come up with a rustic wedding concept for the first time is through you design the invitations. Natural elements are the key to sticking out the theme. So, when you want a unique wedding invitation design in a natural concept, use a wooden invitation card. Choose a plywood board that's thin and light, then modify it into heart shapes. After that, print the wedding date on the board. You can design it to look like a calendar.
Hand Fan Invitation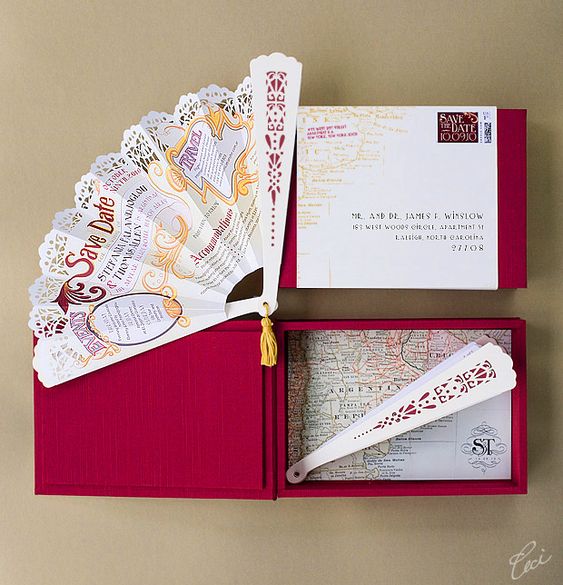 Another creative and unique wedding invitation design to try on is a hand fan card. In this, you can choose either a paper or fabric fan to print the save date template. There are also many types of hand fans that you can bring on this wedding card, but most couples choose a Chinese fabric hand fan. Then you can send this invitation to your guests in an elegant box.
Message on The Bottle Design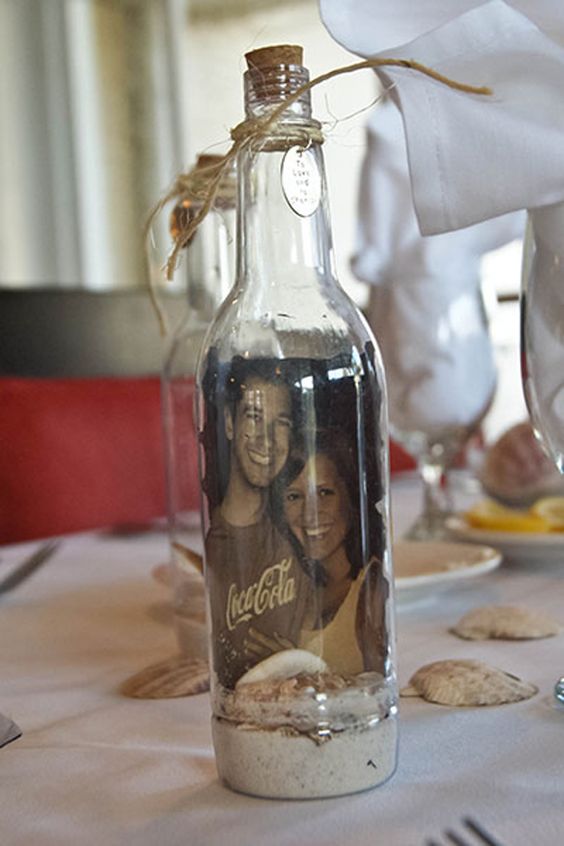 If you go with a beach wedding or nautical concept, you can get this message bottle as your unique wedding invitation design. For this, you can make DIY invitations by utilizing used bottles that you clean up and then fill up with sand and a wedding card. You can also give shells or miniature starfish as additional decorations. To make it more fascinating, you can give a cork to cover the bottles.
Vintage Vinyl Invitations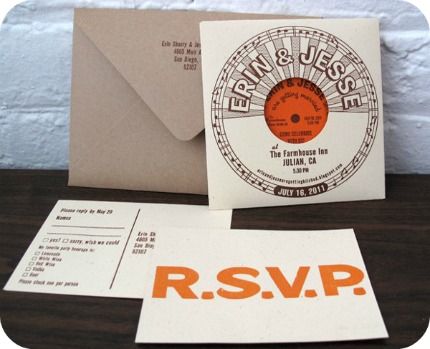 Get full concept retro with a unique design by having vintage vinyl for the invitation card. This kind of wedding card is made for music lovers. It's designed like a CD with a vinyl covering that's made it look alike a vintage vinyl record with custom printed. You can make the couple's initials and the wedding date on the middle of the black CD.
Creepy Halloween Design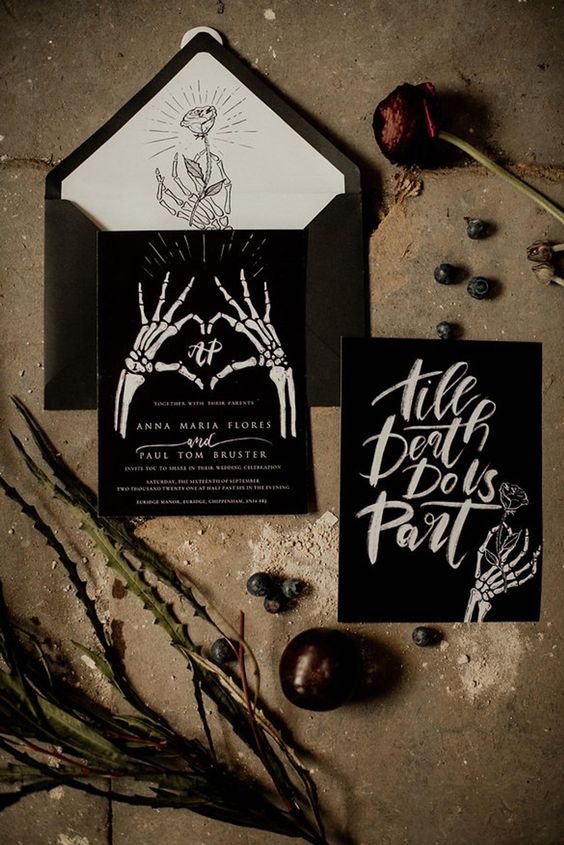 Bring a creepy concept to your wedding with the Halloween theme. In the previous discussion, we talked about Halloween wedding ideas and one of the concepts can be incorporated into a unique wedding invitation design. Black is the basic palette for this idea and you can bring a skull illustration, an ouija board, or a coffin for its design. To make it a bit look like a dark romantic accent, you can add flower prints like roses on the wedding card.
Fabric Scraps Design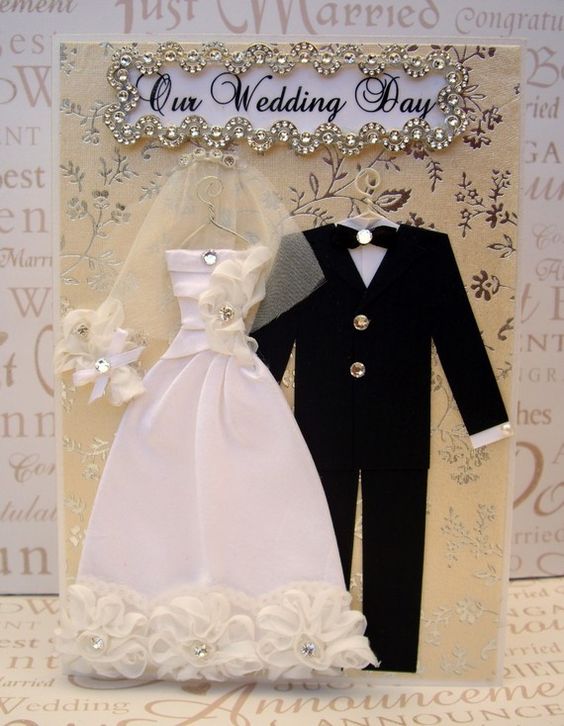 Creative DIY design to create a unique wedding invitation is using fabric scraps. You can make miniature grooms suits and bridal gowns for the cover f the invitation card. It can also be customized for your wedding outfit style. To make it look more glamorous, adorn it with a little rhinestone.
Dream Catcher Design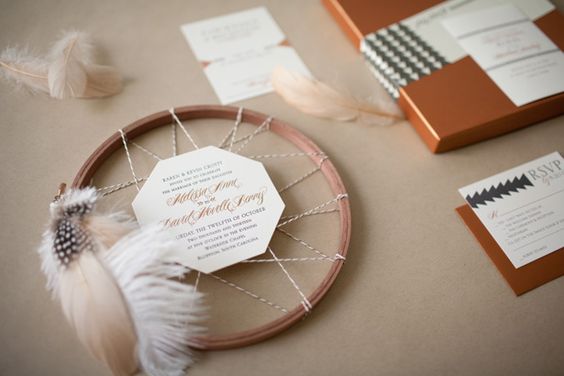 Grab guest attention with creative 3D design to your save the date card in a dream catcher invitation card. This unique wedding invitation would be suited for you thet want an aesthetic bohemian wedding theme. Having a DIY dream catcher would bring the chic and rustic concept to your wedding. This is not just a usual wedding invitation, but also can be used as for wedding favor for the guest because it looks unique and pretty.
Dangling Card in Round Box Design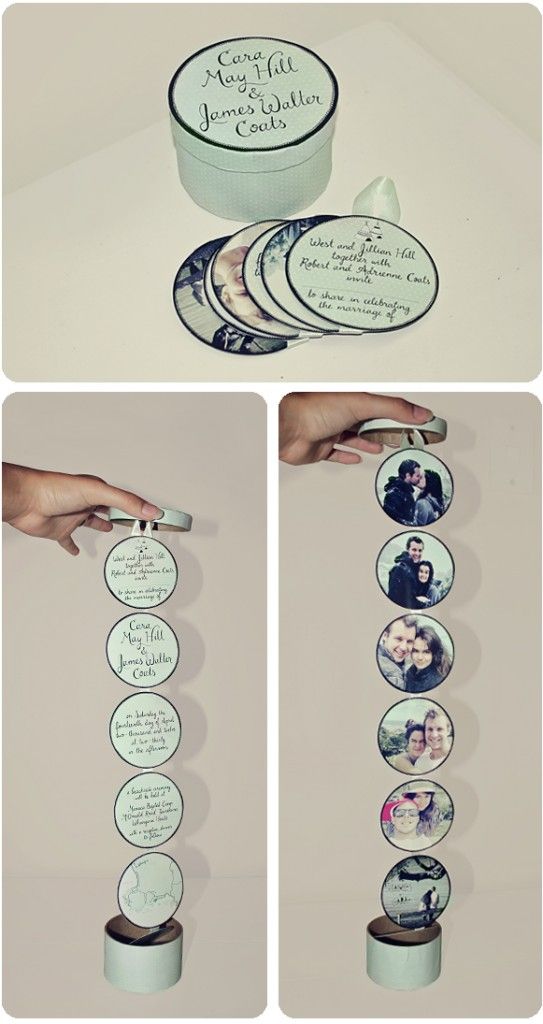 Getting fit paper and in a wedding invitation card is a bit boring. So, make it look unique by making a creative DIY design by creating a dangling wedding card. It looks a lot of fun and is pretty simple to do. You just need to print some of your couple's photos with the save date, and then cut them to fit the round box that you would use. Then, arrange and glue the cards on the ribbon and hang them on the lid of the box. When the guests open the box, the card appears would look sophisticated and fun.
Custome Illustration Wedding Card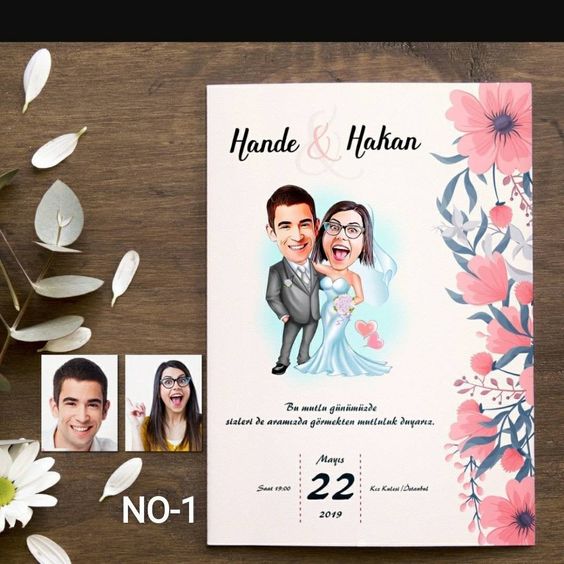 If you want something that really creative and different from others for your wedding invitation design, apply a custom caricature to it. This unique wedding invitation would express your personality and really represent you. The funny caricature of yourself would make your wedding card look chic and casual.
Explosion Box Wedding Invitation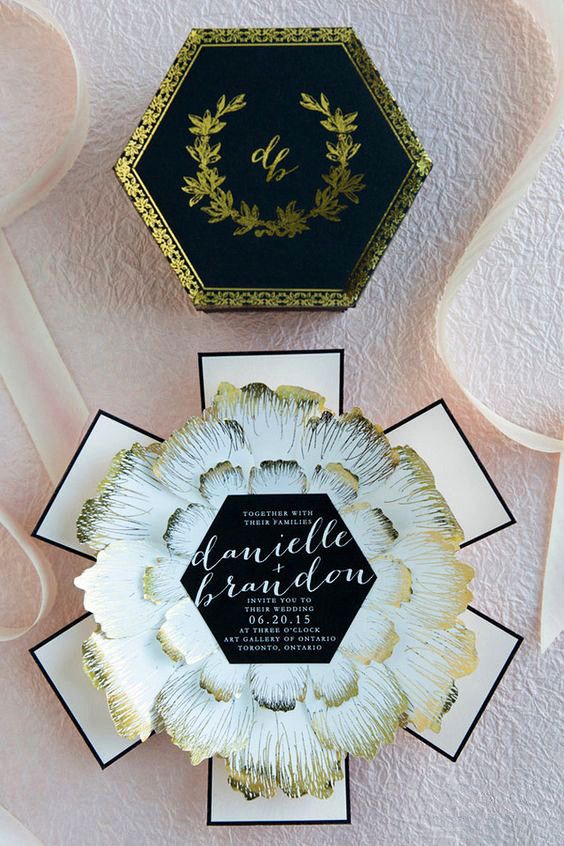 Bring a beautiful surprise to your wedding invitation with a unique and creative design in an explosion box. There are so many kinds of exploding wedding cards, like awesome papercraft. For example in the picture above. Beautiful flower petals would be shown up when people open the lid box. Then, the text and your wedding date card would place in the middle of the flower.
Bamboo Roll Invitation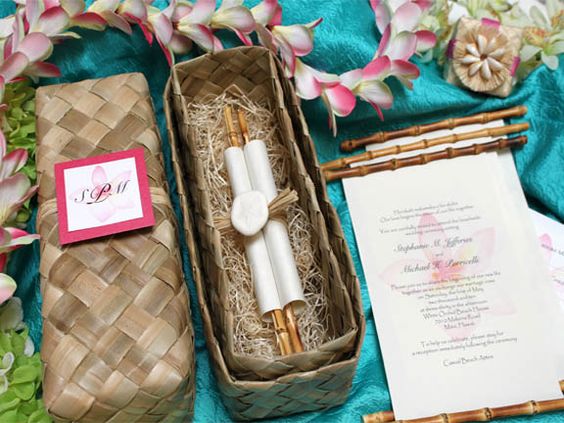 Want to have a beach and rustic wedding? But you want it low budget and have a personalized touch. Here is a handmade unique wedding invitation design with tropical bamboo boxes and scrolls to inspire you. When you get this you will wow your guests with the rustic and traditional concept.
Acrylic Art Design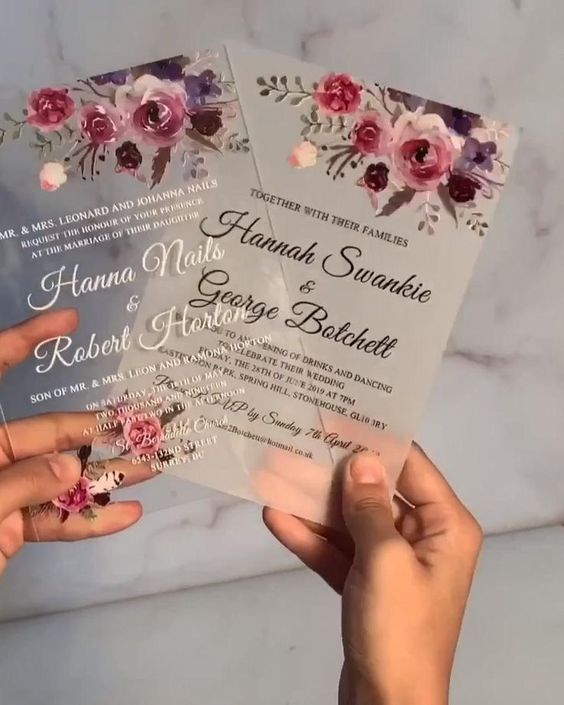 The acrylic trend is a timeless design for wedding cards. This is undoubtedly the perfect option for a traditional and unique wedding invitation. The design would look elegant and gorgeous with the transparent or frosted acrylic that's printed with great stationery. It's also easy to make creative designs in this acrylic invitation like adding colorful paints, flower sketches, or pressed flowers.
Those are some unique wedding invitations with creative designs that we have to inspire you. Still undecided about what you want to choose for your wedding invitation? Want another design? Make sure you browse our other article about elegant wedding invitation card designs. Good luck with your wedding!!!