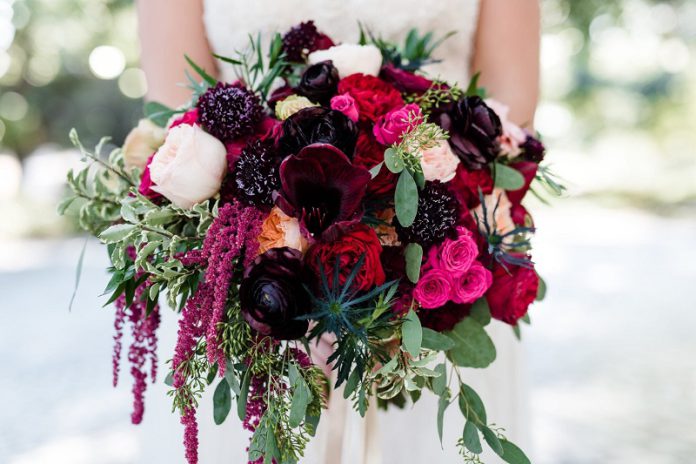 Roowedding.com – Still in winery and vineyard wedding theme, now we'll help to you bring out the concept into your wedding bouquet ideas. Instead of sweet pastel, we want to go in bold burgundy colors that look both romantic and sexy. And at this moment, we try to inspire you with bold statements using burgundy bouquet ideas.
As you know that sometimes being bold is the best option to present a romantic sexy ambiance. You can bring the concept to your decoration ideas, makeup looks, or wedding dresses. Aside from those elements, another thing that you need to consider in your wedding is bridal bouquets. Adornments that will perfect your performance during your wedding reception or when you walk down the aisle. So, let's find out some burgundy bouquet ideas that are perfect for bold winery and vineyard wedding concepts below.
Deep Purple Calla Lily Bouquet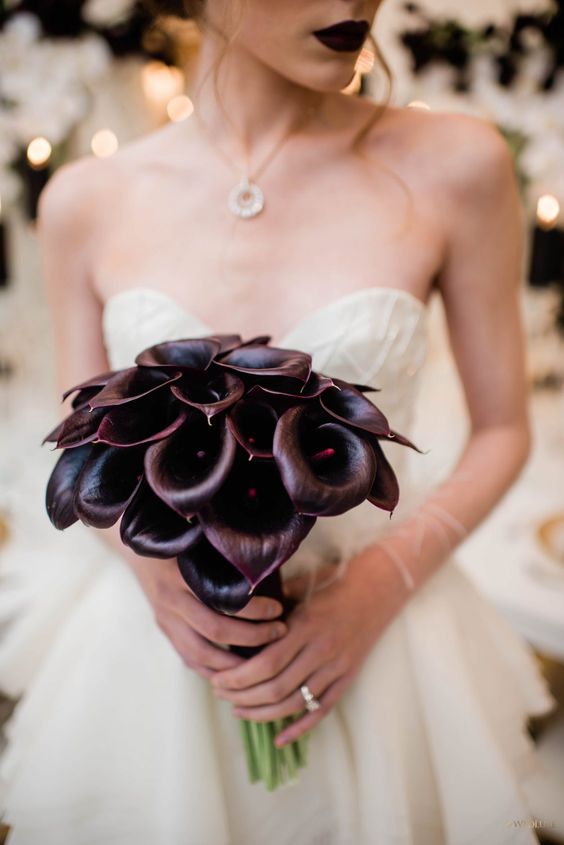 The first burgundy bouquets idea that comes to our mind is this simple bold calla lily arrangement. Calla lily bouquets usually show up in white color schemes that bring classic elegant style. But now, we recommend you deep purple calla lily bouquet for the winery and vineyard wedding theme. You can make it into full calla lily posy without adding other flowers.
Plum and Burgundy Flower Arrangement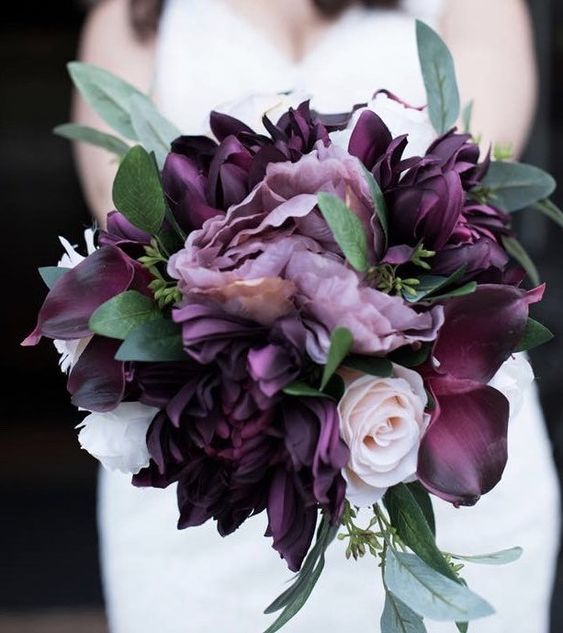 This plum-colored flower arrangement is the next burgundy bouquet idea for winery and vineyard weddings. You may have your florist arrange your bridal bouquet with plum ranunculus, burgundy black dahlias, pink roses, red calla lily, and a touch of seeded eucalyptus. The wine color of this bridal bouquet perfectly complements your winery wedding theme.
Romantic Cascading Burgundy Rosses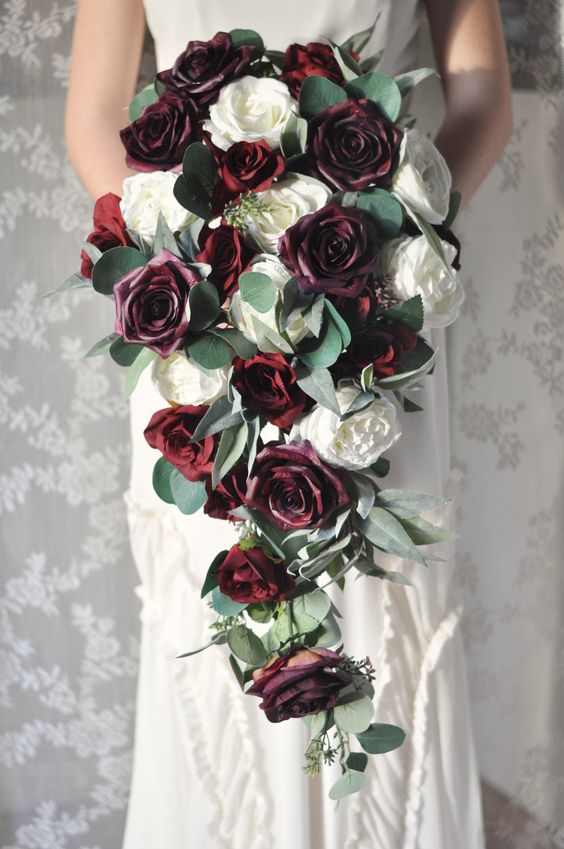 Do you like cascading bouquets? When it comes to cascading flower arrangements for winery and vineyard weddings, we recommend this lovely white and red roses bouquet. Add foliage, such as eucalyptus leaves, for a touch-up. Then, take this burgundy bouquet idea to the elegant indoor wedding ceremony in the winery or barn venue.
Burgundy Bouquet for Summer Wedding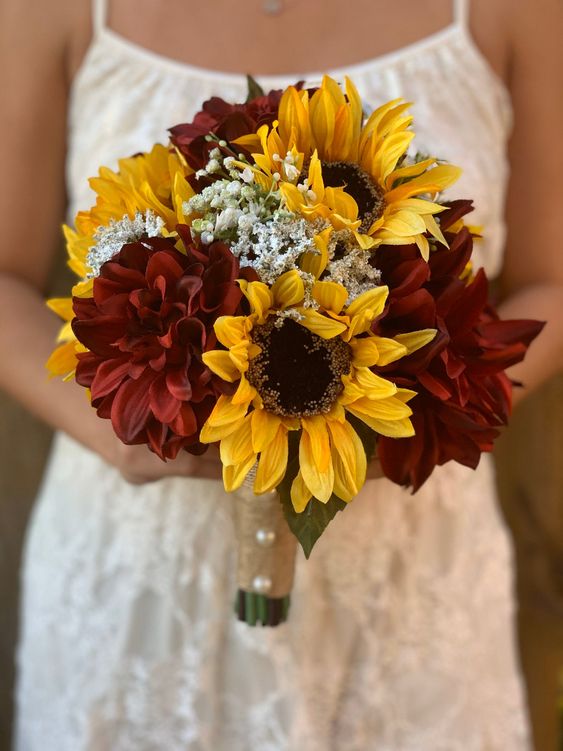 Simply make a statement on your bouquet to add summer warmth to your winery and vineyard wedding. For this, try arranging some rich burgundy dahlias flowers with sunflowers and a touch of baby breath as an accent. Then, for a chic rustic look, add a burlap ribbon with pearl embellishment to your burgundy bouquet idea.
Succulent and Burgundy Arrangement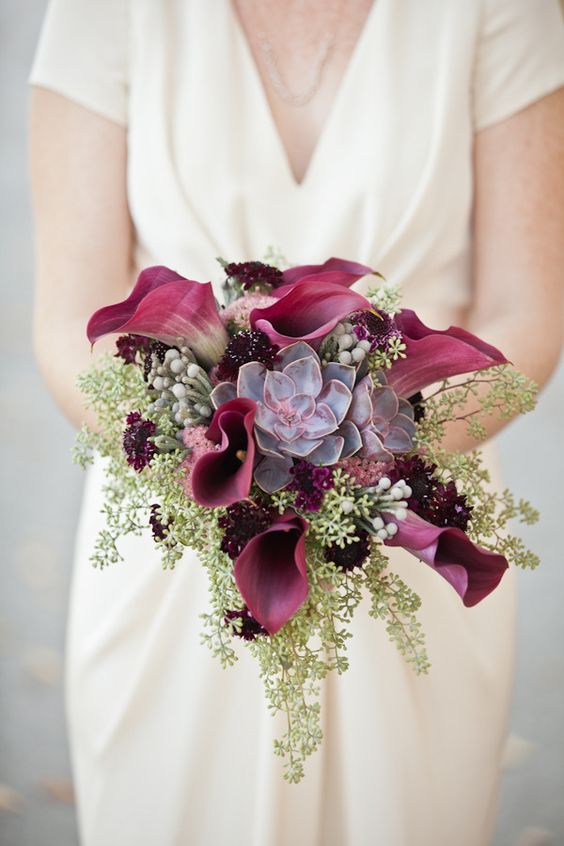 Your wedding planner suggests stunning burgundy bouquets made of succulents. This is a wonderful idea since it adds timeless charm to your winery and vineyard wedding. In the middle of the red calla lily, scabiosa, and seeded eucalyptus arrangement, you may place large pink blush succulents. This burgundy bouquet idea would stand out in your simple wedding dress.
Elegant White and Burgundy Floral Bouquet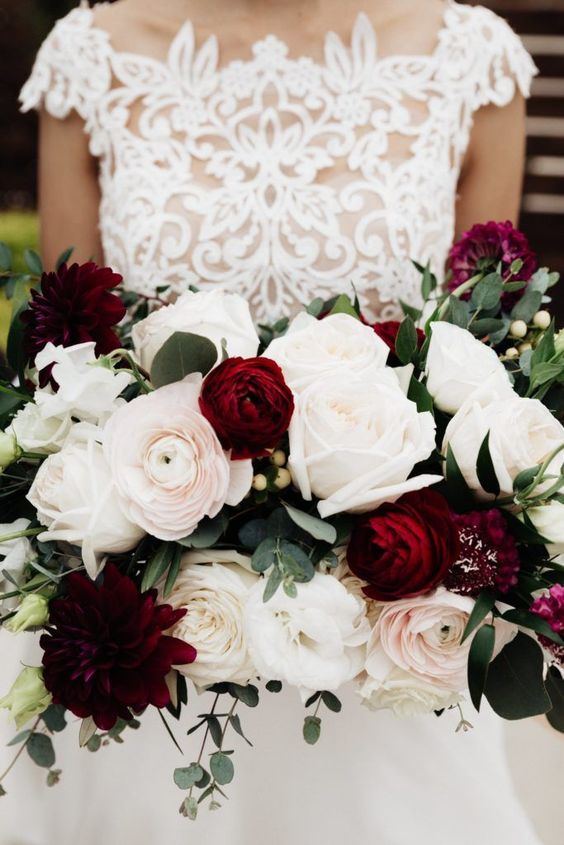 If you want something classic yet elegant in your winery and vineyard bridal bouquet, the combination of white and burgundy blooms is the way to go. Request bouquets of white quicksand roses, red ponies, black red dahlias, red scabiosa, and greenery eucalyptus from your florist or wedding planner. This burgundy bouquet concept would stand up to your performance throughout the wedding ceremony.
Romantic Rustic in Tropical Burgundy Bouquet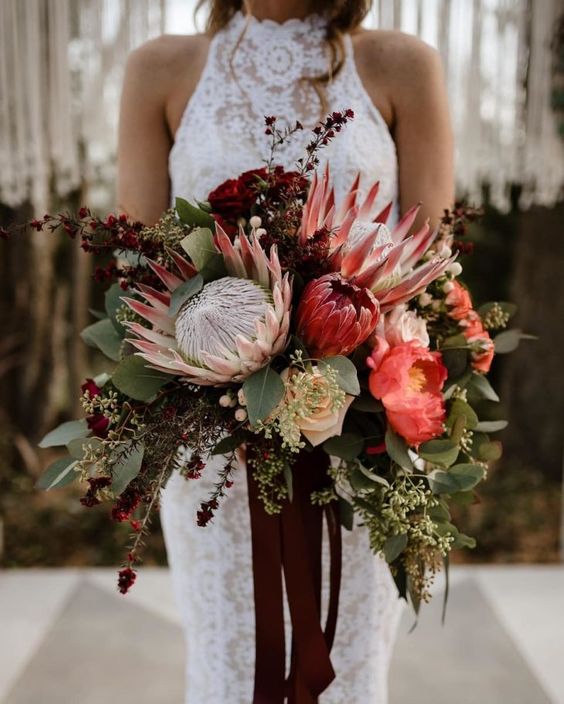 Want a stunning hand posy? Just take a look at this tropical burgundy bouquet idea. In the heart of the arrangements, place a magnificent large protea flower. Then, arrange additional flowers around it, such as red wildflowers, blush roses, red peonies, and seeded eucalyptus. Get a burgundy ribbon to decorate it and make it stand out.
Simple Small Burgundy Possy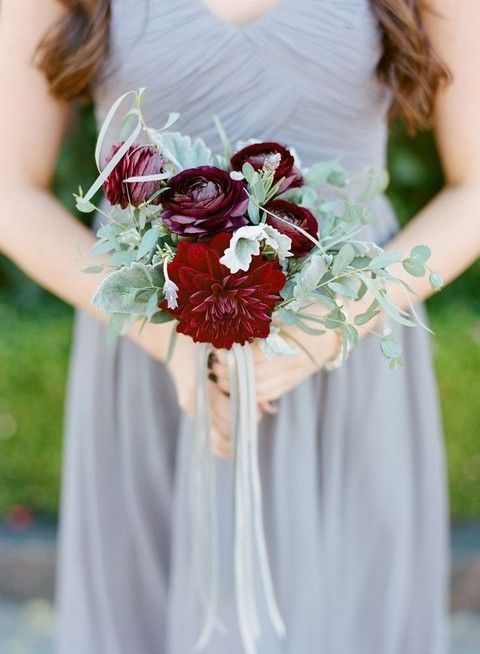 If you don't want to offer a huge flower arrangement, we recommend bringing this small simple burgundy posy. This burgundy bouquet idea creates a private and modest wedding ceremony attended by only your family and closest friends. Arrange some bright red peonies, dusty miller, and eucalyptus leaves for inspiration, then make a statement with a large red dahlia in the center posy.
Deep Winter Wedding with Burgundy Flowers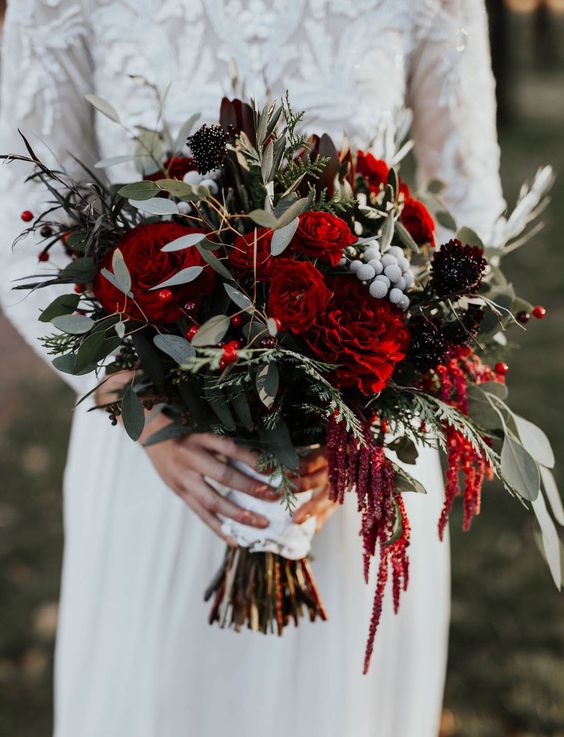 Stunningly during your winter wedding with a deep burgundy bouquet idea. Simply ask for red roses, black scabiosa, and amaranthus flowers to get arranged. Then, add some greenery, such as fern, eucalyptus, or olive branch. Berries may be included in your burgundy bouquet to deliver extra winter touches. Especially when it comes to winery and vineyard wedding themes. During the reception, you will see a deep romantic performance with this bridal bouquet.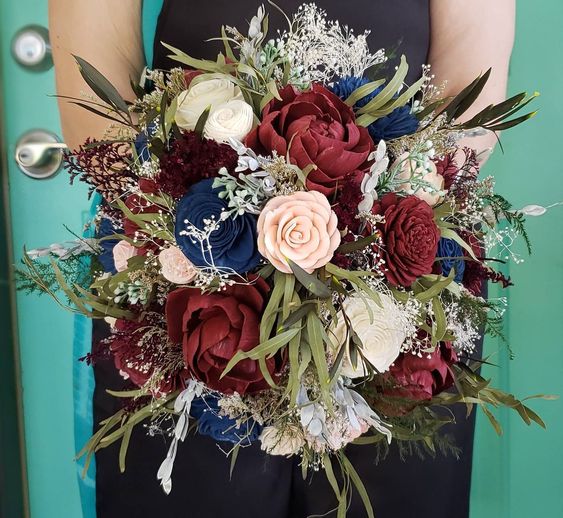 Think out of the box when it comes to attractive bridal flowers. Consider this navy and burgundy bouquet idea. With rich and deep hues that make your bridal bouquet seem glamorous, sexy, and romantic in every case! As an alternative, you may use fake roses in navy, white, pink, and burgundy. Then, either fake or fresh greenery such as seeded eucalyptus, olive branches, and ferns can be added. During the summer, you may utilize this bouquet for an outdoor vineyard wedding. For brides who are allergic to flower pollen, using fake flowers is a solution.
Make Burgundy Accent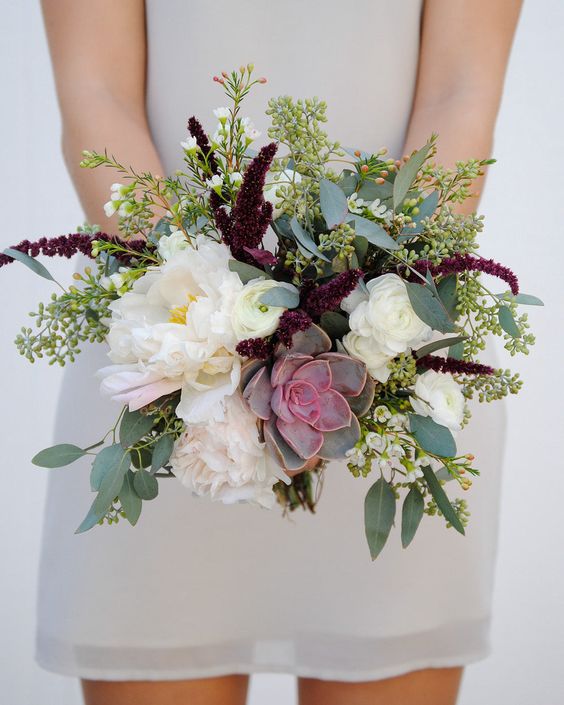 When you want to create a burgundy bouquet for your winery wedding, it shouldn't be full of burgundy flowers. But you can make it as an accent to your white and greenery bridal bouquet. Arrange white peonies, roses, and seeded eucalyptus, then add red burgundy amaranthus flowers with blush pink succulents for the accent.
Burgundy Pampas Grass Boho Bouquet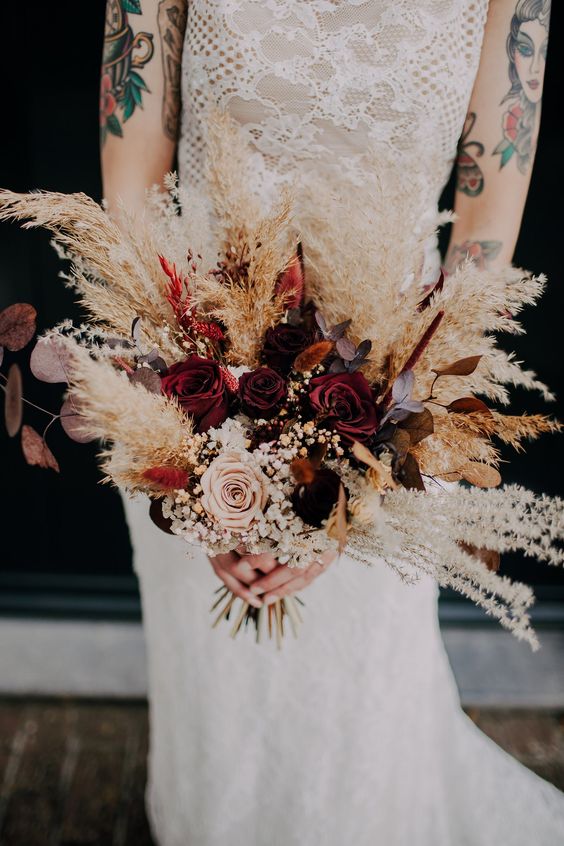 Do you like a unique bouquet with a rustic boho design? This chic rustic burgundy bouquet idea is awesome. You'll need dried flowers like pampas grass, red roses, baby's breath, and dollar eucalyptus leaves for this floral arrangement. The terracotta and burgundy tones of this bridal bouquet would be appropriate for fall weddings along with a bohemian wedding dress performance.
Modern Oriental Burgundy Bouquet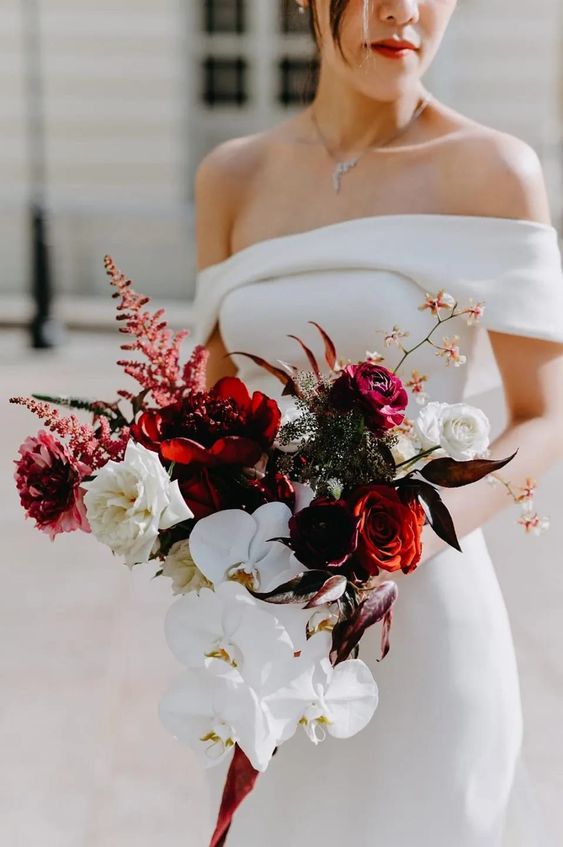 Another burgundy bouquet inspiration is to use a modern oriental style. Simply arrange rich red blooms such as garden roses, peonies, and astilbe with white orchids and roses. Bring this burgundy bridal bouquet to an attractive winery wedding with your plain silk gown.
Green Sage and Burgundy Wedding Bouquet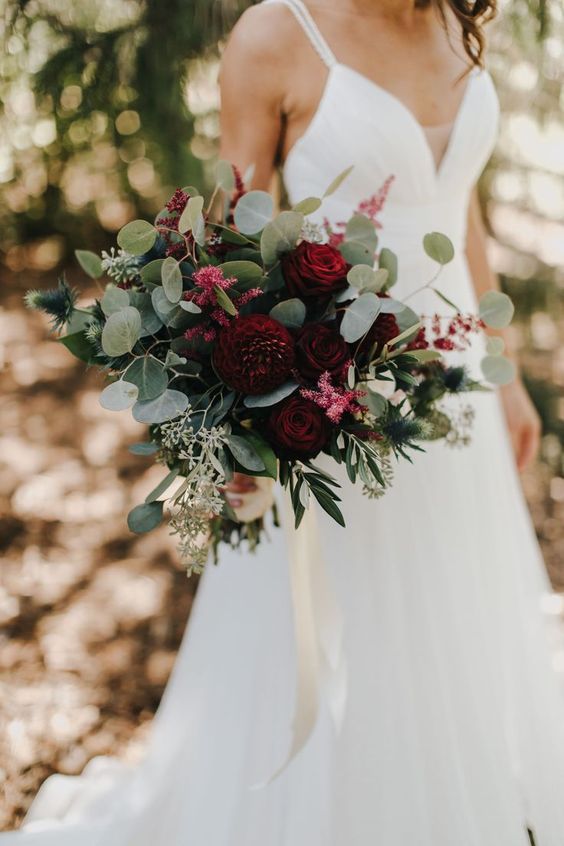 With a sage green and burgundy bouquet idea, you can add a splash of color to your vineyard wedding decor. Simply ask your florist to arrange some red blood roses, dahlias, and amaranthus among dollar eucalyptus leaves, thistle, and seeded eucalyptus. This bouquet combines the wedding themes of winery and greenery perfectly.
Stunning Blush and Burgundy Wedding Bouquet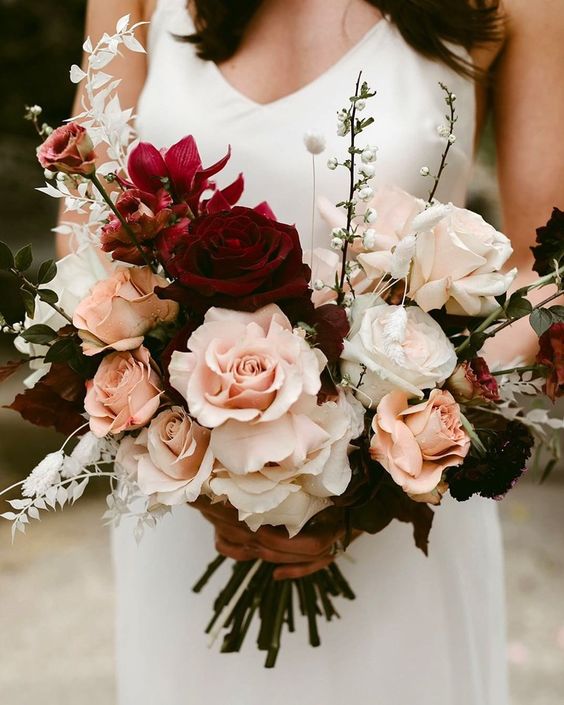 Blush and pastel colors are frequently used to decorate weddings. Pink pastel is a popular choice whether it's for a table centerpiece, wedding aisle, or bridal bouquet inspiration. They prefer to decorate with blush roses, pink peonies, or other little white blossoms. Meanwhile, if you want to match it for winery and vineyard weddings, simply replace or mix the pink flowers with deep burgundy blossoms. For favorite choices are red roses, lilies, carnations, dahlias, calla lily, and more.
Black and Burgundy Floral Bundle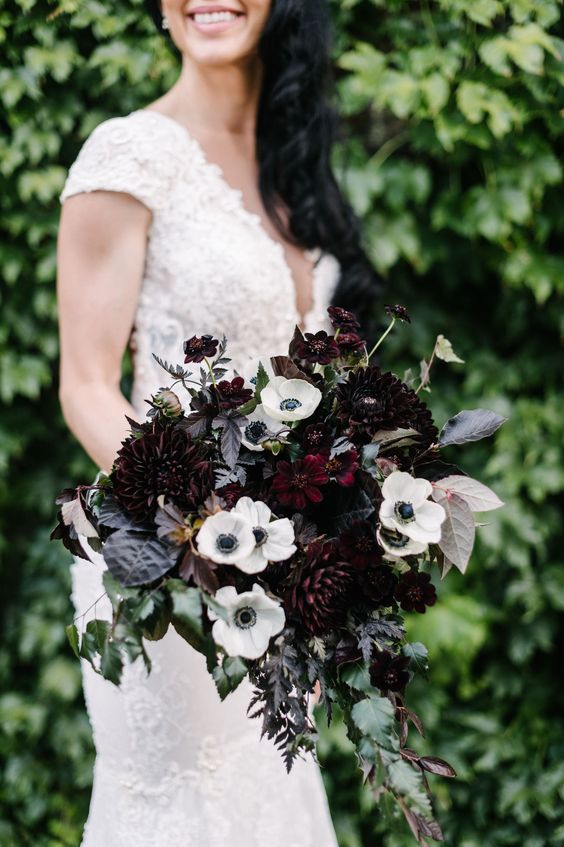 This black and burgundy flower combination is the last burgundy bouquet idea that is appropriate for a winery or vineyard wedding theme. If you had a wedding in October, you may use this bridal bouquet for a Halloween wedding as well. The combination of black red dahlias, spray chrysanthemum, some ferns, and greenery, and lastly, take white anemone flowers for statement are actually perfect to carry in your hand.
The stunning and elegant burgundy bouquet idea makes them the ideal choice for bridal bouquets in winery and vineyard wedding themes! From the simple beauty of deep purple calla lily posy to the fabulous black and burgundy floral arrangement, there is a wedding bouquet to suit just your taste. Hopefully, our favored bouquet ideas here can be inspired you!!!