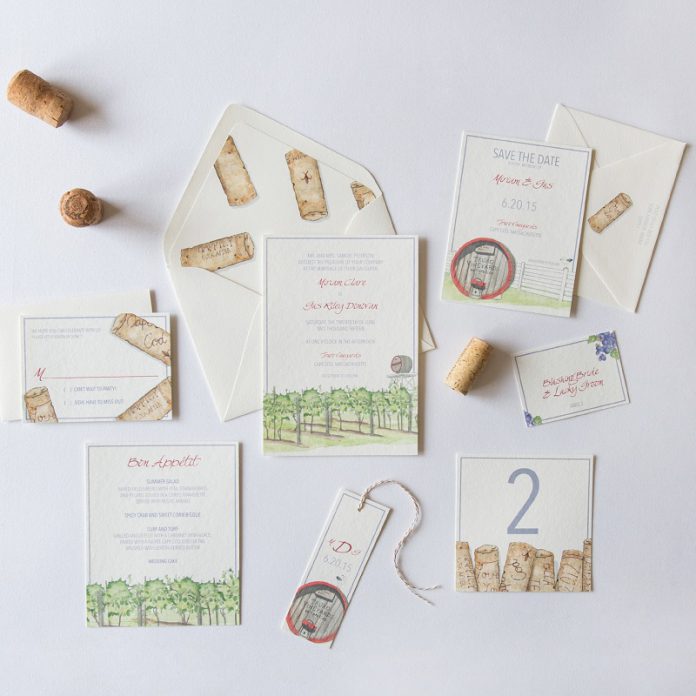 Roowedding.com – What's the first thing that comes to your guest before your wedding is held? Yes, it's wedding invitations. This is how you announce your wedding and also one of the ways to split out the wedding theme. Now we'll be talking to draw winery & vineyard wedding themes into your invitation design. Are you interested? Let's find out more about the best wedding invitation designs that you can add to your wedding concept.
Have a wedding dream with beautiful vineyard scenery as a backdrop? Make sure to bring that to your guests by giving outstanding winey and vineyard wedding invitation designs. You can create invitation suites incorporating vineyard watercolor painting, burgundy, pastel, or champagne color schemes, and a hint of floral and greenery would be your inspiration for a chic contemporary save-the-date card. To help you with the ideas, we've compiled the 18 best winery and vineyard invitation designs to copy on.
Vineyard Watercolor Design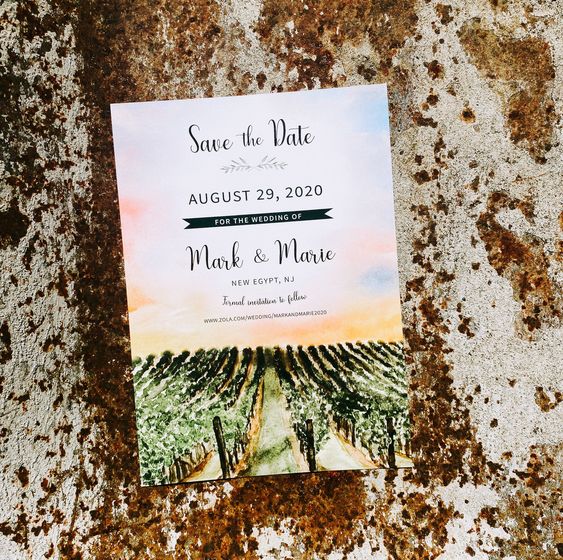 For the first design, we'll give you a watercolor vineyard wedding invite. The beautiful vineyard landscape in sunset gradation would present a romantic concept with a bit of classic touch. This is the best wedding invitation option if you want to give a summer vibe to your winery & vineyard wedding.
Grapes Wedding Invitation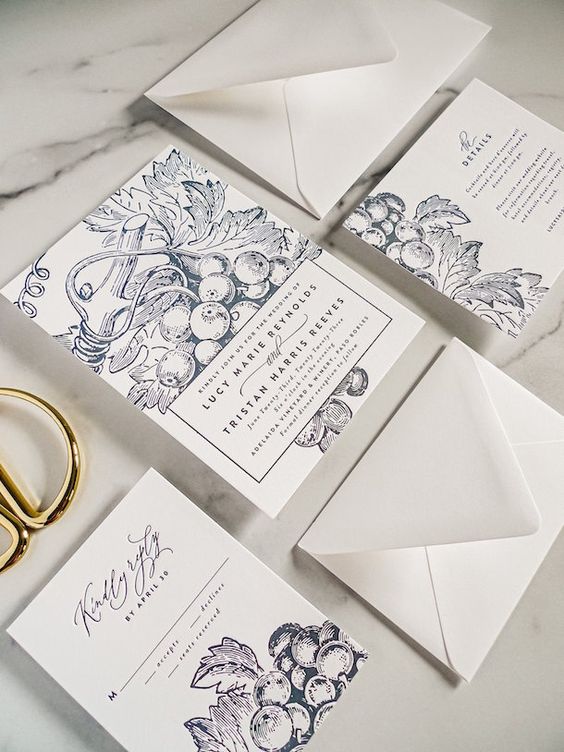 For a simple winery and vineyard wedding invitation design use this monogram grape invite. Using muted tones like grayscale is perfect for the timeless save-the-date design. This wedding invitation is super easy to edit and will make you fall in love with it easily.
Greenery Invitation Design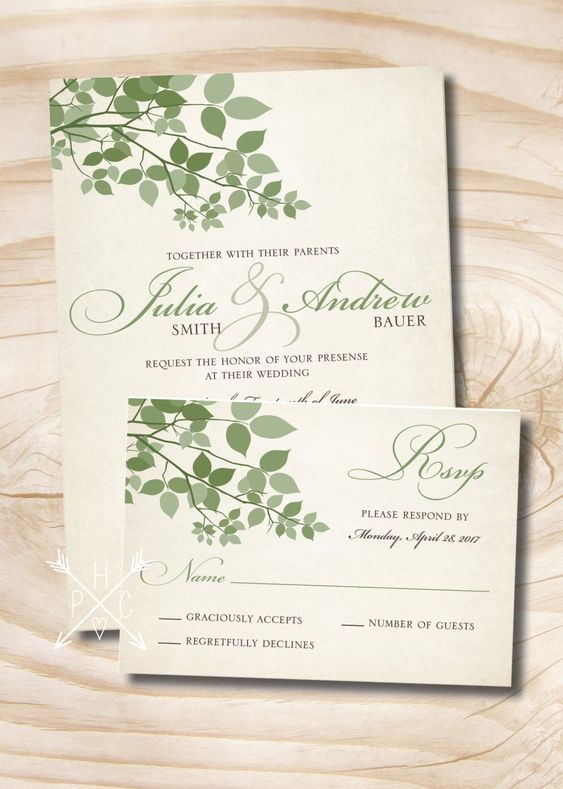 Greenery in the vineyard wedding invitation? The mixtures look stunning. Greenery invitation design may use for winery and vineyard wedding themes to add a fresh appearance. Simply get green foliage prints on rustic broken white paper for this.
Artfully Vineyard Landscape Design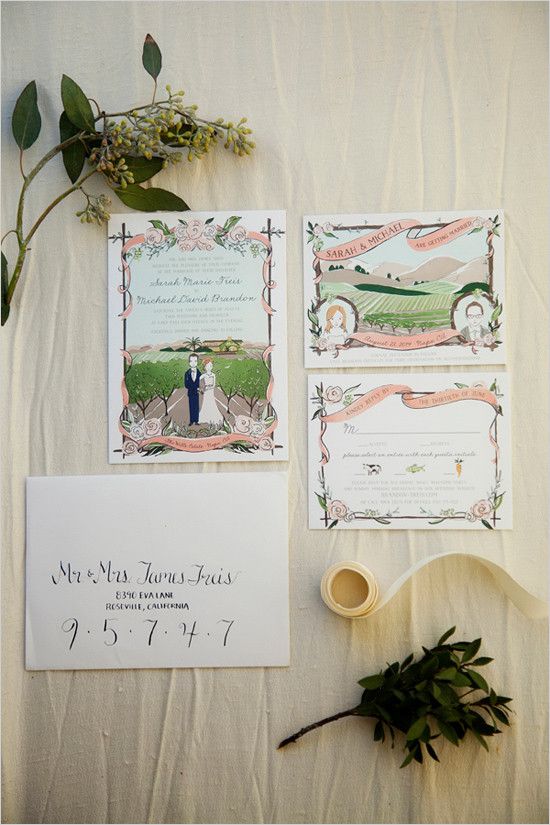 This wedding invitation has a vineyard setting and a lover's illustration to honor the bride (with grooms). The invitation is framed with roses strung together with peach ribbons for ornamentation. And there in the middle, you may print your wedding date, venue, and any other information. The couple drawing would provide a sweet yet artistic touch to your winery and vineyard wedding invitation.
Winery & Vineyard Postcard Invite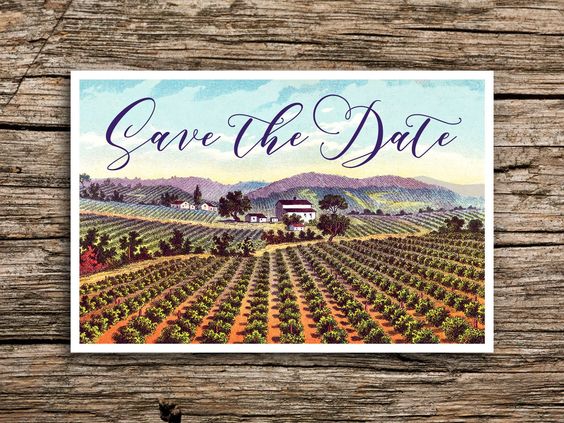 Want a unique winery and vineyard wedding invitation design? Just get this postcard invite design with the vineyard landscape. It's perfect for couples who want to marry in a winery or vineyard such as a Tuscan, Italian, or even countryside wedding theme plan.
Modern Elegant in Black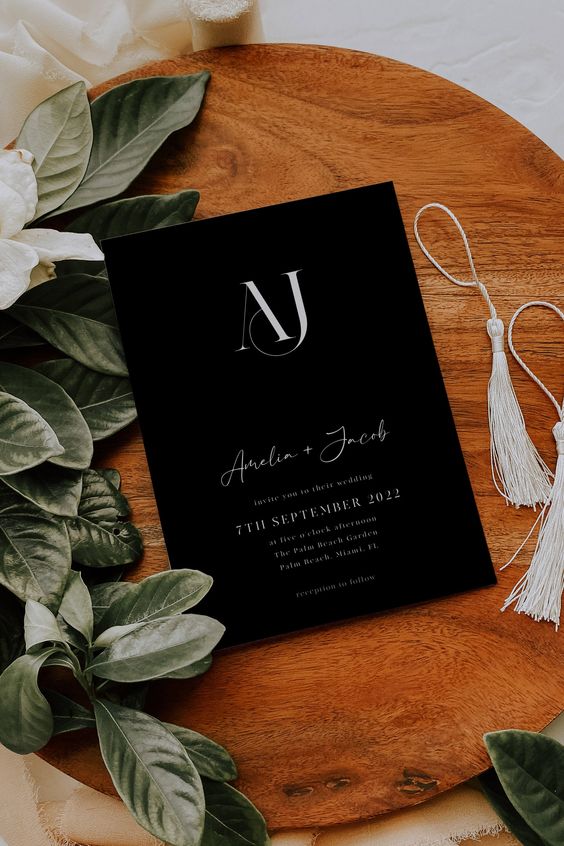 Announce your winery or vineyard wedding with something elegant and simple such as this black save the date. Seen here that the invitation design looks best in modern calligraphy font with white metallic accents. This is also would perfect for presenting formal wedding ceremonies or receptions.
Jewel Tone Invitation Design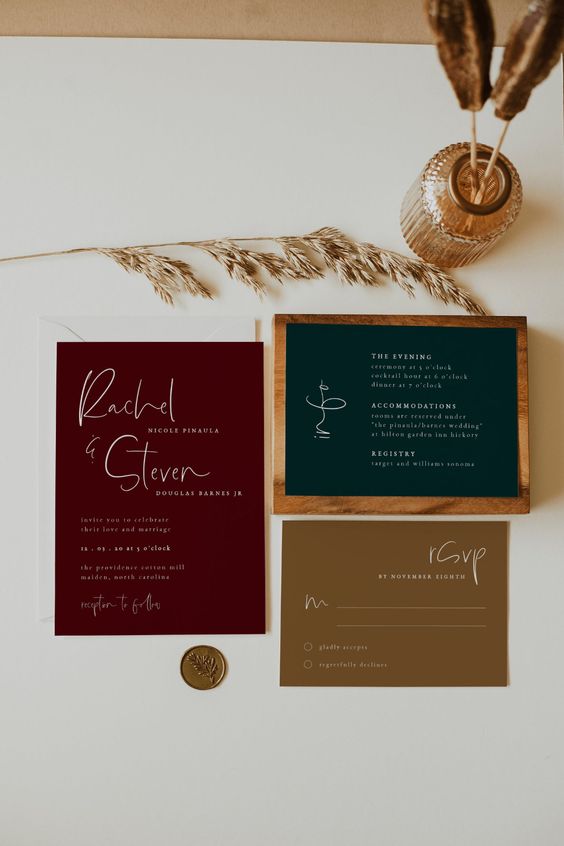 Thinking of something classy and vintage for your winery and vineyard wedding invitations, look at these jewel-tone invitation designs. With green emerald, red ruby, and gold, it's enough when you want to create with classy winery and vineyard wedding invitation design. Then, complete your announcement card using simple white typography. In addition, you can give a few vintage details on the envelope set by giving a wax seal.
Soft Romantic with Pastel Coloring Design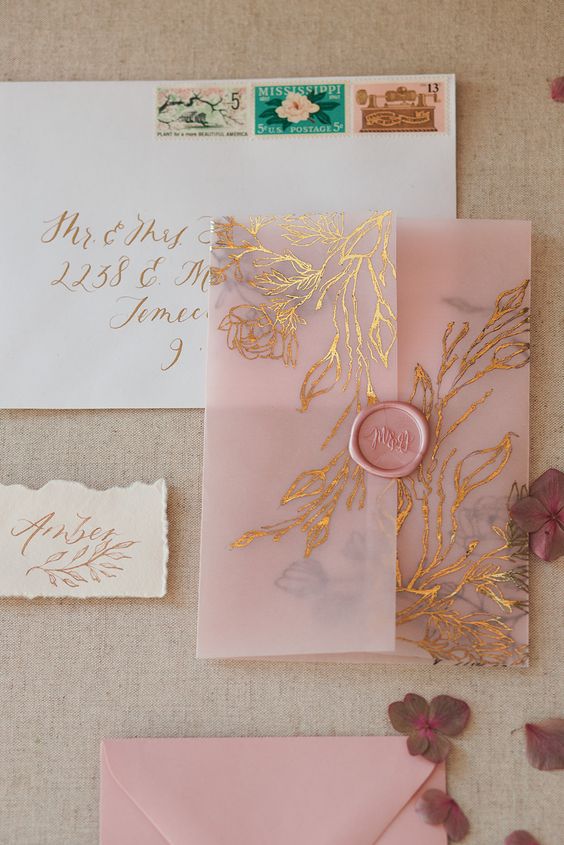 Pastel color schemes will keep everything romantic. This invitation design for a winery and vineyard wedding invited guests to a charming romantic wedding atmosphere. Choose a fantastic monogram design with gold colors in flower images or typography on pink paper. You may also select wax sealing with an illustration on the envelope to have a sophisticated and elegant look.
Rustic Cork Winery Save the Date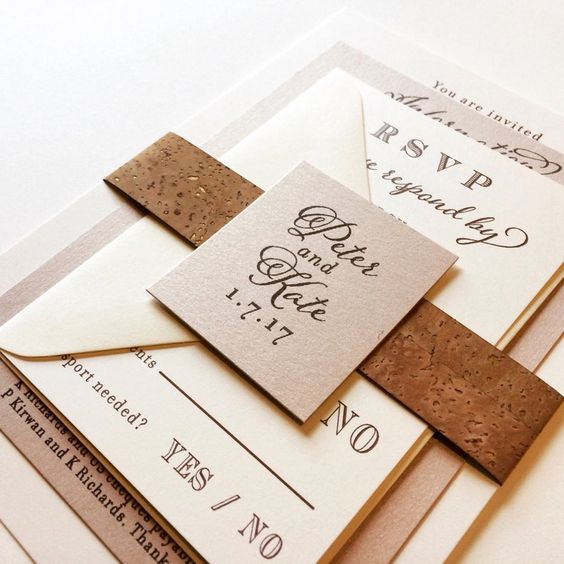 You don't necessarily need a vineyard landscape to convey winery wedding thoughts in your invitation design. Use a cork belly band in your save the date card to make an elegant announcement about your wedding. This rustic winery invitation looks like a sophisticated wedding in a barn venue with a wine tasting event. So, we adore this contemporary welcome with a vintage feel.
Minimalist Winery Wedding Invite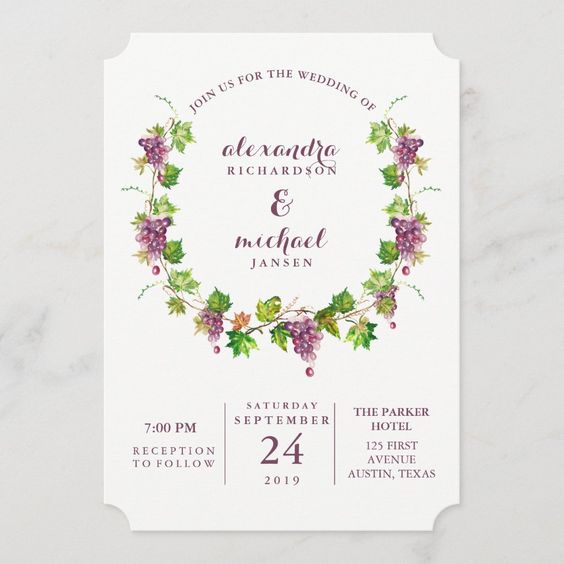 This modest save-the-date card gives celebration to the couples with vines and grapes painted handmade. This decorative swirl makes a crown surrounding your names that is printed with pretty gorgeous fonts. It looks perfect for winery and vineyard wedding invitation designs.
Personalize Photo Wine Lable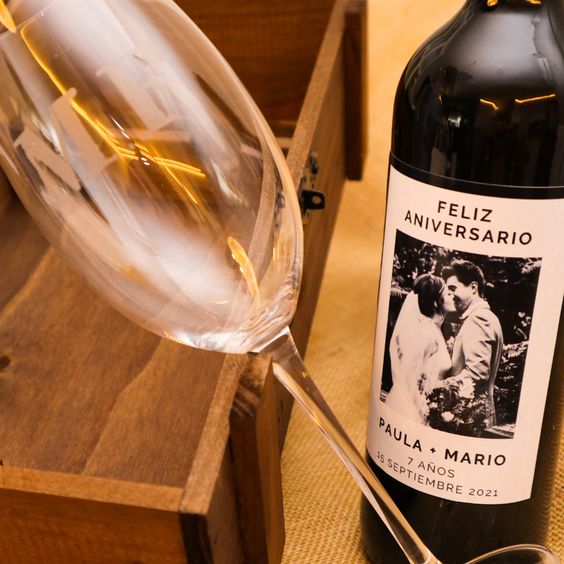 If you think to invite your important business colleague, you need to prepare something different, so we come up with this wine bottle invitation design. You can create personalized wine labels that are edited with your wedding information, and if it's necessary just put your photos there. Then, send this wine bottle with a wooden box to your guest. It would be perfect for your winery and vineyard wedding invitation.
Wine Tasting Invitation Template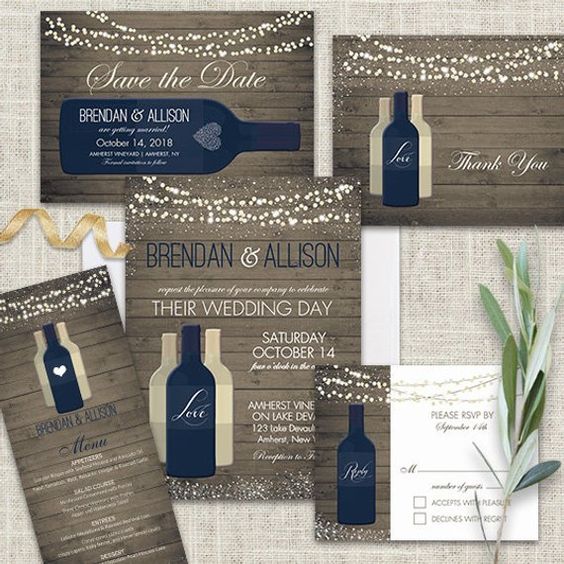 Because we like simplicity, we chose these rustic DIY printable invites. String lights and wine bottles with all of your information edited with the gorgeous font on a wood background This gives your sophisticated winery and vineyard wedding invitation design a more personal sense.
Burgundy Paper Cutting Save the Date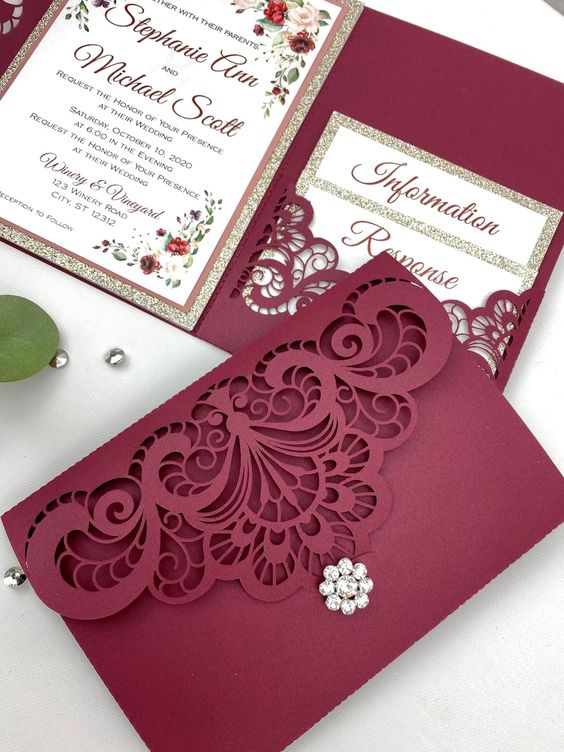 Never outdated when you bring laser paper cut into your wedding invitation design. This is the way to bring sophisticated and beautifulness to your wedding card. Even for your winery and vineyard wedding invitation design, you can bring laser paper cut in burgundy schemes for the envelope design. For the card, you can use white paper that's printed in floral frames and beautiful burgundy fonts to write your wedding information.
Editable Invitation Set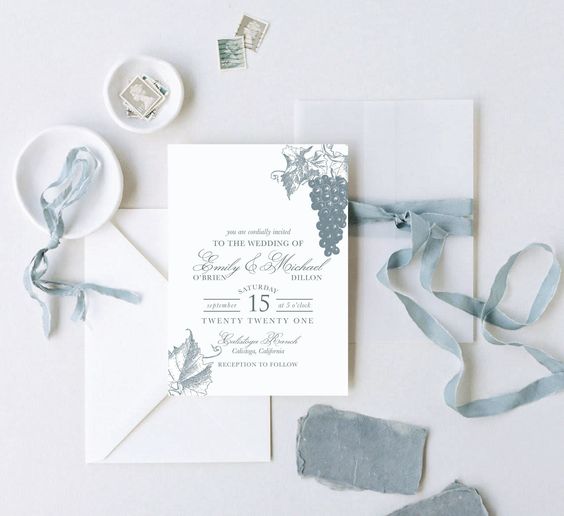 We like simplicity, which is why we adore this editable invitation set. The monochromatic motif is such a smart choice when you want to present a simple look. Besides that, you can adjust the color schemes with your selected ones and it's easy to change. But we think it just looks perfect with the sage colors for your winery and vineyard wedding invitation design.
Custom Illustrated Venue Design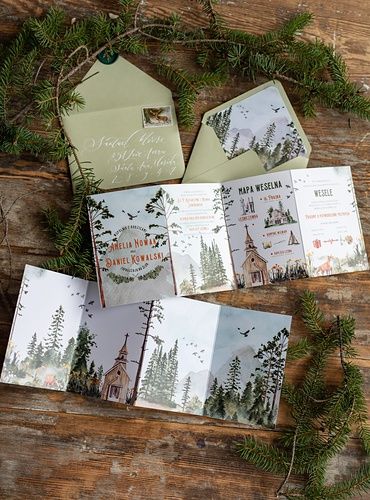 If you are getting serious with your invitation, why don't try this whimsical design? In this case, try to illustrate your wedding venue with watercolor paint that would look cool and fascinating. Each card from the main part is uniquely figured out with crunch/capel as your wedding venue, and a forest as background. It's allowing you to tell the guest about your wedding concept. And we love to provide this invitation for greenery or winter weddings.
Burgundy Watercolor with Champagne Gold Template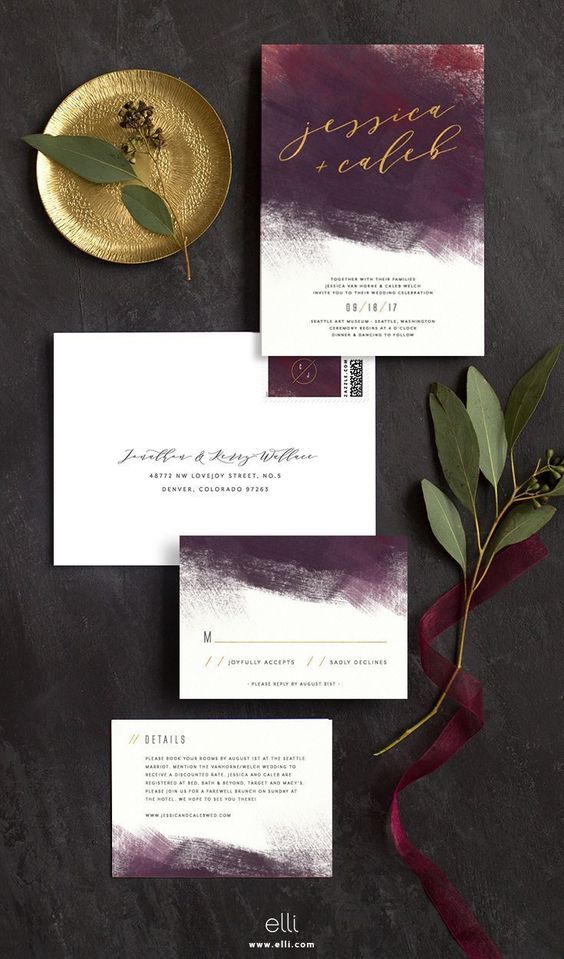 Whether you hosting your wedding in Tuscany (such a lucky one) or just a simple ceremony in your family yard, don't miss the vibe by getting this burgundy invitation design. One of the favorite color schemes when it comes to winery wedding concepts. You can design your card with burgundy hints in white cards and use gold stationery to draw classy elegant wedding cards.
Wine Botle Save the Date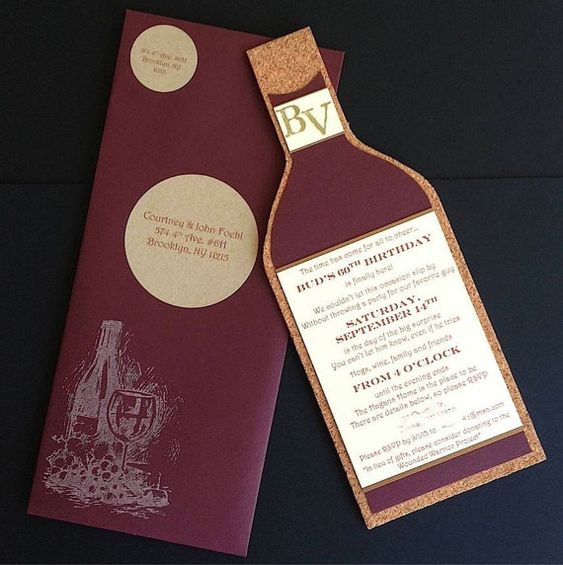 When planning a winery wedding, go all-in on the concept with wine bottle invitation cards. Not just illustrations, but also forms, may be turned into 3D designs. This is a cheap way when you can't send real wine bottles to your guests. Each component is individually crafted with wine or burgundy and gold color schemes for a classy appearance. Get the package that includes envelopes with a wine-tasting graphic for the illustration.
Wine Stain Wedding Invite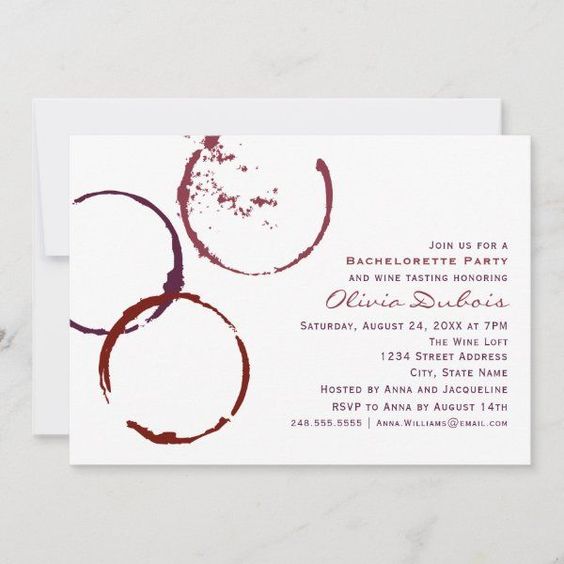 The charm of a vineyard wedding does not stop on vines design, but adding wine stain can be a smart idea to bring the vibe into your announcement card. This stunning winery and vineyard invitation would look good when adorned with simple calligraphy in red schemes. Besides that, we love the monogram design that brings delicate and beautiful contrast to your invitation suite.