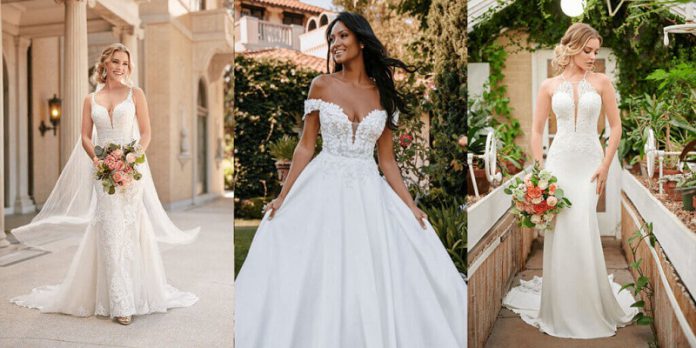 Roowedding.com – Spring and summer are ideal seasons for vacations and weddings. For most brides, these seasons define the ambiance of their wedding, including the venue, decorations, and even the style of their wedding gown. There are many wedding gowns available if you are looking for an elegant spring and summer wedding dress. High neck, airy sleeves, strapless dresses, ball gowns, and more can be worn comfortably during this warm season.
Whether you're planning for an outdoor wedding, formal soiree, or a breezy seaside wedding ceremony, you need to find the perfect wedding gown. Ask your designer to tailor an elegant wedding dress that would make you look stunning in warm-weather marriage. There are numerous options for elegant spring and summer wedding dresses. From a strappy or strapless gown with light fabrics to a high-neck lace dress can create your silhouette beautifully.
Are you confused to choose your wedding dress to take a vow in hot weather? If you prefer an elegant wedding dress, know that are plenty of ways to style your own gown. You can choose a dress with floral appliqués, use pastel shades, or bring your personality to your wedding dress idea, just make sure it keeps seasonally appropriate. To help you find elegant spring and summer wedding dresses to wear on your big day, we've rounded up and shared some of our favorite bridal gowns that keep you looking charming and can represent the season's fashion design. So, go ahead and find your inspiration dream wedding dress down below!!
Pink Shade Dress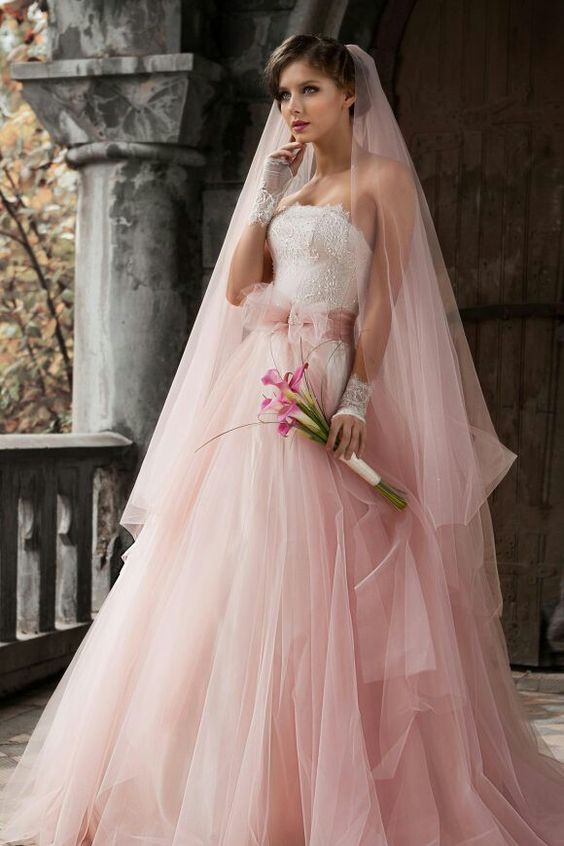 Find a way to make elegant spring and summer wedding dresses by applying seasonal color to your bridal gown. For this, you can choose pastel such as a pink dress. You can opt for a tulle gown with a strapless lace top in pink shades. To make it look more sacred for the ceremony, you can apply a length veil in the same color. Then, if you want something that's a bit classic and timeless you can wear lace gloves in your hand.
Classic Off-Shoulder Dress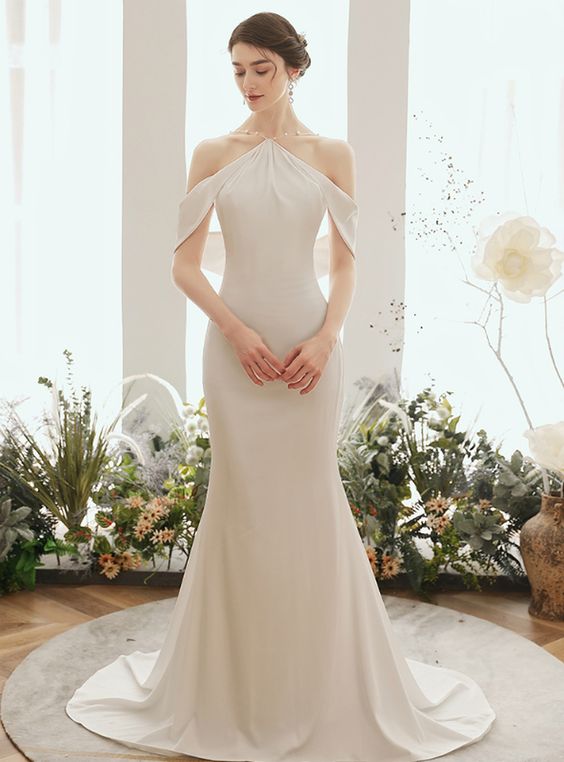 Looks elegant with this vintage off-shoulder bridal gown. This actually suitable for you who looking for spring and summer wedding dresses to look stunning and lovely on your big day. You can pick a silk trumpet dress that creates your body perfectly. And a strap halter neckline and shawl around the arm would bring elegance to the middle of the warm wedding reception. To support your dress more stunningly, you can do a high bun hairstyle and just use simple jewelry.
Embroidery Flowy Wedding Dress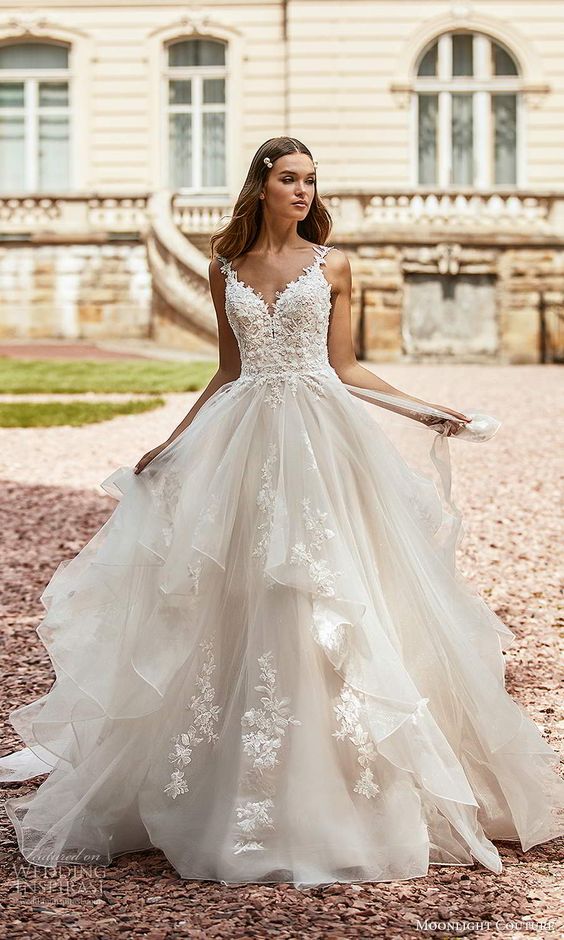 You can go elegantly walk down the aisle in this bridal dress. With beautiful floral embroidery in a tulle skirt and get full embroidery on the top make this gown becomes your elegant spring and summer wedding dress idea. Designed in a v neckline make this bridal gown looks great to wear at garden nuptials. Besides that, the flowy chiffon skirt is also the ultimate dress for a beach wedding. You'll get a more stunning look by matching up this dress with high heels for a garden party, or use sand-friendly shoes when you came to a seaside wedding.
Contemporary Transparent Lace Dress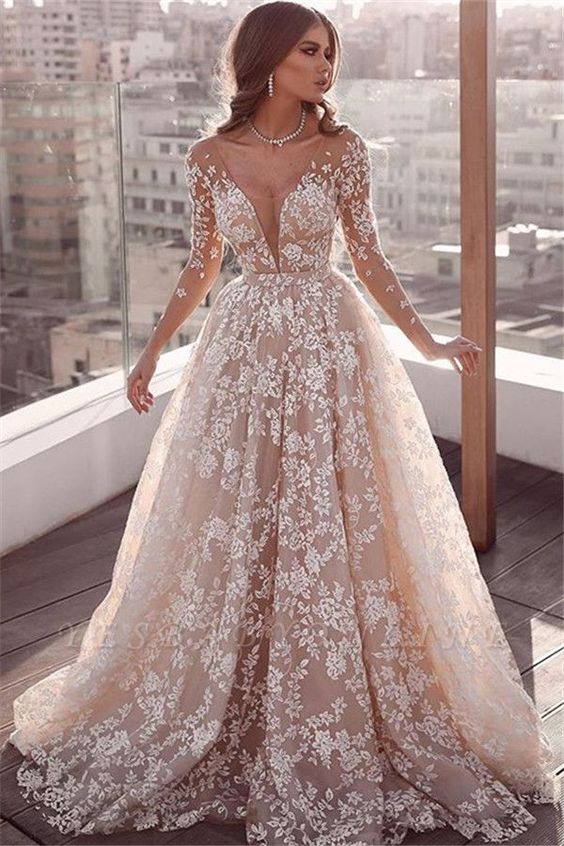 Hold an industrial wedding theme? Just look gorgeous and elegant with this transparent lace dress style. This wedding dress has two-dimensional floral embellishments printed all along your gown. With transparent fabric in the arm part and a little in the neckline would present a contemporary and also a bit sexy performance. I believe this would be the best elegant summer and spring wedding dress that would make you dazzling in the sun during the day and in the candlelight when night comes. You can also support the look by doing a half-up hairstyle and giving simple pearl jewelry. Don't miss out on the toe, bring on a white or silvery stiletto to perfect your wedding show with a beautiful appearance.
Tea Lenght Bodycon Bridal Dress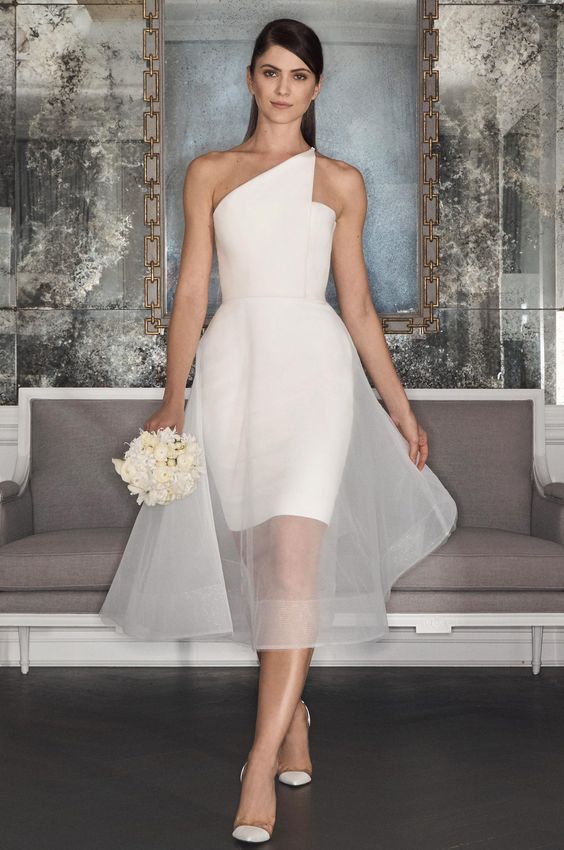 You shouldn't miss this tea-length gown if you looking for elegant spring and summer wedding dress inspiration. Styled in the asymmetric neckline and a bodycon design make this dress the ideal both for a formal and casual wedding party. You can ask your designer to add a transparent skirt for layering that would make your dress a bit flowy and perfect for the ceremony. Match this dress with simple white high heels. For this, you have various options, if you want to stand more elegantly you can choose a stiletto with higher heels, but if you want a comfortable one you can prefer short heels.
Adorable Ruffle Bridal Dress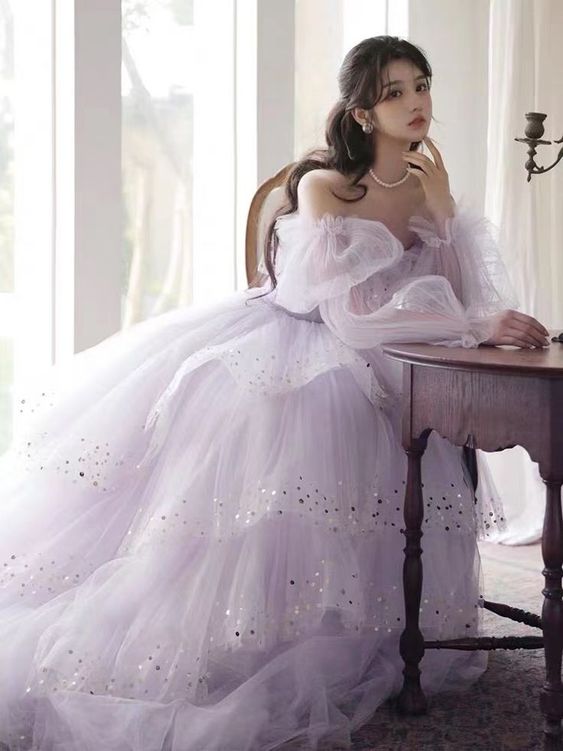 This adorable ruffle dress it's an awesome flattering silhouette to turn you into a beautiful princess during your big day. It would make you feel like walking down with a prince in the aisle. The ruffle tulle skirt and puff ball sleeves in the pastel shades are the best choice for an elegant spring and summer wedding dress. Overall, you can also add a little glitter to your dress that would make a more delightful photo posing when taking all the best moments in your lifetime.
A-line Dress with High Slit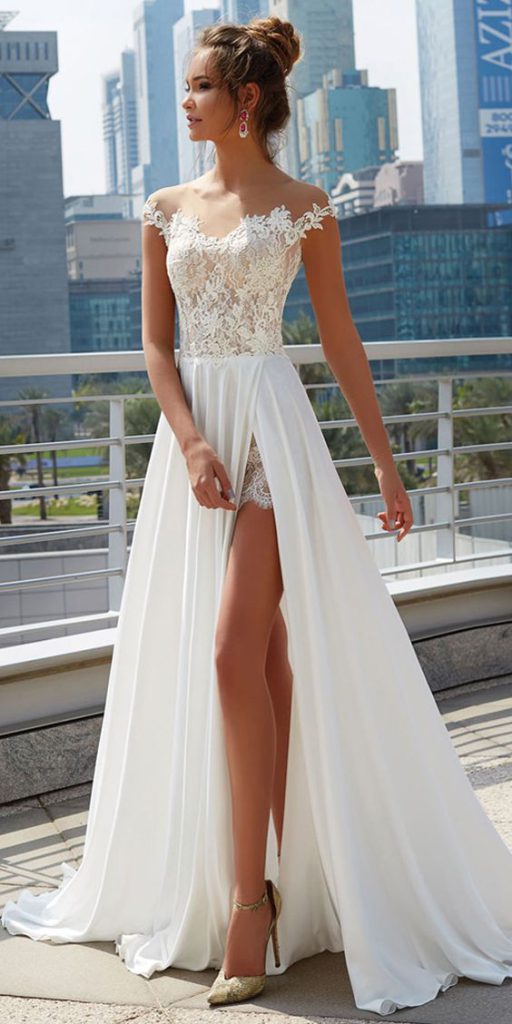 We really love this A-line dress. Designed in simple yet gorgeous make it would look better to become an elegant spring and summer wedding dress style. Using lovely embroidery for the tops, and a flowy skirt that has a high slit make a bewitching choice for a wedding during the warm season. For a more stunning look, you can use golden strappy heels for matching footwear. Then, complete your performance with high updos for the hairstyle.
Backless Wedding Dress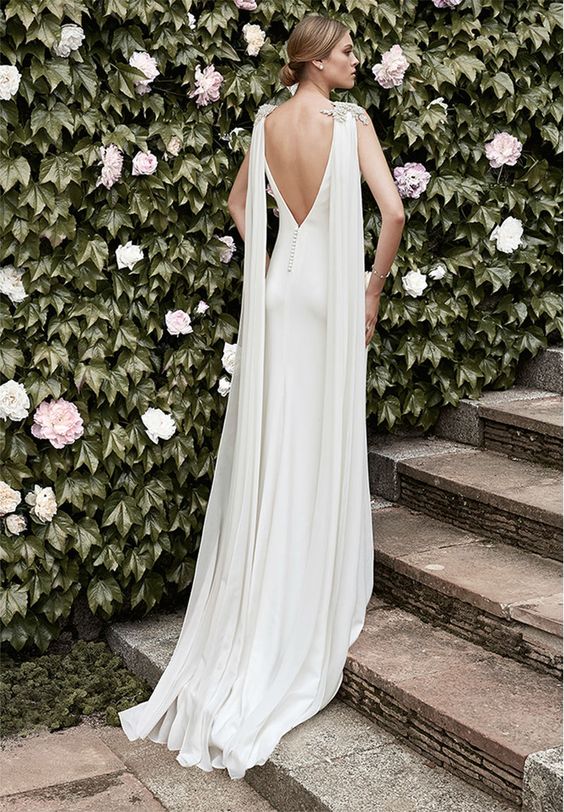 What's a more airy and breezy wedding dress to wear during hot weather? From elegant v neckline, and cape sleeve, to backless dress, it's heavily gorgeous to become your spring and summer wedding dress. Like this classic greek bridal gown style. A-line dresses in open-back style with long cape sleeves are truly stealing our hearts. This brings a heavenly silhouette like a beautiful goddess coming from paradise.
High Low Bridal Gown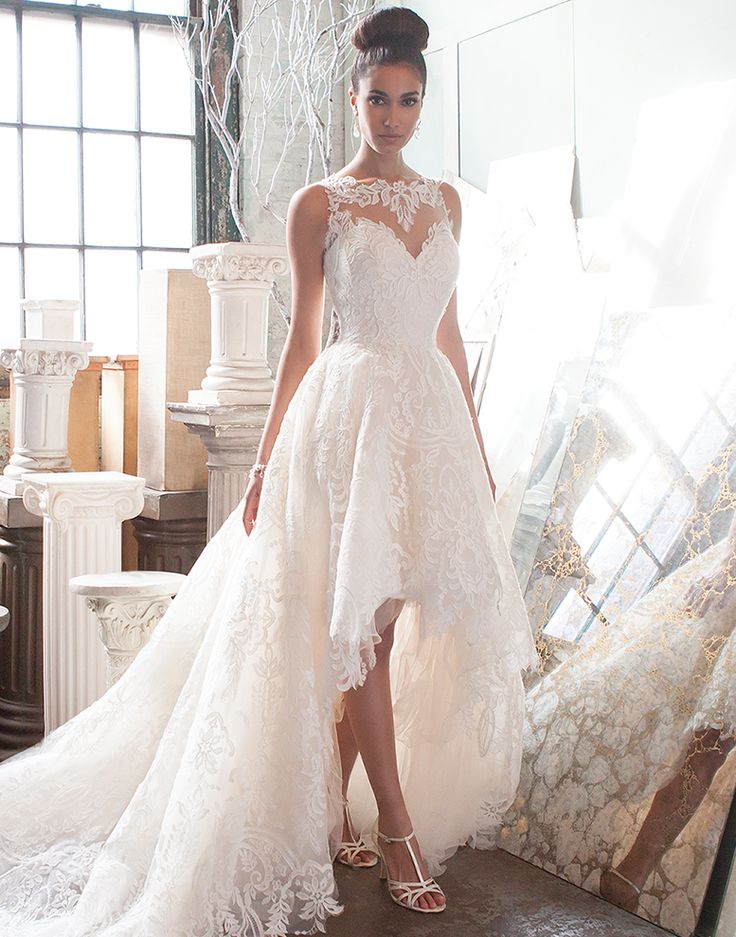 This high-low bridal gown is another elegant spring and summer dress collection that you should not miss. What's more special about this dress is can bring two designs in one dress. You can get a look flowy ball gown from the back and a chic short dress from the front. That's pretty awesome, right? Furthermore, the illusion neckline and get flower embroidery all along the dress make it looks stunning and gorgeous. When you bring this gown with a pair of strappy high heels and then support it with high updos hairstyle, you'll get the perfect performance to tie the knot with your soulmate.
Sleek Wedding Dress Design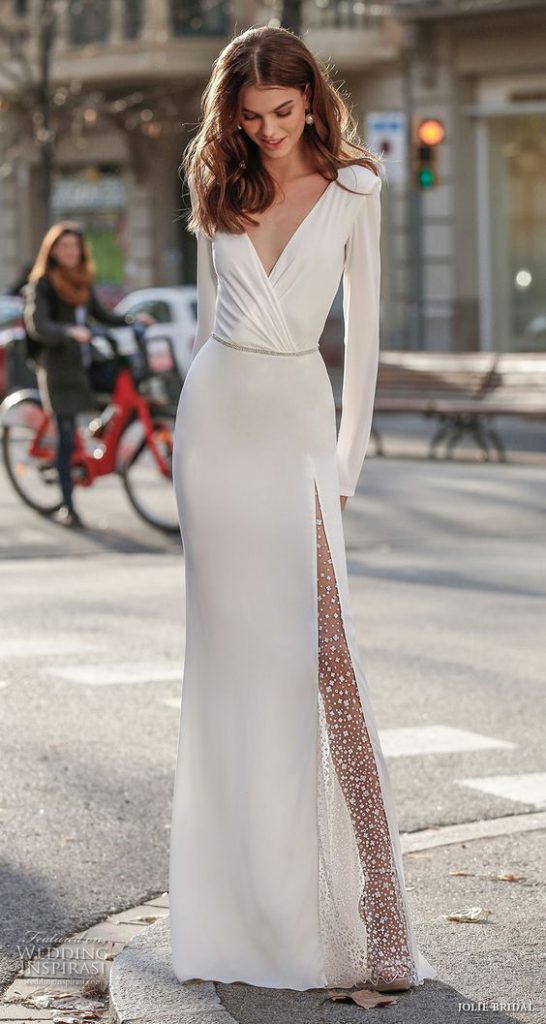 This sleek gown is the perfect match for modern brides. With the plunge v-neckline and long sleeves, make this silk gown look fit and elegant in your body. Besides that, has designed with a high slit but wrapped in a transparent fabric that can level up your gown more down to earth. Just pair this dress with gold jewelry, and then accentuate the graciousness with stiletto or high heels.
Strapless Ball Gown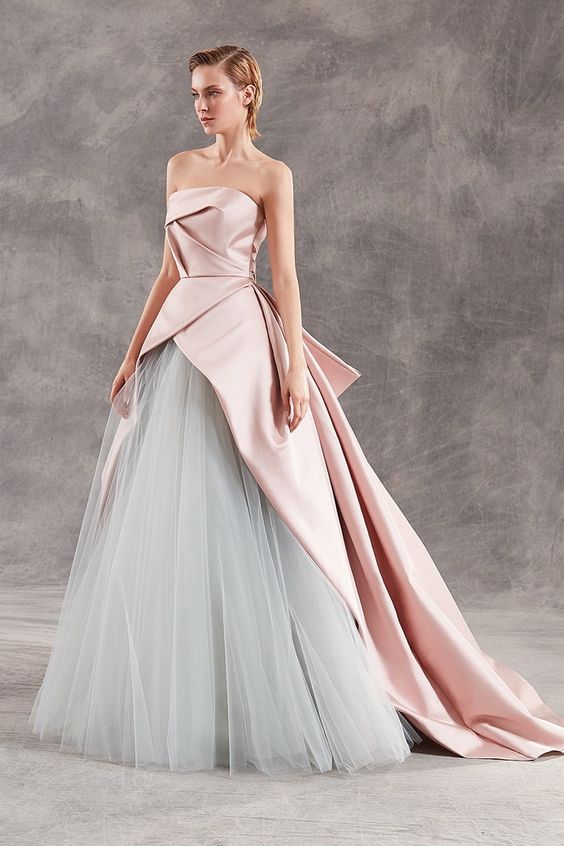 It's a bit challenging to find the perfect elegant spring and summer wedding dress, but this gown can be your choice now. If you are looking for a vintage wedding gown for a more traditional summer wedding, have a strapless ball gown. If you want to make it modern, modify it by including two different fabrics and colors. Just like this gown, which is made with silk or satin fabric for the top and backside and a light grey tulle skirt underneath.
Luxury Summer Wedding Dress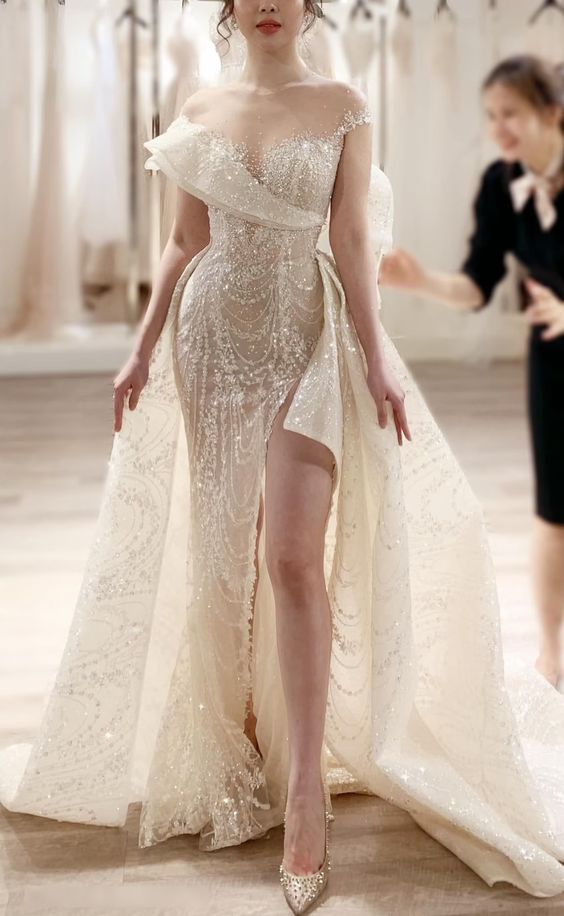 Next, we opt for a luxury wedding dress that is suited for a classy wedding. For this, pick a sexy mermaid 2-in-1 lace gown with beaded that looks gorgeous and elegant to become your spring and summer wedding dress collections. Rather than pick the white color palette, better to choose ivory that seems glamorous with the beaded on your gown. Besides that, make your wedding gown more sophisticated by adding a detachable train in the back. You can set it up when comes to the wedding ceremony, and take it off when you need to freely move during wedding receptions. Moreover, perfect your wedding dress performance by choosing golden high heels.
Simple Timeless A-Line Dress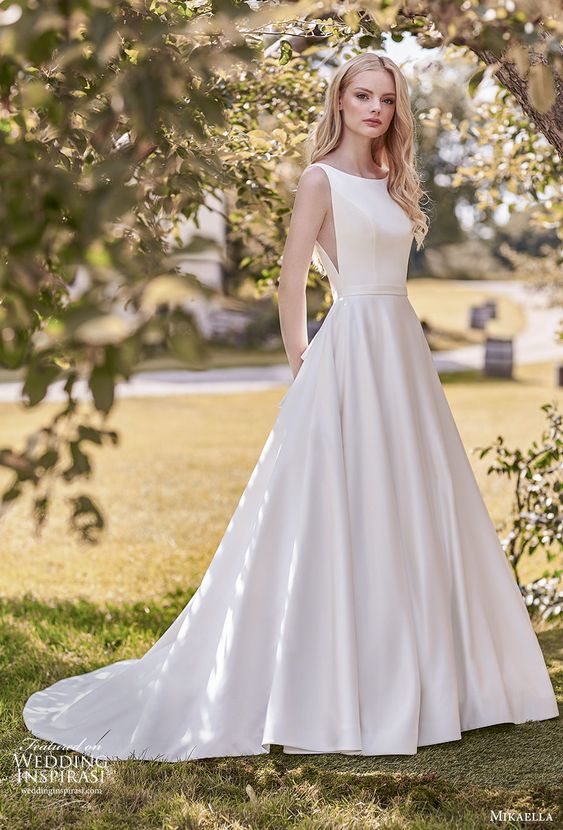 If you lean toward a timeless dress with a conservative neckline, we suggest getting this look for an elegant spring and summer wedding dress idea. With the higher boat neckline but still offering a plunging V design on the side dress, it seems airy and breezy to wear during summer. This simple design would make you feel comfortable even if you have to tie a knot in the sunlight at an outdoor wedding ceremony. Furthermore, having a light circle skirt in an a-line design makes you look lovely and stunning on your big day.
Green Wedding Dress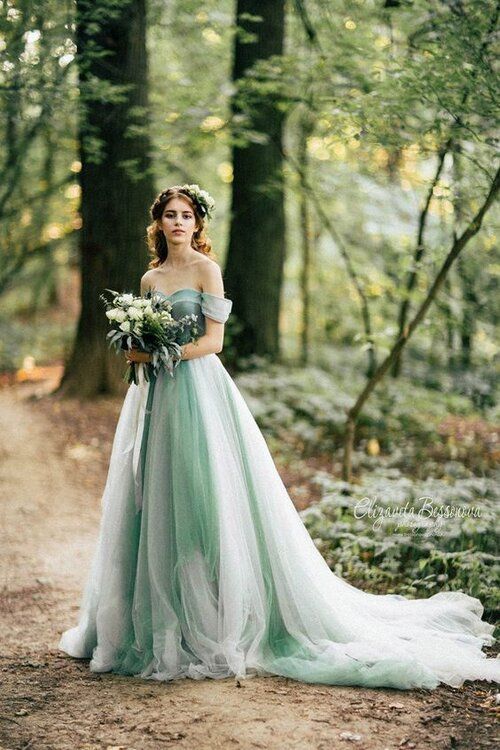 By selecting an elegant green gown, you can bring something new to your spring and summer wedding dress. Choose an off-the-shoulder dress with a flowy skirt in green shades that appears fresh and airy. Furthermore, play this elegant spring and summer wedding dress to make a greenery wedding concept. Opt to get a flower crown for hairstyle, and get green and white bouquets that would insert the theme deeply.
One Shoulder Silk Dress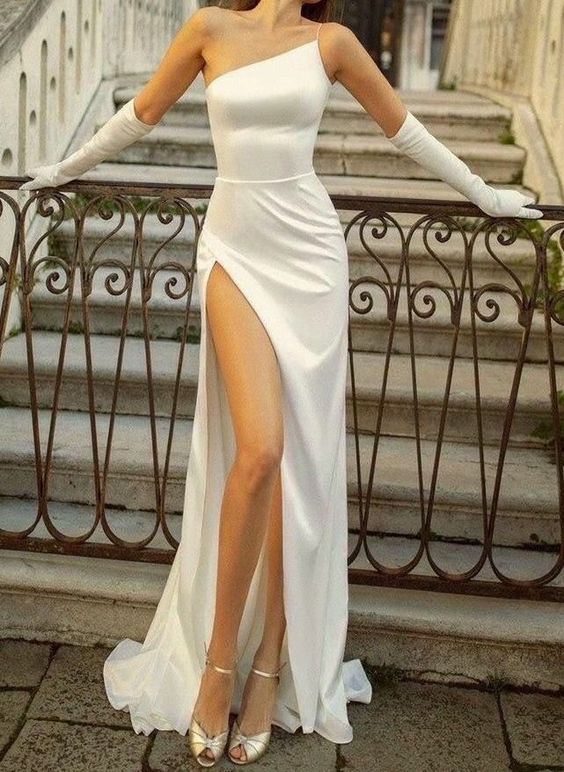 I think you'll enjoy this elegant spring and summer wedding dress design. Not only does it appear simple, but it is also comfortable and graceful. You don't need any extravagant details to look stunning at your wedding reception in this gown. This silk dress has an asymmetric neckline and a one-shoulder design that fits your body perfectly. Aside from that, a high slit in your skirt also makes you appear sexy. You just need to complete it with your gorgeous strappy heels and if you don't mind, you can add more elegant detail by wearing silk gloves.
Floral Embellishment in Wedding Dress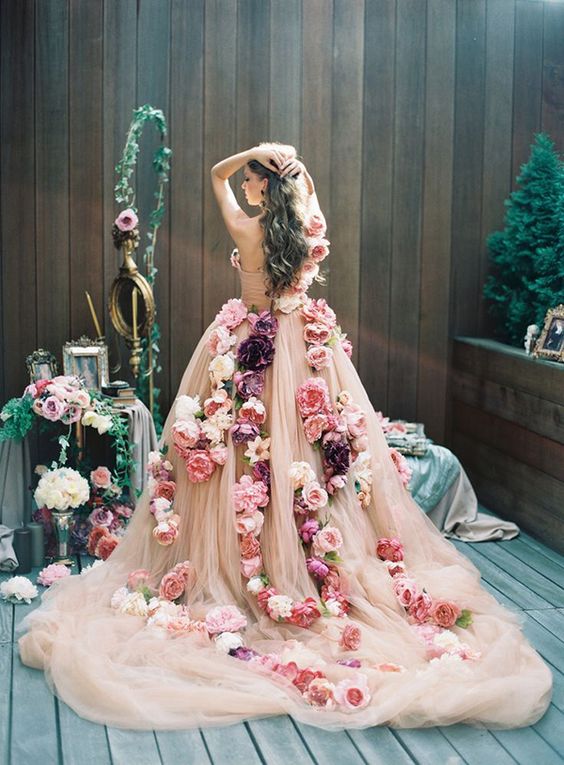 When you look at this dress, you can immediately catch the spring and summer seasons. A wedding dress covered with full of 3D flower embellishments can stand more to your summer nuptials. Besides that, getting blush pink as the color palette and a graceful skirt all combine perfectly with the flower ornaments to become an elegant spring and summer wedding dress idea. For this, just keep accessories as simple as you can and just let the gown talk when you take vows with your soulmate.
Halter Dress for Beach Wedding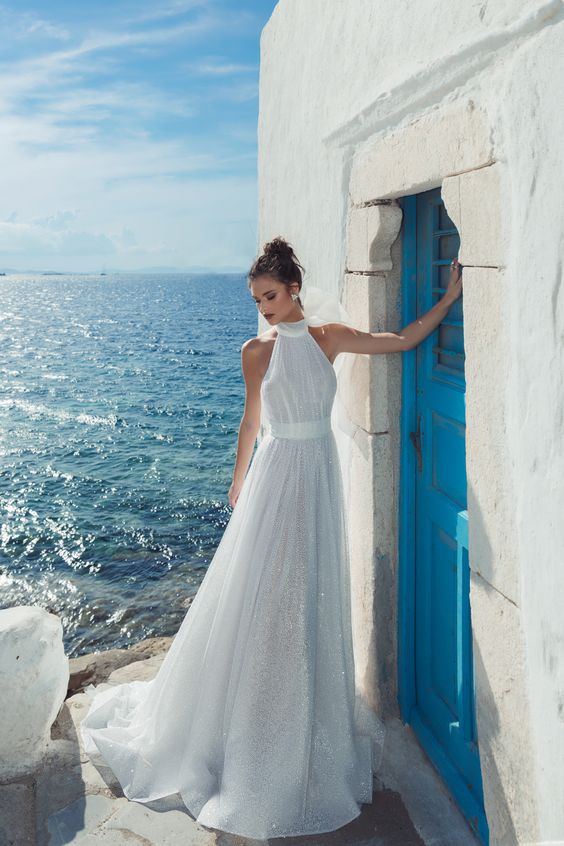 We are immediately captivated by this bridal gown when we first see it. The grace of this dress that's invented with a high halter neckline, fitted waistline, and flowy skirt look perfect to wear as an elegant spring and summer wedding dress inspiration. Especially to hold a wedding with the beautiful nautical scene as the background. Add more beautiful details but don't overdo with simple jewelry and you can support your elegant look by using an updos hairstyle. Thinking about the shoes, make sure you choose comfortable shoes if you tend to hold outdoor ceremonies. However, if you want to hold indoor reception, it would look better to bring out your strappy high heels to match up with this dress.
Cape Sleeve Wedding Dress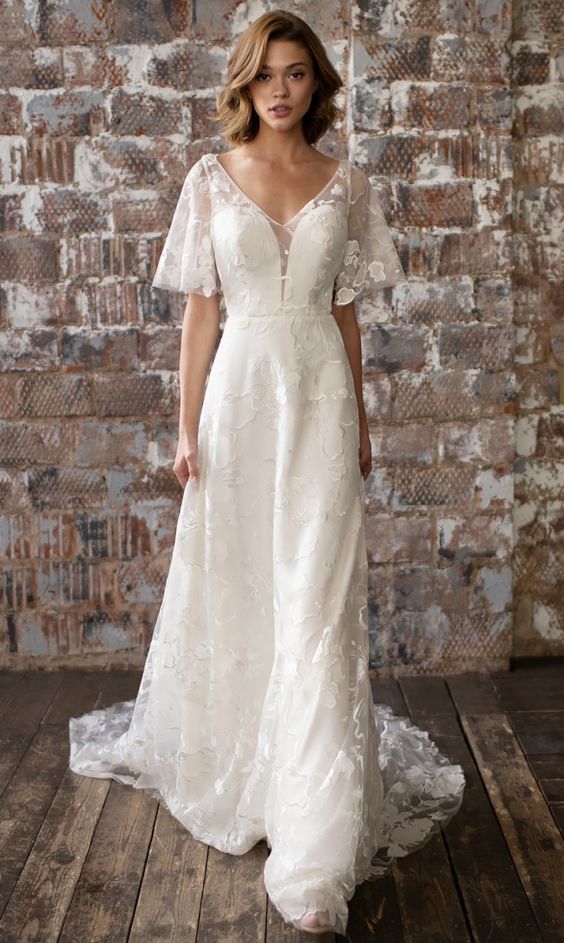 This cape sleeve wedding gown is ideal for you who do not want to appear overly exposed on your big day. However, you can still highlight another point from your wedding dress to make it look more stunning. With embossed flowers around your gown and a transparent cape that covers your shoulder, it's enough to bring an elegant wedding dress to wear in spring and summertime. It would look better if you add a veil for the wedding ceremony. Then for the reception, just wear it as just it is. What you need to do is only match this dress with your lovely high heels and also simple jewelry.
Elegant Long Sleeves Dress for Summer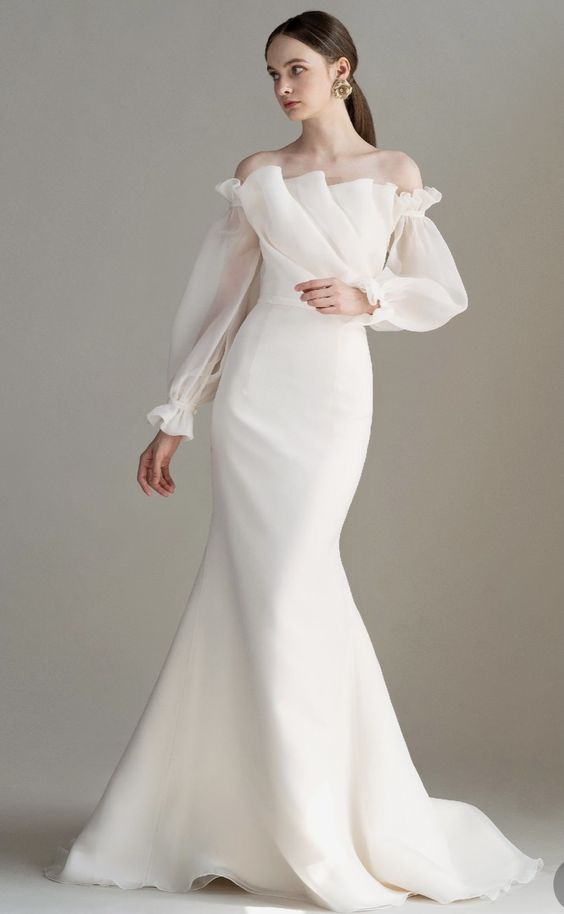 Who says a long-sleeved wedding gown can't be worn in the summer? So, you must wear this off-the-shoulder gown to your big event. As you can see, this gown is ideal for creating elegant spring and summer wedding dress collections. Creating pleats on the top of the mermaid gown creates an illusion like roses that half bloom, and it's beautiful. What's more, this dress can be worn in your eco-friendly wedding idea. This is because this gown not only matches for a wedding but also can be worn after that as an evening dress. You don't need to adjust more accessories, what you need is just simple jewelry. Then, opt for a tidy low ponytail for the hairstyle to support your elegant performance.
Spaghetti Strap Dress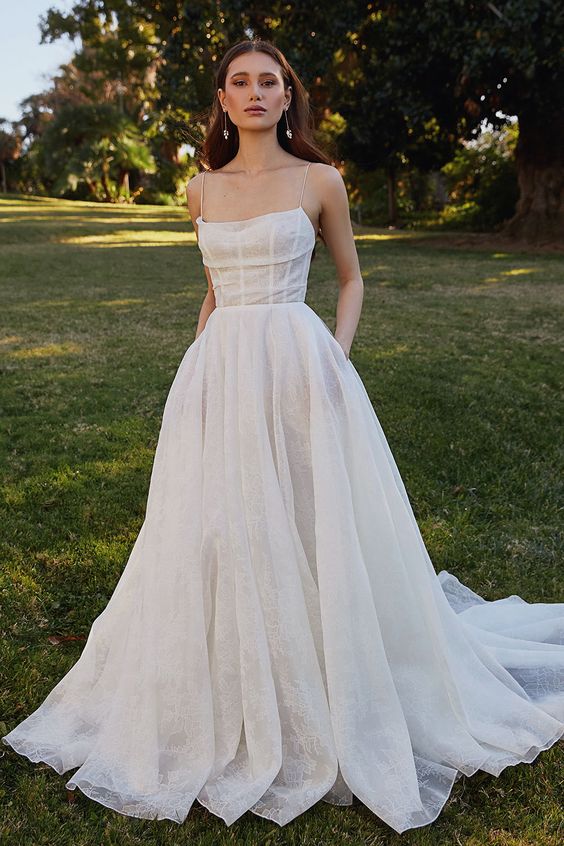 Want something that is effortless to wear in your marriage? This spaghetti strap dress with a pleated ball gown skirt is the answer. This elegant spring and summer wedding dress would make you look stunning in a modest way. Overall, you can add a long veil if you want to make it a wedding ceremony dress. Want to give another gorgeous look, you can add classic drop earrings and do your hair with half up style.
Wedding Jumpsuit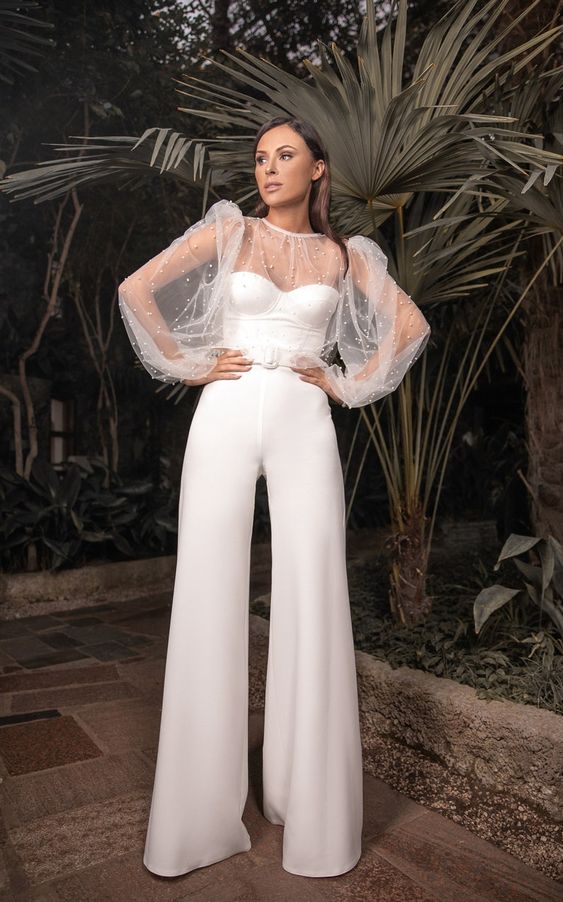 You can look elegant not only in a flowy gown or ruffle dress but also in unique wedding jumpsuits. You can't help but fall in love with this elegant spring and summer wedding gown. Besides that, this bridal gown design would take a place for those who like the convenience and want to freely move to greet the guests. You can opt for a strapless jumpsuit then you can match it with a transparent cape on the top. To create a flowy illusion, get the wide-leg style for the pants. You can also add accessories items such as a white belt around the waistline. Then, just perfect your appearance by getting a pair of high heels for the matching footwear.
Minimalist Bridal Gown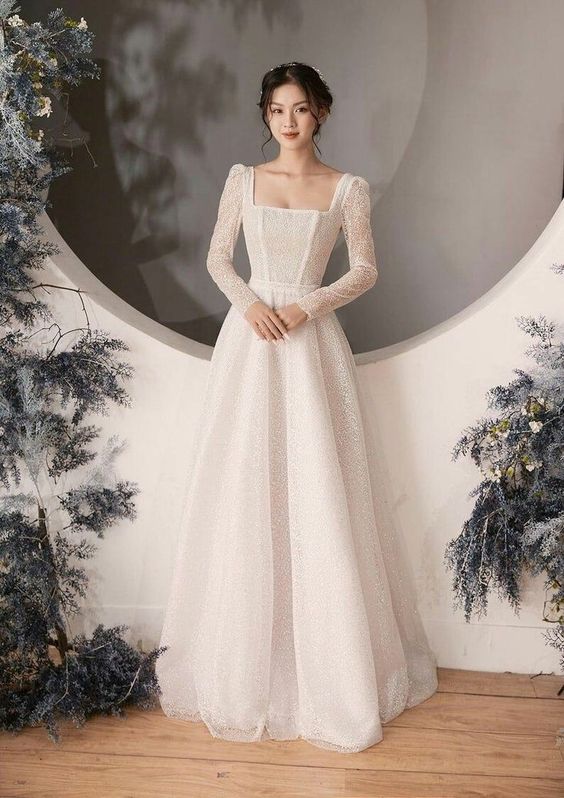 To look elegant and classy doesn't need to be glamour or pricy. And if you probably have a simple and minimalist bridal gown, you already realize the true elegance it is. Try to use something that is a bit vintage style like this square neckline dress. Made from a light fabric in long sleeves and an a-line design make this gown is suitable to keep intimate and formal wedding parties. Make this warm season flow through this elegant spring and summer wedding dress that helps you look beautiful in your best moment.
Technically, there is no such thing as a spring and summer wedding gown. You can wear anything dress to become your dream wedding gown. However, what you should keep in mind when choosing a wedding gown is the temperature of the season. Spring and summer usually have higher temperatures. So it's unwise if you wear a thick dress or have more layering. That's why we've shared some elegant spring and summer wedding dress collections above to help you get inspiration. Then, you can be sure what to wear that would make you perfect on your big day. If you need another reference, let's check out our article about beautiful wedding dress trends for spring and summer!!