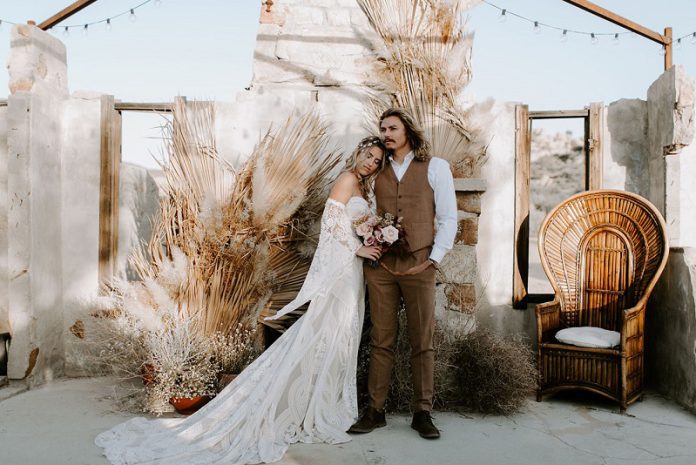 Roowedding.com – One of the advantages of using dried flowers for wedding decor is their durability and longevity. Dried flowers are currently the most popular way to create eco-friendly wedding ideas because they can be reused and recycled. For example, you can save dried flower bouquets as a keepsake after a party. Repurposed hanging dried flower wedding decorations for your home. Even you can reuse dried flowers boutonnieres, corsages, or crowns for accessories when you attend events.
Even though dried flowers have muted colors and are less fragrant, they are an excellent choice for brides who suffer from pollen allergies. Aside from that, these everlasting flowers are more suited to creating rustic concepts and bohemian weddings. From pampas grass, cotton flowers, dried roses, baby's breaths, lavenders, etc, you can incorporate them whether in your hand bouquet arrangement, table setting, and other wedding decors for your big day. Dried flowers for weddings alternatively joyful floral arrangements to accompany you for walking down the aisle.
Because dried flowers have recently become popular for decorating weddings, and also they are not single-use, you should include them in your eco-friendly weddings. There are plenty of options for beautiful dried flower crafts that can be set up on your wedding adornments. So, without further ado, let's get your inspiration dried flowers for wedding decoration ideas down below!!
Wedding Receptions
In your wedding receptions, you want something both beautiful and long-lasting to decorate the venue. While flowers may look pretty and colorful, they are sometimes hard to stay long especially when you do weddings during warm weather. Alternatively, you can bring dried flowers for wedding decor ideas that have the same beauty as fresh flowers and also can bring a more rustic nuance with warmth vibrant.
Wedding Hall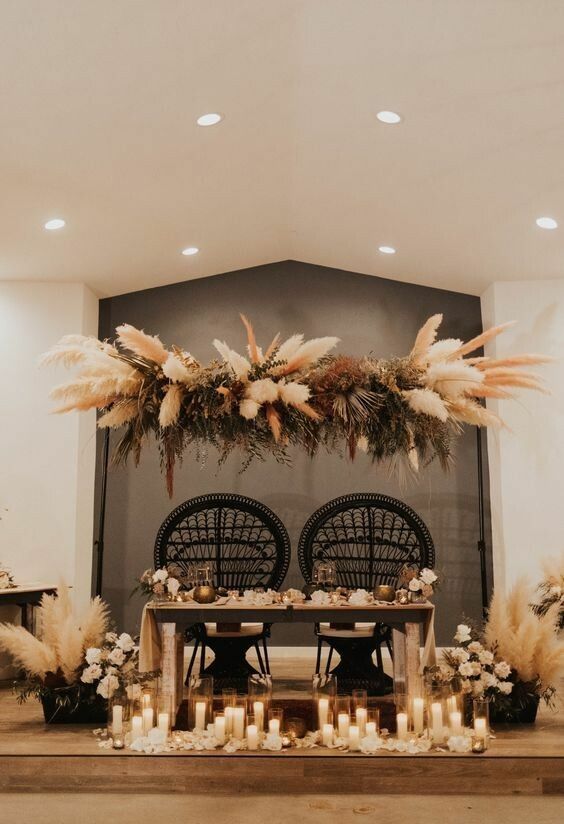 Let's decorate the wedding hall first! You can put some pampas grass and dried flowers for wedding hall decoration, from the table setting to the aisle. Also, bring additional details such as gold and glass accents for elegant contemporary looks. And for romantic feels, you can add candles for lighting. If you want to have a fresh natural look for an outdoor feeling you can incorporate some greenery and leaves into the dried flowers arrangement.
Hanging Decorations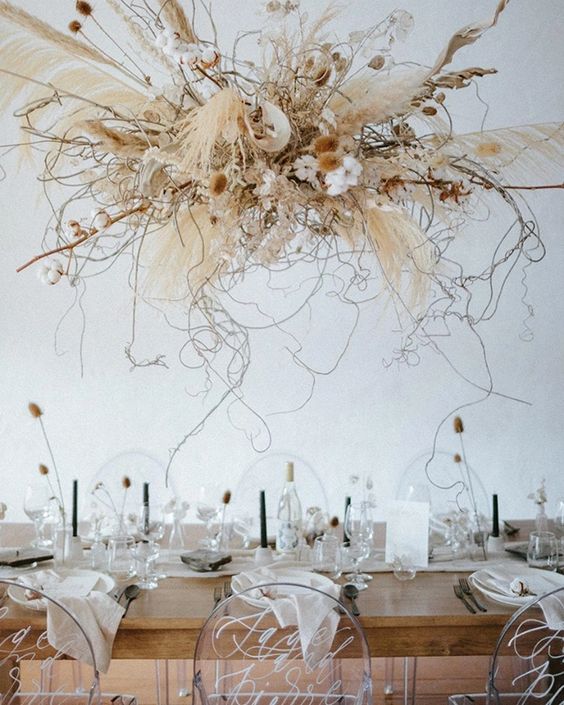 Still adorning your wedding reception, you can use hanging decoration ideas use dried flowers and pampas grass. To look whimsical and have a bit rustic concept, use pampas grass with dried branches for hanging decor. To look more aesthetic and pretty, you can use various dried flowers such as cotton flowers, Lagurus, and others. You can apply this kind of decoration for table decor, ballrooms, and on your wedding aisle. To make it a bit unique, you can be hanging dried flowers for wedding chandeliers by adding lamps in the middle of the arrangement.
Wedding Arch/Backdrops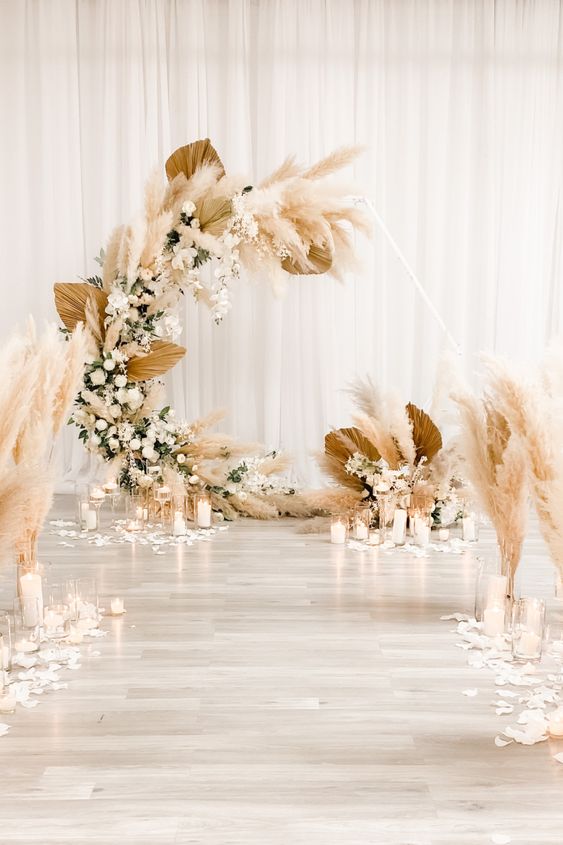 Another function of dried flowers for weddings is to create beautiful arch/backdrops. For both indoor or outdoor wedding ceremonies, you can still use this component that brings romantic ambiance in muted coloring flowers such as pampas grass, dried sun palms, bunny tail grass, etc. To look more natural, you can combine fresh flowers such as white roses on your backdrop arrangement. Also bring on white candles, classic lanterns, or glass terrariums to feel romantic.
Table Setting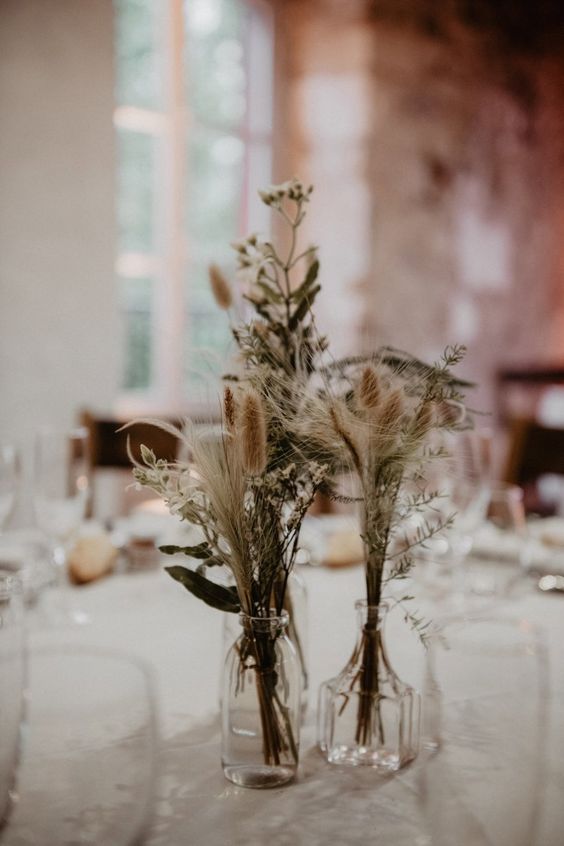 Now, let's come to the table setting part. For those who have to bring romantic rustic in natural elements, you may try to apply dried flowers for wedding decor. For example, use dried flowers arrangement for table centerpieces. To have a simple one, put some bunny tail grass, pampas, and natural wheat, or you can also stick out some tiny dried flowers like baby's breath, Glixia, and phalaris into the arrangement. Stand them on glass vases or use recycled bottles if you want to create eco-friendly wedding centerpieces.
Table Runner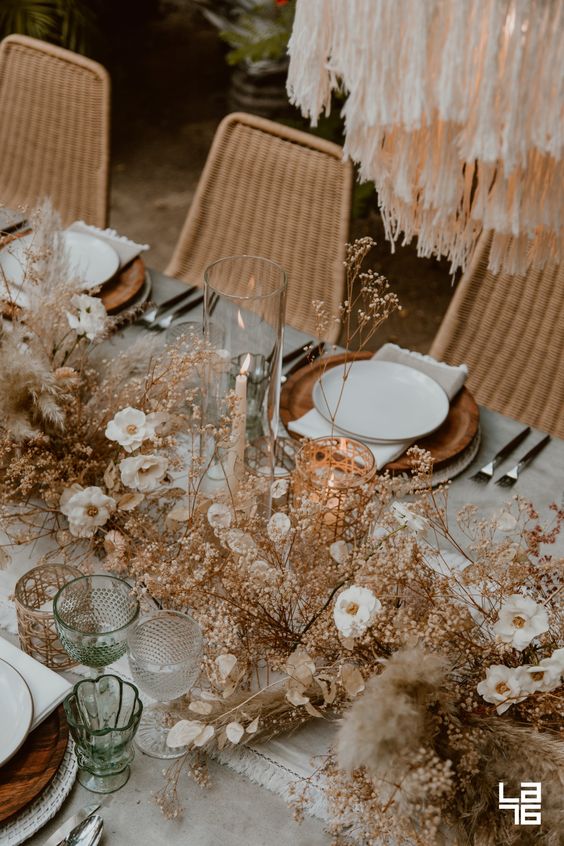 The table runner is something that you place in the center of the table. There is various way to bring an aesthetic table runner to the wedding, and one of the methods use dried flowers. To have a rustic ambiance, you can bring dried baby's breaths, poppies, pampas grass, dollar eucalyptus, and others to adorn your table setting.
Chair Decorations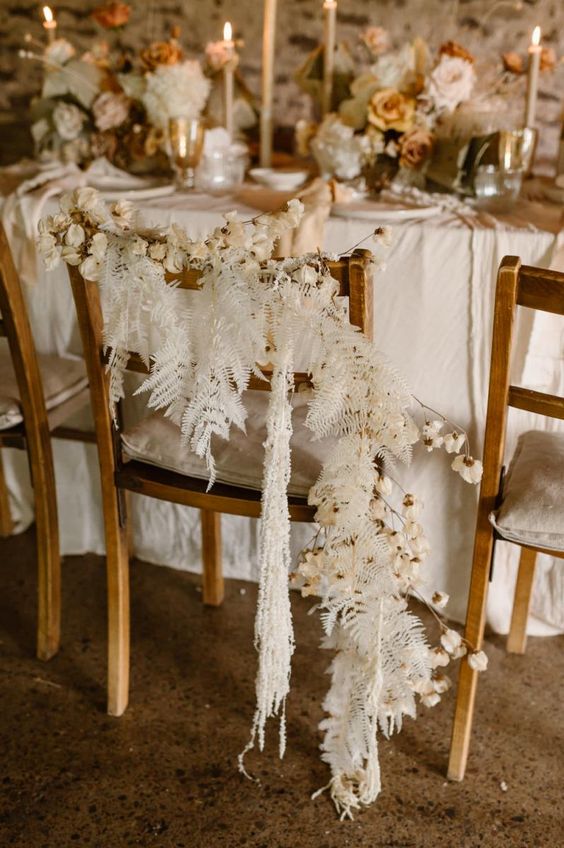 To add a sweetness aesthetic and bohemian vibe to your wedding chair, you can apply some chair back decor using dried flowers. For instance, use white dried ferns, dried peonies, roses, pampas grass, and others that look warm in a neutral color.
Aisle Marker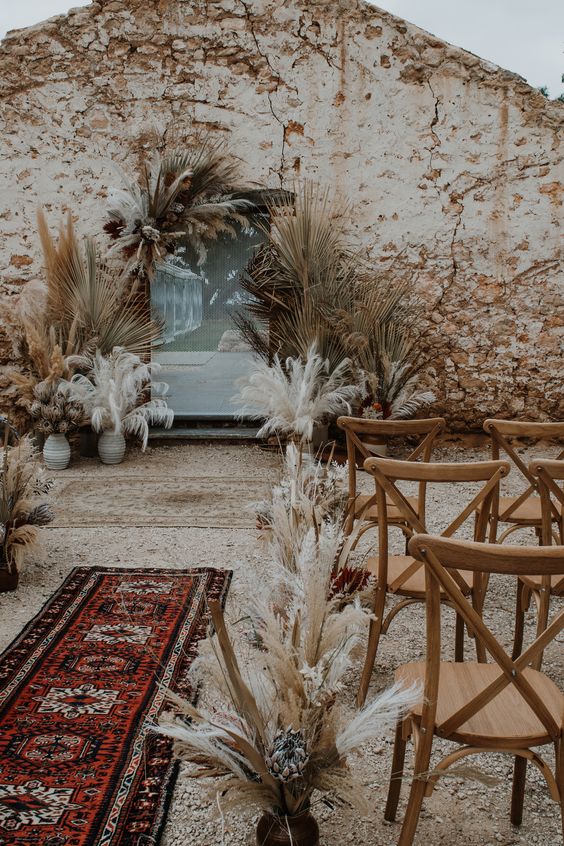 Have you ever imagined walking down the aisle in Bohemian concept with dried flowers all along the aisle? If you prefer a whimsical wedding with chic boho decorations, try to put some pampas grass for aisle marker and get the boho rugs for aisle runner. Besides that, choosing a barn or abandoned place for the venue to stand your aisle when taking a vow would give an industrial feel to your big day.
Wedding Confetti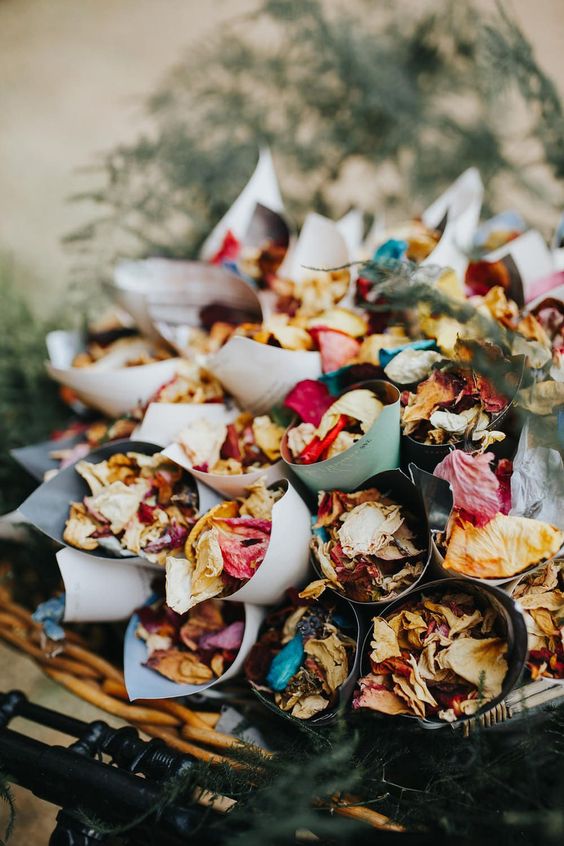 Wedding confetti is taking a part to bring festive to your wedding. You can create confetti using recycled materials if you want to bring out sustainable and eco-friendly wedding ideas. For the option, you can use dried flowers for wedding confetti or use leaves that are formed in cute pieces.
Wedding Bouquets
Why not experiment with your wedding bouquet designs if you want to involve dried flowers in your wedding? There are many options on how to use dried flowers for wedding bouquets, whether you use whole dried blooms or combine them with fresh flowers in the hand bouquets, just find your inspiration here.
Greenery Dried Bouquets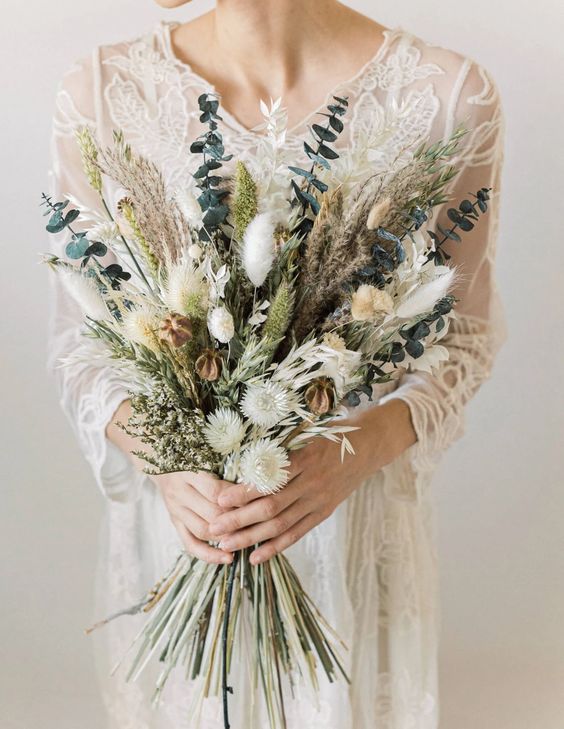 To have this dried greenery bouquet, what you need is just some beautiful white bunny tail grass, natural Ruscus, feather grass, gave flowers, and more. If you want something that freshly looks, get some baby blue eucalyptus or chrysanthemum leaves. Not only that, but you can also give poppy seed pods to the arrangement.
Timeless Colorful Bouquet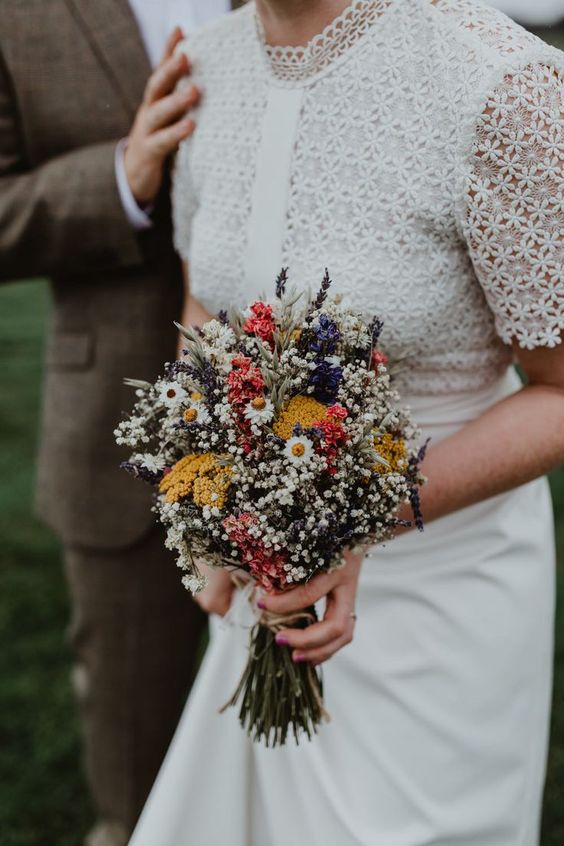 If you want to add sweet garden party touch to the bridal floral arrangements, bring leafy and colorful dried flowers. For this, you may take semi-dried flowers or some flowers which are dried in the microwave. These kinds of dried flowers still have preserves the shape and color of the flowers, so you'll get timeless wedding bouquets.
Rustic Wedding Bouquet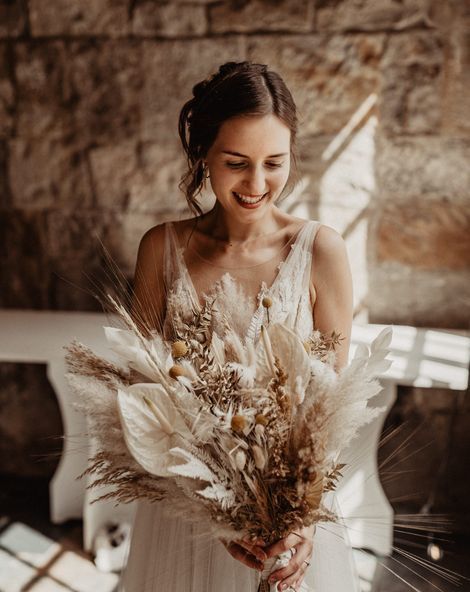 We understand that the muted color of dried flowers is perfectly matched to create a rustic concept for your wedding. You can make a rustic bohemian wedding bouquet by arranging pampas grass, phalaris, natural dried wheat, and Lagurus. Bring some dried garden flowers, such as white calla lily, yellow button flowers, and dried silver dollar eucalyptus, if you want to add some aesthetic value to your hand bouquet idea.
Fall Bouquet with Dried Flowers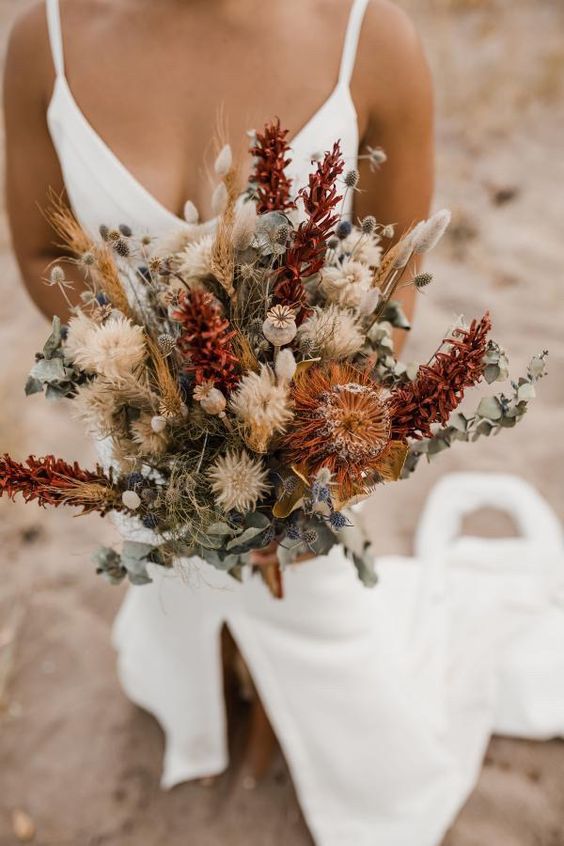 When you want to use dried flowers for fall wedding bouquet ideas, better to bring terracotta and rust flowers. Pick naturally dried proteas, roses, wheat Triticum, Setaria grass, Lagurus, Phalaris, and more to become your hand bouquet. The color of natural burnt from dried flowers looks stunning and matches the fall wedding concept.
Wedding Cake Designs
Dried flowers for weddings can also be used in wedding cake design aside from the venue decorations and bouquets. This is another innovative way to include dried flowers in a natural and eco-friendly wedding theme. For inspiration, you can apply pressed dried flowers or make a topper cake from those flowers.
Pressed Dried Flowers in Cake Design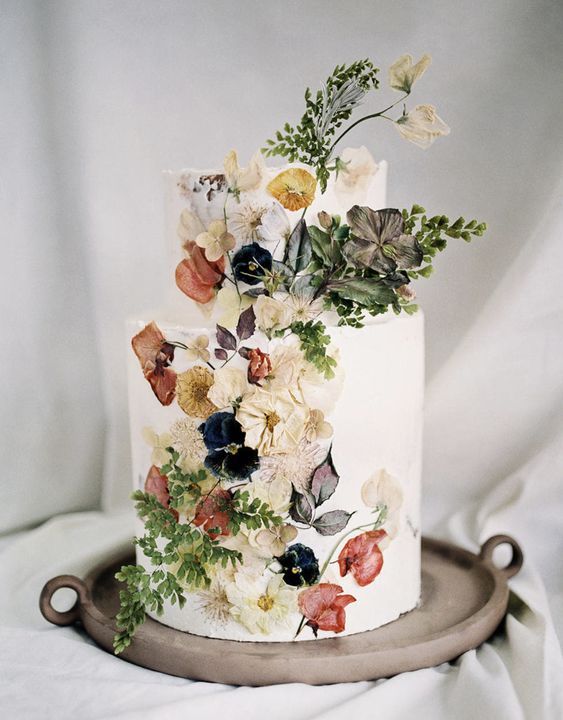 Fresh edible greenery and flowers are commonly used to decorate wedding cakes. Consider attempting an innovative and unusual method that will result in a stunning wedding cake. Such as the pressed flower cake design. This wedding cake use dried flowers that are pressed into your plain white cake to create a 2D realistic flower painting. It's such a suitable cake to create a natural and greenery wedding concept.
Dried Flowers Wedding Cake Topper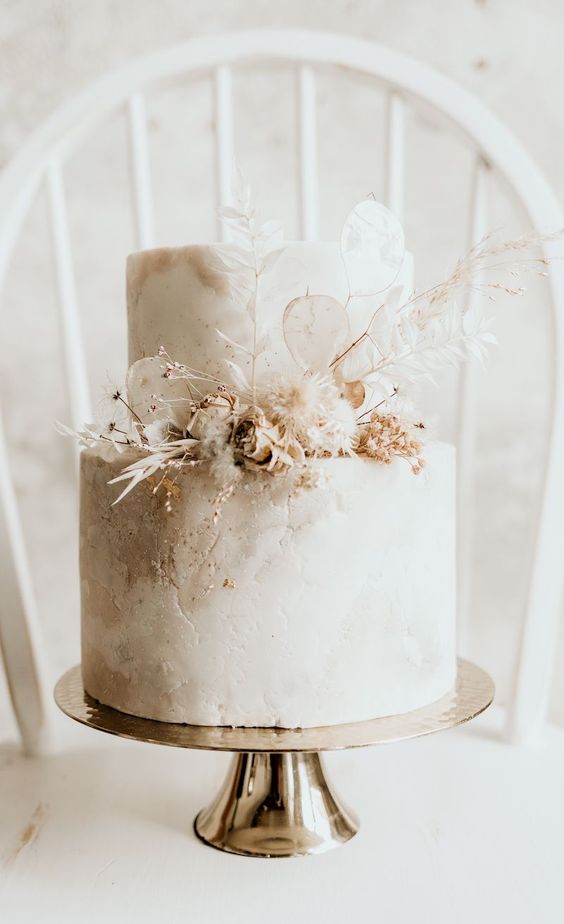 Aside use pressed methode, you can use dried flowers for the wedding cake as a topper. Choosing white and neutral dried flowers such as pampas grass, bleached silver dollar eucalyptus, dried roses, and baby's breaths to garnish your industrial wedding cake design. Then, when you get a gold wedding cake stand, it would give an elegant touch that looks classy.
Dried Flowers for Wedding Accessories
Dried flowers for weddings can be applied to brides' and grooms' accessories. You can get different types and colors of dried flowers to form a crown on your head, replace hairpins, or use them as veil ornaments. Aside from natural wedding ideas, dried flower accents not only work to create a rustic romantic wedding theme but also a sustainable wedding concept.
Dried Flower Crown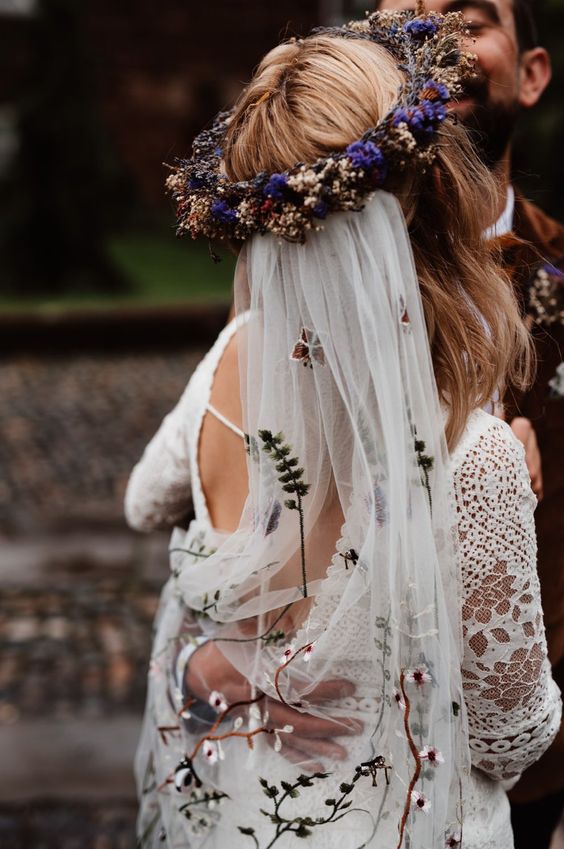 Prepare some brightly colored dried flowers to make the bride's crown. Simply ask for dried baby's breath blooms in a variety of colors to arrange on branches. This will provide you with romantic wedding accessories that are both traditional and whimsical. You can also add a veil to the crown to make it more dramatic.
Hair Clip Design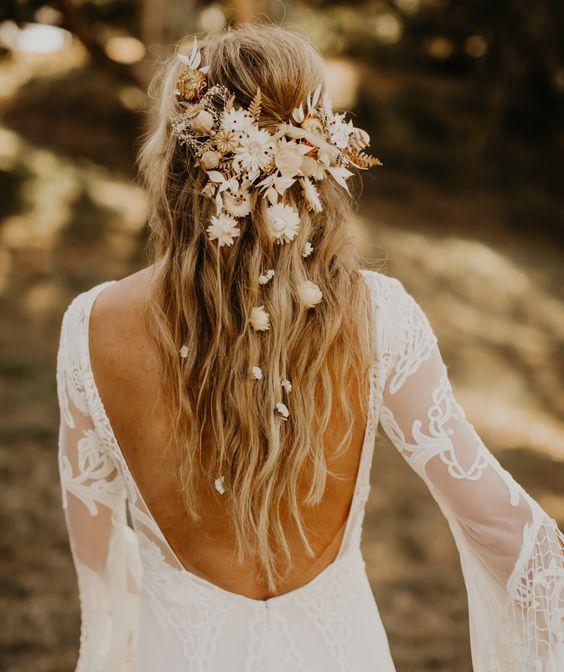 Another bridal accessory from dried flowers is a hair clip design. To have a more natural ambiance, you can apply some dried flowers for adorning your hairstyle look. This style would suit whether in outdoor summer weddings, used to create bohemian wedding concepts, or getting a rustic wedding.
Dried Flower for Bandana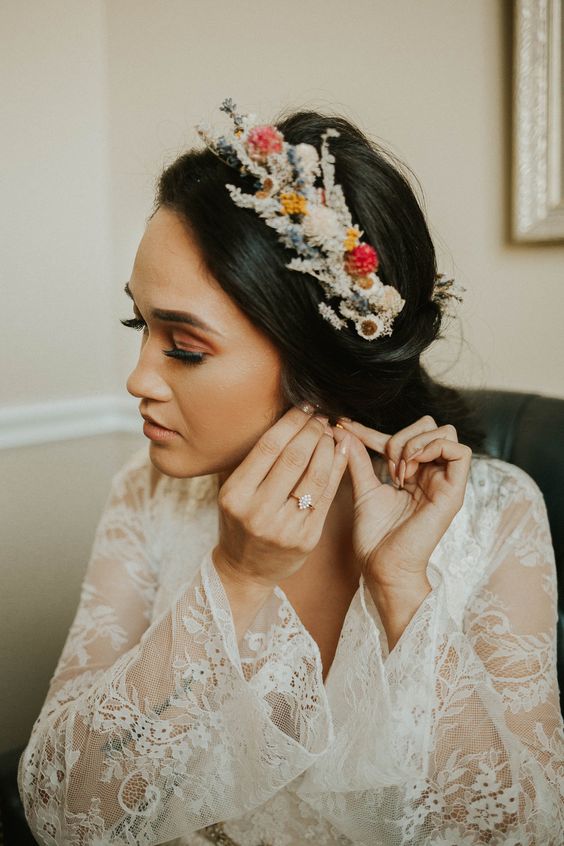 You've probably seen bridal hairstyle accessories like dried flower crowns and hair clips. A bandana is another way to use dried flowers for wedding accessories, particularly for brides. The method is the same as making a dried flowers crown, but you only need to make it in half round to tuck into the bridal hairdo later.
Dried Flower Buttonhole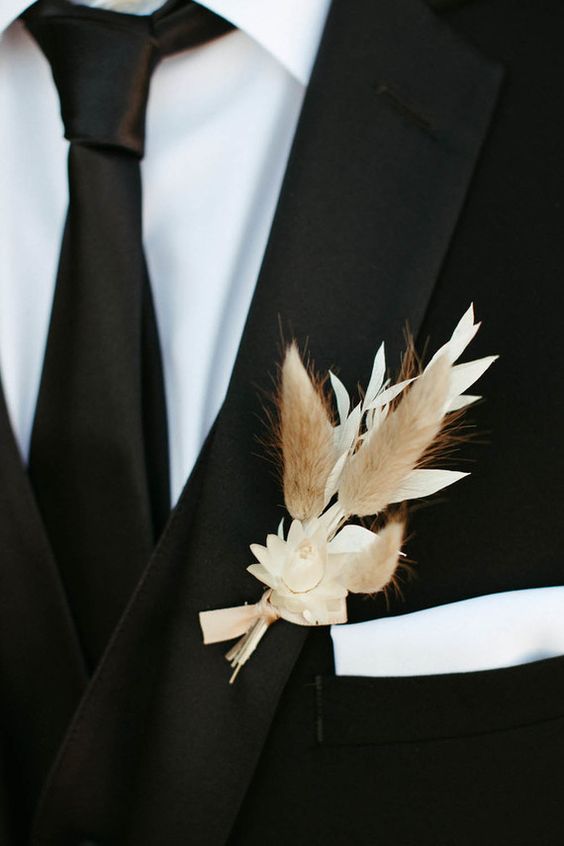 Not only do brides need to look gorgeous, but so does the groom. Aside from selecting appropriate tuxedos or groom suits, you should consider details such as boutonnieres to enhance your appearance. This is a type of traditional flower adornment located in your tuxedo's pocket or buttonholes. You can add a chic bohemian touch by using dried flowers for wedding boutonnieres. You could also pair it with fresh white blooms that look banded together, as well as dried flowers in muted colors.
Wedding Corsages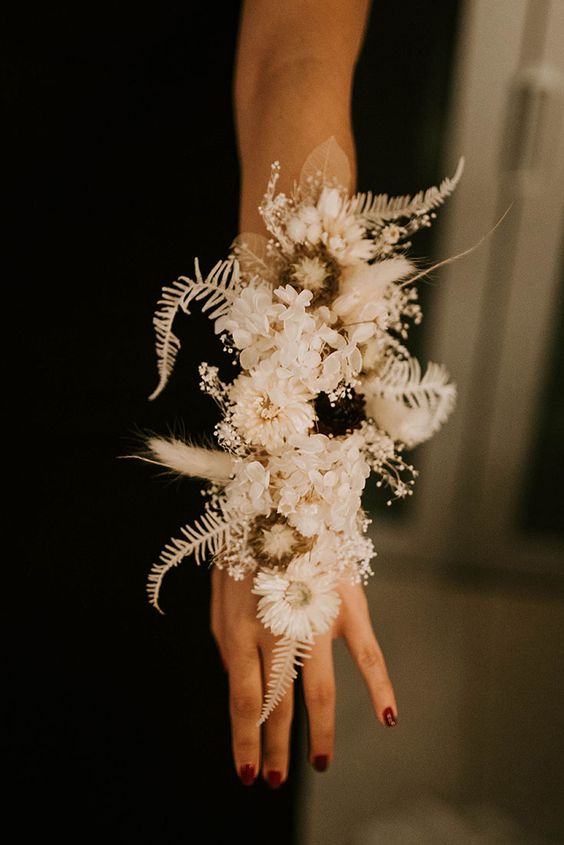 Another way to apply dried flowers for wedding accessories is by bringing them out for corsages. This is a kind of traditional wedding embellishment that use to honor every woman in the family including the mother, aunts, sisters, and also your grandmother. For this, you can ask your florist or wedding planner to prepare some dried flower bracelets. For the brides, you can also wear the corsage that has a matching design with the groom's boutonnieres. You can try to make a corsage from white dried ferns, white daisies, and baby's breath, also combine it with artificial flowers to have a more lovely form.
Wedding Invitations with Dried Flower Accents
Complete both natural and bohemian wedding concepts using dried flowers for wedding invitations. Take a look down below if you want to get some aesthetic invitation designs.
Dried Flower Wax Seal Invitations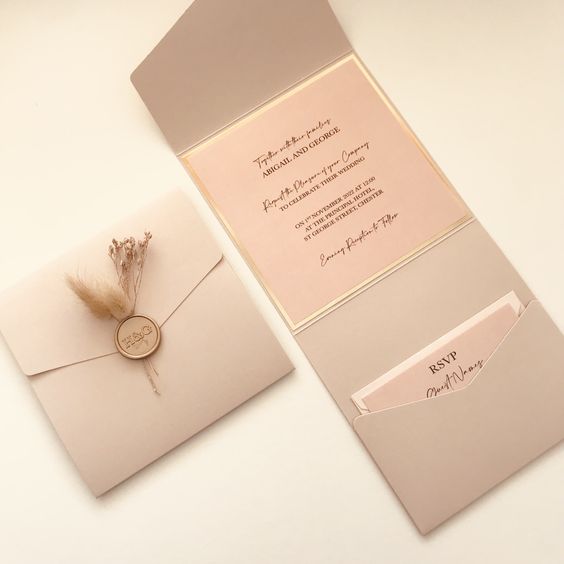 This is the first technique for incorporating dried flowers into wedding invitation design. This lovely blush and rustic invitation with a white dried flowers wax stamp to seal the envelope is a lovely way to announce your special day. You can bring this invitation design either for a bohemian, rustic, or romantic summer wedding theme.
Dried Baby's Breath for Rustic Wood Wedding Invitation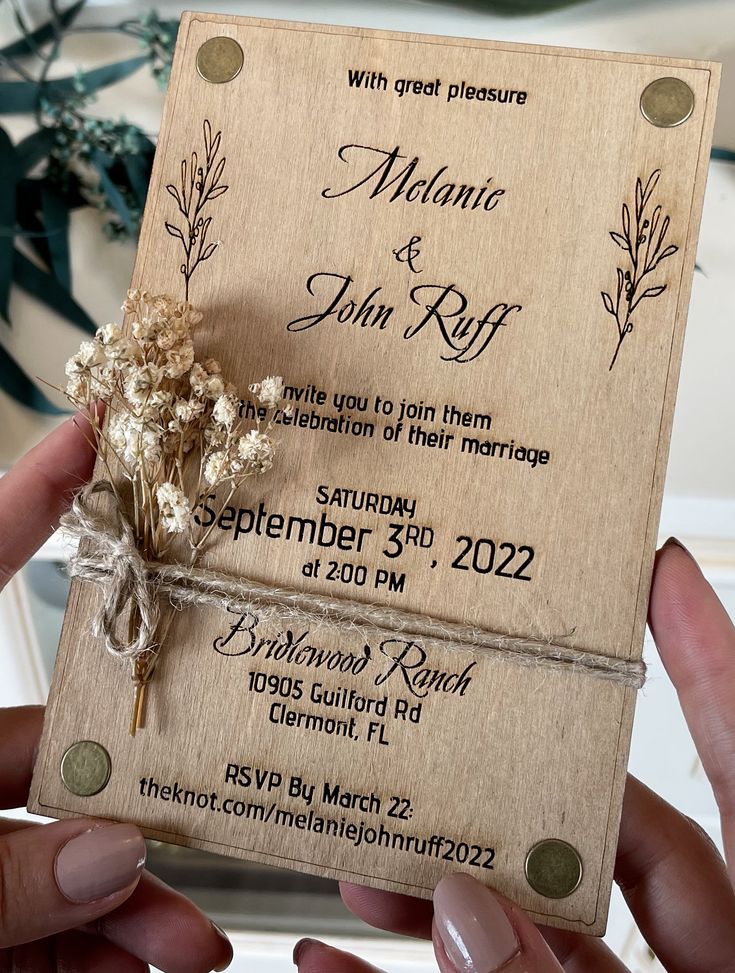 Decoratively incorporate dried flowers for the wedding announcement in your rustic wood invitation card. Bring real and dried baby's breath, lavender, or other flowers to knot on the envelope with rattan rope. The invitation designs have natural texture and with wood grain impression giving it a warm rustic look and feel.
Pressed Flowers Invitation Design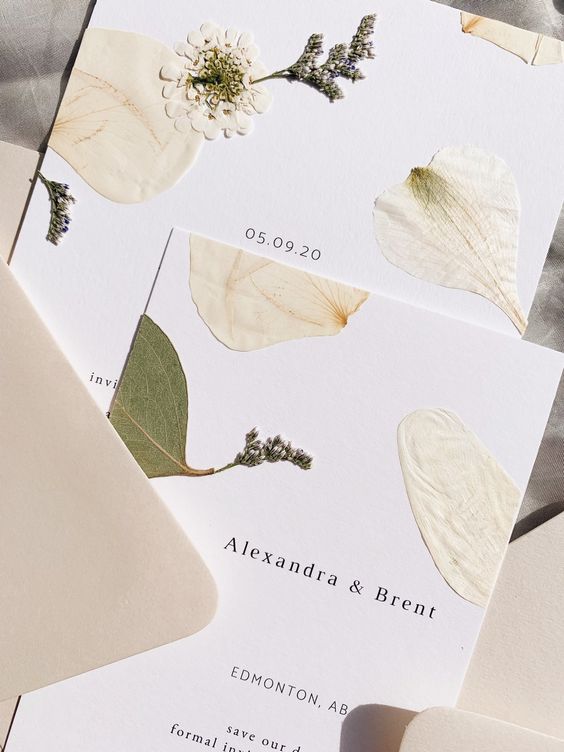 Printed flowers in wedding invitations may look usual and common. But, how about putting pressed dried flowers for wedding card design? This is truly unique and pretty good to create a natural element in your wedding concept. You can choose white flowers with green leaves that dried naturally by putting and pressing them in the thick book.
Boho Invitation with Dried Flowers Watercolor Design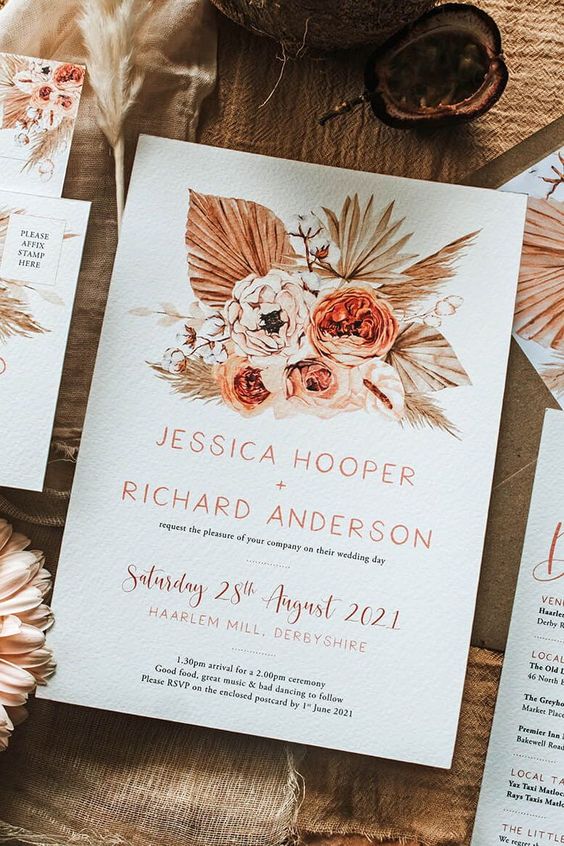 Simply, you can use dried flowers for wedding invitations by using watercolor design. For you that want to have a fully bohemian theme, aside use earthy tone palettes, you can add pampas grass and dried flowers graphic on the announcement card design. Just bring it elegantly with simple aesthetic stationary in it.
Wedding Favors
Dried flowers can be easily incorporated into your weddings in a variety of ways, including venue decoration, wedding bouquets, and wedding cake design. So, we'll give you another inspiration to use dried flowers in your weddings: wedding favors. To thank your guests, you can give them a keepsake such as a mini bouquet of dried flowers, personalized candles, or soaps.
Personalized Dried Flower Soaps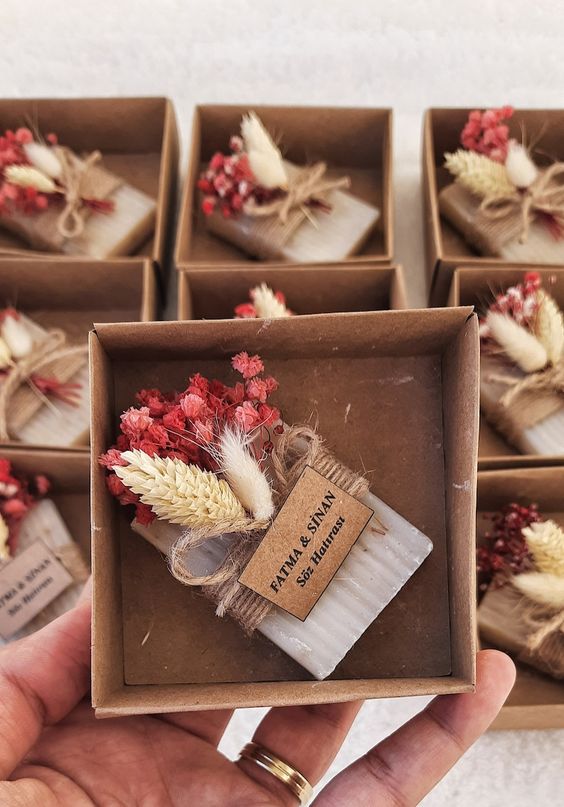 Give your guests natural soaps as eco-friendly wedding favors. Decorate the gifts with dried flowers to emphasize a more natural concept and make them look more beautiful.
Candle Flowers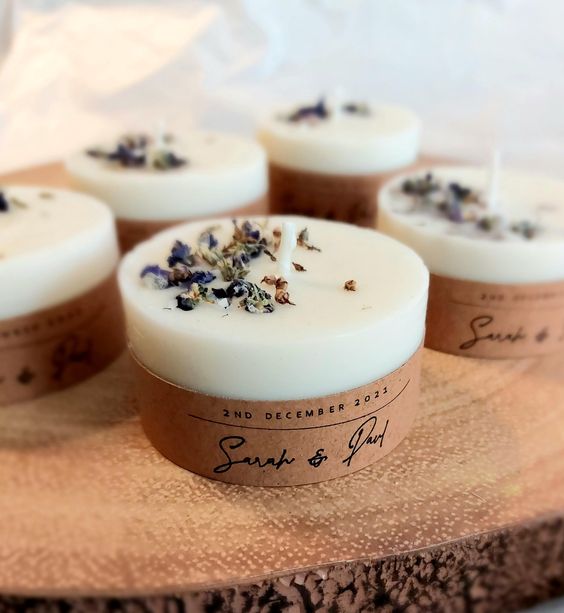 Aside from soaps, you can bring out dried flowers for wedding favors by using personalized candles. For this, you can create aromatic candles using herbs or flowers that have strong fragrances such as roses, lavenders, etc.
Mini Dried Flower Bouquets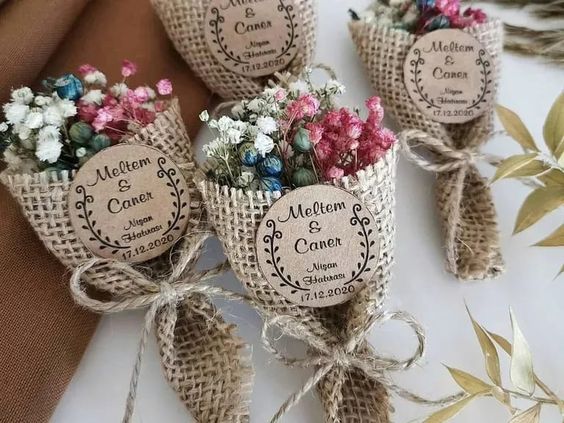 If you look for a simple way to include dried flowers in your wedding, just use them as tiny bouquets for wedding favors. For this, you can use various dried flowers such as baby's breath, bunny tail grass, Glixia, or phalaris that you wrap with burlap.
Overall
Dry flowers are an alternative way to make lovely wedding decor. At the wedding, you can use dried flowers for wedding bouquets, hall decorations, wedding favors, and aesthetic wedding accessories. For information, dried flowers are mostly used for creating eco-friendly and sustainable wedding plans. Aside from that, dried flowers for weddings are the best option for saving money because they are available in any season, have long-lasting beauty, and are simple to incorporate into any wedding theme. So, do you want to get dried flowers for wedding accents now? Without any doubt, gather your inspiration from above and start planning your dream wedding with your partner. However, if you want such natural inspiration for your wedding concept, the greenery wedding concept ideas may be suitable for you. Good luck, guys!!!