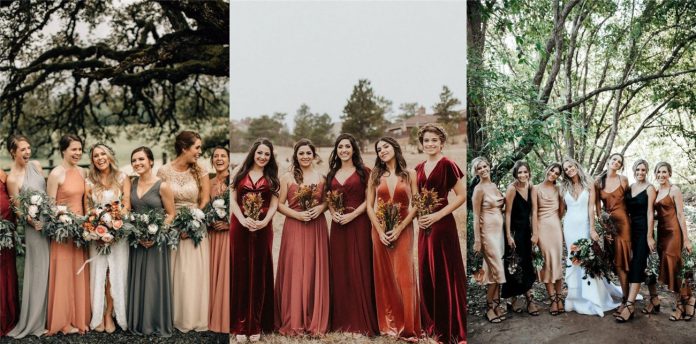 Roowedding.com – Picking a bridesmaid dress is a kind of fun thing in your wedding plan. While brides and grooms always become the center of attention, bridesmaids and groomsmen also need to perfect their looks. Important to make your attendant feel comfortable also confident with their outfits that would carry on a nice vibe on your wedding day. You may find various gown styles, from chic, flattering, elegant, classy, and fancy bridesmaid dress ideas that can be your option. In fact, you should always consider your bridesmaids' opinions as well as your wedding theme.
You may have difficulty deciding on the best gown for taking great photos. Everyone assumed that selecting the bride's gown was more important, but naturally, both the bride's and bridesmaid's looks must work well together and complement each other. So, for the time being, we'll assist you in harmonizing your wedding gown with the styles of your ladies in honor by providing some fancy bridesmaid dress ideas. We've gathered some fabulous bridesmaid designs that would catch people's eyes. If you are interested, keep reading this and get your inspiration here.
Jumpsuit Bridesmaid Dress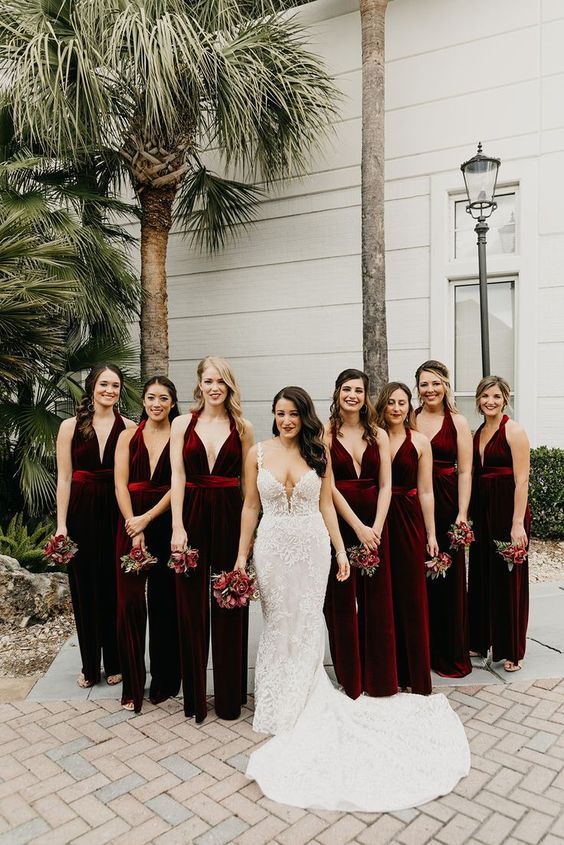 For those who want something that unusual for a fancy bridesmaid dress idea, you can pick this velvet jumpsuit. The shining red from the velvet fabric would make your white wedding dress look more stunning. Designed in a jumpsuit that is sleeveless really suits to fancy look that you create on your wedding theme. This bridesmaid dress idea can you apply to winery or vineyard wedding concept.
Black Gown with Leather Jacket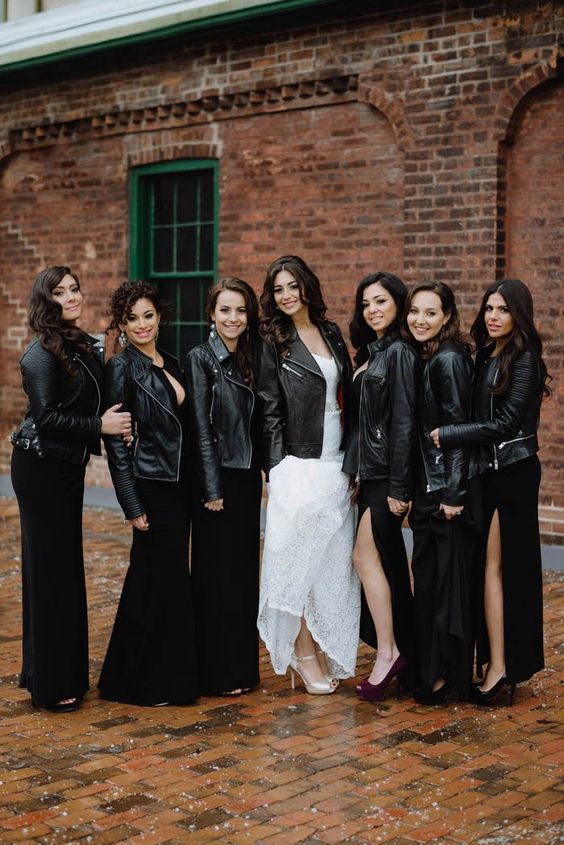 Black dresses with leather jackets are another fancy bridesmaid dress idea for your wedding. This is how you achieve a fancy look in modern style. Aside from that, this combination would look better with an industrial wedding theme. Your bridesmaid would look elegant with the long black gown and leather accent.
Bridesmaid in Suits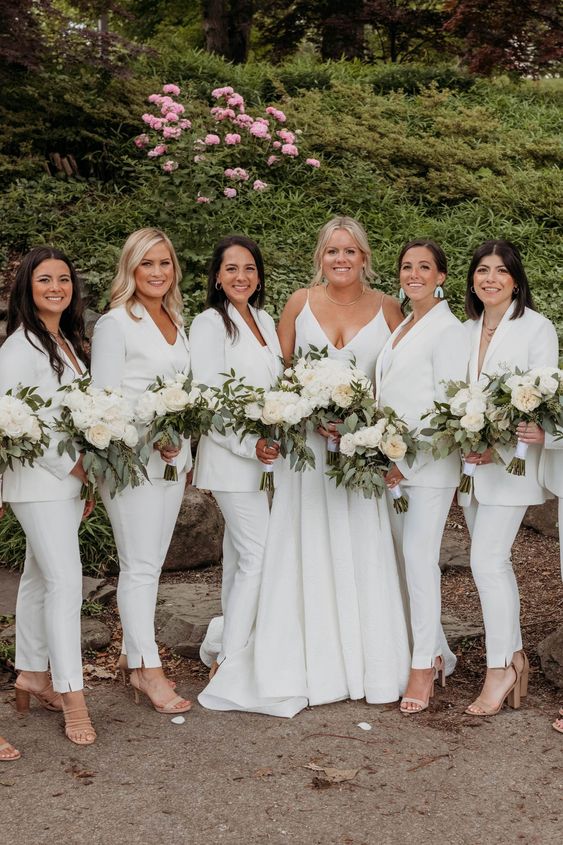 What else would make your bridesmaid look elegant and classy? I recommend that you try this fancy bridesmaid dress idea by modeling white suits. Besides that, this kind of bridesmaid costume would bring a different performance from the rest. This may make you become the center of attention by having ladies in suits.
Golden Gown for Fancy Bridesmaids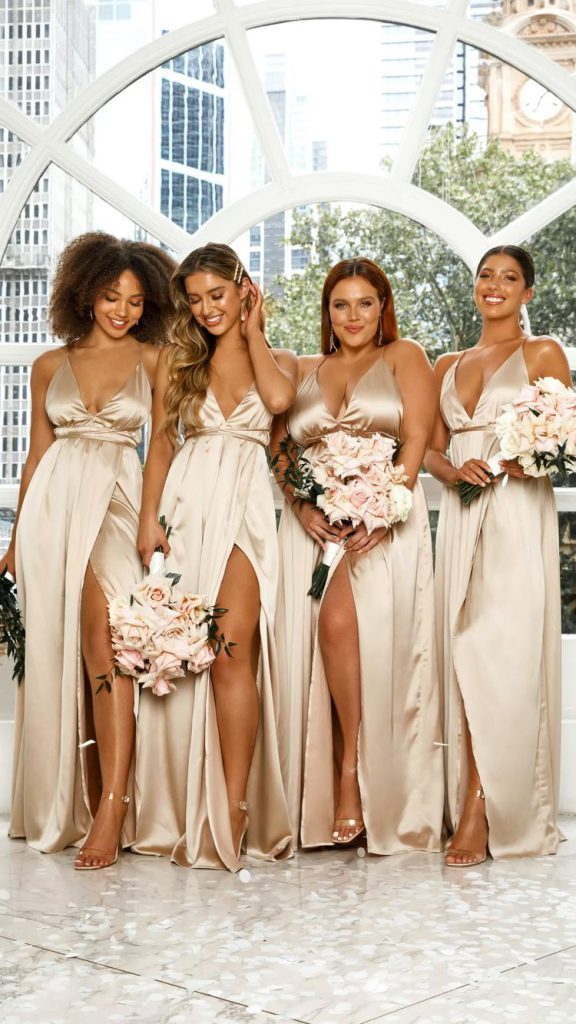 Thinks about fancy and classy, gold may be the best color for this. You can create a fancy bridesmaid dress idea by getting a golden silk spaghetti strap dress. The slim-fit design can create a beautiful silhouette and make them look more stunning. The glossy gold silk fabric also can bring glamourous without wearing any jewelry or accessories.
Glam in Sequin Dress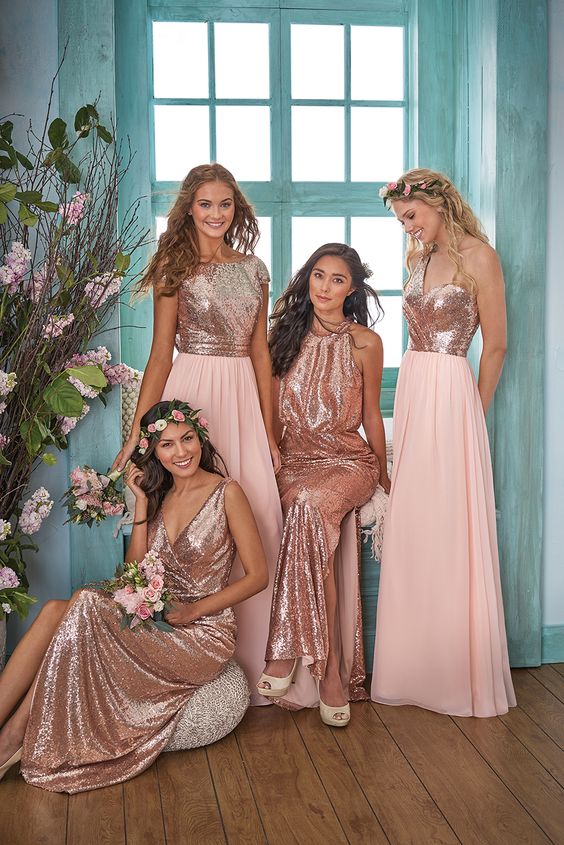 Bring another glam to your fancy bridesmaid drees idea using a sequin gown. This is also the way if you want to make your ladies in honor look luxurious and elegant. You can also bring mismatched designs and combine them with another fabric. Make it lovely by applying a pastel color palette like peach, pink, or coral.
Elegant Off-Shoulder Mermaid Dress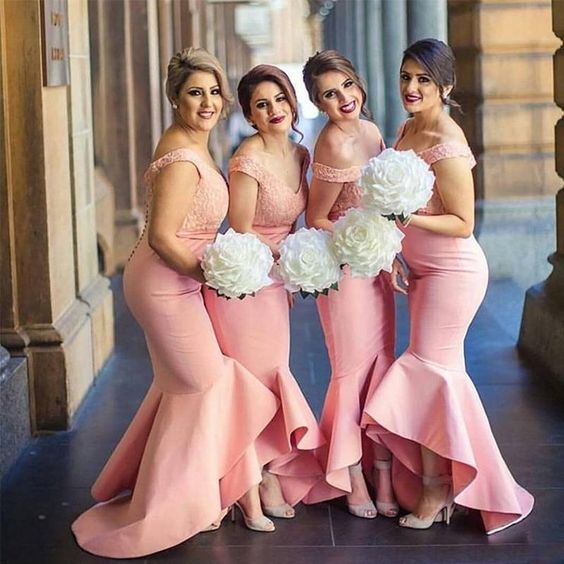 Grab this off-shoulder mermaid dress with a high-low ruffle cut in the bottom if you want to show off the perfect body portion. This gown would embody the elegance, classiness, and charm of your natural body silhouette while creating a slimmer image, making your attendant stand out in the crowd. To have a fancy bridesmaid dress idea can be styled with the romantic pink and get lace or embroidery detail on the top.
Emerald Green to Look Vintage Classy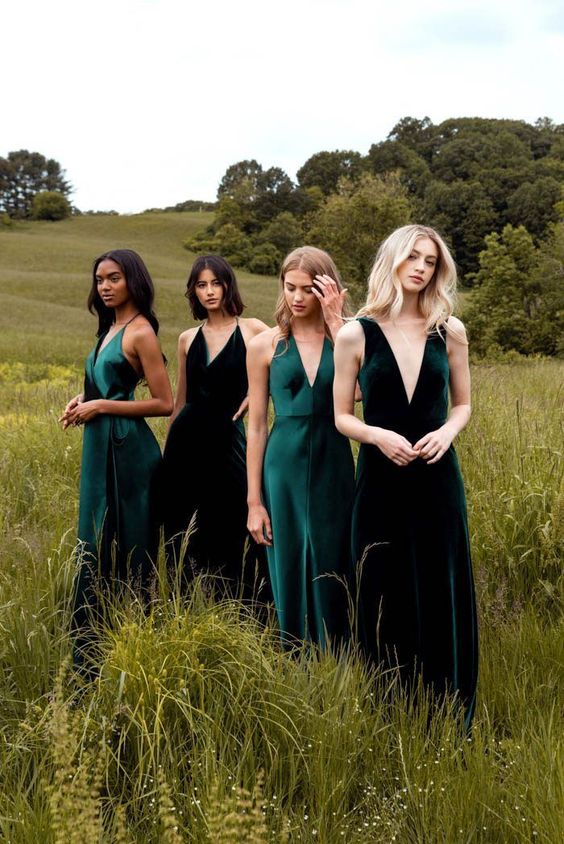 Dark emerald green dresses are a great choice for incorporating vintage classic style. Especially when this color is available in velvet fabrics for fancy bridesmaid dress ideas. Other options, such as silky and shiny fabrics, would enhance the beauty of this jewel color. Simply make your ladies' gown as simple as possible when using this kind of color and fabric. For instance, in this plunging v-neckline a-line dress, even the design is simple but the shiny fabrics and emerald greens palette elevate it to a more classy and elegant level.
Silk or Satin Bridesmaid Dress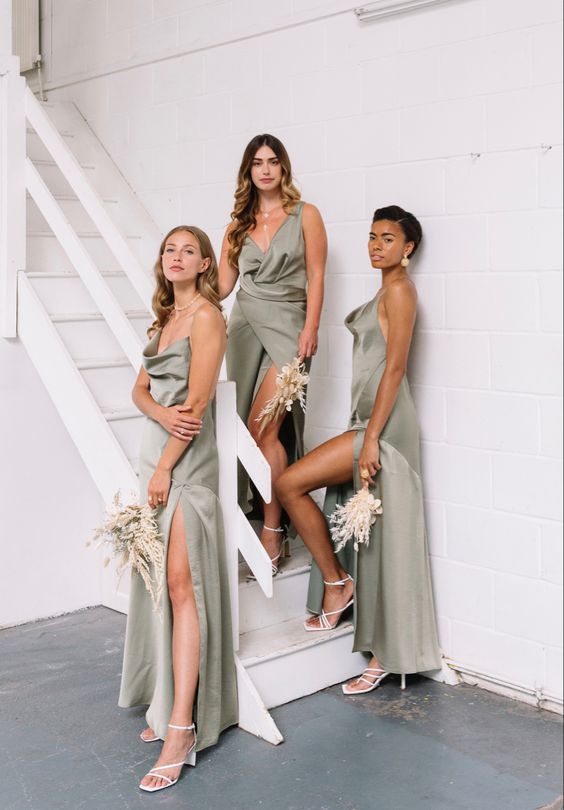 Aside from velvet, silk is the favorable fabric to deliver classy, fancy, and glamorous outfits even using a simple design. Most brides not only wear this for their main wedding gown, but also for their bridesmaid gown. For a fancy bridesmaid dress idea, you can try to apply a green sage silk dress like in this picture. If you wish, ask your designer for a bridesmaid gown in an a-line look and a long slit.
Stunning Terracotta Dress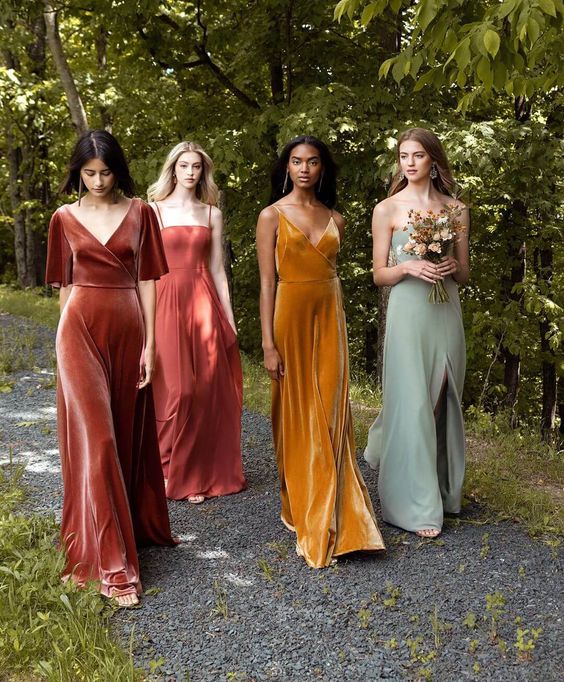 The terracotta trend is currently gaining popularity. Green sage, bronze, rosewood, autumn tan, orange, marigold, and other earthy tones support the terracotta theme. If you want to create a fancy bridesmaid dress idea in the fall wedding theme, you can make mismatched bridesmaid dresses in terracotta palettes. Warm colors in bridesmaid gowns complement the various skin tones of your maids of honor. Aside from that, velvet is appropriate for creating flirty and flattering gowns for fall or winter weddings.
Chiffon for Chic Elegant Bridesmaid Dress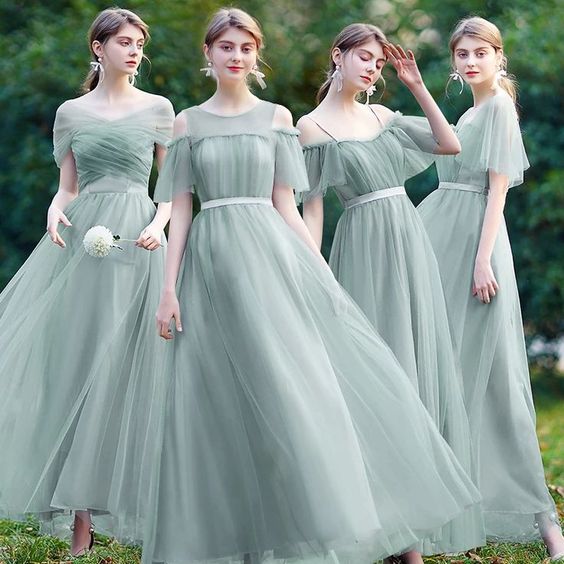 A chiffon dress typically suits every place and wedding concept. Almost every wedding theme would suit involve chiffon, either for main bridal dresses or the ladies of honor gowns. When you want to create chic but fancy bridesmaid dress ideas, you can try on an a-line chiffon dress with mint or pastel colors.
Look Stunning in Velvet Dress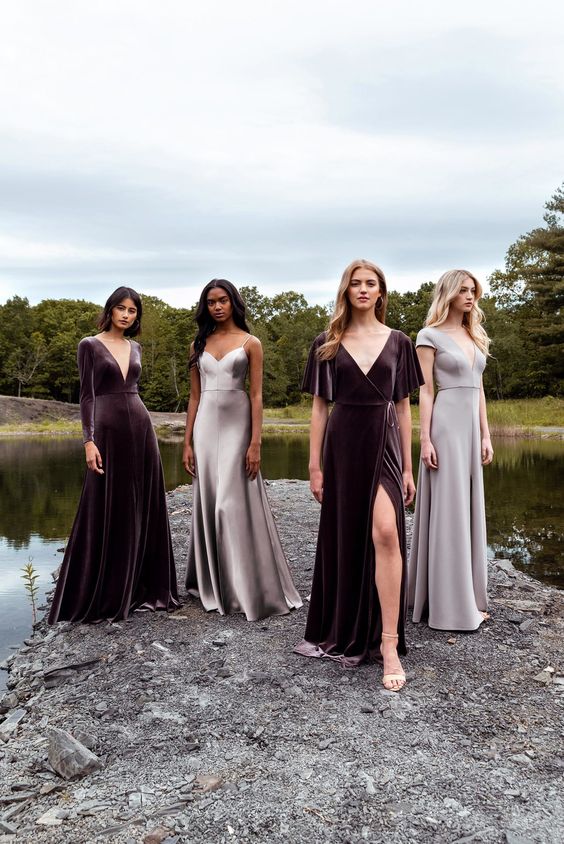 This luxurious velvet fabric is flattering and is commonly used to make bridesmaid dresses for fall and winter weddings. As a result, using this type of fabric not only brings a classy look but also makes your ladies feel comfortable throughout the ceremony. With plunging v-neckline velvet dresses, you can create a simple fancy bridesmaid dress idea. Then, you can make it in various colors such as dark emerald green, plum, wine, red ruby, and others.
Modest White Bridesmaid Dress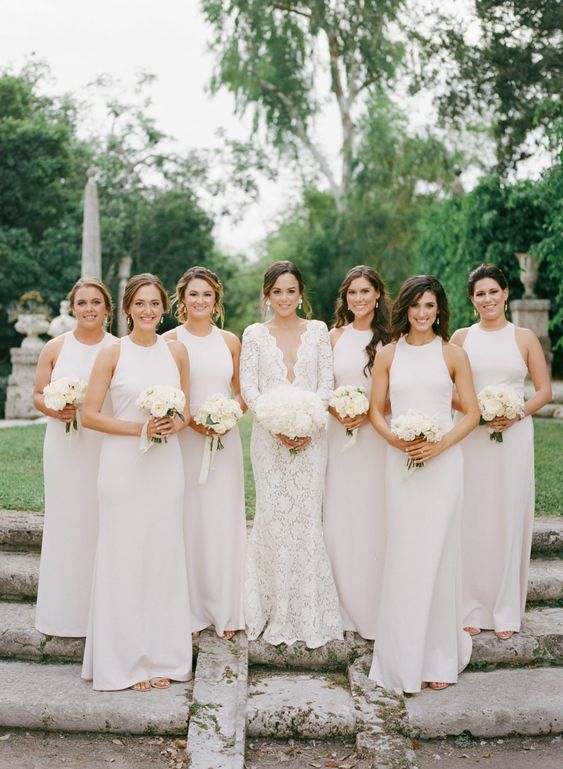 For brides who don't want to be the center of attention, you can bring white gowns for your maids in honor. It may be a simple way but actually a great idea for you who are introverts. As we all know, white is a kind of neutral color that can be used in any concept, including classy and fancy wedding themes. If you want to make a fancy bridesmaid dress, have a white dress with different fabrics and styles from your bridal gown. For instance, you can make a simple halter white dress for bridesmaids and use lace with a plunging v-neckline design for bohemian wedding dress ideas.
Romantic Blush Strapless Dress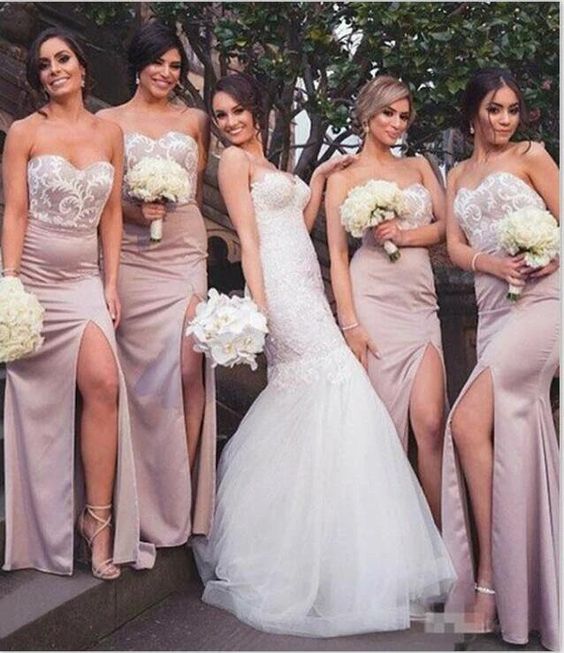 This blush strapless gown is the perfect embodiment of romance for a summer wedding. This attractive appearance would enhance your wedding party and add aesthetic style to your wedding photos. Aside from that, the lace detail on the top of the blush pink satin gown makes this strapless gown look sexy but classy. So, do you want to use this dress as a fancy bridesmaid dress idea for your wedding?
Lovely in Simple Style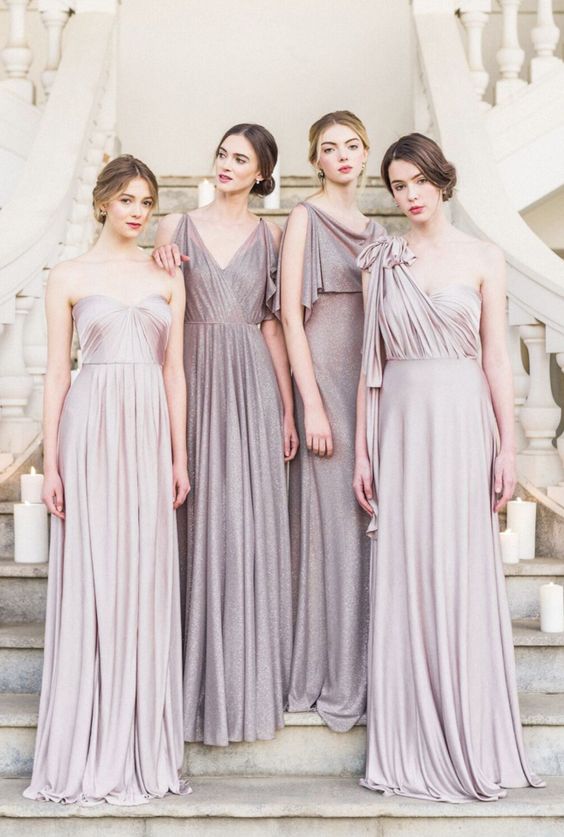 Using this dress you'll get the picture of the romantic classy at your wedding. This is a special design for bridesmaids that can make them charming and cool with the simple maxi flowy dress. You can use sleek and fall fabric that's a bit glittery to create fancy bridesmaid dress ideas. Choosing champagne, beige, off-white, or mocha as dress colors will enhance the class and elegance of your lady's gowns, even if they are designed in a simple style.
Elegant with Short A-line Dress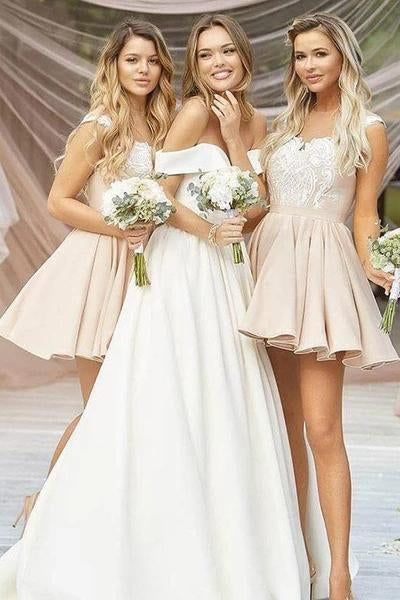 If you're looking for something different and versatile option for a fancy bridesmaid dress idea, consider this short a-line gown. The perfect short length, which shows off your lovely legs, makes this short dress appropriate for all places and occasions. This dress goes well with everything from formal parties and cocktail events to night-out attire for indoor weddings. You can get bridesmaid dress ideas from getting this beige sleeveless short gown. The style is simple, but a little brocade or lace accent on the top can make it appear more classy.
Stand with Lace Halter Dress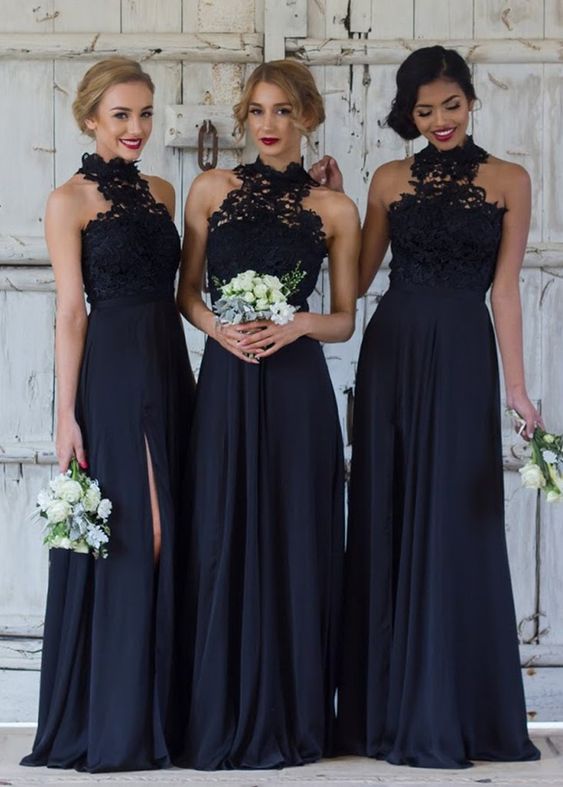 The final fancy bridesmaid dress idea is a sleeveless high neck lace halter dress. The top of the dress has see-through soft lace on the neck, and the skirt has a slit and friendly chiffon that provides a comfortable feeling. Designed with a halter can lengthen your body curve that would make your ladies look more elegant and outstanding. This glamorous dress is the perfect gown to accompany brides during the summer wedding reception.
That's all of the fancy bridesmaid dress ideas for those of you who are confused about your maid of honor's gown. Discover what works best for your squad's bridesmaid dresses in terms of design, materials, colors, and combinations. One piece of advice for those of us planning a wedding is to make sure that all of the details are carefully considered, including times, locations, and the weather. So, if you plan a beach wedding party, find more bridesmaid dress inspiration by reading our article about beach wedding bridesmaid dresses for outstanding moments. Good luck girls!!!