Roowedding.com – What kind of color that you prefer for your wedding complement decor? If you still do not have an idea, these top winter wedding color combos below is suitable for you. Especially, for you who have planned for a winter concept, this is a right concept to follow. Color become the important part of a wedding that can make our wedding decor perfect. If we have the best idea for our sacred moment but we cannot match it with a suitable color and decor, how does it look like? It will look so bad, that is why, at this moment, one of the best wedding planner offers you a beautiful wedding color for winter wedding to make your event more outstanding. So, let's take a look below for the detail concept!
Brown and Greenery Winter Wedding Theme With Woodland Ideas
Do you like a brown color? Yeah, with this color the designer offer you a special design which can make an extraordinary wedding. You do not always choose a white or bright color to apply in your wedding. With a bright or beige color, you also may show a perfect wedding concept that you dream. Like the winter wedding concept below, by applying brown and greenery ideas, it will make your wedding looks charming. Brown is one of warm color which you can use to apply for anything. Therefore, to match it, the wedding planner combine with a white color to make it looks harmonious. Both colors are also compatible to use for matched a wedding invitation, cake, and other complements. To support this beautiful wedding color for a winter wedding, they make a woodland to suit with the concept.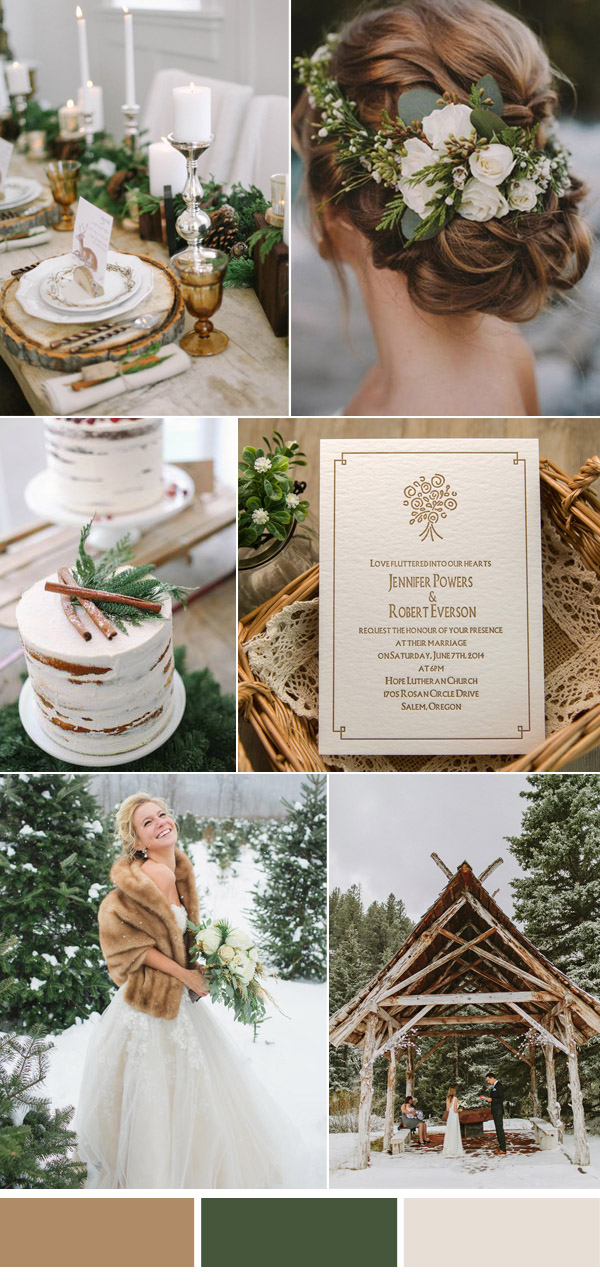 Burgundy Winter Wedding Ideas Bring Out an Elegant Impression
Then, if you want to show a glamor and elegant impression to your wedding party, you must choose a dark or deep red color to support it. It does not matter if you want to apply this color in a winter wedding, exactly it will make your wedding look extraordinary. A burgundy winter wedding ideas will bring out an elegant impression for this wedding party. This kind of dark red color, the designer match it with a white or cream colored. Winter wedding color combos here was very appropriate and compatible to apply for wedding dresses, invitations, and cake. It will present a glamorous and elegance outlook to your wedding party.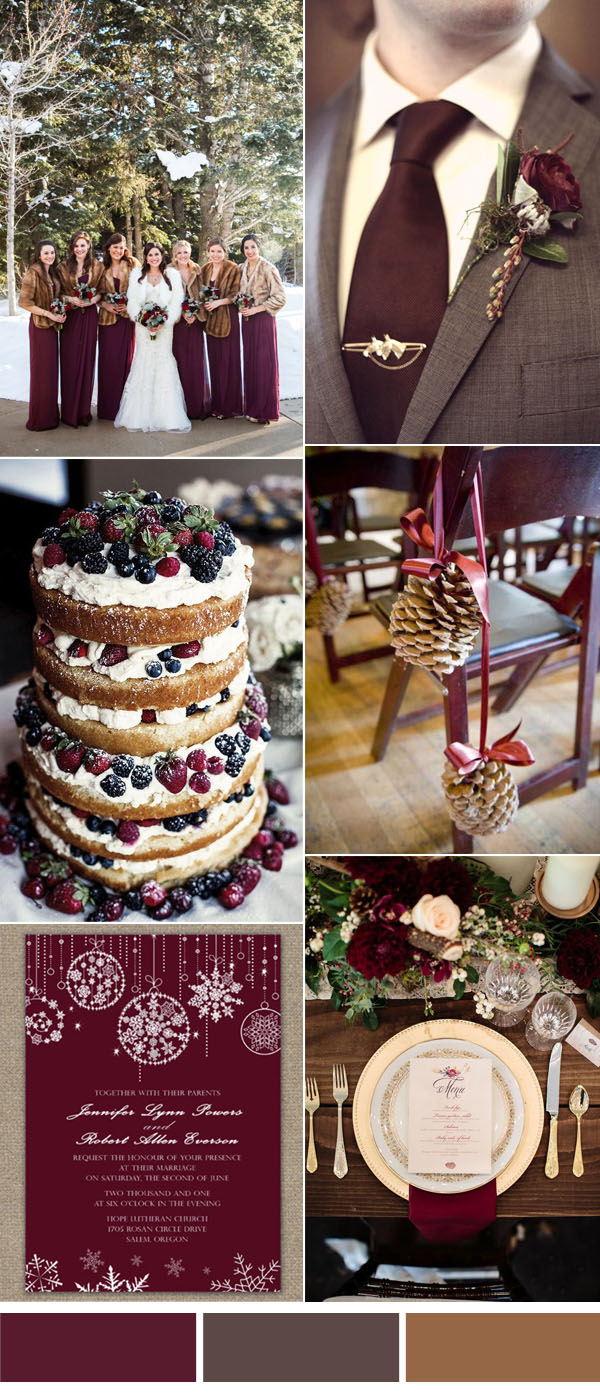 Cozy Gray Winter Wedding Ideas Showing a Beautifulness
Then, to bring out other perfect and cool impression, choosing a gray color is also very possible. This color is one of compatible color that can apply for wedding concept because it does not look too dark or bright. Therefore, the wedding planner gives you the best idea to apply a cozy gray winter wedding ideas to match your wedding complements. With a gray color nuance, it will show beautifulness impression to your moment. This color is suitable to combine with other bright or neutral color.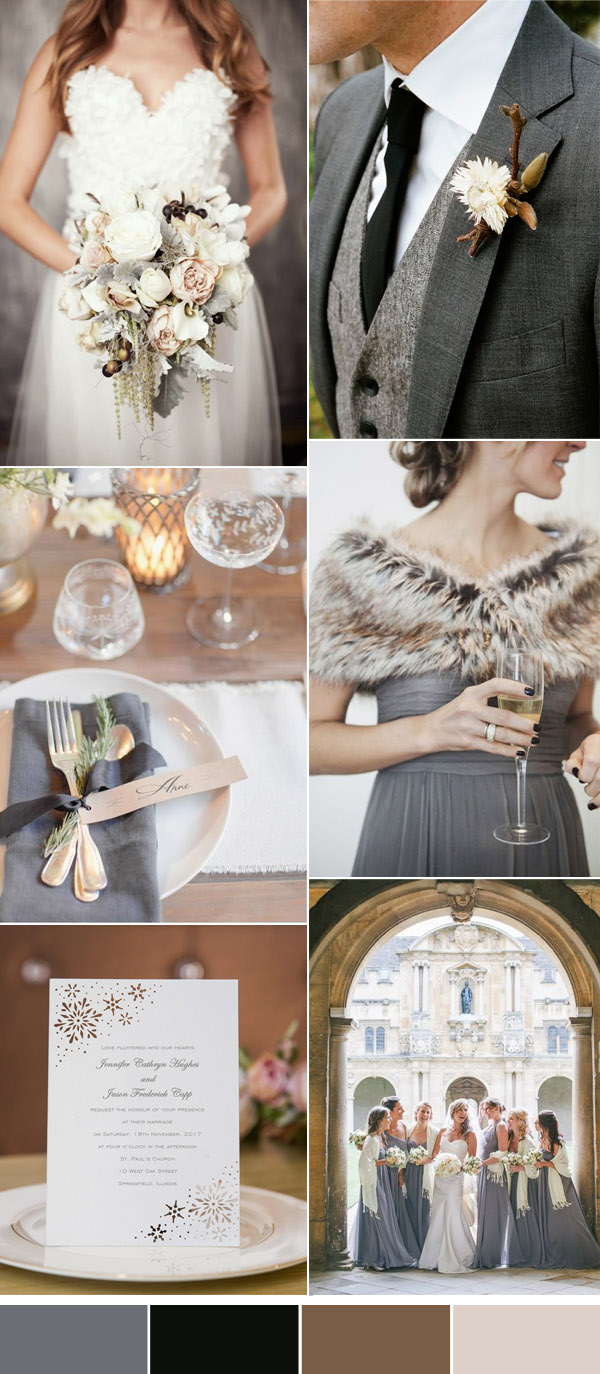 Do not confuse anymore to choose a compatible color for your winter wedding. Choose one of wedding color above which very appropriate to make your moment looks attractive. Let's determine and choose one of best winter wedding color combos above. Good luck!