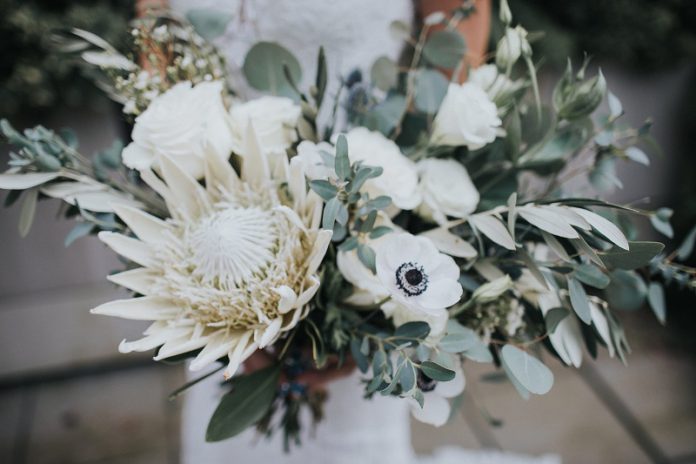 Roowedding.com – Are you looking for how to carry natural concepts into your wedding? Aside from decoration ideas, you can rely on your bridal flower arrangement to bring this concept. You can incorporate some fresh greenery and foliage into your wedding bouquet idea. Beautiful flowers are often a component of wedding decor. On the other hand, white and greenery bridal bouquets may be used if you want something unusual in your lovely wedding arrangement. You may organize some foliages alone or mix them in white and blush flowers.
Using greenery wedding bouquets in your natural concept is a truly excellent and incredible choice. Fresh greenery and foliage have various shapes, textures, and also shades that would create more room for creativity. When you want to have pretty greenery bridal bouquets, think of plants like eucalyptus that give smooth sage green colors. If you want to have the foresty rustic concept, use some versatile ferns. And also get succulents as an alternative to have a long-lasting wedding bouquet.
Therefore if you want to make a natural statement, go for a big greenery wedding bouquet with elegant wispy tendrils which dramatically hang on your hand. Alternatively, when your wedding is more modest and minimalist, go for a simple posy with just one or two types of greenery and one type of flower. To get you inspired, we've prepared 26 prettiest greenery wedding bouquet ideas to copy on. Just take a look below!!!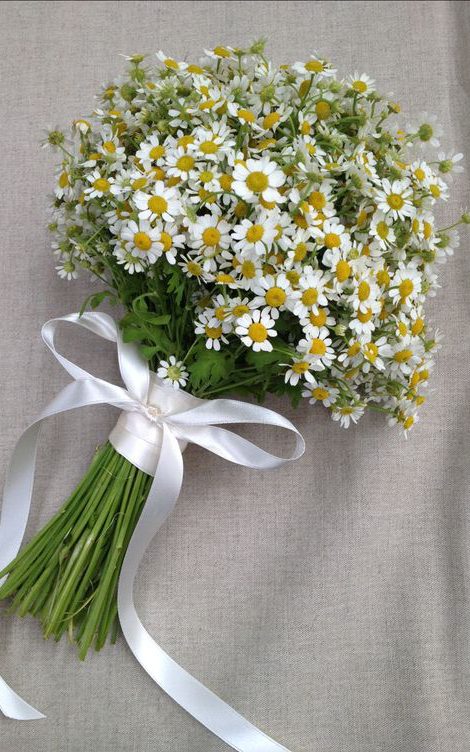 Beautiful Chamomile Bouquet
Bring this chamomile into your greenery wedding bouquet if you want to have a lovely natural look. Having the combination of white, green, and yellow in this bouquet make it look pretty gorgeous to bring when you walk down the aisle. For this, you can ask your florist to prepare a bunch of chamomiles and then tie them with a white silk ribbon that would look elegant in your hand.
---
Pretty Blue Hydrangea Wedding Bouquet
If you prefer a bit of blue statement in your greenery wedding bouquet style, go with this blue hydrangea posy. As we know, hydrangea flowers usually come in a variety of hues, but most people found in it white and blue coloring. That looks completely pretty and perfect to decorate your natural wedding whether in a romantic, rustic, or whimsical concept. For the trick, you can make a combination with white roses in its arrangement to create a pretty elegant bridal bouquet.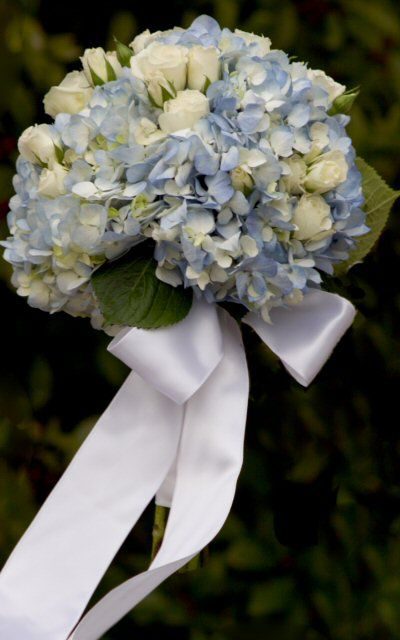 ---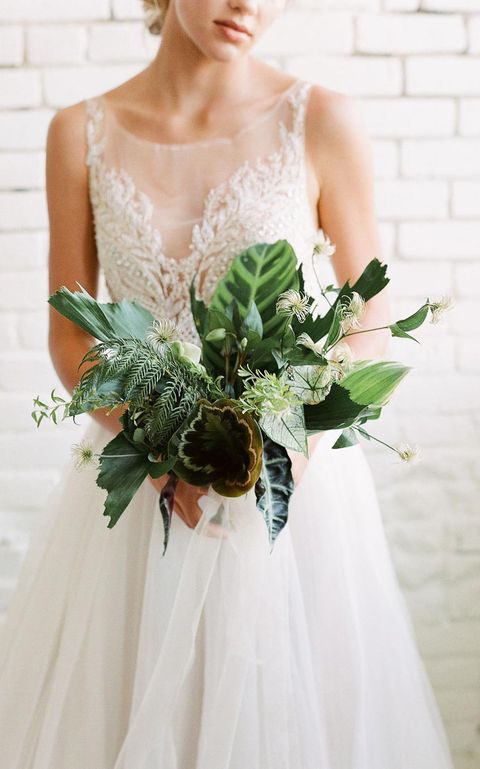 Botanical Wedding Baquet Inspiration
Go for a greenery wedding bouquet with some botanical plants for inspiration. Perform with your greenhouse greenery by mixing multiple textures and different green hues that look fabulous. For inspiration, get anthuriums, monster leaves, and colocasia leaves to make a greenery bouquet.
---
Baby's Breath and Eucalyptus Wedding Bouquet
We love how this baby's breath goes for the greenery wedding bouquet idea. This flower would create a soft romantic feel when it takes to create a bridal bouquet. For the option, you can bring this blossom together with silver-green eucalyptus leaves that are tied in white ribbon for a casual organic look.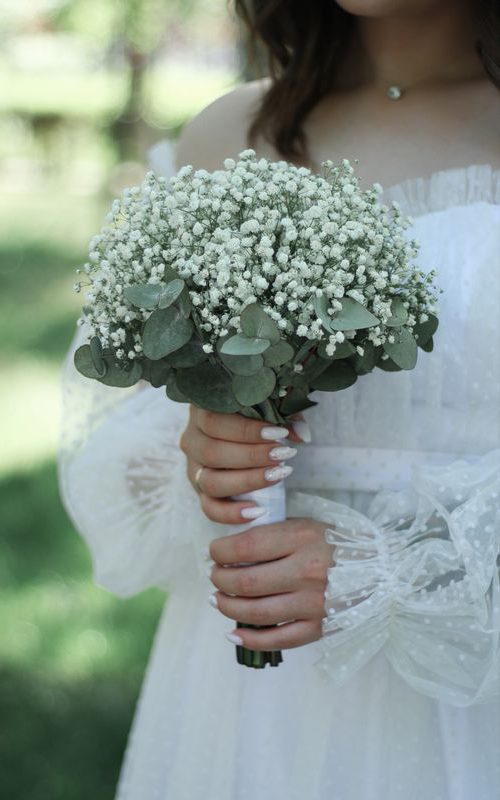 ---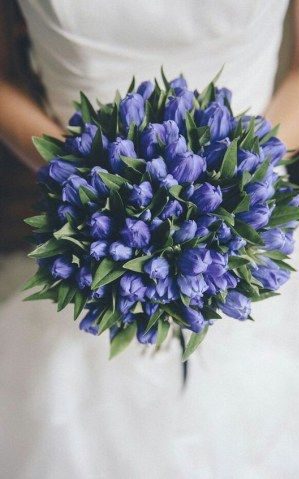 Blue Tulips Bouquet
When it comes to greenery wedding bouquets, Tulips are one of our favorite flowers. The natural elegance of tulips wouldn't make you regret choosing them for your bridal bouquet. The pretty blue tulips make it blend easily with the green of their leaves and get a more elegant look.
---
Anemone Flowers in Greenery Wedding Bouquet
An anemone is a flower that has contrasting colors in the center and petals that look aesthetic. You can use this blossom if you want to find a unique statement to your greenery wedding bouquet idea. Incorporating it between green foliages like eucalyptus and ferns would make it naturally beautiful.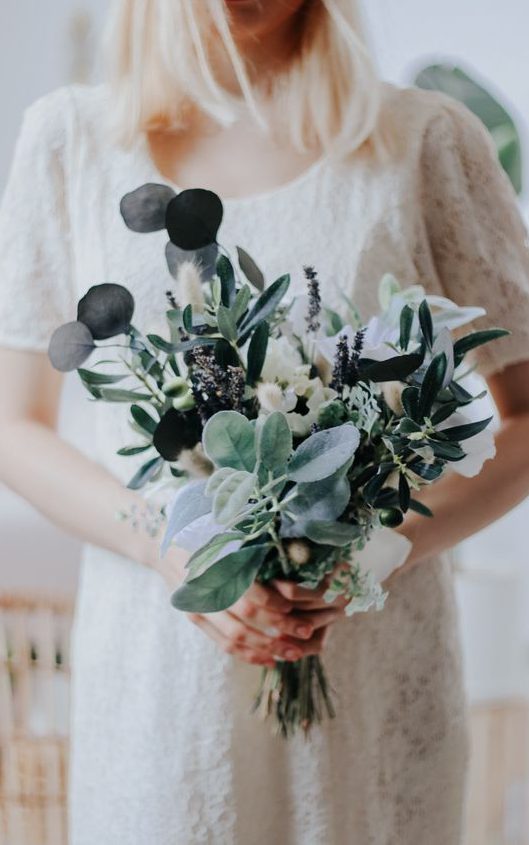 ---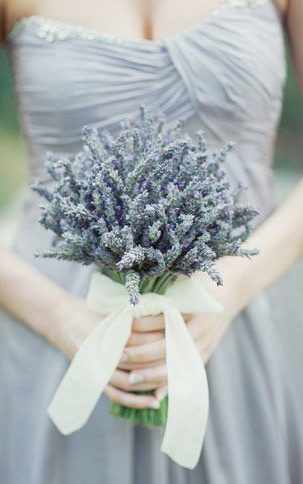 Simple Lavender Possy
The natural elegance of lavenders makes them perfect to bring out as greenery wedding bouquet style. Cluster lavenders at the center and then tie it with white silk ribbon. Alternatively, for an option, you can get other greenery statements for line exterior design that make this bouquet look more rustic.
---
Elegant Calla Lily Wedding Bouquet
Consider white and green colors when opting greenery wedding bouquet idea. This hue can be created when you composed white Calla Lily, white roses, white orchids, and greenery trails like a bridal bouquet in the picture. This bouquet actually will give an elegant statement to your performance.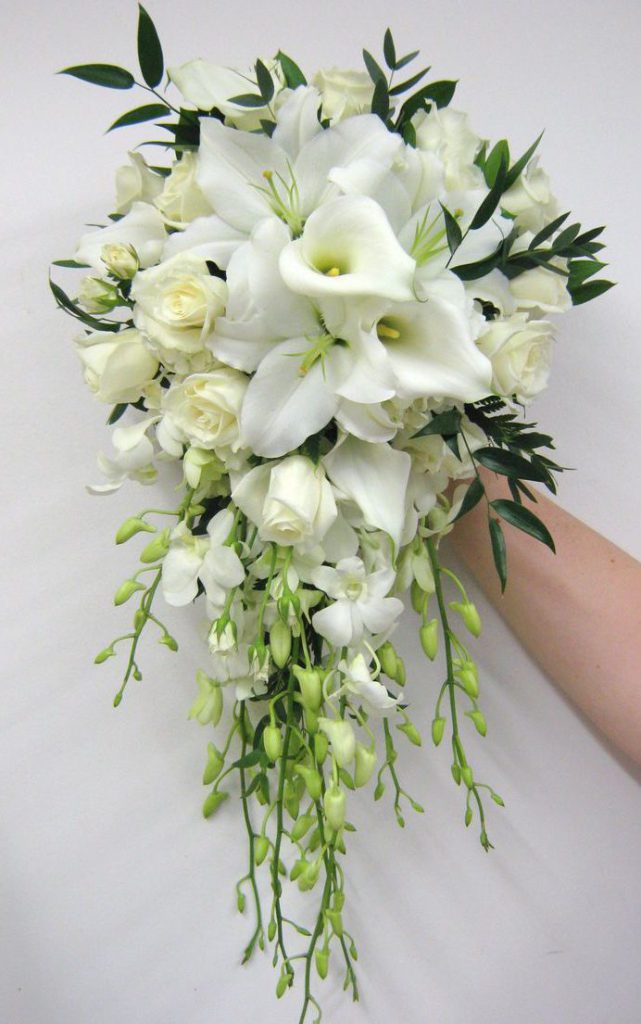 ---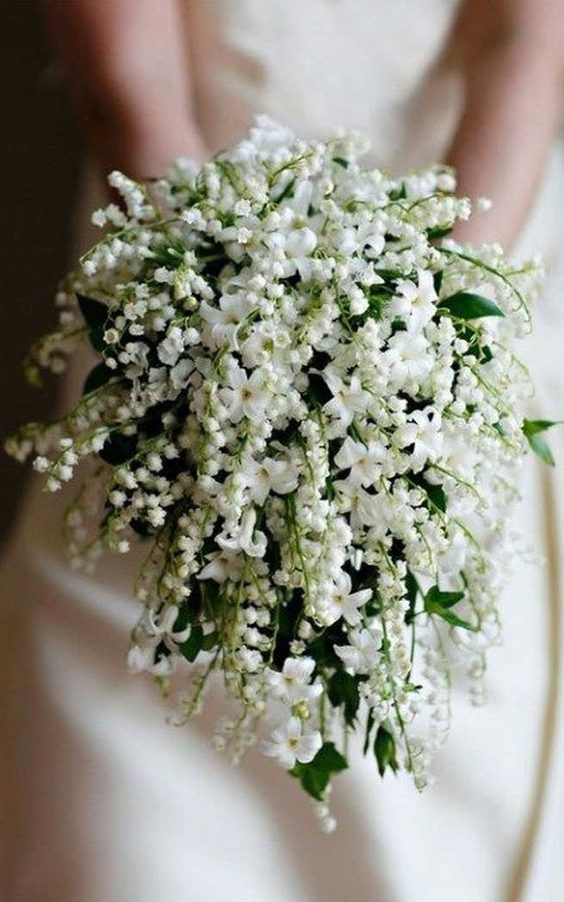 Beautiful Lily of The Valey for Greenery Bouquet
Do you want to add a little dramatic statement? Get a greenery wedding bouquet design that includes a beautiful lily of the valley blossoms with some green leaves that create dramatically hanging arrangement in your hand. Actually, this flower is a kind of flowering plant rather than cutting blooms. That's why you need to get it overall with its leaves to make it a beautiful timeless wedding bouquet. So, it's really suited to become pretty greenery bridal bouquet. Make it look lovely by adding other white flowers like roses or lilies.
---
Delphinium Flowers Arrangement
If you search for something pretty to become your greenery wedding bouquet idea, get this blue delphinium flower. This blossom has emerged as a favorite one of brides. The delphinium usually has a long stem with pretty tiny flowers around it. As one of the natural flowers that have pretty blue shades, it would be perfect to escort you when you walk down the aisle.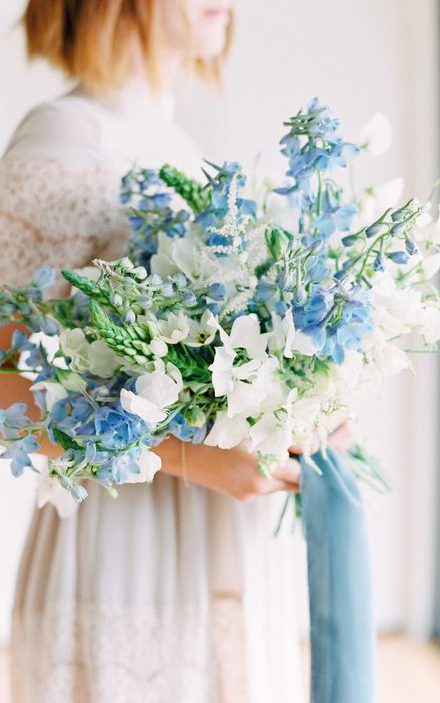 ---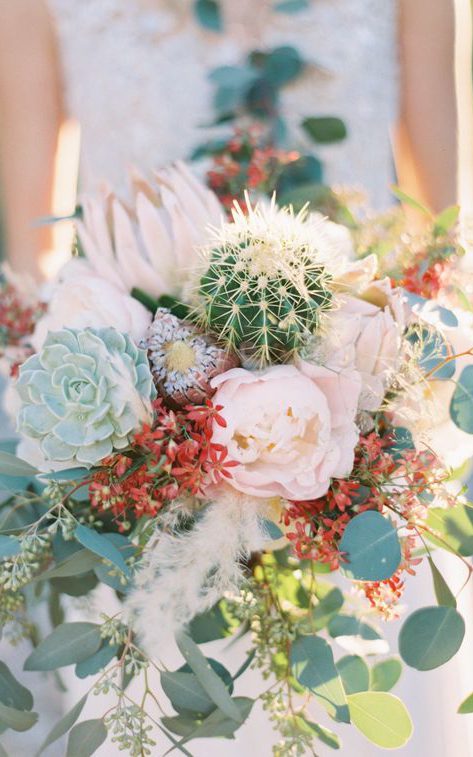 Trendy Cactus in Natural Bouquet
Get your whimsical greenery wedding bouquet by arranging cactus in the center of the posy. For this, you can also go with some greenery and colorful tropical blossoms such as pink garden roses, blush protea, and sage green succulent foliage. This bridal bouquet would be great to use in the rustic country wedding concept.
---
Green Fern Plants for Natural Bridal Bouquet
Go for lush and forestry plants like ferns to make your natural greenery wedding bouquet. We love the look of this no blossoms bouquet that has really intense natural accent. The green from this fern posy also would bring a fresh and rustic look to your wedding concept.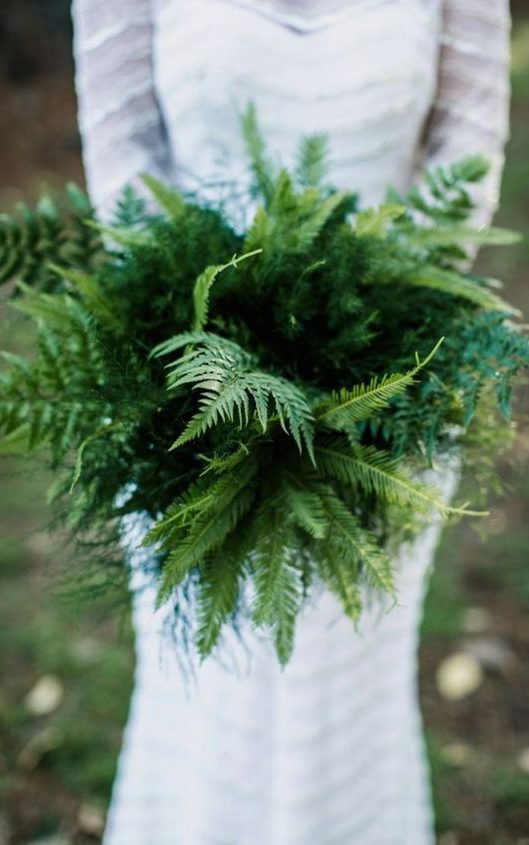 ---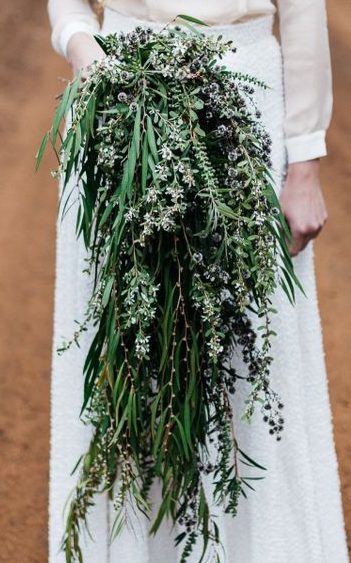 Trailing Greenery Bouquet
This overflowing greenery wedding bouquet is actually super amazing to bring a natural concept. This one is a masterpiece of the most whimsical alternative traditional bouquets but takes the pretty greenery cascade trend in your wedding ceremony.
---
Pretty Green and Blush Possy
Your greenery wedding bouquet is not only created from green foliage and leaves, but also from pretty blush blossoms. If you want to bring something that minimalist into your wedding style, arrange some blush pink roses and give eucalyptus around it to create a little posy. Then, you can adorn this tiny bridal bouquet with rustic ribbon to have a more natural accent.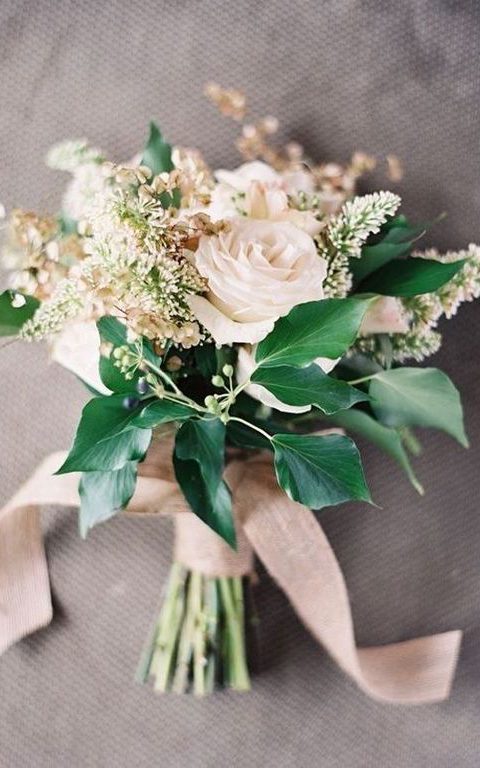 ---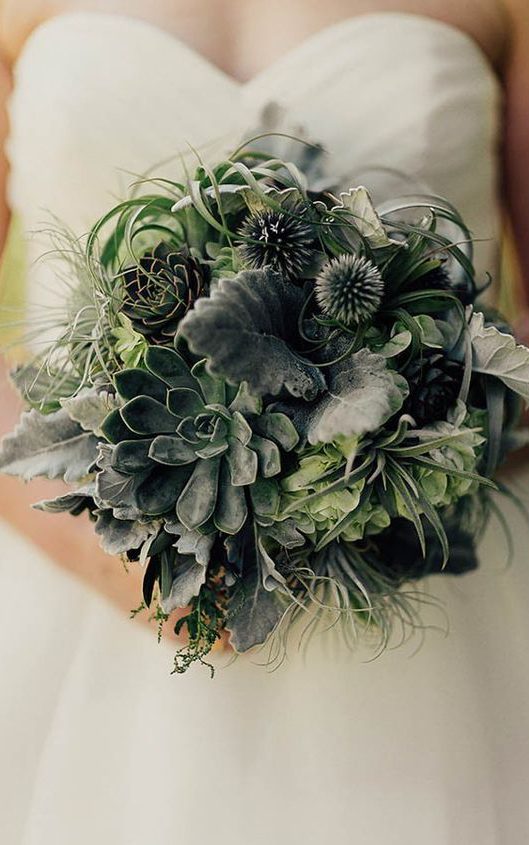 Greenery Bouquets with Succulents
Another way to bring greenery wedding bouquet style into your natural wedding is using succulents. This desert plant has various green hues with pretty shapes like real flowers. Therefore you can use it as for alternative bouquet for brides who have allergic to flowers and for long-lasting bouquets in summer.
---
Colorful and Moody Natural Bouquet
A greenery bouquet is not always about green foliages and shades, it can be stood up with bold and colorful blossoms for accent. This is a shockingly pretty vibrancy that's full of lush garden flowers in great coloring such as red, purple, blue, pink, and of course green leaves. You can bring this pretty bridal flower arrangement to adorn your rustic country wedding.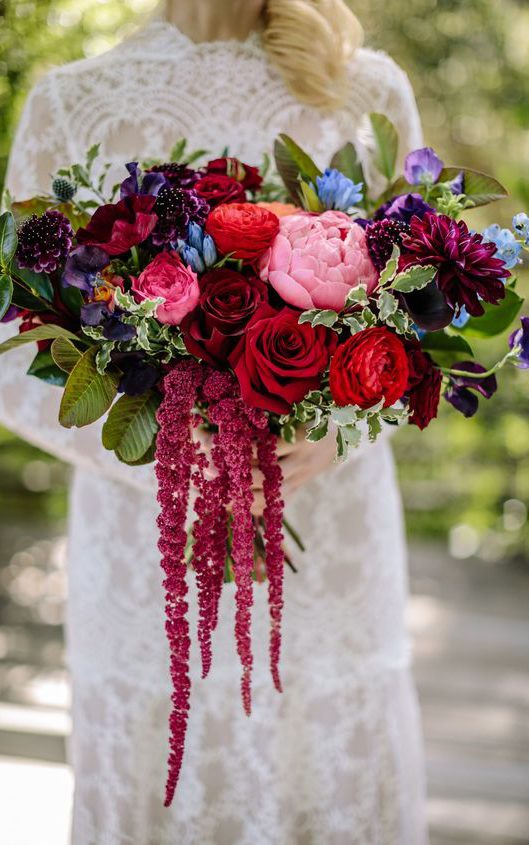 ---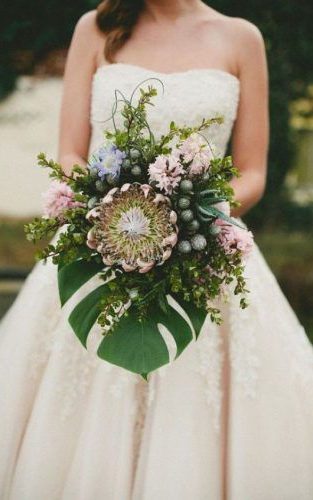 Tropical Greenery Bouquet
Take your greenery wedding bouquet into the tropic concept with a green blush king protea flower in the center of the arrangement and get greenery foliage in the edge part. For the option, you can add some tropical greenery such as monstera, palm, or colocasia leaves. And then, when you want to have more blossoms, white orchids or pink blush peonies would be great to choose.
---
Modern Elegant in White Orchid Bouquet
Another simple tropical greenery wedding bouquet to copy on is this white orchid posy. We really love this minimalist handmade bouquet that's made from white orchids and palm leaves, then gives a more pretty touch with peachy blush roses on it.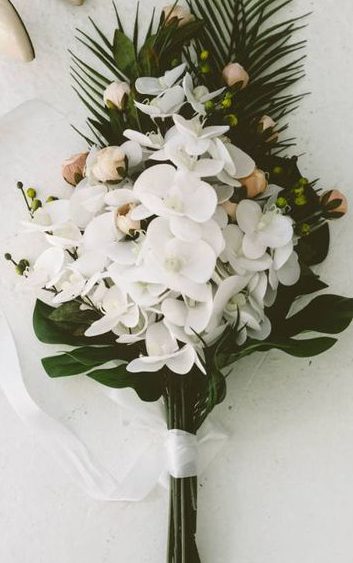 ---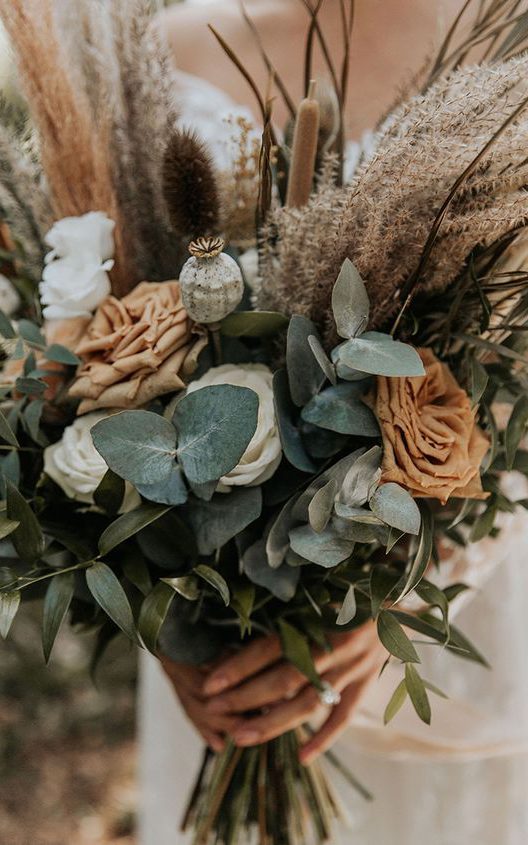 Natural Bouquet with Pampas Grass and Greenery
Consider combining bohemian and greenery concepts into your wedding bouquet. For this, you can mix up some pampas grass with green leaves and fall blossoms. This pretty bouquet features various textural elements from fresh greenery to dry grass that are totally eye-catching to bring on your natural wedding reception.
---
Hoop Greenery Bouquet
Your greenery bouquet does not always have a common arrangement. Have whimsy to the classic bohemian bouquet with hoop installation that looks pretty in your lace wedding dress. Choose wooden branches to make a little hoop, and then adorn it around with beautiful white roses or peonies, baby's breath blossoms, and a few greenery leaves.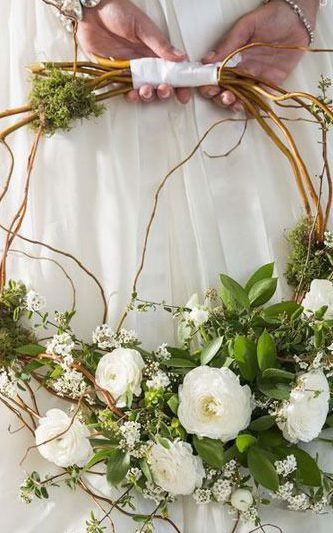 ---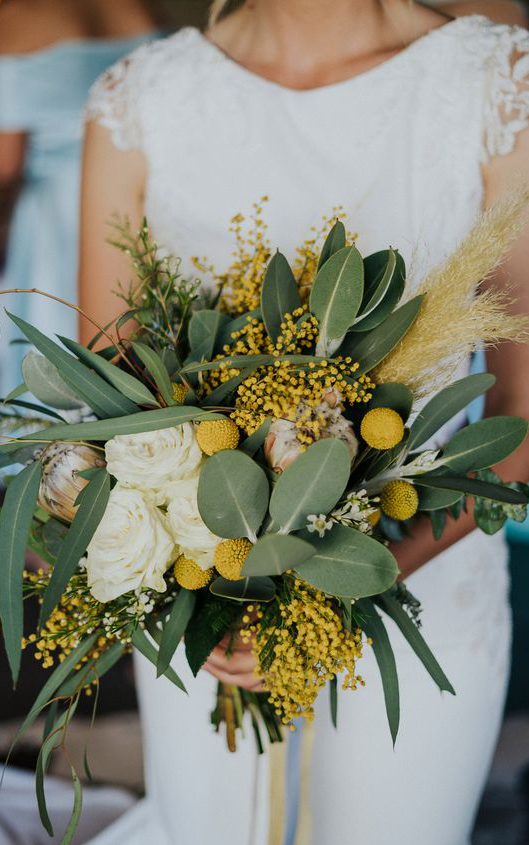 Yellow in Greenery Bouquet
What's a great color combination to play on a greenery wedding bouquet to bring a summer vibe? Yellow billy buttons, fresh pampas grass, and mimosa blossoms among the greenery and white flowers. In addition, you can incorporate some seeded eucalyptus, olive branch, sage leaves, and other green foliage into the wedding bouquet in romantic summer and create a natural theme.
---
Wildflowers Wedding Bouquet
Bring a lush greenery bouquet by having a wildflowers arrangement. You can make an effortless greenery wedding bouquet by mixing up some naturally grown flowers. For instance, array Queen Anne's, ferns, Ruscus, larkspur, and eucalyptus together in one big bouquet.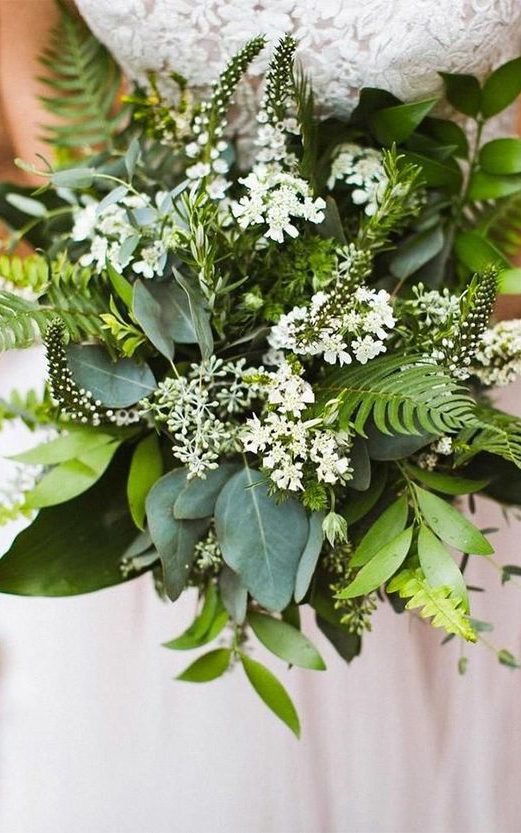 ---
White and Green Sage Possy
Sometimes all you need are just two or three elements when you want to create a pretty greenery wedding bouquet. Like this lovely bouquet which only combines white roses and freesia blossoms surrounded by fresh sage green eucalyptus. It seems pretty enough to bring on your natural wedding concept.
---
Beautiful Green Queen Anne's Lace Wedding Bouquet
If we had to make one pretty greenery wedding bouquet, we love to bring queen Anne's lace blossom for the filler. This flower has naturally grown in the wild, so it is mostly used for rustic arrangements and decor. Queen Anne's lace flowers look beautiful when paired with white roses and some greenery foliages. Just giving a few stems would bring an elegant and classic traditional bouquet for a wedding.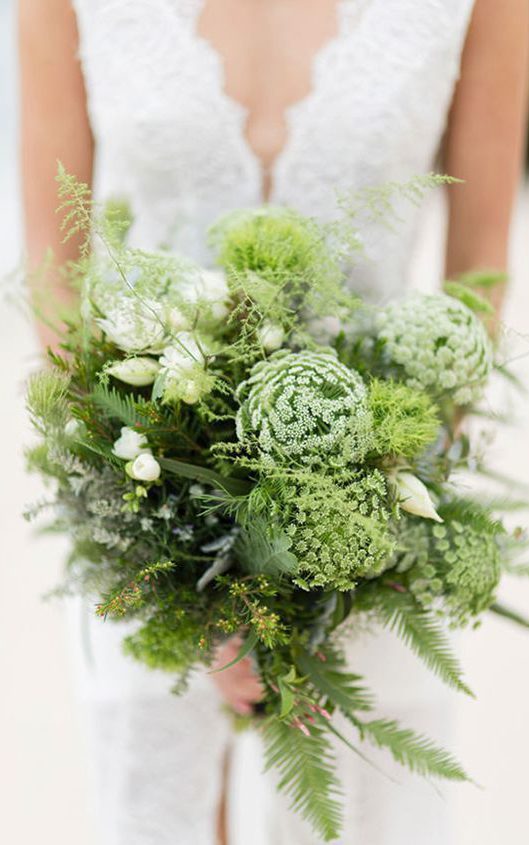 ---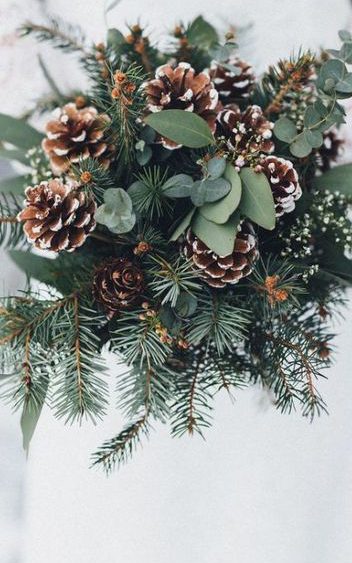 Pine Cones Bridal Bouquet
A lush greenery wedding bouquet is always the bride's favorite. When you want to get a statement of a beautiful winter wedding bouquet idea, you can bring this combination of blooms. This bridal bouquet carried beautiful pine cones and leaves, baby's breath, and some greenery together that would make it seems good to bring to your Christmas wedding.
---
Romantic White Chrysanthemum Bouquet
The last option about the prettiest greenery wedding bouquet, you can stand with this white chrysanthemum and eucalyptus posy. Create a delicate handful bouquet that brings a romantic vibe in some natural accents. For this, you can also give another detail such as green pokeberries and white berries to make it suited for a fall wedding bouquet.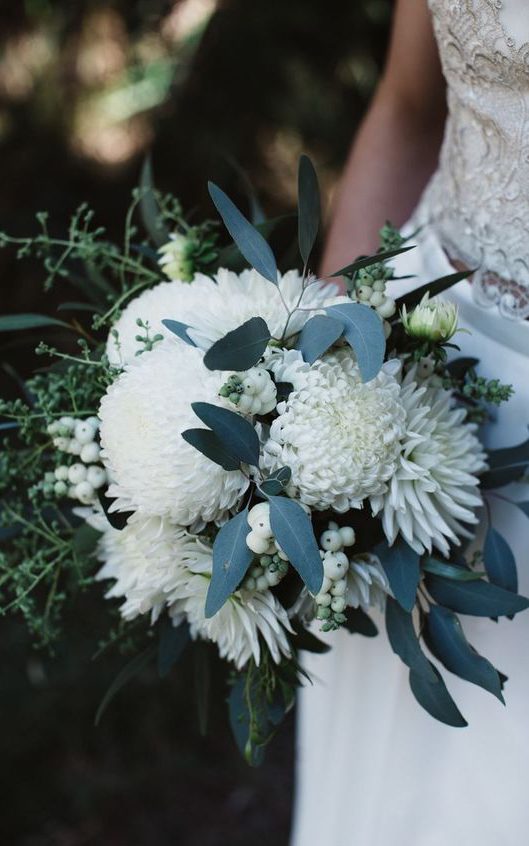 That's all about a greenery bouquet that would help you look stunning in natural elements. This kind of bouquet also helps the brides and grooms who suffer from flower allergies without removing the primer wedding component. Besides that, there are literally hundreds of greenery options that you can choose to create a lovely and pretty wedding bouquet. From seeded eucalyptus, forest ferns, and lambs ear, to herb leaves such as rosemary, sage, and others, they can be matched for adorning a natural bouquet and wedding decor. Take a look at our article about the greenery wedding concept with natural elements to know more about this wedding trend. Good luck and be happy guys!!!