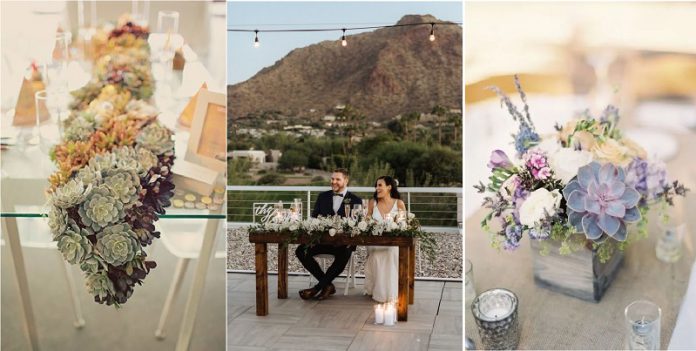 Roowedding.com – Over the past years, succulents is the center of wedding decorations. For those who are holding a wedding during hot summer, these desert plants are actually great to decorate your wedding place. Succulents are plants that can withstand for long period in hot weather. As such, they are a great option for outdoor wedding decorations. Having them could bring a beautifully fresh look in natural wedding theme ideas like a botanical or greenery wedding theme.
Since succulents have been popular to bring beautiful scenery, couples begin to apply them to their wedding decoration either outdoor or indoor receptions, and also for wedding accessories. For this, I will give you some smart ways to bring up succulents to natural wedding theme ideas.
Smart Ways to Apply Succulents for Natural Wedding Theme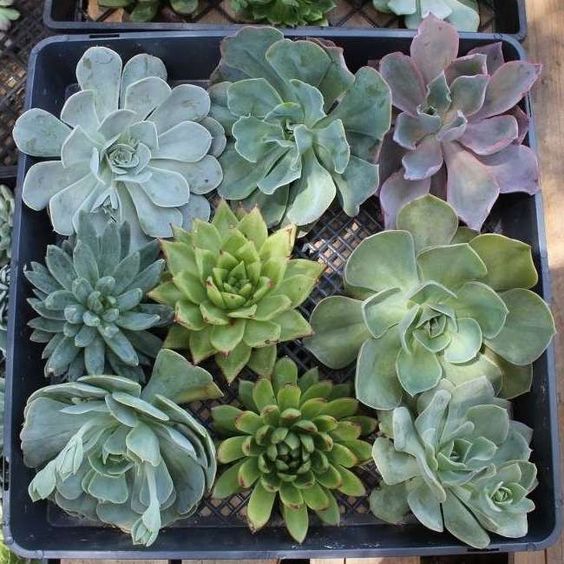 Succulents are kinds of plants that come from Africa or Central America. Those areas have hot weather and just a little humidity. However, they can keep water on their leaves that make them stand long in hot weather and with a little water.
While you want to deliver natural wedding ideas, besides flowers and plants you can change them with succulents for decorations. As we all know that succulents are desert plants that have strong to endure harsh summer rather than other typical flowers. Those kinds of plants also have more color gradations from green, grey, pink, and purple that are beautiful like flower blossoms. That's why you can easily use them for arch wedding design, bridal bouquets, centerpieces, and other wedding accessories.
Here are 10 smart ways to apply succulents in natural wedding theme ideas.
For Bridal Bouquet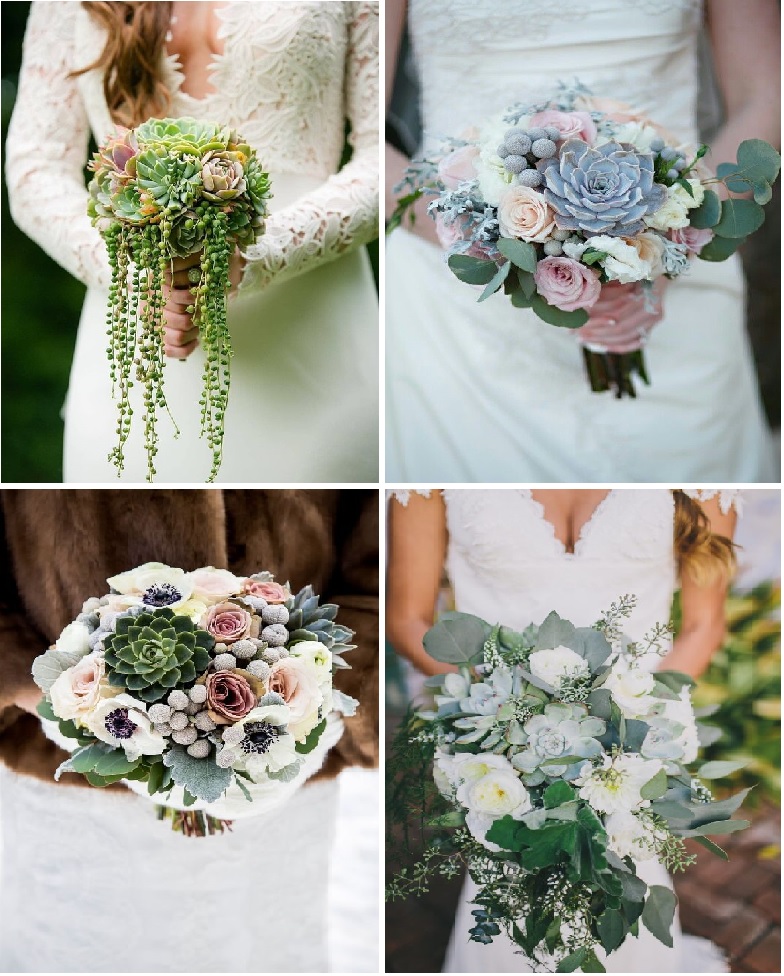 If you are a bride who has allergic to flowers or wants to have a different look, just come with succulents for a lovely bridal bouquet. Having many types of shapes that are no less beautiful than real flowers make this desert plant is a major replacement. Besides that, you can make it as an accent that's combined with other flowers such as peony, rose, or lily of the valley. Get them for making wedding bouquets either for bohemian wedding concepts, botanical weddings, or garden wedding styles.
Succulents for Boutonnieres
Not only brides who need to look stunning but also groom too. Aside from preparing nice tuxedos or either groom suits, to make them more gorgeous you need to give details such as boutonnieres. This is a kind of traditional embellishment that's come in pocket flowers. To make it different you can get a single succulent in a buttonhole for the groom's boutonnieres. Besides that, you could also have it with other blooms like baby breath (Gypsophila), roses, and others.
Wedding Cake Decorations
Another smart way to use succulents for natural wedding theme ideas is making them for wedding cake decorations. You just need to prepare a plain white wedding cake and then give a natural look to it with this desert plant. With some pastel color gradations, make succulents are perfect to present adorable flower blooms on your snowy cakes.
Natural Wedding Theme with Succulents for Arch Decorations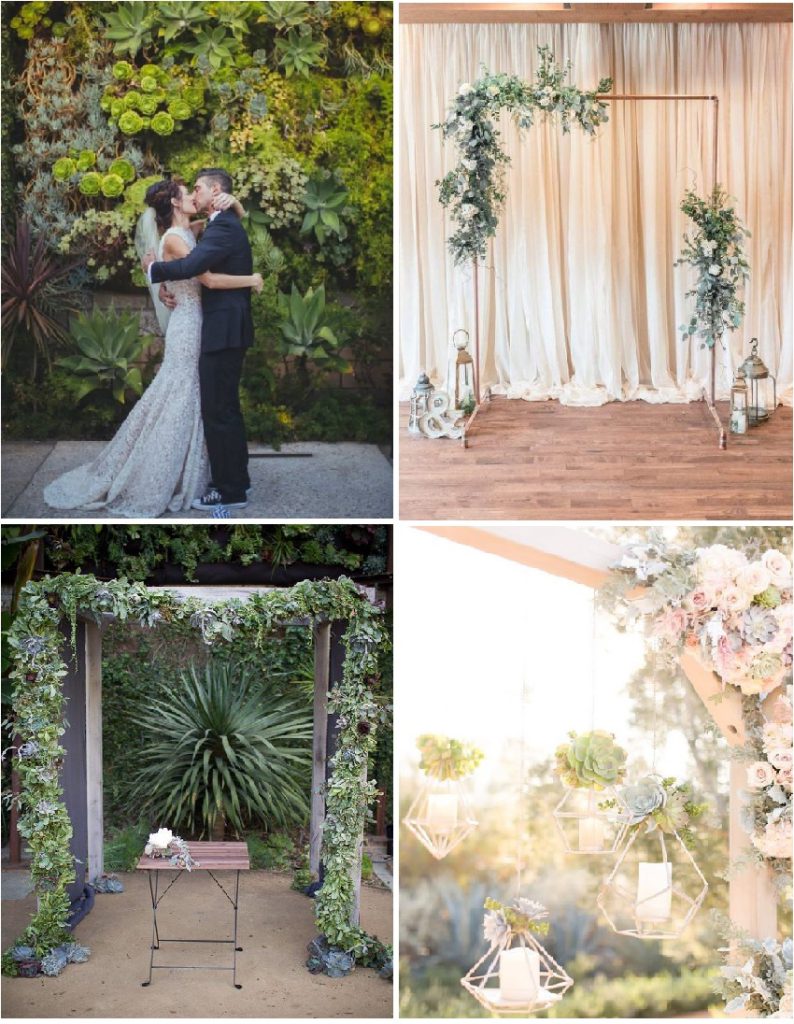 Making succulents for natural wedding themes is a great solution for you that's want to come fresh and greenery theme. For this, you can try to get them to decorate your wedding arch and altar. Combine the succulents decorations with some other flowers too for having a beautiful show in your beautiful moments.
Apply for Natural Table Centerpieces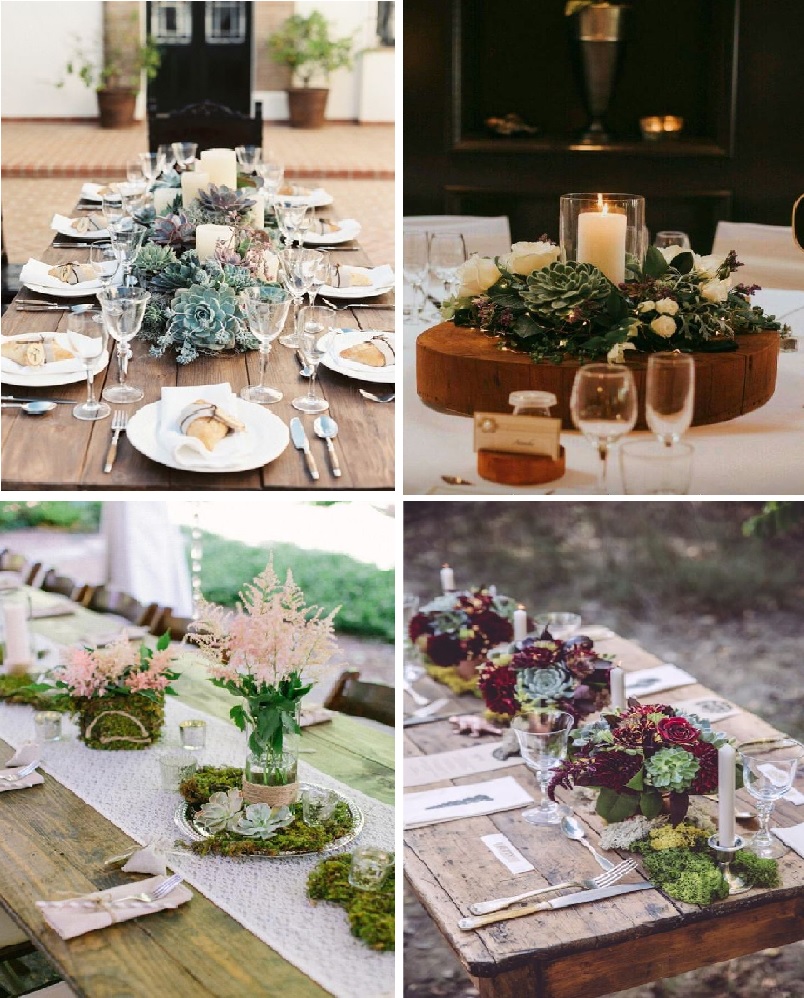 Table centerpieces are a part of rustic wedding decorations and you need to consider more. Whether it is for indoor or outdoor natural wedding ideas, getting some plants decoration is a must. Maybe for the indoor reception that's not too problematic to use a natural accent like plants and flowers, but it's different from the natural outdoor wedding decorations. You need to find plants that's can stand the heat for a long. For this, succulents are the solution. You can use them to smooth over the table by having them in a vase for substituting flowers. Besides that, arranging these succulents around the candle on the center of tables would actually give a romantic atmosphere.
Succulents for Natural Wedding Corsage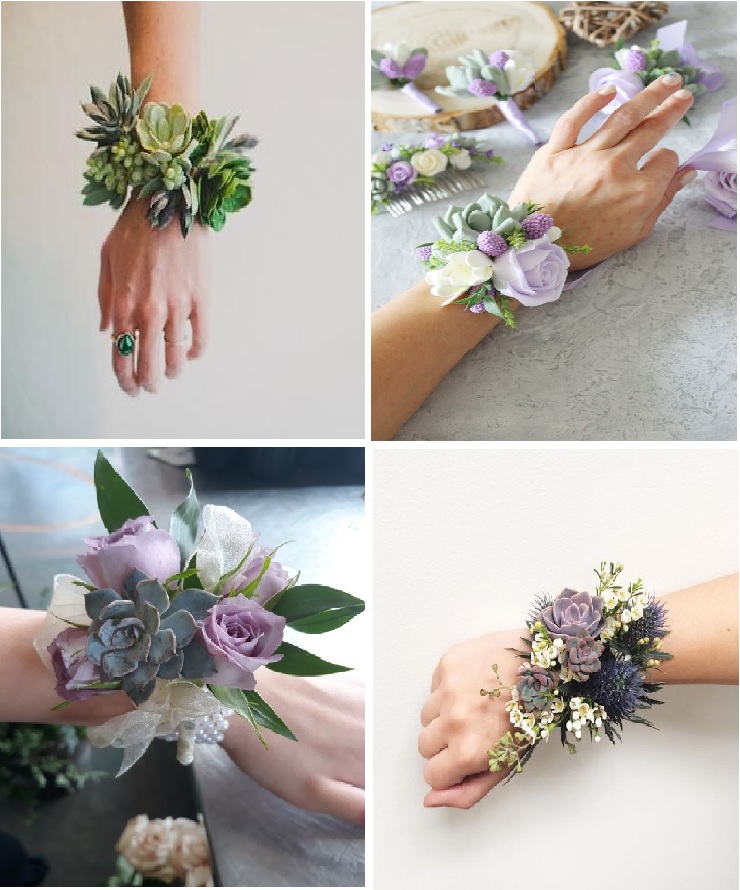 Succulents can be incorporated in many ways to bring out the festive on your wedding day. One of the forms is for corsages. A corsage is a kind of traditional wedding embellish that is used for honoring women in the family such as mothers, sisters, grandmothers, aunts, and sisters-in-law. For floral jewelry, corsages usually come with a wrist design like a bracelet. You can match the design with the groom's boutonnieres for matching embellish.
Creative Wedding Decorations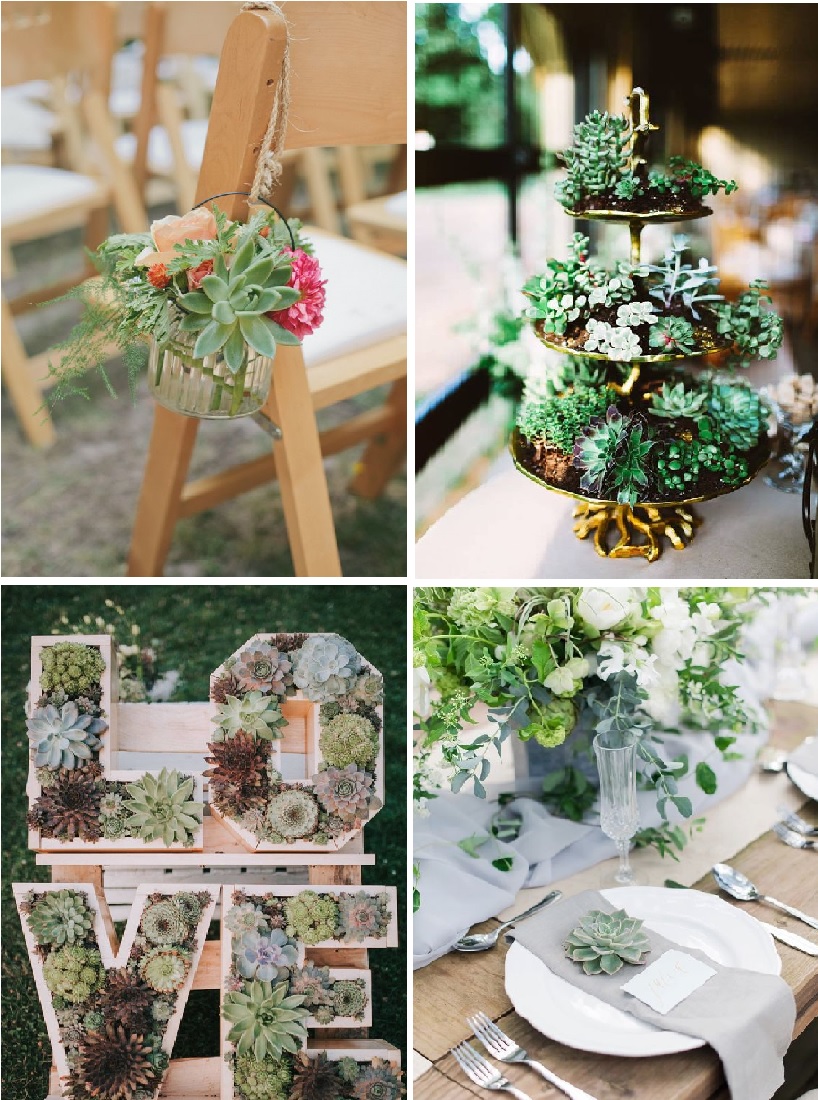 In a natural wedding theme with succulents, besides applying them for the bouquet and arch decorations, you can have creativity by using them for other wedding decorations. Making them for chair decorations, having a greenery look by arranging them together for table decor, or using them for big letters is actually a great idea. Just bring your creativity here. You can also discuss with your wedding planner how to stand up succulents in natural wedding theme ideas.
For Natural Wedding Favors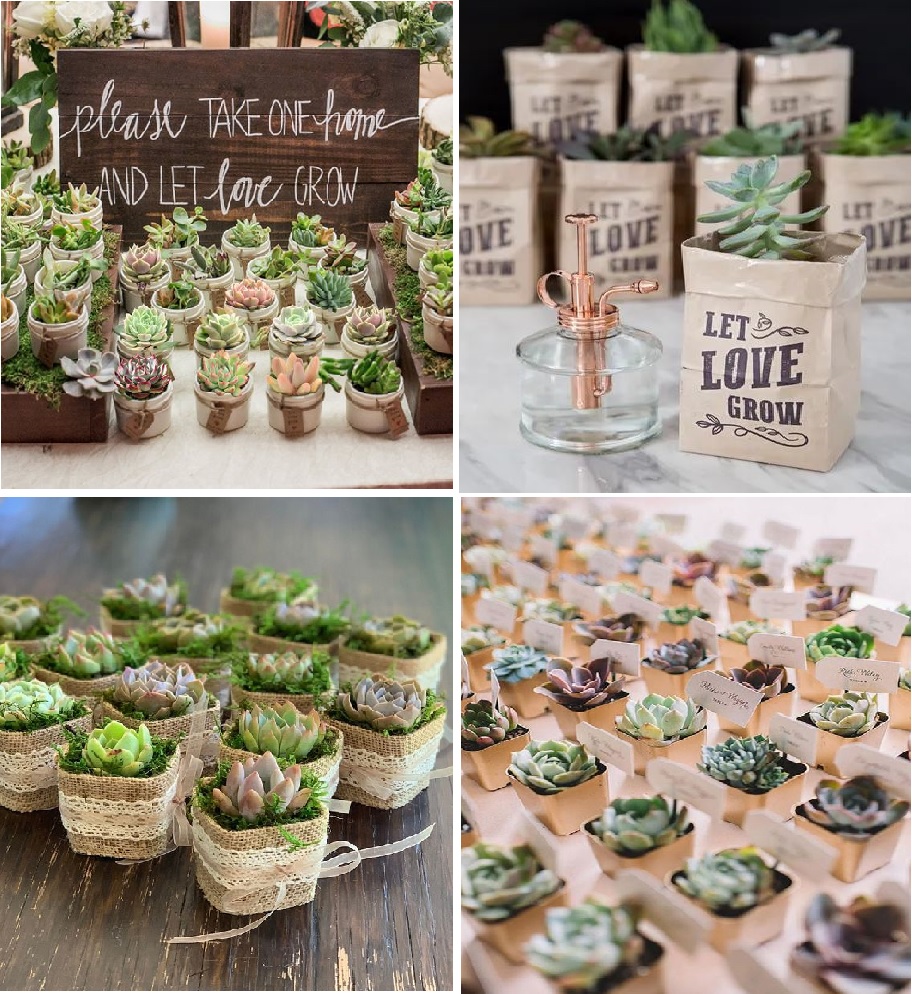 Succulents are desert plants that have a high lifespan and are easy to take care of because need less water. That's why it would be a good idea if you make them for wedding favors. For this, you can get them on terracotta pots and then give a little embellish like ribbon or put them on a mini paper bag.
Other Wedding Accessories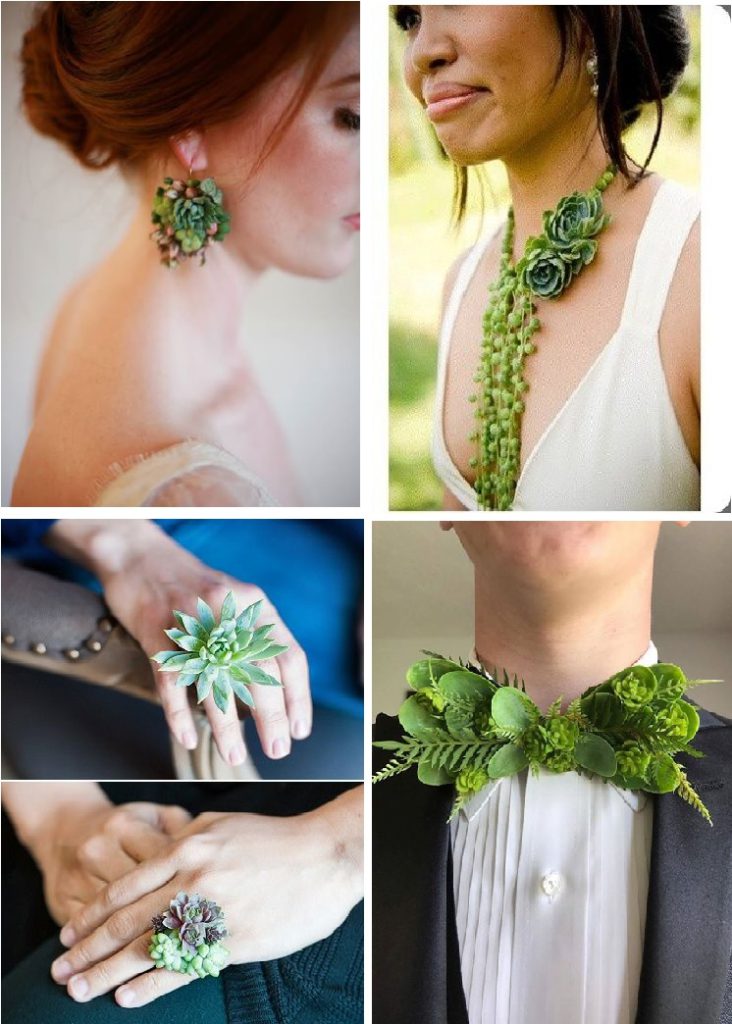 We all know that succulents could be used as an accessory to your natural wedding theme ideas. If you like to fully succulents detail on your wedding, besides on decoration you can apply it on your body. You can have it as a crown on your head, hairstyle compliments, bowties and you could also make it to replace jewelry. Just make all the things beautifully with some succulent accessories.
Succulents in Bridal Hairstyle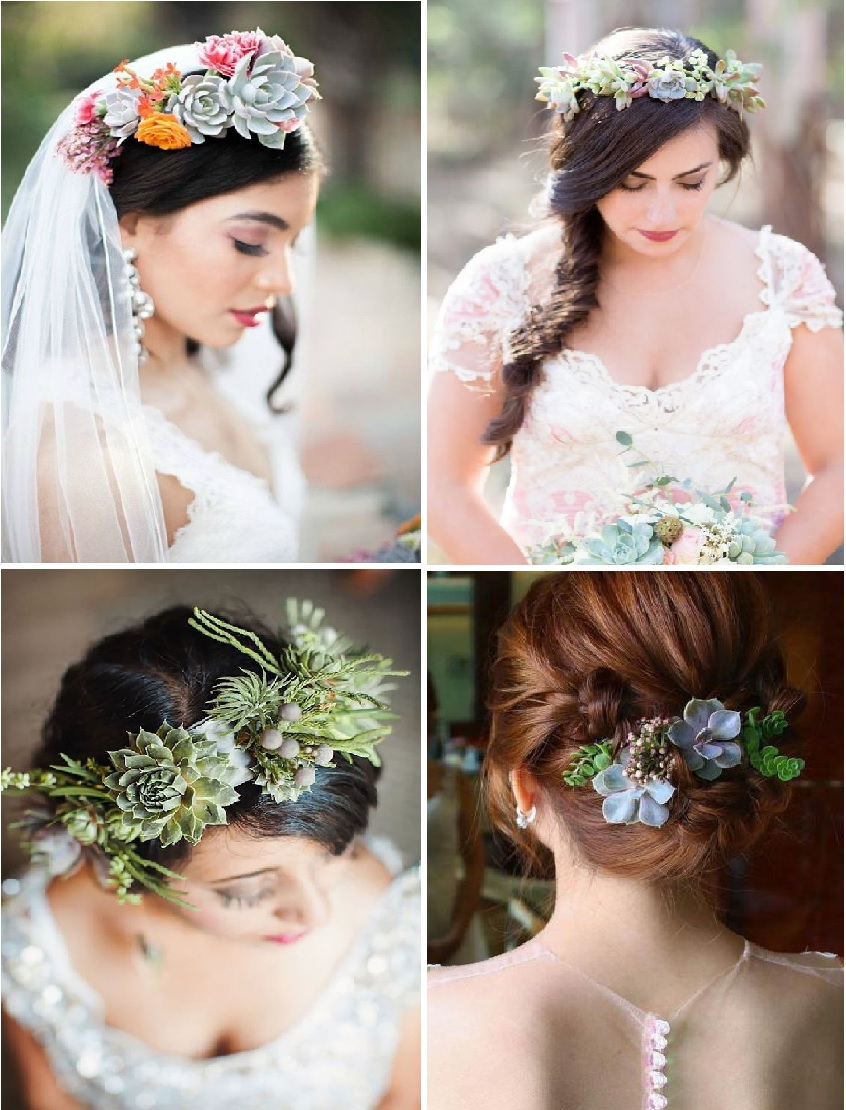 Not only just for bouquets or decorations, but succulents also could you adopt to your wedding hairstyle. You can get some succulents in other shapes and colors to form a crown in your head, to replace hairpins, or use them for veil ornament. Besides natural wedding ideas, this also could help you to deliver a rustic wedding theme, romantic, and also modern.
Conclusion
A wedding is the best moment for couples. They always want to have a perfect wedding with beautiful and unique decorations. For this, they also make a theme on their receptions like a natural wedding concept. In this concept, they usually bring natural accents like flowers and plants. One of the unique to decorate a wedding place is by using succulents. Those desert plants can stand up in harsh weather and also have great looks and shapes. You can get them for wedding bouquets, decorating altar, beautiful table centerpieces, and accessories. Because of having the ability to endure the harsh summer and are easy to care for, they can be perfectly take-home gifts for your wedding guests.