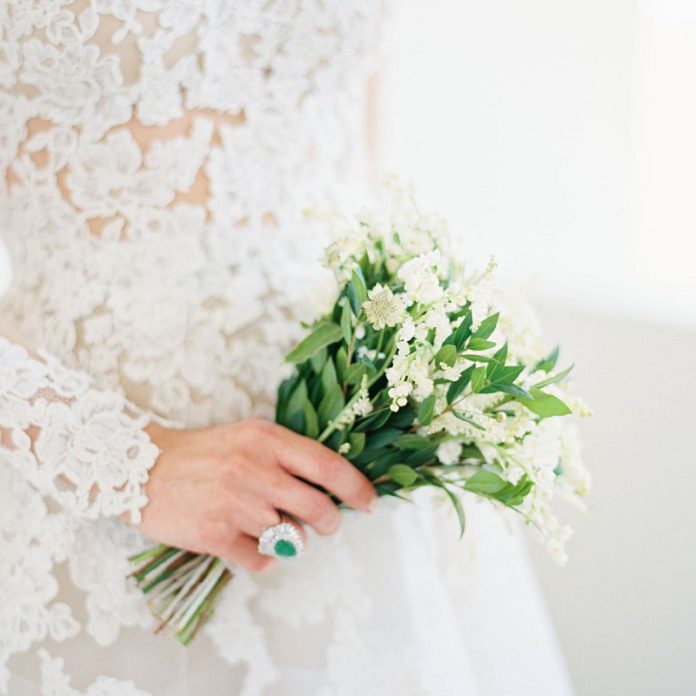 Roowedding.com – Lily of the valley is a kind of flower that has a bell shape and white color.  They usually use it for a beautiful and timeless wedding bouquet. Whether royal family wedding like Kate Middleton, Grace Kelly, or even Korean Hallyu such as Park Shin Hye also uses this flower for their wedding bouquet. With the tenderness and simplicity of this flower, it could deliver humility but still classy to your wedding design.
Have the scientific name of Convallaria majalis, lily of the valley can symbolize rebirth, modesty, or return of happiness. It's also said that's this flower could bring luck for love, so most bridal usually make it as a wedding bouquet. Bearing a nice fragrance with a natural look and great meaning makes this flower serve to become a focal point for a timeless wedding bouquet.
Inspiring Timeless Wedding Bouquet with Beautiful Lily Of The Valley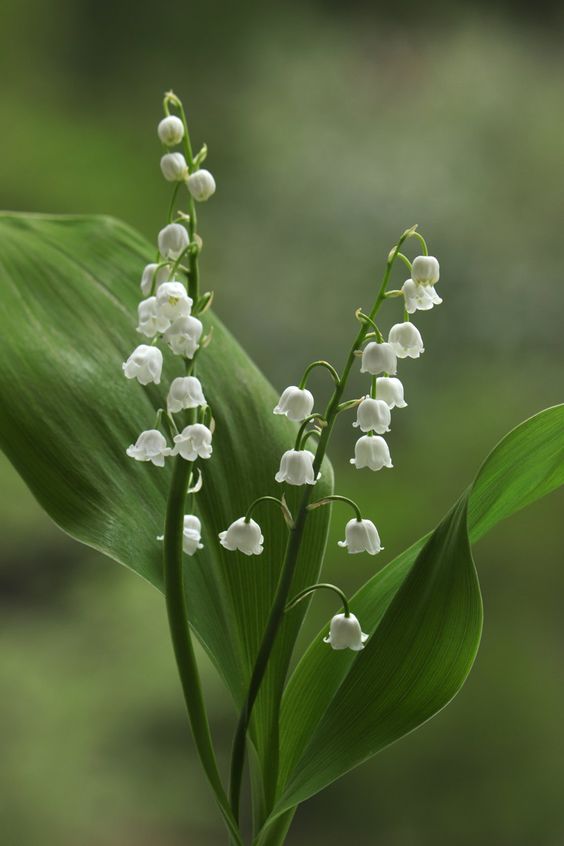 Lily of the valley also called a flower of may is the seasonal flower that blooms in spring. Such a beautiful flower with pure white color, tiny shapes, and nice fragrance make this lily become a favorite for royal and celebrities' wedding bouquets. Besides that, this flower also could bring classy to your wedding theme. As a small wedding bouquet, it can be really expensive around $500 – $1200. That's why you can only make it as a sentimental accent on your bridal bouquet. However, if you want full of this lily of the valley in your hand bouquet, just prepare more budget.
Fill your wedding theme with some beautiful timeless bouquet that has meaning not only for beauty. If you want to have some inspiring lily of the valley for wedding bouquets, you can start to follow some tips and tricks below.
Keep it Simple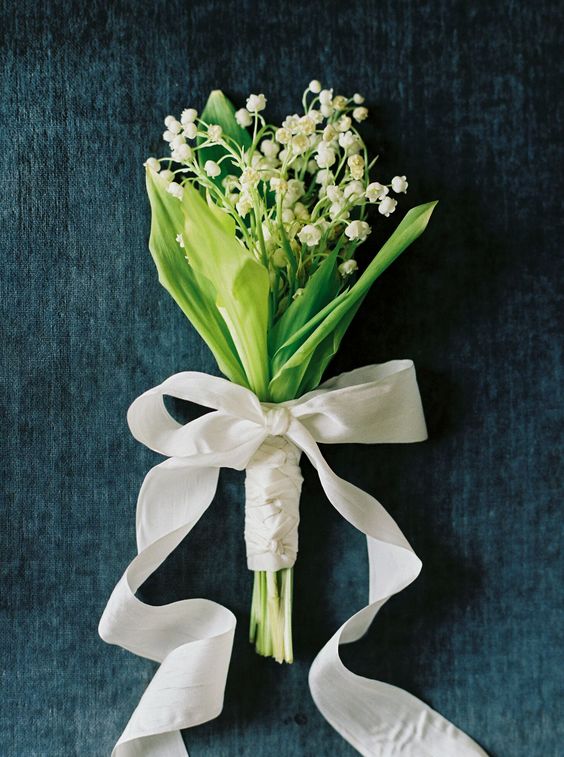 Skip to have a big wedding blossom and make it a simple bouquet with a lily of the valley flower. You can get some beautiful lilies and then tied them up together with the satin ribbon for making a timeless bouquet ever. This bridal bouquet would be good for astonishing your minimalist wedding. Keeping it in a simple design would present sincerity from the bride.
Get Pink for Romantic Wedding Bouquet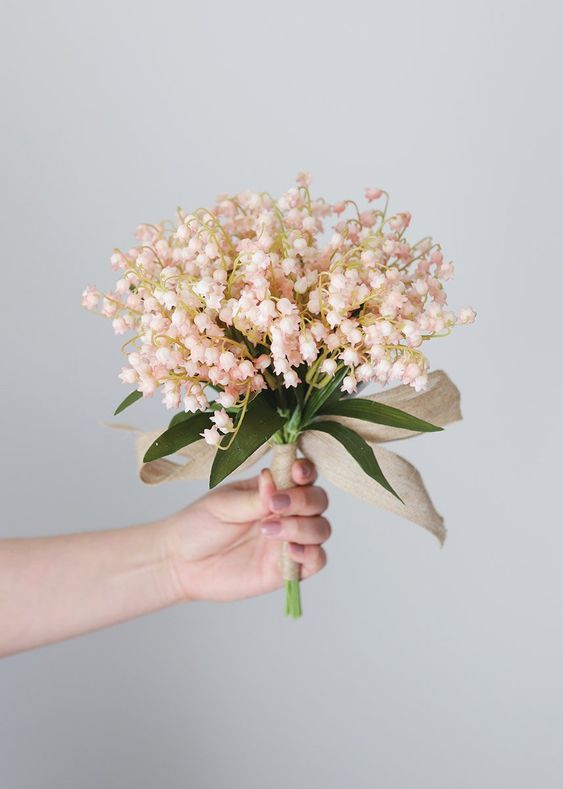 For a romantic accent on your wedding theme, having a pink lily of the valley bouquet could be an option for this. You know that's pink is a sweet pastel that's really suited for a lovely wedding. You can match it with your rose gold wedding dress. This timeless wedding bouquet could bring a fabulous look to your best moments. For this, you just need to present it in a modest way by binding some lilies with a brown ribbon.
Embraced in Rustic Theme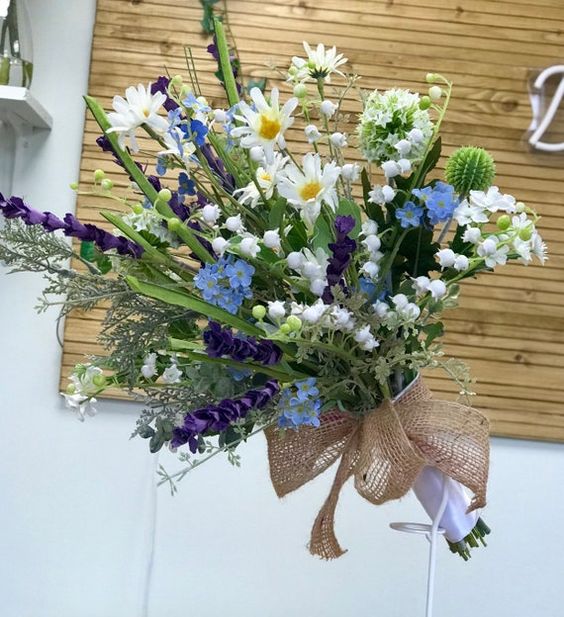 Having a rustic wedding theme maybe could be matched with this bridal bouquet. Getting lily of the valley with the blue Forget Me Knots, light green Eucalyptus, and Daisy would actually bring a wild rustic look. Embrace the bouquet with a brown net ribbon to make it more contemporary rustic. This would seem you bring flowers from the garden and adorn your wedding with them.
Combine with Calla Lily for Classic Wedding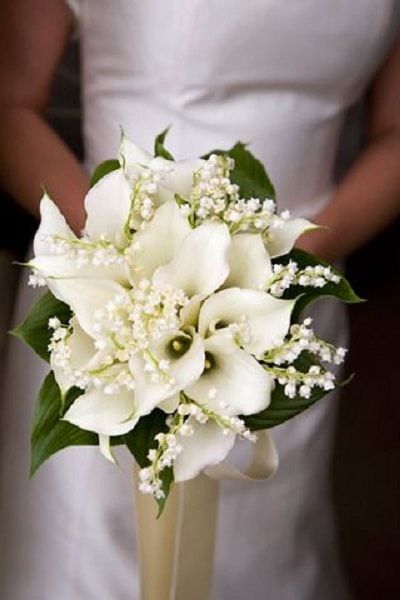 Combining lily of the valley with white calla lily for wedding bouquets could bring a timeless classic wedding. The white flowers decoration made your indoor wedding look outstanding. That's would be perfect to hold this bouquet while you walk to the altar.
Bring It with Other Lilies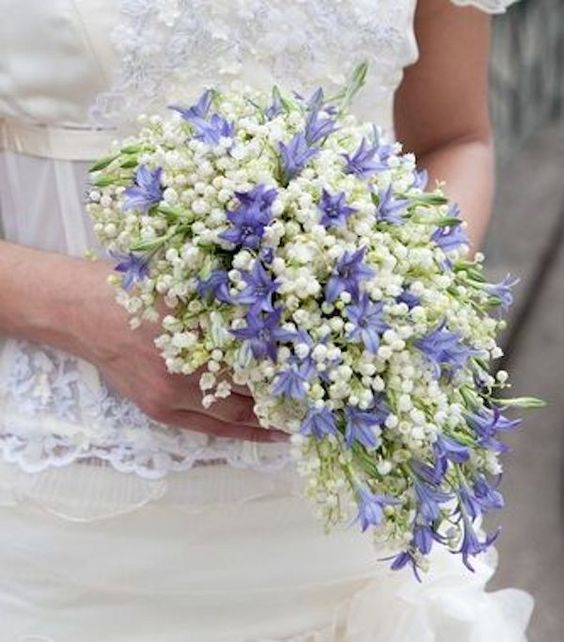 Lily of the valley is the loved wedding flower in this past century. You can mix it with other lilies in different colors like Agapanthus or African lily. The breathtaking violet lilies in this delicate bridal bouquet would fill the room with beautifulness and the deep meaning of the purity of true love.
Mix with White Tulips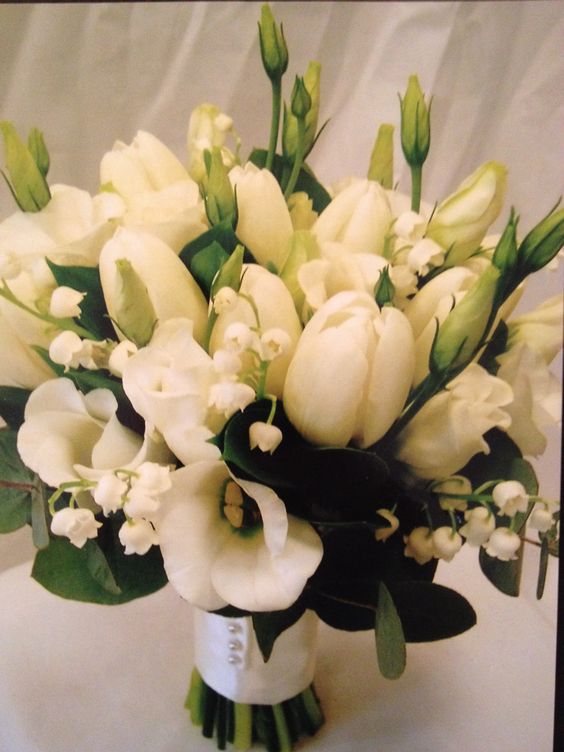 This wedding bouquet is made from lily of the valley and white tulips that's make it look elegant for an indoor wedding. Those two duos certainly could be matched nicely with the romantic and elegant wedding theme, and you will also get the artificial look in your wedding decoration. I really love how they perform well with each other in one arrangement.
Change It Naturally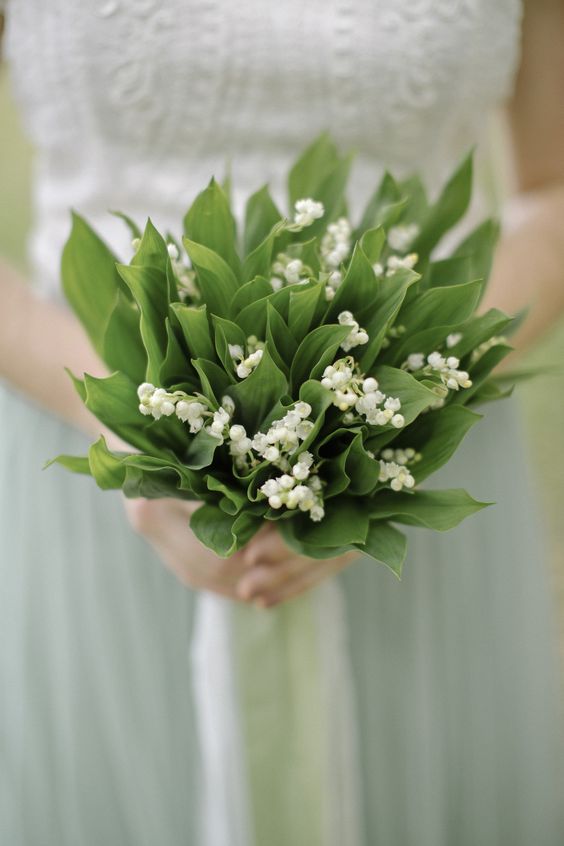 The oblong green leaves and tiny snow-white bell petals could bring the best combination to your wedding dress. Bringing symbolism of purity, tenderness, and rebirth make this lily of the valley wedding bouquet is very touching to decorate an image of a young lady. The more green accent on your wedding bouquet obviously could deliver a natural that's an earthy and fresh look. You can be easy to apply it to classic, romantic, and minimalist wedding themes.
Make It Perfect for Elegant Wedding Bouquet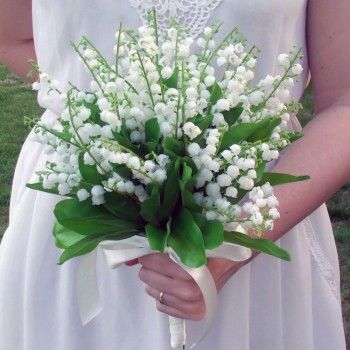 I really adore this simple and delicate wedding bouquet. Having small bellflower blooms in 4-6 inches stems, makes your hand get a beautiful timeless wedding bouquet as your dream. With these lily arrangements, you will get a stylish and elegant posy to bring together with you in your beautiful wedding dress.
Bring it Up with Lavender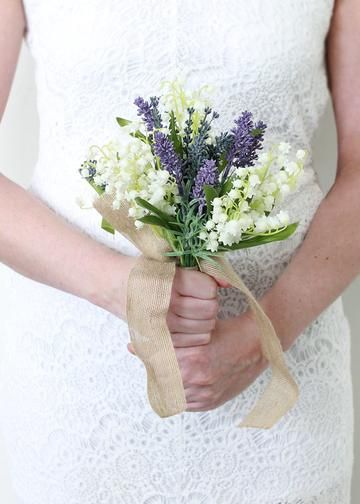 Giving lavender in your lily of the valley bouquet is perfect for garden wedding ideas. Lavender can really go well with other spring and summer pastel blooms too. Putting a little lavender on the middle of the lily posy could obviously gloss your beautiful wedding bouquet.
Play Nicely with White and Green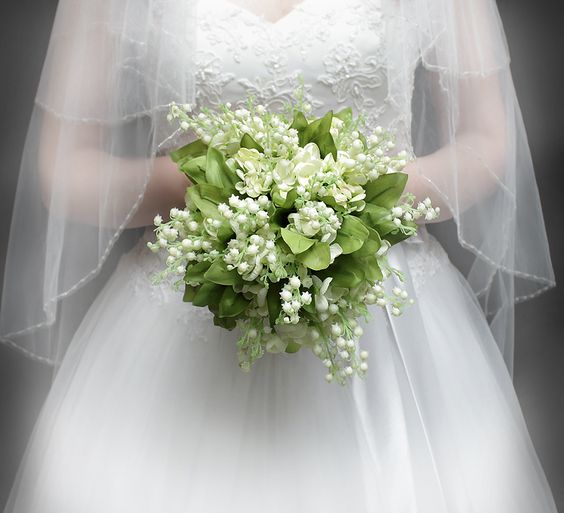 Known as Mary's tear and becoming a flower of the royal family make this Lily of the valley ideal for your vintage wedding hand bouquet. Bind it with other white flowers and green leave for creating the best duo for a lively spring at your wedding. I like how this flower comes to bring classic feminine in the bride's style with their natural look.
Give It Accent on Roses Bouquet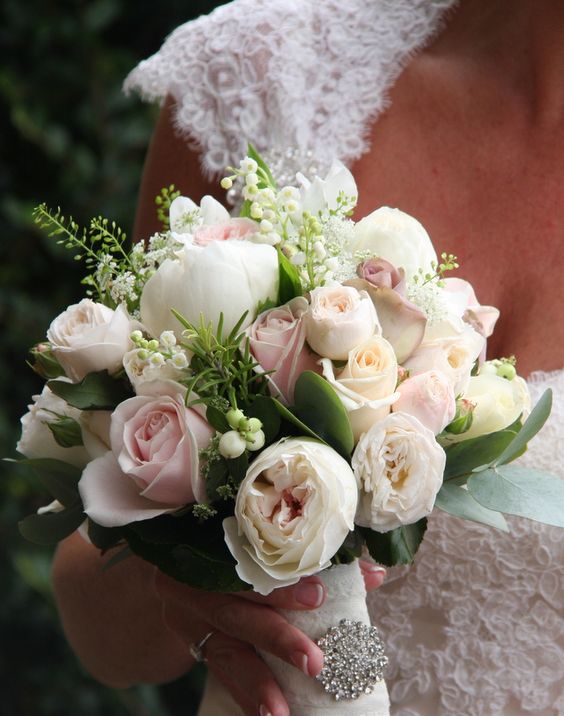 Having a sweet scent and has a dainty look makes this flower generally beautiful to combine with other flowers such as roses. For a wedding bouquet, a rose is the most favorable for the brides. Make it more nice and sweet with a tiny lily of the valley around the arrangements as for accents.
Make Big Bouquet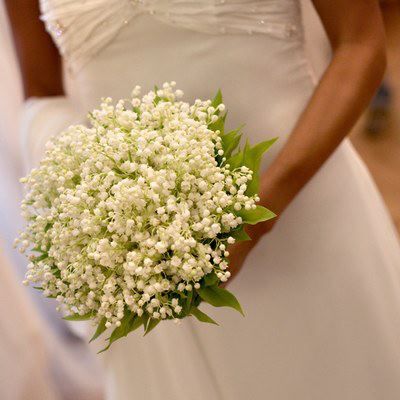 For an inspiring wedding bouquet, you can present a big posy that is full of lily of the valley flowers. This kind of lily is actually an expensive flower and would bring exclusiveness to your hand bouquet. Such delicate lily of the valley can become the main point in your receptions that are unforgettable and outstanding. Organize the blooms on the center with big rounded arrangements and then give green leave for the accent around the sides. This is the way to present a beautiful timeless wedding bouquet.
Add Andromeda for Summer Bouquet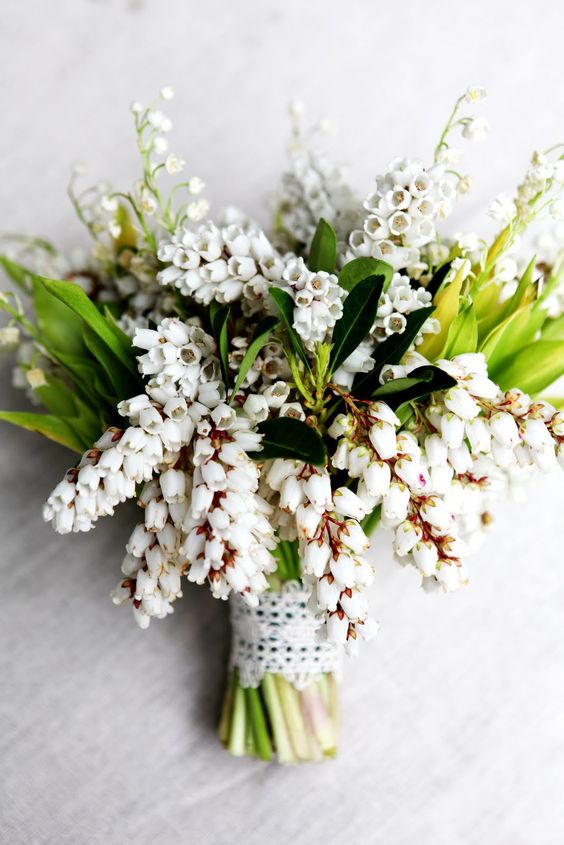 Using the lily of the valley for a wedding bouquet could be a great idea if you want to have an aesthetic nosegay in your hand during your best moments. Besides that, this flower has deep meaning about new life like marriage. Because this flower blooms between April-June, this would be great to decorate your romantic summer wedding bouquet. For the matching pairing to this white bell lily, you can get other bell blooms like Andromeda flowers. Bringing them up together will give you a lovely bell that accompanies you to the altar.
Overall
Wedding Bouquets are one of the important things that you should consider in your wedding aside from decorations. This little thing would help you get perfect memories on your big day. Besides that, this bouquet could also help to improve your performance during the reception and complete your wedding dress. With all those Lily of the valley wedding bouquet ideas that I've shared with you, I hope one of the ideas would inspire you.