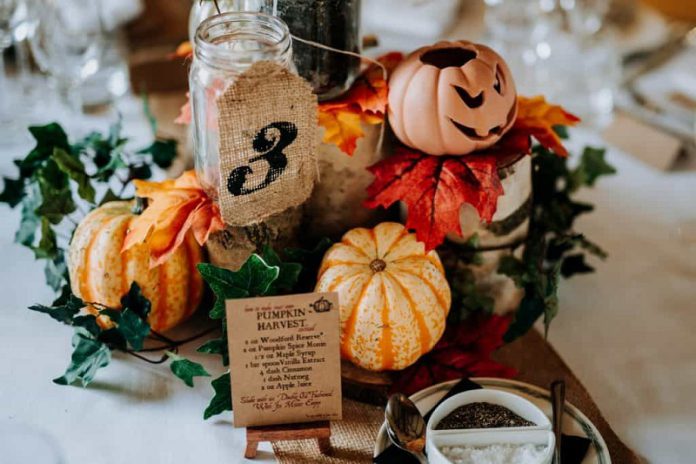 Roowedding.com – What do you think about Halloween for the wedding theme? Is it interesting to adorn your reception with creepy and spooky decoration ideas? For some people, they have an ideal wedding to create with a unique concept. Likewise, couples who like mystery, horror, and creepy genre, usually comes with Halloween wedding decoration ideas.
When we think about Halloween wedding decoration ideas, there are always creepy things to take part in this concept. We know what you need to get this "Happy Halloween" vibe out into your wedding. There are so many fun and out-of-the-box things. Like skull decorative items, black or dark color schemes, and the cute rustic pumpkin decorations, to incorporate into your wedding reception adornments.
Are you in love with creepy Halloween wedding ideas? Even though, you don't need to overboard to embrace the theme. What you need to do is just get it in an elegant and creepy concept. For this, you can start by thinking about the color palette to bring, your Halloween wedding drees, a floral bouquet that fits with the season, and other important details. We have put together some inspirations to decorate your Halloween wedding theme ideas in an elegant and creepy concept. So, if your big day comes on Halloween eve, you need to read more here.
How To Decorate Your Wedding Into Halloween Theme Ideas
Find The Right Venue
The first thing to consider before you turn your wedding into a Halloween theme is by choosing the right wedding venues. There are some options to choose from about the place that can bring elegant and creepy Halloween concepts. If you need to have something classic and a bit of fairy tale inspiration, get an old Hollywood castle for the venue. When you want to hold your wedding ceremony in the fresh air, get scary wild woodland for your wedding venue. But, if you want to have a rustic concept, get a barn or rice mill to bring your Halloween theme. Another one to choose is an old charterhouse that seems like an abandoned place and has a bit of an industrial concept.
Consider Use Bold and Black Color Schemes
After you find the right wedding venue, let's begin by considering color schemes. You need to decorate it with a dark and bold color palette to give the fully creepy and elegance of a Halloween wedding. Most couples usually get purple and black combinations for a romantic Halloween vibe, or a bold red and black palette to give a mysterious and creepy atmosphere. However, you can also still bring other shades to your Halloween wedding decoration ideas like ivory, beige, or white colors. You can bring these colors whether on your wedding dress, table setting, or into your wedding reception.
Embrace Orange to Your Concept
Halloween festive can behold during October and it coincides with the Fall season. If your wedding is around that time, instead use dark and bold color schemes, you can put a subtle touch like embracing orange to your Halloween wedding decoration ideas. So, say goodbye to inky hues, creepy and scary things, and welcome to fall celebration by getting orange schemes. For this, you can begin to decorate your table centerpieces with orange flowers, have a splash of orange on your wedding dress, romantic orange lighting, and bring rustic to your table setting with orange decorative items.
Use Edgy and Goth Decorative Items
A taste of Halloween can be stood at your wedding with edgy and goth decorative items. For this, you can bring the spooky bride and groom sculpture, black candles, black tableware, celestial backdrops with black lace linen, goth chandeliers, and some hanging vintage lanterns to adorn your wedding venue. Incorporating them for Halloween decoration ideas is a tribute to your interest in things all dark and goth.
Having Pumpkin on Your Decoration Ideas
Besides dark and goth style, Halloween ideas usually like to display of pumpkin decorations. When your wedding occurs around the Halloween festivities, you can bring rustic harvest inspiration with the pumpkin. You can decorate your Halloween wedding with painted pumpkins in dark or white colors. Reflect the beauty of the fall season with a pumpkin backdrop, and get various sizes of pumpkin for the centerpiece.
Give a Bit Rustic Nuance
For the romantic natural Halloween wedding, we suggest you bring a rustic concept into it. There are a thousand ways to bring it, and the one is including greenery and floral decorations into your wedding. From the wedding aisle decorations, hanging adornments, and table centerpieces, you just need to focus on natural details thet represent rustic ambiance. For instance, get greenery for the table runner, dried flowers in a pumpkin vase for table decorations, and others.
33 Elegant and Creepy Halloween Wedding Decoration Ideas
There will be no wrong with Halloween decorations for unique and unforgettable wedding theme ideas. You can playoff with the black and burn orange color schemes, and then incorporate dark goth and edgy decorative items. Here we've tried to put together some inspirational elegant and creepy Halloween wedding decorations. Let's take a peek below!!
Dramatic Roses Wedding Arch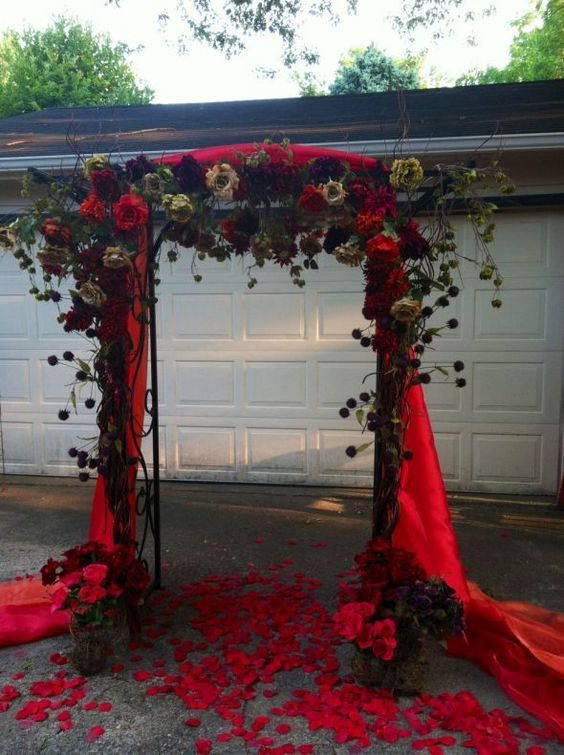 Have a bit of blood coloring into your Halloween wedding decoration ideas with red roses and linen. One of the ways is by using them to adorn your arch backdrops/aisle. Besides that, you can spread some red rose petals around the aisle. It would produce an elegant and creepy concept when you have to take vows with your soulmate.
Black Linen Decorations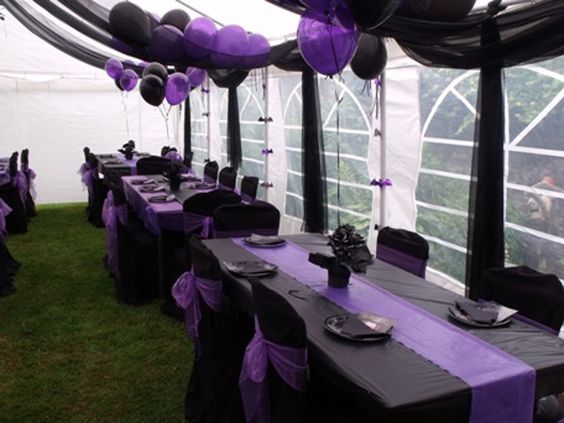 When you want to have a perfect Halloween wedding, it's a good idea to switch the white color scheme to black and bold ones. And you know, when you want to have an elegant creepy concept you can try the combination of the purple and black color palette. To make it look elegant, you can decorate your venue with black linen draped around the ceiling and for the table setting. Then, bring a bit of purple color for the table runner to ensure it doesn't look tacky and monotone.
Edgy Black Candle Stand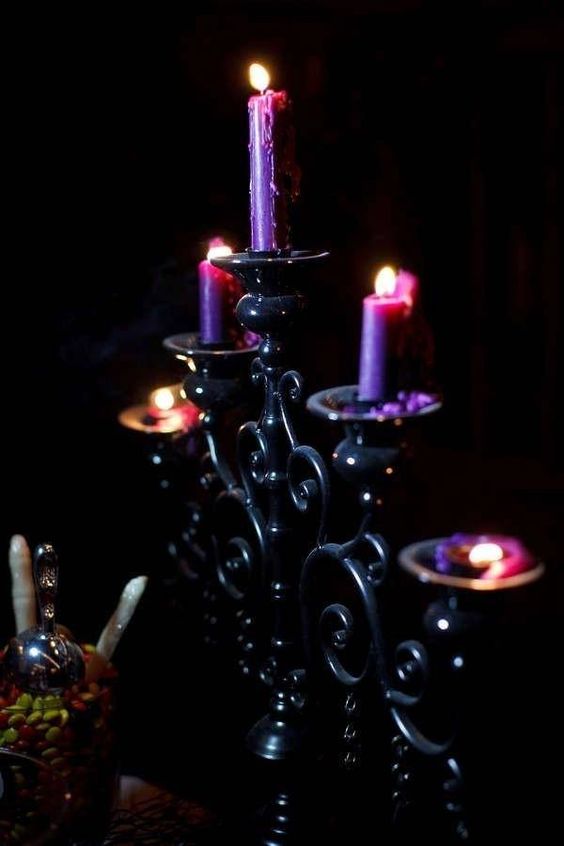 Go fun and edgy for Halloween wedding decorations with vintage black candle stands. This is also the way to bring the theme to your table centerpiece setting. When you put on purple candles over it, you will get a dramatically elegant and creepy feel at once.
Spooky Wedding Cake Design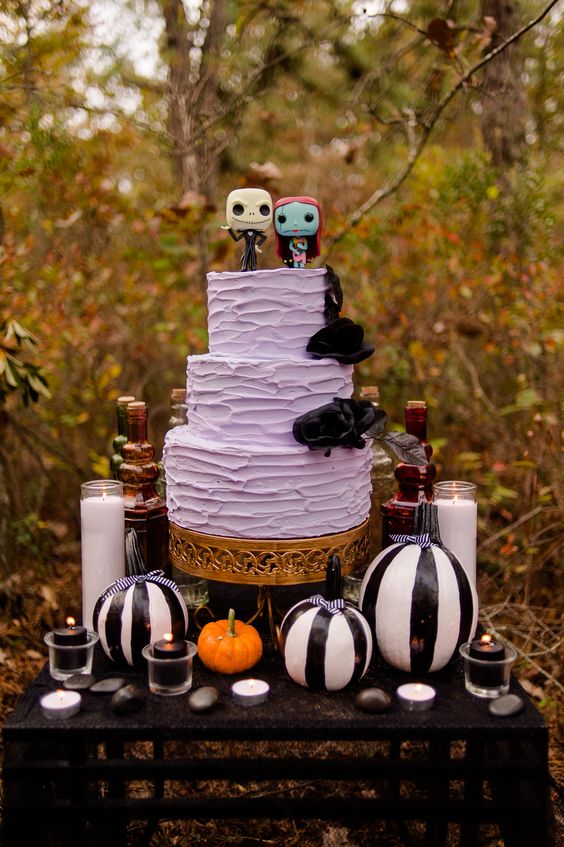 Your decorations are not only about the venue for reception and ceremony but also your banquet. If you want to have a unique Halloween decoration for your wedding, try on your cake design. You can apply purple for the color theme, then garnish it with spooky decorative items.
Beautiful Floral Cloche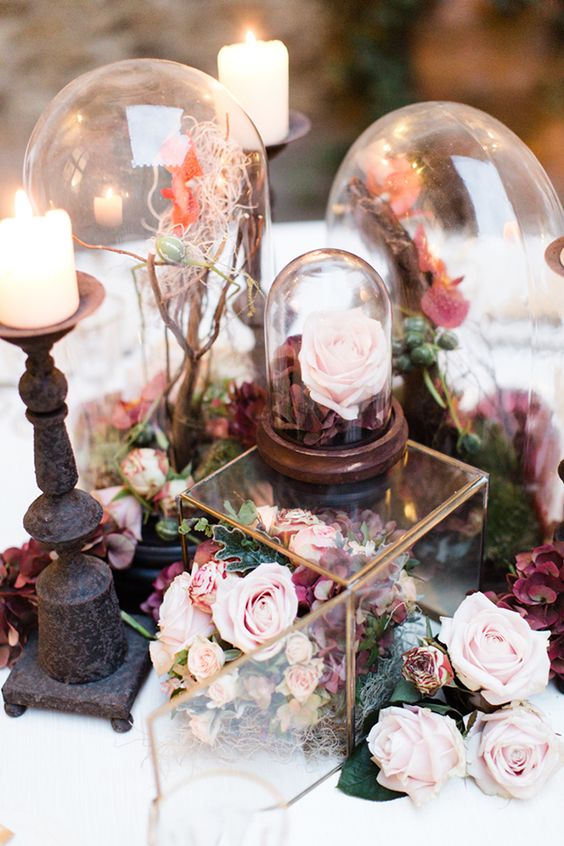 Not only do terrariums have a moment when it comes to wedding decor but glass cloche can be a great option to adorn elegant wedding reception. This is the best idea to showcase rustic decor details with some beautiful flowers in it. Besides that, when you want to get creepy Halloween wedding decorations, you can bring a black skull in a glass cloche and then place it in the center of the table.
Black and Gold Table Setting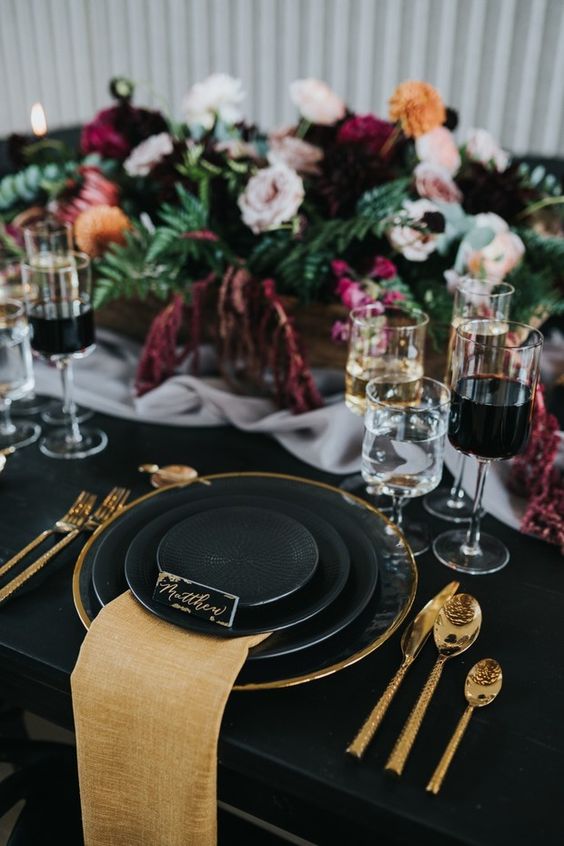 Black is great when it comes to Halloween wedding decoration ideas. But to make it look elegant and a bit glamorous, just don't be afraid to bring gold schemes on it. For instance, you can get golden sets of tableware on your table setting.
Celestial Arch Design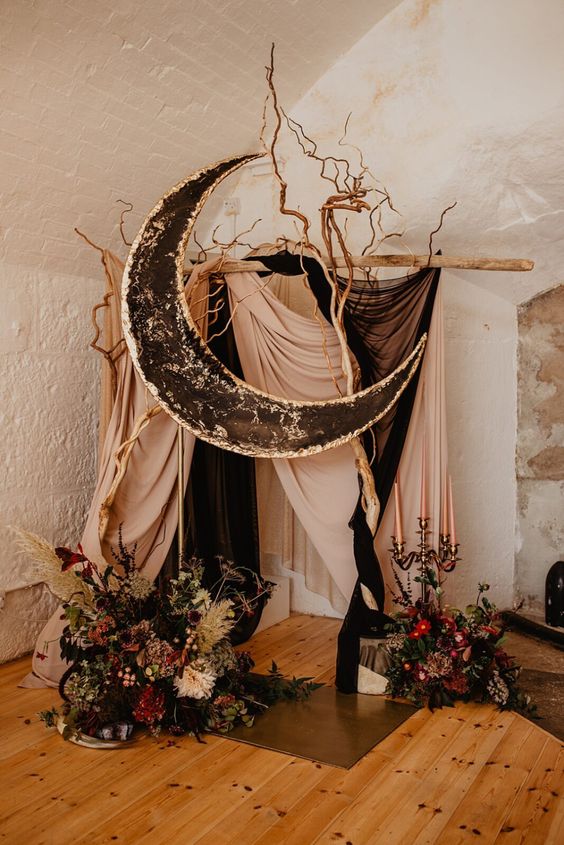 Halloween themes are more fun than you can imagine. It's not just about spooky and creepy things, but you can bring a beautiful fairy tale into this wedding concept. Like this one. Having celestial backdrops with rustic adornments also can be used for your Halloween wedding decoration ideas.
Pumpkin Aisle Marker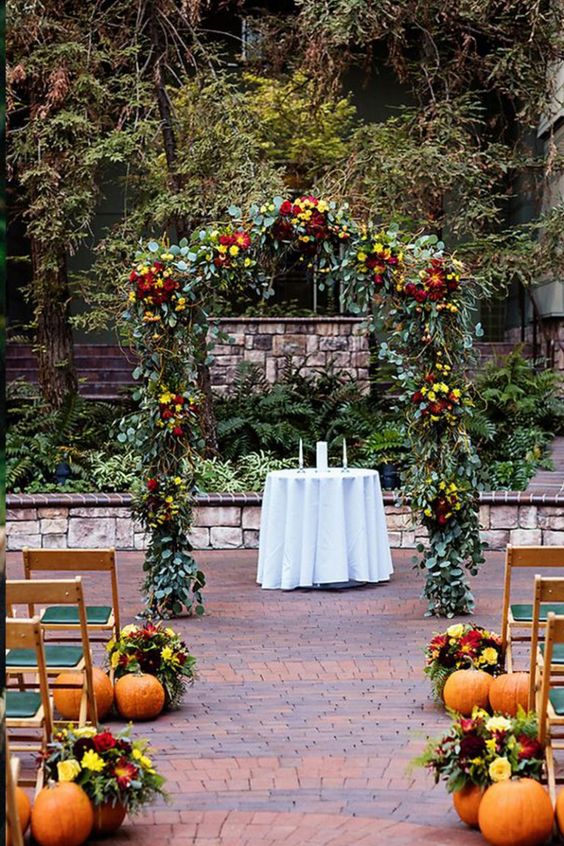 Set up your Halloween wedding decorations with the main object being a pumpkin. You can bring some pumpkins to become aisle markers. With some flowers in it, it would look elegant and beautiful for a fall wedding with the Halloween vibe.
Till Death Aisle Runner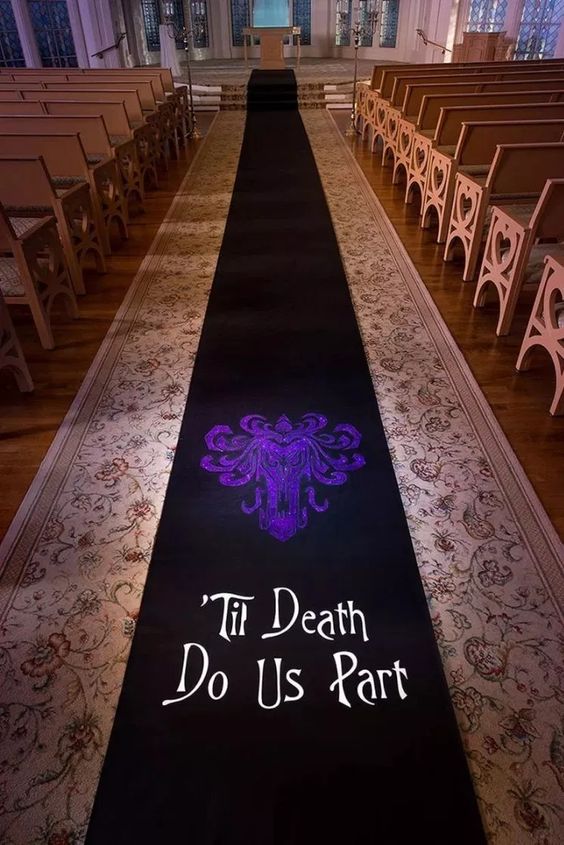 You can bring a Halloween ambiance to your wedding with simple decorations. For instance, you can set a "till death" aisle runner that would escort you to the altar with an elegant look.
Spooky Accessories on Wedding Bouquet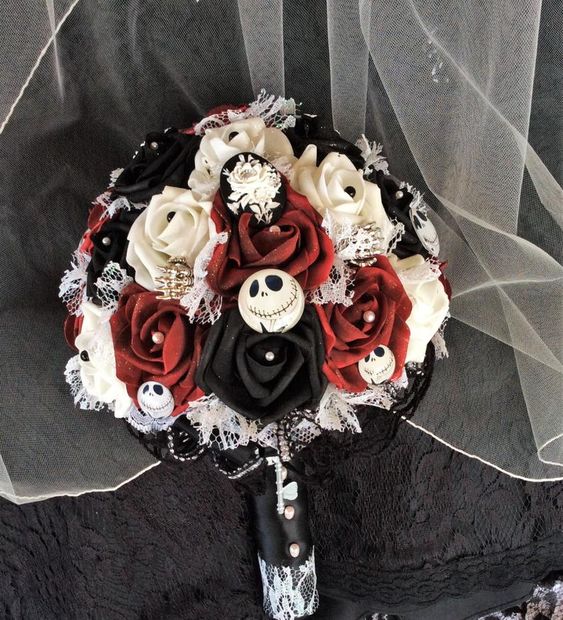 To bring out a Halloween decoration idea, you can stand it into your wedding bouquet. The way to create it is by arranging some white and red roses and then adding some spooky accessories to the bouquet. For option, if you don't like real flowers or want to have a glossy posy, get satin blooms for the wedding bouquet.
Halloween Apples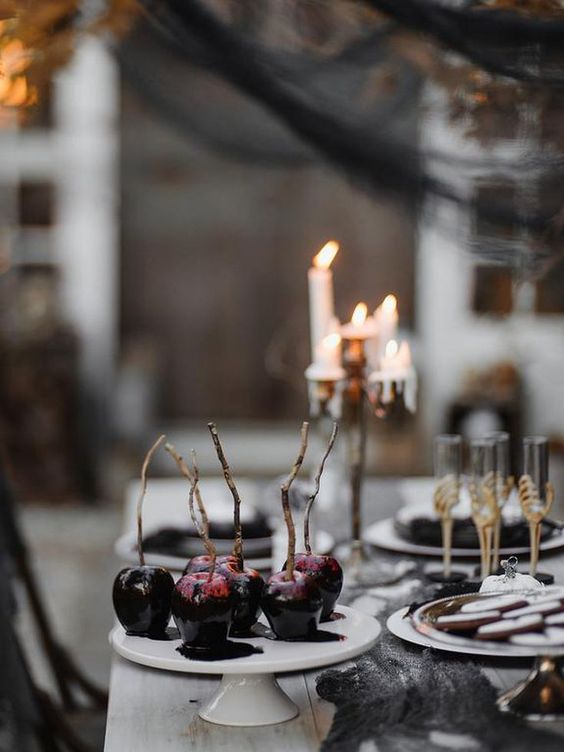 Bring the creepy Halloween wedding decoration with some apples. Make and serve some dishes from apples like apple candies. But you need to create them look creepy like the dead apple in the Snow White story.
Black Ribbon Chair Decor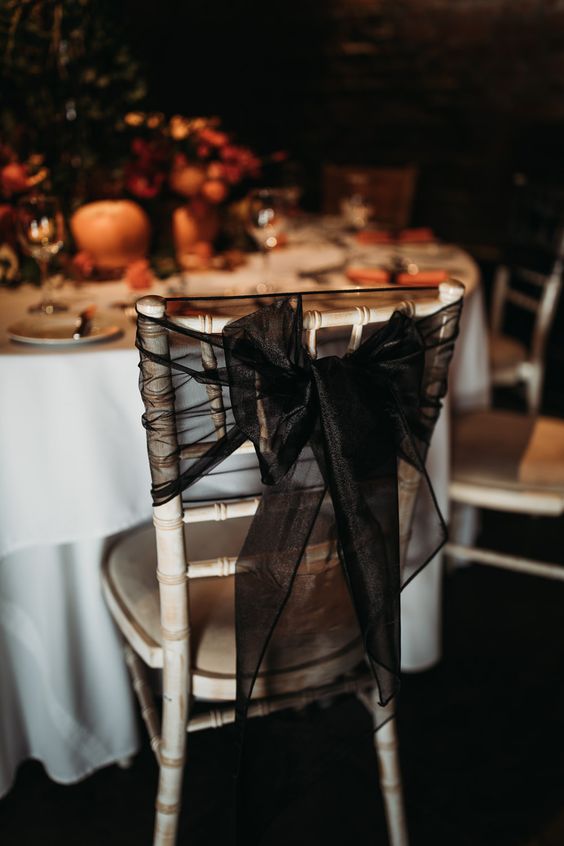 Want to have a fully Halloween theme on your wedding decorations, from the table setting to the chair decor, bring this black lace to adorn your vintage chairs. Make a big beautiful ribbon on the backside of the chair to make it pretty adorable and elegant.
Coffin Ring Box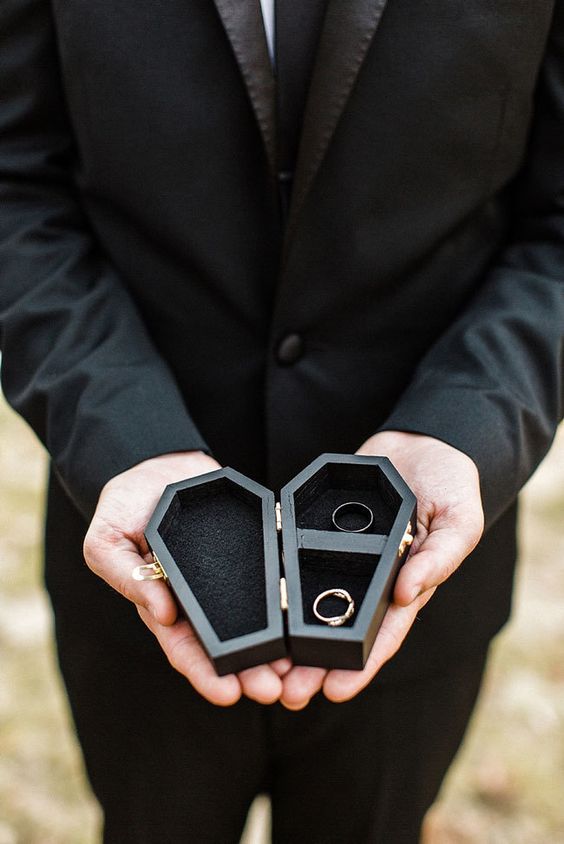 If you like the story about vampires or Dracula, bring them to your Halloween wedding decoration idea with coffin adornments. You can choose an unusual wedding ring box like this coffin design. I think it would be enough to bring creepy Halloween vibrant to your wedding ceremony.
Edgy Vintage Lantern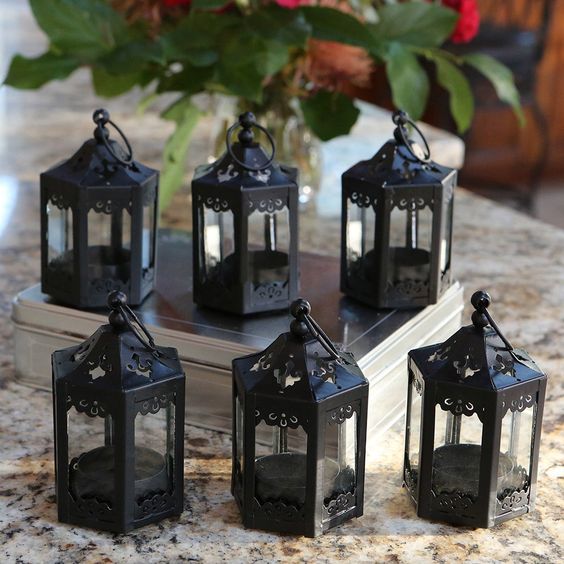 The edgy and goth things are never wrong to use for decorating Halloween wedding ideas. For example these black vintage mini lanterns. They would be suited to bring a creepy and mysterious feel when put together with other Halloween decorations.
Hand Skeleton Wine Glass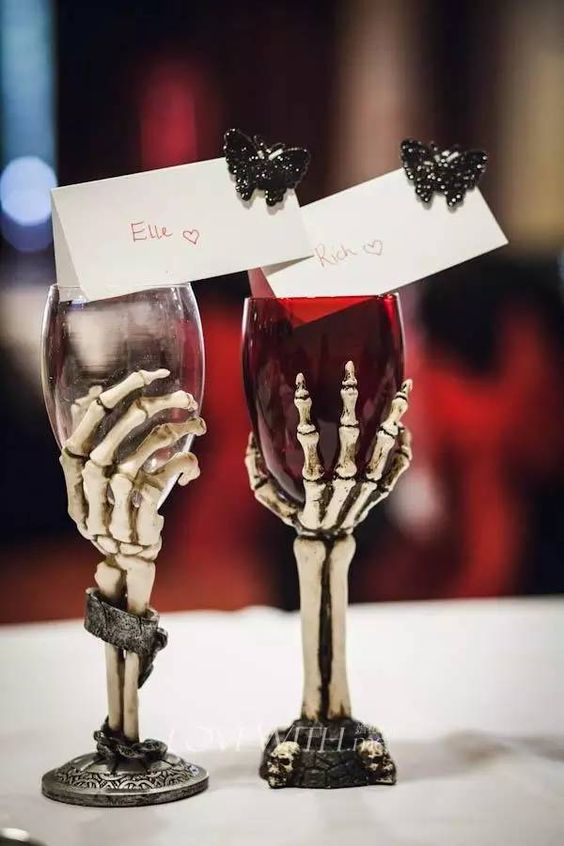 Having gold tableware wouldn't be enough to bring the creepy of Halloween. Bring these skeleton wine glasses to your dinner table for more extreme things. This design would make it look like the ghost hand which appears from under the grave by holding a glass. This looks creepy, isn't it?
Haunted Centerpiece of black Ravens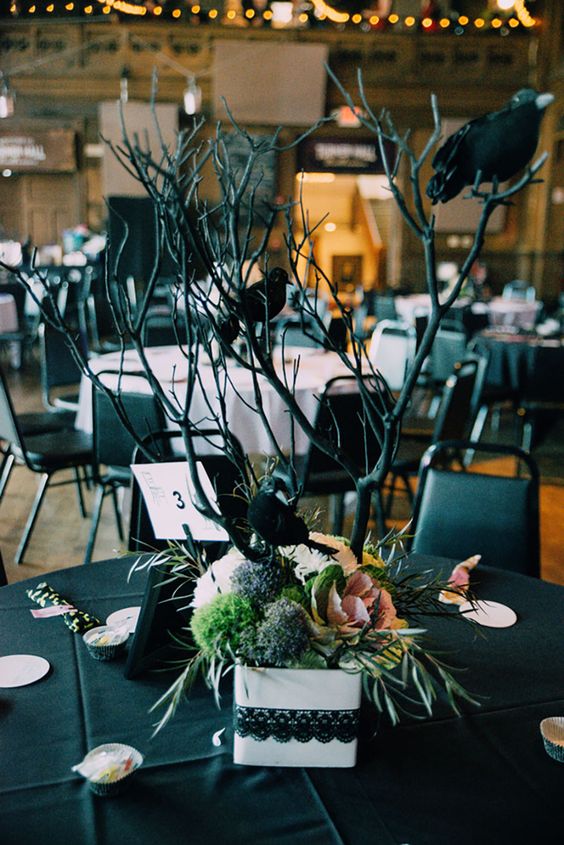 If you want to bring a more haunted and mystical atmosphere to your wedding, get these black ravens for the table centerpiece. For this, you can place the black forest tree and then add some ravens replicas on it. That's would bring spooky and creepy Halloween wedding ideas ever.
Black Coffin Menu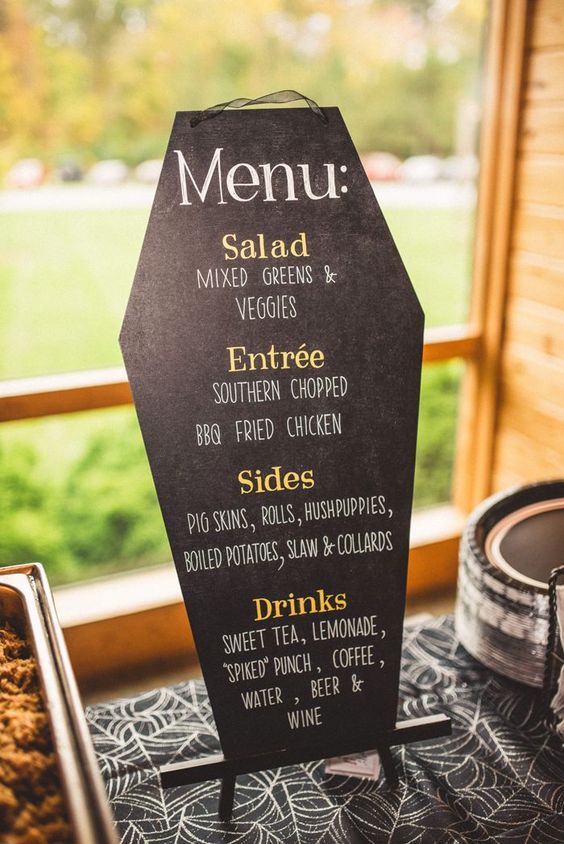 When you want to bring Dracula's coffin component into your Halloween wedding decoration idea, just have it into a menu board design.
Gold Pumpkin Decorations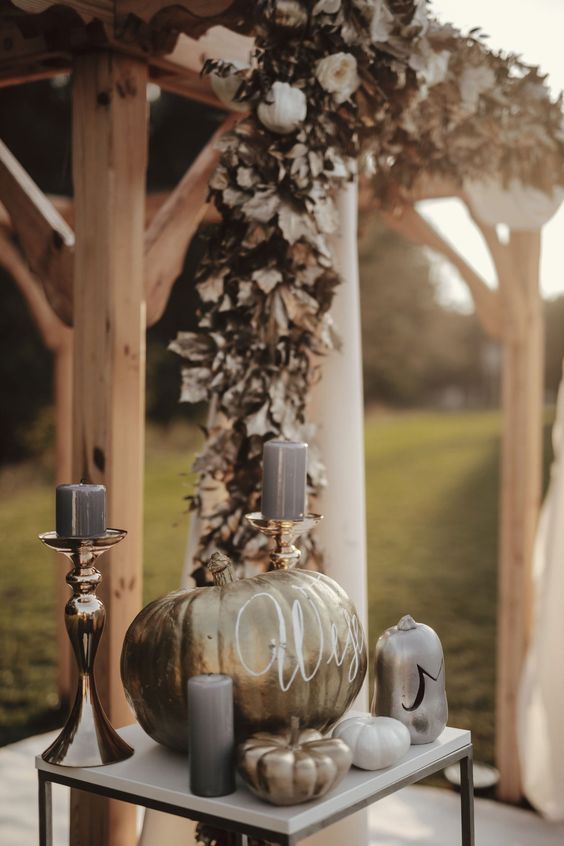 Next, we will introduce you to a glamorous golden pumpkin. The way to bring pumpkin ornaments into your Halloween wedding decoration idea. If you are bored with the natural orange color of pumpkin or using white and black to paint it, just try this one. This decoration would bring a classy and elegant concept to your wedding.
Elegant Black and Pink Decorations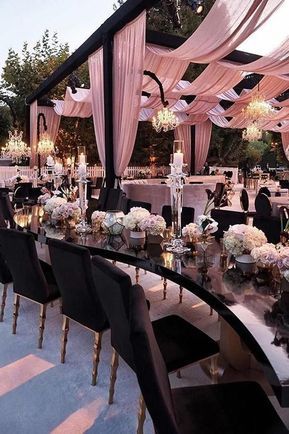 The combination of black and burnt orange, purple, or red is commonly used to show the Halloween concept. However, you don't have to stand that's stereotypes. Just feel free to play with another color palette. So, what if you do something different than the usual now? Like when you choose a pink and black combination in your Halloween wedding decoration idea. What do you think about it?
Creepy Wedding Sign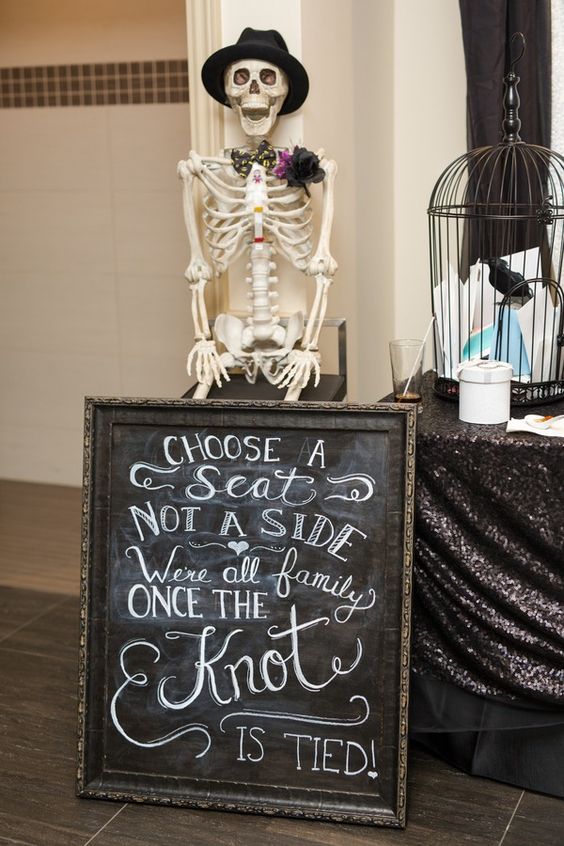 Surprise your guests with something that represents a haunted Halloween wedding like this creepy skeleton wedding sign. For this, you can be placing a skeleton and dressing up it as an attendant guy to welcome your guests.
White Pumpkins for Staircase Decorations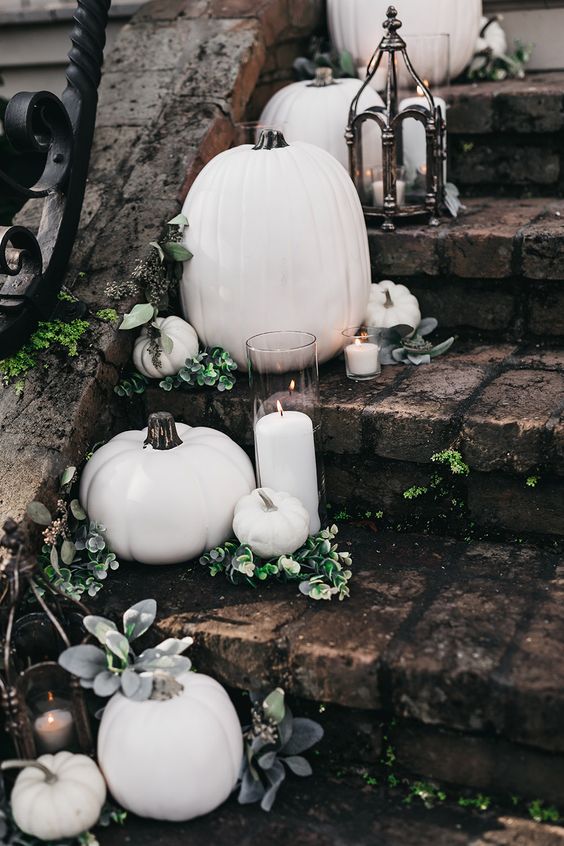 We thought you will get various Halloween wedding decoration ideas from pumpkin. It's really easy to bring this pumpkin for beautifying your venue. From centerpiece, aisle runner, and now it's become staircase decorations. And then when you want to have a bit elegant and fairy looks, paint the pumpkins in white color.
Spooky Skull Decorations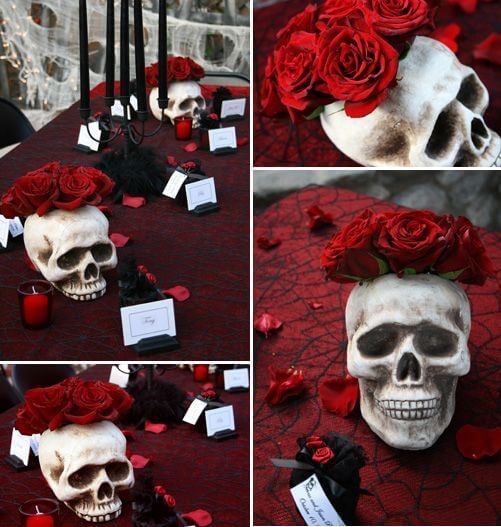 Bring something dramatic like skull decorations into your wedding table centerpiece. This is also a simple and easy way to insert creepy Halloween theme ideas into your wedding decoration.
Black Lace for Table Runner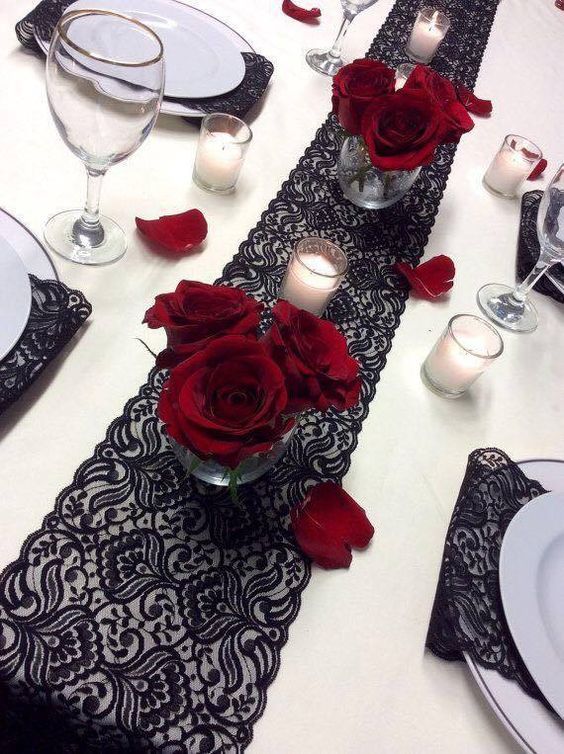 Black and white is a timeless combination that brings ultimate elegant decoration. That's why, if you want to have an elegant and creepy Halloween wedding decoration on your table, you can get this color combination. For the first, get white linen into your table and then place a black lace runner over it. For the rest, you can add other details like vas with red roses on it.
Dramatic Dark Blue Candles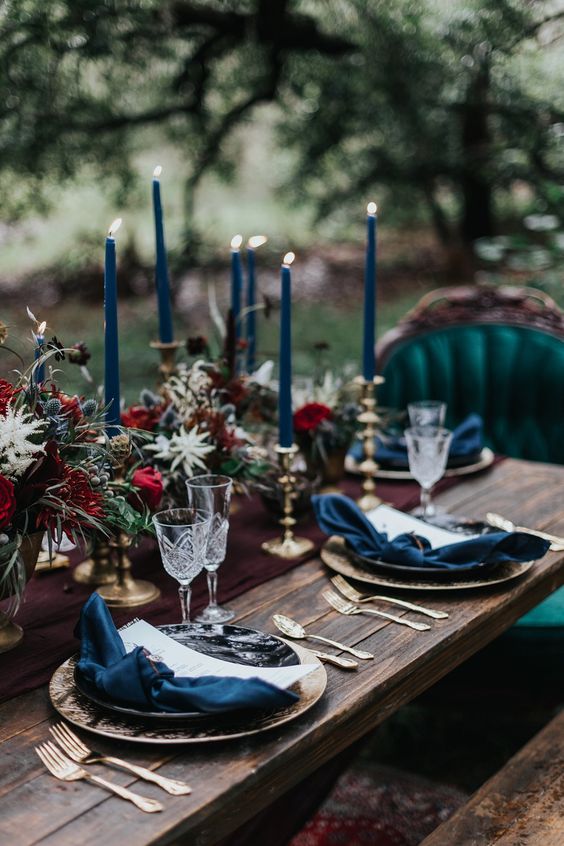 Candles are also the main component if you want to build Halloween wedding decoration ideas. For this, prefer you choose dark candles like these dark blue candles that seem creepy enough but still elegant.
Goth Table Number Design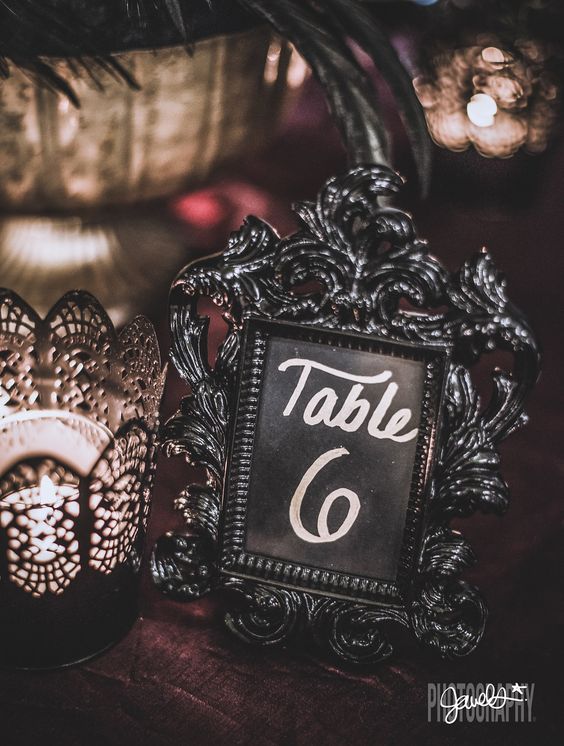 Halloween and goth are unity. The dark feel of both themes could work well to create elegant and creepy Halloween wedding decorations. Like this table number. Designed in black with a vintage look that represents the goth at your dinner table.
Till Death Neon Sign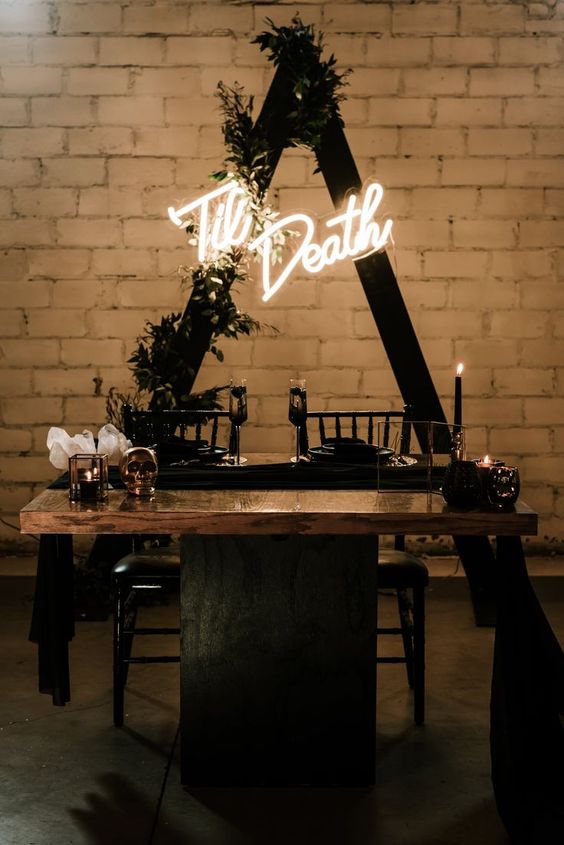 If you want to have unique lighting, this "till death" neon sign gives you industrial Halloween wedding decoration. You can place it for backdrop lighting.
Rustic Decorations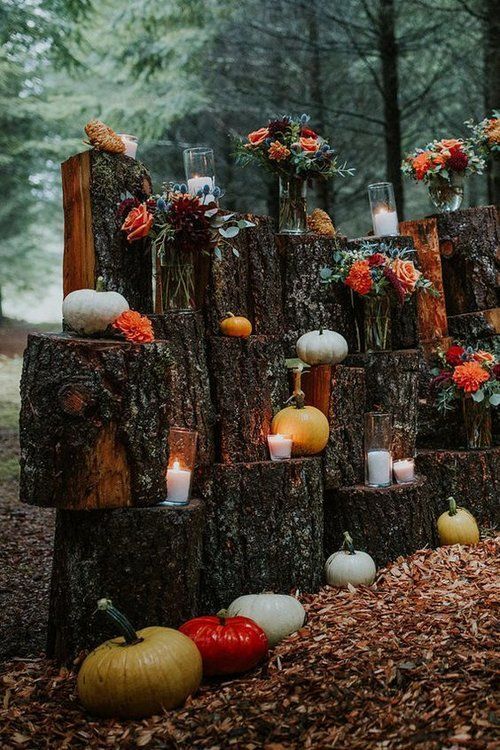 As we know that Halloween can be included with another decoration concept, like this rustic idea. You can pill up some tree trunks to make it look like a natural fence, then add some pumpkins and candles for adornments. It would be cool to place on your outdoor Halloween wedding decoration.
Creepy Wedding Guest Book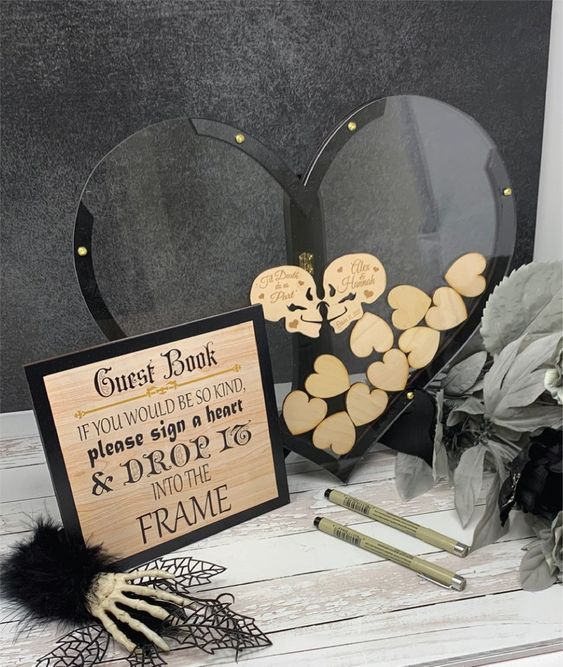 Another adornment to create a Halloween theme for your wedding is using edgy skull wedding guest books. You can create a love sign with acrylic and then give a couple of skulls in it to bring creepy Halloween to your wedding.
Witch Hat Cake Stand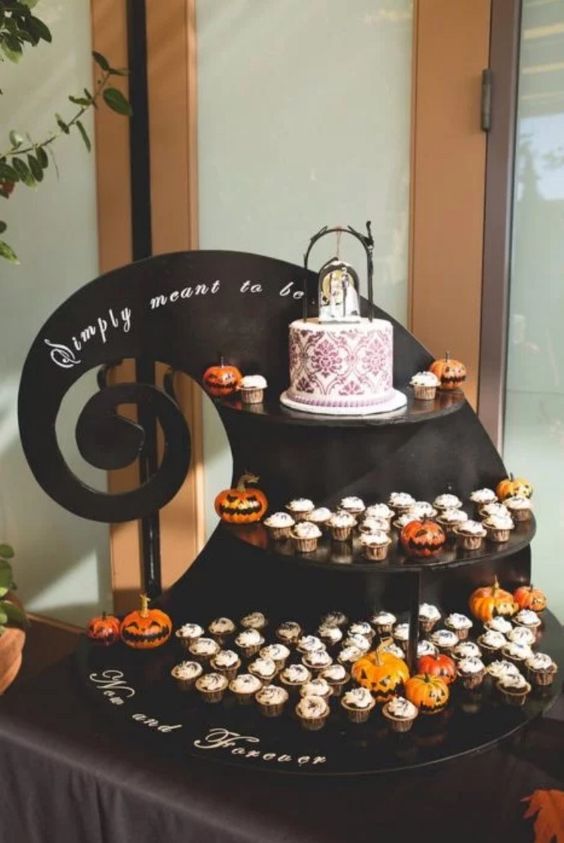 Like a spooky ghost, Dracula, a vampire, brings a scarry feel into your Halloween decor, and the witch is also one of them. Get a unique cake stand with a witch hat design to adorn your wedding with Halloween theme ideas. Make your guest enjoy the party with a unique atmosphere from your decorative items.
Jack-O'-Lantern Decorations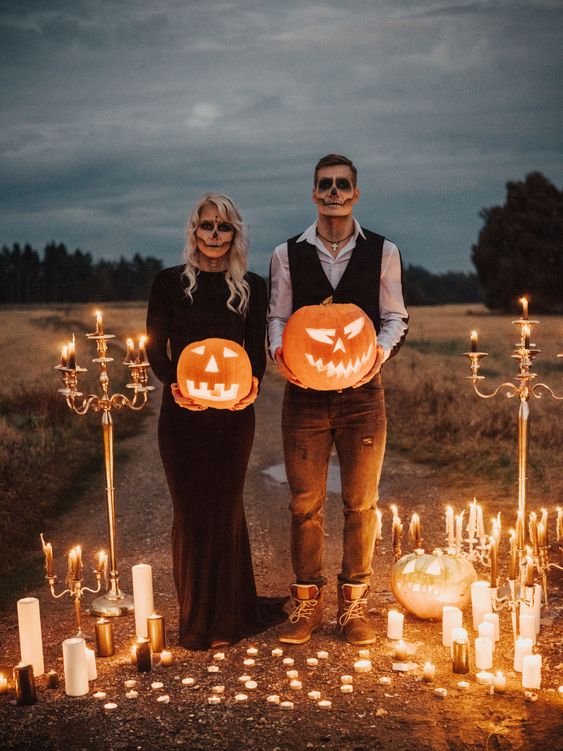 Since Jack-o-lanterns are the main components of Halloween decor, that's why there's no reason you don't use them for your wedding decoration. Consider using those lanterns as lighting design, adorn your photo booth, or use them for background when snapping your couple's photos.
Purple Orchid for Aisle Marker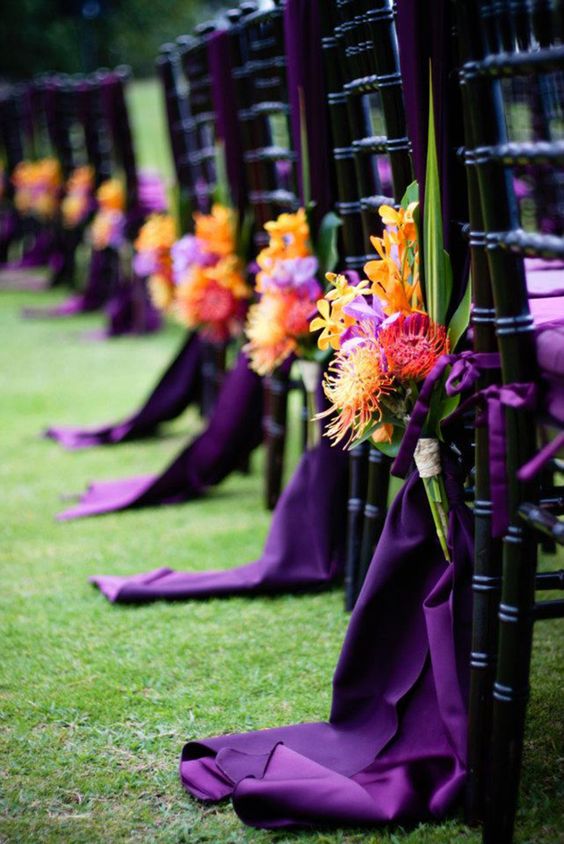 Stand with black and purple if you want to get an elegant and creepy wedding concept. You can apply those two-color combinations to decorate your Halloween aisle marker. Being a bit romantic accent with orchid and black purple fabric that's tied on chair legs all along the aisle.
Hanging Bat Decorations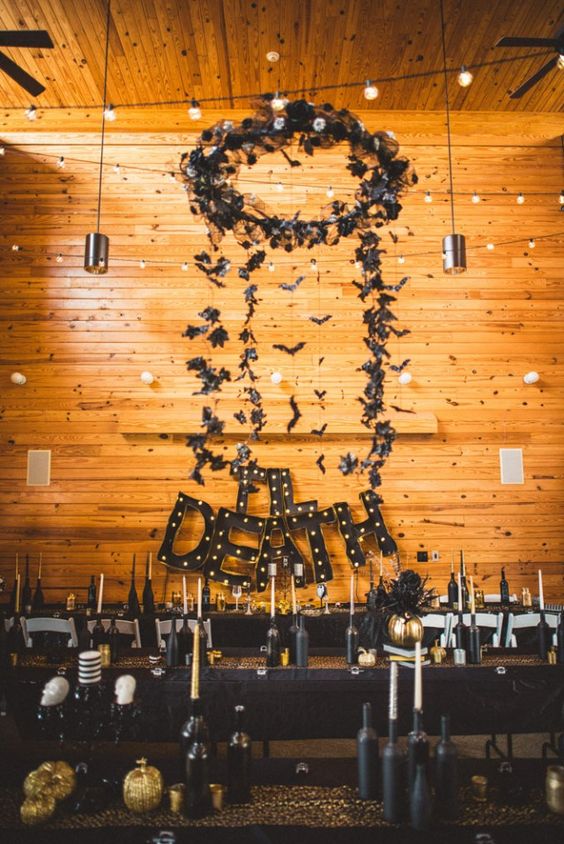 Installing a hanging bat hoop in the middle of the ceiling can also use for Halloween wedding decoration ideas. Then, adding the phrase "till death" in lighting is a big trend in Halloween weddings that would bring fun and chic decoration. To make your Halloween wedding decor look perfect, get used bottles that are painted in black, and gold pumpkins into your backdrop design.
Artificial Fangs for Escort Cards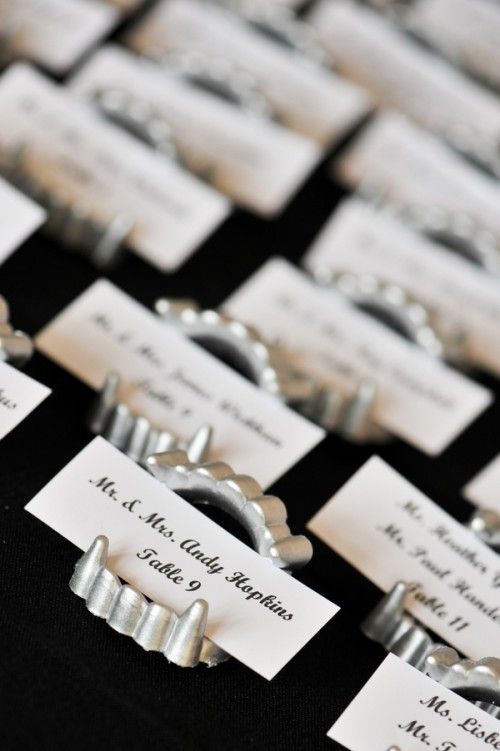 Inserting vampire or Dracula figure into your Halloween wedding decoration idea, besides the costume and coffin, you can get artificial vampire fangs to make it for an escort card stand. Paint them with silver colors to have a bit elegant and creepy concept into your wedding theme.
Overall
When your wedding is close to Halloween festive, bring skulls, vampires, Dracula, witches, skeletons, and ghosts for adorning your wedding venue. Whether you choose full of the theme by having Halloween costumes, or you only choose to have Halloween decorations, make sure it would be a great celebration. If you want to know what a Halloween wedding looks like, read our article about the creepy and unique Halloween wedding concept.