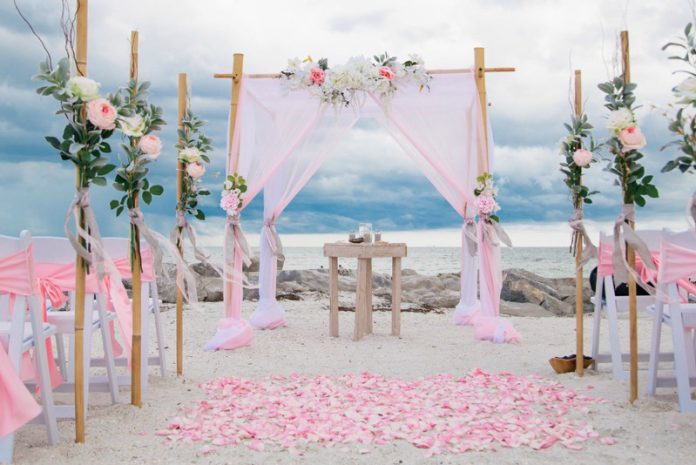 Very few people are experimental when it comes to weddings, and for good reason. After all, it's not every day one gets to tie the knot with a soulmate. This is also the most probable reason many people stick to more traditional venues, like a church or a simple event centre, instead of an outdoor venue with its various appeals.
The Types of Outdoor Wedding
Outdoor weddings are simply weddings done outside. The definition seems so austere but the reality is much more different. There are no grander weddings, no weddings as beautiful and or as charming as an outdoor wedding. Give yourself a moment to think about a fairytale ending; did your mind really conjure up an image of an indoor wedding?
Sadly, most people think outdoor weddings are limited to beaches. We have compiled a list of various other choices you could explore. Let's have a look:
Surprise your guest with a beautiful summer wedding event at a vineyard when the grapes are in full bloom. You can even serve locally sourced wine to complete the charm.
Like vineyard weddings, your guests would appreciate the experience of romance within dense fruity foliage. Memories of this wedding would be triggered each time you encounter fruits of the same type at the orchard you choose.
You might be sceptical about marrying within hay and livestock, but a farm setting lends a rustic charm to your event. A worthy choice when executed nicely.
There are rarely any parks that are not scenic. A wedding in one is even more enjoyable than those evening walks within them.
Waterfront, Islands and Beaches
Is there anything more soothing than a lake against the backdrop of a sunset? More calming than waves washing across the shore? Weddings on the harbour or a private island could set the pace for an incredibly memorable married life.
If you have ever gone hiking, you know that mountain ranges offer a beautifully scenic vista. Take advantage of this to say your vows against such a grand backdrop.
The ultimate outdoor wedding choice. Versatility, history, romance and luxury rolled into one. Setting aside the unbridled access to all amenities these buildings provide, you have access to all the grounds belonging to the property. This is a chance to make your wedding as grand as possible.
Why Choose an Outdoor Wedding?
Outdoor weddings are experiencing a comeback but there is still palpable scepticism around having one. Here are a few reasons why they can be the superior choice:
One thing about indoor weddings is that you are very limited to the confines of the room in your decoration. You might want enough comfortable chairs and a large cake, but you are going to have to settle for whatever the room can fit. This is especially frustrating if you have always dreamt of a large wedding.
Outdoor weddings allow you the space to go haywire with your creativity and give you an immense template on which to carve your event. Your guests also would have the chance to explore and this creates a more engaging side activity for your reception. The only thing you may have to worry about is being overwhelmed (very unlikely, to be honest).
The beauty and charm are unmatched
The only thing that compares to saying your vows against the backdrop of a beautiful sunset across the lake, is dancing with your new spouse underneath a moonlit sky. Even in the glare of the sun, the beauty of nature is there for wonder for all who behold; having your wedding amidst this scenery is the perfect recipe for creating good memories
The photographs will be great
Apart from your memories of that day (and your spouse, of course), the only other things that would stick with you for so long are the pictures. With natural lighting aplenty, your photographer is going to have a blast helping you to immortalise your day.
You have greater theme flexibility
Your quirky wedding theme is likely to fit better with an outdoor wedding. Your taste for bohemian elements would look out of place in a church or event centre.
We mentioned earlier that outdoor weddings provide enough space for you to decorate to your heart's content. The opposite is still applicable; nature is beautiful enough to cover a lack of adornments. This saves money that could be invested instead into the honeymoon while still giving your guests an unforgettable experience. We admit that some outdoor venues might be pricey, but for the value you get in exchange, it is worth it.
Alfresco charm never goes out of fashion. Incorporating this charm into a wedding is a surefire way to ensure the couple remains in the moment, the outside world forgotten, and their eyes for each other only.
Turning your outdoor wedding dreams into reality is only an email or phone call away. Marshall Meadows Manor is the perfect home away from home; the setting in which you can create memories with your new spouse and in which you can give your guests the time of their lives. Contact us today for enquiries on bookings. You would be very grateful if you did.