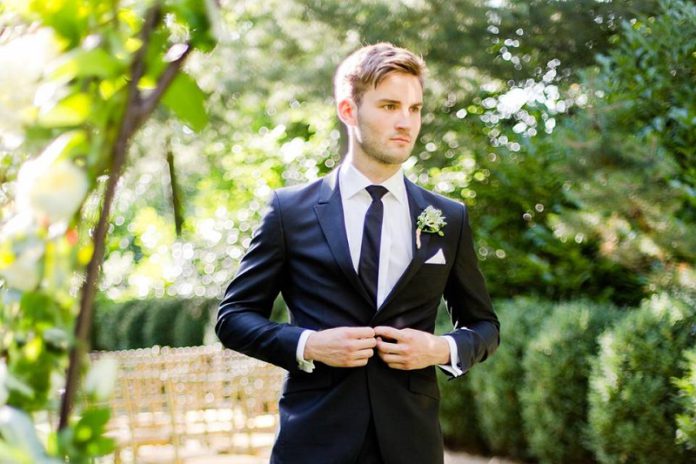 Roowedding.com – While brides have countless choices for enhancing their appearance, from sexy sleek dresses to ball gowns, grooms have only two options: black tuxedos and suits. Why should we restrict grooms' attire? Let's just make you wear whatever you want as grooms in your wedding that reflects your quirky personality. Whether you adjust your casual style use a t-shirt and jeans, adding some unique accessories, and using bold patterns, there's always alternative groom attire.
Instead of standing with traditional fashion for marriage, why don't you try something that is really "you" on your big day? Not just present your personality, but your alternative groom attire would also double purpose as decor, draw your wedding theme, and match your wedding venue. Dress up groom's suits and tuxedos who prefer a unique and unusual look by unbuttoning shirts, rolling sleeves, or switching loafers to sneakers. Try a floral tie, a floral shirt, or striped socks to liven up your look.
So at this moment, to get you started we've compiled 19 alternative groom attire that would make you look cool at your wedding. Choose anything that will reflect you and makes you feel comfortable from start to end of the wedding.
Casual T-Shirts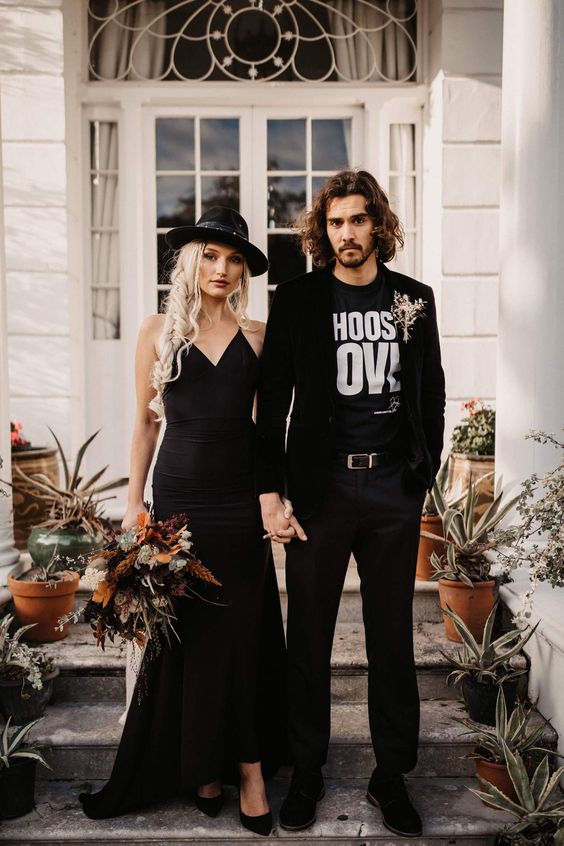 For the first idea, you can choose a solid or patterned casual t-shirt to create an alternative groom attire. I love this idea! This style would make the grooms look casual but still make them catch people's eyes. This groom's suit would fit an industrial wedding theme. What you need to do is just mix pants and a blazer with a casual tee for the inner top. Don't miss out to give another detail such give a fedora hat as an accessory to make you cooler. Suede shoes would give a classy vibe to your appearance. Furthermore, boutonnieres and a leather belt would perfect your outfit performance.
Rock Style with Skull Printed Suits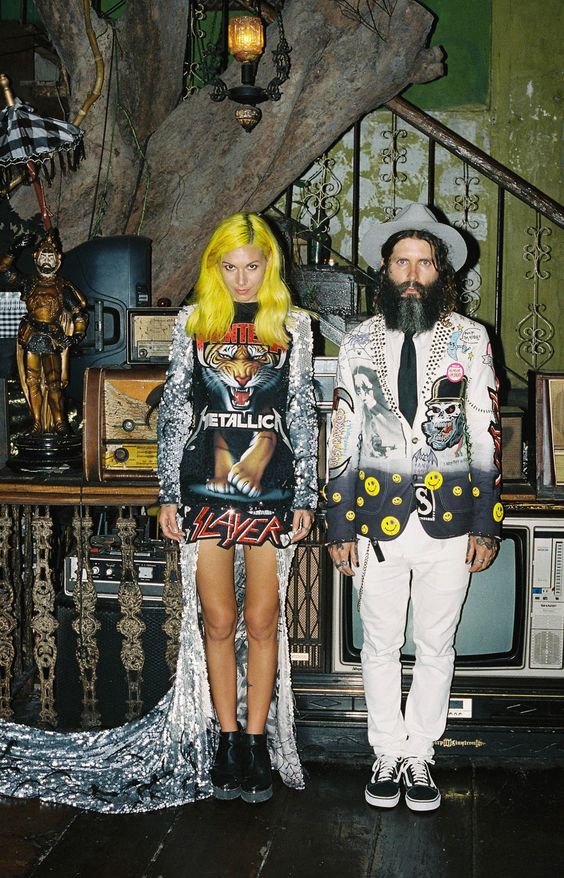 Think out of the box if you want to create unique alternative groom attire. Like these skull-printed suits! This groom style not only looks whimsical, but it really represents yourself who likes rock style. You can design your blazer to look rock and roll by adding silver spike embellishments. For the bottom style, you can wear jeans and sneakers. Another option, you can wear leather pants and boots to have a more rock style. Then, get a fedora hat to perfect your groom's outfit style.
Grooms' Iridescent Costume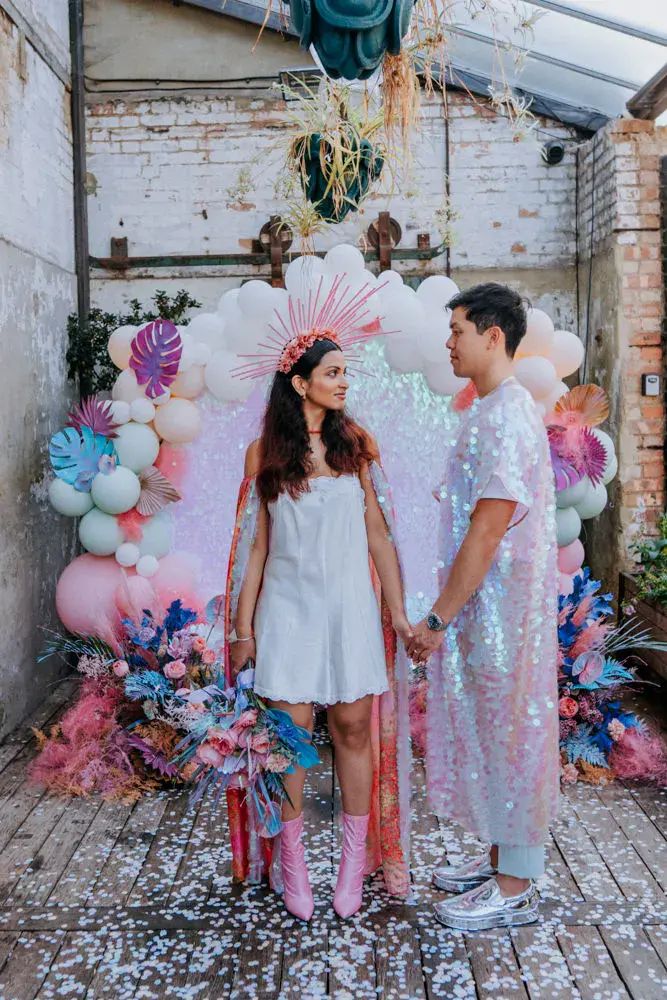 Want to look whimsical at your wedding? Include an iridescent costume as your alternative groom attire. The shimmering colors from sequin are everything. Not only in a bridal gown, but you can also adjust sequins on groom suits, like this idea that uses a sequin tunic and use white pants as groom style. This suit you that's looking for an unusual wedding look. Besides that, give additional shimmery with silver Espadrilles for the footwear.
Keep Bohemian Style in Floral Suits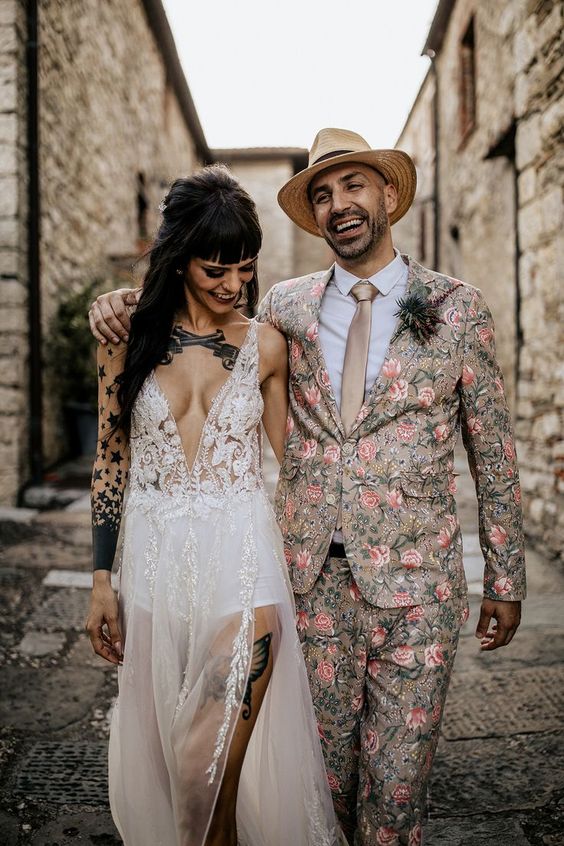 When your bride is wearing a bohemian wedding dress, balance it using floral suits as alternative groom attire. For the look, you can choose floral suits in earthy hues that match with a white shirt and a champagne silk tie. Then, to elevate your bohemian style, you can wear a straw hat or fedora hat and boho boutonniere. For shoes, just wear brown leather shoes to perfect your appearance to stand in the aisle with your soulmate.
Stay Cool in Vest and Jeans for Marriage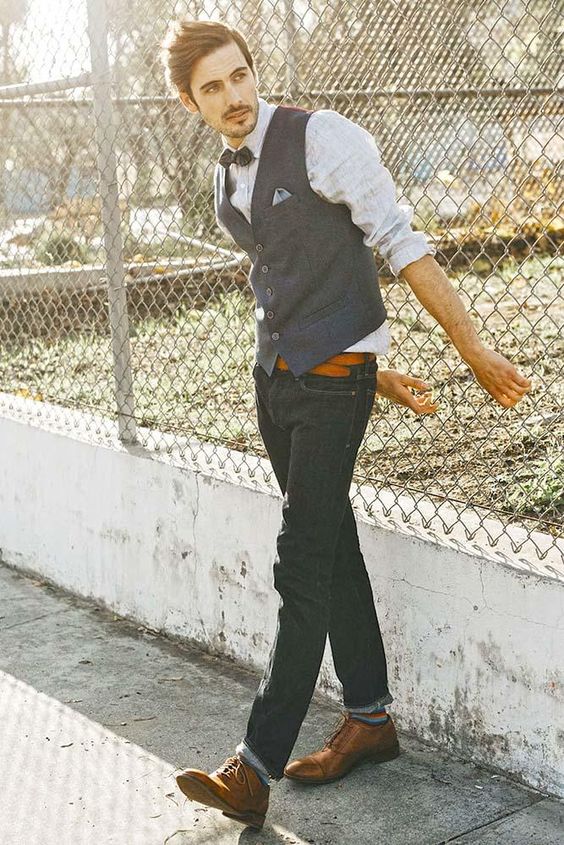 When you want to carry a casual trendy concept into your big moment like marriage, just stand with this alternative groom attire. You can start by wearing a vest with a shirt on the top and get denim pants for the bottom. An informal style that makes you become a casual groom in your wedding reception. Then you can choose a bow tie, roll it up a bit on your sleeve, and get a leather belt that feels chic in this outfit idea. For shoes, better to pick a formal style like leather or suede shoes. You can also create a trendy cowboy style with this groom's attire. What you need to do is just match it with bohemian accessories.
Get the point with Your Socks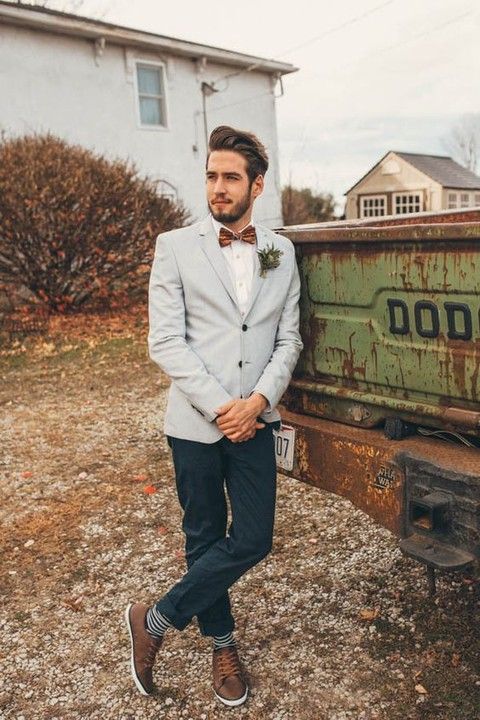 Weddings are meaningful occasions that necessitate bold fashion, but you don't have to wear the most expensive outfit to look your best. To create alternative groom attire, you can get a point on your socks. Wearing unconventional strip socks makes your appearance become unique. You can get the formal look for the top by wearing a shirt, blazer, and bow tie. Then, choose a casual style for the bottom look by choosing denim pants, unconventional socks, and sneakers.
Bring Summer with Bright Yellow Tuxes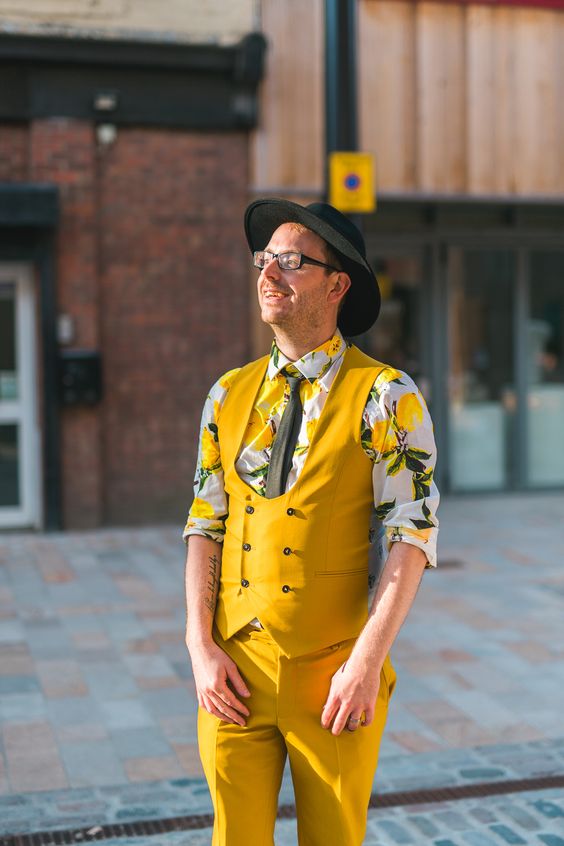 Looking for wedding attire that feels like a summer vibe? You can use this bright yellow tux as your alternative groom attire for spring and summer wedding plans. Overall you can pick a lemon-printed shirt that you wear with a yellow vest and yellow pants. Complete the look with a black tie, a fedora hat, and loafers. This style really presents summer. This can be an outfit option if you also want a wedding garden party.
Suspender is On Point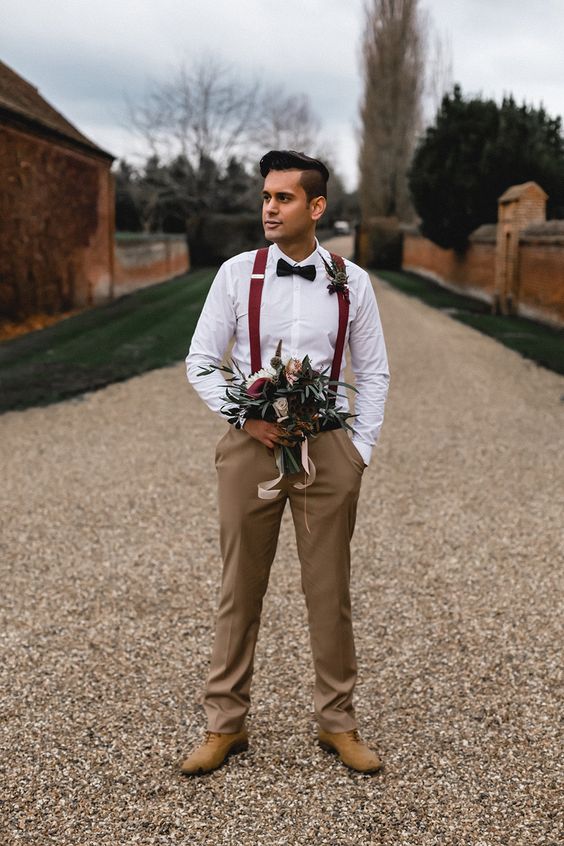 The suspender trend was coming back! Grooms can re-emergence this trend and become their alternative groom attire. Rather than you stuck with black suits and tuxes, create an elegant and cool statement using suspenders and khakis on your big day. To stand out more from the groomsmen and guests, you can combine this piece with a short sleeve shirt, using a vest, and a fedora hat. That's would be popping up as a great groom attire for outdoorsy wedding ceremonies like a winery and vineyard wedding idea.
Change Your Blazer with Denim Jacket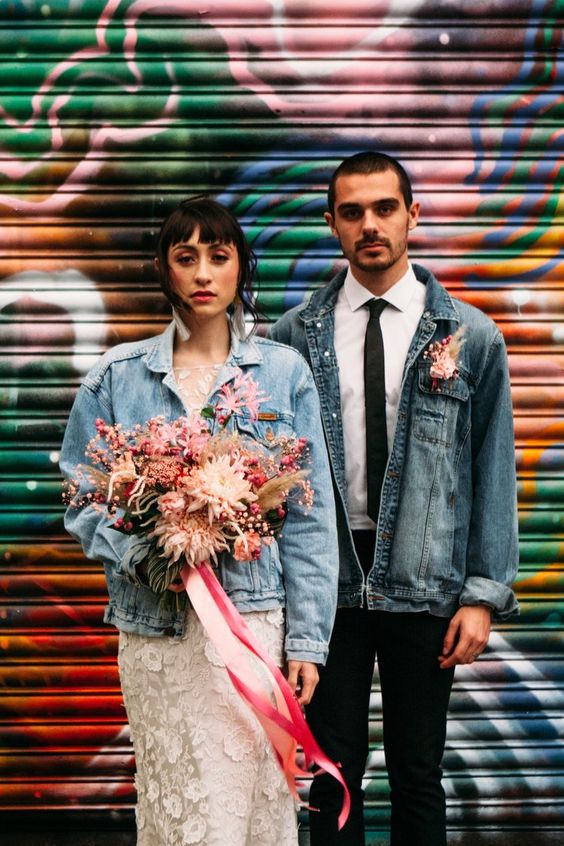 Push off your blazer and change it with a denim jacket! Believe us you'll get a trendy alternative groom attire in your marriage moment. You can bring a theme to this versatile piece and match it with your bride's style. For the option, you can wear your usual shirt and black pants, and get a black tie. For the outer, just switch your blazer with a denim jacket to have a cooler appearance.
Groom Vest and Beret Hat for Classy Elegant Combination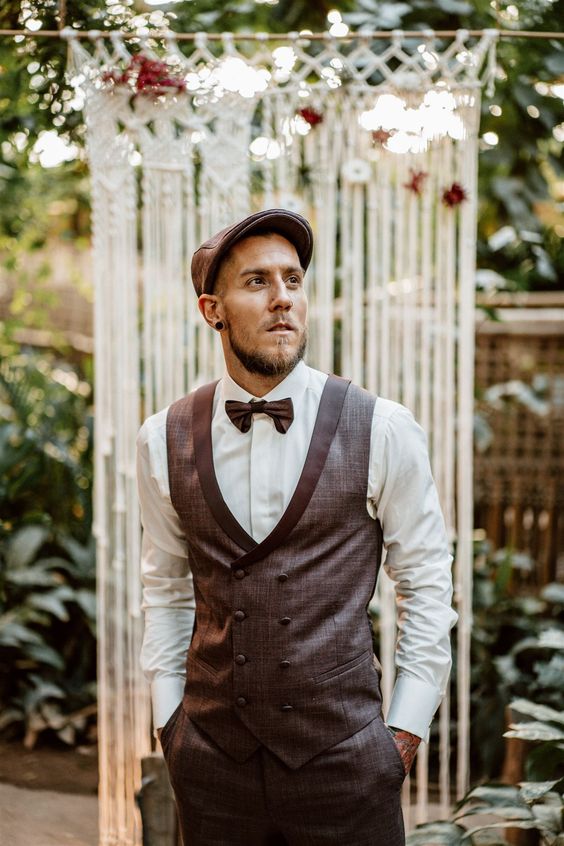 When you want something that classy, retro, and elegant at your wedding, just stand with this alternative groom's style. Yes, the combo of a groom's vest with a beret hat for a complement. You can wear a brown vest, with a bow tie, and brown trousers for the bottom. Then get all the style with a beret hat to give a bit of retro vibe. For the shoes, you may get brown leather shoes. This alternative groom attire actually gives a classic vintage groom style when you stand in the aisle to take a vow.
Wear Uniform for Military Wedding Style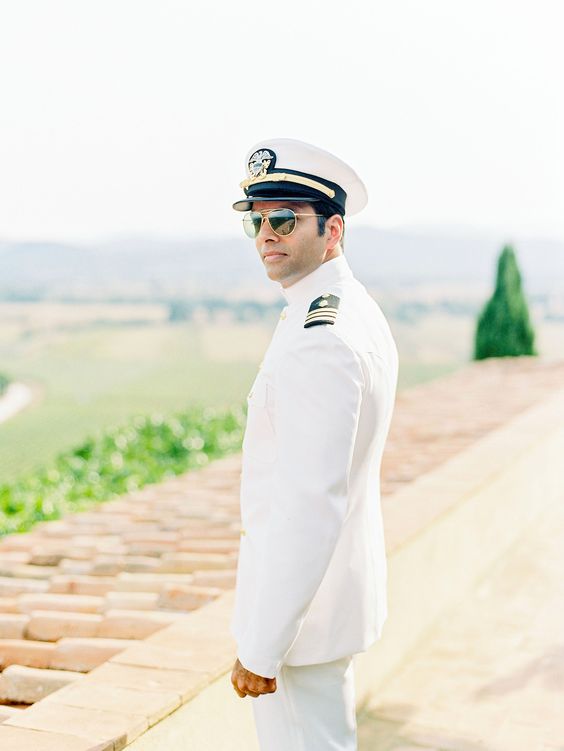 Do a military wedding! So you really need this uniform for alternative groom attire. Just bring a set of your military uniform to your wedding reception. At a military wedding, you have to take a formal ceremony, that's why your uniform is the best choice. Remember the guidelines for wearing a uniform properly when you plan to wear it at your wedding. Excessive jewelry and accessories, including boutonnieres, are not permitted as a sign of respect. However, you can wear white gloves, carry a saber, and only a ring for jewelry. Just keep in mind, that when you bring your uniform, you must follow the dress code that goes with it.
Bolo Tie for Vintage Accent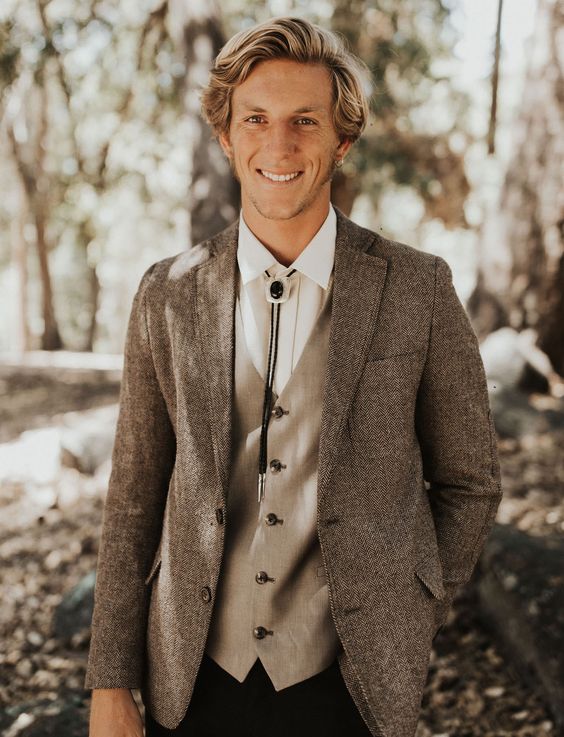 Depending on the tie you choose, grooms can elevate their performance and create a theme for their wedding attire. Like using a bolo tie that represents a vintage look or cowboy style. To draw past fashion into your alternative groom attire, you can wear this kind of tie with a classic suit and vest. Then, wear loafers that are suitable for this outfit idea. Otherwise, you can add a cowboy hat and use boots to create a bohemian or west American style. You can also make suitable elegant groom attire from this outfit style.
Cool Groom Outfit in Leather Jacket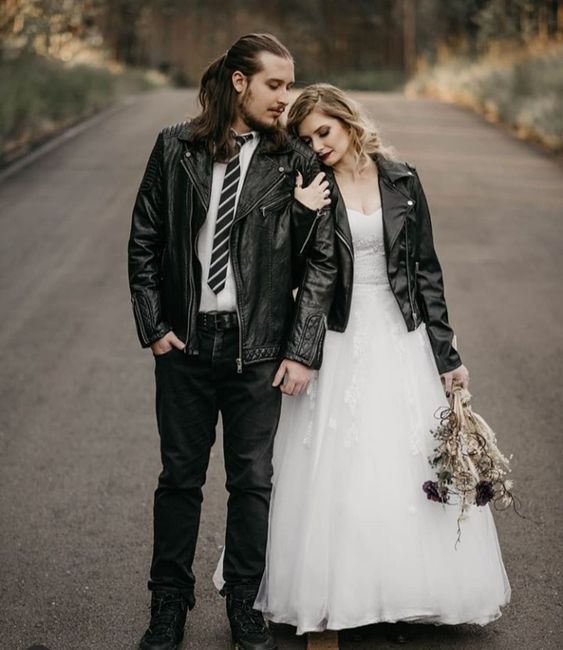 As an alternative groom attire, you can provide your outfit performance with another piece like a leather jacket. You can ditch your pants and switch them with jeans, and change your loafers to boots. For the top style, just wear a common shirt with a white-black striped tie, then a leather jacket for the outer. You'll get a trendy style, a bit grunge, and a metallic look. This wedding attire can be an option to wear on your industrial wedding theme.
Simple in Boho Outfits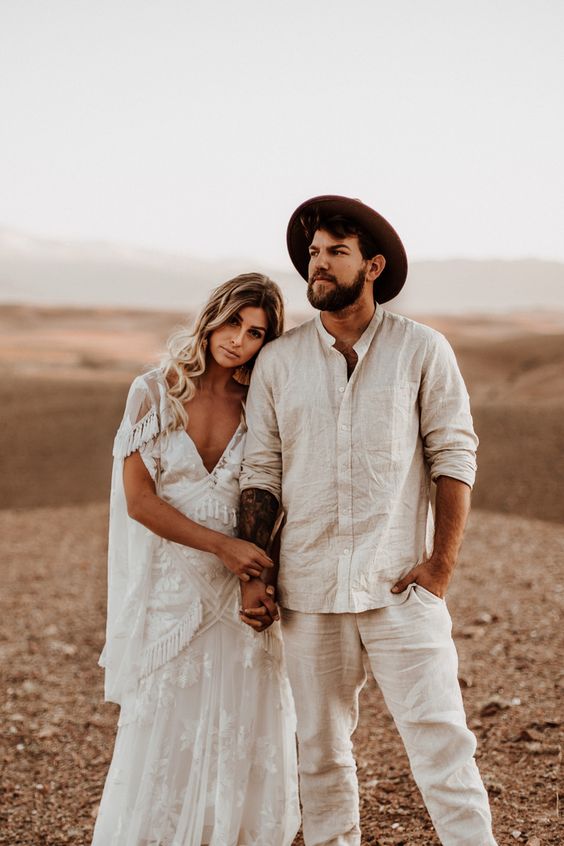 Beach, boho, and other outdoor weddings usually need to become more relaxed approaches for the groom's wedding attire. For this, you can dress casually such as using light wear and skip suits or tuxes. If you plan on a seaside wedding or summer wedding, fabrics and colors are necessary. Simply, pick linen pants and a shirt in broken white colors that can't easily absorb the heat for alternative groom attire in a bohemian wedding theme during summer. Then, perfect your appearance with a fedora hat and get sneakers or desert shoes for the footwear.
Express your Feeling with Floral Tie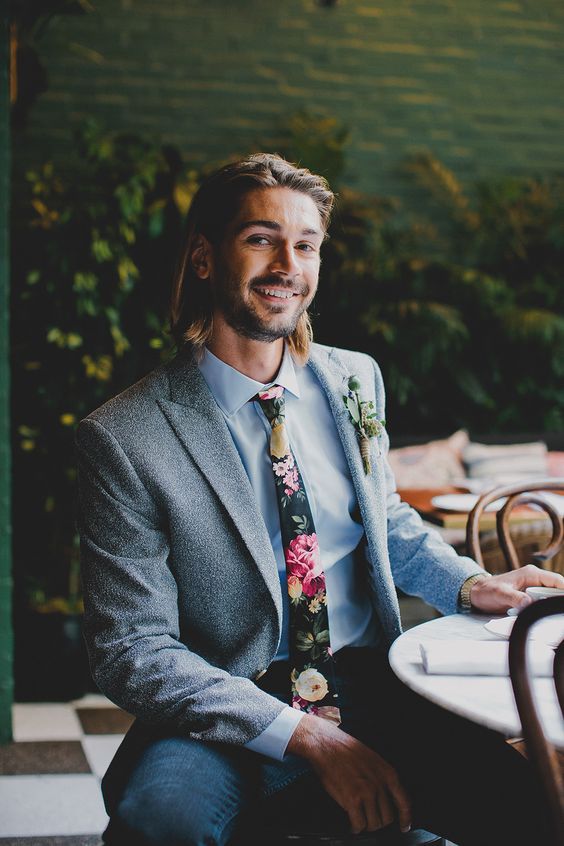 If you think to bring a common suit but want a bit hint about the wedding vibe, just grab a floral tie to elaborate your wedding ensemble. We love this idea! This is also one of the ways for you who doesn't want to look too much. This tie would look great when you incorporate it with a semi-casual look. Simply, put this tie as a complement to your shirt and blazer top, then bring denim pants for the bottom style. For the shoes, loafers, moccasins, or leather shoes would look better with this alternative groom attire. I believe it will be a trendy summer groom style for you.
Standing in The Aisle with Floral Shirt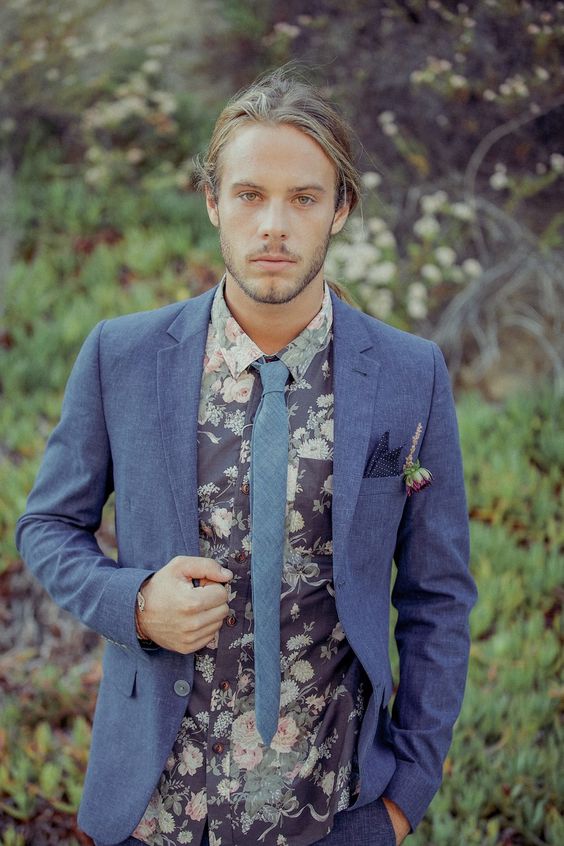 When thinking about casual alternative groom attire, there's always flexibility. Grooms can select other clothes besides traditional suits to stand in the aisle. Like wearing a floral shirt to bring the vibrant. For the full version, you can wear a floral shirt under a blue blazer and get jeans for the bottom look. As always you can add a tie that has the same color as your blazer, and a boutonniere as a compliment. For shoes, loafers can be the best option for this look.
Bright Bow Tie and Boutonnieres for Summer Wedding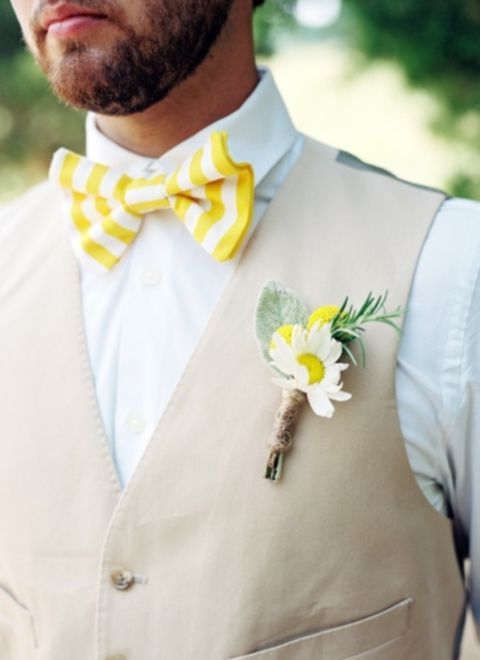 A Bow tie and boutonniere can simply create an amazing statement for your groom's attire. Like when you plan on a summer wedding, you can get the vibe just from those pieces. Adjusting simple summer boutonnieres formed from chamomile, yellow Craspedia, lambs ear, and rosemary can match with a yellow-white strips bow tie for completing your common dress shirt. Mostly, boutonnieres are created from natural components and have the same visual as bridal wedding bouquets.
Stand with Ripped Jeans for Wedding Attire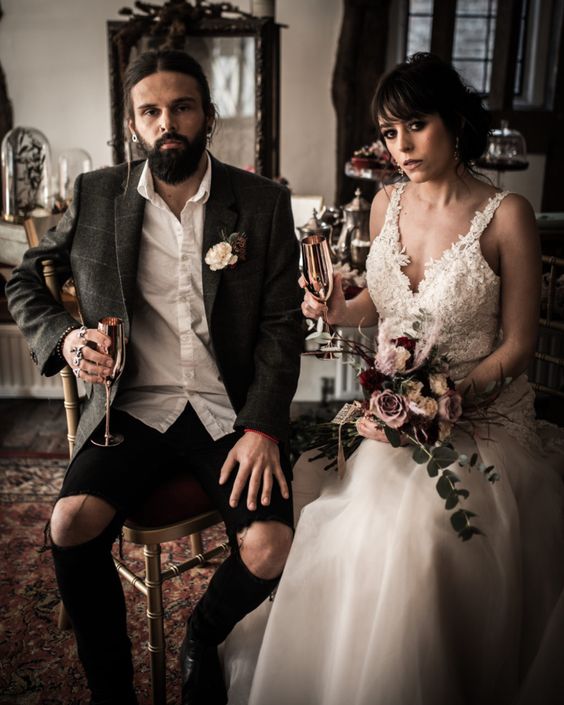 For the last alternative groom attire, we give you a ripped jeans style. I know it's really unusual because most weddings provide formalities with a preppy style. We share it with you because you're different from other grooms. You can create casual attire by dropping the tie, opening a few buttons, and going with ripped jeans. Regarding this groom style, it suits you who like to look rock and roll, metallic, and grunge. You can also perfect the style by wearing some silver accessories.
So, do not be confused again when you want to perfect your appearance in your marriage moment. These alternative groom attire ideas would help to elevate your style. Let's choose the best groom style which is suitable to your personality and character. Overall, what groom attire style do you love the most?