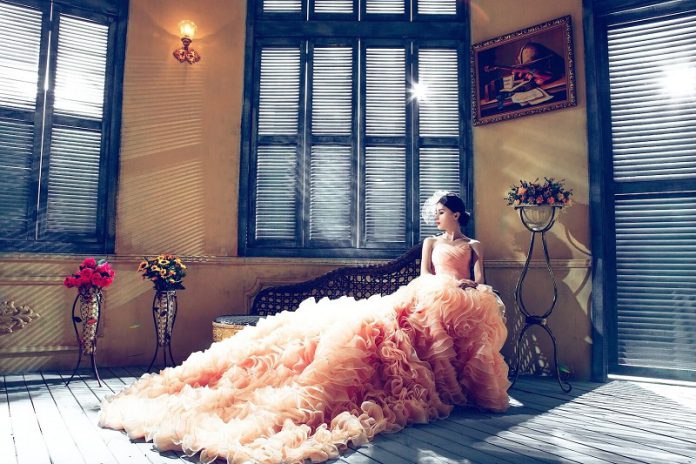 Roowedding.com – When we talk about a classic wedding dress, it's typically in white. However, in recent years, an increasing number of brides have performed with colored nontraditional wedding dress ideas. Using non-white hues can bring vibrancy, express your personality, and creatively build up your wedding theme. Think out of the box if you want to look stand out during your wedding reception. Wear something that would make you shine and pretty! Just go with anything you want whether it's a colorful dress, full of floral appliques, or custom designed dress when you walk down the aisle.
Wearing a white gown for a wedding is a sort of tradition for brides-to-be. However, just because something has been done for a long time, it wouldn't make it impossible for you to follow another wedding outfit trend. Being unconventionally brides can make you look charming and stunning. So, a nontraditional wedding dress idea is an option to make you appear differently from usual brides. There can be many factors to making unconventional wedding gowns. Colors and silhouette designs are what people generally recognize to bring alternative bridal style. We are currently obsessed with colored nontraditional wedding dresses that are rocking out among modern brides.
Brides are no longer limited to wearing a plain white gown, and they are enabled to dress colorfully. Colored nontraditional wedding dress ideas can help you make a statement as a modern and sophisticated bride. A lovely way to express yourself on a special day is to use a variety of colors such as pink, red, blush, black, and others in your bridal gown style. Therefore, in this chance, we would serve you 25 colored nontraditional wedding dress ideas as alternative wedding dress colors.
Beautiful Blue Bridal Dress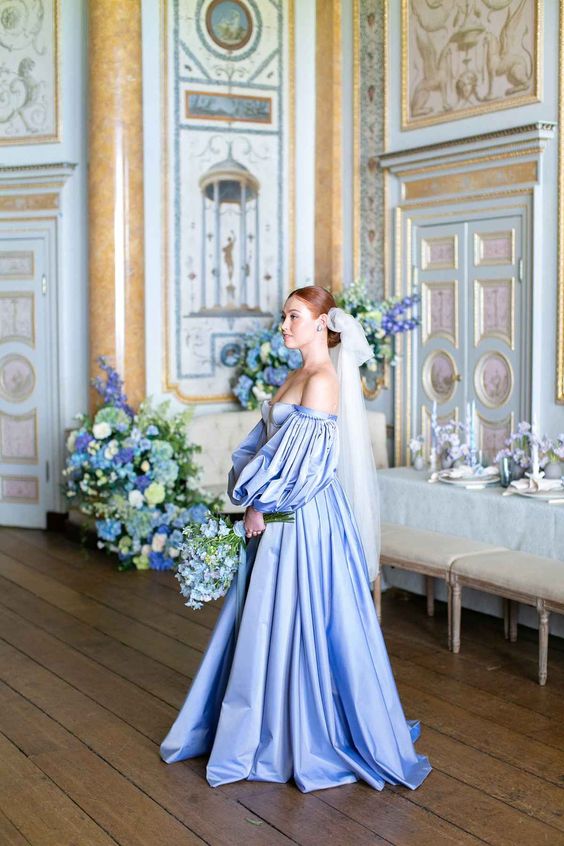 When you want to feel like you're at a royal wedding, get this blue wedding gown. The simple off-shoulder gown with puff sleeves makes this nontraditional wedding dress look beautiful and ideal for vintage weddings. To elevate your performance in this royal blue gown, you can do a tidy updo with a veil for an accessory. This would make brides look like royal ladies in the past.
Simple Glamorous Beaded Grey Dress
For unexpected beauty on your big day, consider a gray dress for a nontraditional wedding dress idea. Then, add some sparkle to your gown with rose gold sequin beaded. The tulle skirt and off-shoulder style help to create your body's silhouette which makes this dress really outstanding for your dream wedding.
Black and White Wedding Gown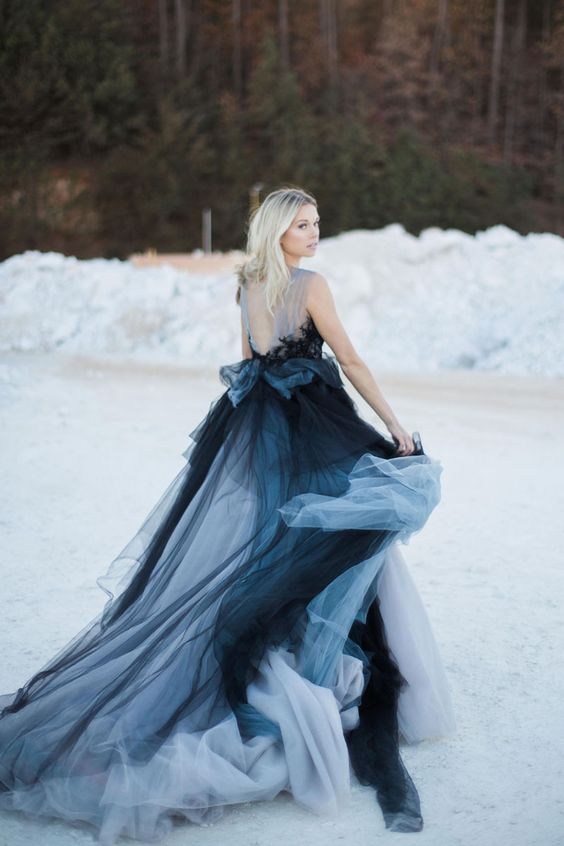 Have you ever thought of a colored wedding dress? Rather than you just playing on classic white for a wedding gown, why don't try another different style with a black accent? You can create an elegant black and white gown for your stunning nontraditional wedding dress idea. Like this one. We love how black and white combine perfectly in a tulle dress that gives shade to your winter weddings.
Romantic Blush Gown for Fall Wedding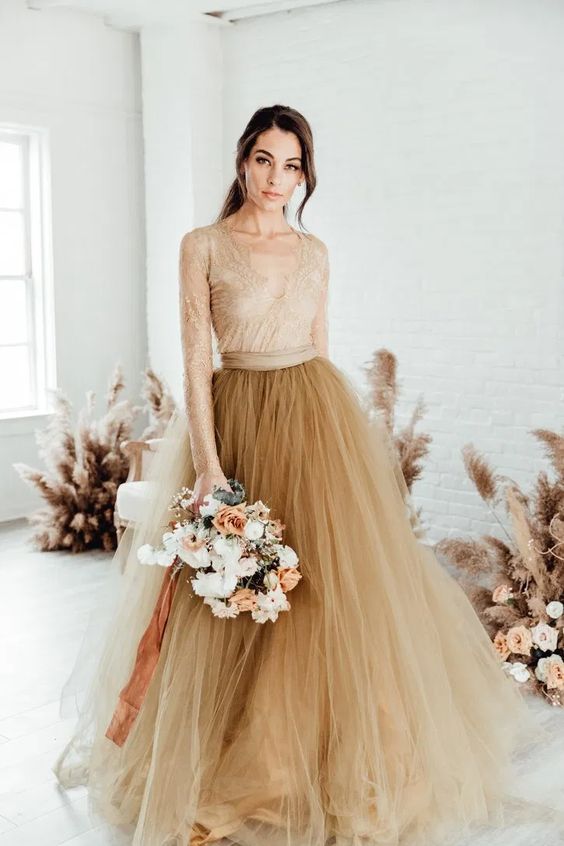 For brides who want a bit of rustic accent at their weddings, better to bring out this blush gown. Having beige with a little golden brown would create a romantic ambiance in your fall wedding. The slip long sleeve top and a deep v-neckline would fit with the flowy tulle skirt down your gown.
3D Colorful Flowers in Spring Wedding Dress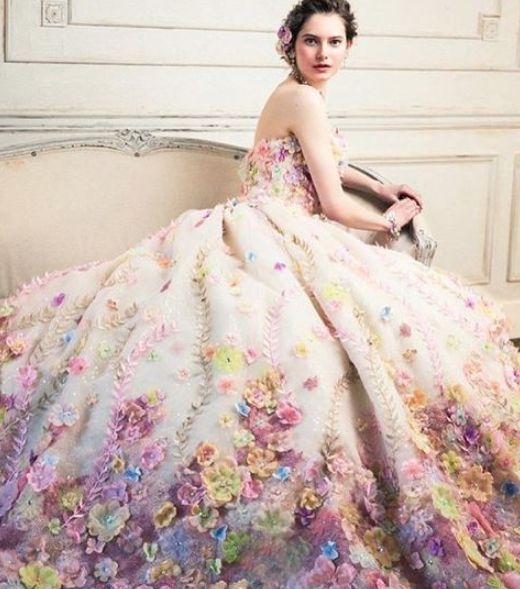 Look at this gown if you want whimsical inspiration for your spring and summer wedding plans. A white ball gown with 3D colorful flowers all over it. That's really amazing and lovely, right? I believe you'll fall in love with this dress. Plenty of floral embossed embroidery in your staples gown makes this nontraditional wedding dress idea is great choice to bring on a fairy tale in your marriage.
Bronwen Wedding Dress Look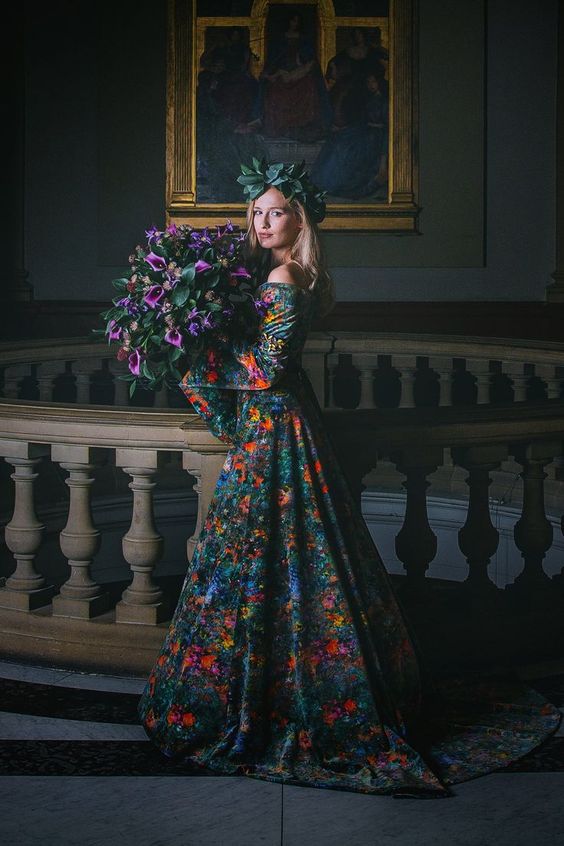 For you who want a classic wedding, this Bronwen wedding dress look. This colorful floral velvet dress in classic lines has a very unique appearance that gives you the wow factor to become the center of attention. Designed smoothly, make this dress is also an ideal nontraditional wedding dress idea for your bohemian wedding theme.
Dusty Blue Gown for Wedding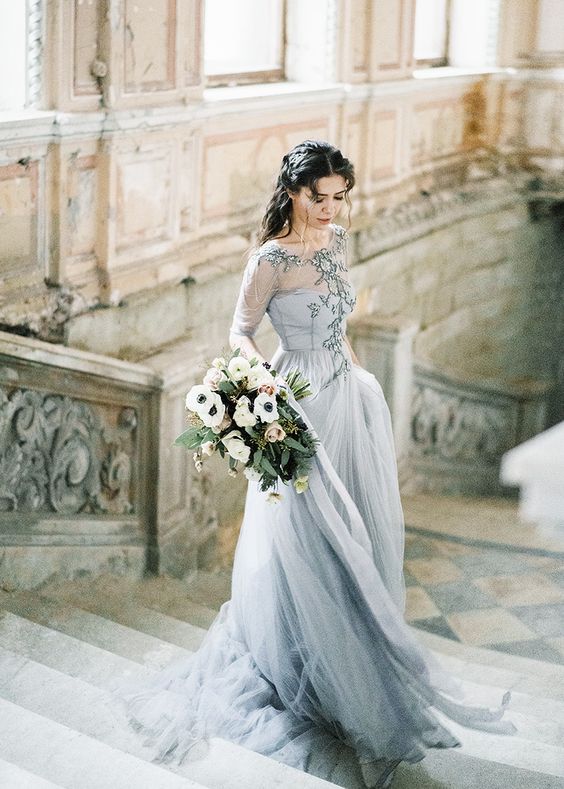 This dusty blue dress is a great option for you who want a different look without leaving a classic vibe. The colors don't overly pop up and still look like a traditional white wedding dress. Besides that, a soft blue hue from that dress can be flattering on every skin tone, whether it's tan, medium, or light skin. This simple nontraditional colored wedding dress idea would be right for winter weddings.
Flower Print Ball Gown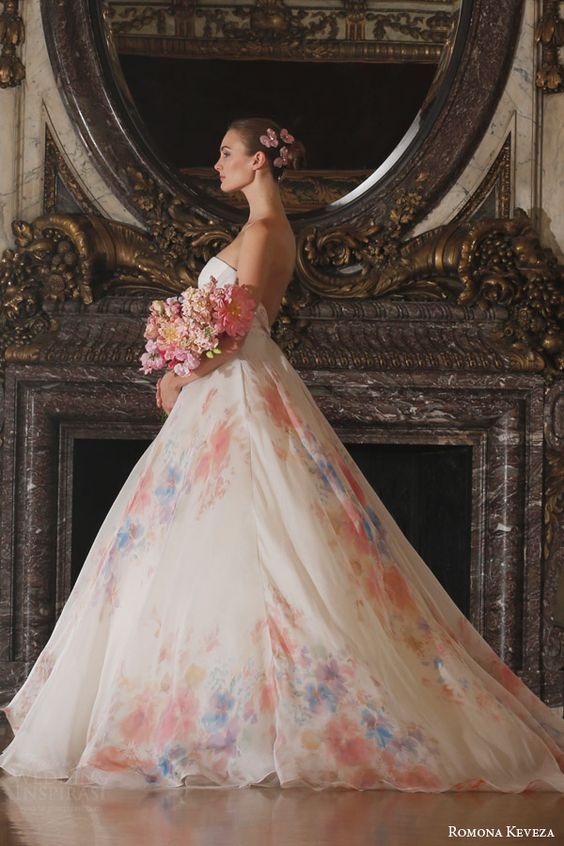 Get this floral print ball gown dress for an utterly nontraditional wedding dress idea. By featuring delicate flowers all over your strapless dress, it would look fabulous for garden weddings. An open-back style and flowy skirt elevate your silhouette to become more elegant, and it would be perfect with a colorful bouquet in your hand for an accessory.
Modest Gold Stars Wedding Dress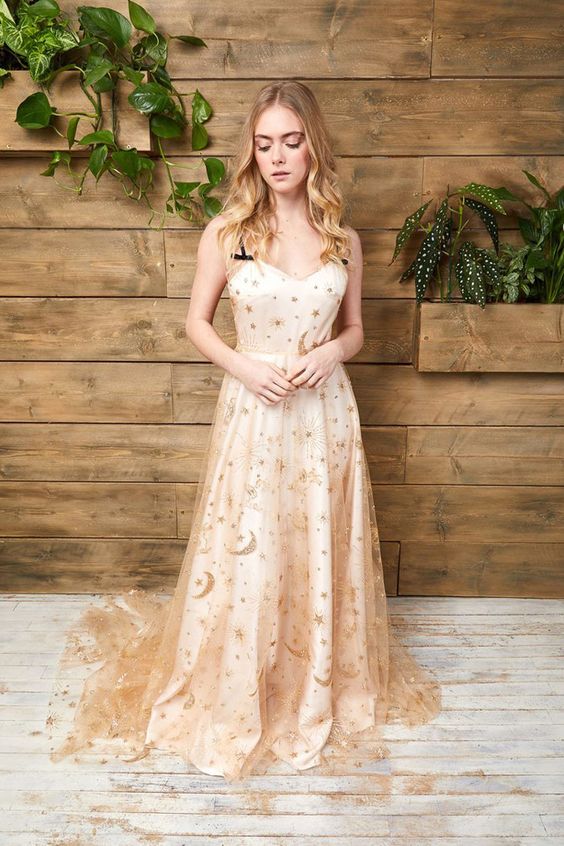 If you enjoy being fashionable, especially on your big day, consider this golden stars bridal gown. With this, you can bring some whimsy that can show off your personality. This dress would make you shine at night like stars. Using this dress without any jewelry still can elevate your appearance. And for the suggestion, this gown would be standing out for a country or industrial wedding theme.
Green Off-Shoulder Bridal Gown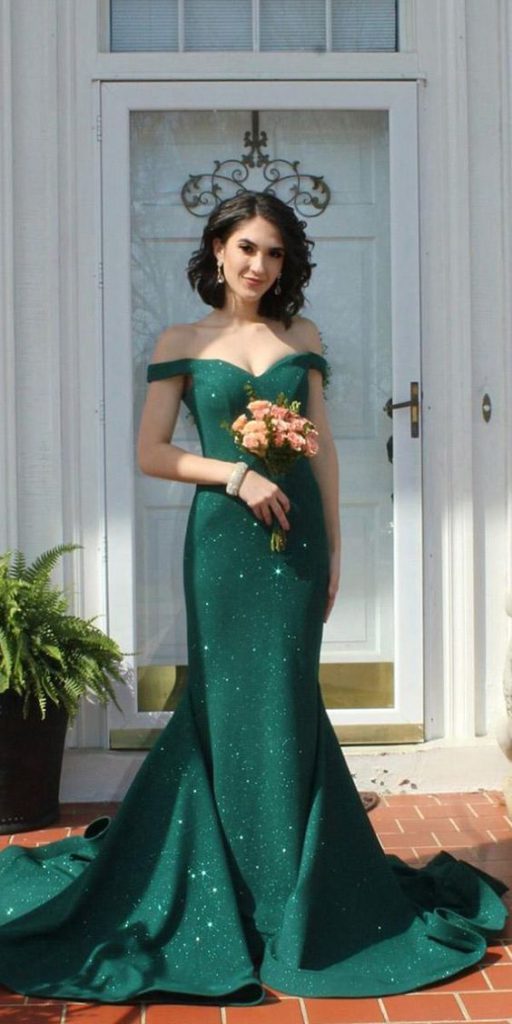 Show off your modern bride looks by opting for a dark color wedding dress like this off-shoulder green mermaid gown. While other brides choose classic white a-line dresses, you can appear in different styles by picking this gown that would add more confidence. The modern cuts and slightly glittery fabrics are ideal for fashion-forward brides-to-be.
Classy Brides in Golden Dress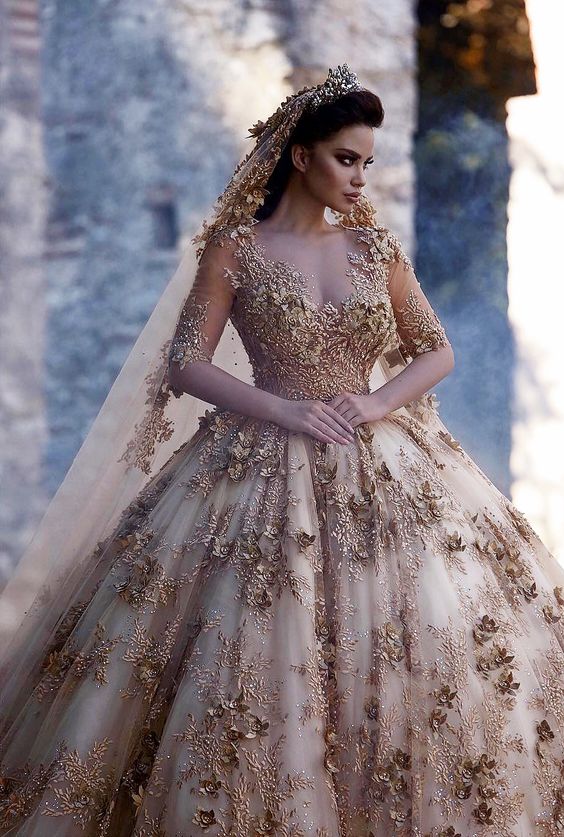 Let your beauty shine with this golden dress. The classic design of ball gowns and beautiful flower embossed embroidery all over the gown would bring a classy style to your wedding day. We suggest this nontraditional wedding dress idea if you want to hold a glorious wedding party.
Iridescent Wedding Dress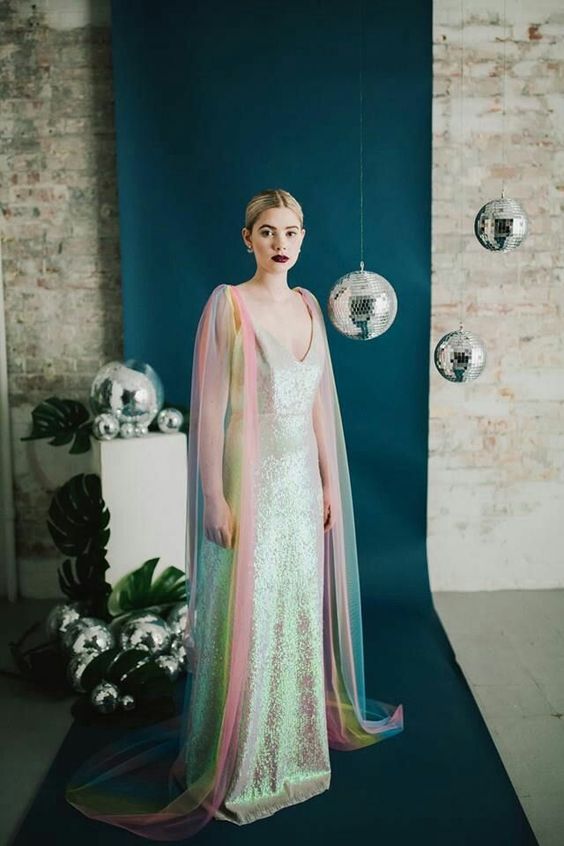 Make your special moment become magical by choosing a nontraditional wedding dress. Rather than pick a traditional white color scheme, why don't you try to embrace iridescent hues on your gown? Iridescence is a shimmering color that shifts from pink to purple to blue, all white, that looks elegant and awesome. If you have been seeing the shining of pearls or color shifting in the inner seashells, so it's Iridescence colors. If you want to take this kind of bridal gown, sequins are everything! Take your inspiration from this shimmering iridescent gown with a colorful greek cape.
Ombre Peach and Coral Bridal Gown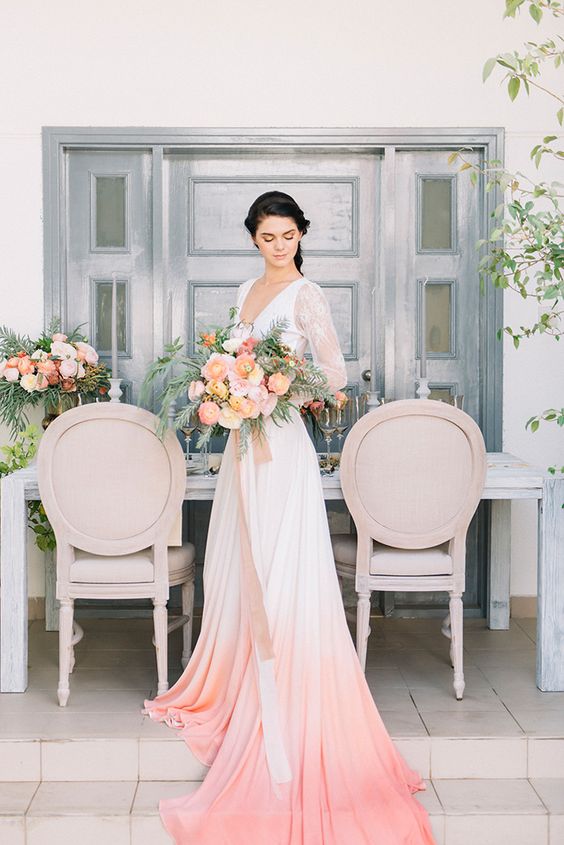 A colored wedding gown does not have to get completely dyed. When you want to add color to your wedding gown without overdoing it, then consider ombre as the way. This gorgeous ombre peach and coral dress would become an aisle show at your beach wedding. The transition of color from coral and peach, to white, can provide you with the desired balance of nontraditional wedding dress ideas.
Orange for Bold Wedding Dress Style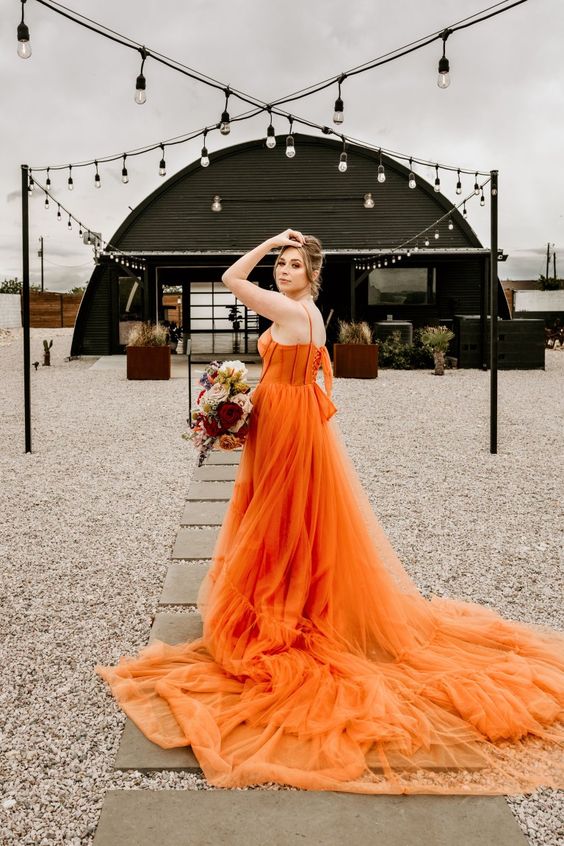 Quite a number of traditional brides prefer white and neutral schemes. But when you want something different, start on your wedding dress by choosing bold colors. If you like to become spotlight, this orange nontraditional dress idea is really into you. This pretty tulle gown with spaghetti straps is both romantic and brave.
Pastel Wedding Ball Gown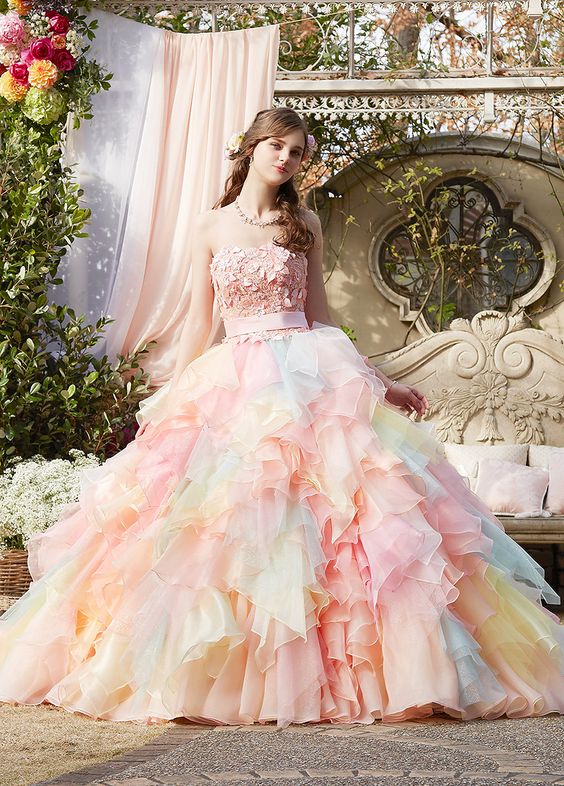 If you girls want lovely and fantasy in your marriage, plan on pastel colored wedding dress idea. This pretty tiered ball gown in strapless style and beautiful floral embroidery on the top would fully your special day. This adorable colored nontraditional wedding dress can show off a whimsy graceful look.
Lovely in Lilac Bridal Gown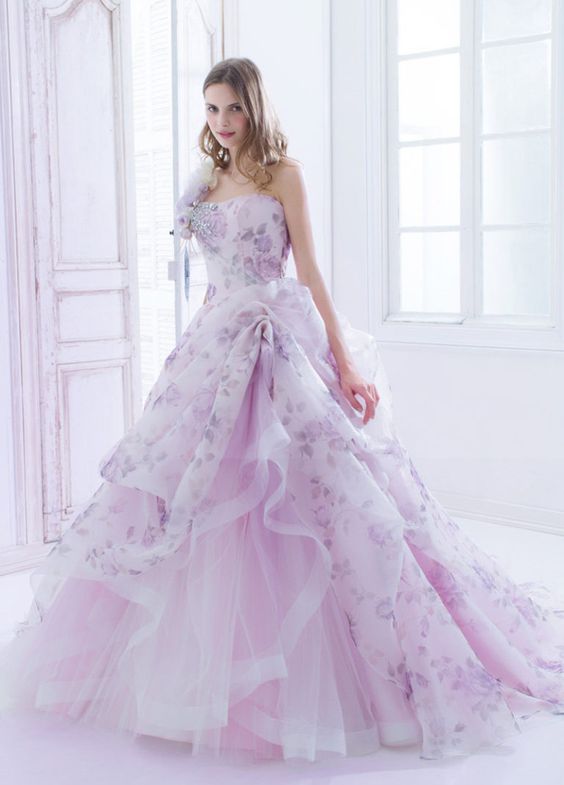 Being lovely is what every bride wants in their wedding ceremony. And one of the ways is by wearing a flattering gown. As inspiration, you can add a more romantic and lovely vibe by choosing a colored nontraditional wedding dress idea like this lilac gown. Featured in a ruffle tiered design and having floral appliques on the shoulder in place of the strap, it makes you look adorable. This dress would be suited with more bold and darker accessories and bouquets.
Rainbow Dress for Summer Wedding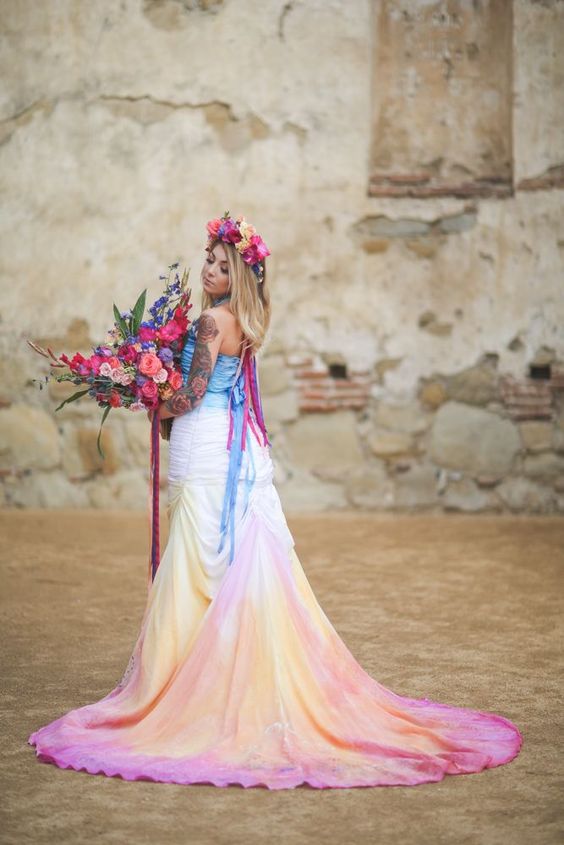 When you don't know what color to choose for your wedding dress style, prefer to pick this rainbow dress. You can add more colors to your white gown in an ombre design that shows a beautiful gradation. Besides that, the sleek top with a sleeveless style and flowy skirt down can also give off a boho vibe. You can look more stunning with a flower crown and a bold colorful bouquet when you walk down the aisle with your half.
Red and White Tea Length Gown for Vintage Wedding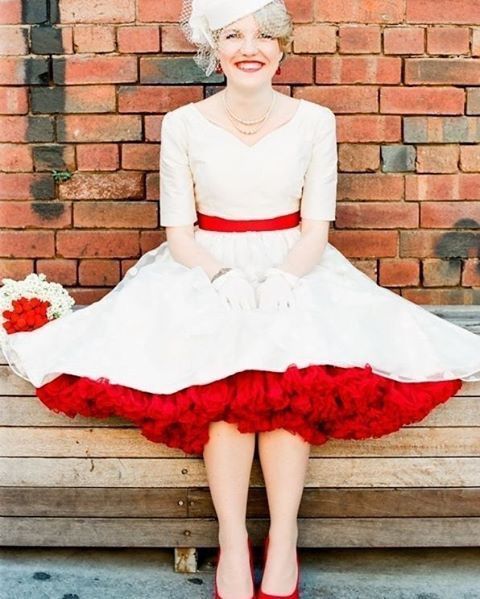 When you desire something that balances the traditional and nontraditional look, this red and white tea-length dress is perfectly yours. What brings stunning design is the red ruffle layers under your white gown. It would make you look like red roses bouquet when you sit down and walk. Aside from that, styled in v neckline, half-length sleeves, and a red ribbon on the waistline make this colored nontraditional wedding dress much better to present vintage style. Especially when you add a white fascinator hat with high updos hairstyled. Then you can give a more red touch by wearing red shoes.
Sweet Pink Blush Ruffle Dress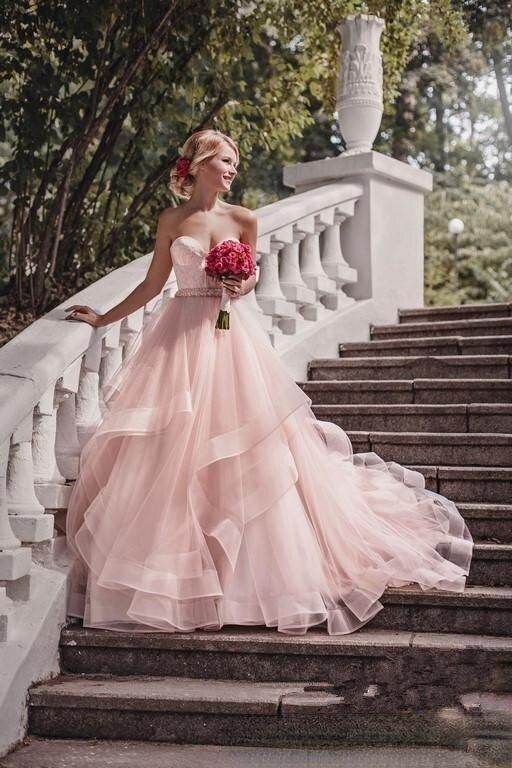 It's quite usual to bring blush pink for colored wedding dress inspiration. One of our favorite wedding dress colors for romantic and lovely vibes is soft blush pink. For spring and summer weddings, this color is the most preferable. A delicate hue that can work well for any wedding type. As for suggestions, this strapless pink ruffle gown is a staple from an elegant ballroom wedding to a great rustic outdoor wedding ceremony.
Modern Red Cheongsam Gown for Chinese Brides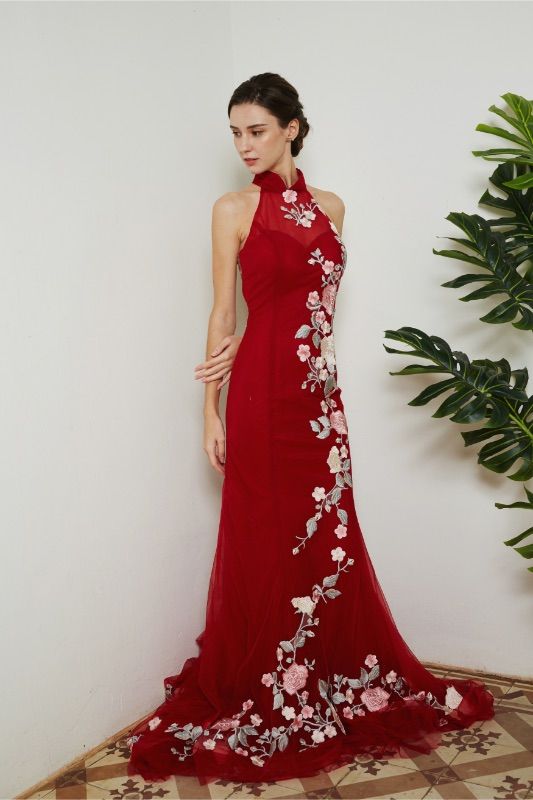 Red as a symbol of joy and passion, can create beautiful colored nontraditional wedding dress ideas. It can't be doubted, that this bold color would catch people's eyes at you with your partners. An eye-catching color that reflects a lot of self-confidence and suits girls who like to become center of the attention. Anyway, you can lap up people's attention as much as you can by wearing this red dress. A modern red cheongsam gown that's normally dressed in by Chinese brides. What makes it looks modern is designed in a long flowy sheath gown with a sleeveless and halter neckline. Besides that, a bit of transparent illusion in the neckline makes it more contemporary.
See-Through Embroidery Wedding Dress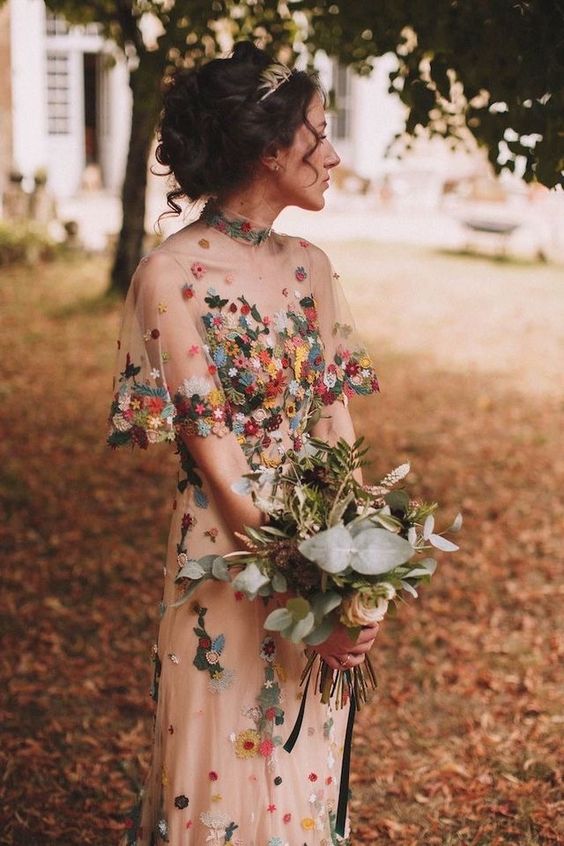 Bring your bohemian wedding dress idea more beautifully with this see-through embroidery gown. Just flatter up your appearance during walking down the aisle using a breezy sheath gown with some bold colorful floral appliques all over the gown. Then, modernize your bridal gown look with an illusion cape in place of the traditional neckline. Show off your sweet personality with messy high updos for hairstyle and natural makeup look. To perfect your performance, bring out a greenery wedding bouquet in your hand. This dress is truly suited for a greenery wedding or garden wedding concept.
Stunning Brides with Sunset Ombre Dress Idea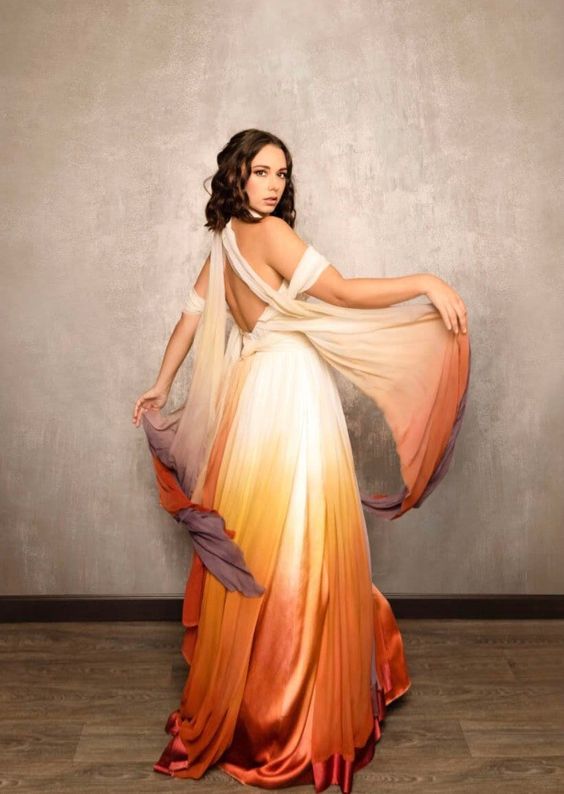 Do you plan on an evening wedding ceremony at the beach or seaside? If yes, this stunning sunset ombre dress would perfect that special moment. As a colored nontraditional wedding dress idea, it never fails to stand out your appearance as the center of attention. The modern cut and slip that fits perfectly on your body would make you become a beautiful bride ever.
Grey Knitted Top and Tulle Skirt for Winter Brides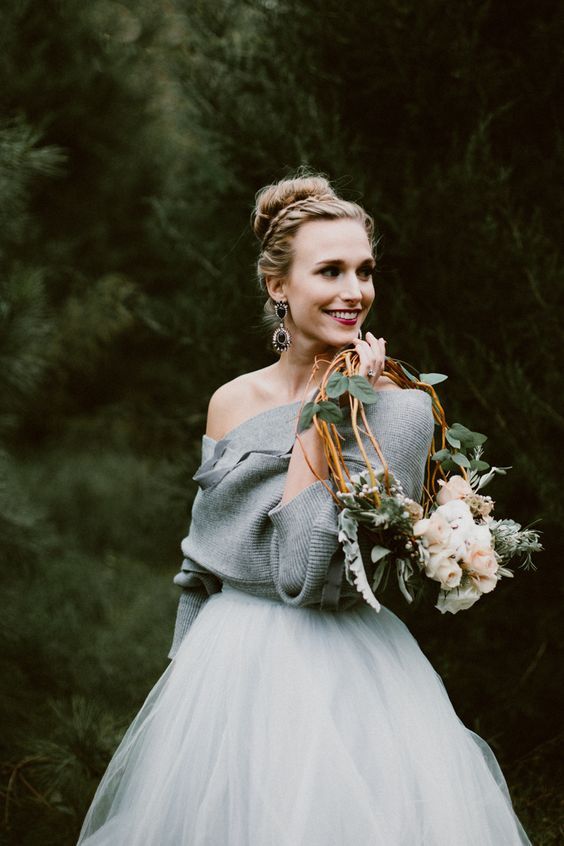 A nontraditional wedding dress idea is not always about colors but also style and combo. Like this winter wedding dress idea. It's not only come in a different color but also comes with something new, that is a combo with the knitted grey sweater for the top. The greyish tulle skirt can bring a more layback and playful vibe. Pair this dress with beautiful chandelier vintage earrings and bring hoop flowers as your unusual wedding bouquet to look rustic and whimsy.
Elegant in Dark Blue Bridal Gown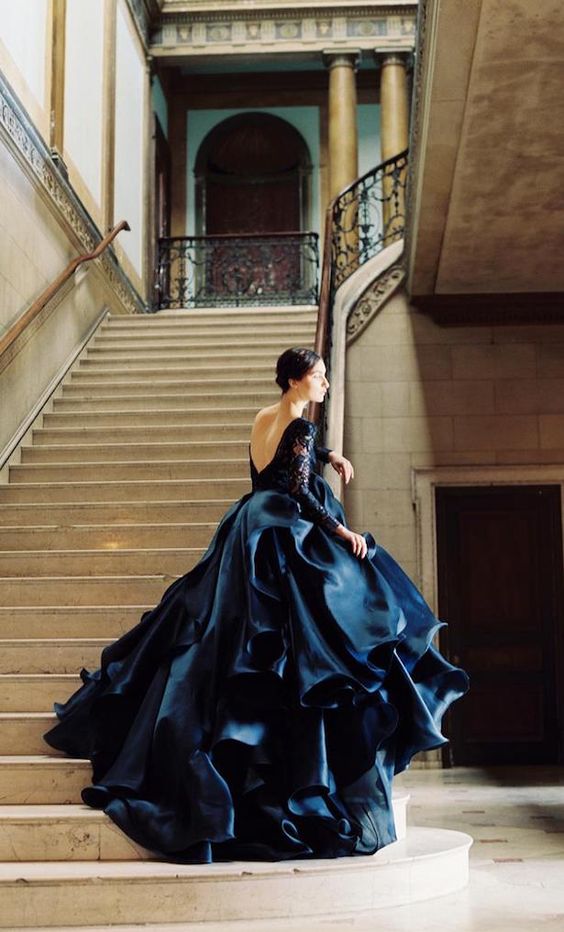 We notice that the wedding's elegance and formality are starting more relaxed. From the traditional wedding that typically wears a white gown to become the nontraditional wedding with a more colorful gown. As you may have seen the colored nontraditional wedding dress idea has increased its popularity and become a new trend for brides. Dark and deep are possibly the most popular colors to take a center stage in the last few years besides pastels. For inspiration, you can embrace deep navy blue to create a fabulous ballroom wedding dress. Styled backless with a lace sleeve and ruffle flowy skirt make this dress looks gracious to your formal performance.
Cheerful Brides in Yellow Wedding Dress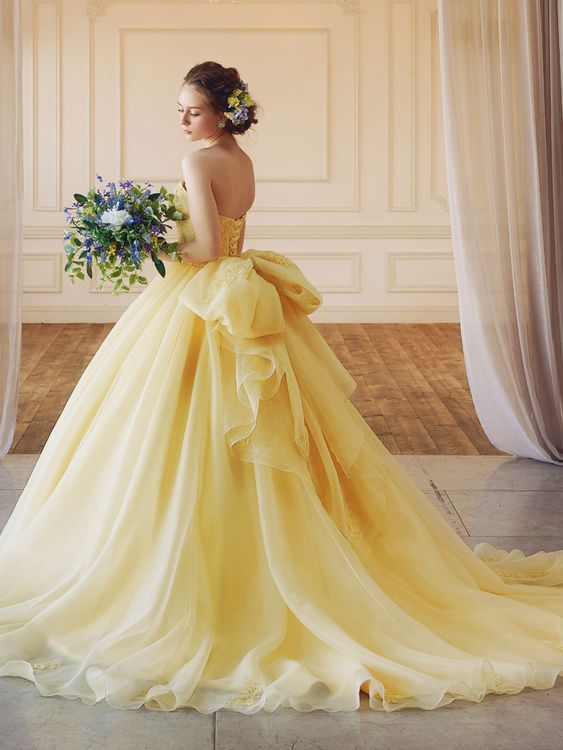 Prepare your elegant spring and summer wedding dress in a bright-colored gown like yellow. A charming yellow would make you just like sunshine that's cheerful. This would bring a mood and make you smile on your happy day. A yellow strapless ball gown would make you look outstanding when walking down the aisle and taking a vow. Besides that, getting a lilac and greenery wedding bouquet would be perfect to bring colorful spring and summer into your wedding.
Brides have become increasingly considered alternative wedding gowns in recent years. They begin to pick dresses that have unique designs and colors. However, just because your gown is not as traditional as a white wedding gown does not mean you cannot honor tradition. As an option, you can choose colored nontraditional wedding dress ideas that combine with classic touches such as a veil. After all, anything you choose and wear makes sure to draw the perfect appearance for your big day.