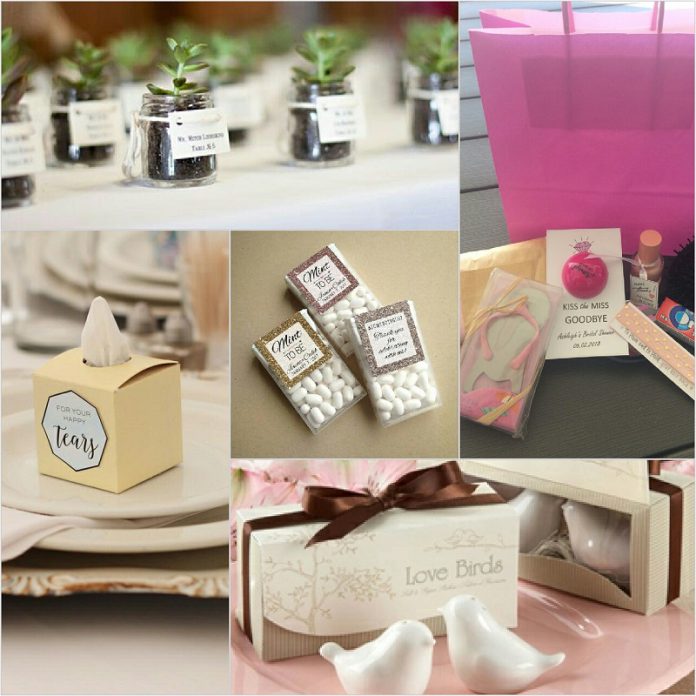 Roowedding.com – In recent years, couples begin to have an interest in natural components and insert it into their wedding concept. We Love the idea of gifting wedding guests unique and reusable wedding favors. However, when you plan sustainable wedding favors to have zero waste, maybe these eco-friendly wedding favors ideas below stand for you.
More and more brides prefer a back-to-nature theme and show their love for the environment in their wedding by using reusable and recycled items. Another thing to think about when planning your wedding is guest gifts. When you decide to give eco-friendly wedding favors to your guests, you are showing more than just your concern for them. However, you will have revealed your concern for the planet and its sustainability. With everything from seed packs, garden kits, organic soaps, and homemade jams, to succulents, all of it can be your inspiration for gifting your guests.
Luckily, we've found some unique eco-friendly wedding favors that may make your guests feel happy. I believe these kinds of gifts would usually people used in their daily life. So, you don't have to worry it would be a waste. Without any further ado, let's find out what you should get for your wedding favors!!
Heart-Shaped Birdseed Favors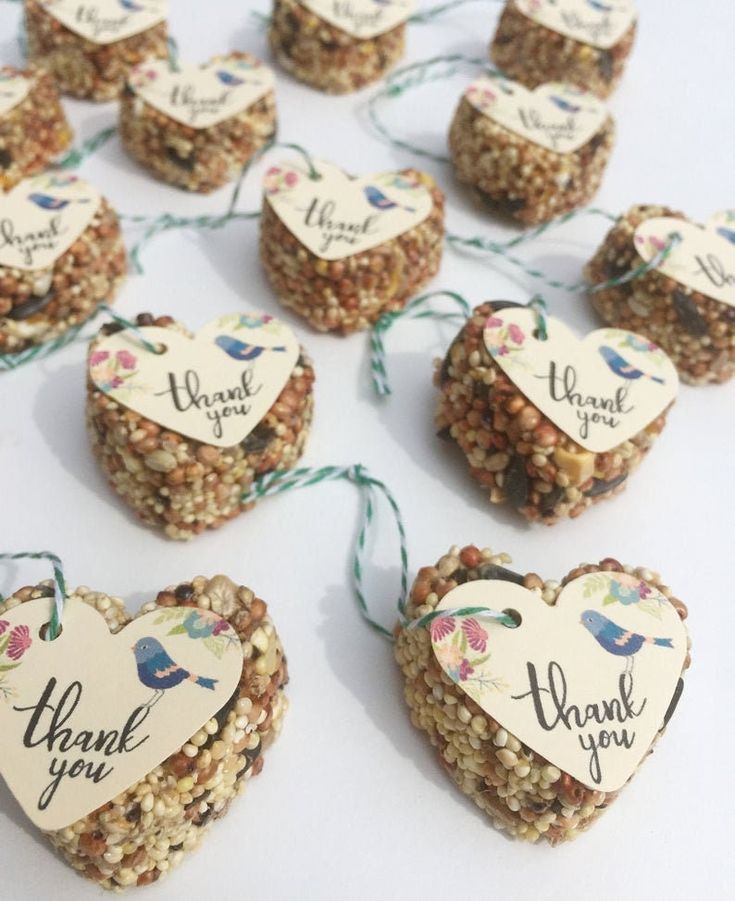 The first eco-friendly wedding favors idea is using heart-shaped bird seeds. You can use some kinds of seeds that are usually used to feed birds and create attractive shapes like hearts. Besides that, you can put a thank card over it. This is one of the ways to reduce waste from your weddings.
Reusable Burlap Tote Bags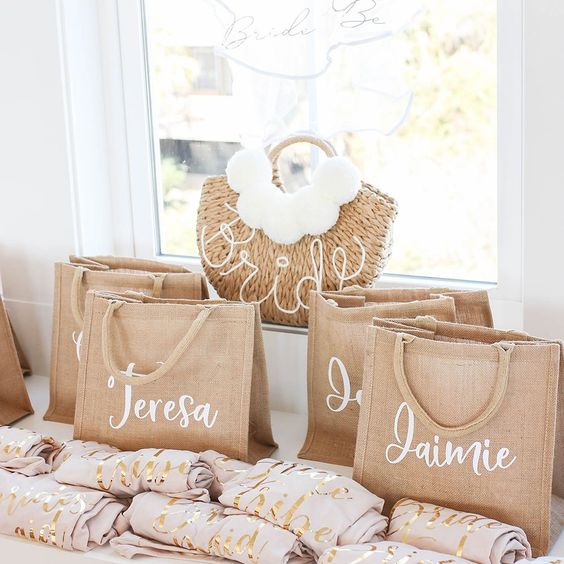 When you think about wedding favors especially in typical sustainable weddings, better to use natural elements and something that is recycled. We suggest you give reusable burlap tote bags for eco-friendly wedding favor ideas. This thing would be used in daily life to carry belongings when going to groceries and reduce plastic bags. You can also change the common bag to save your bridesmaid gifts to this burlap bag for a more rustic concept.
Take Home Candy Buffet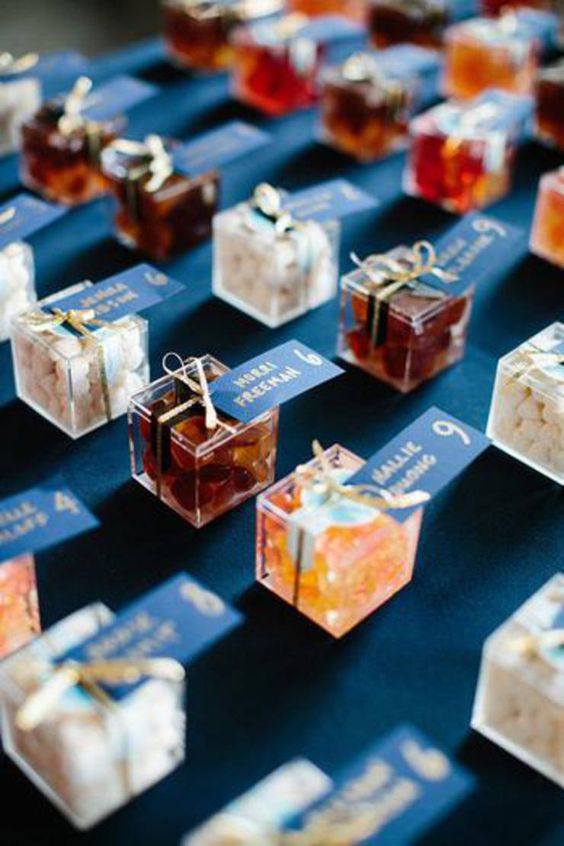 As we all know that eco-friendly and sustainable weddings feature natural or organic compounds. So do with eco-friendly wedding favors ideas. It should be reusable or handmade. For inspiration, you can get a handmade candy buffet that you put in paper bags or recycled bags.
Coffee Blend Bags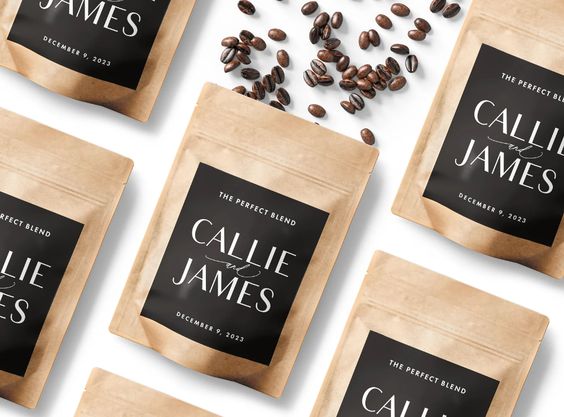 If you don't know what to give to thank your guests, you can give something that may like everyone or even they have at home. It would be better if you give edible gifts, like coffee blend bags for your eco-friendly wedding favors. I believe everyone would love this keepsake, especially when you give the best coffee blends.
Mini Garden Grow Kit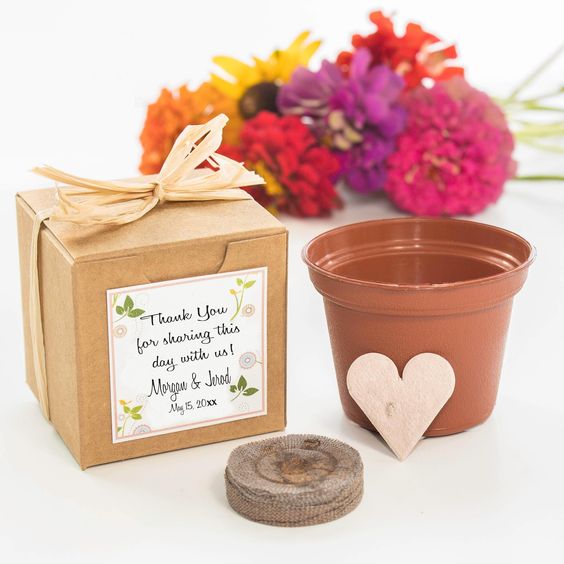 The mini garden grows kits are the next eco-friendly wedding favors that you can give to thank your guests. This gift is appropriate for spring and summer weddings. Giving this type of gift not only sends your thanks but also gives a message to people to start loving nature.
Secret Blend of Herbs and Spices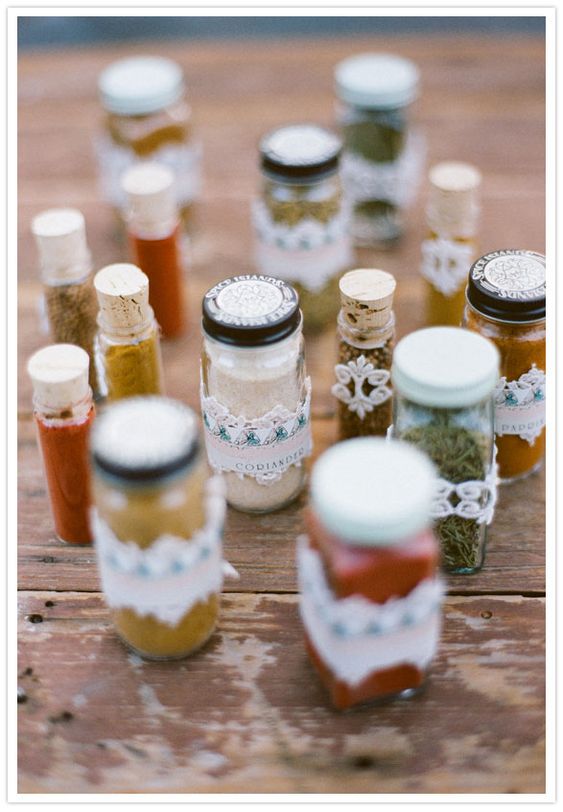 Express gratitude to the guests for attending your wedding with unique and lovely gifts. Work with some varieties of natural herbs and spices blends for becoming eco-friendly wedding favors. You can fill a small jar or glass bottle with many kinds of dried herbs and spices then give personalized labels with cover cork and a little ribbon for decoration. This gift will be loved by your guests because they can pick what they like best or need.
Home Made Jams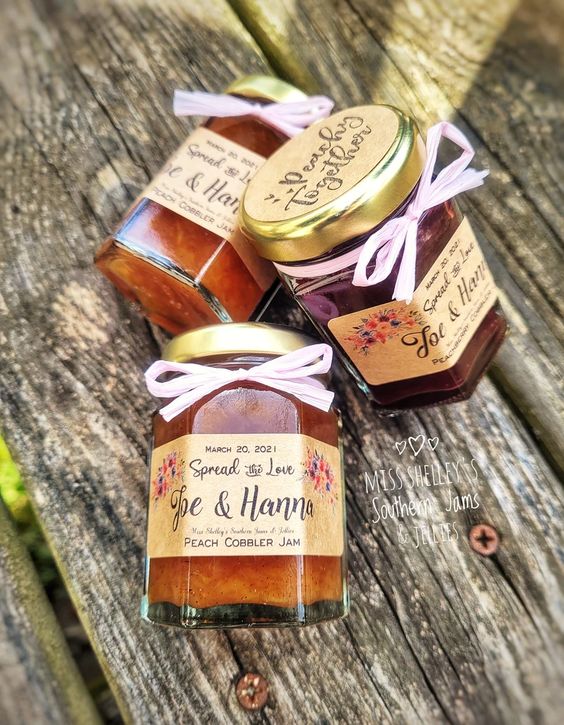 Another great option for personalizing your unique eco-friendly wedding favors is to make homemade edible gifts. Like local or seasonal fruit jams. These keepsakes are more usable and less your wedding waste. Try mini glass packaging that is reusable or recycled to wrap your homemade gifts.
Living Terrariums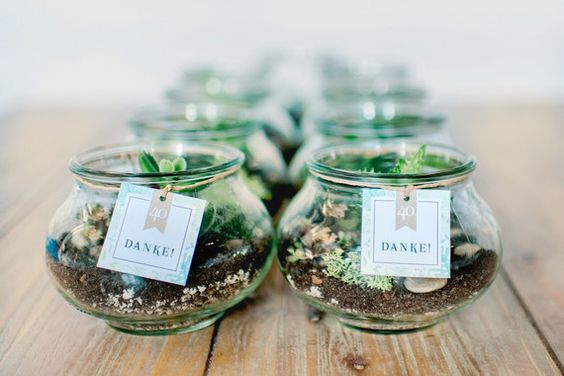 What are your thoughts on living terrariums? This is an extremely eco-friendly table centerpiece or wedding decoration. I adore this lovely miniature nature as eco-friendly wedding favors. This not only looks good for gifts but can give joy to wedding decorations.
Mini Potted Plants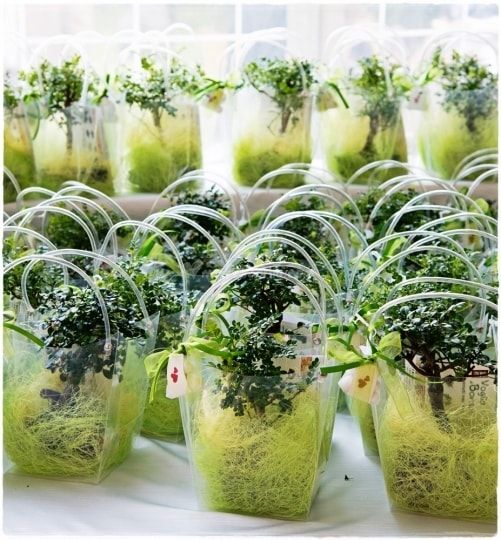 Instead of flower seeds, why don't gift your guests with mini potted plants? Guests will love to bring them home and plant these eco-friendly wedding favors in their gardens. With this gift, you can help to reduce your carbon footprint although just a small amount, this potted plant still brings freshness to the home. Plan to attach thank cards with handwritten notes about the instructions on how to properly care for the plants.
Natural Bath Salts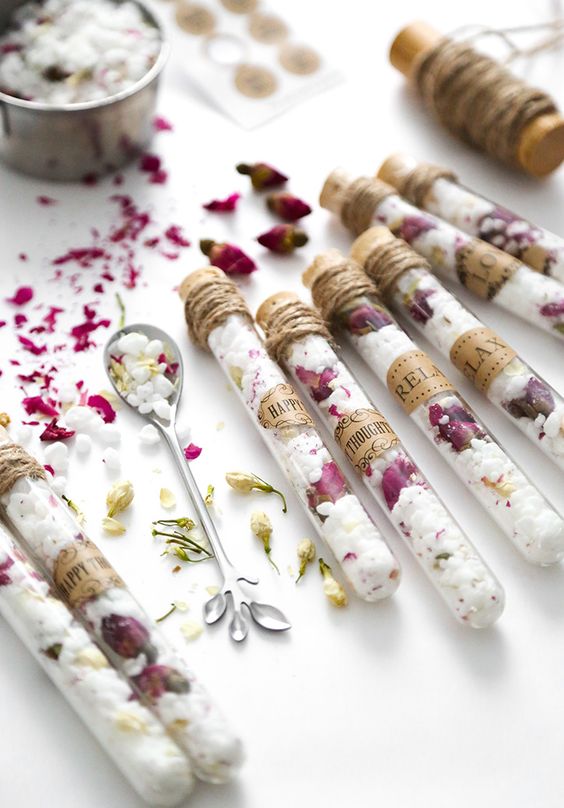 Natural bath salt is a unique wedding keepsake! Also, they can look great, smell good, and be aesthetic to show your thanks. For inspiration on eco-friendly wedding favors with this, you can prepare some salt baths that you put in little glass bottles with some fragrant dried flowers. Who doesn't love to come home and take a bath with a relaxing organic salt bath after attending your wedding? This would help them to release stress and exhaustion.
Organic Aromatic Candles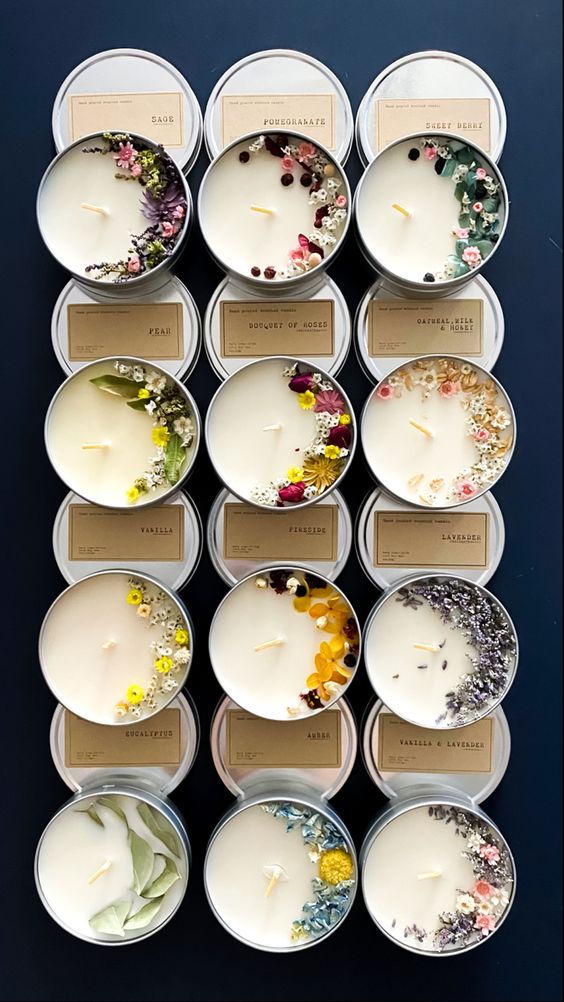 These eco-friendly wedding favors are created from aromatic homemade candles. These are the perfect wedding favors for a romantic vibe. Aside from that, your guest would thank you later because you give them a thing that suits them for relaxing at home. You can set it in a glass or silver jar with scented dried flowers and leaves up over it. This would present beautiful vegan candles that would perfectly create a warm rustic ambiance.
Organic Hot Chocolate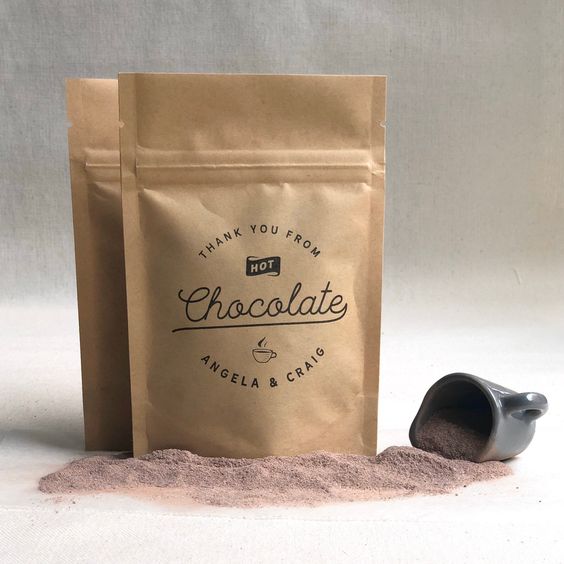 Coffee and chocolate are wonderful gifts, also such as gender-neutral wedding favors that can be enjoyed by anyone. You can present warm thanks gifts by giving organic hot chocolate to your wedding guests. I believe everyone loves and enjoys it. Pack this with a personalized paper bag for great eco-friendly wedding favors.
Eco-friendly Organic Soap Favors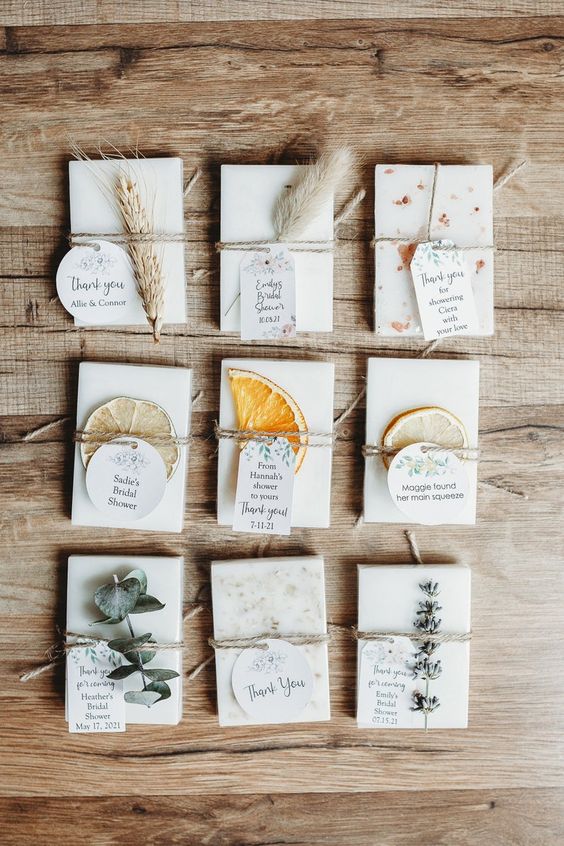 Promote to love of nature at your weddings by applying eco-friendly weddings. You may gift your guests with organic and reusable wedding favors like homemade soap or shampoo bars. You can bring your creativity by mixing some dried flowers or fruits, essential oils, and materials that are good for your skin and hair to make organic soaps. If you want, you can help local producers by ordering your eco-friendly wedding favors from them. You can help local producers by ordering your eco-friendly wedding favors from them if you want. To make it more environmentally friendly, wrap the soaps in burlap ribbon and attach thank you labels.
Organic Tea Blends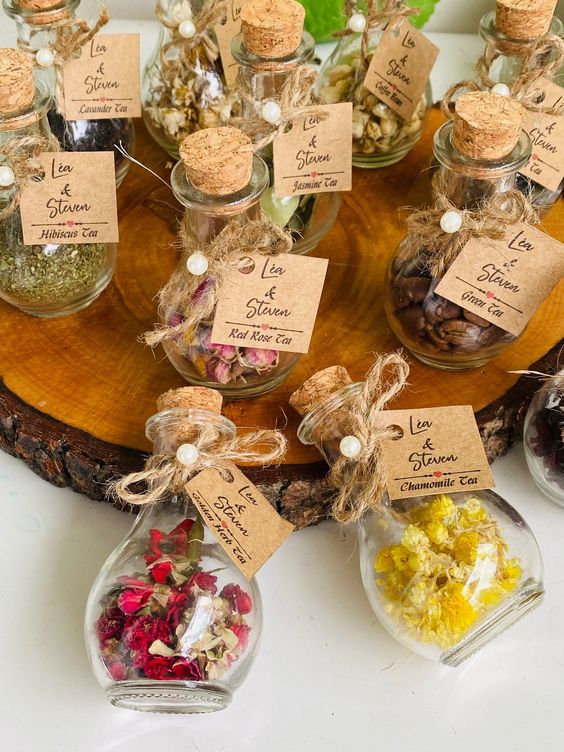 If you like English-themed weddings, these eco-friendly wedding favors are what you need to bring on! Yes, a set of organic tea. In English culture, there is a tea party with plenty of assorted tea from herbal chamomile, spiced raspberry tea, green tea, oolong, and others. Organic tea blends can be presented in a mini glass bottle with a cork cover and ribbon. These creative gifts would bring delightful peace to your guests to enjoy in a cup of fragrance tea.
Plant Fresh Herbs in Recycled Jars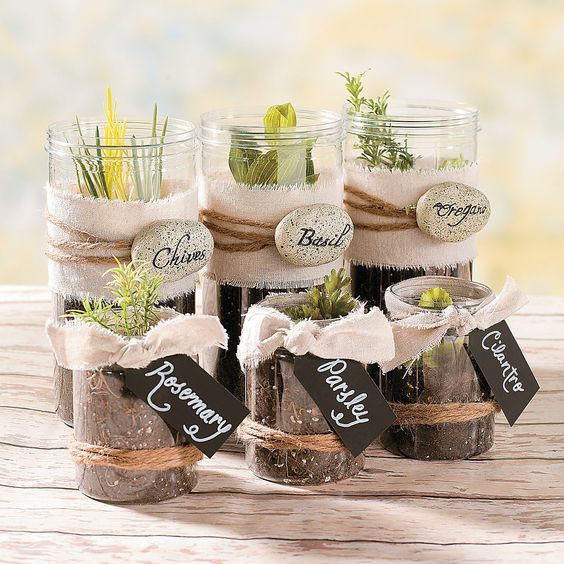 You have the option to choose these herb plants to become your unique eco-friendly wedding favors. Just give these gifts to your wedding attendance and I believe they will love them. These herb plants that grow at home in recycled jars should wrap in organic jute for making them more attractive.
Home Grow Succulents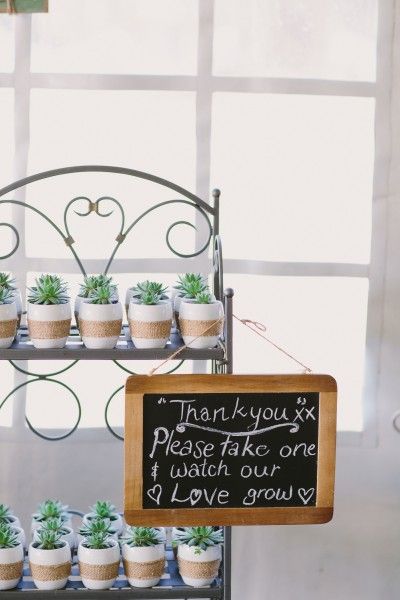 If you want unique and sustainable gifts for your guests, just give them eco-friendly wedding favors such as succulents in the pot. This keepsake symbolizes the unbreakable bond between you and your guests by giving the hardest and most durable plants. You can grow them in your own garden or book them at a local nursery near your place. Then put them into recycled jars or glass containers that you adorn with burlap ribbon and thank cards.
Wildflower Seeds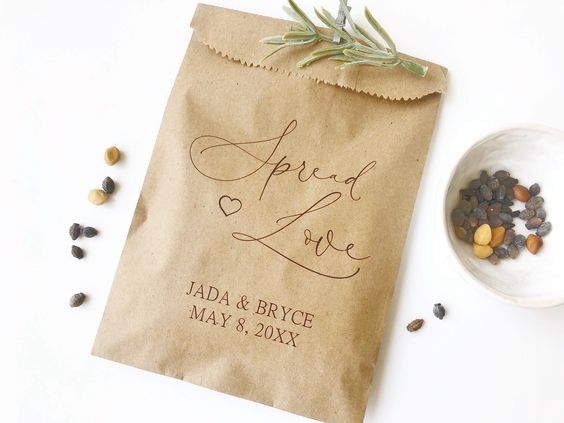 As an alternative, give your guests wildflower seed packs as unique and eco-friendly wedding favors. You can select local flowers or some flowers with beautiful colors to decorate the home garden. If you live in a city with limited open space, choose flowers that can be grown in a small pot or window box. Wrap up your seeds in little personalized paper bags. Otherwise, you can put the seeds into a mini glass bottle, and recycled jar, or create a cute platable 'bonbon' using dried flowers and seeds in it.
We All know that another thing to list on the wedding plan is guest gifts. This is how you'll show gratitude for their attendance and celebrate your marriage. However, couples should be starting ask what would be better to give to their guests that wouldn't simply be left on the table and become wedding waste. That's why we come with 17 eco-friendly wedding favors ideas to inspire you. Just keep in mind, because of its eco, it doesn't mean they wouldn't give an impact on the environment if they were left behind. So, think carefully about what you should give to your guests and make sure they will use it.