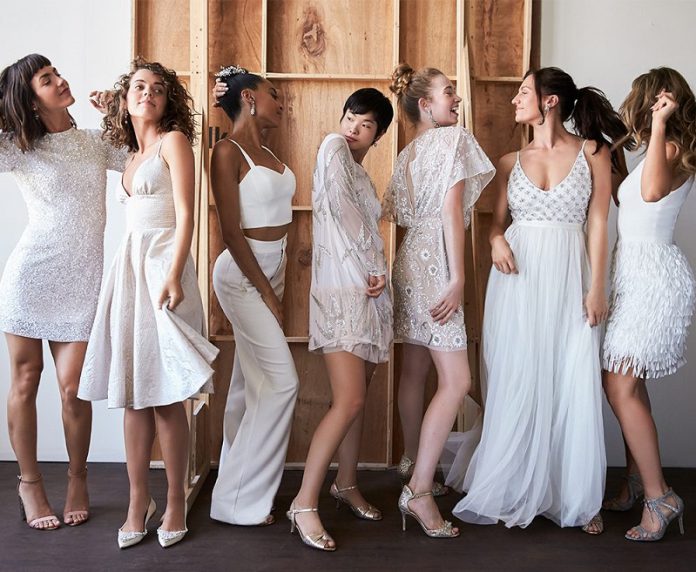 Roowedding.com – For many married couples, the party wouldn't be stopped after the ceremony. They can continue with the reception and wedding after-party. As brides, you may need to prepare two gowns: one for the ceremony and one for the reception. While your wedding ceremony gown would look formal and more polite, your after-party dress generally would stand out for dancing with shorter hemlines, sparkly, and give you an easygoing silhouette.
Whether you plan your wedding in the ballroom, garden, or the beach, complete your special moment by wearing a stunning dress for the wedding reception. Unlike a wedding ceremony gown, a wedding after-party dress lets you have more experiment and express yourself. That kind of dress has various styles and designs. From casual shorts to midi skirts, solid dresses to sparkly glamourous, and use traditional white to colorful gowns, that would bring a statement to celebrate your big day.
We've seen plenty of brides in the runaway with stunning dress ideas for the reception. Below, we've also compiled 23 stunning wedding after-party dresses that can be used to elevate your performance during the reception. Just use these ideas to give an elegant and stunning appearance that'll keep you enjoying the party long after the ceremony.
Strapless Tutu Dress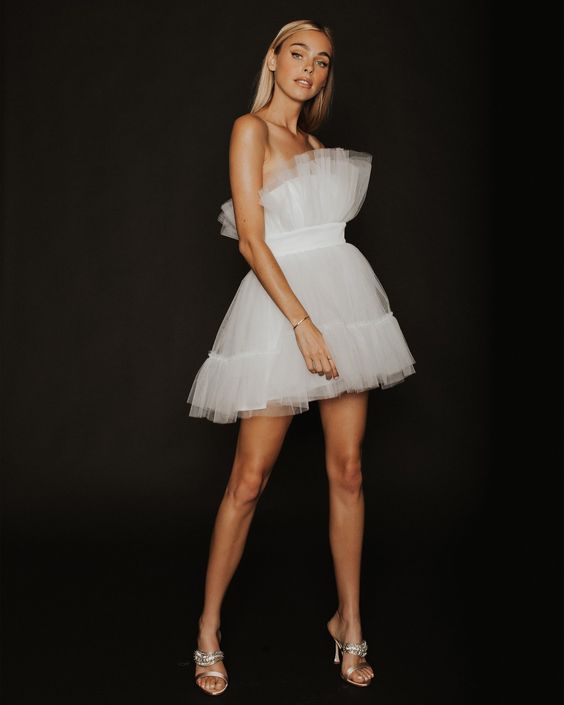 For the first wedding after-party dress idea, we suggest you strapless tutu gown. It's simple and straightforward, but it's stunningly appropriate for your upbeat wedding reception. After feeling tired in a maxi dress during the wedding ceremony, you will feel more at ease in a short gown that allows you to freely move and dance. To make this dress perfectly outstanding, pair it with silver high heels for matching shoes.
Deep V-Neck Sexy Halter Jumpsuit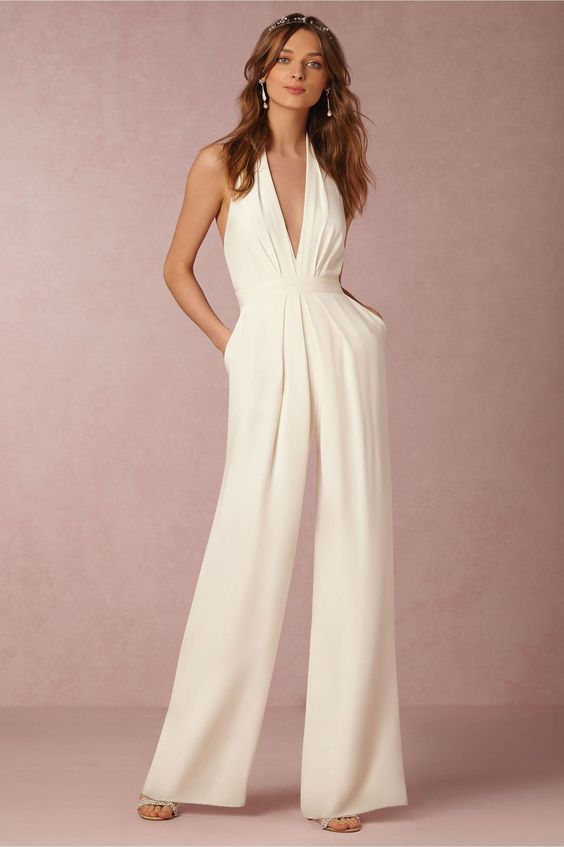 For the next wedding after-party dress idea, we suggest you try a jumpsuit. You can opt for a deep v-neck halter jumpsuit with palazzo pants for down style. This style would be suited for you that want a bit formal look without using a traditional wedding gown. You can stand your outfit performance by getting high heels or a stiletto. Besides that, get simple jewelry like pearl stud earrings, or if you want more pretty opt for drop earrings. And for the hair, a simple crown would make you look elegant.
Strapless Feather Trim Dress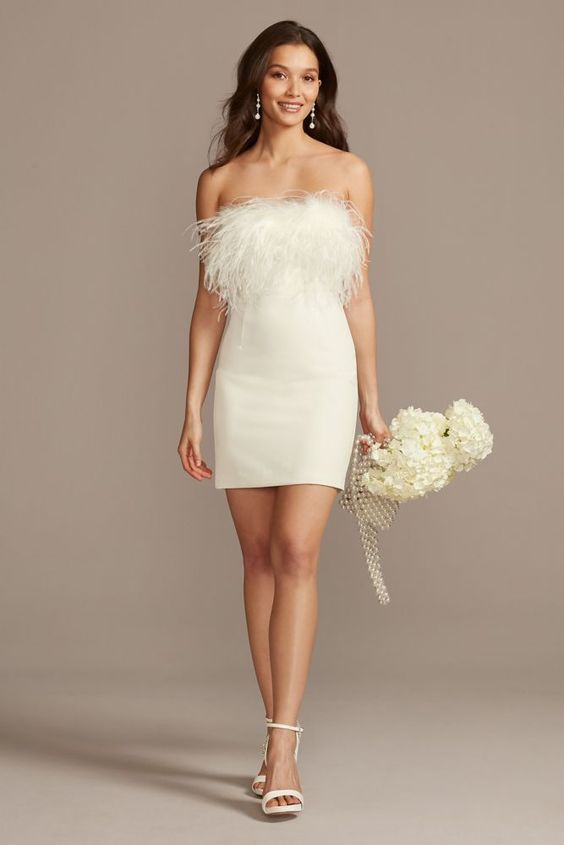 Looking for a pretty wedding after-party dress idea that's modest yet cute, pick this strapless short dress with feather trims on the top. Ask your designer to tailor it to fit your body for creating a perfect silhouette. With a drop or chandelier earrings, it would be enough to catch people's attention during the event. Then, complete your bridal style by pairing it with strappy high heels or stilettos.
Simple Silk Short Jumpsuit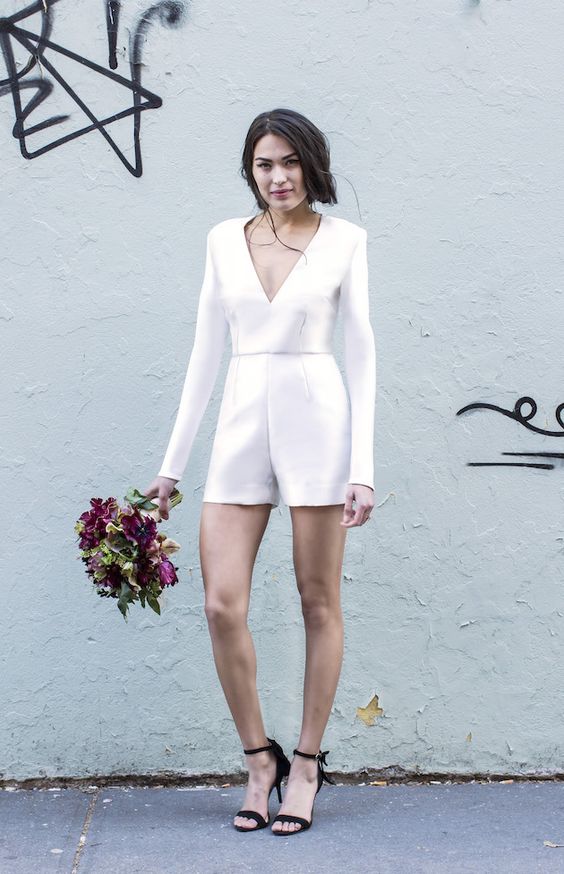 Have you ever seen brides wear shorts? Recently a short jumpsuit became a trend for bridal gowns for wedding after-party dress ideas. You can try to recreate this simple silk short jumpsuit in a deep v-neck design and make it your unique and unusual wedding dress. For option, you can wear a veil on your head for a chic style. Or, you can also wear a crown for accessories bridal hairstyle. For the toe, grab your stiletto or high heels.
Pleated Halter Neck Dress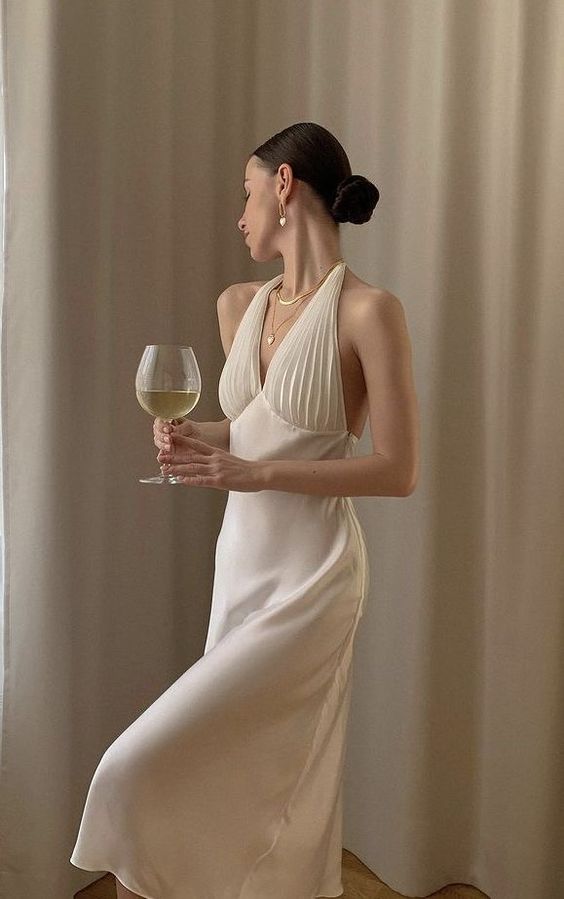 Plan your wedding reception with a cocktail party, make sure to prepare one gown that matches this event like a pleated halter neck midi dress. The design of this dress actually simply elegant, so it would be suitable for a cocktail party. For you that want to look fabulous with this dress, make sure to bring it with perfect makeup, hairstyle, and accessories. For instance, if you want elegant style, make sure to have natural makeup with a tidy low bun hairstyle, then also bring gold jewelry for a classy glamour look. You can get a pair of white stilettos or silver high heels to complete your dress performance.
See-Through Sleeve Mini Dress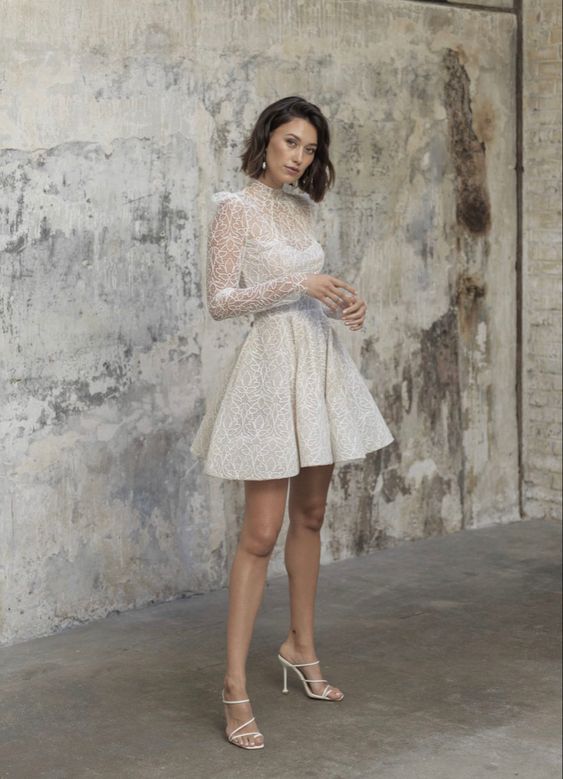 Need a dress for an industrial wedding theme? Why don't you think about this see-through sleeve mini dress? As you can see, this dress is simply pretty which makes you want to wear it at your big day event. Having a transparent lace in the high neck design creates this dress to become the best part of your industrial wedding reception. You can match this dress with high heels and get drop pearl earrings to beautify your performance. Also, perfect yiur wedding after-party wedding dress idea with a modest hairstyle and natural makeup look.
One Shoulder See-Through Jumpsuit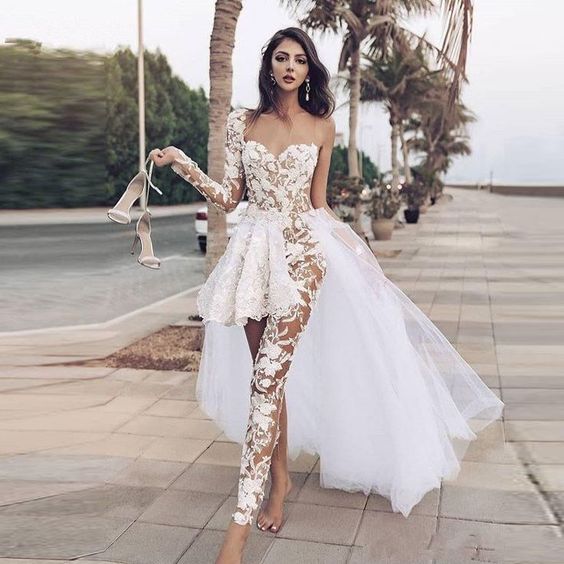 With this dress, you'll get whimsical beach wedding reception ever. From the first we saw this dress, it looks amazing and unique. Designed in transparent lace fabrics and then with a combination jumpsuit and short skirt style with removable skirt/train in the back, it also looks gorgeous to become a bohemian wedding dress idea. With this wedding after-party dress idea, bring a unique yet attractive vibe at the same time.
All Over Tassels Dress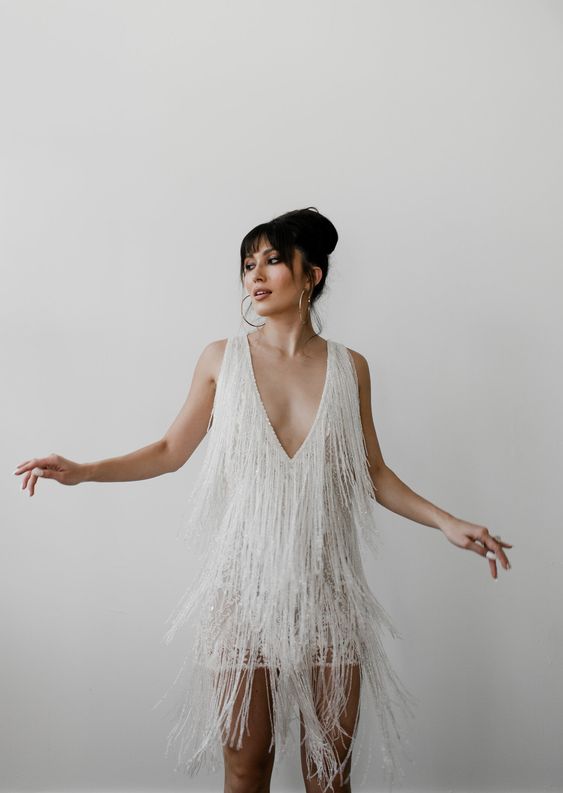 Another unique and attractive wedding after-party dress idea to copy on is this all-over tassels mini dress. If you want to create a rousing ambiance use your gown, this dress perfectly matches you. With this, you can make a dance show with your partner and enjoy the night party happily. This tassel dress is also another bohemian style for your wedding reception.
Two Piece After Party Wedding Dress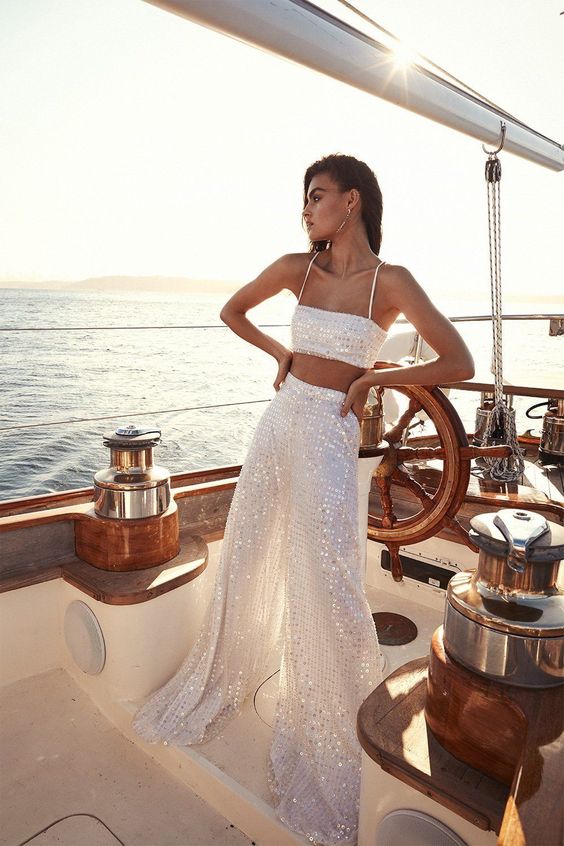 When you plan to hold a private wedding reception in a luxury yacht, this beaded two-piece dress should you grab now. I believe you'll like the glamorous and shiny look of this simple wedding after-party dress idea. Aside from that, choosing this dress is not only outstanding for your performance but it can also make you feel comfortable all along the party.
Elegant Black Asymmetric Sleeve Maxi Dress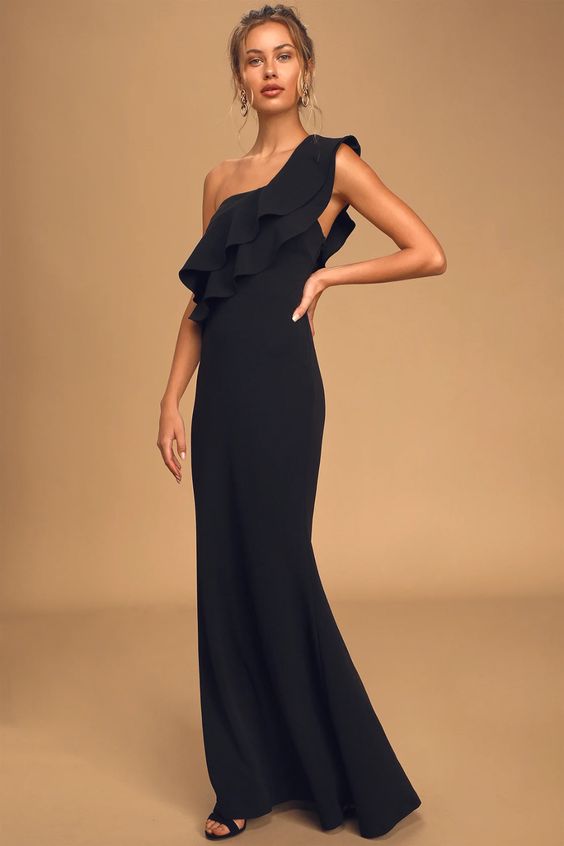 If you are bored with a traditional white gown for a wedding, just opt for this black one-shoulder dress. It can be your evening gown and an elegant wedding after-party dress idea. This dress actually would be perfect with a high messy updo for hairstyle, flawless makeup looks, and of course stunning footwear in high heels. So, are you interested to try this one?
Asymmetric Feather Dress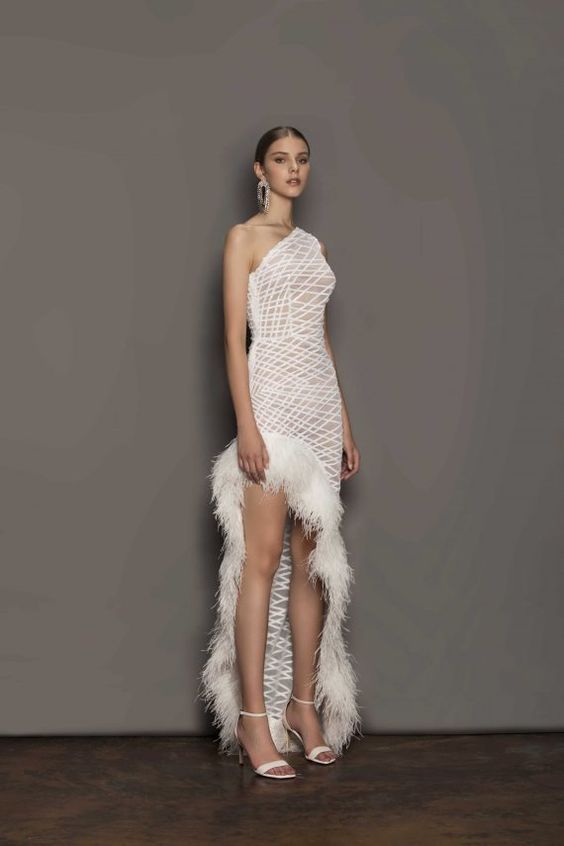 The next wedding after-party dress idea to bring out is this asymmetric feather dress. Styled in one shoulder and feather trim on the skirt make this dress attractive enough with a lovely look. Aside from that, tailored with slightly see-through fabric and fit your body perfectly make this dress drives you to seem sexy in elegance. Also, have a perfect match with strappy high heels and stilettos.
Champagne Silk Satin Dress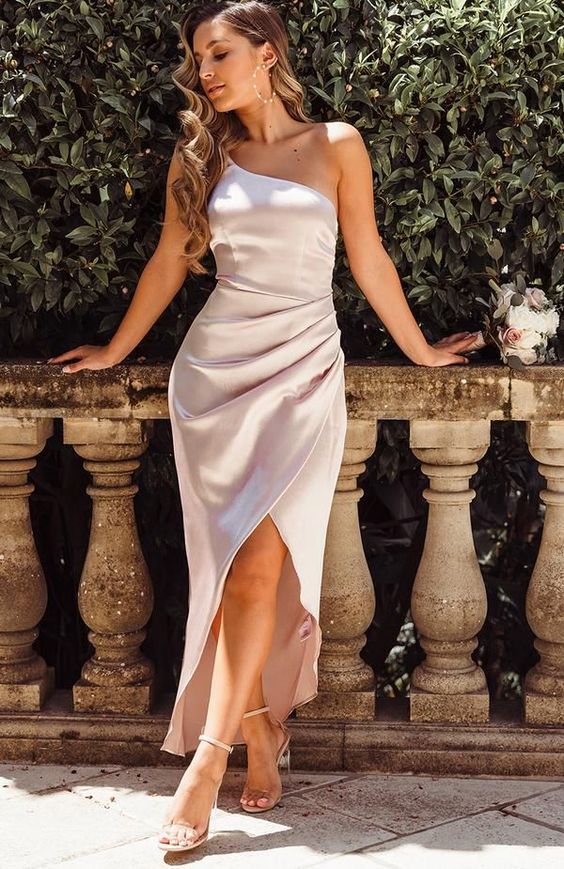 Do you need help figuring out what to wear at your after-party wedding? I like this modest silk dress. At wedding receptions, soft, shiny fabrics tailored to your body curves would make you look stunning. Furthermore, designed in one strappy shoulder and high low at the bottom make this gown looks sophisticated even without any embellishments. To complete your outstanding appearance, you must bring the perfect matching jewelry and shoes. For example, choose hoop earrings and then pair the dress with strappy high heels. I believe this wedding after-party dress would catch more people's attention.
Puff Sleeve Mini Dress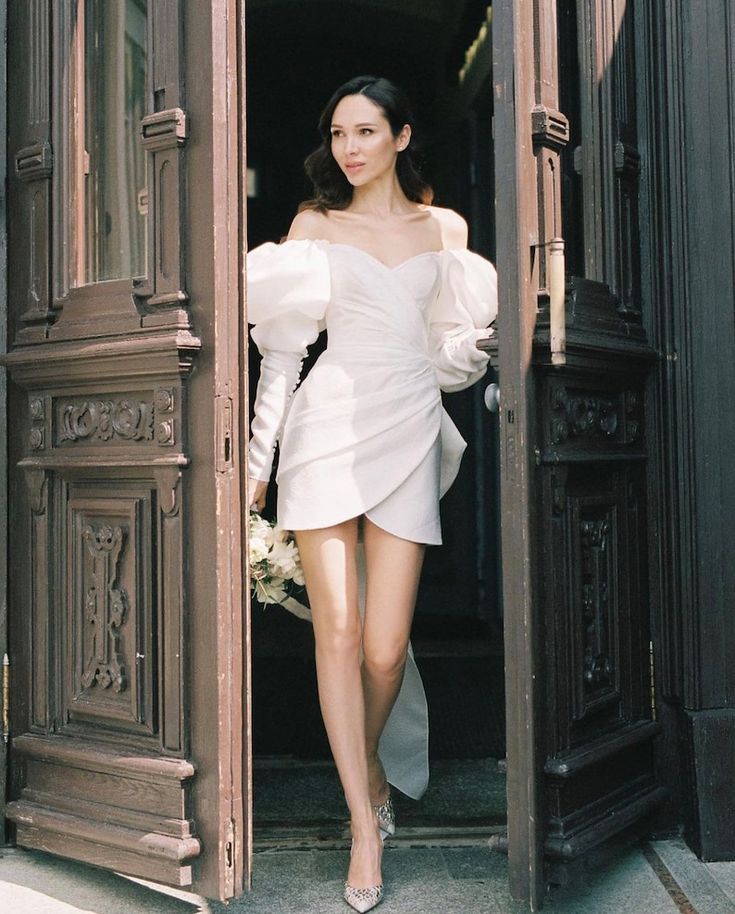 Incorporate chic and elegant style into your wedding after-party dress idea by preparing a puff sleeve mini dress. You can style this dress with long sleeves that bring a bit of retro style that's chic. And in the back gown, add a big long ribbon that looks like a dress train. If you want, you can make this dress prettier by wearing pearl jewelry and doing your hair in a natural wave.
Halter Neck Short Dress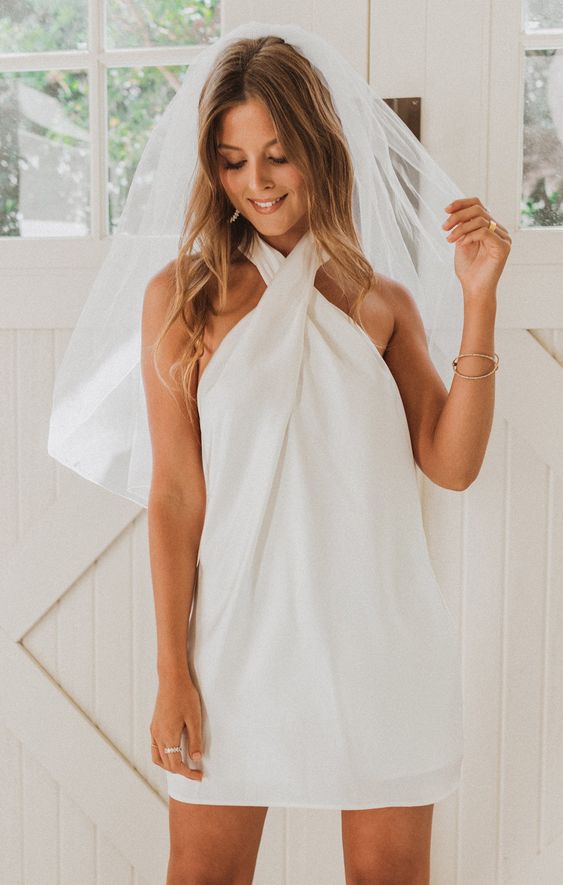 If you're classic brides who find out wedding dresses not only for the ceremony but reception outdoor, this simple halter dress is kind of the choice. By emphasizing a halter neckline, short length, and backless, make this dress is suited for summer weddings. Just wear yours with matching footwear such as high heels, stilettos, or pump heels. To elevate your appearance, you can get a short veil on your head as an accessory and also wear simple gold jewelry.
Outstanding with Transparent Lace Dress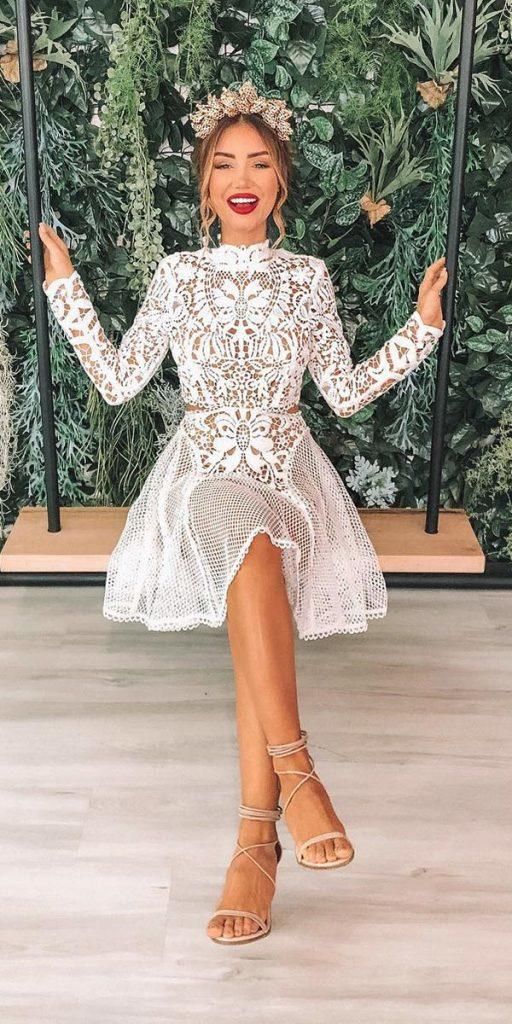 If you look for spring and summer wedding dresses that look great for the dancing floor outside, this see-through lace high neck mini dress is completely your perfect option. This stunning gown features a chic high neckline, a body-con fit, and a sexy look with an open-back style. This short dress is both beautiful and easygoing, and it is also a sophisticated choice for your bohemian wedding party at the beach. You can make this dress look more stunning by pairing it with strappy or gladiator sandals.
Going on Blazer Style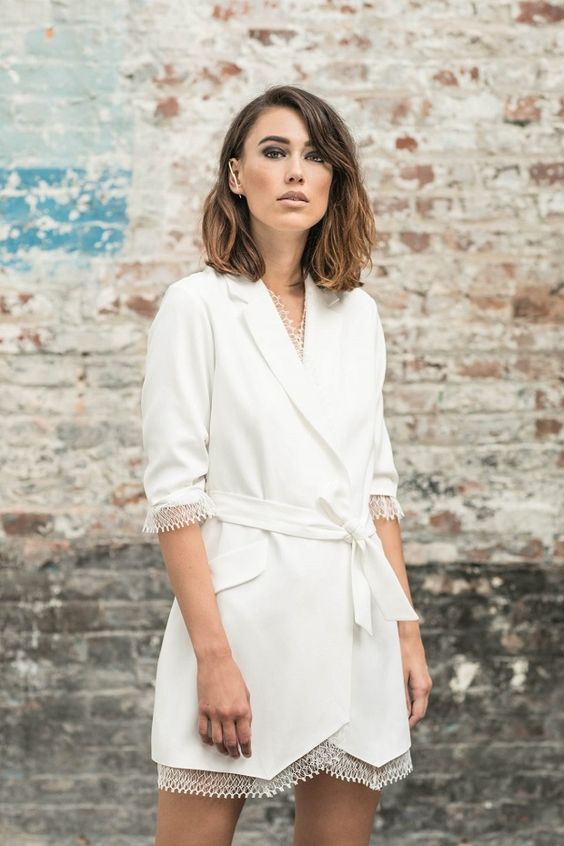 Feel bored with a common gown? Want something unexpected and chic for the wedding after-party dress idea? For a refreshing look, take on this blazer style for your nontraditional wedding dress idea. If you add a fabric belt or ribbon to this off-white blazer that wraps around your body, it will look like a dress. A bit of lace trim makes this bridal gown feel chic and comfy to wear all day. You can pair this dress with high heels or pump heels for a formal vibe.
Glamour in Metalic Midi Dress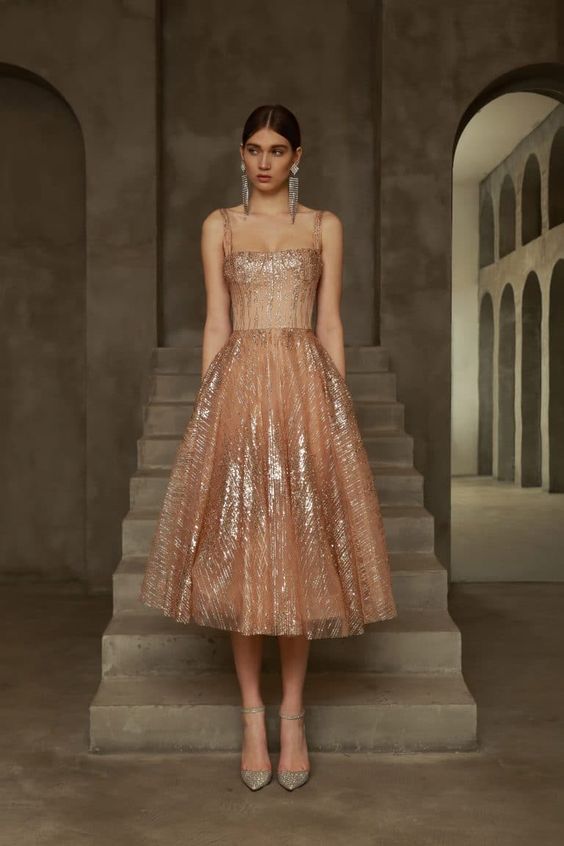 Planning for holding a night wedding party? You know, a metallic dress is always the right choice for your late-night party. Designed in a corset top and spaghetti straps with a pleated a-line tea-length skirt created this shimmery gown different from the rest. Besides can make a classy statement, this metallic wedding after-party dress idea can also stand a romantic ambiance with a blush palette. When you use this kind of dress, balance your performance by getting silvery chandelier earrings. Then, perfect all with silver strappy high heels.
Simple Transparent High Neck Lace Off Shoulder Dress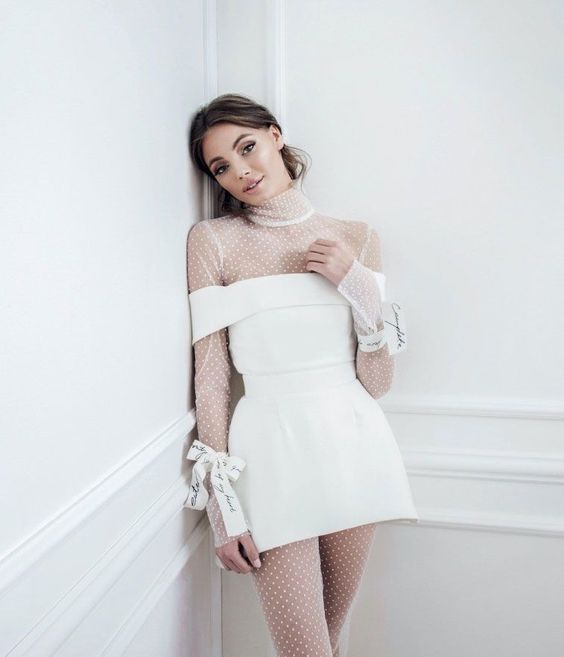 Do you prefer a more flirtatious gown? We've got you covered when it comes to this concept look. Simply celebrate your wedding with this vintage wedding after-party dress, which is designed in a transparent lace high neck and off-shoulder style. Not only on the neck, but you can also apply transparent fabrics to cover up your legs as tights, and it would make you look sexy with the short skirt of your gown. This fun dress would be perfect to wear with pump high heels or stilettos.
Sequin Wrap Dress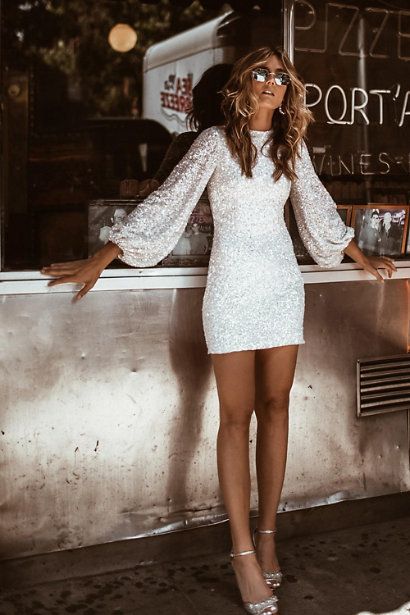 Another second dress to wear at your wedding after party is a sequin dress. The glitter from this dress feels unique and glamorous. There'd be no doubt you'll be living on your night party and dance floor with this dress especially when your party includes a disco ball. The sparkle from your dress would shimmer your night with your half and lovelies from dawn until morning. This dress's relaxed fit may make you feel more at ease moving around and dancing.
Lace Short Jumpsuit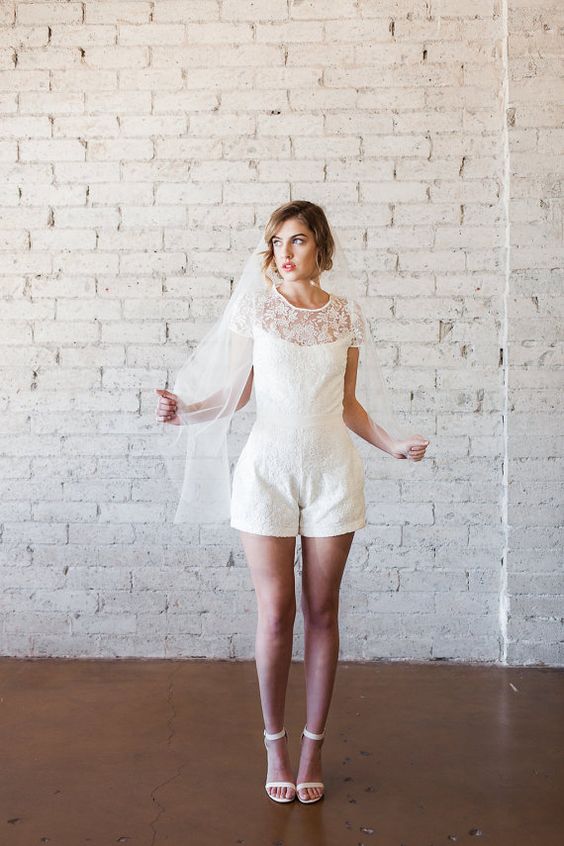 Look for a second wedding dress that's easy to modify, like this short lace jumpsuit. For the trick, get a removable skirt/train for the wedding ceremony. Then, for the wedding after-party dress idea, you just need to take off the skirt and just use shorts. It's simple and easy, right? Therefore, plan this wedding dress design if you want to hold an industrial wedding theme. Then style it with a veil, large gold hoops, and strappy heels or bridal shoes.
Simple Jumpsuit with Beaded Belt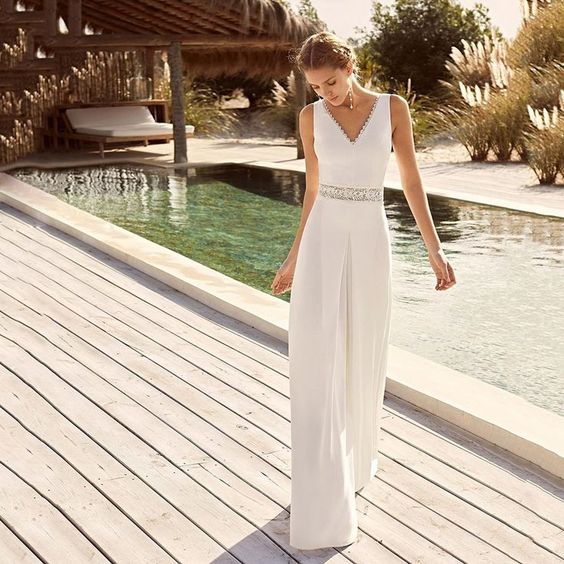 Get your wedding after-party dress idea use this simple sleeveless jumpsuit with a beaded belt. Aside from that, designed in a v-neckline with beaded trim and then has palazzo pants as a down style making you seem elegant and free to move. You can wear this dress with a braided updo hairstyle, enlighten with drop earrings, then perfect your wedding outfit performance using white pump high heels.
Spaghetti Strap Soft Satin Maxi Dress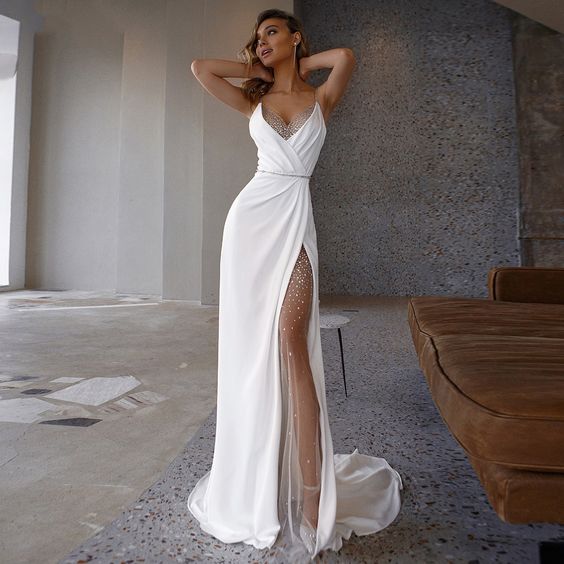 This silky gown would be an elegant wedding after-party dress. The high and long slit made of transparent fabrics should be a trick to elevate your gown to more sophisticated. Delicate glitz from the beads makes glamourous touch. Also designed in deep v-neckline and spaghetti strap feature aesthetic beauty that's a bit flirty. Then for the finishing touches on your wedding reception performance, get silver glitz strappy high heels for a classy look.
High Low Midi Dress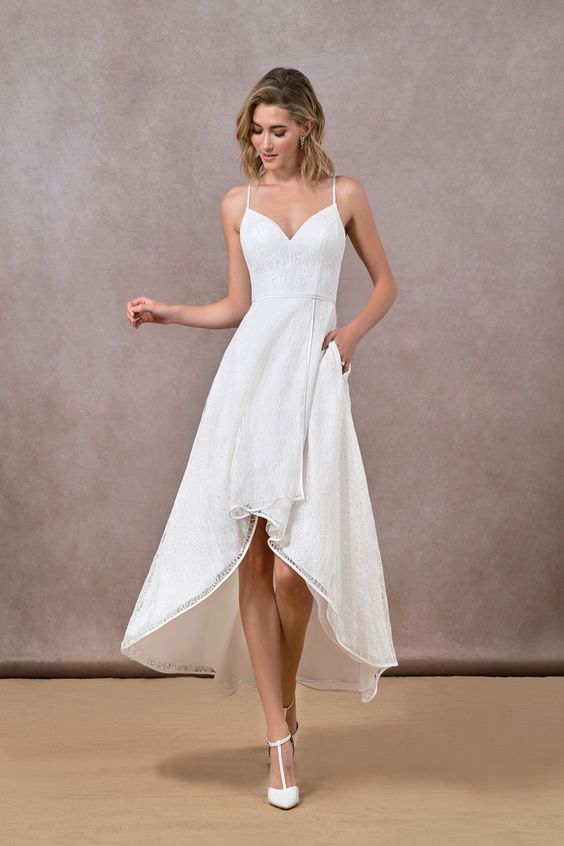 Now we've come to the last wedding after-party dress idea which is a high-low spaghetti strap midi dress. For you, who want a simple and eco-friendly wedding dress, this dress is what you looking for. The details include a high low flowy skirt and a sweetheart neckline that look lovely yet mannerly even when you use it for a formal party. This gown would look more beautiful when you pair it with t-strappy high heels or just get silvery heels.
If you're looking for something other than the traditional white wedding dress, we've found a winner. That's all the wedding after-party dresses that may inspire you to keep a flawless appearance long after your wedding reception is held. Whether your after-party is being held at the same venue as your reception, or you move to your favorite local bar or an outdoor venue, we've discovered some great dresses for brides-to-be. We hope you'll love it and get what you really want.