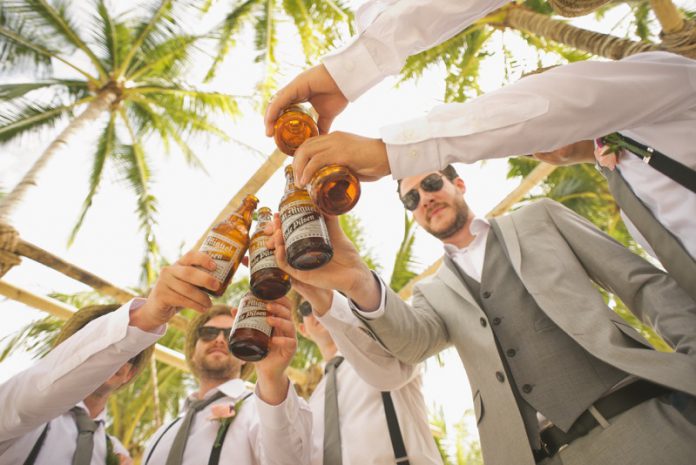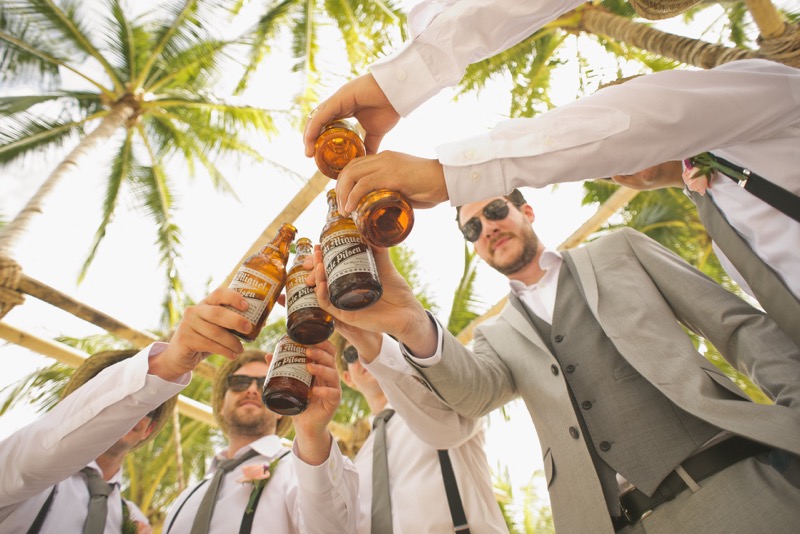 Imagine trading unique wedding rings with your partner on a beautiful summer day. The sun is shining, the world is calm, and all is great. But there is one downside: It could be incredibly hot out. Live somewhere like the south or up in the northeast and now we're talking about humidity, too. That sort of weather can get uncomfortable quickly. That's why we recommend considering the ways you can keep your wedding ceremony and reception cool. And we don't just mean rad. We mean helping your guests cool down amidst the heat. Here are some basic tips for brides, grooms, and guests to stay warm.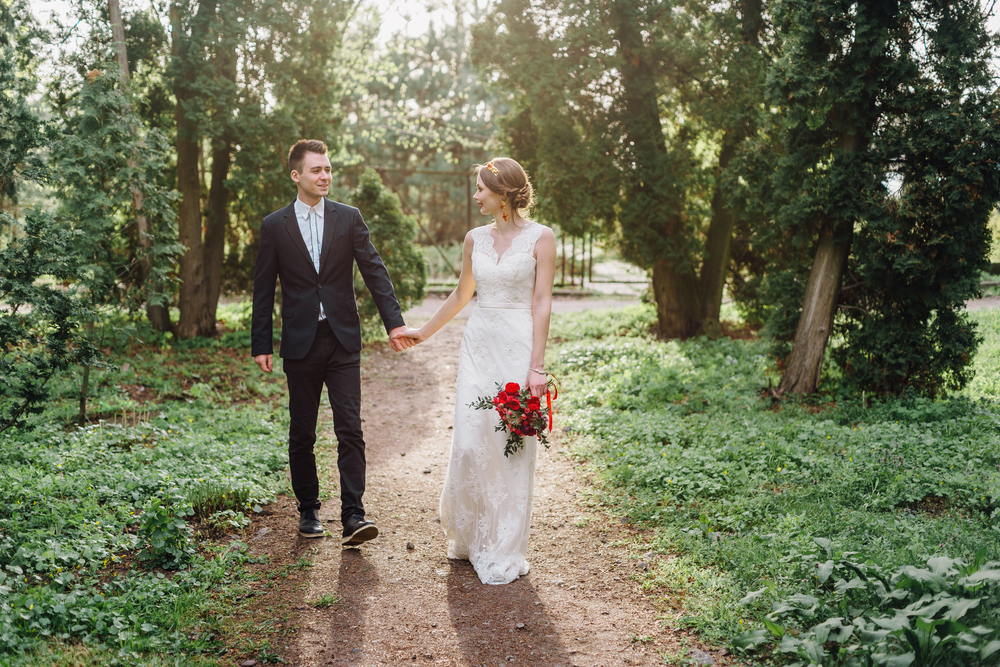 For Brides
Prep in a cool, indoor space.s
Don't do your prep outside. Stay away from the heat as much as possible so you can stay cool leading up to the ceremony. No one likes pit stains, especially not in their wedding dress. 
Get your makeup done by a specialist.
Worried your makeup is going to run during your ceremony due to excessive sweating? Hire a professional makeup artist to help. They're bound to have the solution needed for you, which can include using spritzers and more to help your makeup stop from running.
Think about the style of your dress.
Do you want the flowing princess dress of your dreams? If so, accept that you're bound to be really warm. Consider getting a thin, sleeveless dress instead. It will allow your skin to breathe during your ceremony.
For the Groom
Leave your tux jacket off until the minute of.
While you might look dashing in your wedding tux, consider ditching the jacket until the ceremony starts. It will help you stay cool leading up to the minute of. Otherwise, you might find yourself sweating through your undershirt and your jacket.
Think about your layers.
Are you the type of guy who sweats uncontrollably no matter the weather? Don't be afraid to rethink what you'll wear. For some guys, this could mean going in shorts and a short-sleeve shirt. For others, they'll stick for the regular tux but ditch the jacket. Whatever helps to ensure you stay cool.
For the Couple
Capture your photos indoors.
While you might be in the mood to capture photos outside, don't be afraid to settle on the great indoors. It'll help the two of you stay cool, rather than having to pose out in direct sunlight for a half hour or more.
Shade yourself before and after.
Make sure the two of you stay shaded prior to your ceremony and after. The two of you will be dressed to the nines, and neither tuxes nor a wedding dress are "cool weather" clothing. Rather, take the time to stay in the shade so you can cool off before the pressure is on.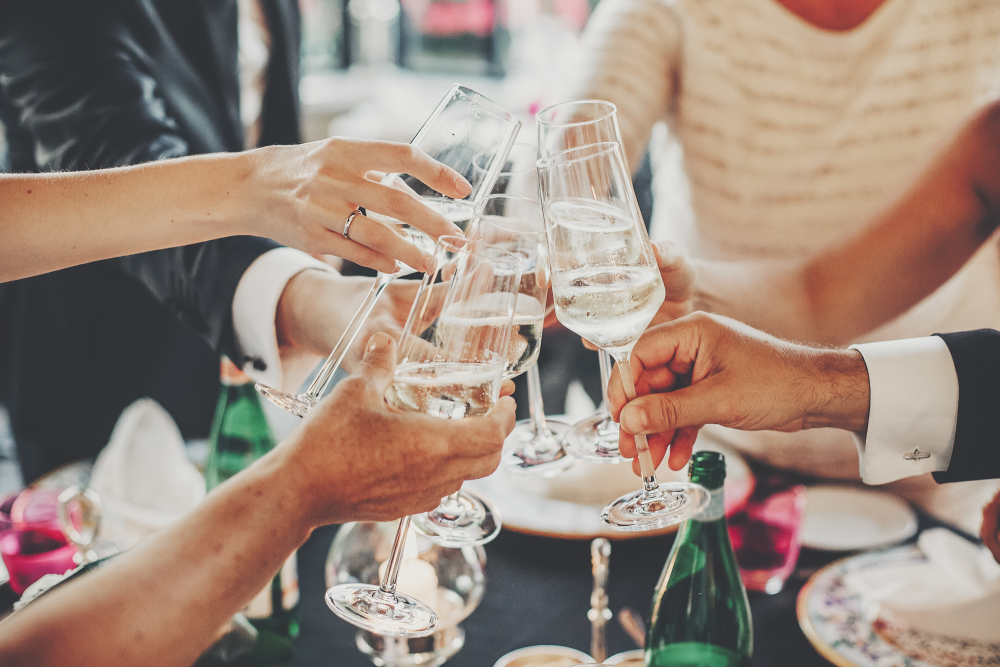 For Guests and the Ceremony
Provide everyone a fan.
Don't let your guests fan themselves off with just their fans. Provide them with a little fan they can hold onto and use when they need it. Want to take it a step further? Provide them with a parasol to shade themselves if they ever get sick of the sunlight.
Hand out refreshments for the ceremony.
Don't leave refreshments for happy hour and the reception. Instead, provide some refreshments prior to the ceremony. Whether it's a glass of wine, a cold beer, or a chilled bottle of water, your guests can keep something in hand that can cool them down if they're ever feeling too warm.
Get some misters.
Have you ever caught a brief misting of water on a hot day? It's an incredibly comfortable feeling, cooling you down almost instantly. Rent some fan misters to provide your guests with just that. They can jump in front of them, as needed, to cool down the skin on their neck, back, skin, or arms. 
Rent a tent.
If you want to provide some shade, look no further than renting a tent—just make sure you don't pitch it when others are around. Tents are a great way to protect your guests, whether you're expecting some rain showers or high heat during a sunny day.
Embrace frozen desserts and snacks.
An ice cream cone or popsicle is truly incredible on a hot day. It's so cooling that it might even give you a brain freeze! Keep some desserts and snacks frozen for your guests to satisfy their appetite while helping them stay cool. Want it to be a little more exciting? Make some boozy popsicles or jello shots to surprise your guests even further.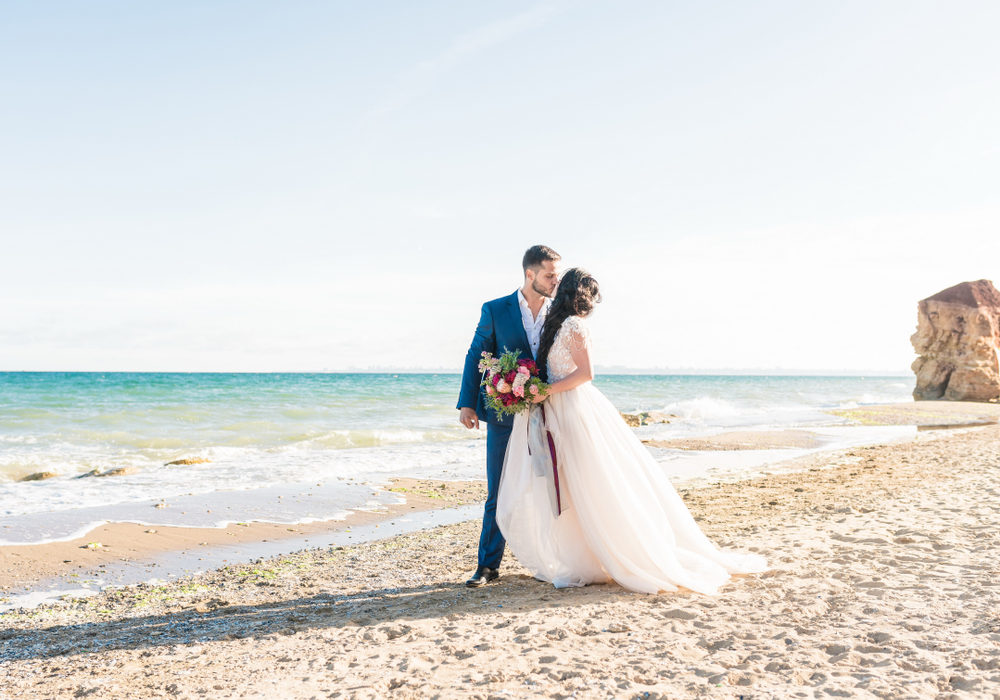 Make sure the drinks are cold.
Who doesn't love a cold beer, glass of white wine, cup of water, or cocktail on a hot summer day? There's nothing quite as refreshing, whether for the body or the soul. Make sure that guests have enough refreshments to choose from. Equally, ensure that everything is nice and chilled so guests can cool down when they need to.
Find an air-conditioned space.
Natural shade, tents, and misters are great ways to stay cool, but there is nothing better than air conditioning on a hot and humid day. See if your outdoor event space also has rooms that you and guests can use as an escape. It's truly one of the best things you can do for yourself and your guests.
Once you've got your custom wedding ring wrapped around your finger, you and your spouse have done all you need to. But make sure to put in some forethought to keep both you and your guests cool. The summer weather can be brutal, so work to keep the sweating to a minimum.