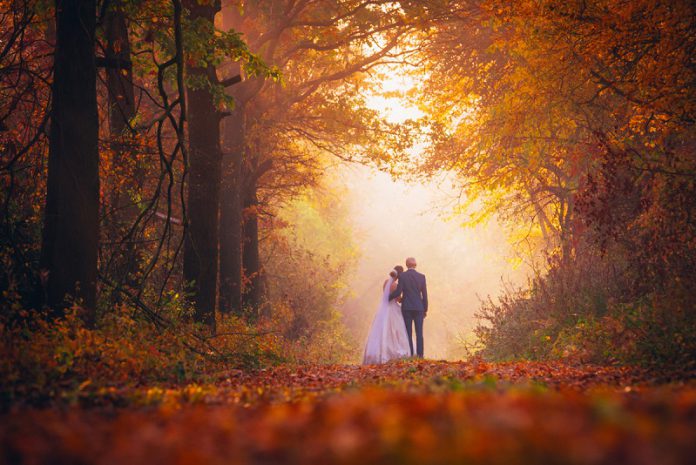 Rowedding.com – First and foremost, congratulations on your marriage! So you've set a date for a fall wedding. All you have to do now is begin to plan a romantic and perfect fall wedding. Choosing fall/autumn to hold your marriage would help to determine the color palette, wedding theme, and overall feel of your big day. You may consider warm shades like earthy tones and terracotta for decoration ideas. Bring a bit of bohemian style to the wedding fashion look or a bit of industrial accent to the wedding decorations. If you need the complete guide to planning a fall wedding perfectly, keep scrolling down here.
Most couples marry in the summer, but if you want something more romantic, you can plan a fall wedding. After all, warm drinks, warm colors, harvest signs, delicate blue skies, and changing leaves are all very romantic elements to incorporate into your wedding atmosphere. With all of that, it surprisingly gives you a perfect time to marry.
September and October are now the most popular wedding months due to the milder temperature, more vibrant colors, and abundance of beautiful outdoor photo opportunities with changing leaves as your backdrop. You can blend a fall seasonal theme into your flower arrangements, bridesmaids' attire, venue, and other details. You can create a stunning and unique fall wedding ever by following our wedding tips and tricks for unforgettable moments. We can assist you if you've decided on an autumn wedding and are looking for fall wedding ideas. To get you started, we gathered everything from venues to florals to decor.
Fall Wedding Fashion
The season, as is usual, brought a variety of new trends. Even for wedding fashion! Couples who want to get married in the fall could take much inspiration for their wedding attire. From bride dress to bridesmaid gown and grooms attire, you can feature the season through them. So, when you need a guide for a fall wedding in fashion look, let's find out below!
Autumn/Fall Wedding Dress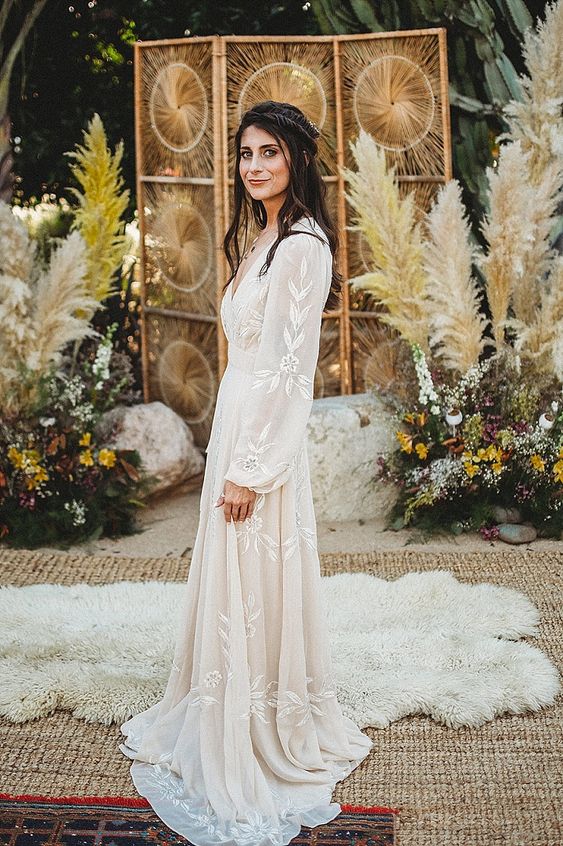 When you get married in the fall season, make sure to avoid delicate dress fabrics, especially when you hold a rustic outdoor wedding ceremony. Better tend to pick bohemian wedding dresses that are designed in lace fabrics and long sleeves. The simplicity of your wedding gown can be set off with ribbon detailing for a chic look. While a fall wedding gown made of cotton and polyester blend is available for those who want something light but durable.
Bridesmaid Gown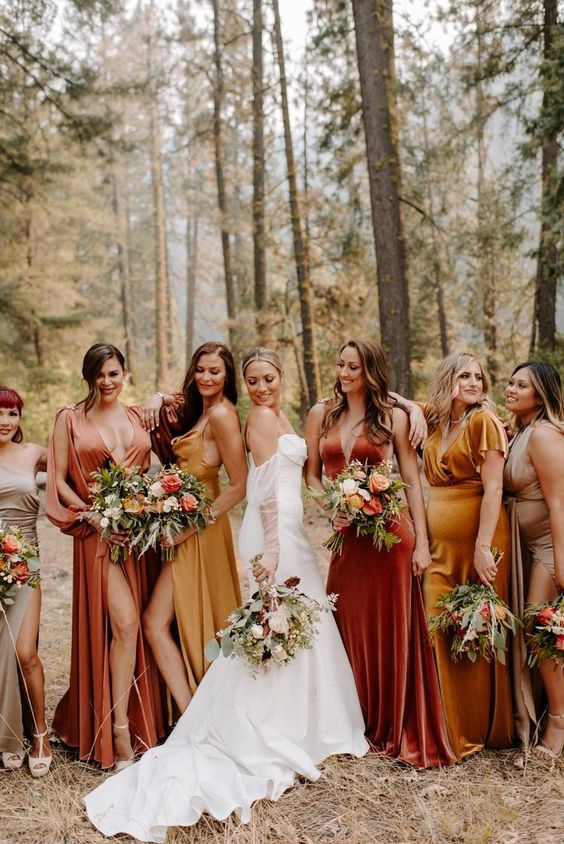 There are no rules set when it comes to fall wedding bridesmaid gowns. But, most people's set their bridesmaid look in a jewel tone or terracotta set for fall weddings. You can create outstanding and fancy bridesmaid dress ideas with textured fabrics such as velvet, sequin, and satin. While the color palette, you can pick emerald, burgundy, burn orange, sage green, and more. In addition, most fall and winter weddings feature dresses with sleeves. However, strapless or cap sleeve dresses are still a pretty option.
Suits for Groom & Groomsmen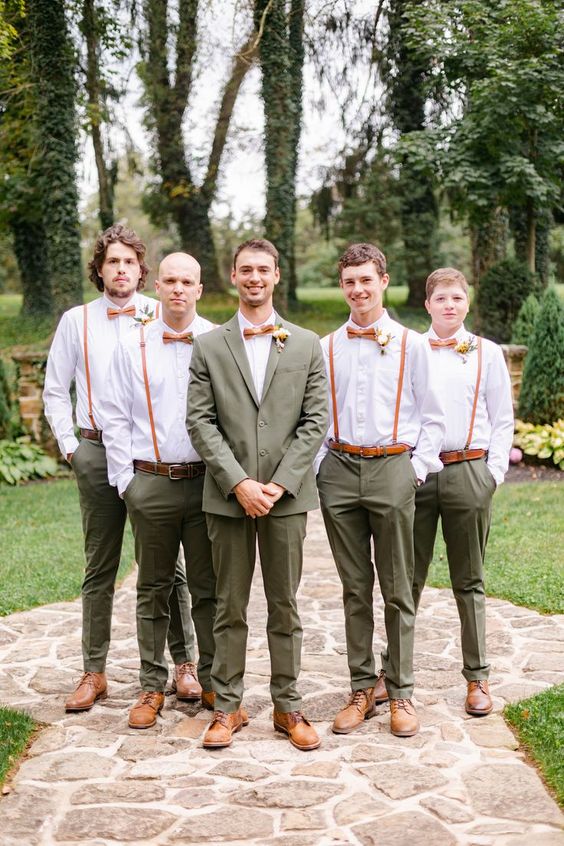 From classic silhouettes to modest style and chic bohemian look, the fall season can be captured in your wedding fashion. For grooms and groomsmen attire, prefer stylish suits and tuxedos with formal shoes. In addition, you can also look for alternative groom attire that matches your wedding theme. For instance, you can pick a suspender and bow tie for your marriage style. For the color palette, you can adjust it with the wedding concept and decorations. However, for the option, you can get pastel, terracotta, or earthy tones. With some eye-catching accessories, navy or gray suits are a sophisticated choice for grooms and groomsmen attire.
Flowers & Decorations for Fall Wedding
Whether you hold a summer or fall wedding, or even a winter wedding, flowers are still a favored component to decorate your wedding venue. Although the arrangement and type of flowers are a bit different every season, they can beautify your big day. When you plan a fall wedding, you can get these tips below for flower and decoration ideas from wedding bouquets to table decor.
Fall Wedding Bouquets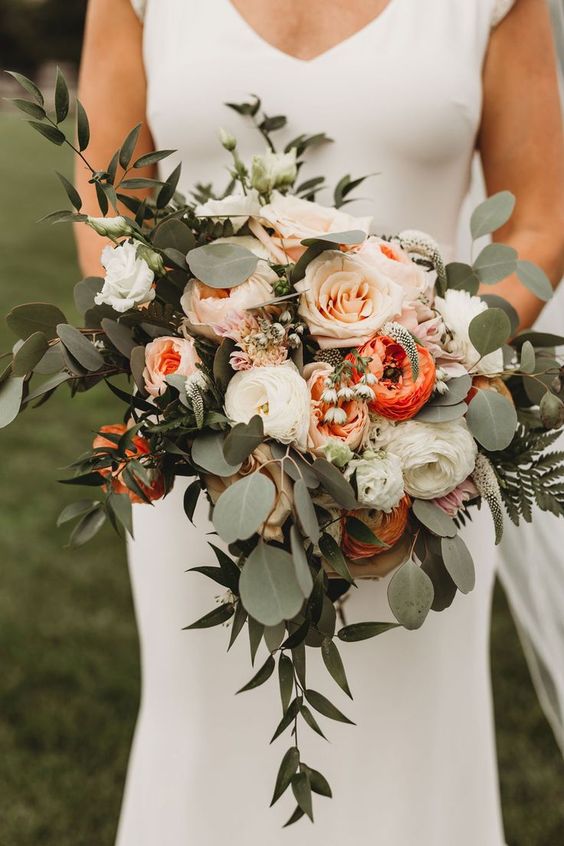 Haven't found gorgeous fall wedding bouquets? You can start with simple bouquets using warm color flowers or use bold-colored flowers like burgundy bouquets to elevate your fall wedding style. For inspiration, you can ask your florist to arrange white and blush roses with dollar eucalyptus to become your wedding bouquet. Another bouquet that looks good in your fall wedding plan is using chic yellow, orange, pink, and burgundy flowers arrangement. Besides, you can also use a rustic concept with wildflowers, greenery, and ferns for the bouquet.
Fall Blooms for Table Decorations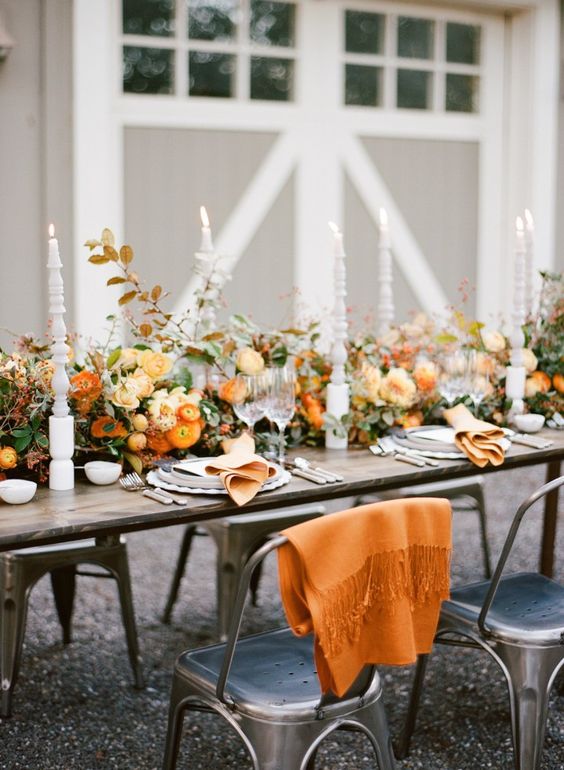 Couples planning a fall wedding can fully embrace autumnal charm with fall blooms for decor ideas. For the table setting and centerpieces, you can use bright colors of flowers such as pink, yellow, and orange sunset tones. While you can also add greenery to the arrangement that brings freshness look. Bright leaves from fall foliage in table decoration can also give you a rustic feel and fall vibe.
Dried Flowers Arrangement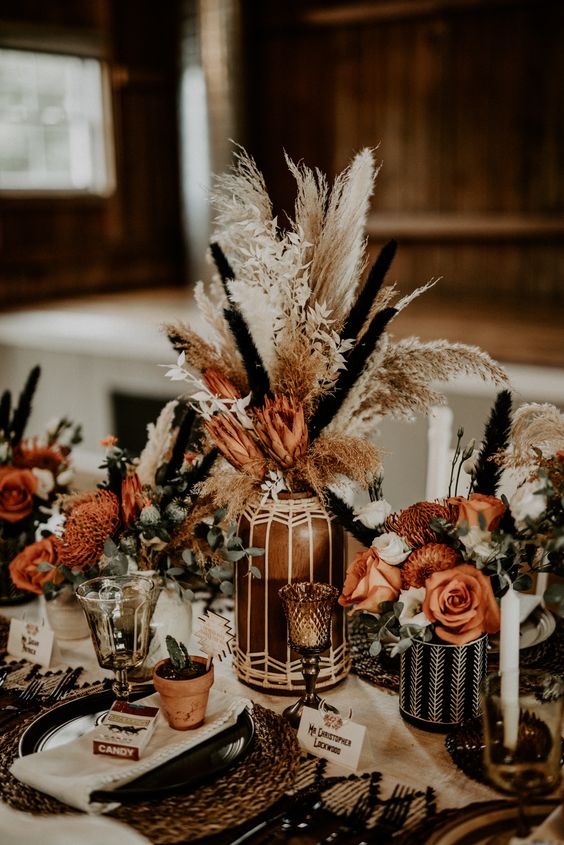 Not only just fresh blooms, but you can also bring dried flowers to decorate your fall wedding. This kind of flower would give you a rustic ambiance and a bit of bohemian accent. You can incorporate it in your wedding bouquets, table centerpieces, wedding aisle decorations, or make a statement with hanging decoration ideas.
Fall Wedding Aisle Decor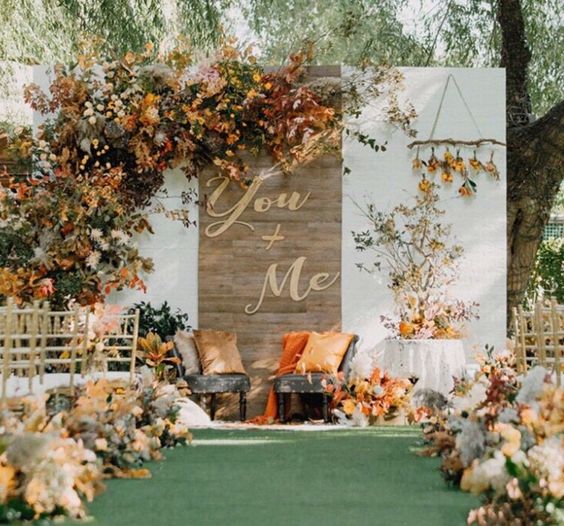 If you want to plan a fall wedding, just take advantage of warm fall colors by embracing foliage to decorate your wedding arch and aisle. We love how organic structure and textures accomplish your altar when you tied a vow with your partner. This can also make statements like being in a natural environment even if you're not holding your wedding in the forest. In addition, you can also use fall foliage for details like escort cards, centerpieces, and of course your wedding altar. Besides that, using blush and burnt orange blooms is also the way to bring the fall season into your wedding aisle decor.
Fall Wedding Inspirations
Plan a fall wedding that's romantic and unique with some inspiring ideas. You can create a theme to celebrate your marriage, get your stationery aesthetically, and have a tasty and cute dessert to serve to your guests. Now, let's find out below amazing and great fall wedding inspiration to copy on your wedding organized.
Halloween for Unique Fall Wedding Theme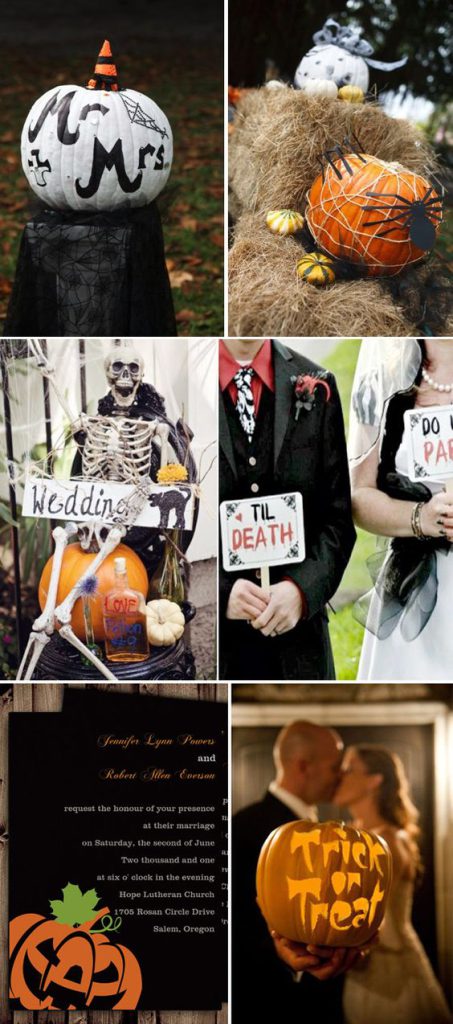 The Halloween party theme can be a whimsical and imaginative wedding concept if you hold it in the fall season. You can make a unique decoration by bringing a bit of a creepy and scary vibe into your venue. You may use a skeleton to become your welcome sign, a spider web in your decorating style, a gothic wedding invitation design, black candles, and use unique Halloween wedding dress. Besides, you can also incorporate Jack-o-lantern into your decoration idea, since it's the main component to create a Halloween wedding concept.
Pumpkin Decoration Ideas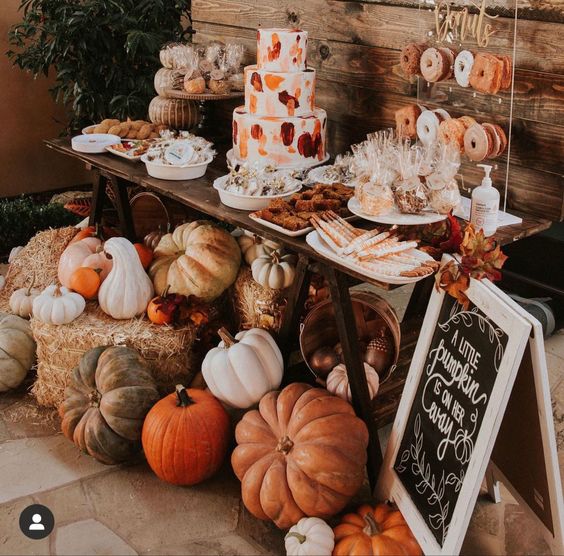 If you're planning a fall wedding, consider pumpkin decorations. It might not be at the top of your must-have decor list, but it may be an expected option for unique fall wedding ideas. You can use these versatile autumnal decorating elements in various hues, sizes, and textures to create a chic and eye-catching statement on your wedding decor. For example, you can use painted pumpkins by mixing both muted and metallic tones for table centerpieces. Or use natural color pumpkins in various sizes to become wedding aisle markers.
Seasonal Wedding Favors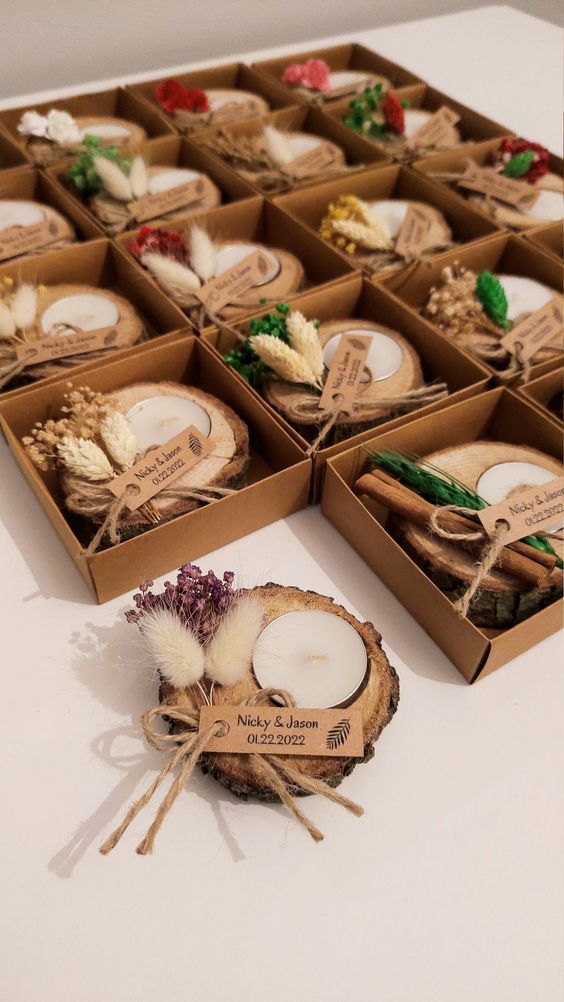 When it comes to gifts for guests, deciding what affordable and fun wedding favors are a little bit tricky. However, we suggest you edible gifts for wedding favors. Maybe you can serve homemade cookies that you wrap aesthetically, popcorn kernels, mini pumpkin pie, nuts, honey, and others that would make great favors for your wedding guests. Besides, you can also give dried flower arrangements mixed with spices, aromatic candles, natural soaps, and other eco-friendly wedding favors.
Use Pastel and Terracotta Color Palette in Fall Wedding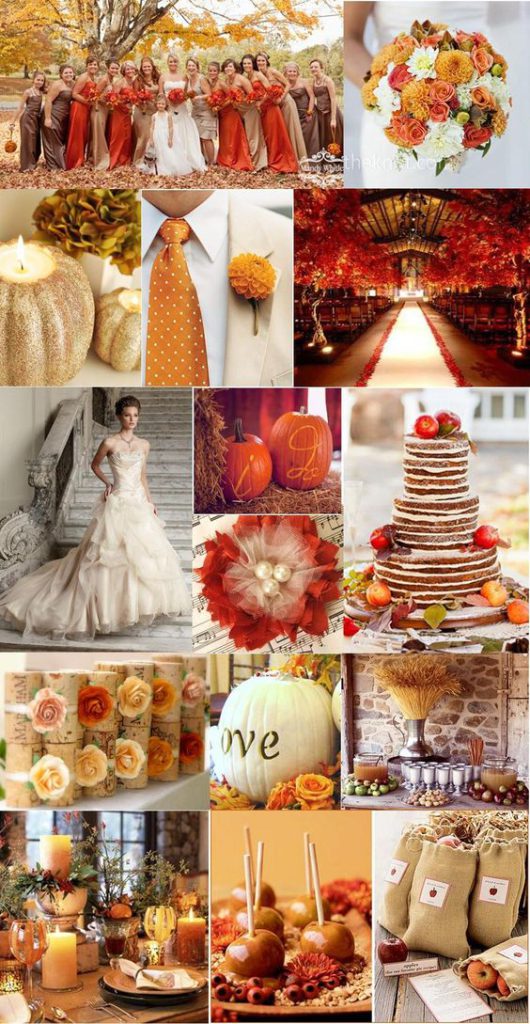 If you are planning a wedding in September, October, or November, just opt for nature inspiration in fall wedding color ideas. You can get inspiration from pastel and terracotta palettes such as blazing red, fiery oranges, golden yellow, deep greens, earthy tones, and pop of metallic shades such as rose gold or silvery. You can incorporate these color schemes in everything your wedding decoration from invitation design to altar decor. If you want a private indoor wedding ceremony, terracotta and muted rust colors would be perfect for the atmosphere. While earthy tones like marigold and rust would fit with your fall wedding in a rustic accent.
Barn and Farmhouse for The Venue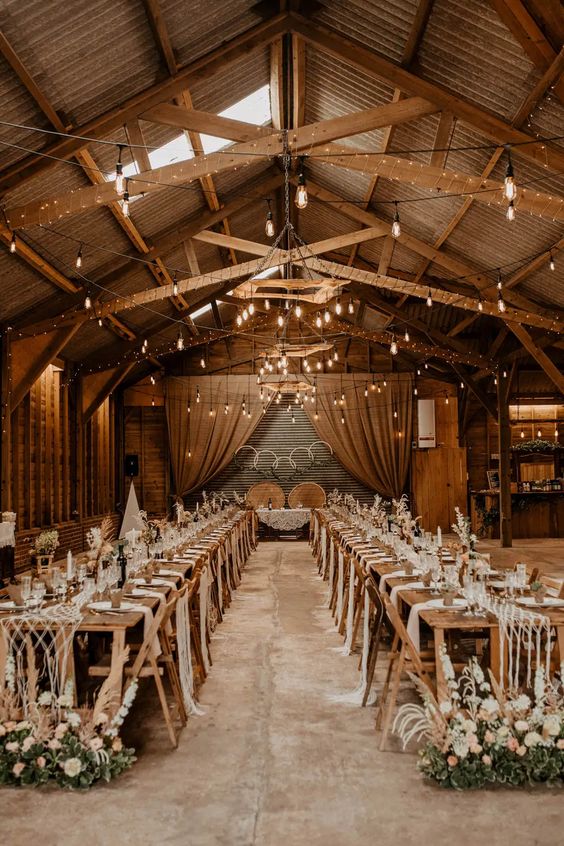 The location of your wedding reception is one of the most important decisions you'll make when planning your wedding. This is due to the fact that your wedding venue will represent your wedding theme and concept. Furthermore, when planning a fall wedding, choose a venue that will be comfortable for the transition from hot to cold weather. You can choose a barn or a farmhouse as your fall wedding venue idea. Barns, ranches, and local farms, on the other hand, are excellent fall wedding venues if you want a rustic wedding theme. What's more, these types of venues frequently include natural scenery, such as fall foliage and farm views. Another advantage is you won't have to worry about the weather if you use this location. These places usually have both indoor and outdoor options.
Rustic Wedding Invitation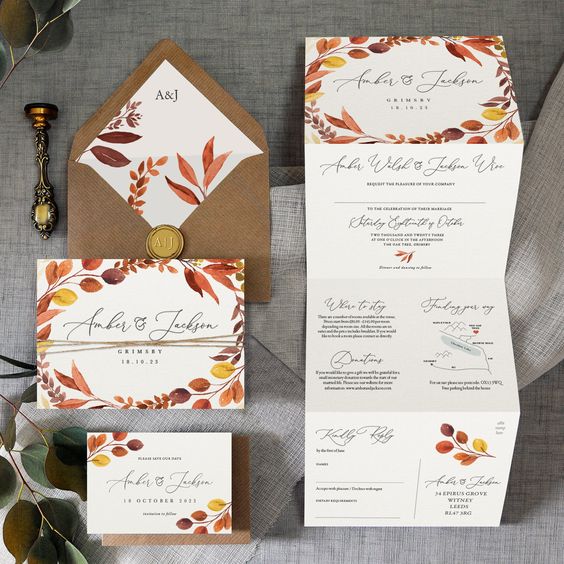 The first thing that can represent your wedding ambiance is your wedding stationery through wedding invitation design. This is your first chance to tell your guests about your personality and wedding vision. You can experiment with a color palette and add a rustic accent to your invitation suite for the fall wedding. Even though your invitation design should be thoughtful, don't overthink it. For inspiration ideas, you can decorate wedding invitations with fall foliage using watercolor paint, and maple leaf papercut, which also incorporates tonal hues into your save the date.
Buffet & Catering for Fall Wedding
Getting married during chilly weather definitely need something that makes you feel comfortable. Not only your wedding fashion and decorations, but you also need to consider wedding buffets and catering. As the weather change from hot to cold, the way we dine has definitely changed too. You need various comfort foods. Make sure to less seafood and get more serve hearty foods. Have a complete guide to planning a fall wedding, especially about the food serving, let's check down below.
Fall Cocktails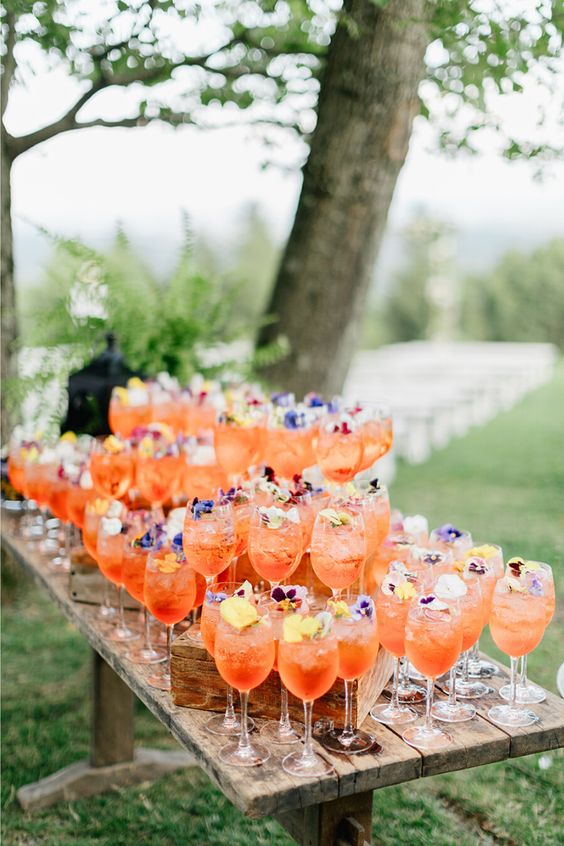 If you're planning a fall wedding, you should include perfect canapés, entrées, and, most importantly, fall wedding cocktails on your reception menu. You can use dark rum with apple or bourbon infused with spices like nutmeg and vanilla for this. Consider sparkly drinks with fruits and spices if you want something lighter to drink at your fall wedding. Citrus fruits can be used to add a bright touch to refreshing bubblies cocktails. Aromatic flavors such as rosemary, vanilla, and ginger can be added to your wedding cocktail. Alternatively, warm drinks with spices such as cinnamon and cloves can be served.
Fall Wedding Cake Design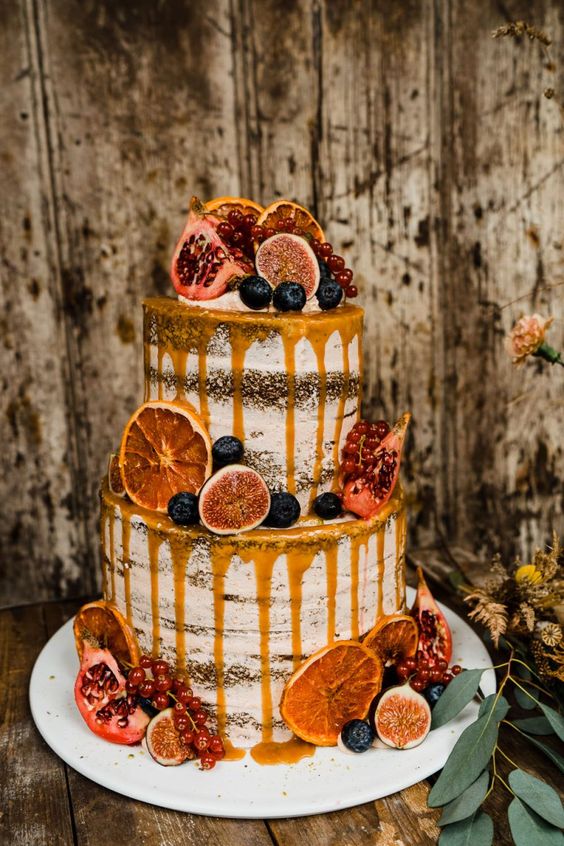 To complete your buffet, you need to look for a gorgeous wedding cake. Finding a fall wedding cake is quite simple! You just simply add seasonal accents to deliver the fall season into your wedding cake design. For inspiration, you can go use a white cake that's dressed up with a unique twist like your favorite blooms, pumpkins, fall foliage, and fruits. Besides, you can also have an alternative wedding cake with a semi-naked cake that can be wrapped with delicate branches, fruits, or blush flowers that would give you a chic rustic yet romantic cake for the wedding.
Apple Cider Bar Ideas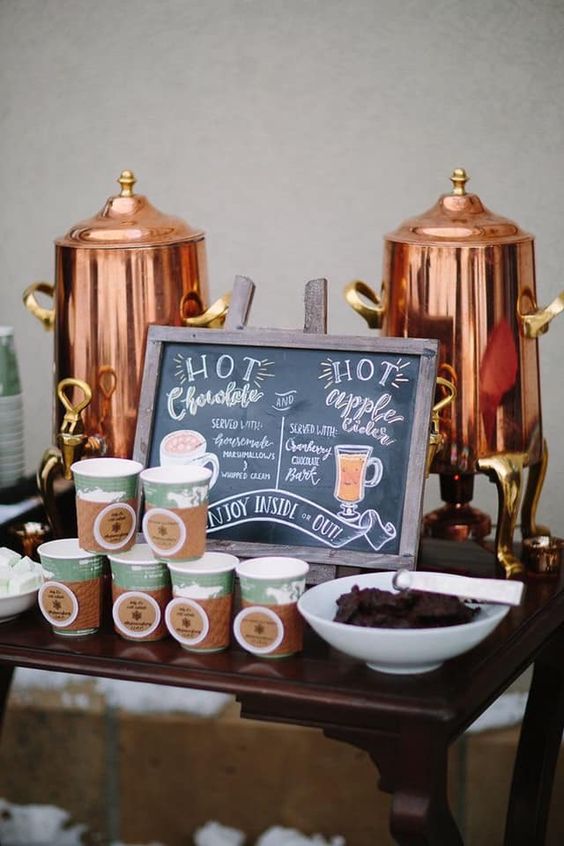 Couples have their creative way to embrace the fall season at their wedding, and one of the ways is using apple cider bars. This can also add a season's fruit to your fall wedding reception. Besides, it is also a thrifty way to elevate your fall wedding concept. The Apple cider bar is an optional non-alcoholic beverage that your guest can enjoy. When you want to serve it, make sure to adjust to the weather in your wedding location. When the weather forecast calls for a cooler temperature, so make sure you help the guests feel warm by serving hot apple cider at the drink station. Or let your guests enjoy the freshly pressed apple cider at cocktail hour.
Fall Wedding Dessert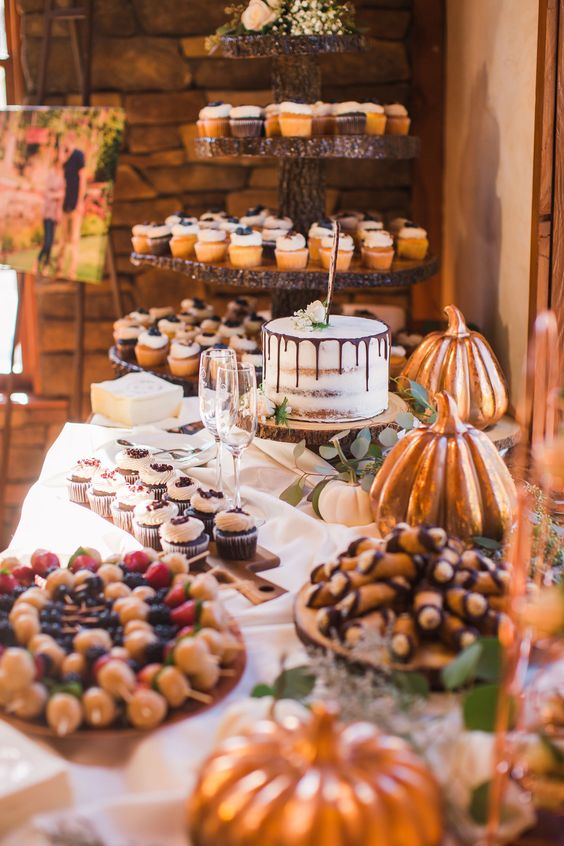 Everyone loves sweet and tasty desserts! As fall hits, your wedding buffet would full of hearty flavors from pumpkins, carrots, and fall fruits. Besides, you can also serve something else other than cake such as churros, pie, cupcakes, doughnuts, and macarons. It's ok if you want to serve more than one dessert. Actually, it would give various options to your guests. Making a statement with a dessert course would keep the guests more enjoying your reception. Keep in mind to serve dishes that are tasty, have your taste buds, and are seasonally perfect.
Real Fall Wedding
Have you get the tips and tricks for planning a fall wedding this year from the explanation above? Which ideas do you prefer for your fall wedding concept? If you want more, we have more inspiration from real fall weddings below.