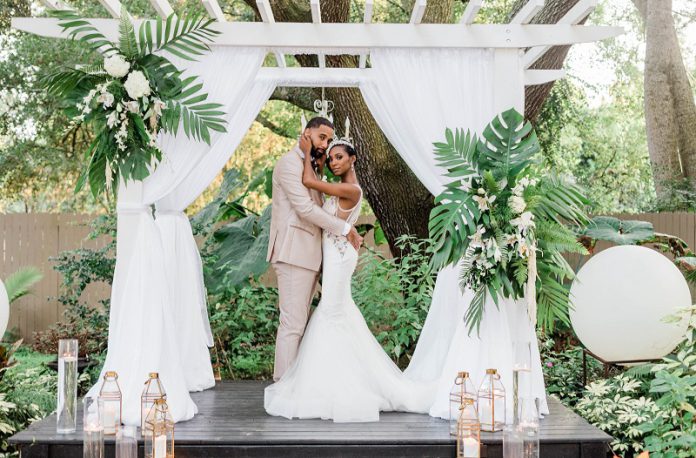 Rowedding.com – When you ask about unique and amazing wedding concepts, a tropical wedding can be your choice. After deciding what to make for your big day, you should start to make preparation. Right now, we'll introduce and explain how to plan a tropical wedding perfectly. What you should know is that a tropical wedding is both fun and romantic. You can also incorporate another wedding theme into it.
What do you think about a tropical wedding theme? And what you should bring on this theme for your special moment? For me, a tropical wedding is such a festive theme that uses the beauty of nature to create a relaxing and celebratory vibe. Whether you are planning to hold the wedding in a tropical area or just bring the theme on, we have plenty of tips and advice to help you plan the perfect wedding.
We've got some ideas for you from wedding venues, bridal gowns, groom attire, and wedding decorations, to wedding cake design, we'll help you how to plan a tropical wedding perfectly. Continue reading to discover the most creative ideas for your tropical island or beach-inspired wedding day!
Tips and Things to Consider About When Planning a Tropical Wedding
Pick Beach, Island, or Tropical Forest for Wedding Locations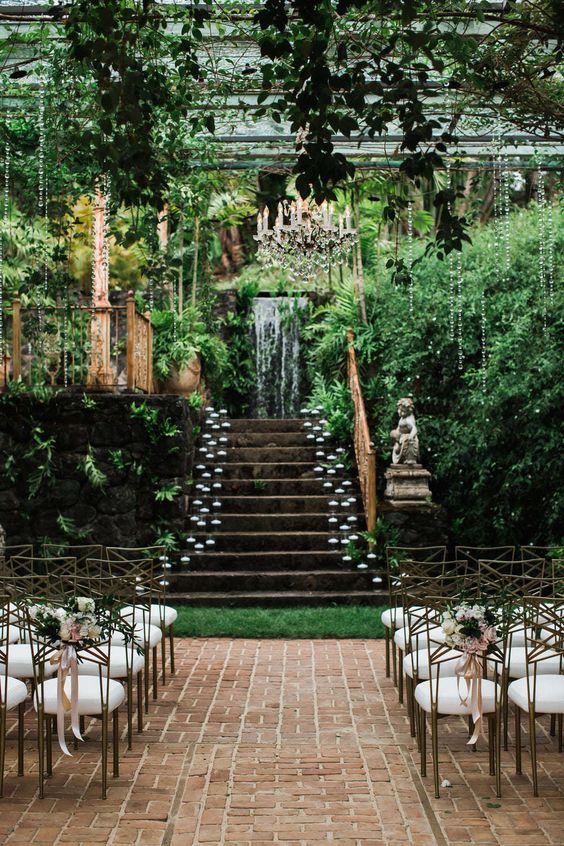 When choosing a wedding venue, you could pick a location that is memorable, close to relatives or has special meaning to you and your family. Furthermore, you should prefer a location that is easily accessible and has good transportation options. Remember that the right wedding venue can completely transform your wedding vibe to match the theme. Besides that, you must select a venue that fits your budget and the number of guests.
After all, a tropical wedding is only appropriate in a tropical location. There are several places that are fitted with your tropical wedding plan. If you have a more budget, you can hold your wedding on a private island. Another option, choose a resort near the beach or have a tropical greenhouse. A public beach, on the other hand, is a more affordable option. But first, you must obtain permission for any beach wedding. You can also have a tropical wedding in a hotel or at your home pool.
Monstera Leaves and Tropical Florals for Invitation Designs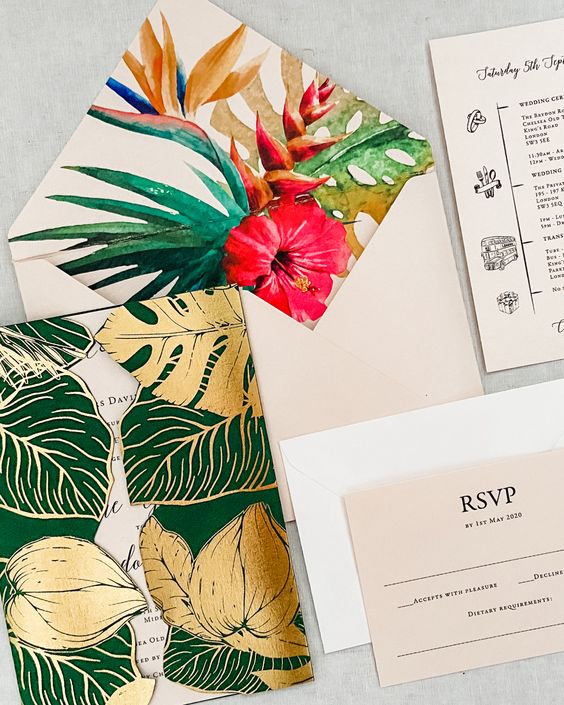 It's essential to keep your guests informed about your tropical wedding plan. You can start by sending out an invitation, so they can plan for the trip as soon as possible. Make sure to provide much information like the date, dress code, and locations to your guests. Now move to the wedding invitation design, you can choose Monstera leaves and tropical floral motifs. For the color schemes, choose green shades.
Another tropical wedding invitation design option is to go with a Hawaiian theme, a tropical palm tree design, and a rustic accent with a boho tropical invite. Aside from that, providing additional information or an update on your wedding plans is required. Therefore, a wedding website can be the best solution! You can add extra information to this website, such as travel routes, lodging options, childcare facilities, weather, and activities.
Wearing Casual and Airy Wedding Dresses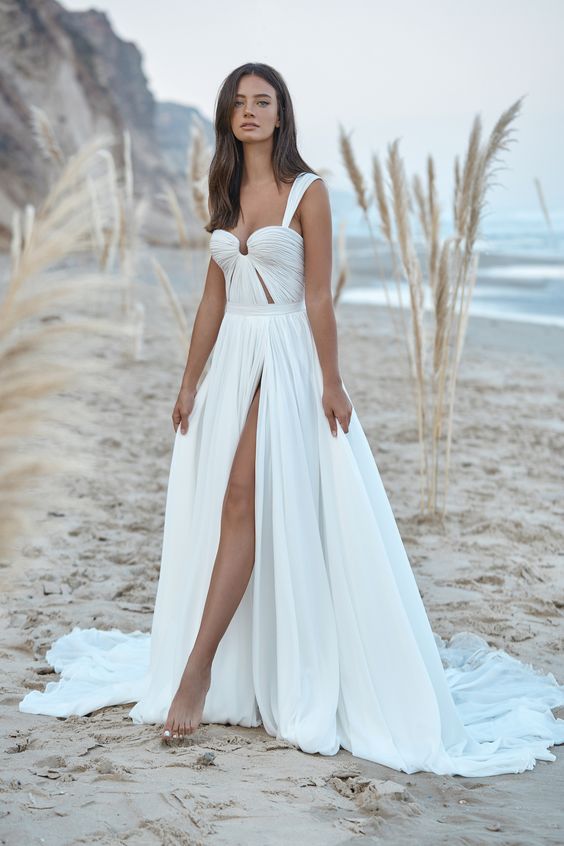 If you are planning on a tropical wedding theme, creating your bridal look can be a bit tricky because you need to still look flawless in hot weather. Getting the right tropical wedding gown is really required. It's your key to feeling both comfortable and stunning at once. Cotton organdy, chiffon, crepe, or voile over silk are the best fabrics for hot weather because they don't make you sweat excessively.
When you have a plan for a tropical wedding, better to choose a more casual and comfortable wedding dress. Don't be too formal, just think of something that's simple, breezy, airy, and flowy dresses. It would make you look stunningly beautiful. There are numerous options available in this vein, and to assist you in sorting through them all, you can bring a bohemian wedding dress style. Aside from that, you can add a beach wedding dress or a summer bridal gown to the list for your tropical wedding plan.
Choose Casual Look for Groom Attire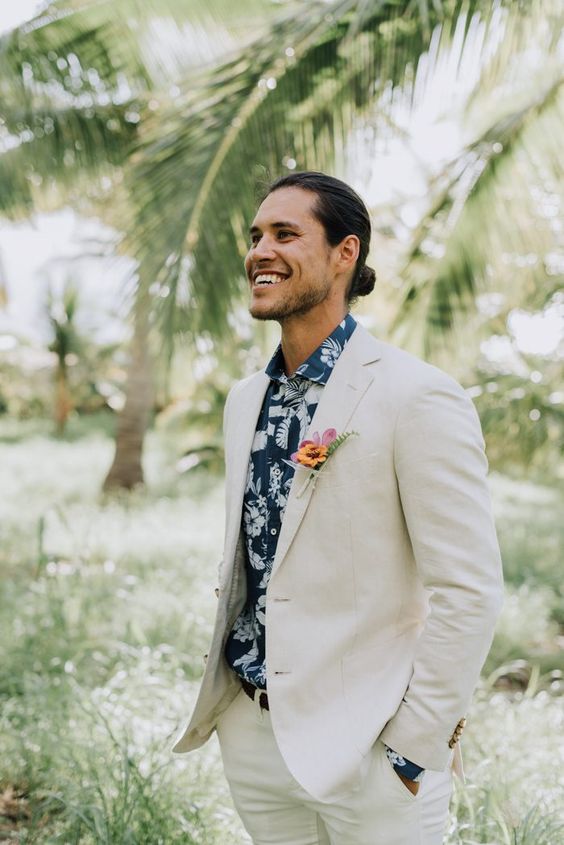 Nothing to say, holding a wedding in tropic locations isn't ideal for wearing something that bulky and has many layers. Not just for the bride's look, it's the same goes for the groom's attire. Make sure to keep away from suits and tuxedos. But if it's your style, that's fine as well. All you have to do is consider the weather and location when you go shopping.
As you have a tropical wedding plan, better to choose lightweight fabric such as light cotton pants and a linen shirt. But if you want to still wear suits, make it look casual by choosing a tropical patterned shirt and ditching the tie. You can also wear shorts and shirts. A vest and suspender can be another option that you can use to become groom attire style.
Play the Theme on Your Bridesmaid Dress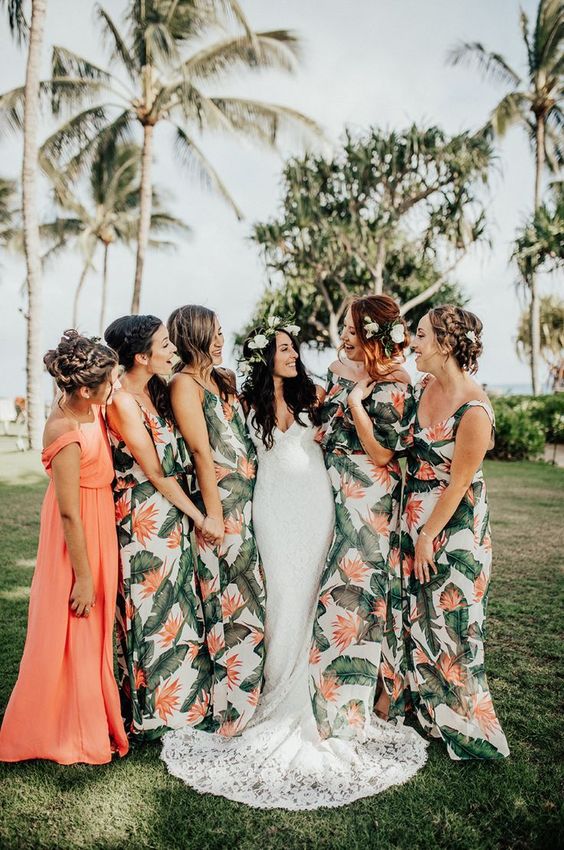 Speaking of fun, one of the best parts about your wedding is celebrating the moment with your special people such as your best friends and family. You can ask them to be your bridesmaids. Aside from helping you with a small issue in your wedding planning, bridesmaid dresses can also be played to create a wedding theme. Those who plan a tropical wedding can use tropical flower patterned gowns as bridesmaid dresses. A terracotta gown is another option that can make your bridesmaid look chic and classy. Like the bridal dress and groom attire, the bridesmaid clothing also needs to consider the weather at your wedding destination.
Work with Wedding Accessories to Elevate your Tropical Concept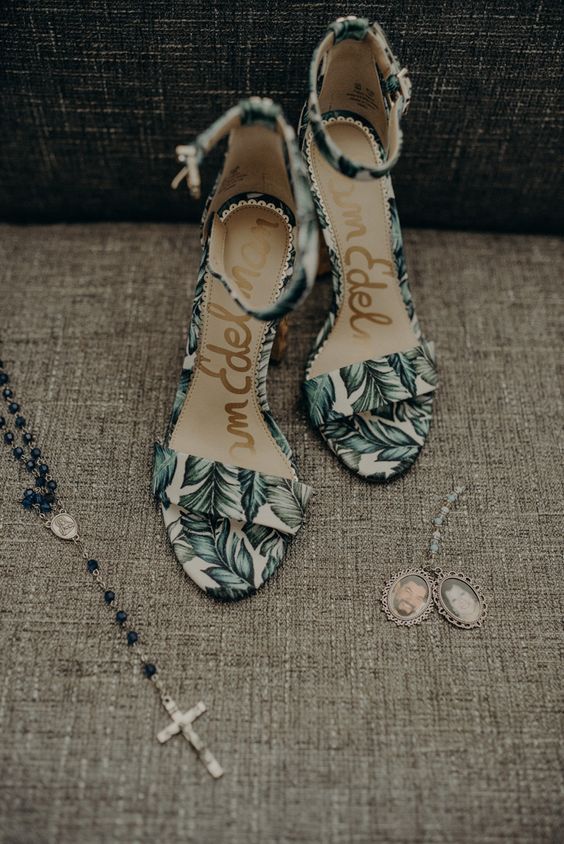 As mentioned before, the weather is a factor that will affect your tropical wedding plan, especially to decide on wedding fashion. Picking on a more casual wedding dress and groom attire is also a bit tricky and challenging. Therefore, you can apply wedding accessories to support and elevate your performance when walking down the aisle. For the tips, use tropical flower boutonnieres for grooms, or use a floral tie and bowtie. Then for brides, there are various wedding accessories you can wear such as tropical sandals or beach wedding shoes or even you can add bohemian accessories here.
Tropical Botanical in Wedding Bouquets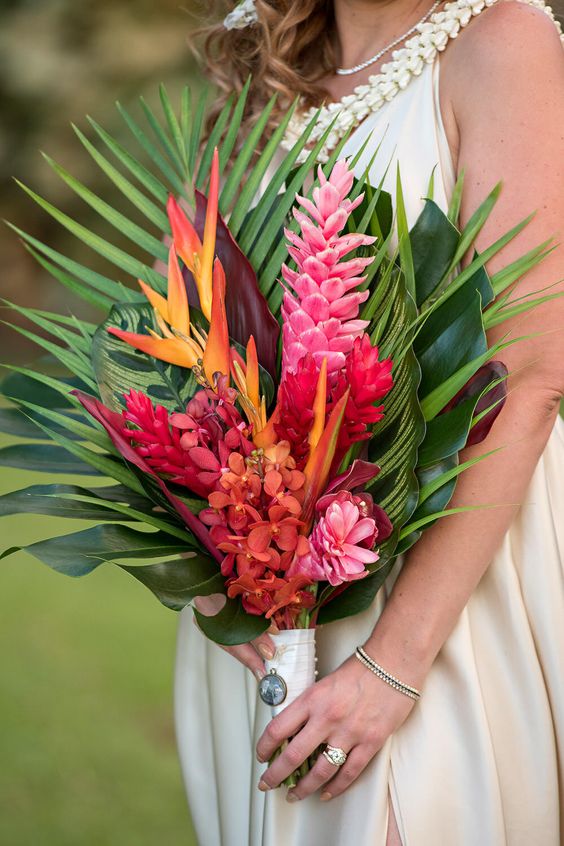 It is essential to select a flawless wedding bouquet. This would make the brides look more beautiful. As a result, if you want the best tropical wedding, you should select a lovely flower bouquet. For tropical wedding bouquets, brides would be having a lot of fun with tropical leaves, greeneries, and island flowers. Anthurium is an exotic flower with a chic, tropical form that can be used to create the perfect bridal bouquet. We also like how the large protea makes a statement on your flower arrangement. Aside from that, split leaves, fan palms, papyrus fronds, and ferns add texture to the arrangements! Other tropical botanicals like hibiscus flowers, orchids, ginger lily, and frangipani flowers would bring colors to your tropical wedding arrangement.
Getting Bar Design on Decoration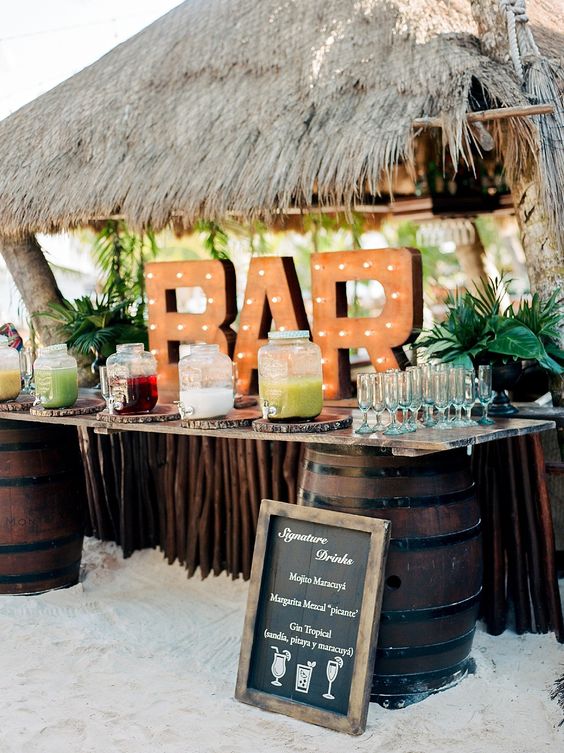 Make your friend and families keep having fun at your wedding by making a wedding bar. Whether indoor or outdoor receptions, getting a bar would have them raising a toast! Bring high spirits with a fantastic bar for your tropical wedding plan in a special decor. Getting the right bar design can also add a wave of fun to your wedding reception.
You can build your drink bar in a tropical and rustic accent by building a small hut. Replace glass cups with vessels made from hollowed-out coconuts to fully represent your tropical wedding reception. Even the most basic cocktail would taste better and be more enjoyable to drink in a coconut glass. Furthermore, you can also add a barrel and wooden bucket to add an industrial wedding theme.
Wedding Buffet with Tropical Fruits and Drinks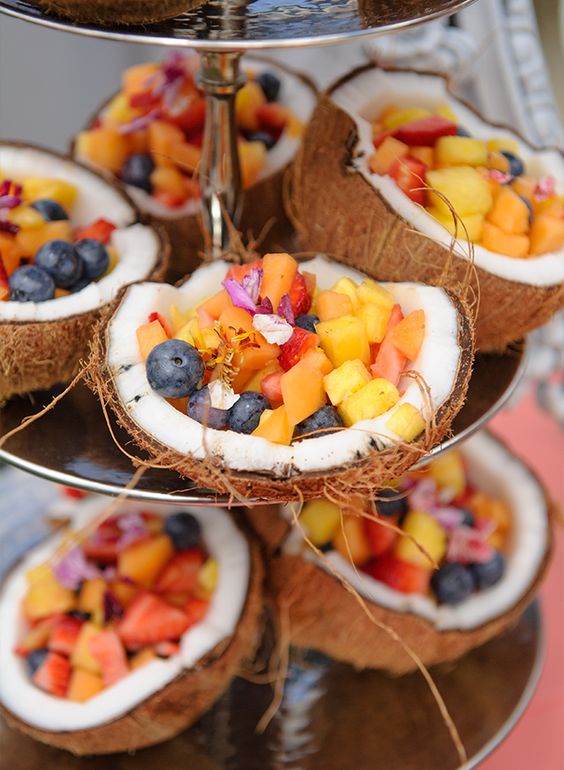 While bringing suppliers from abroad may help to plan your dream wedding perfectly, some components such as food and flowers are better to choose from locally. With this, you'll get a perfect touch of tropical vibe at your wedding. For the buffet and catering, look for local businesses that are familiar with the area and have more considerate of tropical foods.
When planning a tropical wedding, choose tropical fruits and beverages. Alternatively, you can bring local fruits to the wedding reception. Present it in an unusual way, such as using coconut as a container. Fruits such as pineapples, mangos, and berries can be served to your guests. You can end up serving tropical cocktails, fresh juice, and other cold beverages as drinks.
Wedding Backdrop and Aisle Decoration use Palm and Ferns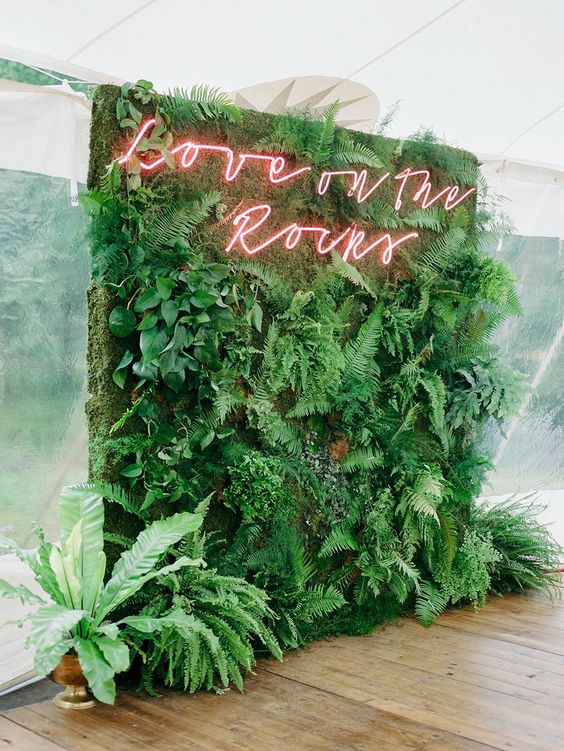 Show your tropical wedding theme in the best way using a wedding arch and backdrop. You have a few options for creating an incredible wedding arch and backdrop design in this theme. As you know that arch and backdrop are a kind of bold statement in wedding decorations, so it's a great idea to scream your tropical wedding plan in it.
You can consider creating your wedding arch with bamboo or branches and totally deck it out with tropic botanicals such as ferns and palm leaves. Not only that, some tropical theme usually includes lining the arch with beautiful flowers. You can go with bright-colored blooms that you can tone down with greenery decorations. Large palm leaves and island flowers such as lilies, protea, Alpinia, hibiscus, and magnolias will ensure to give a tropical touch to your wedding arch and backdrop decoration.
Use Pineapples and Palm for Table Setting and Centerpiece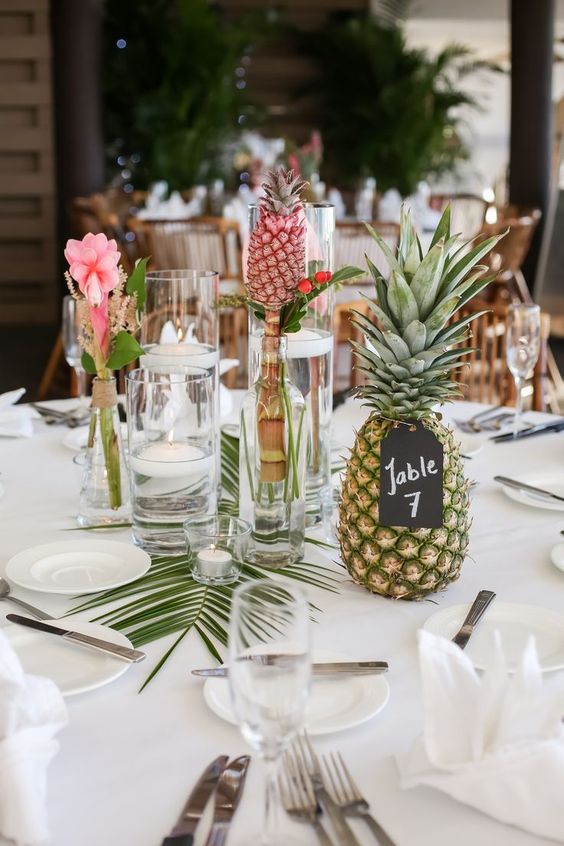 Something more to add to your tropical wedding plan are table setting and centerpiece decoration. One tropical wedding decor idea that most people use is, to begin with, palm leaves and wildflowers. But at this moment, we'll show you how to use pineapples to create a tropical theme in your table setting and centerpiece. A type of tropical fruit that can completely embody your wedding theme. Pineapple can be used to place a table number or it can be placed in a vase to become an artistic flower. Asides from being on the theme, it's just fun to look at.
One of the ways to decorate your wedding with a tropical theme is, to begin with, a crisp and clear base for the table setting. You can use white table clothes then use bamboo plates and large leaves for dishware. Add origami napkins and centerpieces can be made from glass vases filled with seasonal blooms or tropical botanicals. Besides, colorful local fruits on platters with palm leaves as bases can be strategically placed in the center of the table.
Stand with Rustic and Industrial Wedding Lighting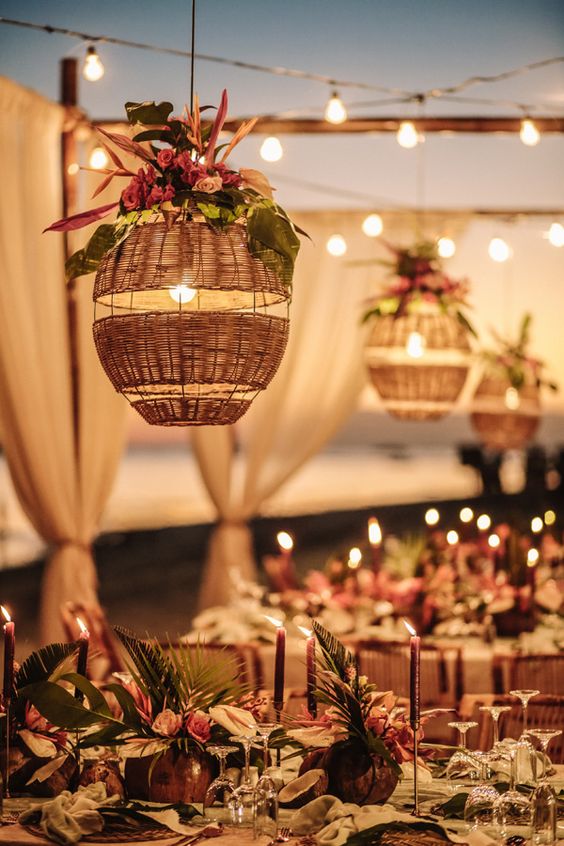 When you plan for a wedding, especially when you hold the reception until night, you can create a romantic vibe with wedding lighting. For a tropical wedding plan, bring a rustic and industrial accent to the lighting. To create an industrial wedding idea, bring bulb lamps and string lighting. Then add rattan craft for a lampion if you want a rustic ambiance. Besides that, classic lanterns that you fill with a candle or string lighting can be an option too.
Wedding Decoration Idea use Tropical Elements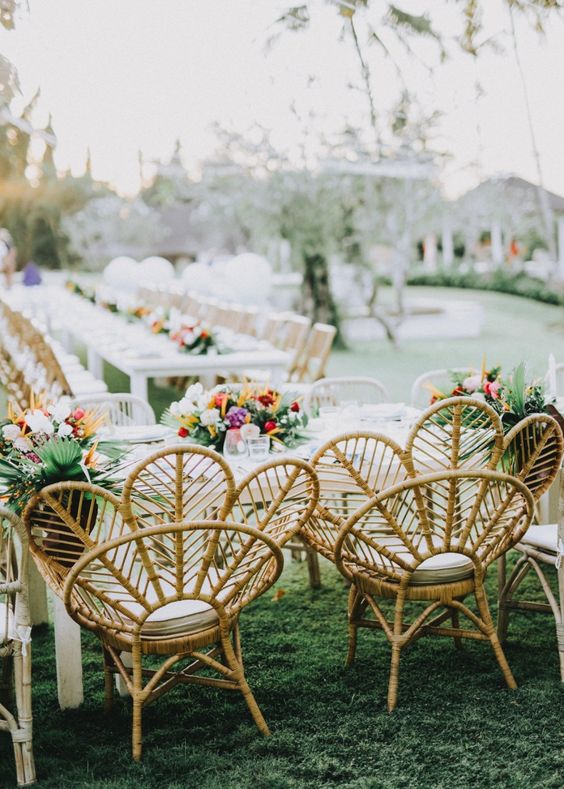 When you arrange a tropical wedding plan, decoration is a necessary thing to consider. Fyi, tropical wedding decor ideas have a lot of things to love. If you are having a tropical wedding plan on a tropical island, keep things simple. A beautiful tropical island with an ocean backdrop doesn't require many decorations. To create an elegant wedding day, you can combine the natural beauty of the venue with contemporary wedding decor.
Allow us to show you how to embed your wedding with all the feels of a tropical paradise. From banana leaf prints and Monstera leaf to vibrant blooms, and tasty pineapples, there's something for everyone. You can incorporate all of these elements into your tropical wedding plans. Aside from that, this theme may show up amazingly in your summer wedding concept. Tropical flowers, bright summer colors, bamboo, and palm leaves should all be present at your wedding ceremony venue, tying the theme together perfectly.
Unique Wedding Cake Design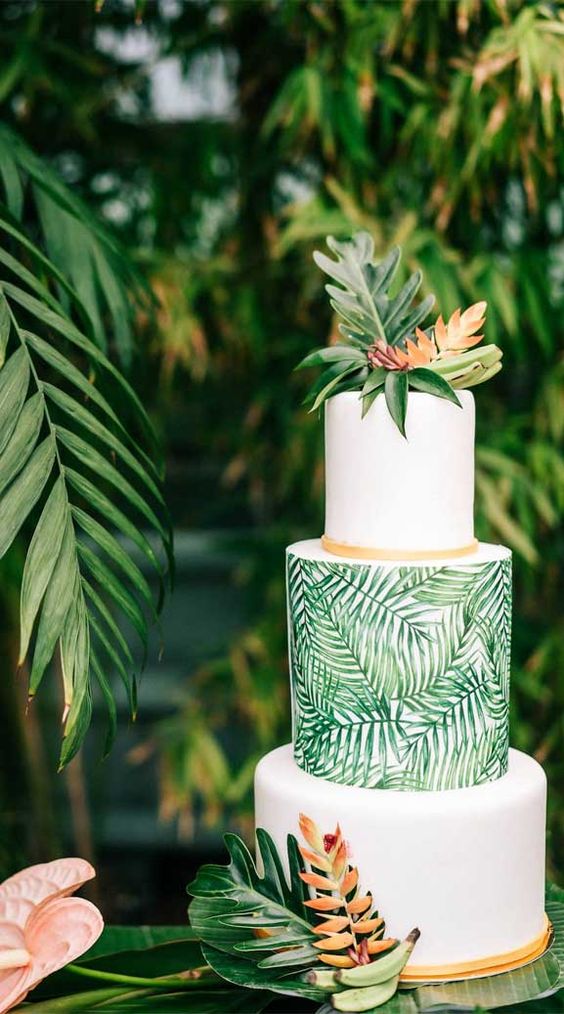 When planning a wedding on a tropical theme, there is a lot to consider. And when it comes to wedding cake design, we suggest you opt for a personalized cake. Because there will be a large number of guests, the wedding cake must be large enough to serve them all. Besides, as you know the tropical concept have full of palm leaves and tropical flowers, therefore you can garnish your wedding cake with it.
There are numerous tropical details to incorporate into your wedding dessert. However, we believe that brightly colored flowers or fruits such as lime and orange are an appropriate (and tasty) addition to bringing a tropical vibe. For instance, this all-yellow confection was embellished with fruit shards, florals, and greenery. That is absolutely stunning and creates not only a tasty but also a beautiful tropical wedding cake design.
Wedding Favors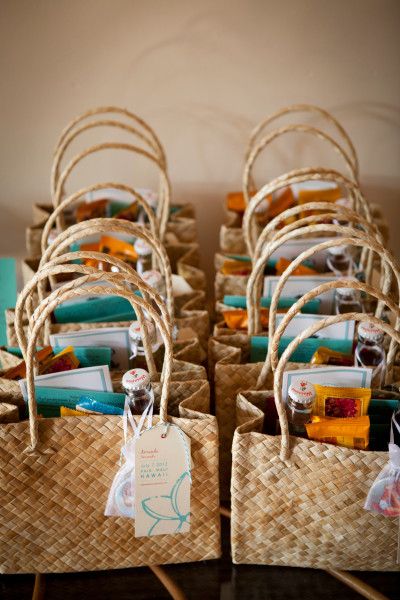 When hosting a wedding, you must also prepare wedding favors for the guests. If you have a larger budget, you can request to give local products that you pack up with a craft bag. Besides that, give a pack of chocolate that you pack with aesthetic personalized tropical wrap.
A tropical wedding can be a wonderful way to share your love with everyone and make your special day even more memorable. All you need to do is think about the weather and the location of your wedding. Make sure to research first the place that you'll use for a wedding venue. When you prefer to get married outside, you can hold a beach wedding and enjoy the breezy air at the seaside. Or if you want a bit chill and cool, you can rent a greenhouse with tropical botanicals for an indoor ceremony. Whatever you decide for your special day, always make sure you and your guests would enjoy the moment.